Il y a maintenant 3 ans, j'ai réalisé la première console GameCube The Legend of Zelda : The Wind Waker [Relic]. Inspirée par les fresques du jeu éponyme, j'ai toujours souhaité les adapter sur des machines (mon support de base) bien disctinctes afin de réaliser une "fresque" géante de consoles avec ces illustrations rendant hommage au jeu mais aussi à tous les fans de la franchise et de la GameCube!

Mais après plusieurs mois de boulot, j'ai finalement post posé ce(s) projet(s) par manque de temps. Chacune de ces machines est unique et raconte sa propre histoire : cette dernière n'est pas uniquement celle liée à leur gravure et ce qu'elle représente de manière figurée mais aussi l'histoire et l'origine de ces consoles que j'ai souvent récuperé pour beaucoup de la bène et réparée. Au fil des années, je m'y suis attaché à ces machines entassées et ces carcasses de consoles délabrées; et même si mon atelier ressemble plus à un cimetière et que pour certains je suis le professeur Frankenstein, le plus important à mes yeux est de voir parents, enfants, amis rédécouvrir et partager ensemble l'envie de se (re)lancer une partie.

Je continuerai de m'occuper de toutes ces consoles tant qu'il y aura des histoires et légendes à raconter et même si il me faudra encore de nombreuses années avant de toutes les achever. "A qui sait attendre, le temps ouvre ses portes."

Pour ce qu'il en est de ce projet, contrairement à son prédécesseur, il est à la gloire de Ganon et du combat face à Link. Il montre un aspect plus vétuste et obscure.

La console n'est pas destinée à la vente.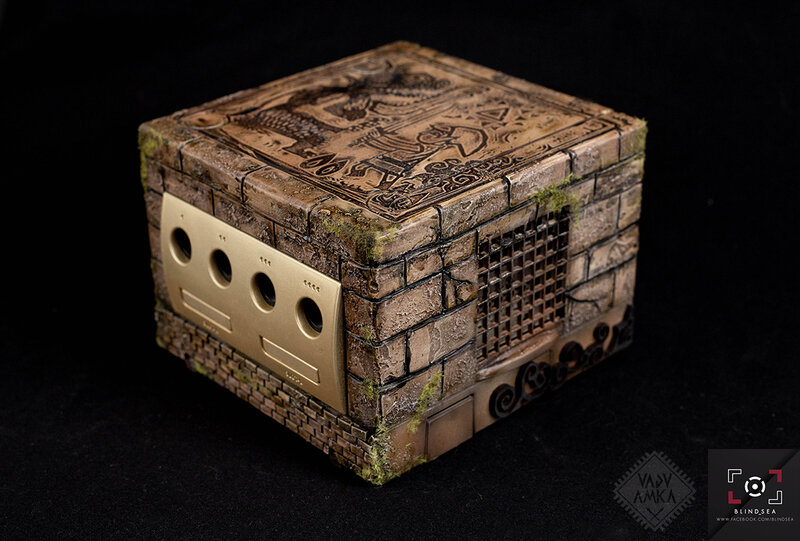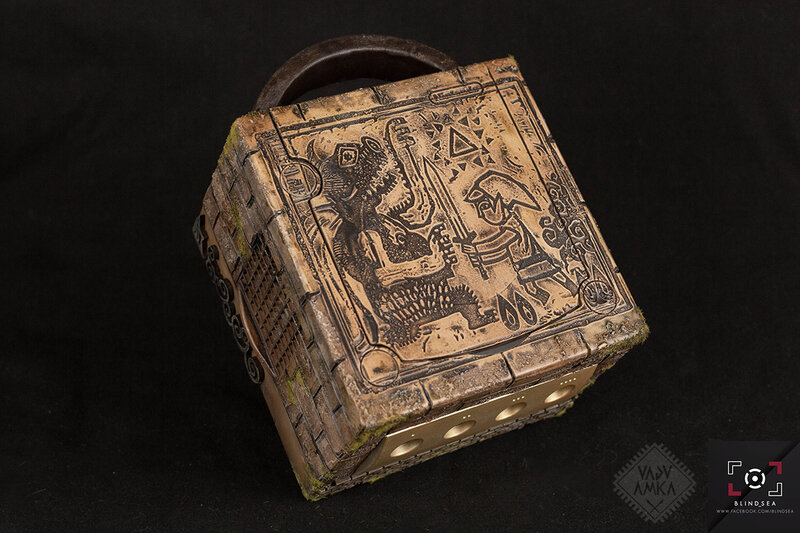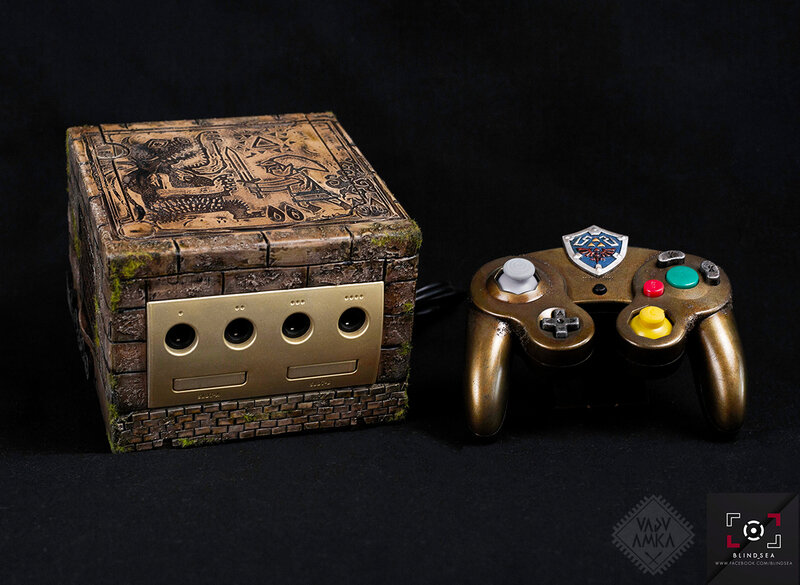 Réalisation d'une Fightpad Wii U sur le thème d'Hyrule. Le bouclier, qui est l'ornement principal, est réalisé en résine. Peinture à la main avec un "gold ancient" brossé avec un peu de métallisé. La manette est entièrement retravaillée, sculptée et avec un aspect patine de bronze, verre de gris (oxyde). Les lanières sont en cuir épais. Le pad directionnel est en métal et les différents éléments en reliefs sont en céramique.

Disponible / Available soon.

Realization of a Fightpad Wii U on the theme of Hyrule. The shield, which is the main ornament, is made of resin. Hand painted with an "ancient gold" brushed with a metallic effect. The controller is entirely reworked, sculpted and with a patina appearance of bronze, glass of gray (oxide). Straps are thick leather. The directionnal pad is made of metal and the various relief elements are made of ceramic.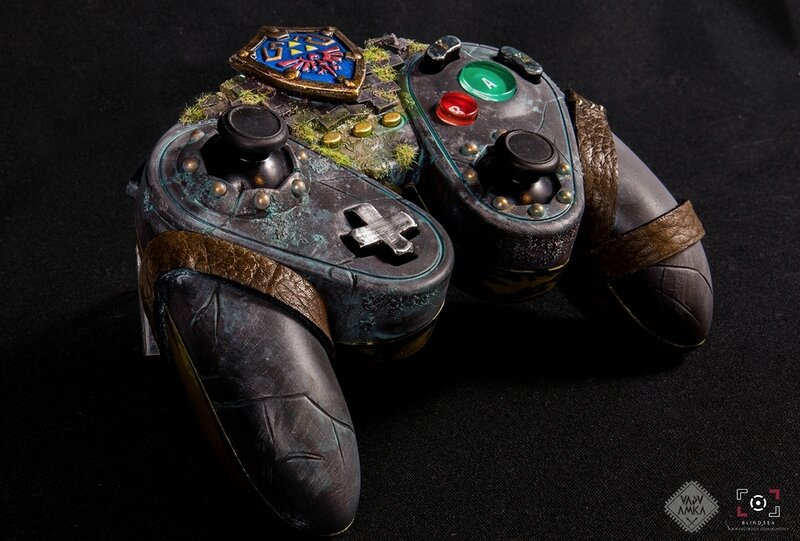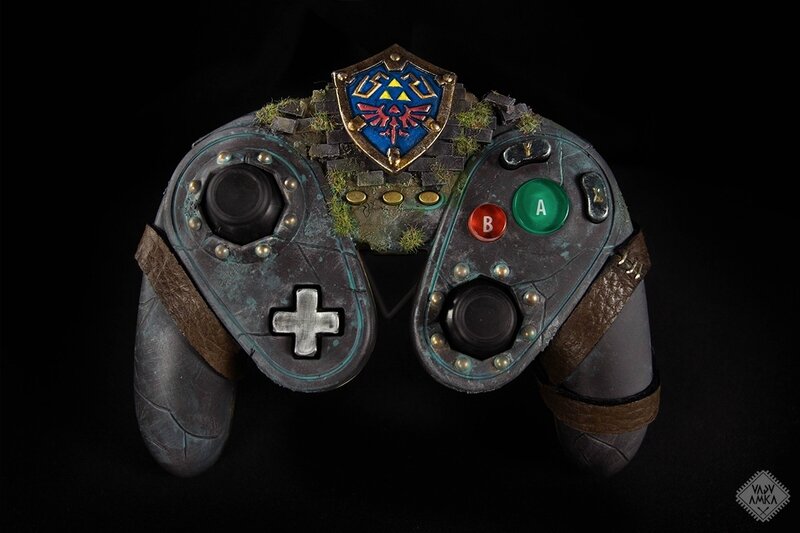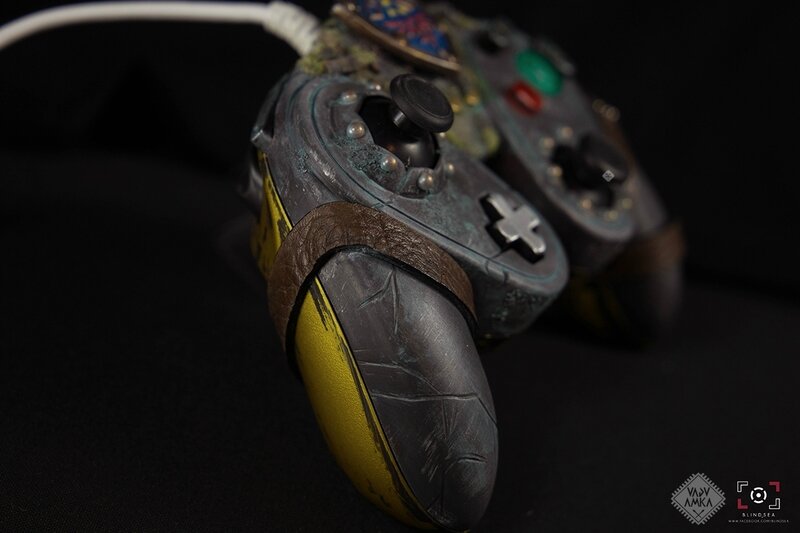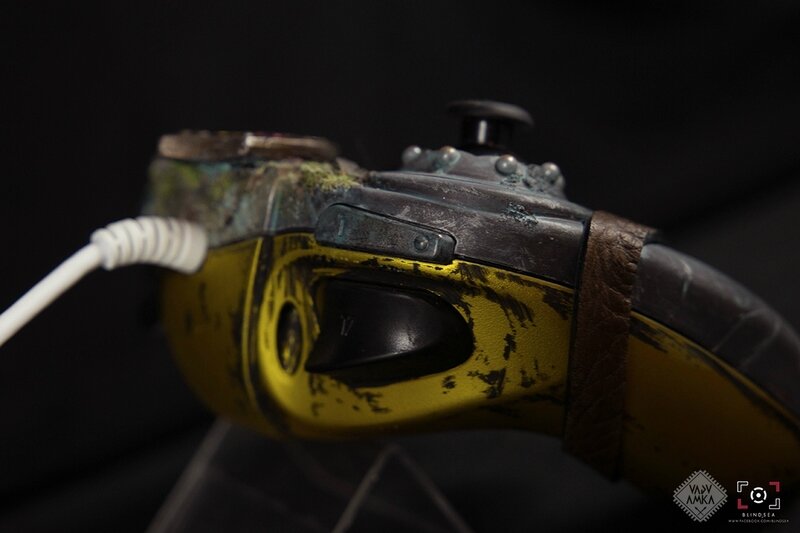 ANCIENT NES CARTRIDGE : The Legend of Zelda
Décoration en résine, acrylique et quartz.
Unique piece/ Pièce unique
25x25cm en cadre
Signed and dated.
Delivered with a certificate.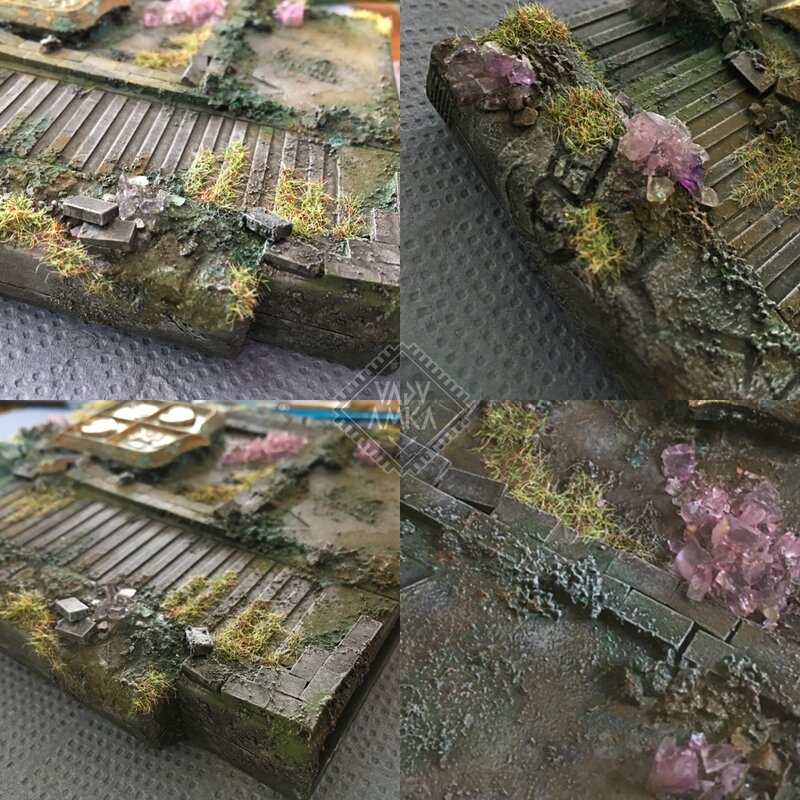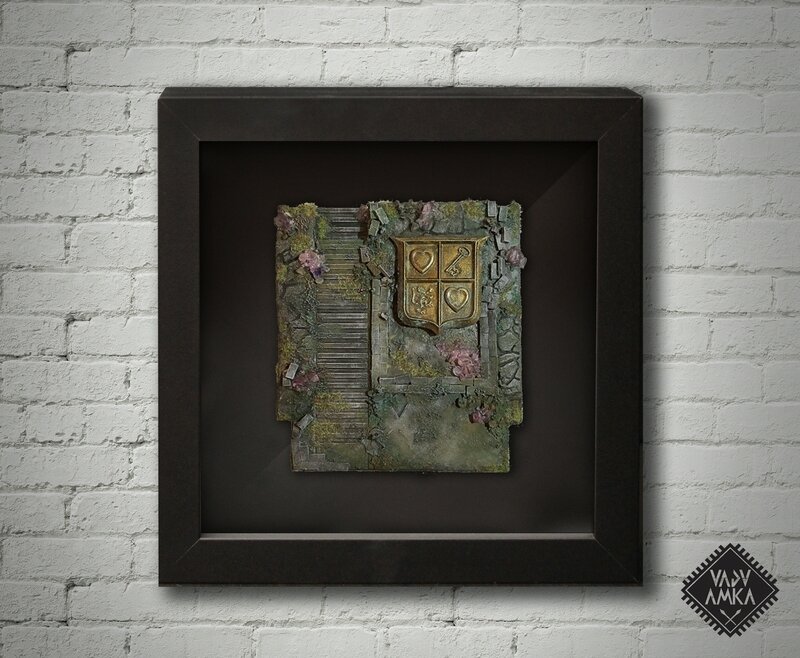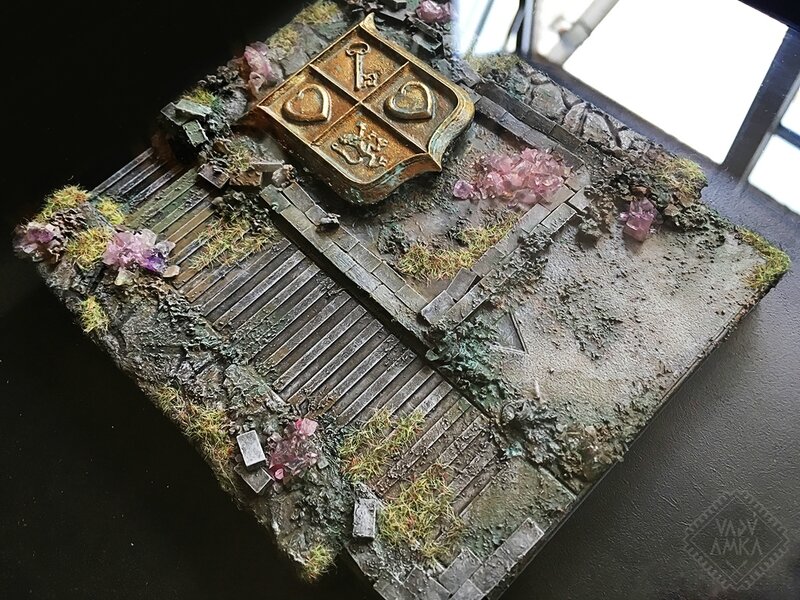 Ancient Guardians GameBoy cartridge
Customized with resin, epoxy and acrylic (framed, 25 x 25 cm). Limited to 5 numbered copies.
Signed and dated on the back.
Delivered with a certificate.

Signed and dated. Delivered with a certificate.
Shipping worldwide.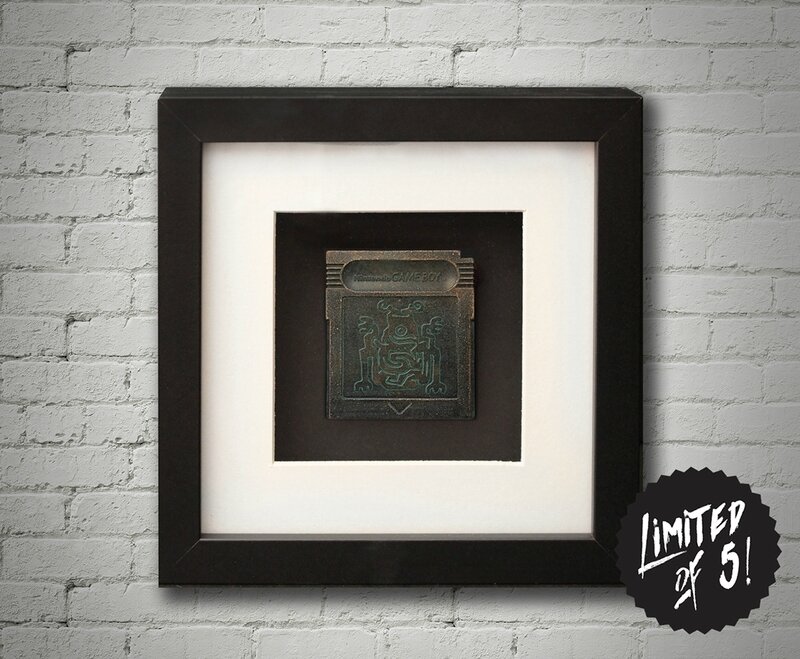 En projet depuis début janvier 2016, il m'aura fallu une année entière pour l'aboutissement de cette console. C'est elle qui détient actuellement le record de temps pour sa création. Ce sont les recherches, croquis et essais qui ont pris près de 1/3 de mon planning.

La partie supérieure de la console a été réalisée en une variété de palissandres et son port cartouche en essence de merisier. Comme le bois est un matériau vivant, il se rétracte et sa teinte peut varier dans le temps. J'ai passé plusieurs semaines à faire sécher mes pièces. (à poncer , vernir, poncer...) et observer son évolution. Les différents ornements sont réalisés en résine et peinte à la main et 80% de la coque a été sculptée. Les boutons et le port cartouche sont en métal. La manette possède une peinture oxydée et une plaque en métal circulaire avec un effet usé.

Elle appartient déjà à quelqu'un et n'est pas à vendre.
---

Started in January 2016, this project took me a year to be finished. This console holds the record of the longest creation time. Researches, sketches, and trials took almost one third of my planning.

The top of the console has been made with rosewood and the cartdrige port is in cherry wood. Like any living material, it can retract itself and its color can change over the time. I spent many weeks drying the various pieces (sanding, varnishing, sanding...) and to observe its evolution. The various decorations have been made in resin and hand-painted while 80% of the shell has been sculpted. The buttons and cartridge port are in metal. The controller has an oxydized paint and a circular metal plate with a used finish.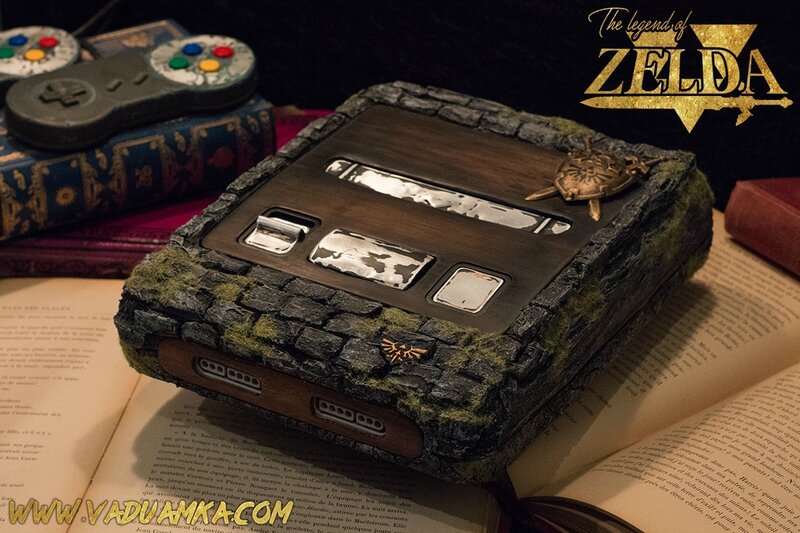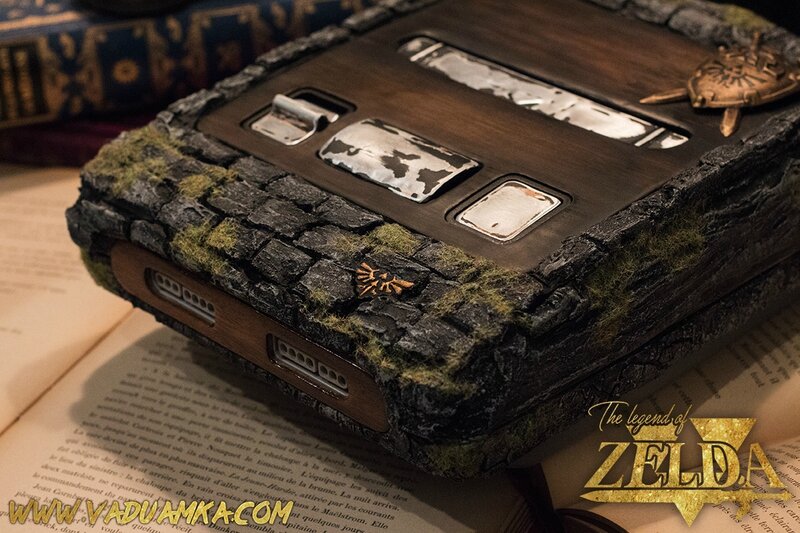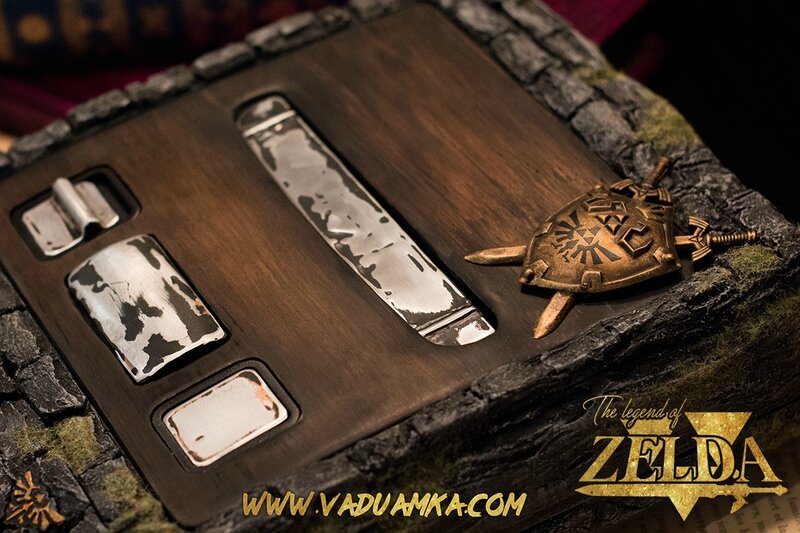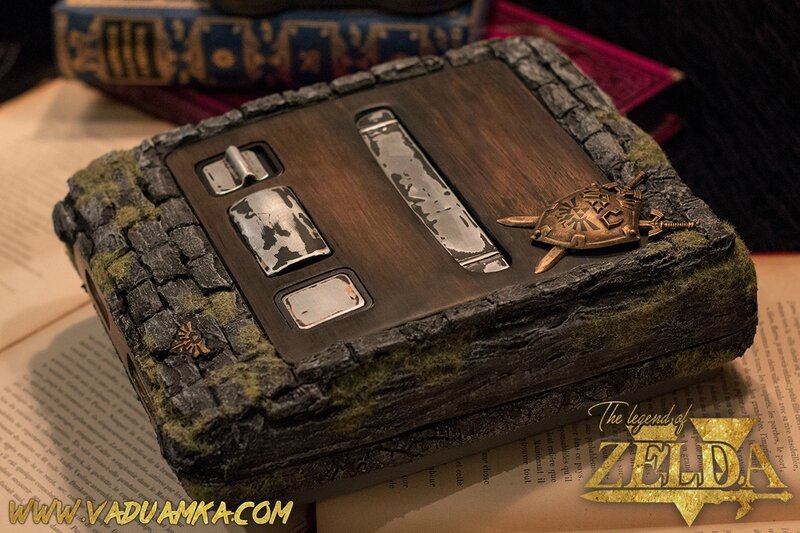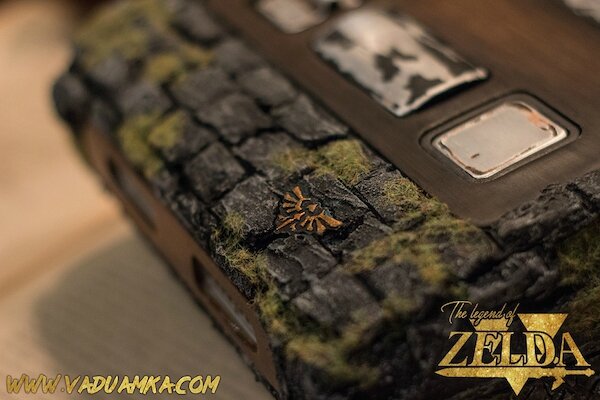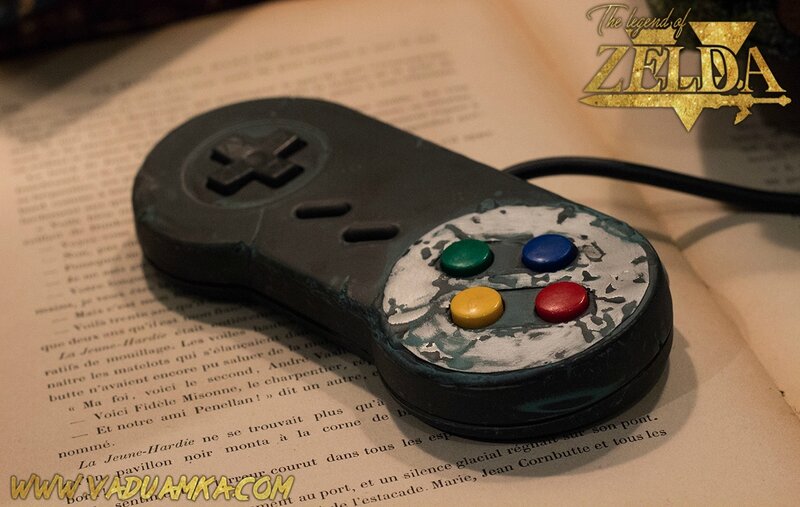 (2016)
GameBoy cartridge customized with acrylic and resin, epoxy (framed, 25 x 25 cm).
In exhibition : During Made in Asia ( Brussels - BE ) and in the RE-PLAY Festival (near Cannes - FR )

Sold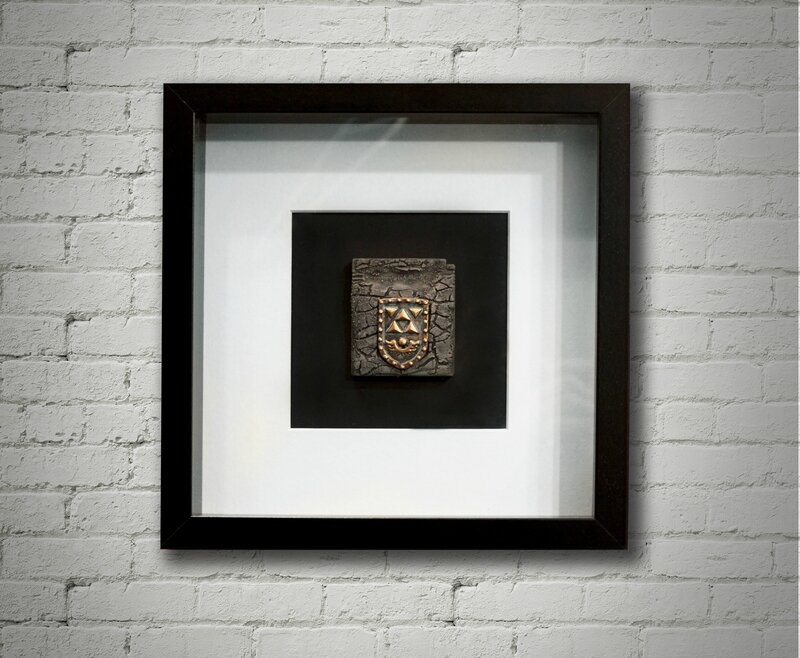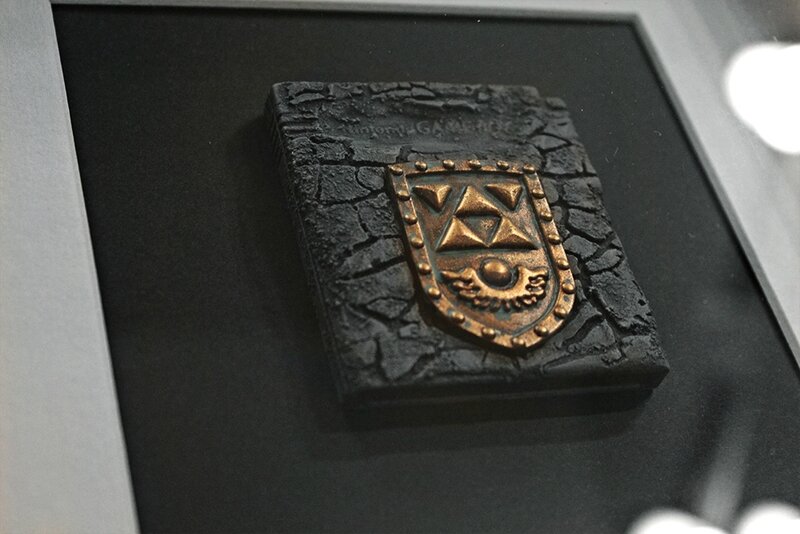 Dans le cadre du financement participatif du guide complet Zelda par l'Association Trop Gaming. le Dr. Lakav m'a demandé si il était possible de réaliser une édition speciale avec une cartouche en loose d'un Zelda ALTTP PAL FR !

* Ils proposeront à la fin de la campagne (celle-ci a atteint son objectif à 400%!) un tirage au sort permettant de gagner ma création. *

Cette cartouche super nintendo, The Legend of Zelda : A Link to the Past est un exemplaire unique et un fanmade. J'ai réalisé la boite sur base des bons conseils de www.nintandbox.net , merci y(oYo). Si vous souhaitez refaire vos boites et pas les vendre. Je vous recommande ce site! :)
J'ai opté pour du papier A3 300gr brillant de la mort mais pas trop non plus. Un papier trop épais a tendance à craquer lors du pliage.

Le lot se compose de :
La cartouche custom Zelda ALTTP PAL FR.

Ce n'est pas un cartmod !

La boite du jeu avec un calage, relooké par mes soins.
Le certificat d'authenticité.
Une Nintendo 64 de plus sur le thème de The Legend of Zelda, Ocarina of Time.
Un cadeau surprise commandé par la copine de Mika', car ce jeune homme est un grand fan de la licence et vous êtes très, très nombreux !
Les pierres ancestrales étant des objets de quête très importants dans le jeu, j'ai choisi de rappeler leur forme sous le logo de la console, pour rappel, il s'agit de l'Émeraude Kokiri, du Rubis Goron et du Saphir Zora. Le logo de la console, lui aussi a été refait pour se rapprocher de la typographie de la saga. Un petit clin d'oeil supplémentaire pour faire plaisir à cet ami. Le reste de la technique a été abordée dans les articles précédents, le bouclier a été remoulé en résine et un chouïa rendu plus fin et anguleux. Le modèle de base vient de la forge de MetalFGS . Le doré des touches est usé et brillant pour être homogène avec le reste de la console qui est plutôt ancienne. Et La Triforce est rappelée sur la manette.

---

A Nintendo 64 based on The Legend of Zelda, Ocarina of time.
It's a surprise gift ordered by Mika's girlfriend. He's a huge fan of this licence, just like so many of you, Guys.
The ancestral gems being very important items for the main quest, I chose to remind their shape under the console's logo. As a reminder, they are the Kokiri emerald, the Goron ruby and the Zora saphire. The console's logo was also remade in order to stay close to the saga's typography.
A little additional wink for this friend to please him.
I have already explained the techniques I used in previous publishings, the shield was remolded in resin, for a little bit thinner and angular rendering.
The basic model comes from the MetalFGS forge. The gold aspect for the buttons is worn and shiny to match with the rest of the console, that is rather ancestral. At last, the Triforce is remembered on the game pad.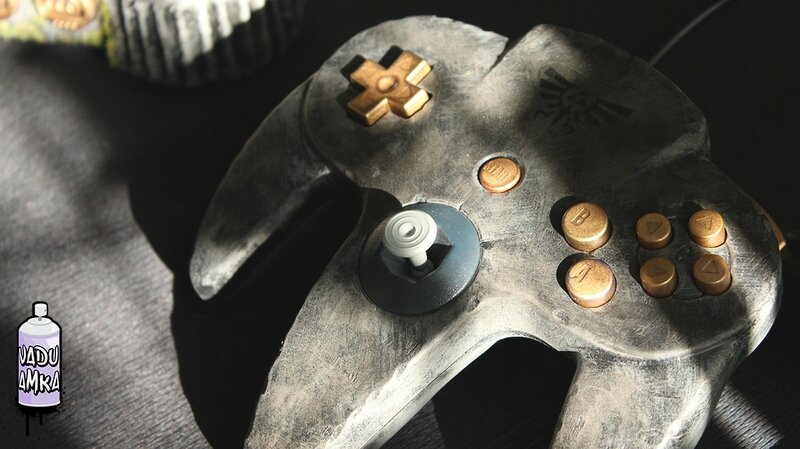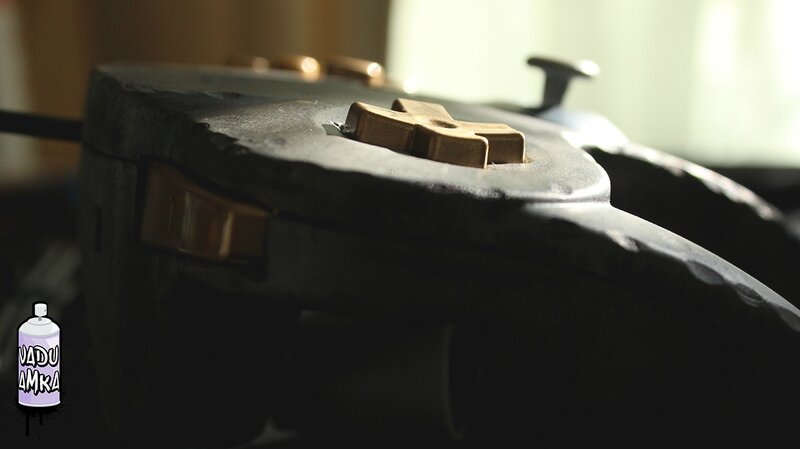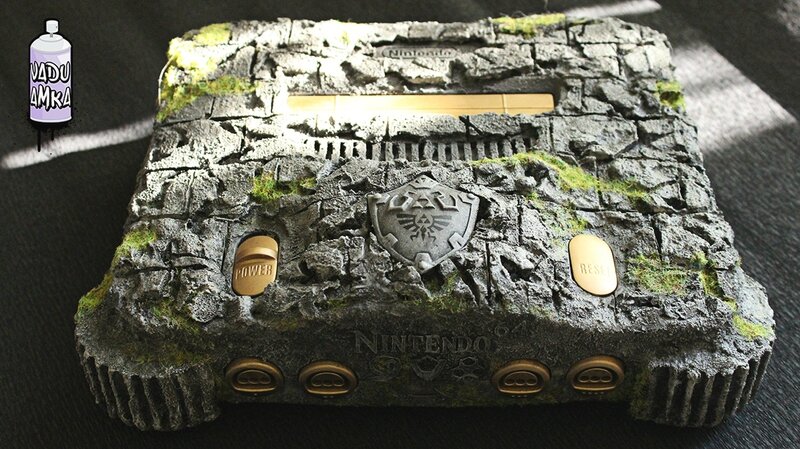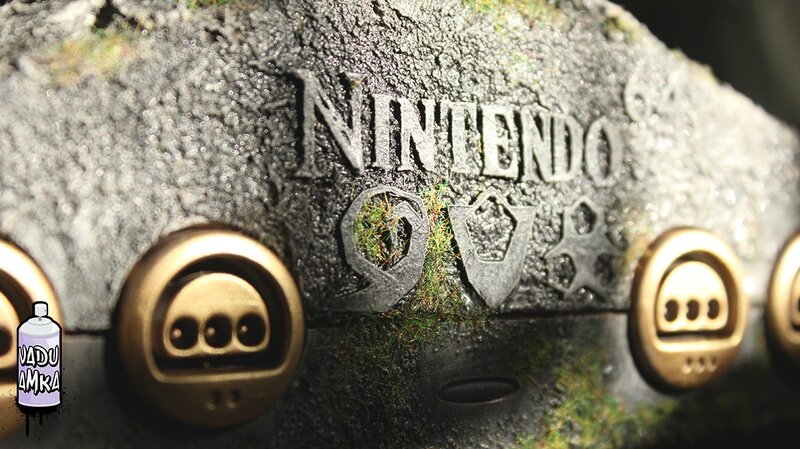 Happy Birthday Mika!
GameCube Inspirée des fresques du volet The Legend of Zelda : The Wind Waker.
Temps de réalisation : 3 mois en étant sur d'autres projets à la fois.
Matière : Résine, pâte époxy double composant, acrylique et gel texturant
La console est entièrement réalisée à la main, les ports manette ont été ornés des nombres 1 à 4 en alphabet Hylien. La réalisation de la manette est basé sur un manche rappelant une épée (Je ne parle pas forcement de la Master Sword mais juste d'une forme) Le bouclier sert de bouton Start, il est absolument fonctionnel. Il en va de même pour les sticks. Le premier plus décoratif étant en laiton. Le second est un élément d'origine. J'essaie à chaque fois de garder tel quel au moins un élément de la console. Bien qu'il soit d'un très beau jaune. (Il est aussi relativement difficile de customiser du silicone, c'est une surface qu'il faut éviter de peindre).
Certains remarqueront peut-être quelques fissures sur le côté droit. Link est prié de ne pas l'exploser! Autres détails, l'arrière de la console (la poignée) est en faux cuir noir.
Je vous laisse désormais regarder tout ça de plus près !
A très vite.

---
Gamecube inspired by The Legend of Zelda : The Wind Waker.
It was completed in 3 months, while working on other projects at the same time.The Materials I used were resin, Double component epoxy paste, acrylic paint and texturizing gel.The console is entirely hand made. Joystick ports were adorned with numbers from 1 to 4, using the Hylian alphabet. The controller's design was inspired by a sword (that does not necessary mean that it is the Master sword). The Start button is covered by a shield but is fully functional. So are the sticks. First one is more decorative while using brass. The second one is an original item. I always try to keep unchanged something on the console. It is very difficult to customize silicon parts because it is hard to paint on it . You may have noticed the cracks on the right side. lease tell Link that he is not supposed to blow them up.Another detail you may have noticed is the fake leather covering the handle. I will just let you have a closer look at the whole.
See you soon!

Not for sale - Pas à vendre
Photos du work in progress sur plusieurs semaines :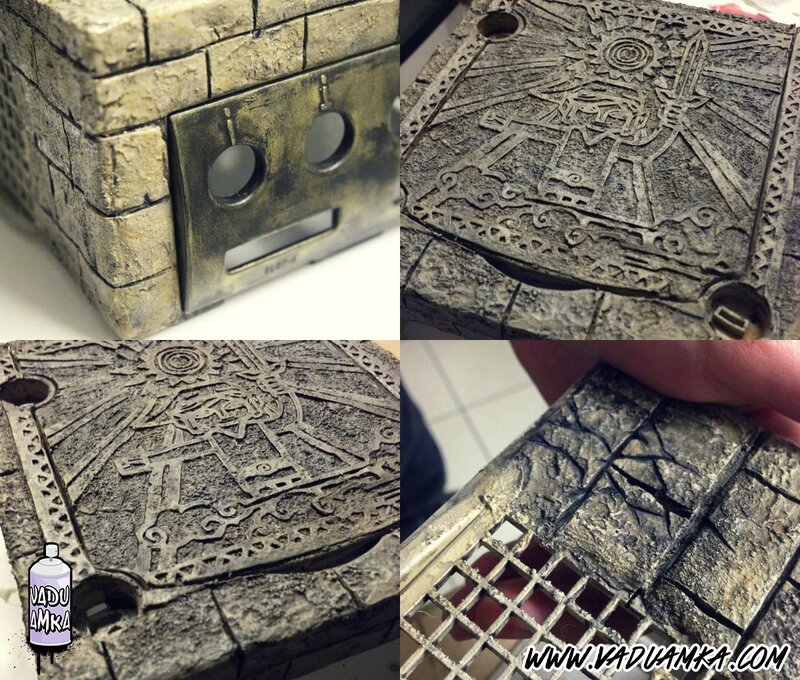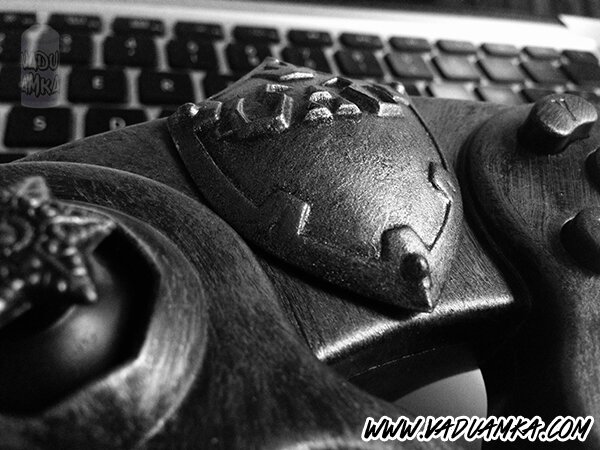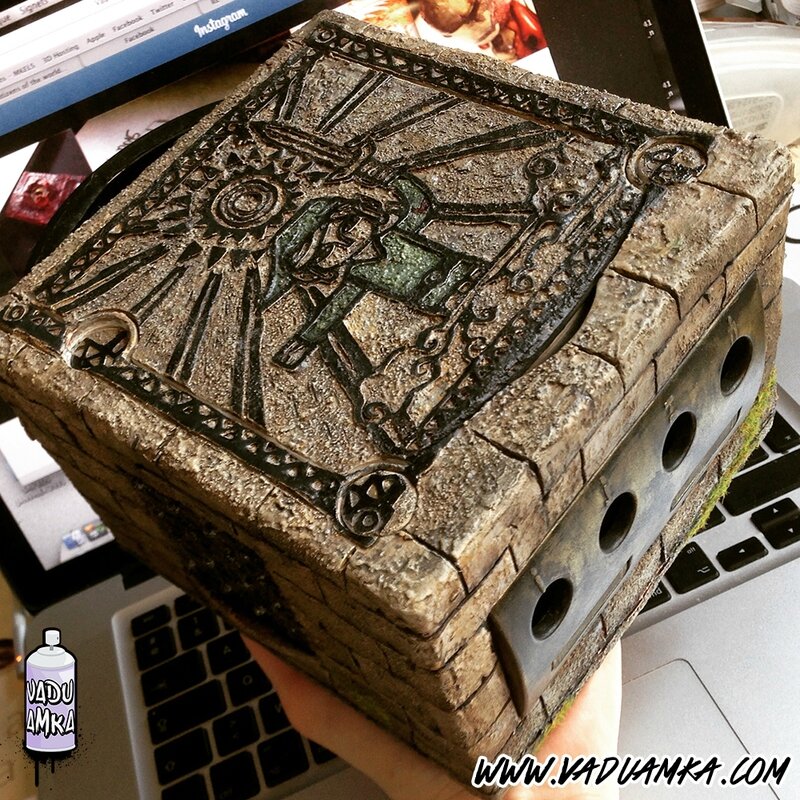 --- Final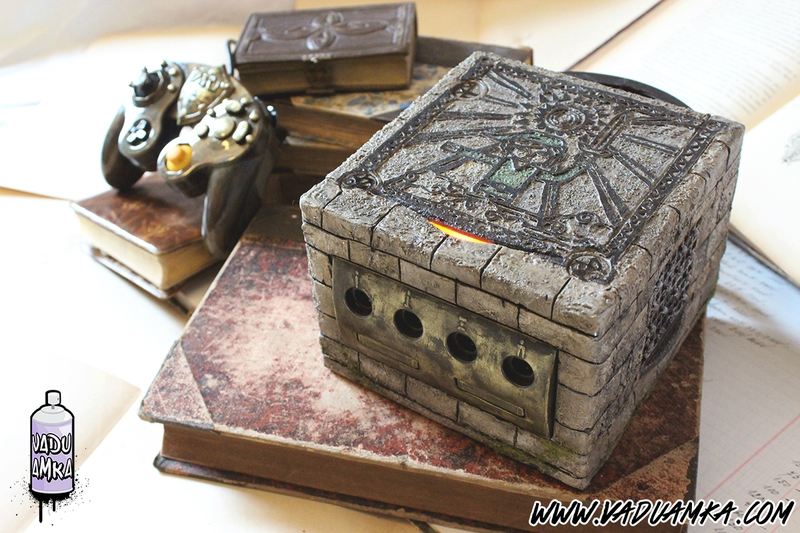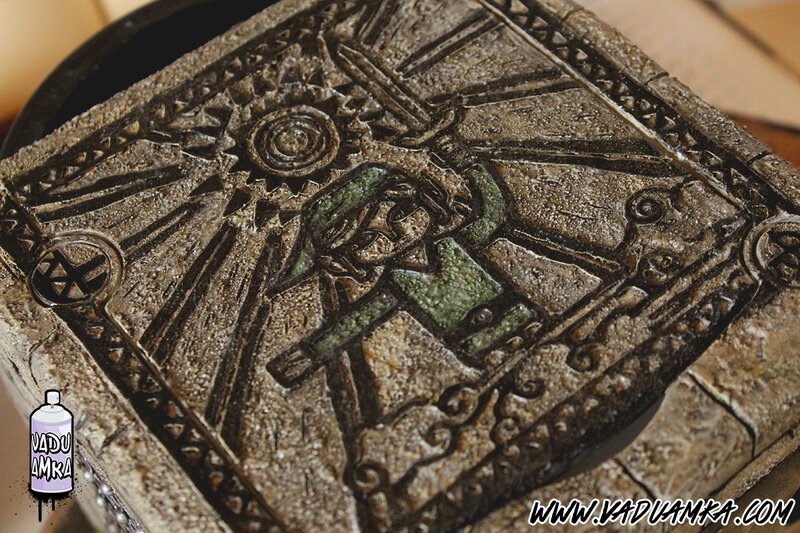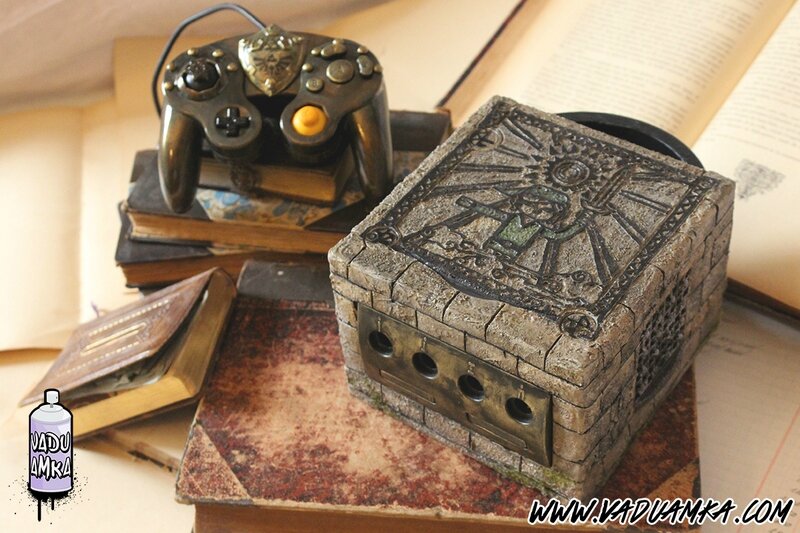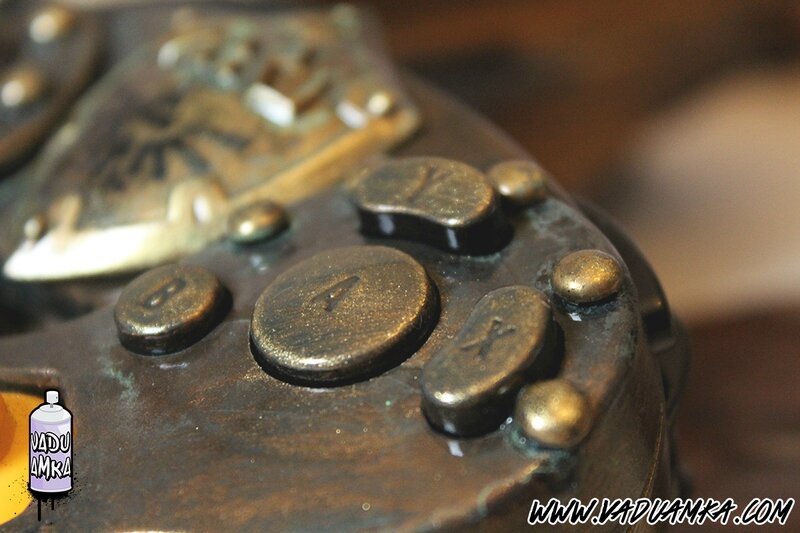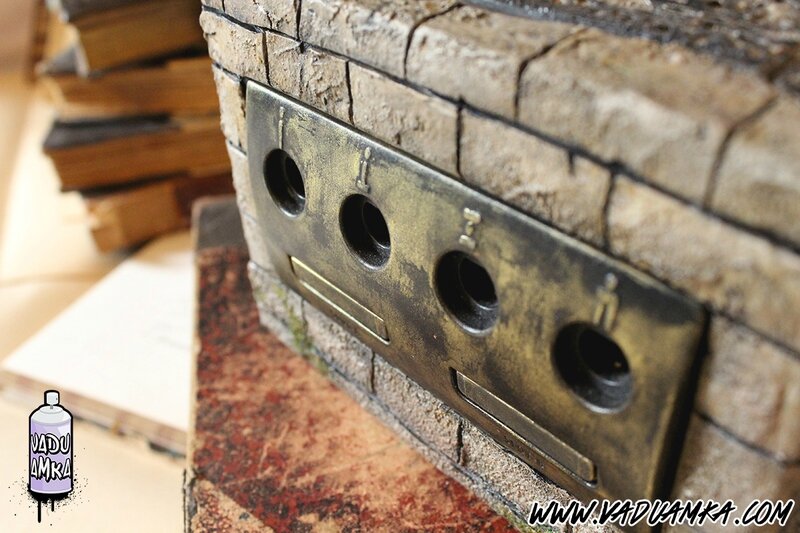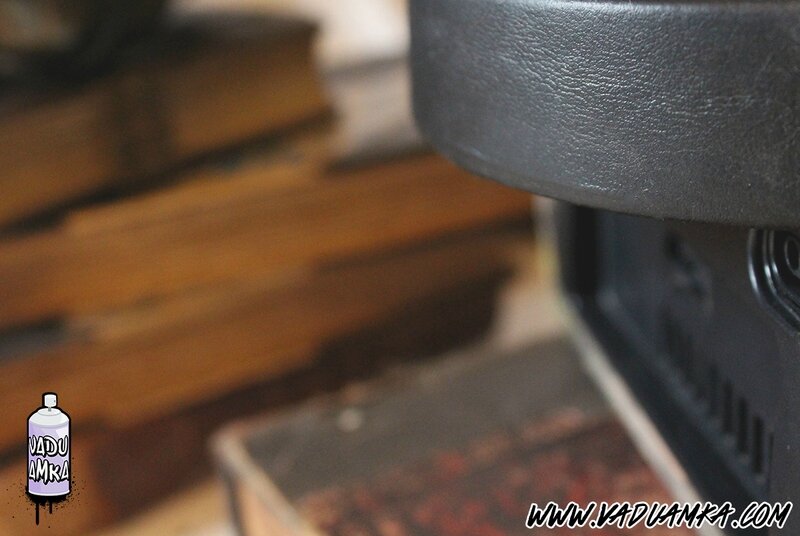 --- Bonus / Making-of
Cartouche Game Boy originale, modelée et sculptée à la main.