Promotional : PlayerUnknown's Battlegrounds themed controller series for Smartoys.
Only on XBOX ONE
Not available for sale

Copyright © 2018 PUBG Corporation. Tous droits réservés. PLAYERUNKNOWN'S BATTLEGROUNDS et PUBG sont des marques déposées de PUBG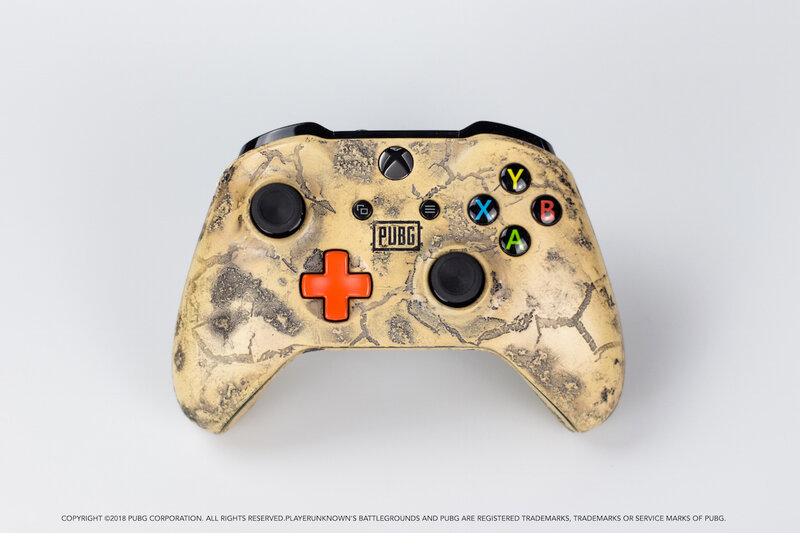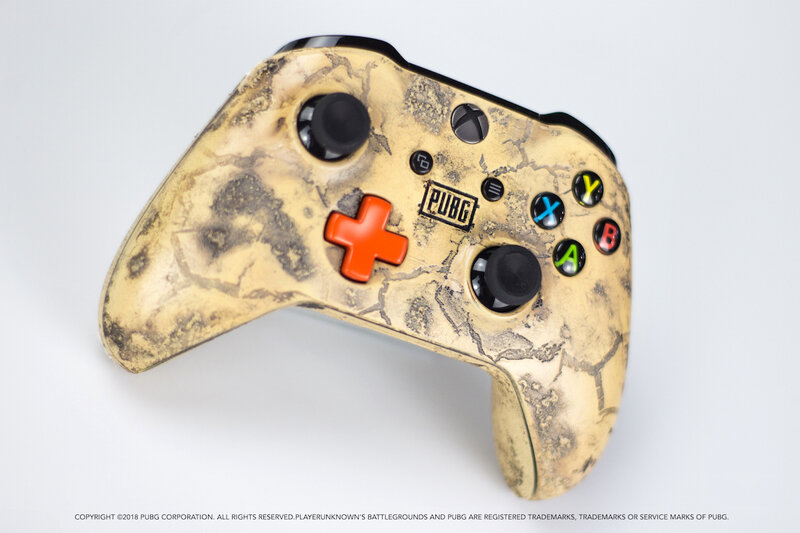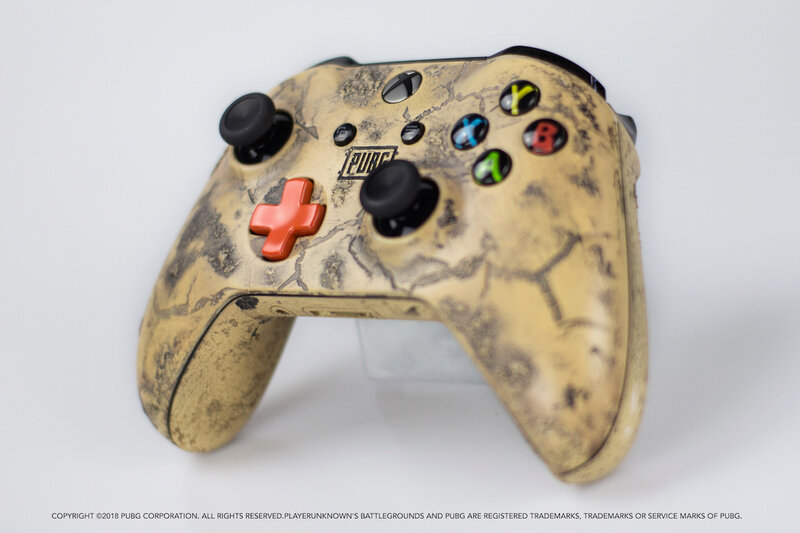 Modding @ Random Print
Nouvelle console sur le thème de Pokémon, il s'agit cette fois des ruines Zarbi (Unown en anglais), La console a été réalisé pour un certain "Gogetoad", son pseudo est écrit en alphabet Zarbi au dos de la console. Les boutons A et B sont eux aussi déclinés de la même façon. A l'avant de la console on peut reconnaitre la carte de Kanto et à l'inverse derrière, Johto. Pour la petite annecdote, j'ai réalisé en 2014 une console Pokémon rouge et bleue et Togepi, annonçant la suite de la série de manière chronologique par rapport à la série TV et aux jeux vidéo. Cette console reprend donc l'univers de Or et Argent... :) Je réserve autre chose pour Suicune.

Le but de cette création était de donner l'illusion d'un objet antique et mystérieux issu des ruines.

Et si l'envie vous prend de rejouer à Pokémon en 2019 sur Android, jetez un oeil à ce top 6 des applications en rapport avec la franchise. Et oui ! Il n'y a pas que Pokémon Go dans la vie :)


---
New console on Pokemon's theme ; This time it's about Unown Ruins. This console has been made for "Gogetoad", his nickname is written in Unown alphabet in the back of the console. A and B buttons are also written the same way. On the front of the console, we can easily recognize Kanto's map, wheareas Johto's is on the back. One small anecdote: in 2014 I had made another Pokemon console (blue, red and Togepi), annoncing that this serie would continue chronologically and follow the TV show and video games. Thus, this console is using Gold and Silver universe... émoticône smile I am going to do something else for Suicune.

The purpose of this creation was to give te illusion that it's an old and mysterious artefact found in the ruins.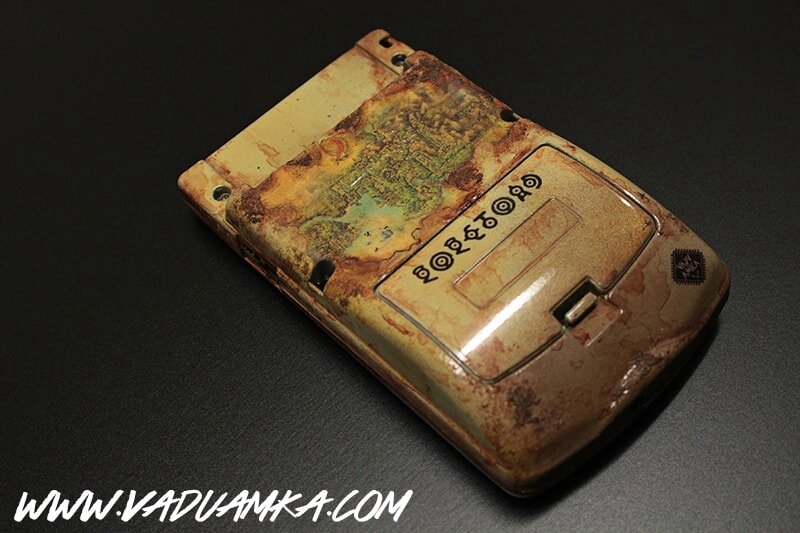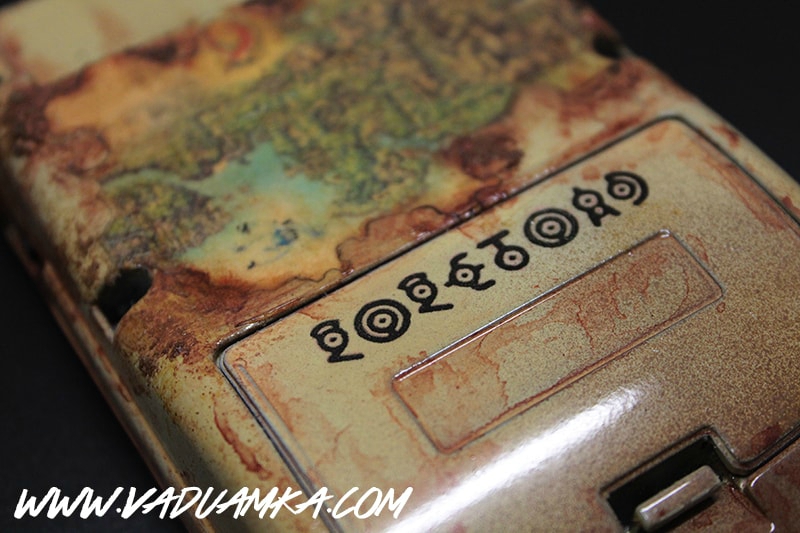 Le Munny c'est quoi? Il s'agit d'une figurine vierge qui peut adopter bien des apparences différentes et se prête ainsi à la customisation. On peut aussi les retrouver sous le nom d'art toys, designer toys ou urban vinyl.

Quant à mon tout premier Munny réalisé, il est sur le thème d'un Iron Man post apocalyptique. Je voulais m'éloigner des rendus lisses qu'on croise sur la toile et les toys quasi-parfaits, industriels. (Ils sont quand même beaux)

Si vous suivez régulièrement le blog, vous avez sans doute remarqué mon penchant pour la texture.
Ce petit bonhomme est donc réalisé avec des matériaux de récupération, du plexi, des câbles et de la peinture acrylique vernie

---


What exactly is a Munny? Well, that is à blank figure which can adopt à lot of différent appearances and is perfect for customization. You can find them in stores under the name of "art toys", "désigner toys" or "urban vinyl".
For the very first Munny I created, the theme I used was an "post apocalyptic Iron Man".
My main idea was not to reproduce all those smooth finishes and near-perfect industrial-Like toys you often come accross on the web. But i do agree with you : they look awesome!
If you follow the blog, you probably noticed that I really into that texture thing.
So that is why this little guy was made with recycled materials, plexiglass, cables and varnished acrylic paint.
Cartouche Game Boy originale, modelée et sculptée à la main.

Inspiré d'une publicitée de Donkey Kong Country 2, j'ai réalisé le plus fidèlement possible une reproduction de la GBA SP sur ce même thème.
La console fonctionne parfaitement et est jouable. Elle était en exposition à la Retro Made in Asia @NamurExpo. Elle est entièrement sculptée à la main, certaines parties remoulées (produits: résine, enduit gras, sculpey, acrylique... )

Détails : écran AGS 001 "frontlight" , modèle européen. Touches directionnelles en bambou.
La console est en position ouverte et n'est pas prévue pour se fermer.
Dimensions : 15,5cm x 8cm.
Poids : 180gr
---
Inspired by an old Donkey Kong Country 2 advertisement, I made as accurately as possible a GBA SP reproduction on this theme.The console works perfectly fine and is totally playable. It was shown on exhibition at the Retro Made In Asia @NamurExpo.The design is entirely handmade carved, some parts has been remolded with the following stuff : resin, bold coating, sculpey , acrylic,...
Details : AGS 001 screen "frontlight", european model. Directional buttons are made of bamboo. The console is in it's open position and it isn't intended to close it as an artistic choice.
Dimension : 15.5cm x 8cm and weight : 180gr
↓ Not the original advertisement .

And yes, it works!

Review 2015


Après quelques modifications et retouches, les trajets des conventions et expositions à répétition ont peu à peu fragilisé la coque (Surtout un voyage en avion). J'ai profité de l'été et de son premier anniversaire pour refaire une partie de la peinture et remodeler les touches. La voilà à nouveau neuve!
26 avr. 2014
Photos du #WIP
Console entièrement sculptée. Peinture à la bombe "gris chaud" & brossé. Ensuite, un Lavis de noir pour faire ressortir le relief. Bouclier en résine et peint à la main, lierre découpé dans du carton : peinture acrylique et aux poscas, vernis et enduit d'un côté de colle vinylique pour l'élasticité. Nouveau lens avec protection.
Durée du projet : Deux semaines et demie.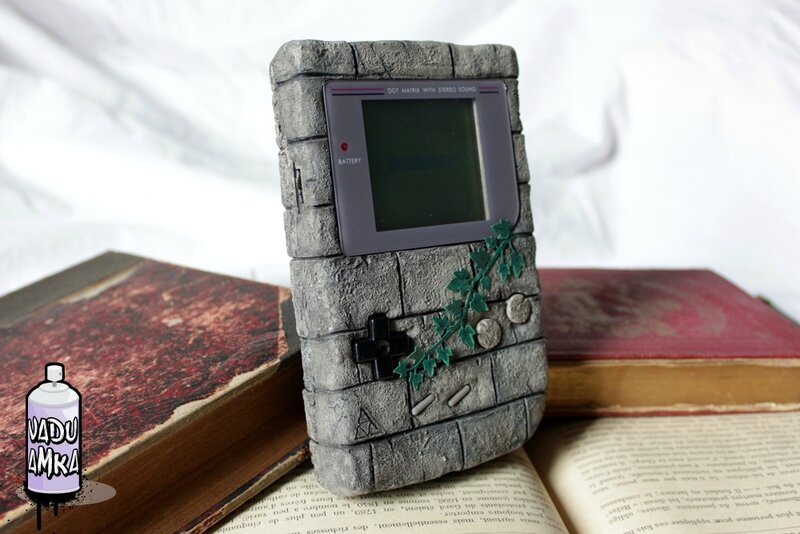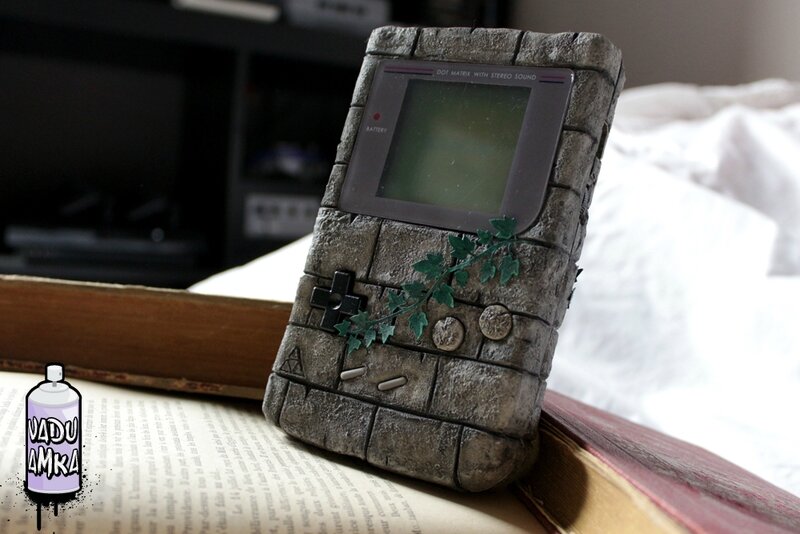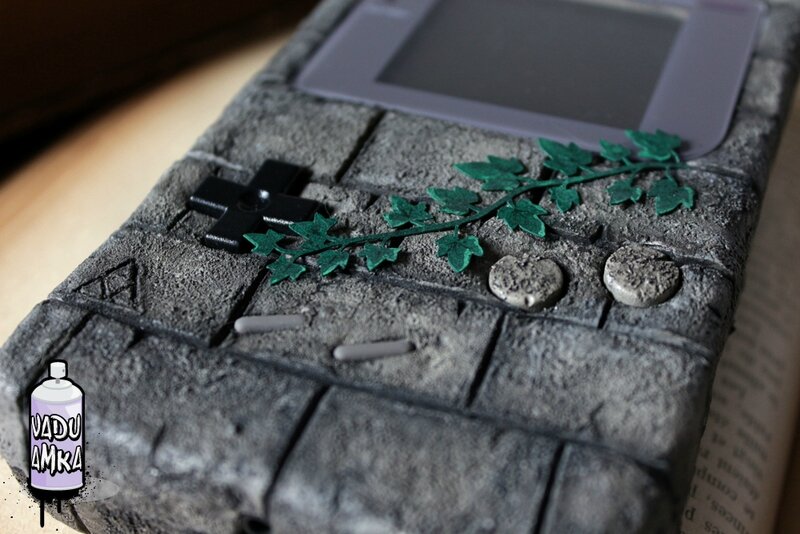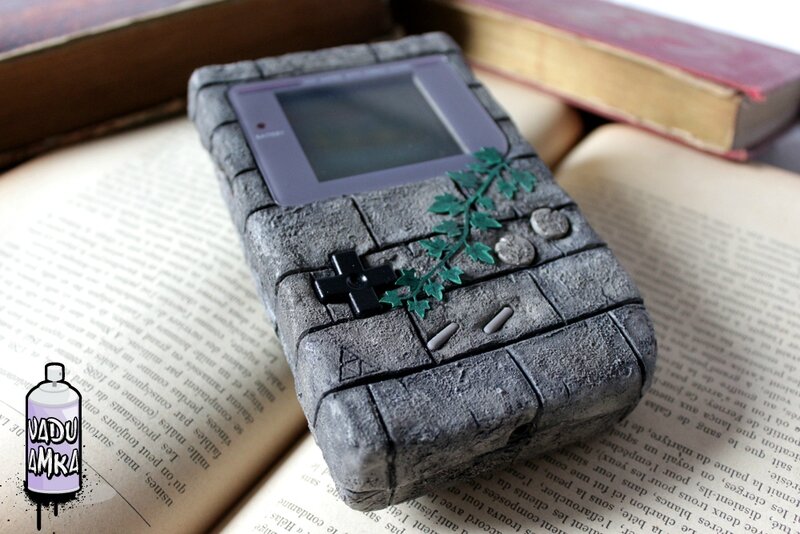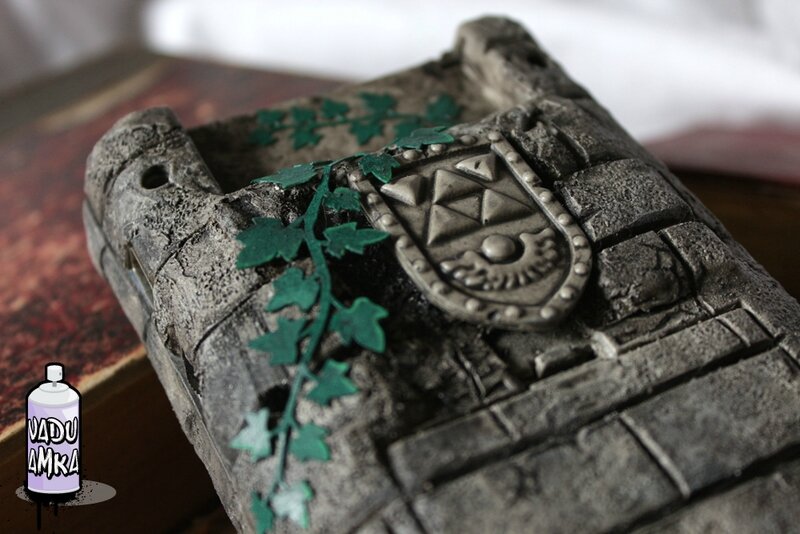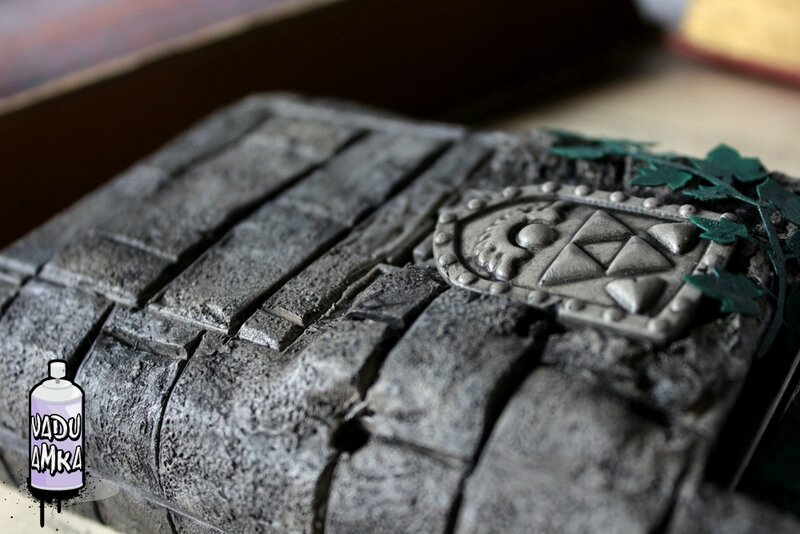 21 févr. 2014
Peintures acryliques & pigments (Bronze, cuivré, dorure, oxyde,...)
Coque re-modelé sur mesure
Protection de l'écran intégré en pvc 0.4mm
NB: Sa couleur varie en fonction de la luminositée ambiante (La photo WIP étant la plus fidèle d'un point de vue coloris).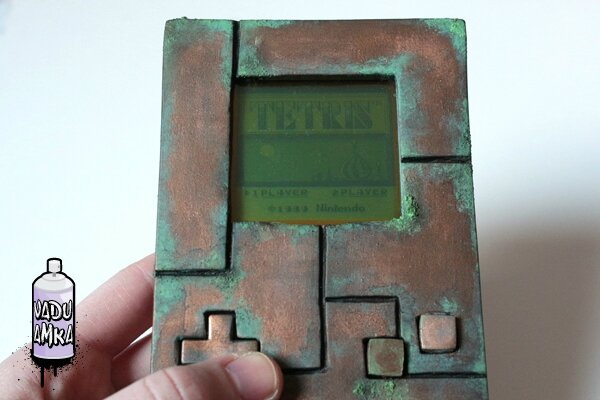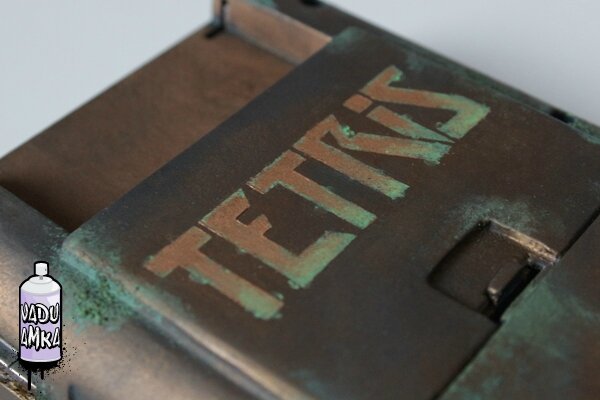 30 janv. 2014
Premium Package - Metal Gear revisité
Texture camouflage / Rouille
Imaginez une vieille bombe non désamorcée, un objet métallique dissimulé durant des années dans la jungle...
Réalisation Acrylique laqué, vernis & Découpe à la main.