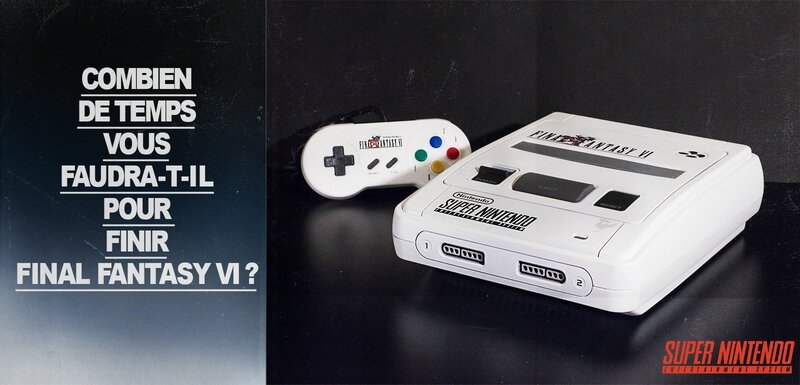 Il s'agit de ma 3ème réalisation sur le thème de Final Fantasy VI. Et on pousse le détail toujours plus loin ! Initialement, elle possédait bon nombre de coups et fissures. J'ai comblé du mieux que j'ai pu certains dégâts sur la coque et colmaté les fissures avec de la colle epoxy et du mastique Tamiya.

La console est plus sobre et fidèle à l'esprit des covers du jeu. Cette Super Nintendo PAL possède un switch pour lire les cartouche US. Son port a été soigneusement adapté pour accueillir les différentes versions. Elle a été customisée avec deux manettes dont les sérigraphies, très fines, reprennent la charte du boîtier du jeu ainsi que la typographie. Vous pouvez me laisser un avis en commentaire et partager cet article s'il vous a plu ! C'est toujours encourageant d'avoir des retours d'un peu partout dans le monde. A très bientôt pour un autre projet sur Super Nintendo.
---
This is my third realization on theme of Final Fantasy VI. This time, I'm pushing even further on the details. At the beginning, the console was damaged and had many bumps and cracks. I patched the case to the best of my abilities and filles holes with epoxy glue and Tamiya mastic.

This console is sober and respects the spirit of the game covers. This Super Nintendo PAL has a switch to read US cartridges. Its port has been carefully adapted to receive both versions. It comes with two controllers which have been customized with fine silkscreen prints, using the chart and typography of the game box. You can let me know what you think of this artwork in comments or share this article if you liked it! It's always encouraging to receive feedback from all around the word. See you soon with another project on Super Nintendo.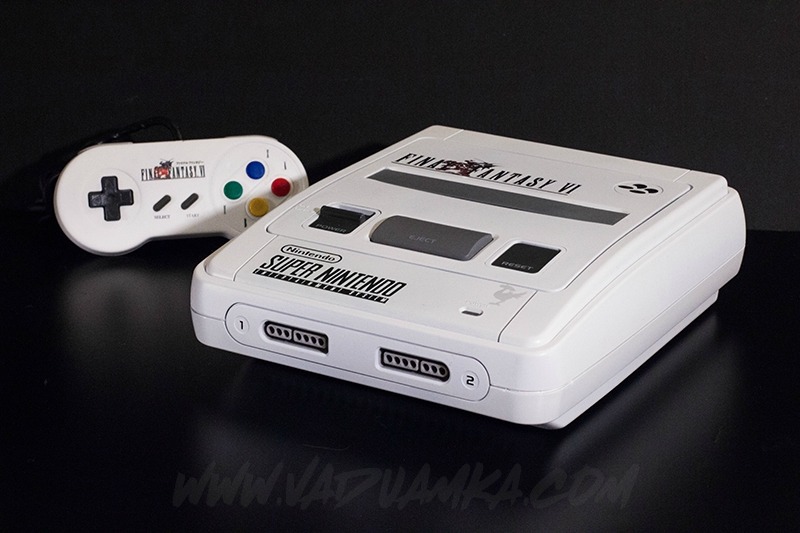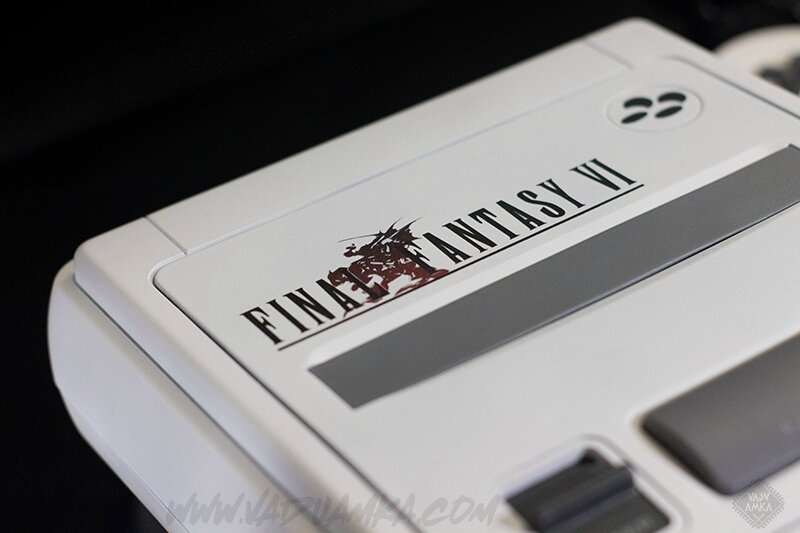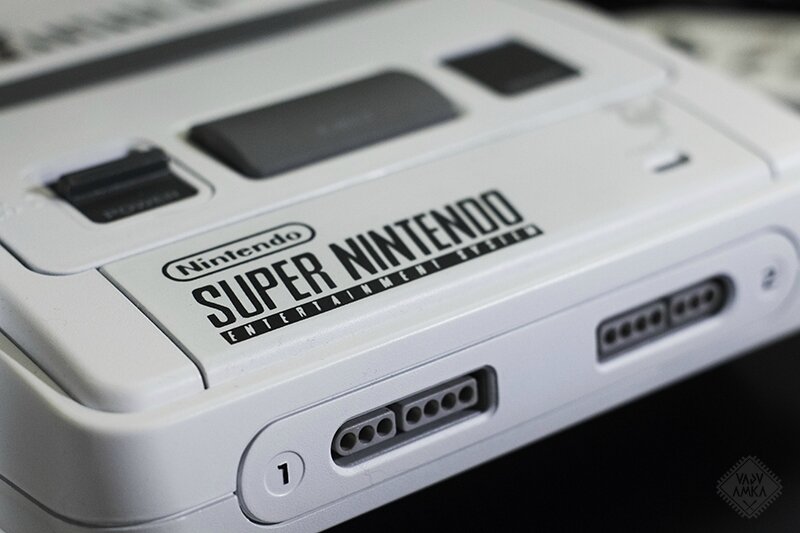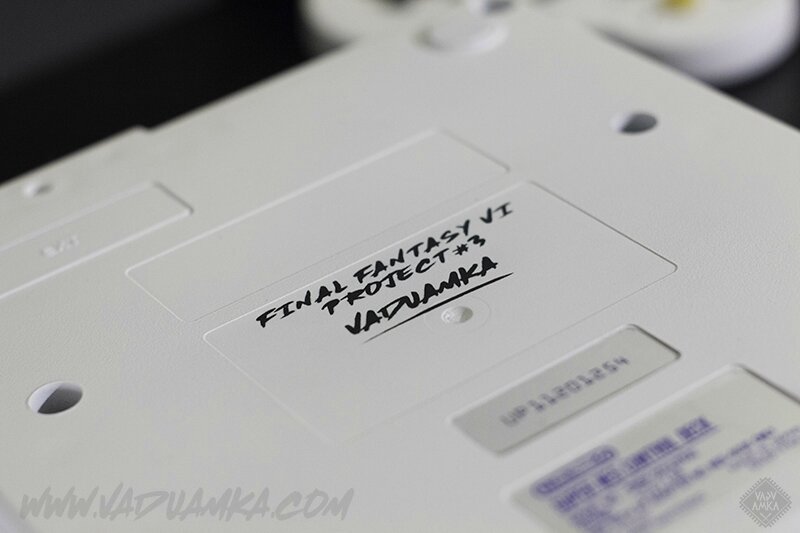 Réalisation d'une pièce unique pour exposition :
XBOX ONE S sur le thème de Final Fantasy XV. [Royal Mysterious Chest]

Plusieurs artistes ont contribués à cette exposition avec l'aval de Square Enix et Microsoft. L'expo située à Châtelet sera normalement accessible pendant 10 jours. Aux côtés des oeuvres, il y aura notamment des originaux et un tas de surprises à venir découvrir sur place. Une partie de la salle à l'étage est même dédiée à la démo du jeu.

Pour ma partie : en ce qui concerne la création sur console, il s'agit d'un "coffre" assez discret, orné de quelques motifs en acanthes stylisés qui sont inspirés du trône royal. Le design est influencé par ce que l'on peut voir comme architecture assez diversifiée dans le royaume de Lucis.
Matériaux : bois de chêne, laiton, métal, résine et cuirette (tannage végétal). La Xbox One fonctionne et possède une manette assortie, portant fièrement le XV en relief.

Adresse de l'exposition : 12 Rue de la Ferronnerie, 75001 Paris, France

NB: Je n'ai réalisé aucune autre XBOX ONE sur le thème de Final Fantasy XV.

---

Production of a unique piece for exhibition:
XBOX ONE S made on the theme of Final Fantasy XV.

Many artists have contributed to this exhibition with the endorsement of Square Enix and Microsoft. Located in Châtelet (Paris), the exhibition will be accessible for 10 days. Apart from artworks, there will be original pieces and many surprises. On the second floor, part of the room will be dedicated to the game's demo.

For my part, regarding creation on console, it is a discrete looking chest, decorated with stylish acanthus patterns inspired by the royal throne. The design was influenced by the various architecture we can see in Lucis kingdom. Materials : oak wood, brass, metal, resin, letherette. This Xbox One is fully functional and comes with an assorted controller proudly wearing the XV in relief.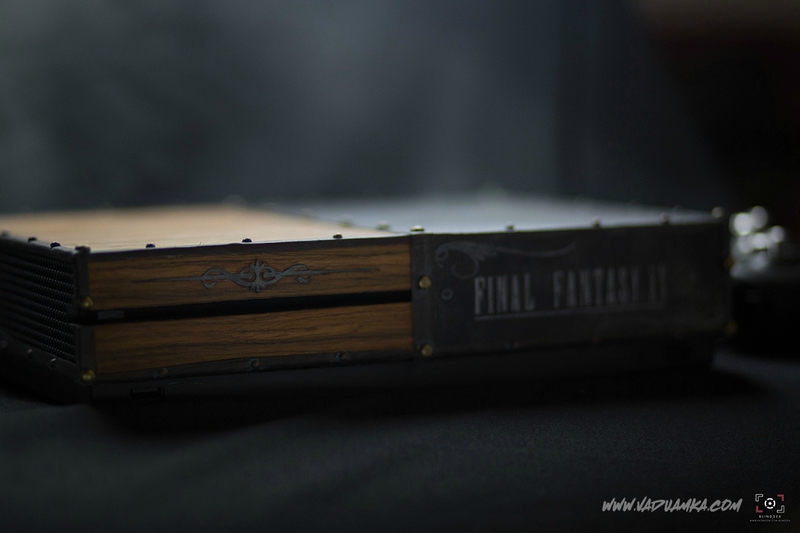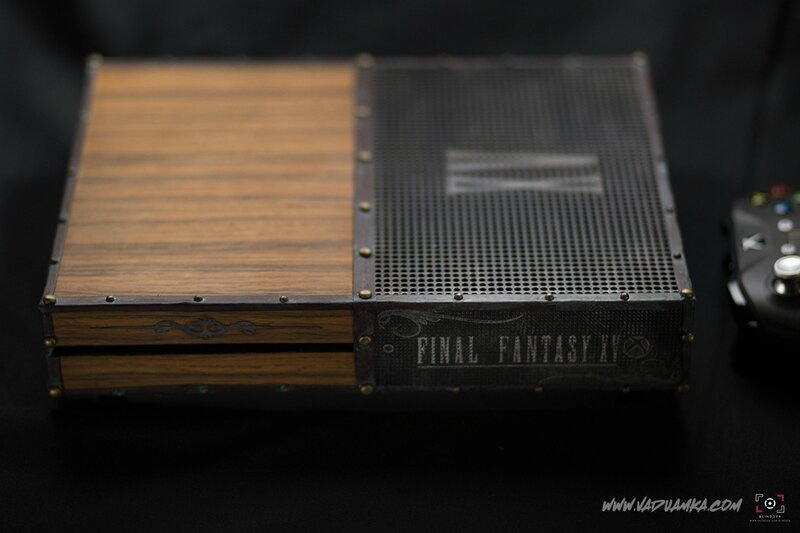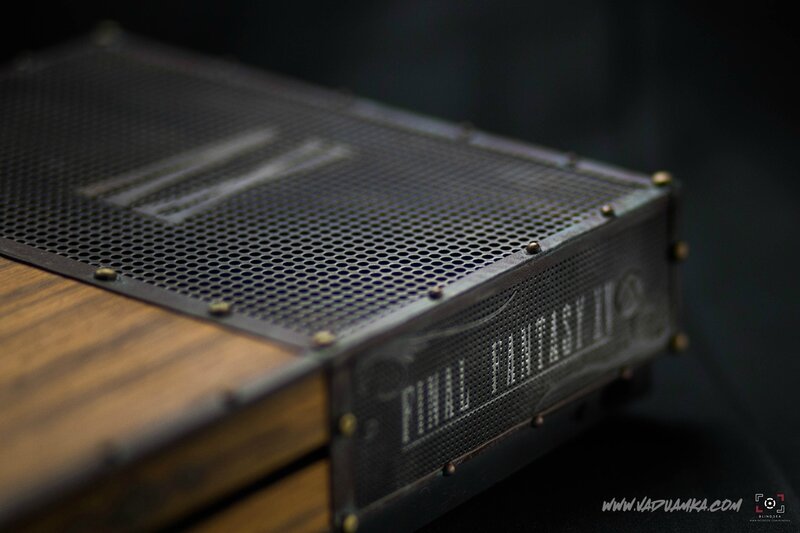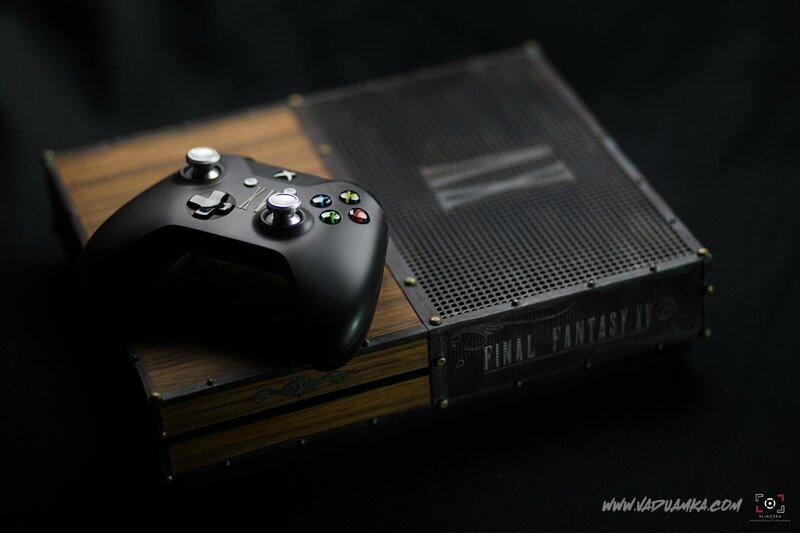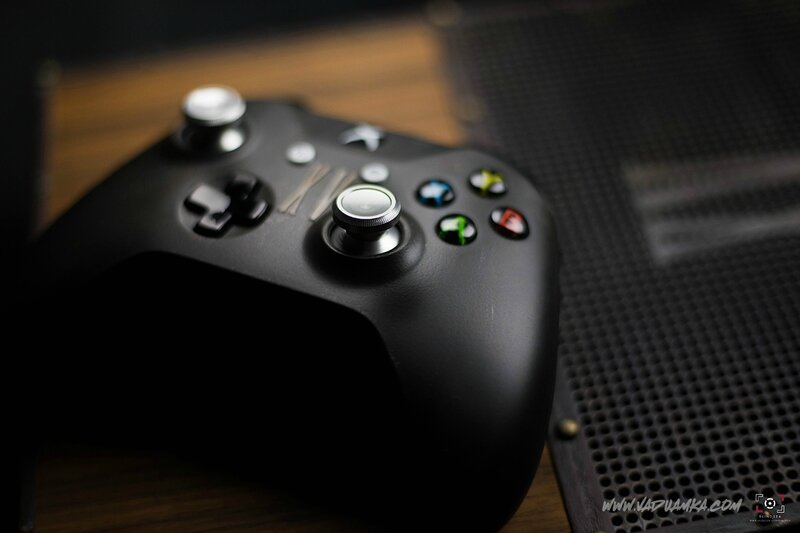 14 avr. 2014
Peinture acrylique : Montana White - Ancient White , bleu , vert & noir . Vernis UVs mat.
Console original : SCPH-7502. Réparée avec les restes d'une SCPH-9002 .
Bloc optique neuf.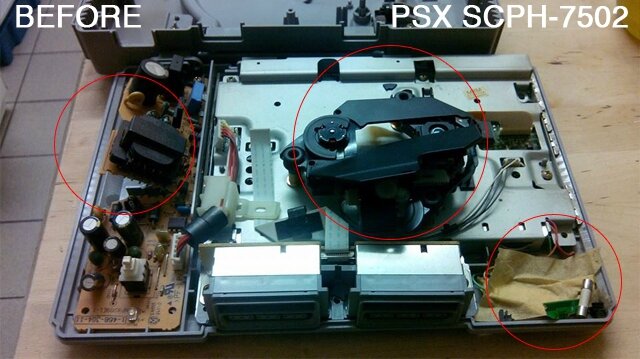 After ...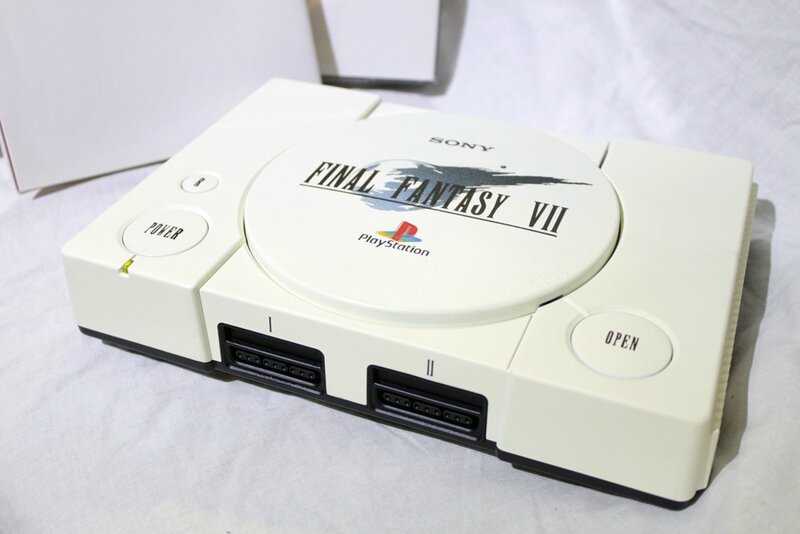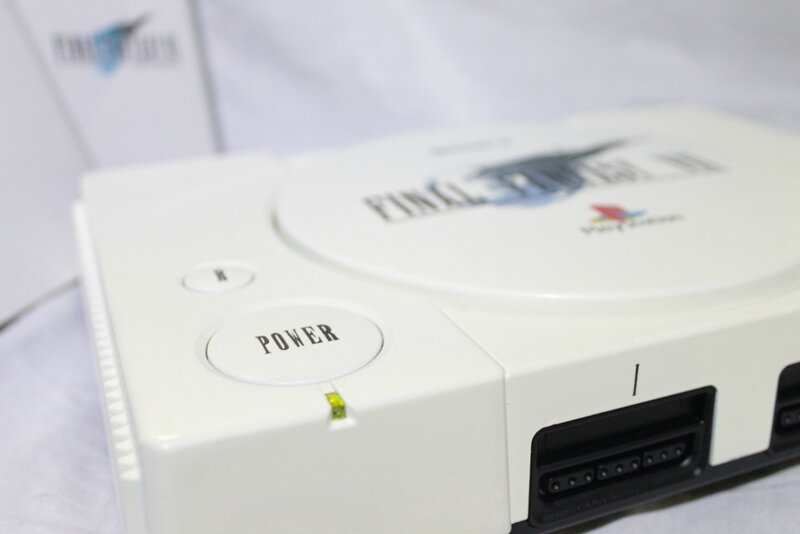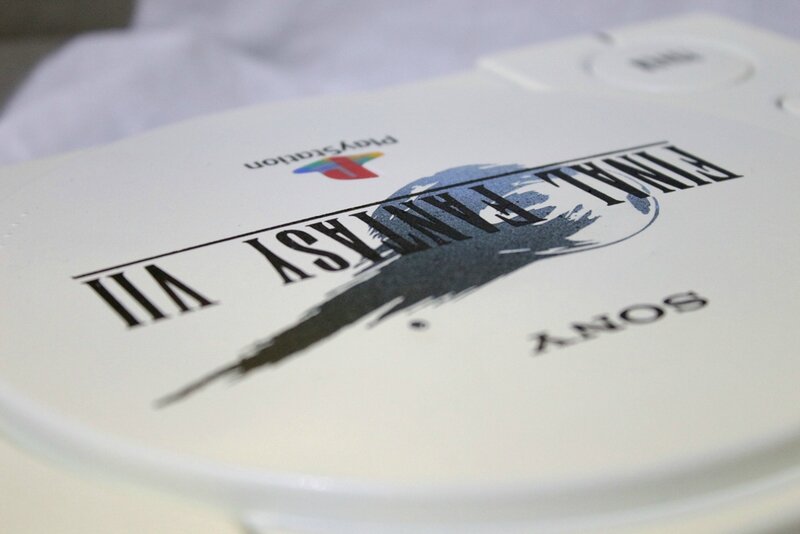 Si vous postez des photos sur votre site web ou blog, n'oubliez pas de créditer la provenance! ;3