"Rudy the abomination" est une création originale, sans réelle thématique liée au jeu vidéo. Il s'agit avant tout d'une vilaine console mutante, modifiée pour le fun. J'affectionne particulière le style horrifique et les props sanguinolents. La machine était initialement HS et très abimée. Une coque en somme parfaite pour le custom ! J'ai débuté cette modification de console durant l'été 2017 pour enfin trouver le temps de l'achever il y a tout juste un mois !

Je remercie Blind_Sea pour les photos ;)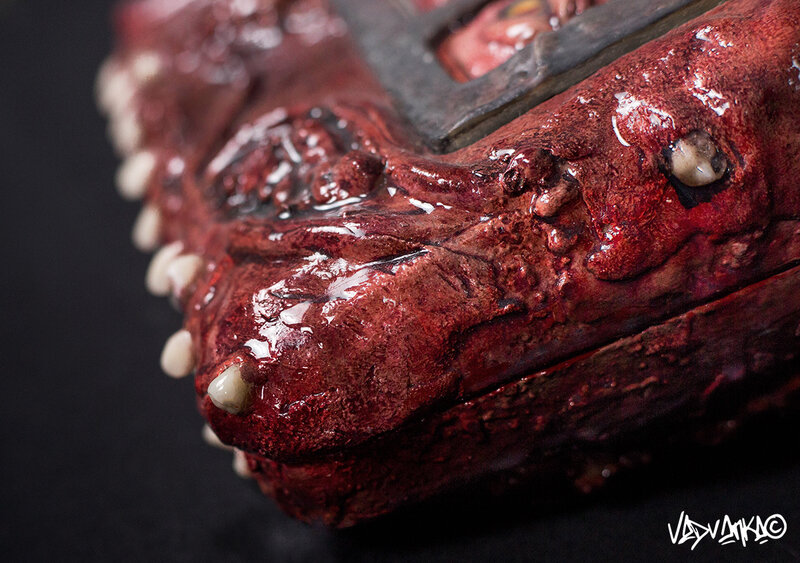 Customisation d'une Super Nintendo sur le thème de StarFox 2 pour la soirée LGX Retro Night à Luxembourg City. Peinture acrylique du logo Super Nintendo, vernis UV Mat avec sous couche aux pigments luminescents, ainsi la console brille la nuit ! Logo réalisé en plastique.
Exemplaire unique, promotionel.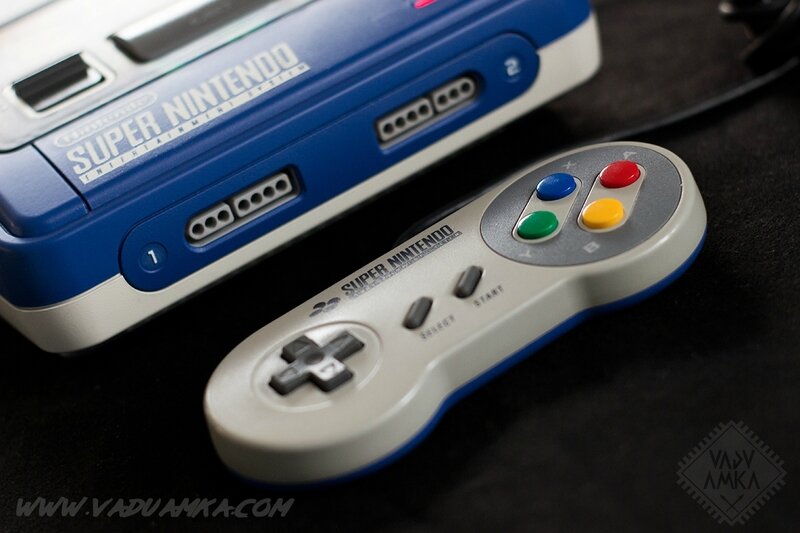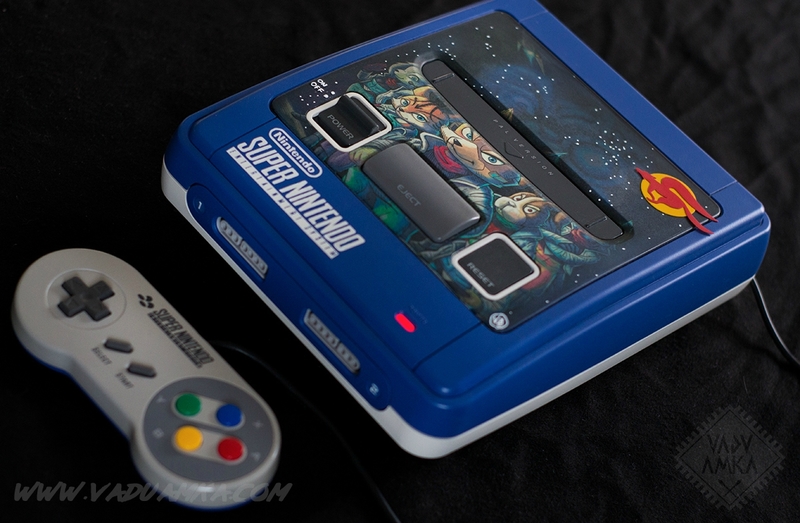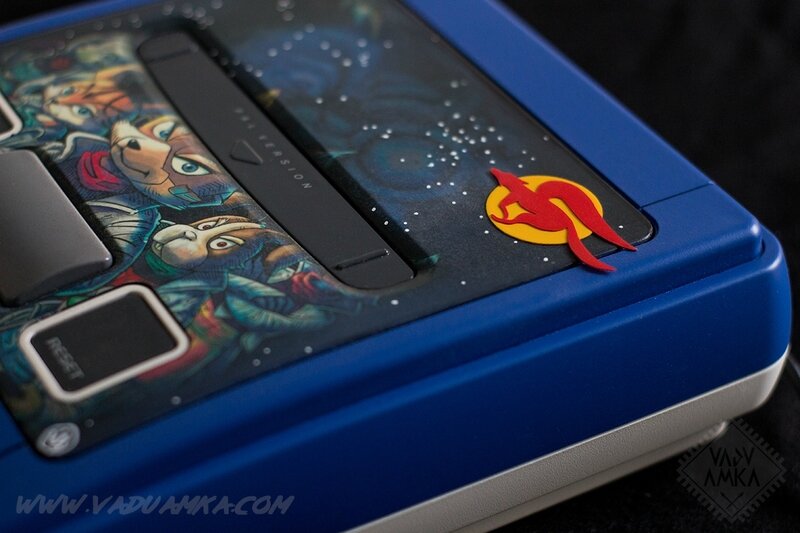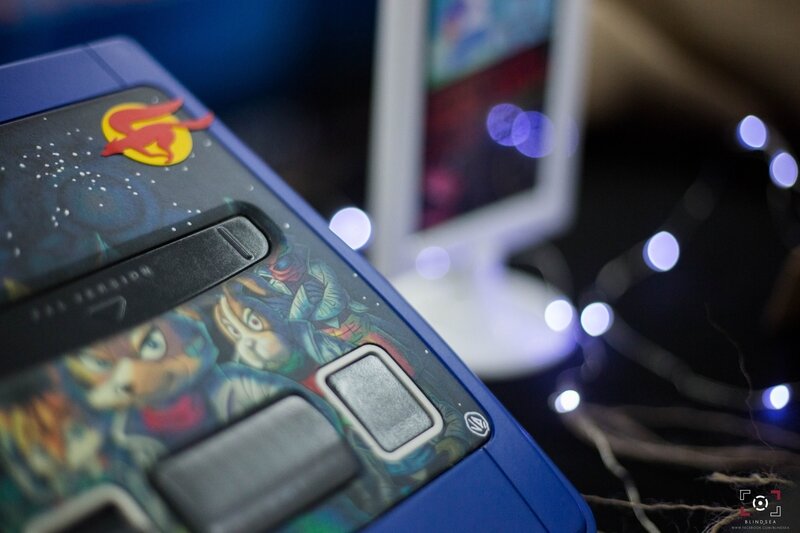 L'album de l'event sur Facebook, avec photo du workshop :
En projet depuis début janvier 2016, il m'aura fallu une année entière pour l'aboutissement de cette console. C'est elle qui détient actuellement le record de temps pour sa création. Ce sont les recherches, croquis et essais qui ont pris près de 1/3 de mon planning.

La partie supérieure de la console a été réalisée en une variété de palissandres et son port cartouche en essence de merisier. Comme le bois est un matériau vivant, il se rétracte et sa teinte peut varier dans le temps. J'ai passé plusieurs semaines à faire sécher mes pièces. (à poncer , vernir, poncer...) et observer son évolution. Les différents ornements sont réalisés en résine et peinte à la main et 80% de la coque a été sculptée. Les boutons et le port cartouche sont en métal. La manette possède une peinture oxydée et une plaque en métal circulaire avec un effet usé.

Elle appartient déjà à quelqu'un et n'est pas à vendre.
---

Started in January 2016, this project took me a year to be finished. This console holds the record of the longest creation time. Researches, sketches, and trials took almost one third of my planning.

The top of the console has been made with rosewood and the cartdrige port is in cherry wood. Like any living material, it can retract itself and its color can change over the time. I spent many weeks drying the various pieces (sanding, varnishing, sanding...) and to observe its evolution. The various decorations have been made in resin and hand-painted while 80% of the shell has been sculpted. The buttons and cartridge port are in metal. The controller has an oxydized paint and a circular metal plate with a used finish.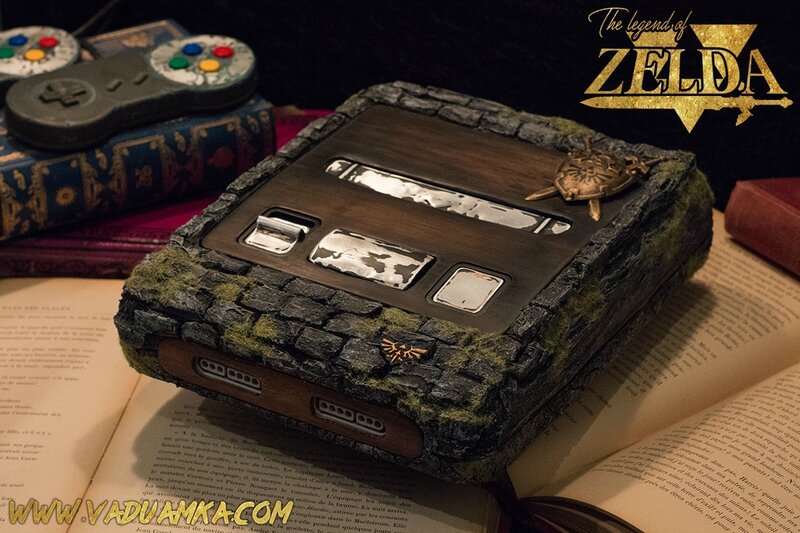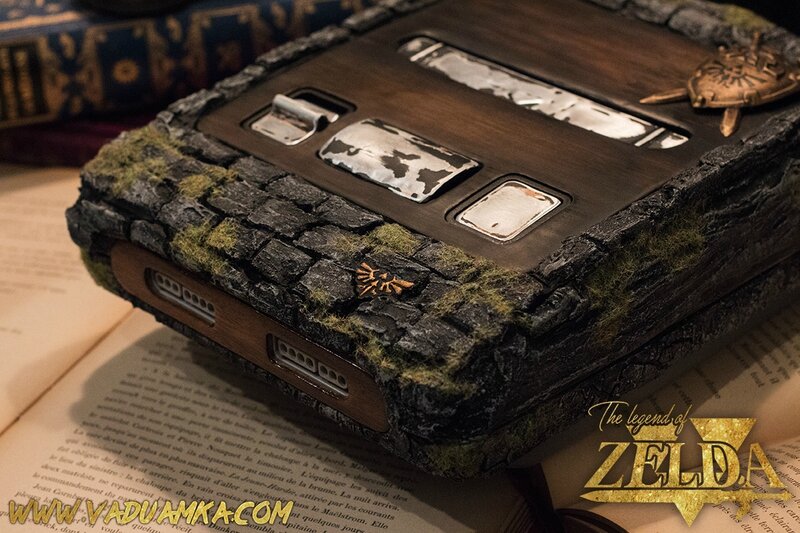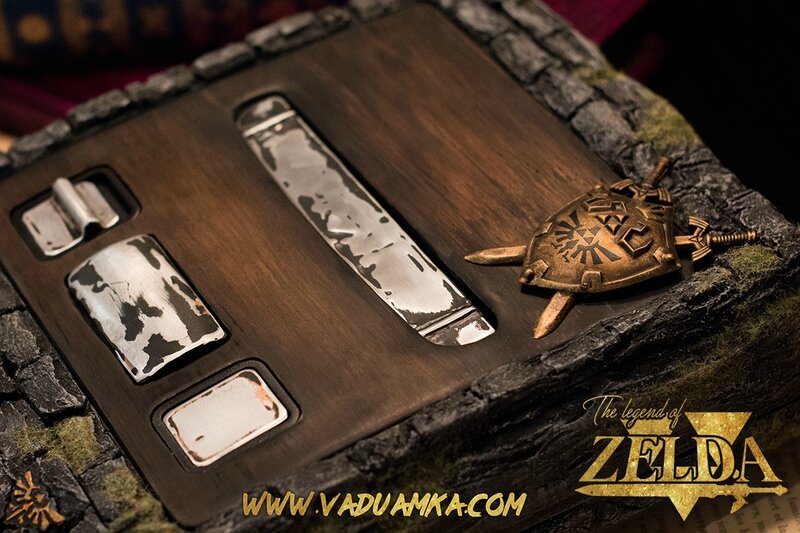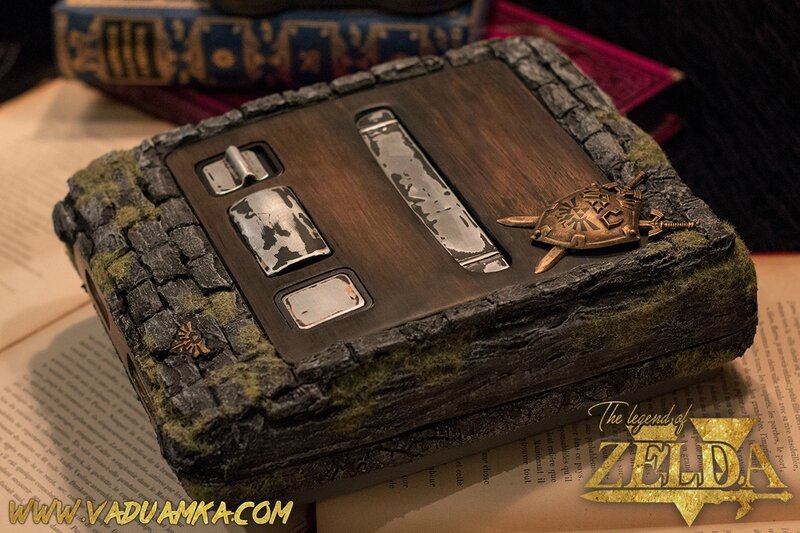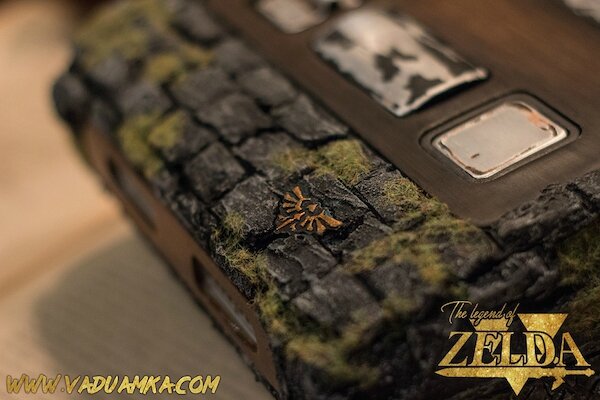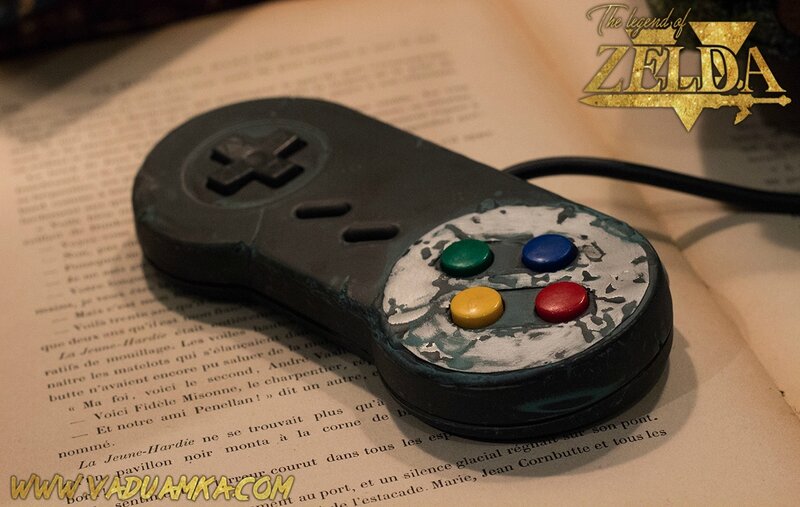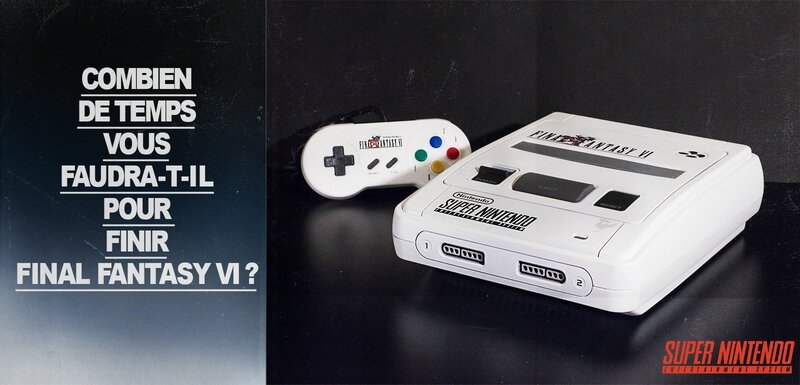 Il s'agit de ma 3ème réalisation sur le thème de Final Fantasy VI. Et on pousse le détail toujours plus loin ! Initialement, elle possédait bon nombre de coups et fissures. J'ai comblé du mieux que j'ai pu certains dégâts sur la coque et colmaté les fissures avec de la colle epoxy et du mastique Tamiya.

La console est plus sobre et fidèle à l'esprit des covers du jeu. Cette Super Nintendo PAL possède un switch pour lire les cartouche US. Son port a été soigneusement adapté pour accueillir les différentes versions. Elle a été customisée avec deux manettes dont les sérigraphies, très fines, reprennent la charte du boîtier du jeu ainsi que la typographie. Vous pouvez me laisser un avis en commentaire et partager cet article s'il vous a plu ! C'est toujours encourageant d'avoir des retours d'un peu partout dans le monde. A très bientôt pour un autre projet sur Super Nintendo.
---
This is my third realization on theme of Final Fantasy VI. This time, I'm pushing even further on the details. At the beginning, the console was damaged and had many bumps and cracks. I patched the case to the best of my abilities and filles holes with epoxy glue and Tamiya mastic.

This console is sober and respects the spirit of the game covers. This Super Nintendo PAL has a switch to read US cartridges. Its port has been carefully adapted to receive both versions. It comes with two controllers which have been customized with fine silkscreen prints, using the chart and typography of the game box. You can let me know what you think of this artwork in comments or share this article if you liked it! It's always encouraging to receive feedback from all around the word. See you soon with another project on Super Nintendo.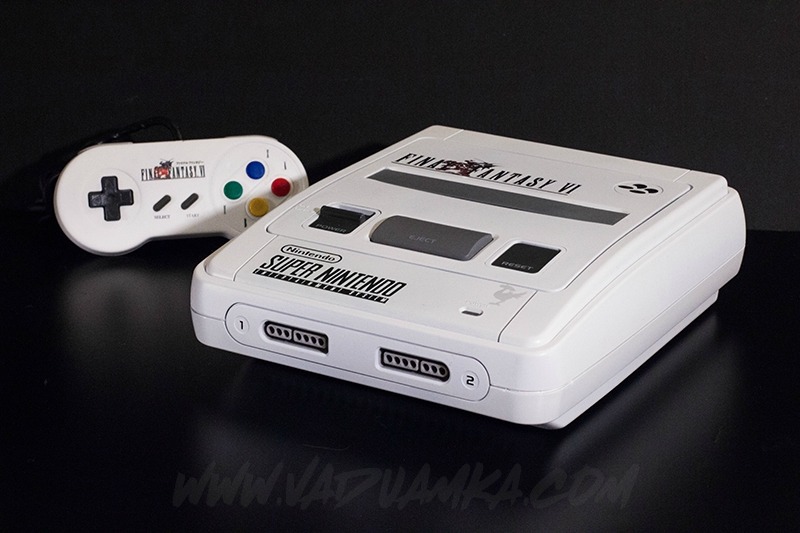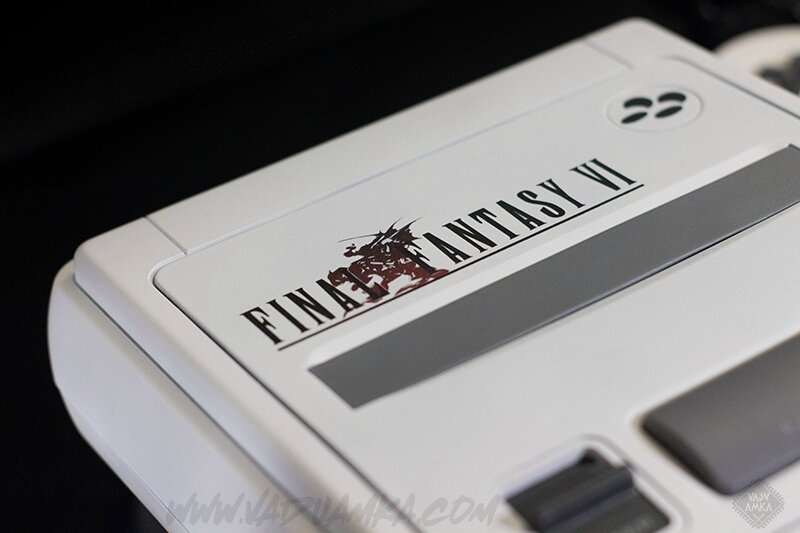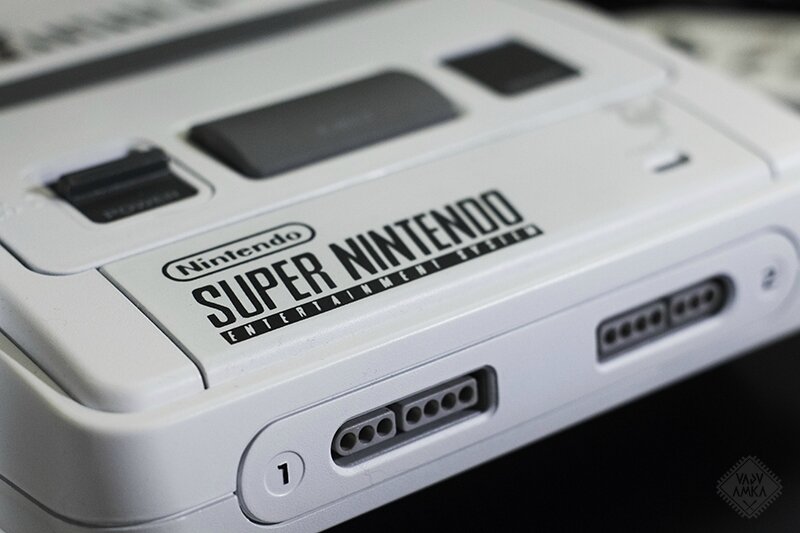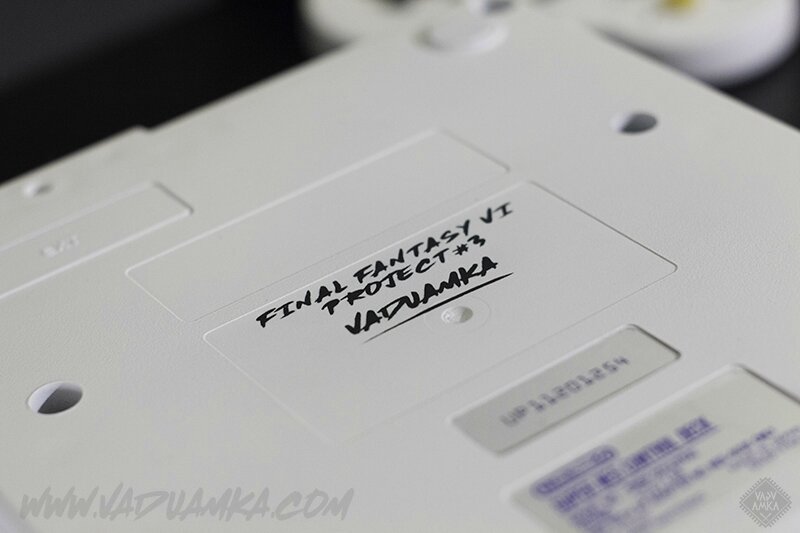 Dans le cadre du financement participatif du guide complet Zelda par l'Association Trop Gaming. le Dr. Lakav m'a demandé si il était possible de réaliser une édition speciale avec une cartouche en loose d'un Zelda ALTTP PAL FR !

* Ils proposeront à la fin de la campagne (celle-ci a atteint son objectif à 400%!) un tirage au sort permettant de gagner ma création. *

Cette cartouche super nintendo, The Legend of Zelda : A Link to the Past est un exemplaire unique et un fanmade. J'ai réalisé la boite sur base des bons conseils de www.nintandbox.net , merci y(oYo). Si vous souhaitez refaire vos boites et pas les vendre. Je vous recommande ce site! :)
J'ai opté pour du papier A3 300gr brillant de la mort mais pas trop non plus. Un papier trop épais a tendance à craquer lors du pliage.

Le lot se compose de :
La cartouche custom Zelda ALTTP PAL FR.

Ce n'est pas un cartmod !

La boite du jeu avec un calage, relooké par mes soins.
Le certificat d'authenticité.
Commande Mars - Avril / Commission March - April

Réalisation sur commande pour un particulier auprès de la Galerie KOCHI.
Super Nintendo personnalisée sur le thème de Final Fantasy VI. Il s'agit d'une console sur mesure et suivant les conseils et goûts du client. Cette console n'est pas disponible.
Commission for the gallery KOCHI (Paris)
Super Nintendo personalized on the theme of Final Fantasy VI. It is about a custom-made console and according to the advice and the choice of the customer. This console is not for sale
Console réalisée pour Fred (Sparadrap), acteur de la web-série Noob, grand fan de la série Castlevania. Ce dernier a fait le souhait ultime de posséder une Super Nintendo unique et « of the dead » évidemment !
Débutée durant le mois d'avril après de longues soirées de délibérations et de décisions cruciales… C'est au final le château de Dracula qui se dessine sur la partie centrale de la console. Choix de quelques éléments emblématiques ou faisant un clin d'œil à la saga : cercueil, croix, chaînes, fouet, squelette, bois, dorures, pierre, et décor vampirique.
Easter Eggs cachés sur la manette (3) : rapide et agile, il apparaît dans Dracula X, Symphony of the Night, Circle of the Moon…
Les traces d'un objet perdu ou arraché sont visibles. Peut-être les restes d'une lutte acharnée ?
---
Console made for Fred (Sparadrap), actor in the Noob web-serie and a Castlevania's big fan! He's made a wish to own a unique Super Nintendo and " of the dead" naturally!
Started in April, after long evenings of negociations and crucial decisions… Finally it's Dracula's Castle that's designed in the central part of the console. Some emblems of the serie have been chosen: coffin, cross, chains, whip, skeleton, wood, gilding, stone and vampire decoration.
Hidden Easter Eggs (3) : Fast and agile, he appears in Dracula X, Symphony of the Night, Circle of the Moon… Marks of a lost or snatched item are visible. Maybe the rests of a bitter fight?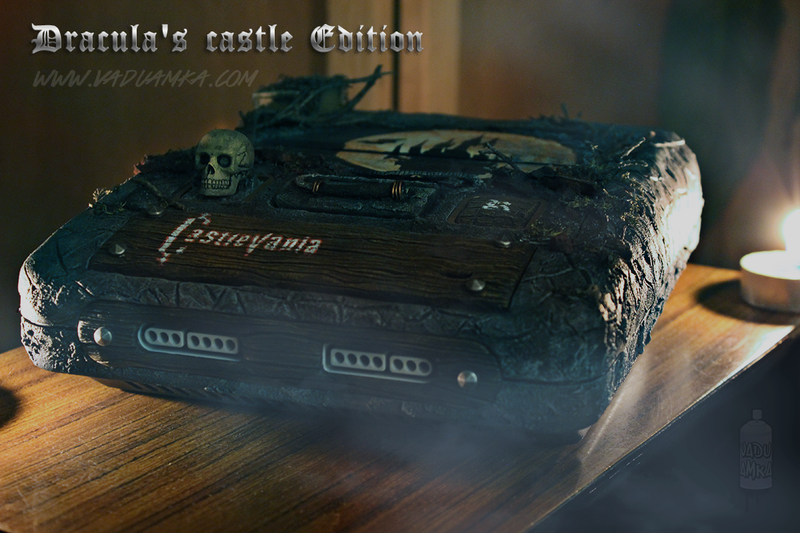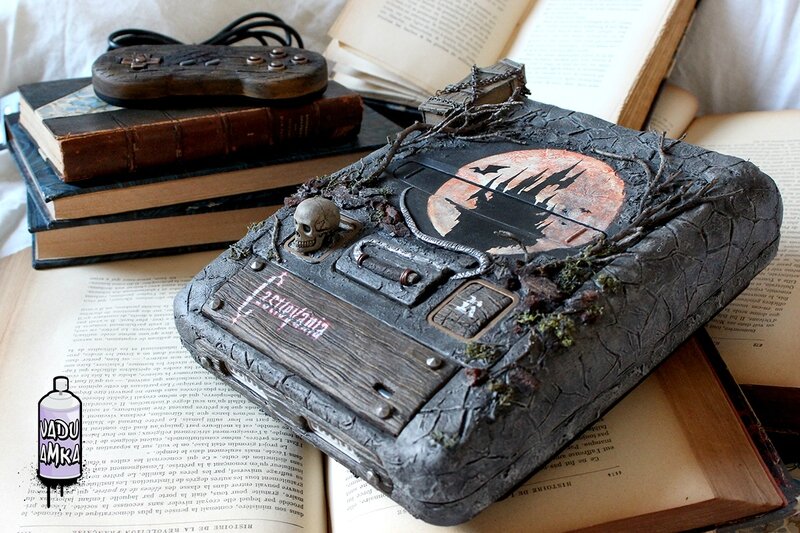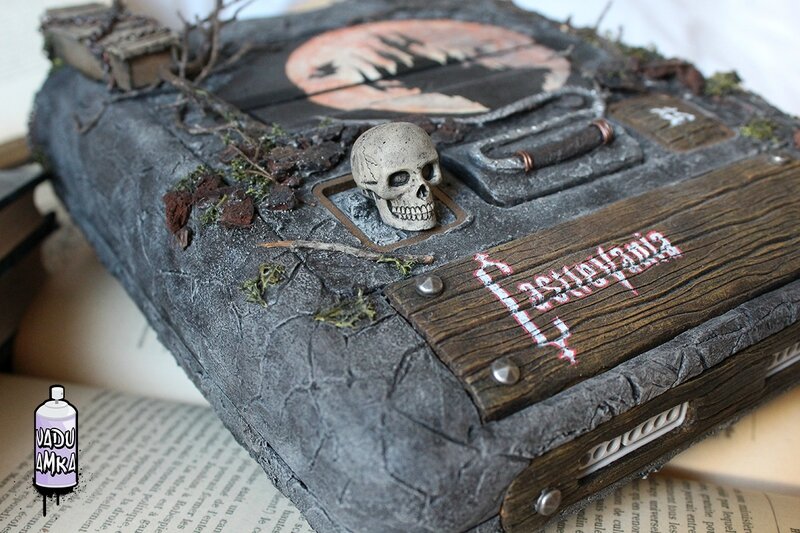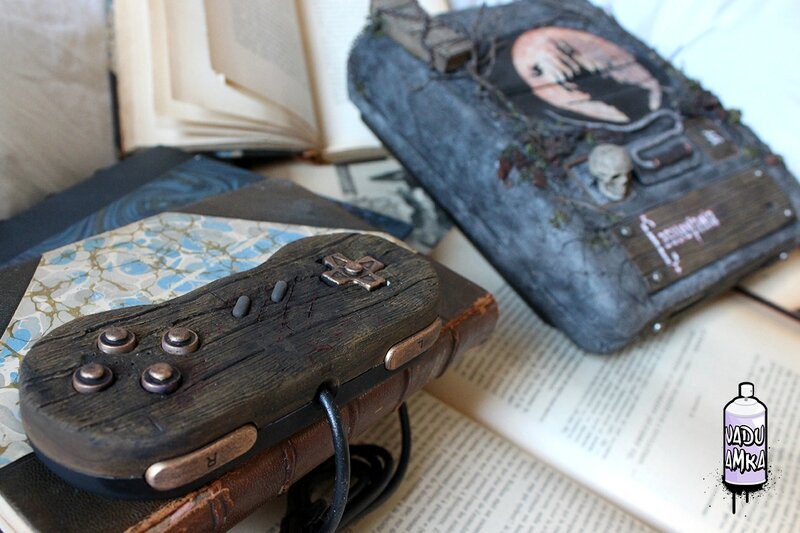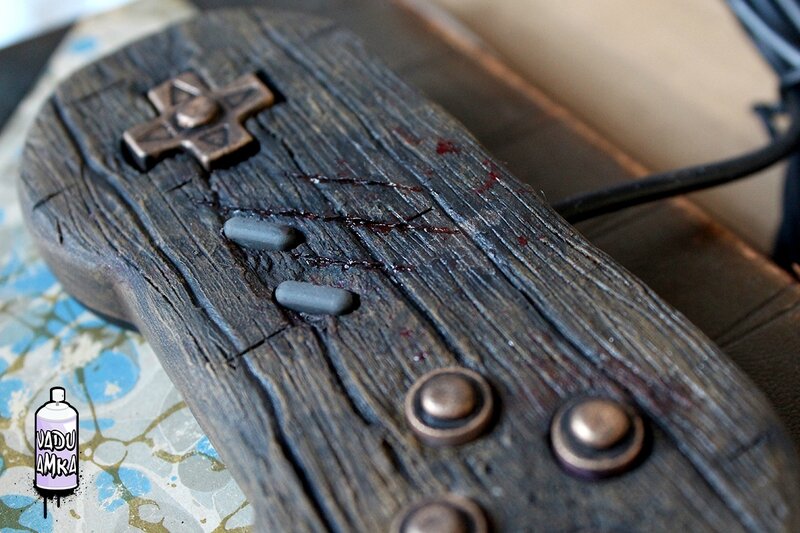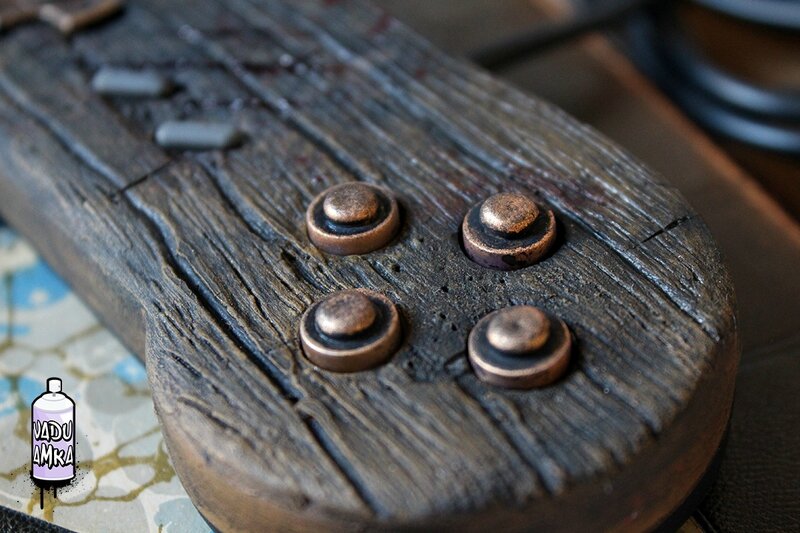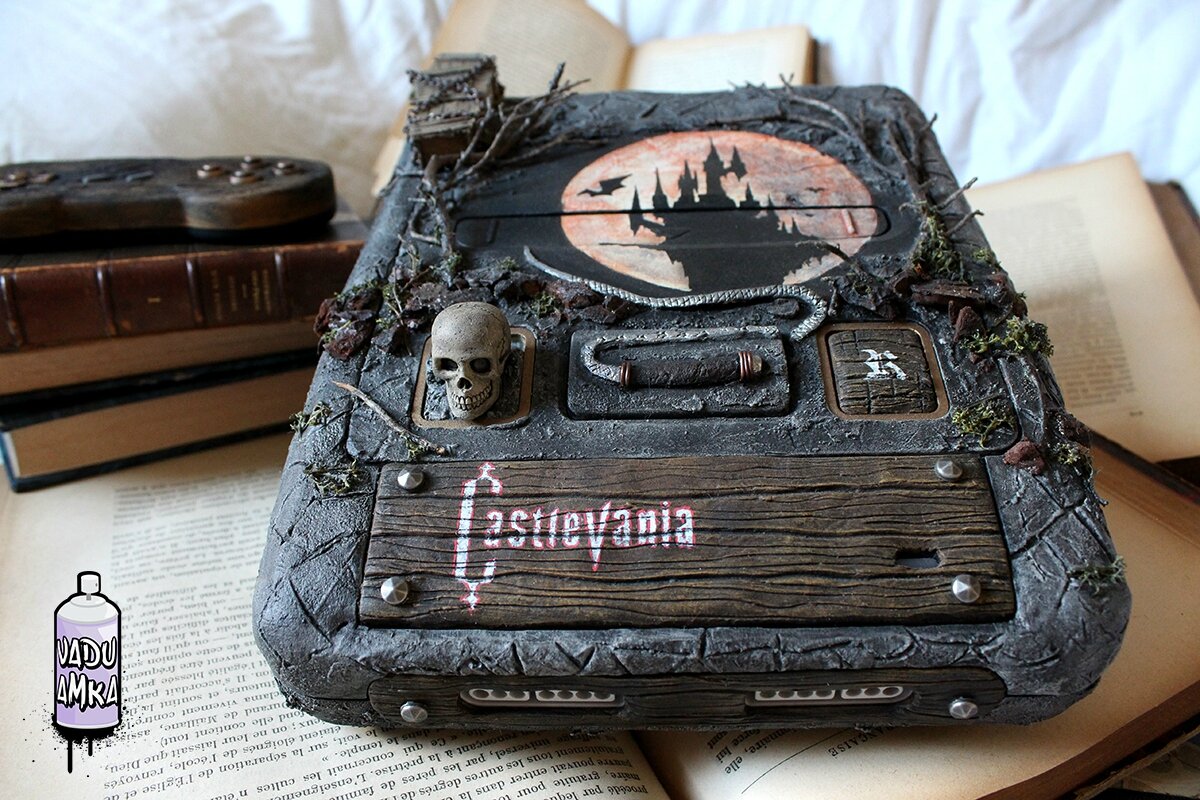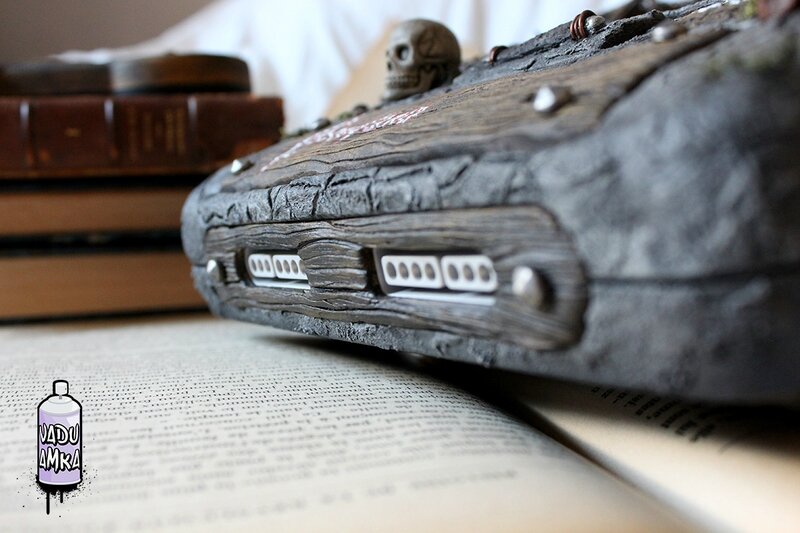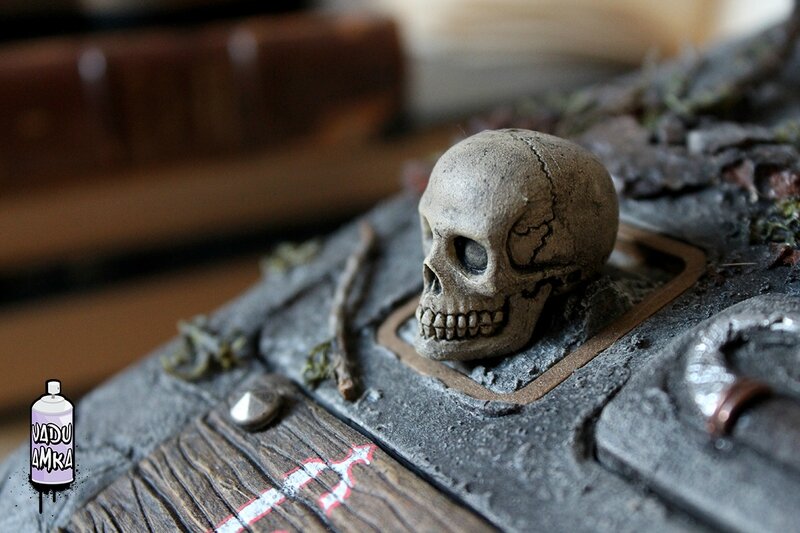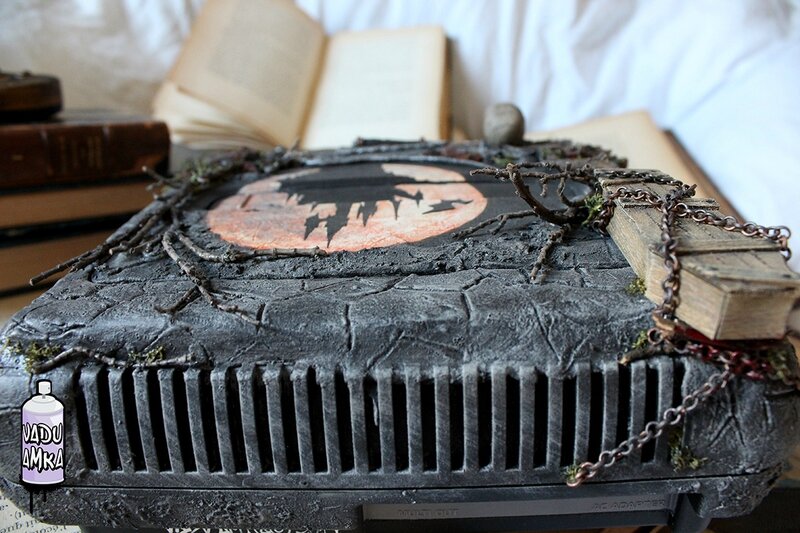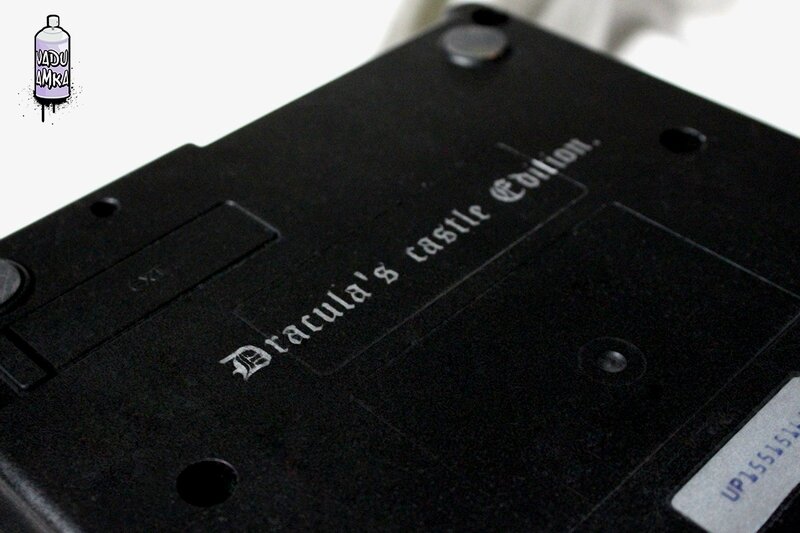 Résultat final :



Remerciements à Sam et Alex, qui sont toujours de bon conseil.
Mention spéciale au Shamman de la résine qui m'aide bien souvent, même à distance !
Et à ma traductrice ;_;...
19 juin 2014
Couleur : Ancient white - Sangria
Logo : Poscas & bombes
Vernis UV mat
Typographie sur base de "ChronoFont charvie"

11 mai 2014
Dans la continuité de la série custom Final Fantasy (VII et VI) et dans l'esprit des boites/covers qui ont une compositions épurées sur fond blanc :
Peinture Acrylique : Signal white Molotow - Vernis UVs Mat
Dégradé du logo : Shock blue light, Lilac , Sangria & Signal white
Led bleu , console d'origine PAL
"Pour ceux qui se posent la question "mais pourquoi un logo SFC" sur une SNES PAL, il faut pour cela remonter à l'origine du jeu Final Fantasy V. Sorti initialement sur Super Famicom en 1992."
Disponible / Available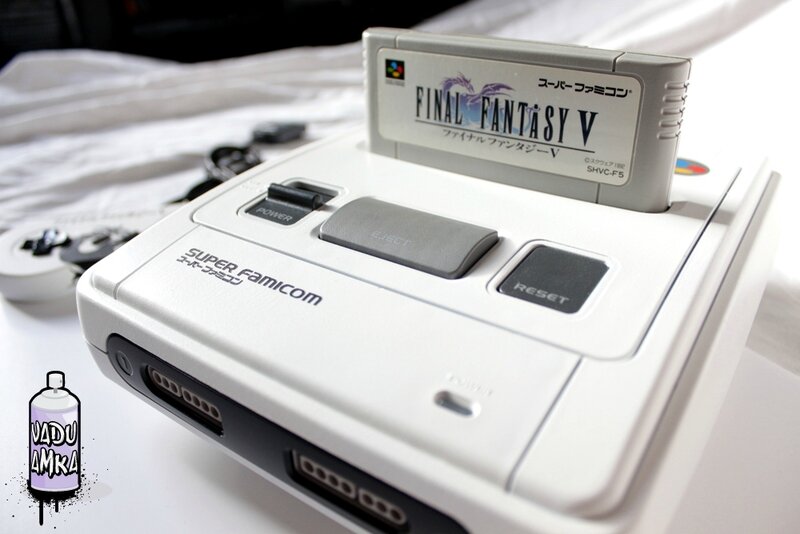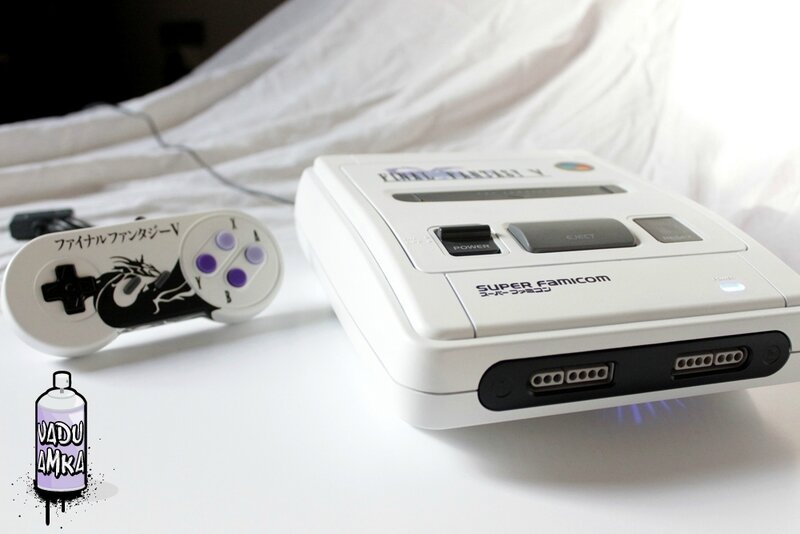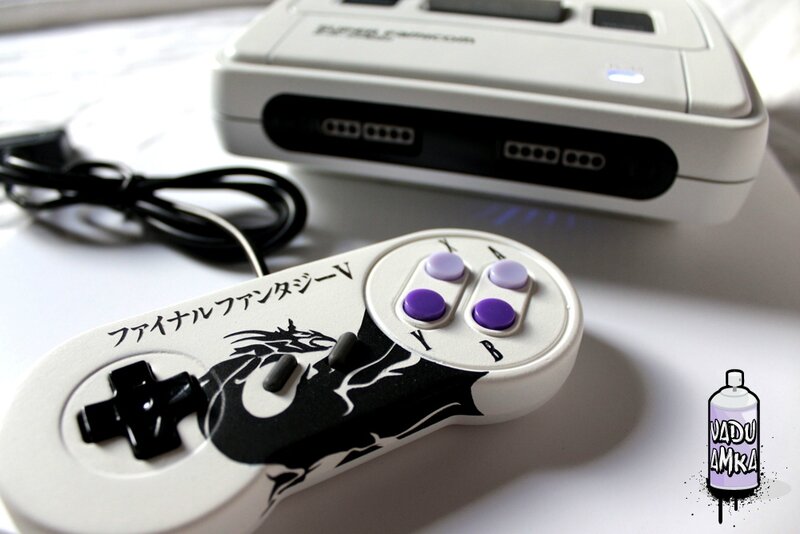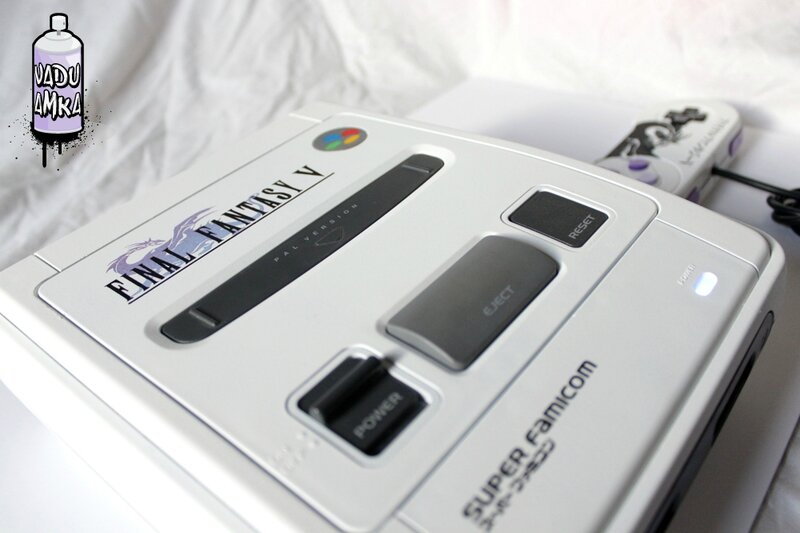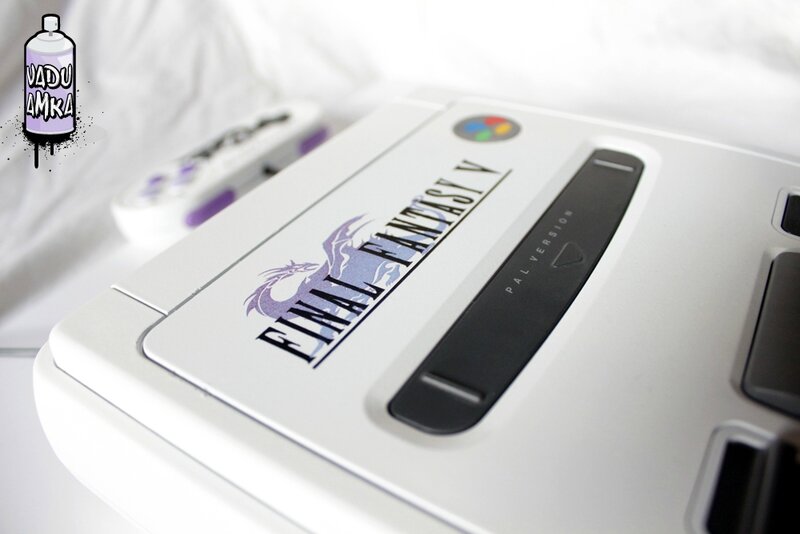 21 mars 2014
Peinture Acrylique - Vernis UVs Mat
Led bleu
Pour ceux qui se posent la question "mais pourquoi un logo SFC" sur une SNES PAL, il faut pour cela remonter à l'origine du jeu Final Fantasy VI. Sorti initialement sur Super Famicom en 1994. Je tenais à ce petit détail :)