Conception de trois manettes @nacongaming au style viking en immitation bois, pour le lancement d'Assassin's Creed Valhalla par @ubisoft.

Manettes promotionnelles, non destinées à la vente.

© 2020 Ubisoft Entertainment. All Rights Reserved.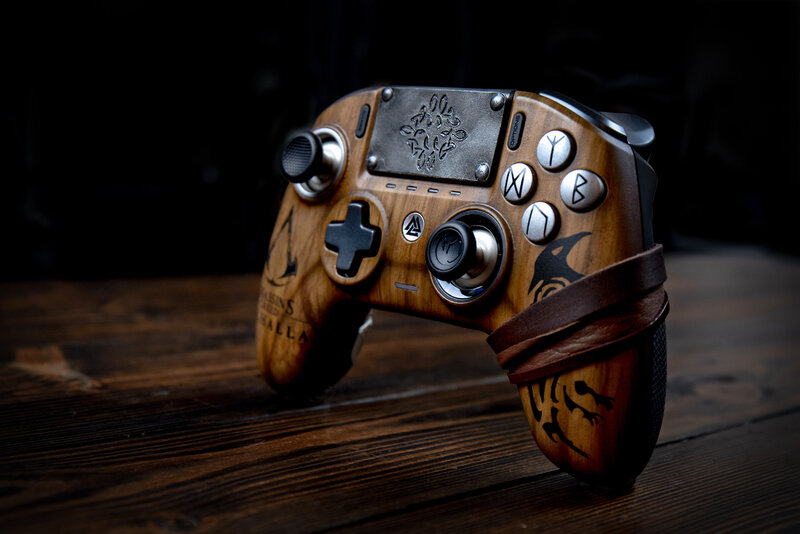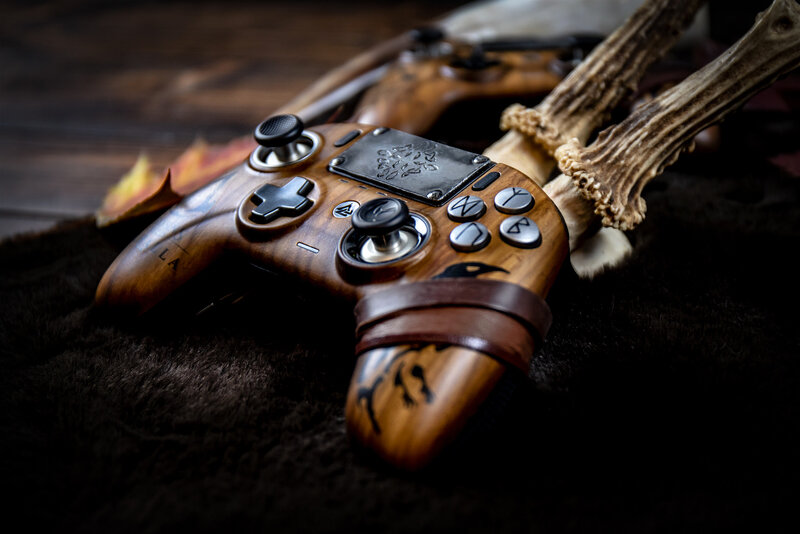 Pour la sortie de The Last of Us : Part II, J'ai spécialement conçue un modèle custom de PlayStation 4 Pro pour le Luxembourg. Ce modèle est à destination de la clientèle de la chaîne de magasins SATURN. Il n'en existe que deux exemplaires.

Composition : Résine, pigments, acrylique, thermoplastique, mousse, bois.

La console est à gagner sur la page Facebook de Saturn Luxembourg-City.


NAUGHTY DOG, LLC. © 2020 Sony Interactive Entertainment LLC. ALL RIGHTS RESERVED.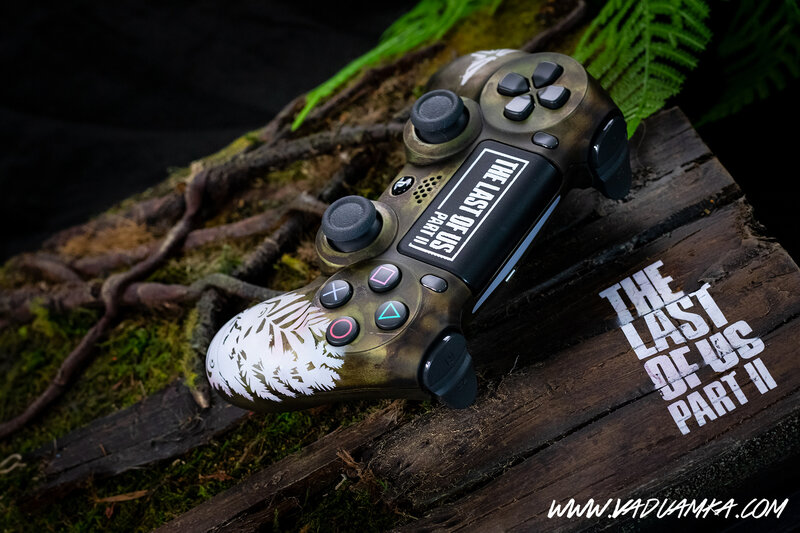 [Collaboration]
Ghost Recon Breakpoint Cole D. Walker PlayStation 4 Pro & Nomad - Ghost Xbox One X for Ubisoft France x Geek-Art.net
Exhibition : @ Paris GamesWeek Officiel 2019
→

Retrouvez l'article sur mon travail ici, sur le site de Geek-Art.net ainsi que mes réalisations dans "Geek-Art, une anthologie Vol. 3"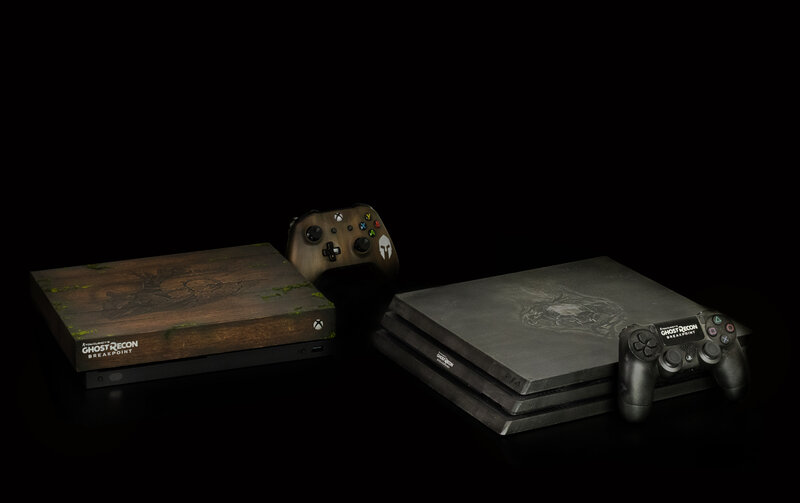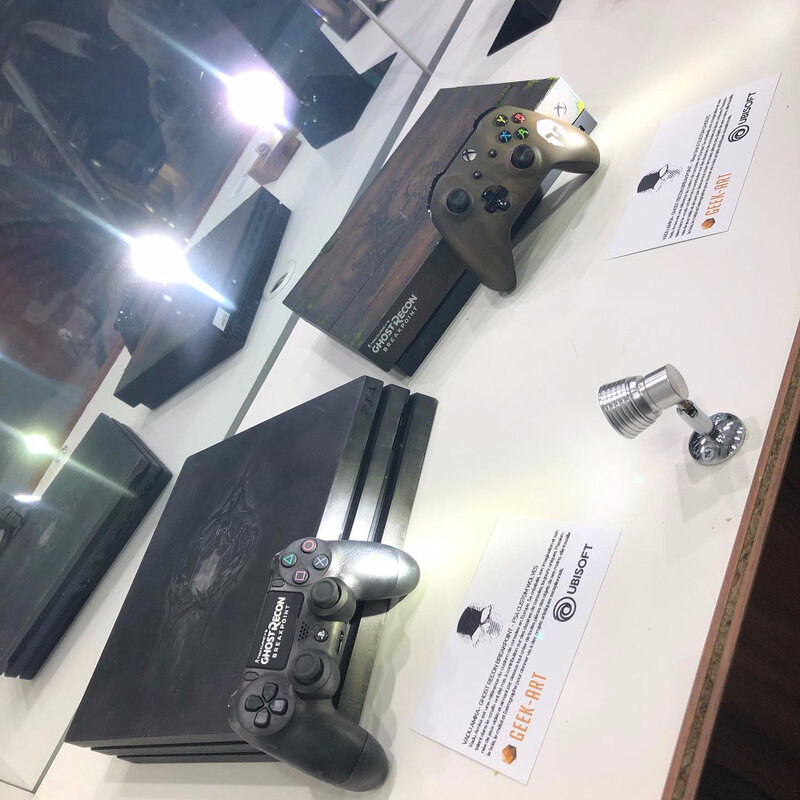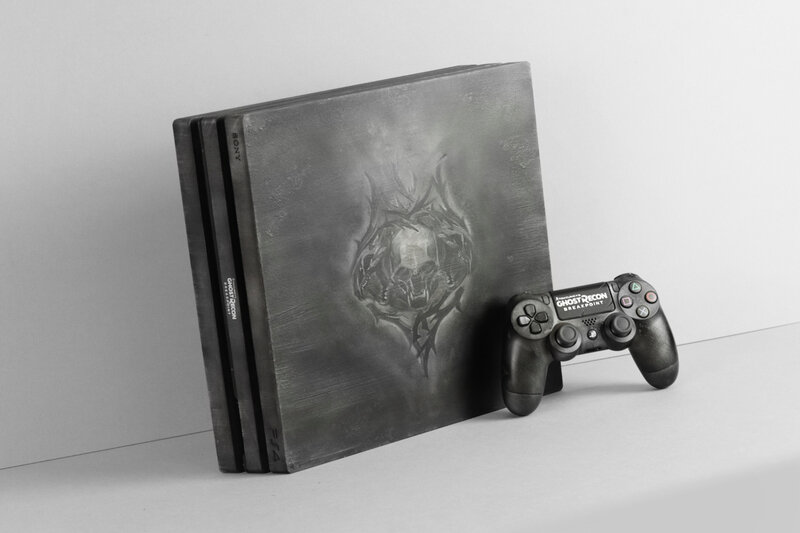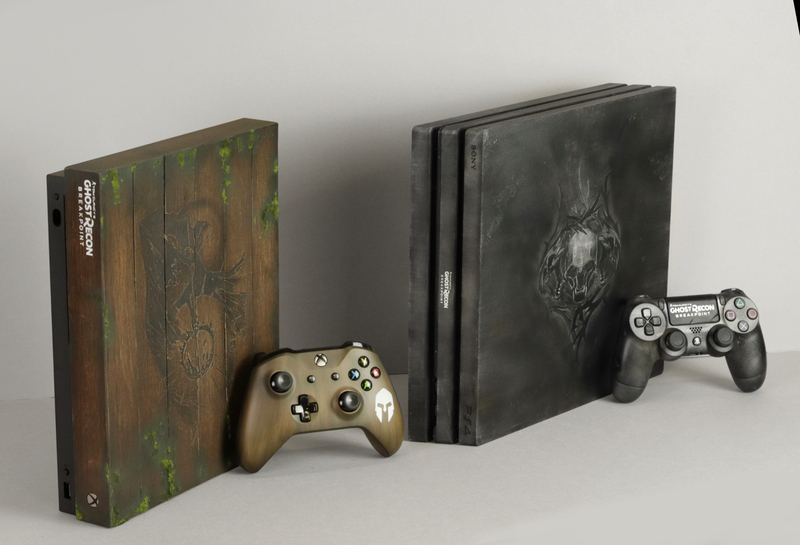 [Video WIP]
Notre contribution à la sortie du jeu World of Tanks: Mercenaries (2018), avec mes partenaires de crimes Random Print Studio.
La console "tank" (un peu tout terrain sur les bords faut-il le préciser?) au design rappelant celui du char Crazy Snake x Slapjack est une machine promotionnelle réalisée pour l'éditeur.

Penses-tu encore avoir de la place pour celle-ci dans ton meuble TV ?


© 2018 Wargaming.net Tous droits réservés. « Wargaming.net » et « World of Tanks » et leurs logos respectifs sont des marques commerciales et/ou déposées de Wargaming. « PS4 » est une marque commerciale de Sony Interactive Entertainment Inc.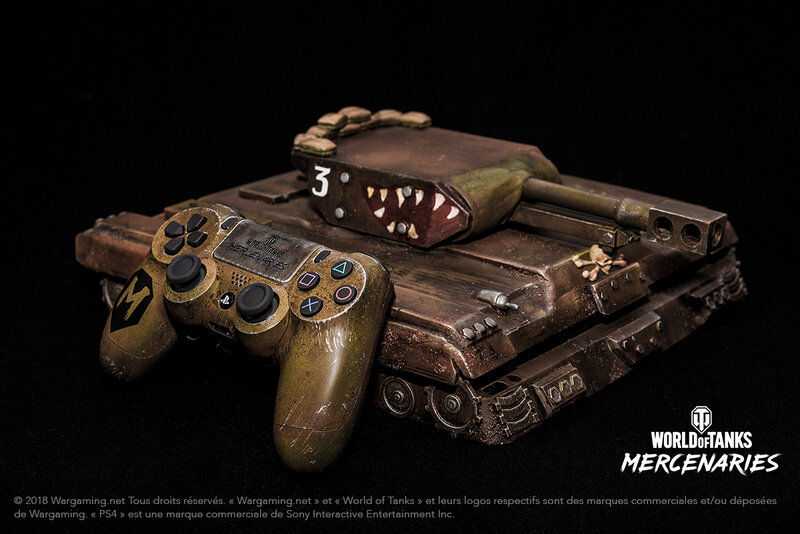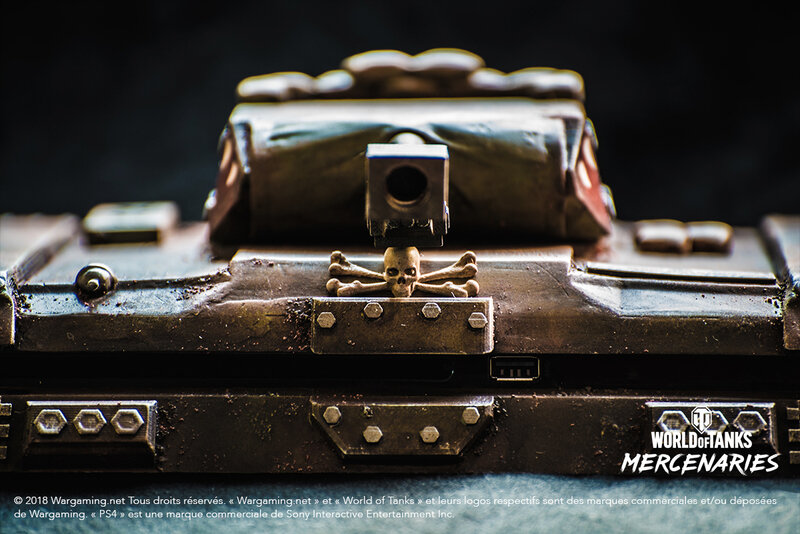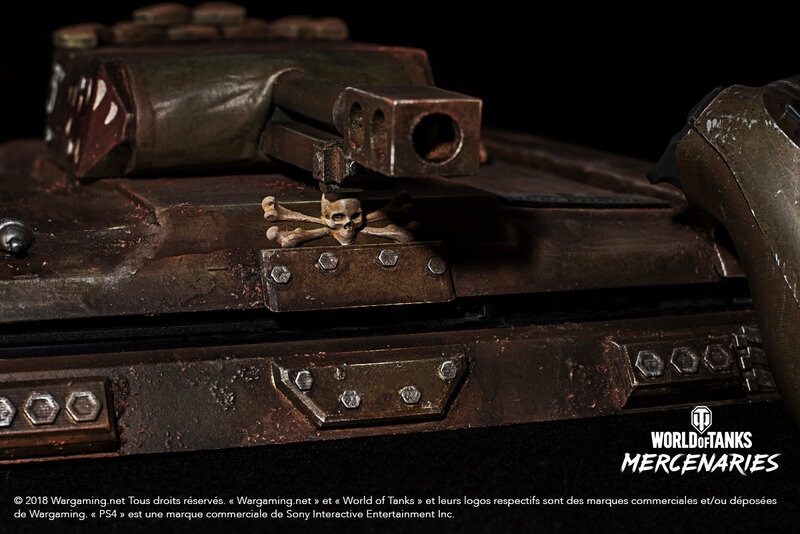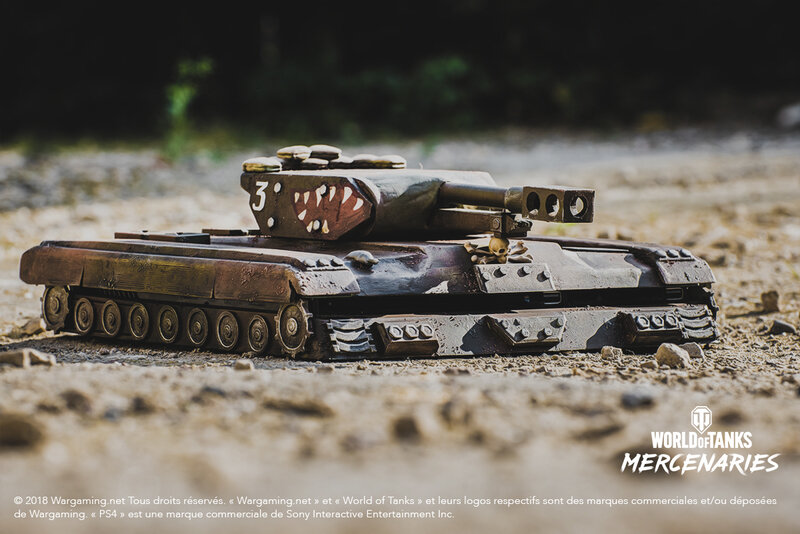 Realization on the theme of the famous game : Fortnite.
With your ticket for the LGX 2018 you can win this Playstation 4 Fornite!

Each visitor will be able to participate in a draw and have the chance to win this exclusive machine for the event.
Come and bring all your friends to this wonderful festival taking place for the 3rd time this year ! The largest exhibition in Luxembourg dedicated to Gaming and new technologies that offers this year for the 3rd edition an experience worthy of the biggest world events.

Not for resale / Promotional Only.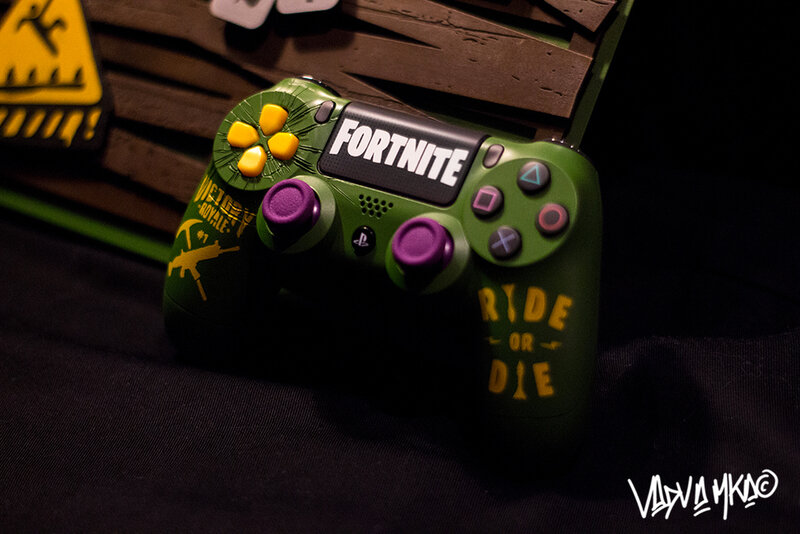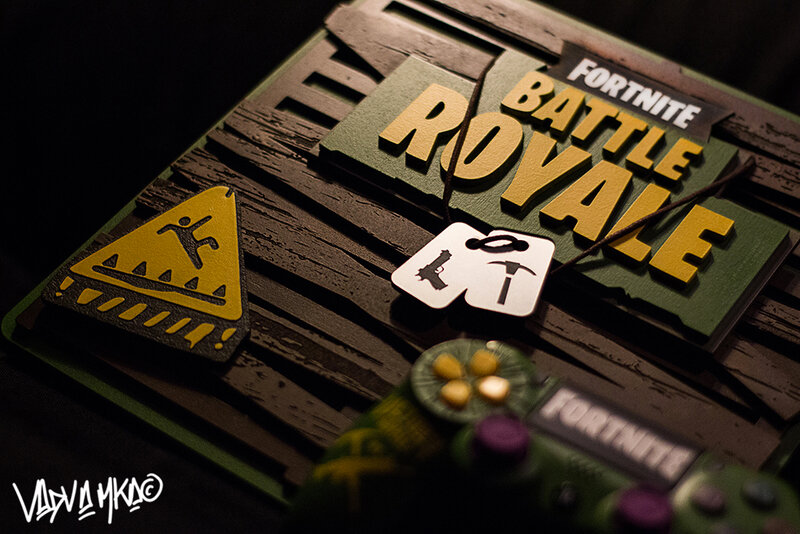 Un peu d'archéologie sur le blog en détérant ce projet d'il y a déjà 10 mois et que j'avais complétement oublié de vous présenter... Le temps passe BEAUCOUP trop vite !

Il s'agissait de ma première collaboration avec Activision Blizzard, Inc pour les Etats-Unis. Ils m'ont commandé en 2017, un cadeau pour les fans de Overwatch ! Une console XBOX ONE S Junkrat réalisée avec les recommandations et l'oeil bienveillant du staff d'Activision Blizzard US. C'était vraiment le projet parfait pour un calendrier de l'avant !

Pour me faire pardonner de ces 10 petits mois de retard, je vous montre quelques photos WIP dans mon atelier lors de la peinture d'un autre modèle de console Junkrat, elle aussi destinée à l'éditeur.
©2018 BLIZZARD ENTERTAINMENT, INC. TOUS DROITS RÉSERVÉS. Toutes les marques citées appartiennent à leur propriétaire.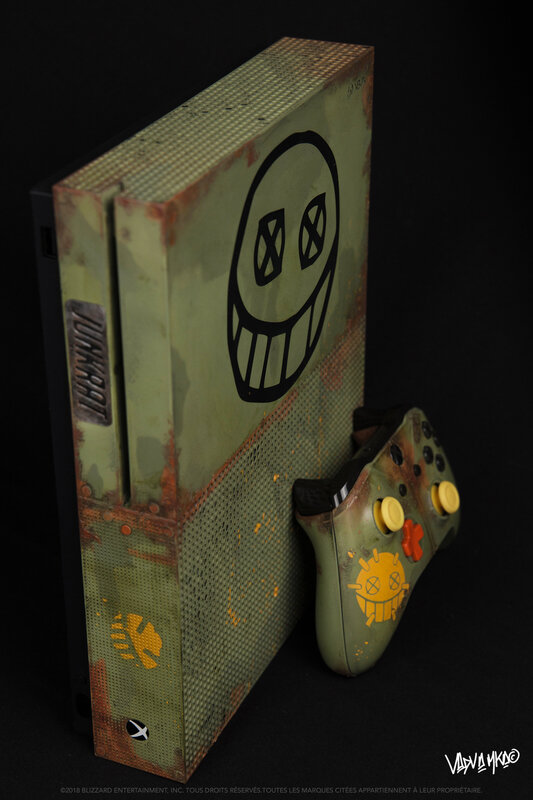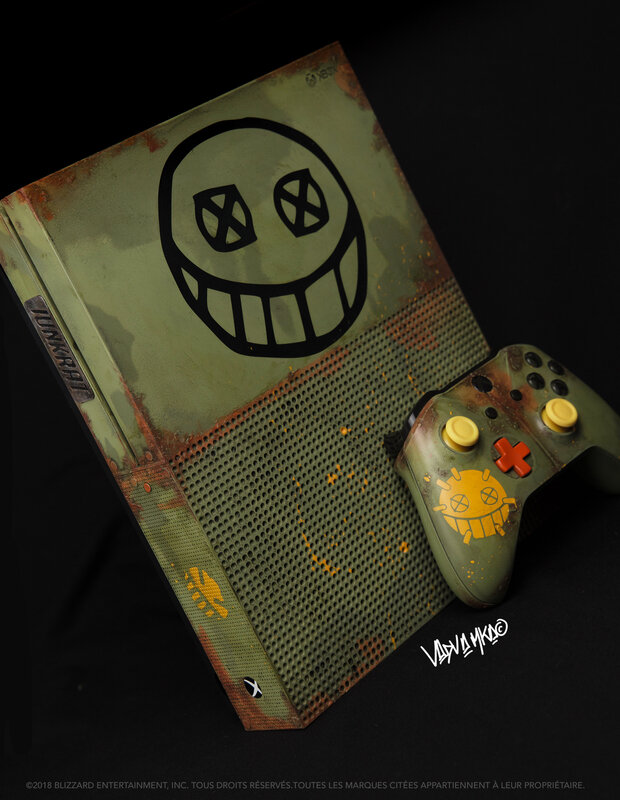 #HappyHeroDays! 12 prizes, 12 days.

DAY 6: Junkertown Xbox One S. RT to enter to win the sweepstakes!

📜 https://t.co/TlBppne8dV pic.twitter.com/uD0HJ6y9IA

— Overwatch (@PlayOverwatch) 16 décembre 2017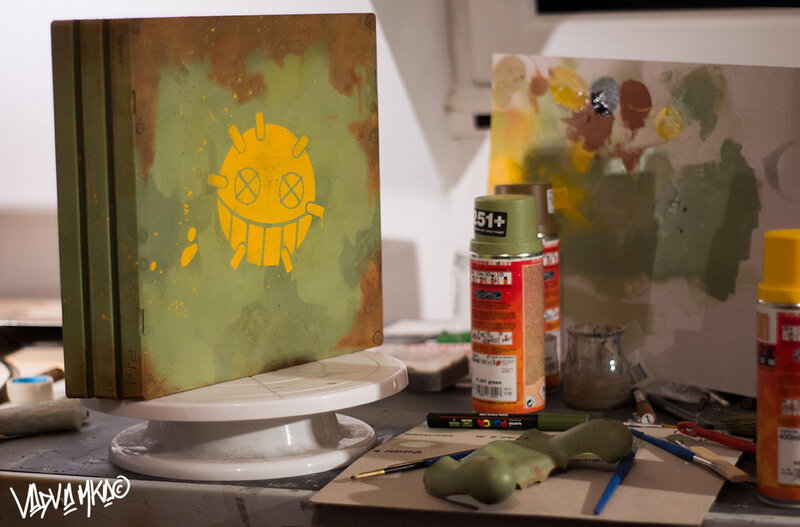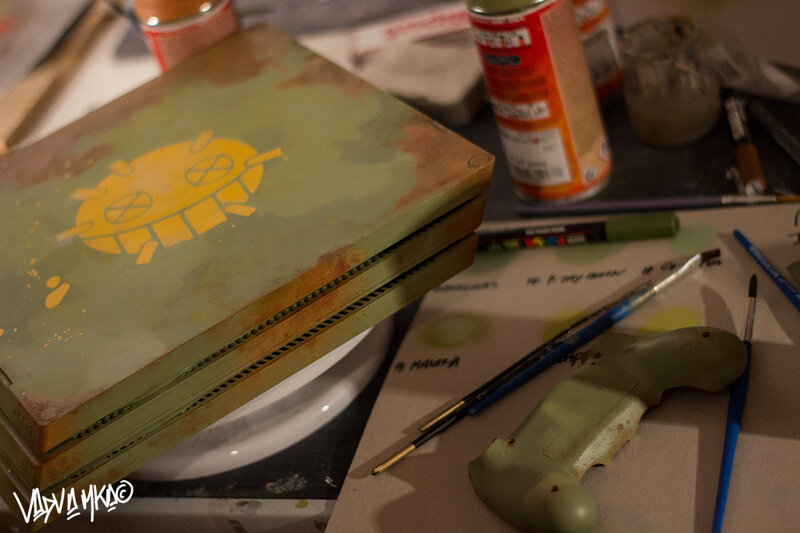 On a osé ! Il y a quelques mois, des fans d'Harry Potter m'ont mise au défis de réaliser une machine fanmade sur le thème des livres et films ; quelque chose avec des volumes et du détails.

Qu'à cela ne tienne, nous avons commencé à penser au projet dès le mois de juillet 2017. Et nous avons réellement débuté sa réalisation avec Amandine D. vers le mois d'octobre. Avec son aide nous avons réussi à réstituer le plus fidélement possible "presque tout" les batiments du château sur la petite surface d'une Playttaion 4 Slim. Il aura fallu plusieurs essais et des ratés pour arriver à cette version plusieurs mois plus tard... En 2018 ! Le volume qui recouvre la console est en grand parti creux et aéré par le centre (c'est bien caché ;D ). Les matériaux utilisés empêche la surchauffe.

Initialisement, je souhaitais réaliser le chateau en hiver. Et si celui-ci est creux, c'est car il devait être illuminé grâce à de petites leds pour simuler l'éclairage aux bougies, chandelles, etc... Mais par manque de temps et car j'ai répoussé le projet, on a finalement opté pour une version peinte "plus sobre".

Aide technicienne : Amandine D.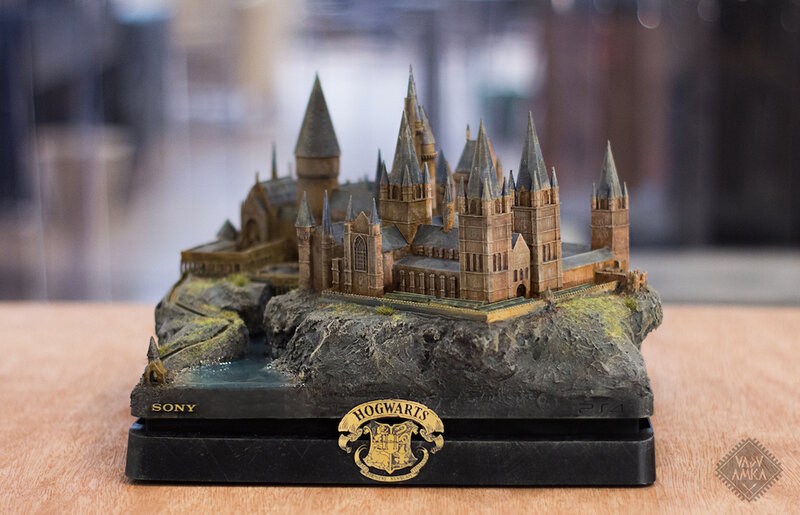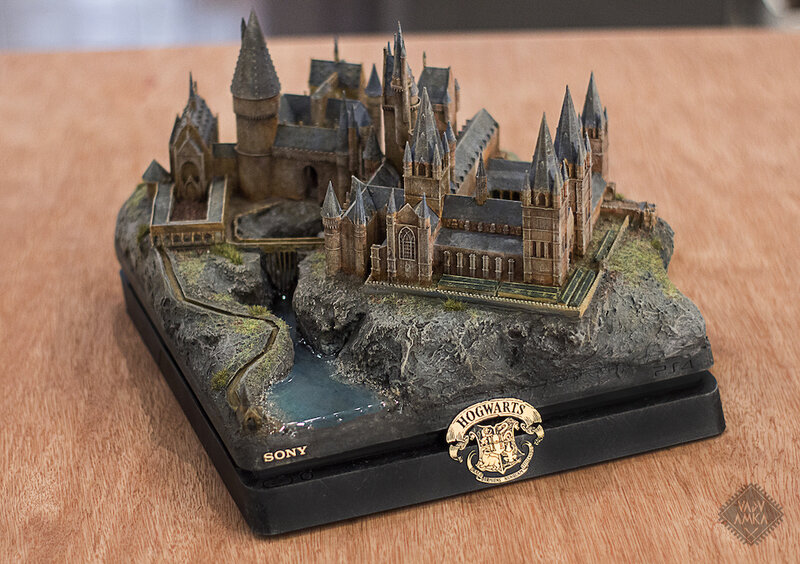 J.K. ROWLING'S WIZARDING WORLD is a trademark of J.K. Rowling and Warner Bros. Entertainment Inc.
Characters, names and related indicia from J.K Rowling's Wizarding World are ™ and © of Warner Bros. Entertainment Inc. All rights reserved.
The White or the Dark side of the force ?
Fan de Star Wars, ce duo de console est peut-être pour toi !
Création de deux consoles customs Playstation 4 à l'occasion de la sortie du film : Star Wars : le dernier Jedi ce 13 décembre 2017. Les machines sont actuellement à gagner au Saturn Luxembourg-City . Il s'agit de machines promotionnels non destinées à la vente et en parfait état de fonctionnement. Réalisations en resine, acrylique et metal (Empire).

May be the force with you !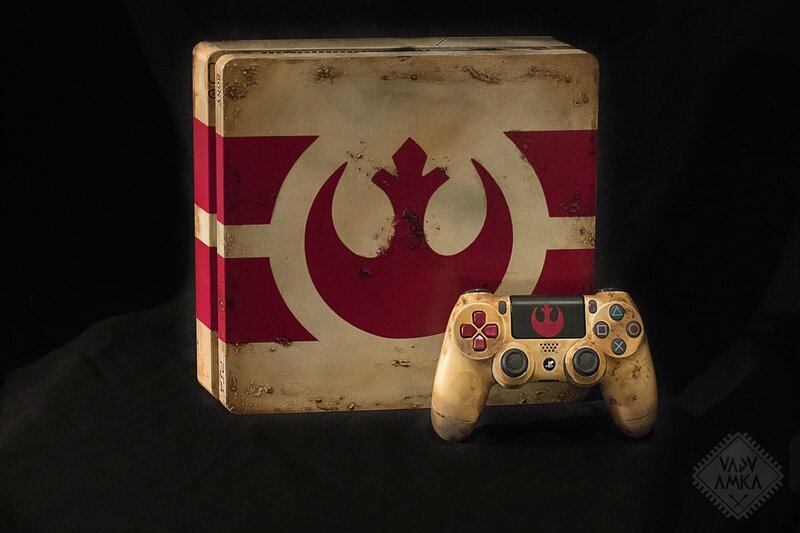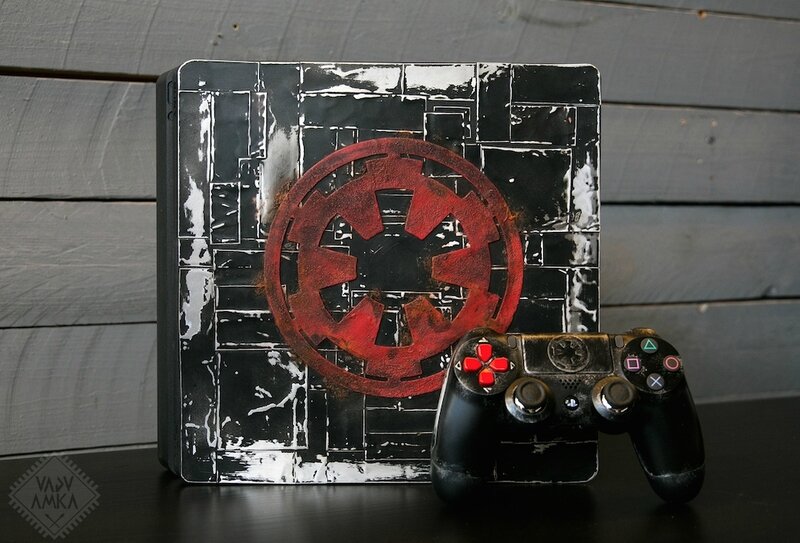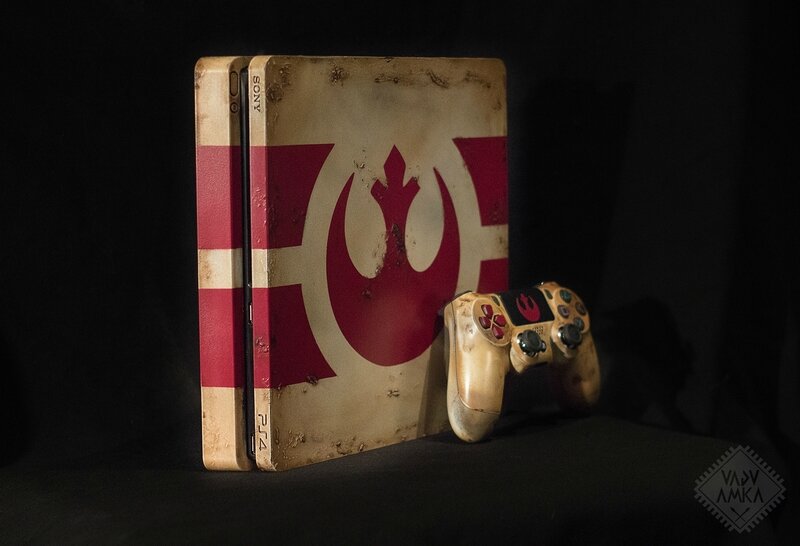 La console Playstation 4 : Call of Duty: WWII , véritable vétéran de guerre ?

Afin de réaliser quelque chose de nouveau et éviter le camouflage vu et revu ou de la découpe avec leds, j'ai choisi d'illustrer ce thème de "guerre" avec des impacts incrustés dans la coque de la console, laissant penser à une plaque métallique criblé de balles.
Réalisation des impacts de balles en résine et plastique. Peinture Acrylique avec finition UV semi-mat.

© 2017 Activision Publishing, Inc. ACTIVISION, CALL OF DUTY, MODERN WARFARE, CALL OF DUTY MODERN WARFARE, CALL OF DUTY BLACK OPS, CALL OF DUTY GHOSTS, CALL OF DUTY ADVANCED WARFARE, CALL OF DUTY INFINITE WARFARE, et le logo CALL OF DUTY WORLD LEAGUE sont des marques commerciales de Activision Publishing, Inc.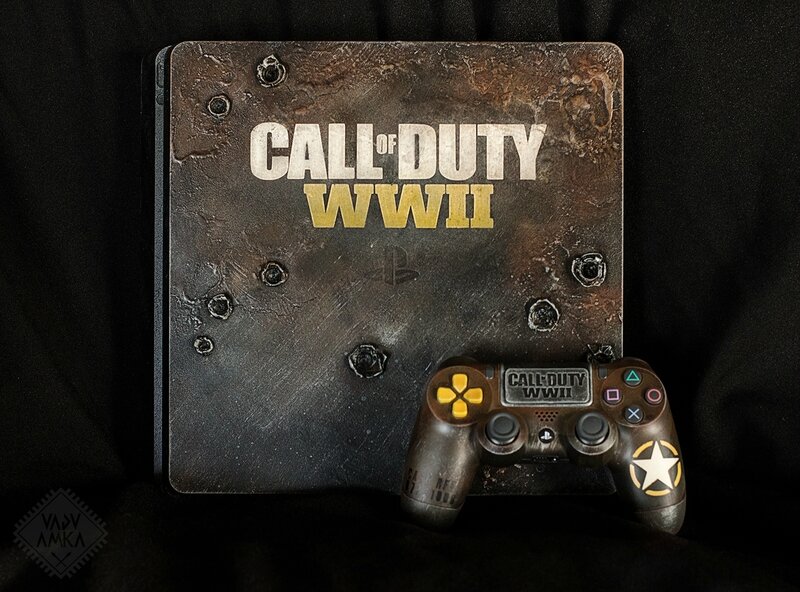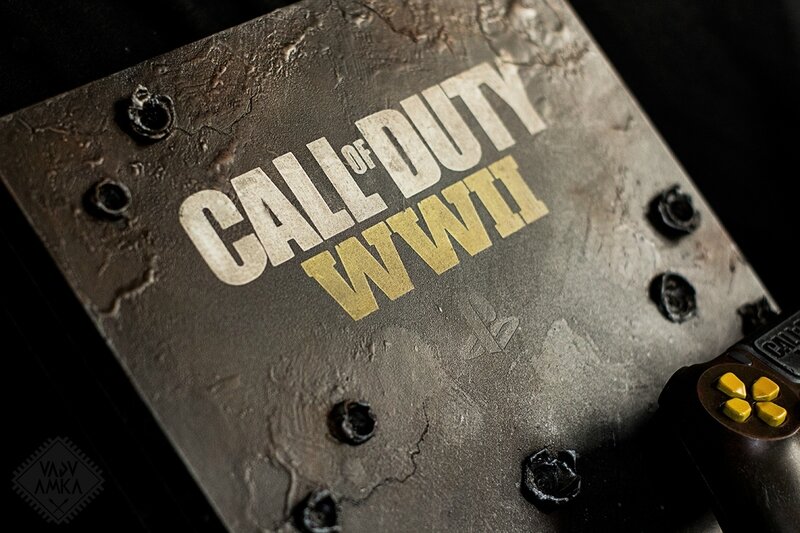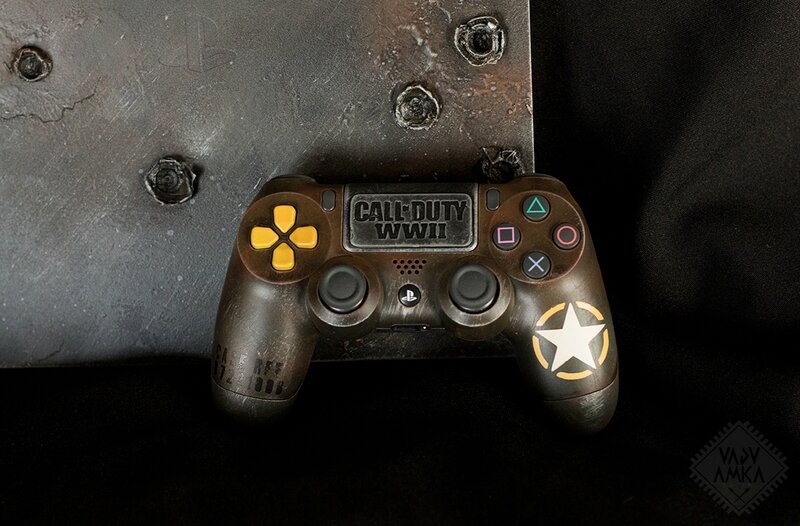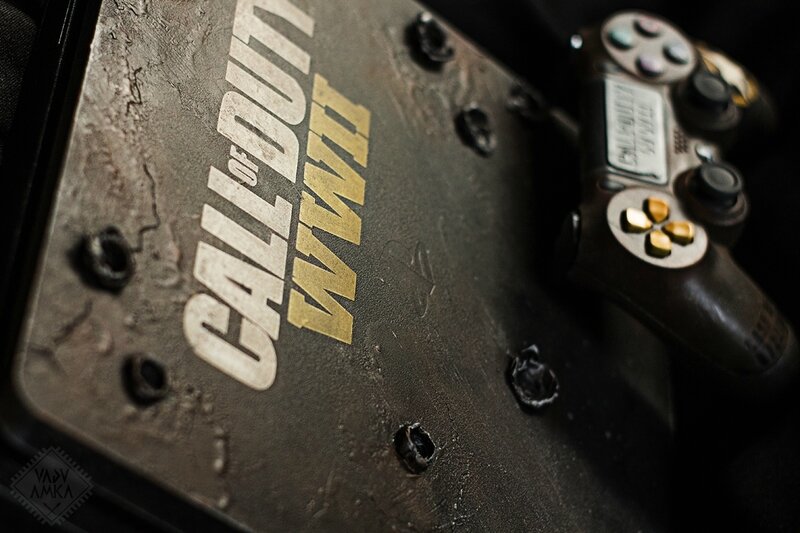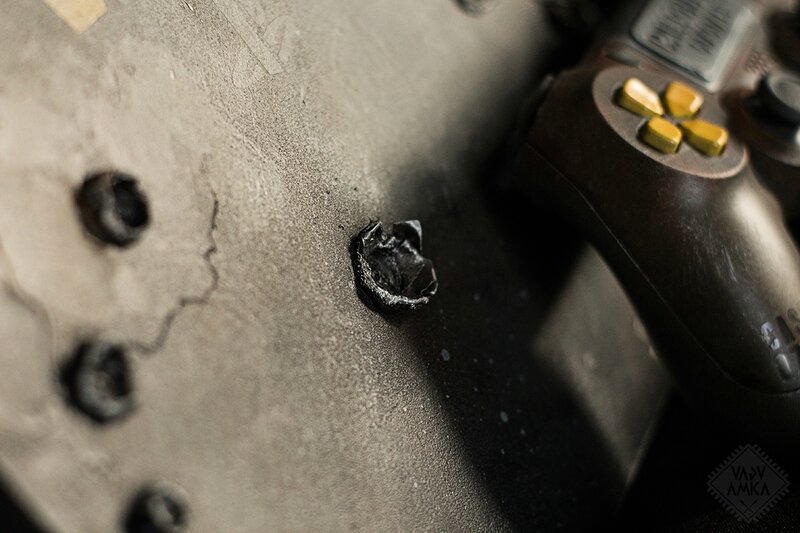 Manette Playstation 4 promotionnelle réalisée pour la sortie du jeu ASSASSIN'S CREED ORIGINS.
Cette pièce unique a été réalisé pour un concours Smartoys en Belgique.
Matériaux : Lanières en cuir clair, logo en résine et plastique, peinture acrylique.
Finition version UV mat.

Modèle unique, non destiné à la vente.

© 2017 Ubisoft Entertainment. All Rights Reserved. Assassin's Creed, Ubisoft, and the Ubisoft logo are trademarks of Ubisoft Entertainment in the US and/or other countries.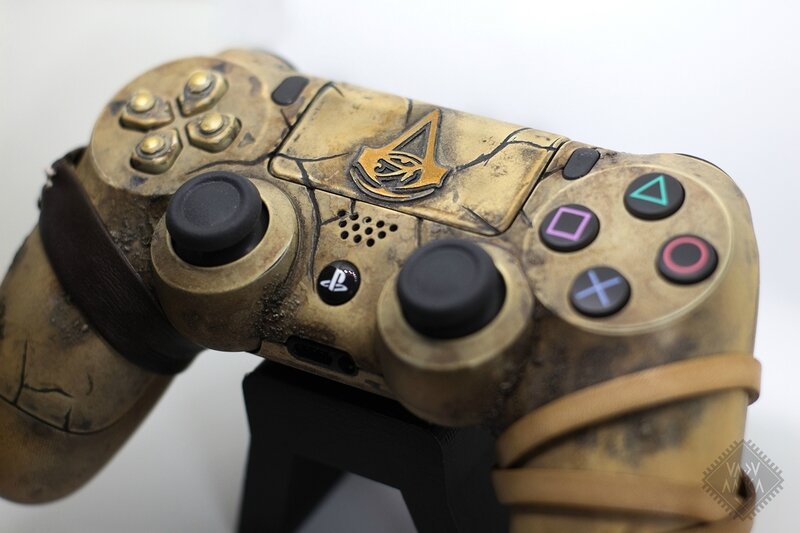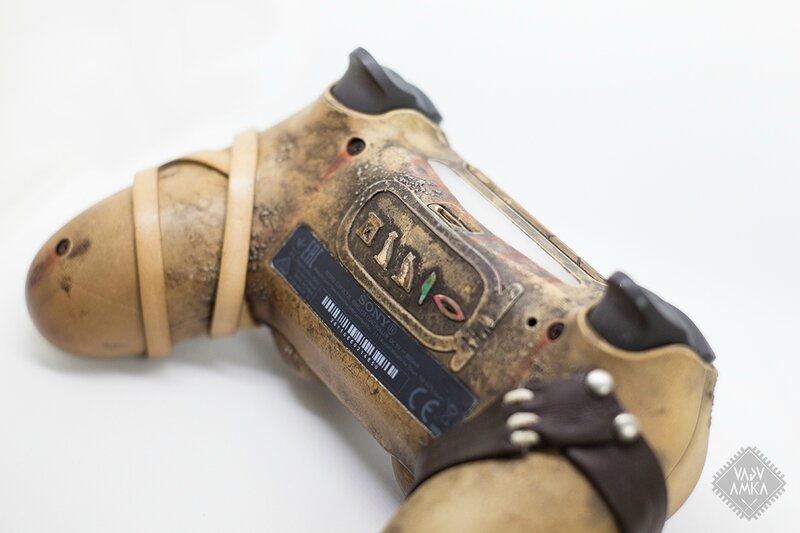 `