Dans le cadre du financement participatif du guide complet Zelda par l'Association Trop Gaming. le Dr. Lakav m'a demandé si il était possible de réaliser une édition speciale avec une cartouche en loose d'un Zelda ALTTP PAL FR !

* Ils proposeront à la fin de la campagne (celle-ci a atteint son objectif à 400%!) un tirage au sort permettant de gagner ma création. *

Cette cartouche super nintendo, The Legend of Zelda : A Link to the Past est un exemplaire unique et un fanmade. J'ai réalisé la boite sur base des bons conseils de www.nintandbox.net , merci y(oYo). Si vous souhaitez refaire vos boites et pas les vendre. Je vous recommande ce site! :)
J'ai opté pour du papier A3 300gr brillant de la mort mais pas trop non plus. Un papier trop épais a tendance à craquer lors du pliage.

Le lot se compose de :
La cartouche custom Zelda ALTTP PAL FR.

Ce n'est pas un cartmod !

La boite du jeu avec un calage, relooké par mes soins.
Le certificat d'authenticité.
Game Boy Advance - Capsule Corporation.
Inspiration "Dr. Brief" - Univers Dragon Ball
Vernis mat, Peinture "tulipe blue", légères usures à force de parcourir le monde à la recherche des boules de cristal.
Bulma a du la faire tomber quelques fois... *rire* Son effet usé est absolument recherché :)
Exemplaire unique et fonctionnel, remis à neuf.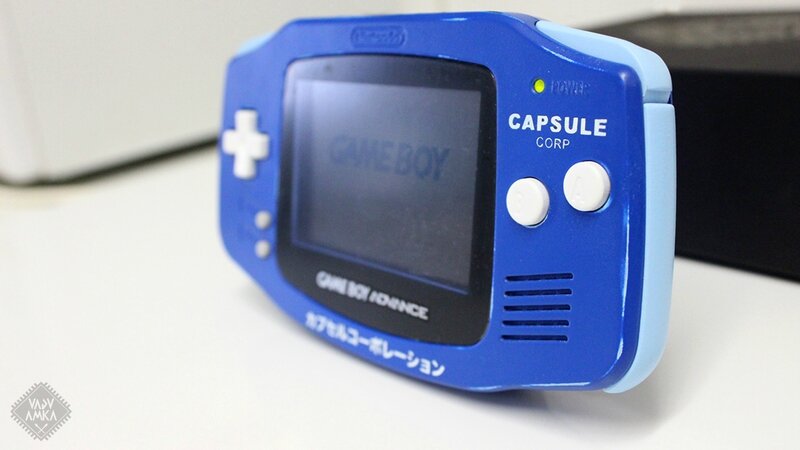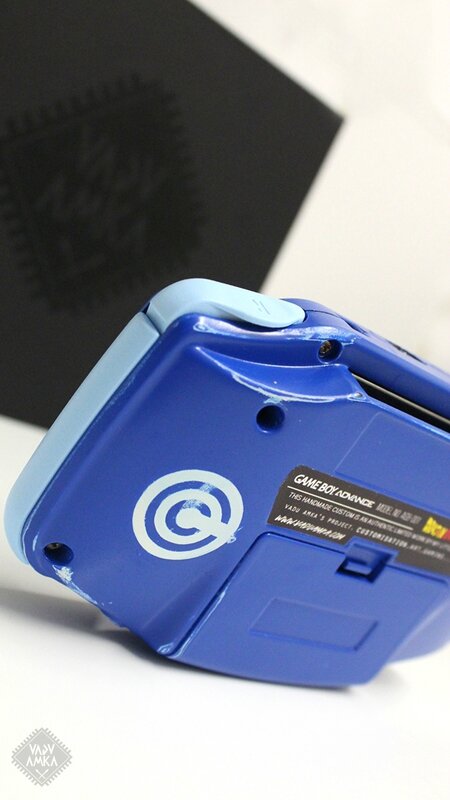 Une Nintendo 64 de plus sur le thème de The Legend of Zelda, Ocarina of Time.
Un cadeau surprise commandé par la copine de Mika', car ce jeune homme est un grand fan de la licence et vous êtes très, très nombreux !
Les pierres ancestrales étant des objets de quête très importants dans le jeu, j'ai choisi de rappeler leur forme sous le logo de la console, pour rappel, il s'agit de l'Émeraude Kokiri, du Rubis Goron et du Saphir Zora. Le logo de la console, lui aussi a été refait pour se rapprocher de la typographie de la saga. Un petit clin d'oeil supplémentaire pour faire plaisir à cet ami. Le reste de la technique a été abordée dans les articles précédents, le bouclier a été remoulé en résine et un chouïa rendu plus fin et anguleux. Le modèle de base vient de la forge de MetalFGS . Le doré des touches est usé et brillant pour être homogène avec le reste de la console qui est plutôt ancienne. Et La Triforce est rappelée sur la manette.

---

A Nintendo 64 based on The Legend of Zelda, Ocarina of time.
It's a surprise gift ordered by Mika's girlfriend. He's a huge fan of this licence, just like so many of you, Guys.
The ancestral gems being very important items for the main quest, I chose to remind their shape under the console's logo. As a reminder, they are the Kokiri emerald, the Goron ruby and the Zora saphire. The console's logo was also remade in order to stay close to the saga's typography.
A little additional wink for this friend to please him.
I have already explained the techniques I used in previous publishings, the shield was remolded in resin, for a little bit thinner and angular rendering.
The basic model comes from the MetalFGS forge. The gold aspect for the buttons is worn and shiny to match with the rest of the console, that is rather ancestral. At last, the Triforce is remembered on the game pad.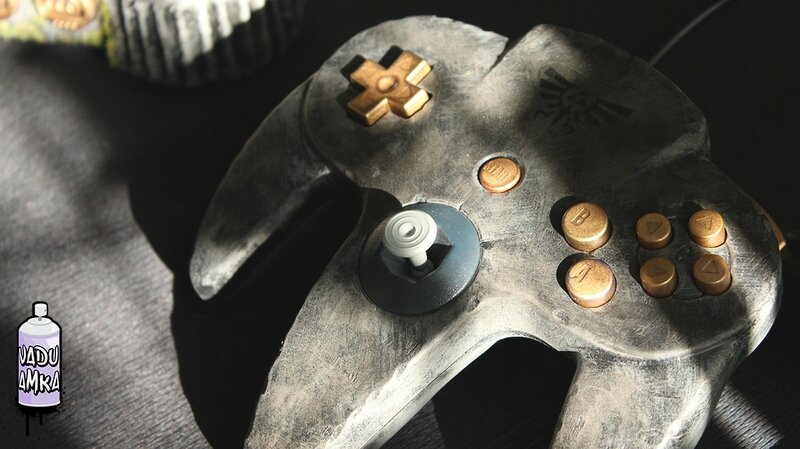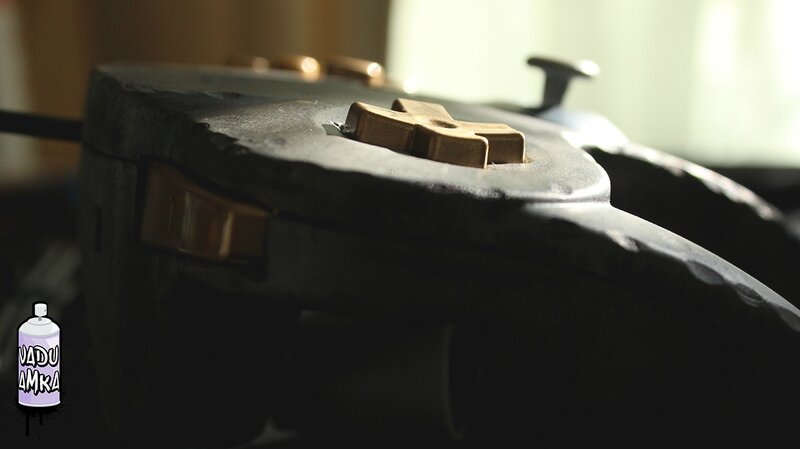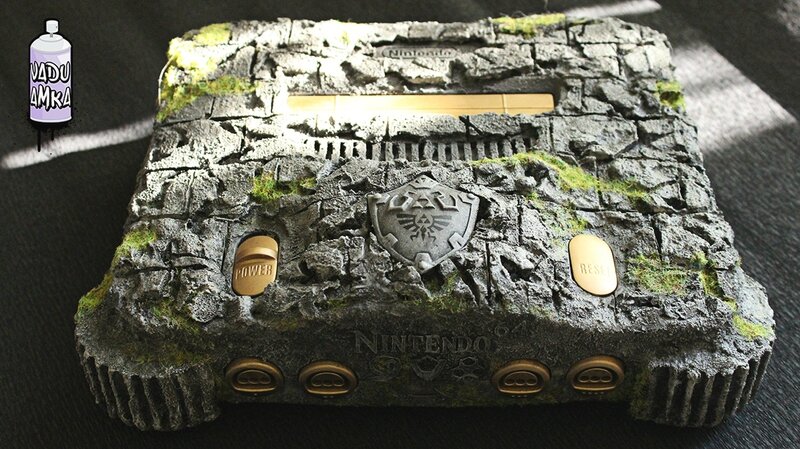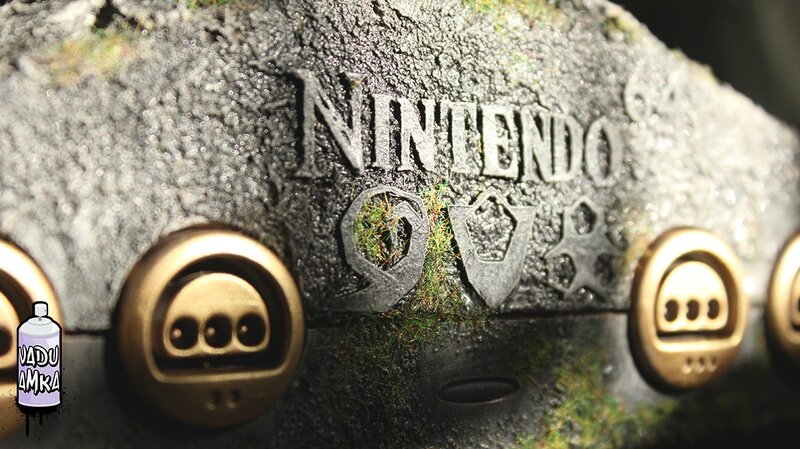 Happy Birthday Mika!
GameCube Inspirée des fresques du volet The Legend of Zelda : The Wind Waker.
Temps de réalisation : 3 mois en étant sur d'autres projets à la fois.
Matière : Résine, pâte époxy double composant, acrylique et gel texturant
La console est entièrement réalisée à la main, les ports manette ont été ornés des nombres 1 à 4 en alphabet Hylien. La réalisation de la manette est basé sur un manche rappelant une épée (Je ne parle pas forcement de la Master Sword mais juste d'une forme) Le bouclier sert de bouton Start, il est absolument fonctionnel. Il en va de même pour les sticks. Le premier plus décoratif étant en laiton. Le second est un élément d'origine. J'essaie à chaque fois de garder tel quel au moins un élément de la console. Bien qu'il soit d'un très beau jaune. (Il est aussi relativement difficile de customiser du silicone, c'est une surface qu'il faut éviter de peindre).
Certains remarqueront peut-être quelques fissures sur le côté droit. Link est prié de ne pas l'exploser! Autres détails, l'arrière de la console (la poignée) est en faux cuir noir.
Je vous laisse désormais regarder tout ça de plus près !
A très vite.

---
Gamecube inspired by The Legend of Zelda : The Wind Waker.
It was completed in 3 months, while working on other projects at the same time.The Materials I used were resin, Double component epoxy paste, acrylic paint and texturizing gel.The console is entirely hand made. Joystick ports were adorned with numbers from 1 to 4, using the Hylian alphabet. The controller's design was inspired by a sword (that does not necessary mean that it is the Master sword). The Start button is covered by a shield but is fully functional. So are the sticks. First one is more decorative while using brass. The second one is an original item. I always try to keep unchanged something on the console. It is very difficult to customize silicon parts because it is hard to paint on it . You may have noticed the cracks on the right side. lease tell Link that he is not supposed to blow them up.Another detail you may have noticed is the fake leather covering the handle. I will just let you have a closer look at the whole.
See you soon!

Not for sale - Pas à vendre
Photos du work in progress sur plusieurs semaines :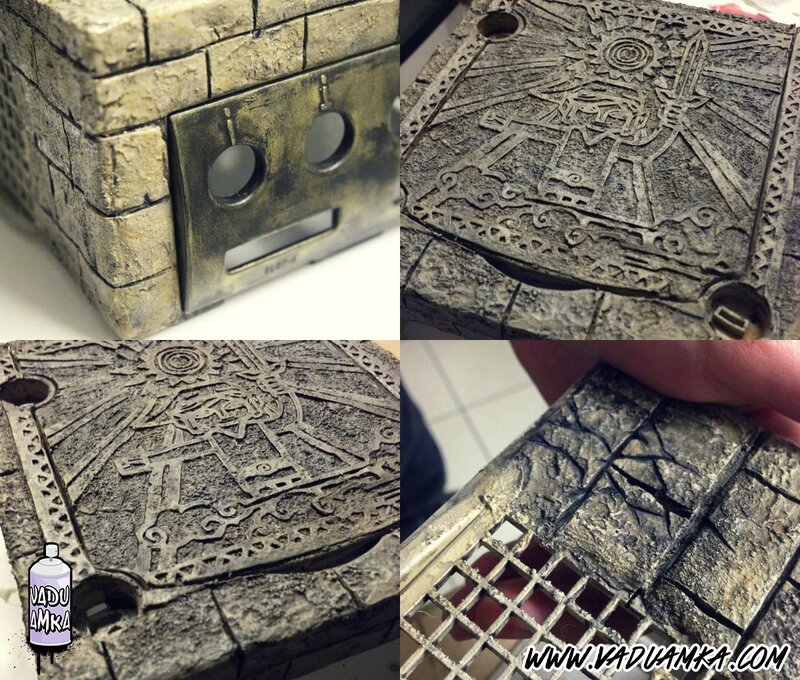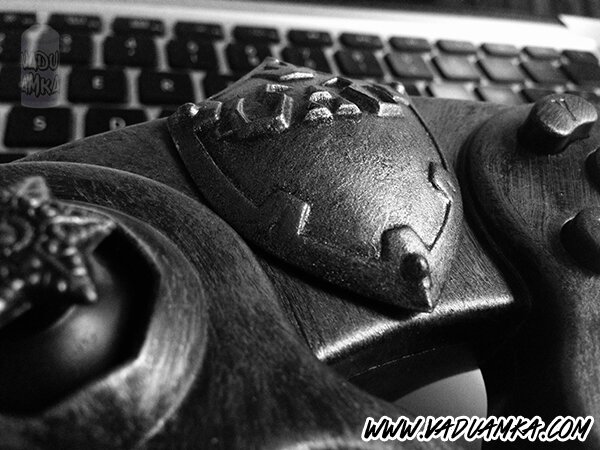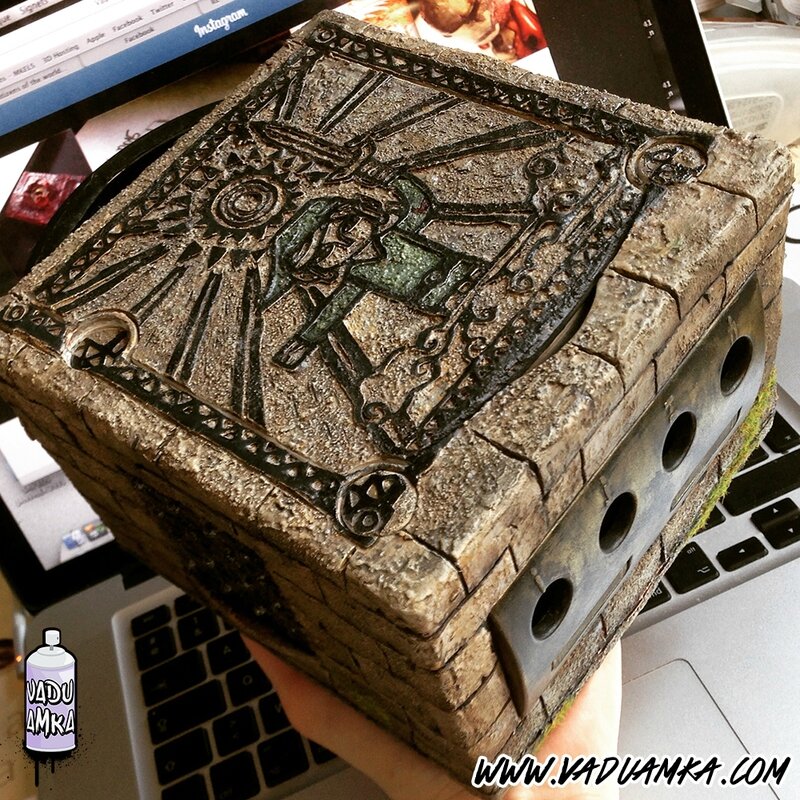 --- Final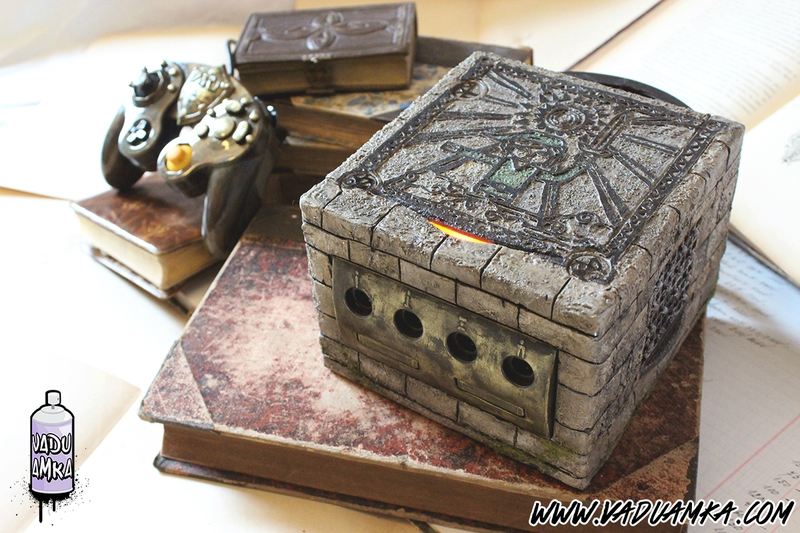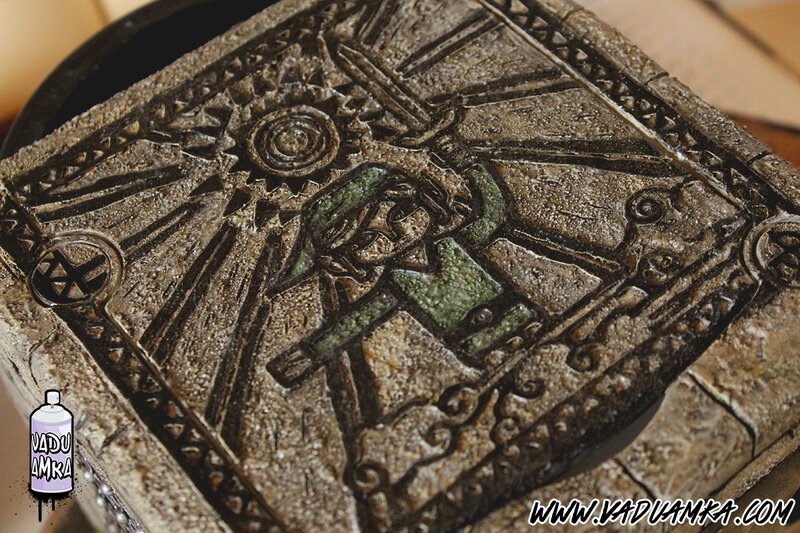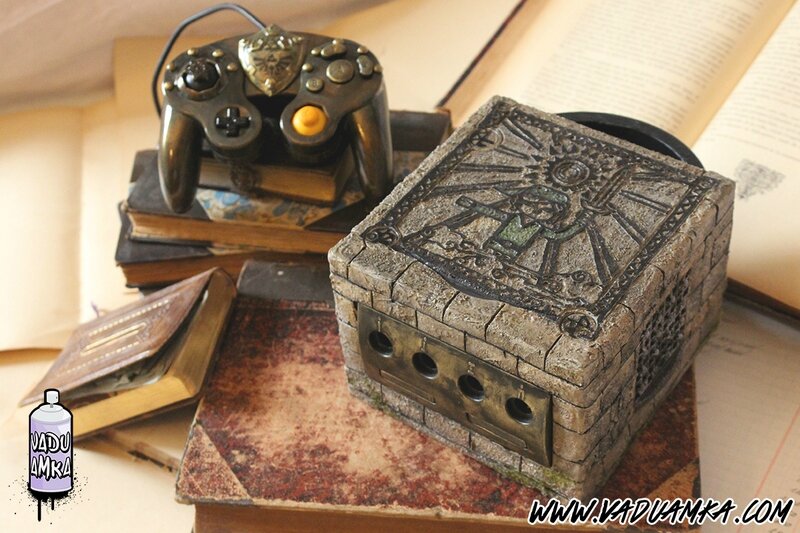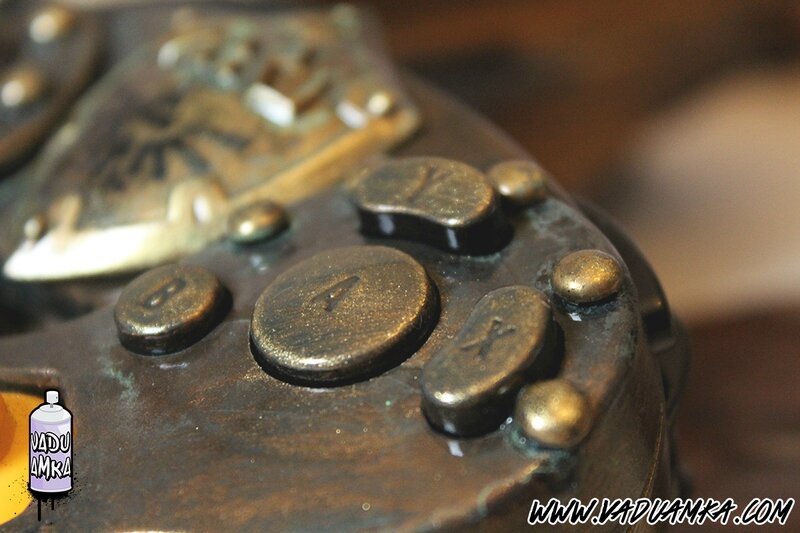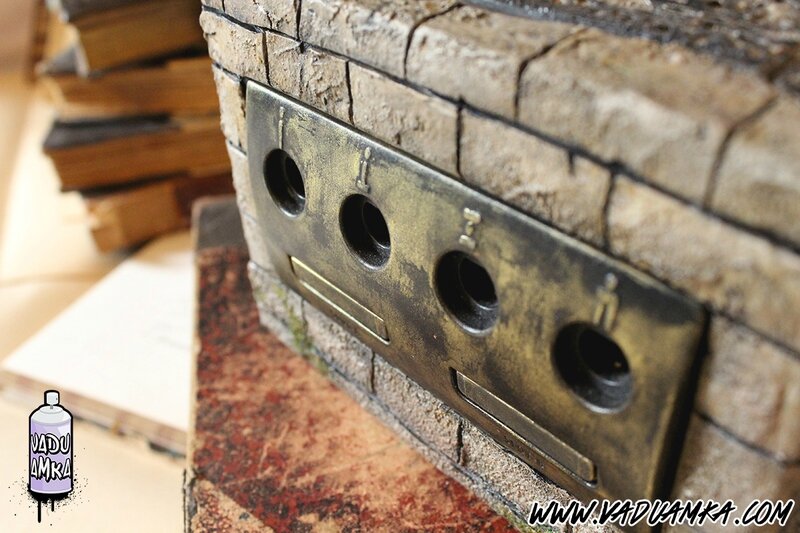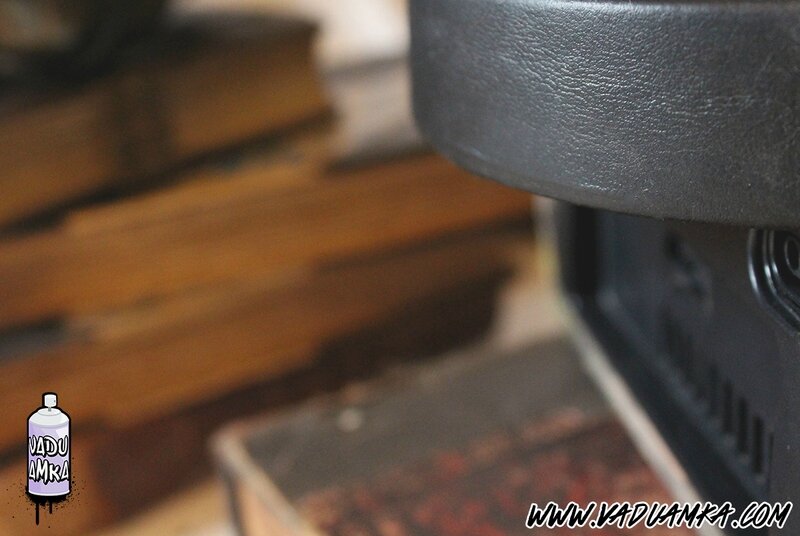 --- Bonus / Making-of
Console promotionnel réalisé sur commande pour Shainiiigaming & son émission Belge Ma maison de retrogamer
Peintures : Signal White & Swet rouge traffic Belton Molotow Premium + écran DMG blanc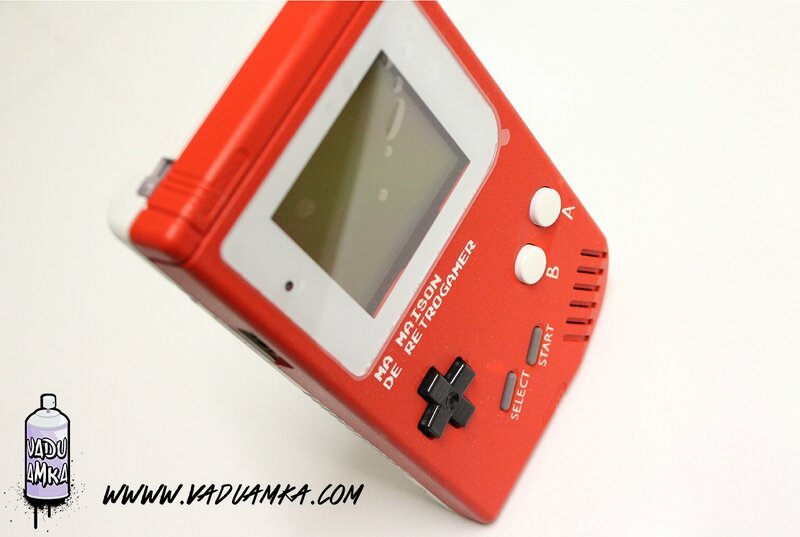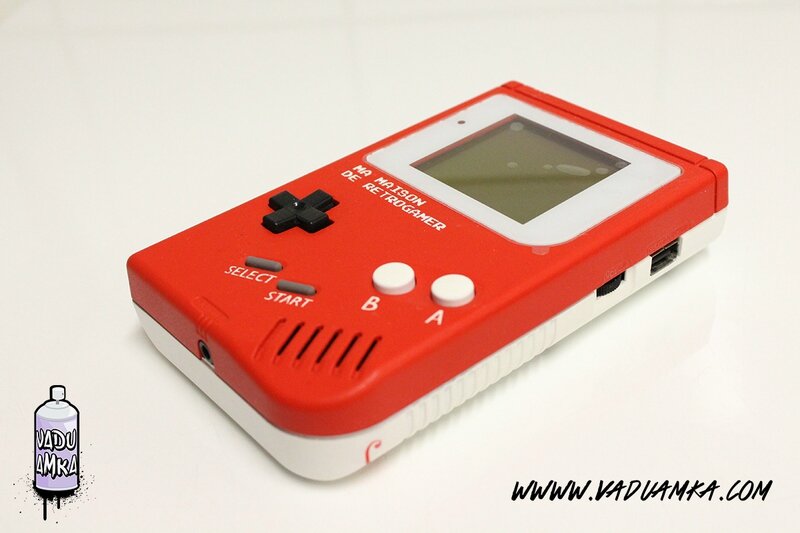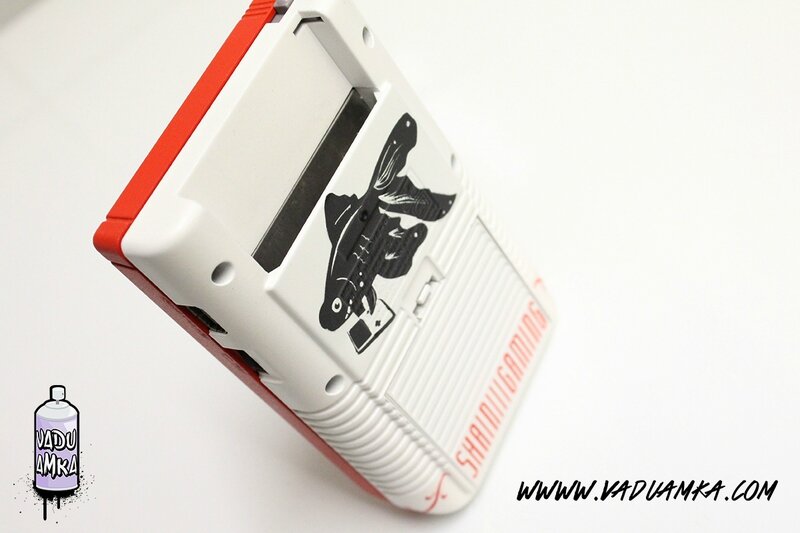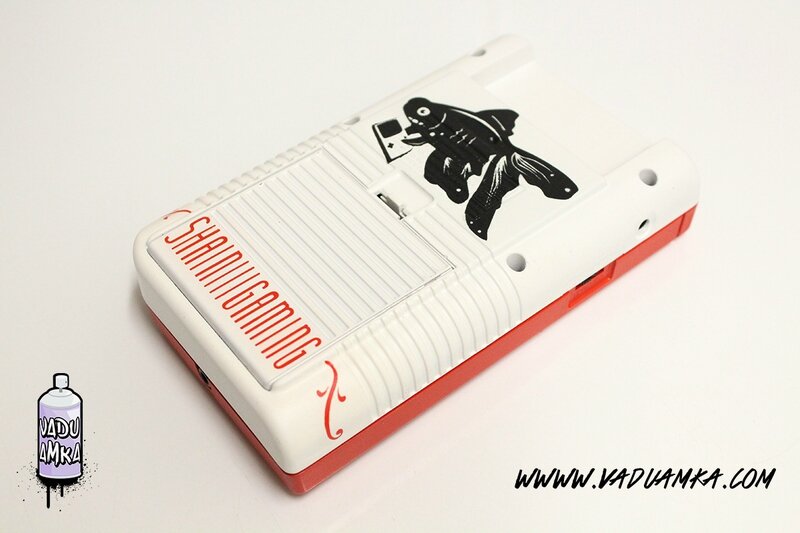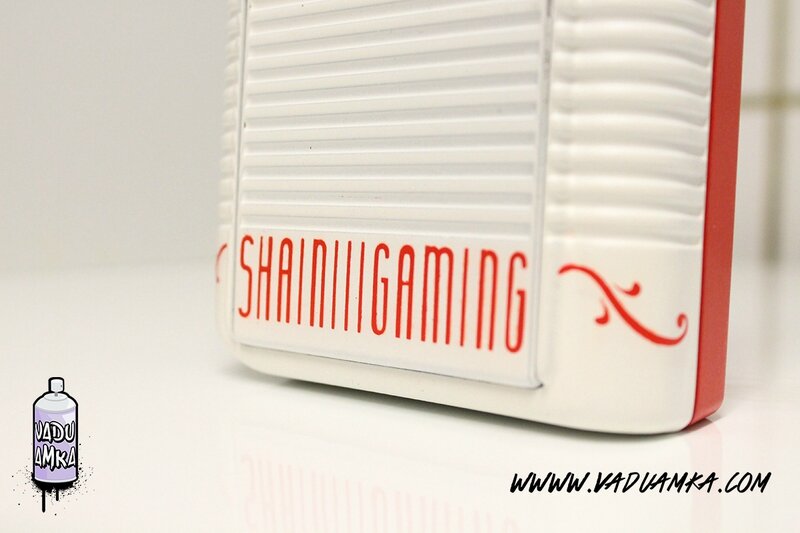 N64 Cartridge - Majora's Mask 25x25
Exemplaire unique - JANV 2015
Résine époxy / Polyfilla

Customs N64 cartridge available online at KOCHI Gallery, here.
WIP: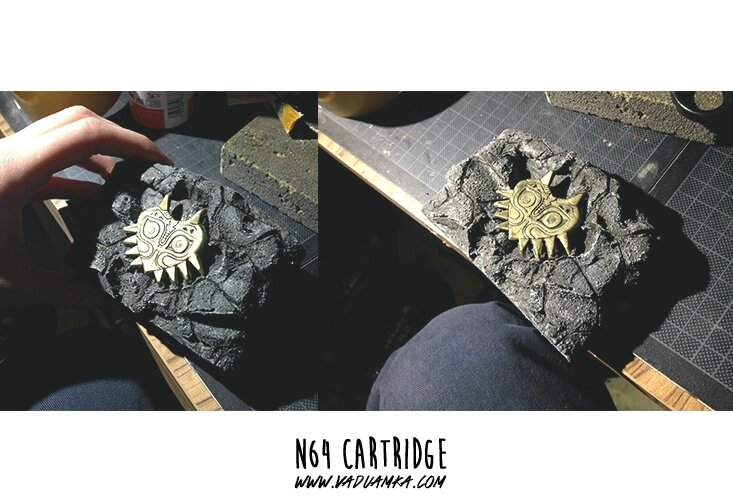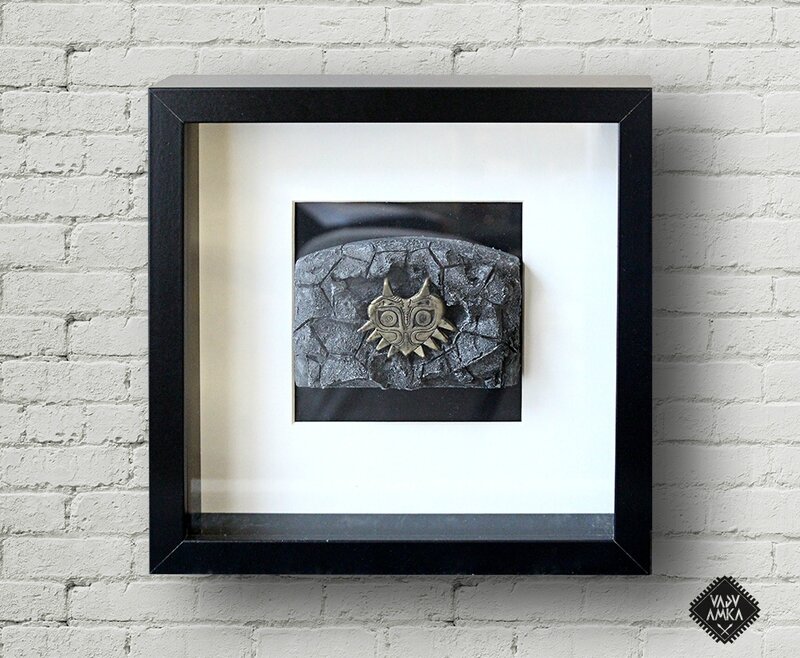 Game Boy Color en honneur du Pokémon N°175 : Togepi !
Petit bundle pack reprenant la première génération. (Oui, oui les cartouches sont comprises!)
Couleur de base signal white - Vernis mat UV
Retroéclairage du logo COLOR, N° de série d'origine.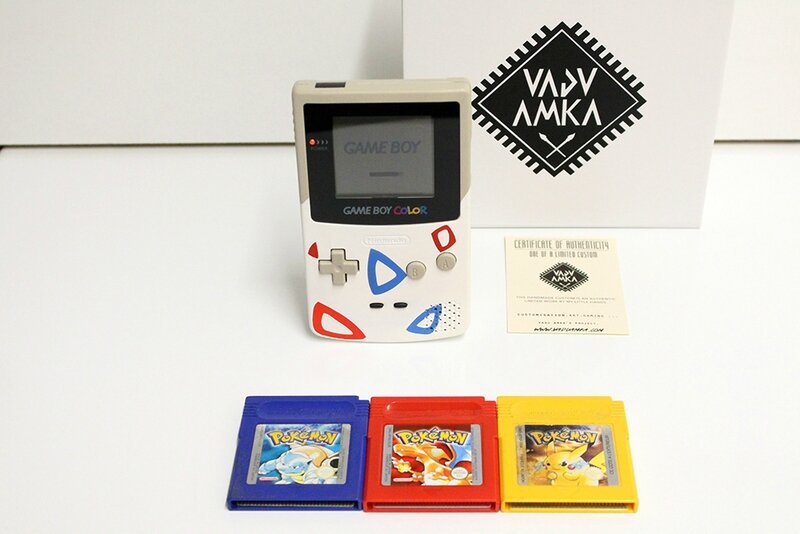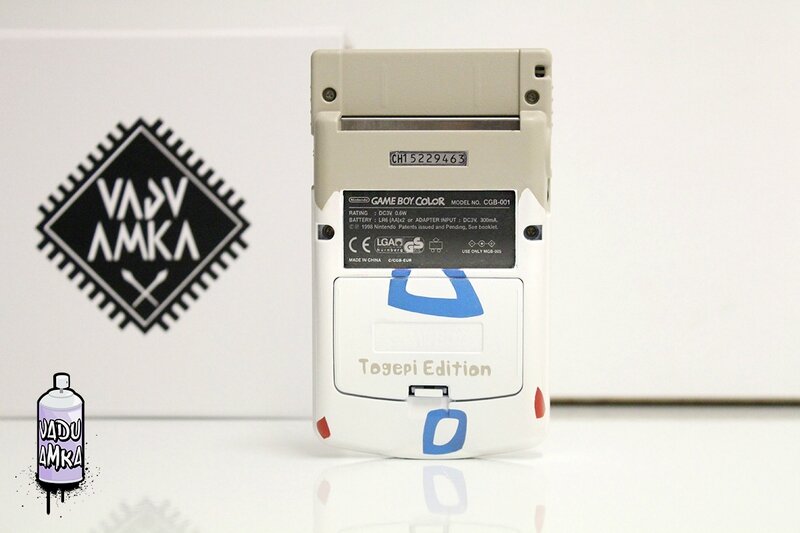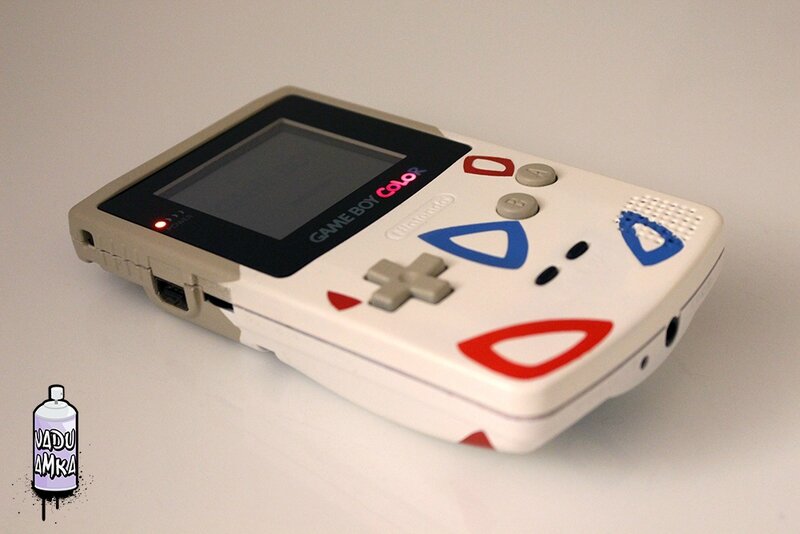 Vernis brillant, couleur choisi en fonction du Orbital Frame Jehuty dans Zone of the Enders.

Game Boy Advance (EU version) customized on the theme of Zone of the Enders: The Fist of Mars, the Konami game released in 2001 for Game Boy Advance.

Color of Orbital Flame Jehuty : metallic paint, glossy glazing, no backlighting

Customs consoles available online at KOCHI Gallery, here
Cette console est disponible en ligne à la galerie KOCHI Gallery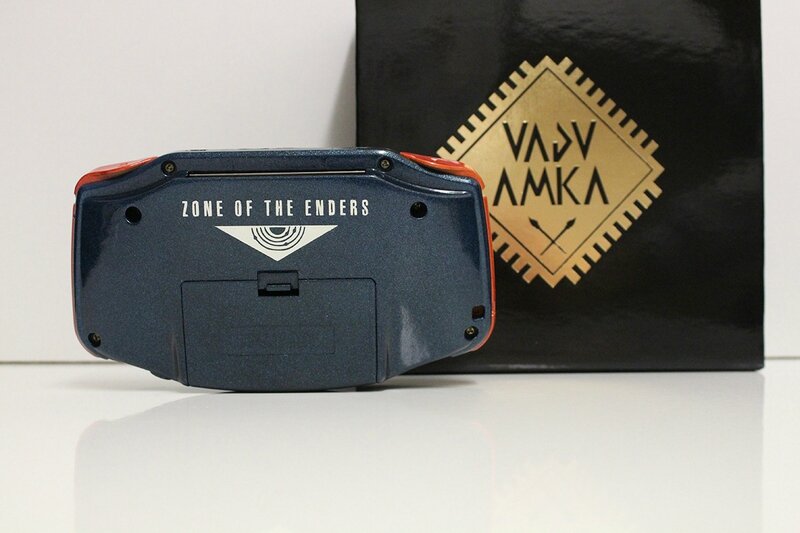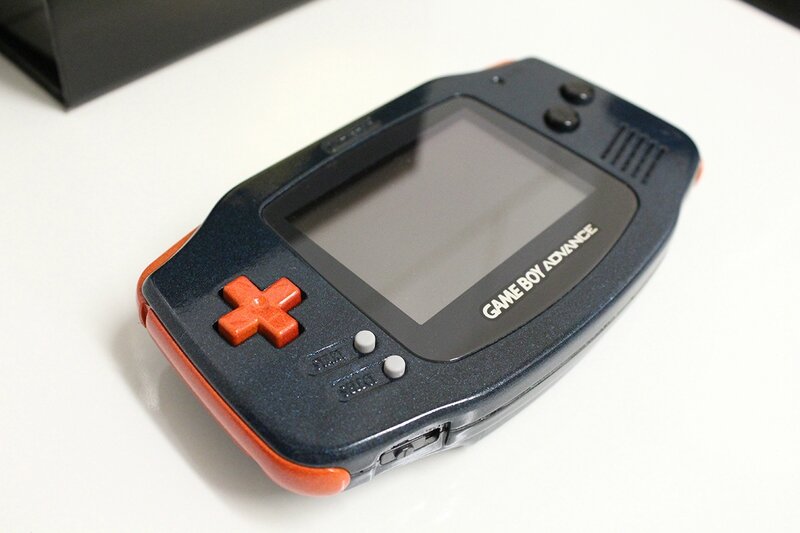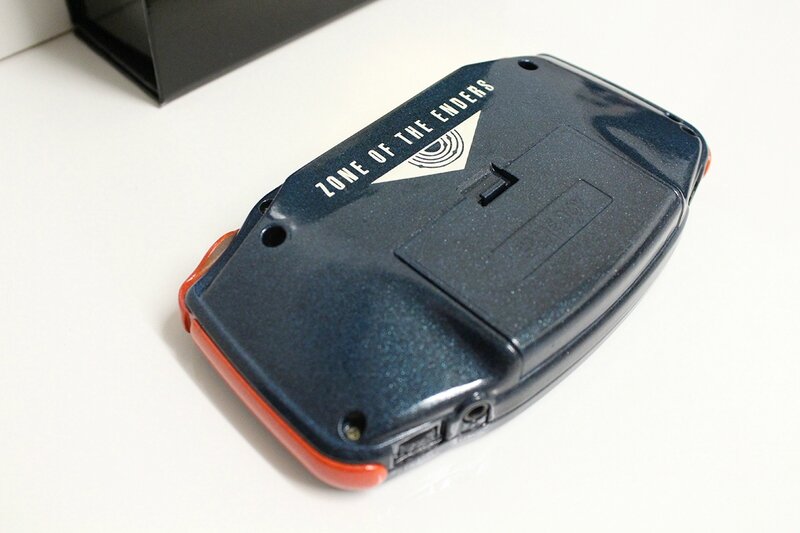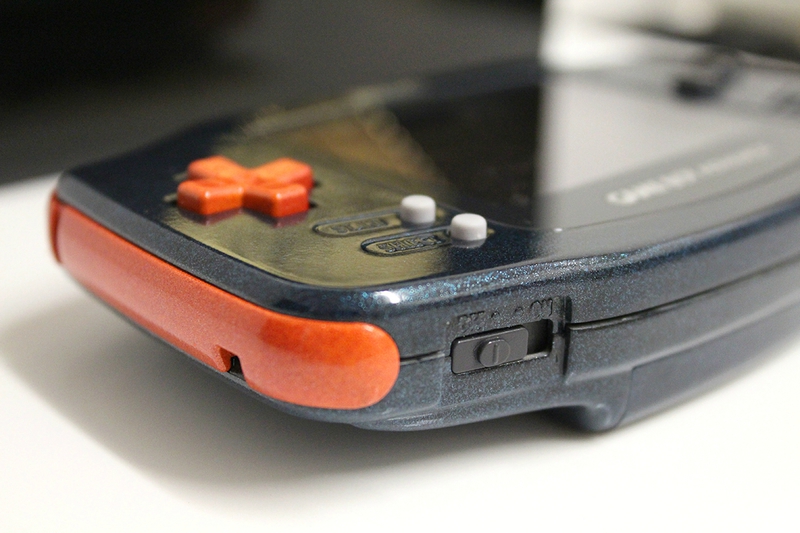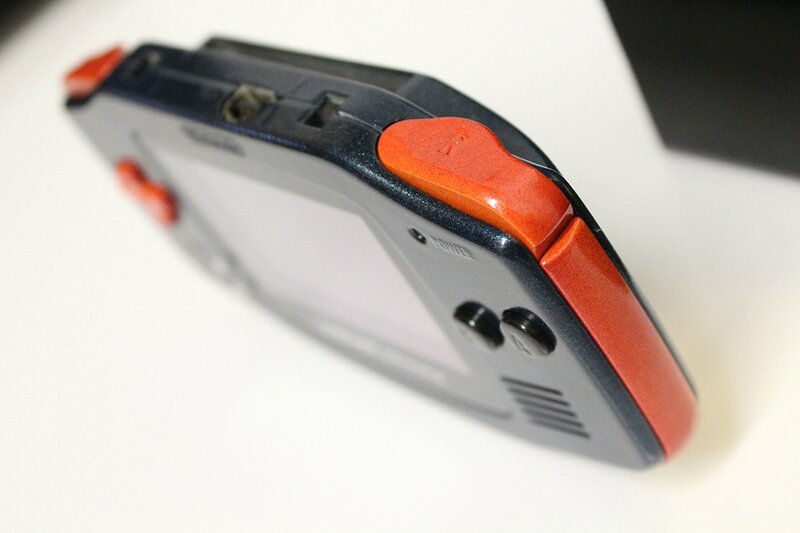 Console réalisée pour Fred (Sparadrap), acteur de la web-série Noob, grand fan de la série Castlevania. Ce dernier a fait le souhait ultime de posséder une Super Nintendo unique et « of the dead » évidemment !
Débutée durant le mois d'avril après de longues soirées de délibérations et de décisions cruciales… C'est au final le château de Dracula qui se dessine sur la partie centrale de la console. Choix de quelques éléments emblématiques ou faisant un clin d'œil à la saga : cercueil, croix, chaînes, fouet, squelette, bois, dorures, pierre, et décor vampirique.
Easter Eggs cachés sur la manette (3) : rapide et agile, il apparaît dans Dracula X, Symphony of the Night, Circle of the Moon…
Les traces d'un objet perdu ou arraché sont visibles. Peut-être les restes d'une lutte acharnée ?
---
Console made for Fred (Sparadrap), actor in the Noob web-serie and a Castlevania's big fan! He's made a wish to own a unique Super Nintendo and " of the dead" naturally!
Started in April, after long evenings of negociations and crucial decisions… Finally it's Dracula's Castle that's designed in the central part of the console. Some emblems of the serie have been chosen: coffin, cross, chains, whip, skeleton, wood, gilding, stone and vampire decoration.
Hidden Easter Eggs (3) : Fast and agile, he appears in Dracula X, Symphony of the Night, Circle of the Moon… Marks of a lost or snatched item are visible. Maybe the rests of a bitter fight?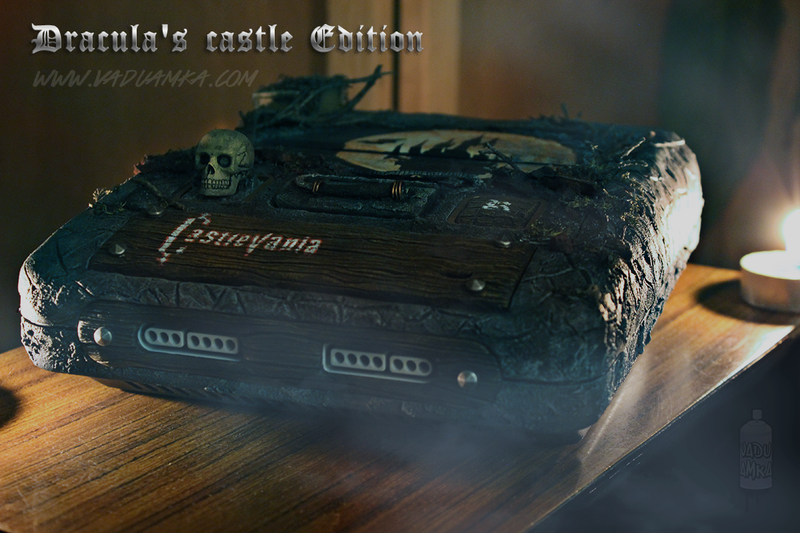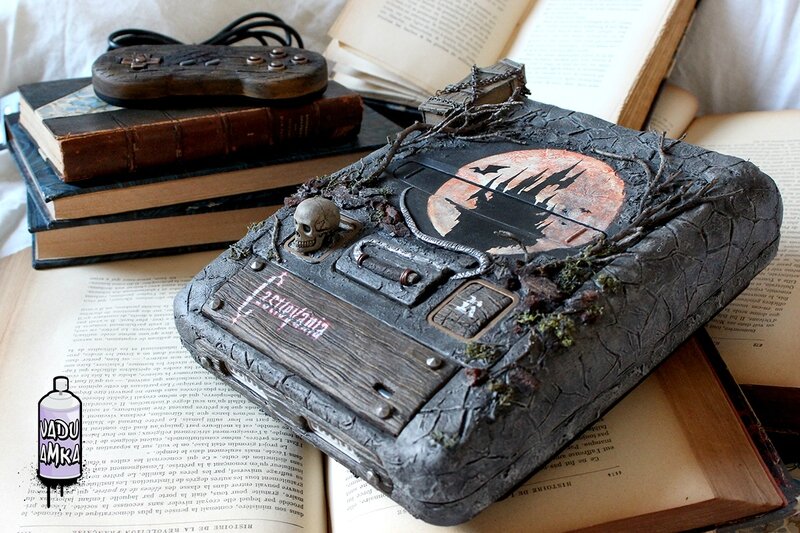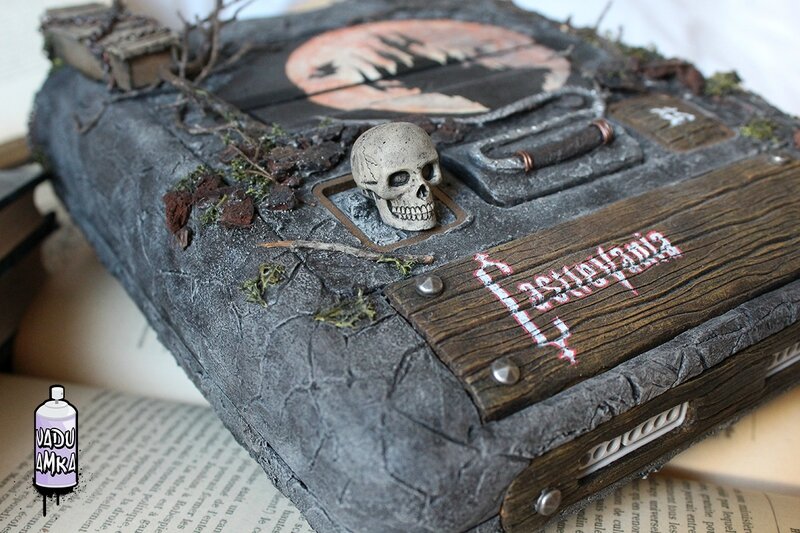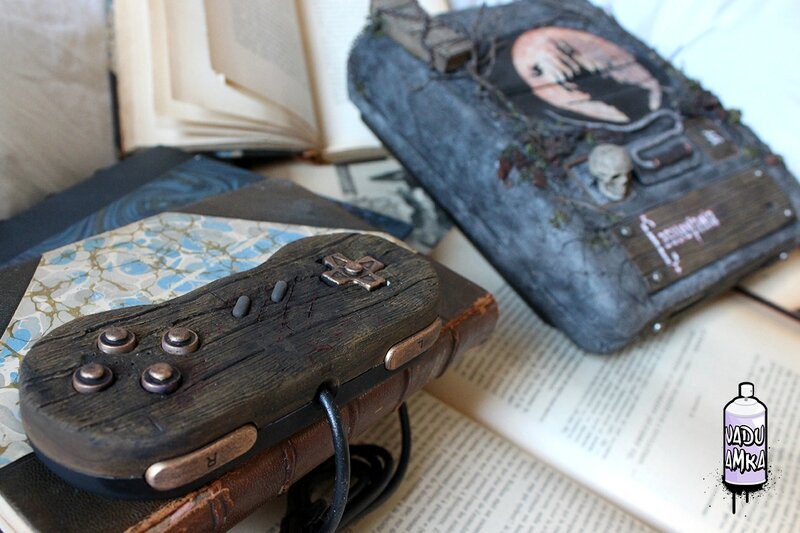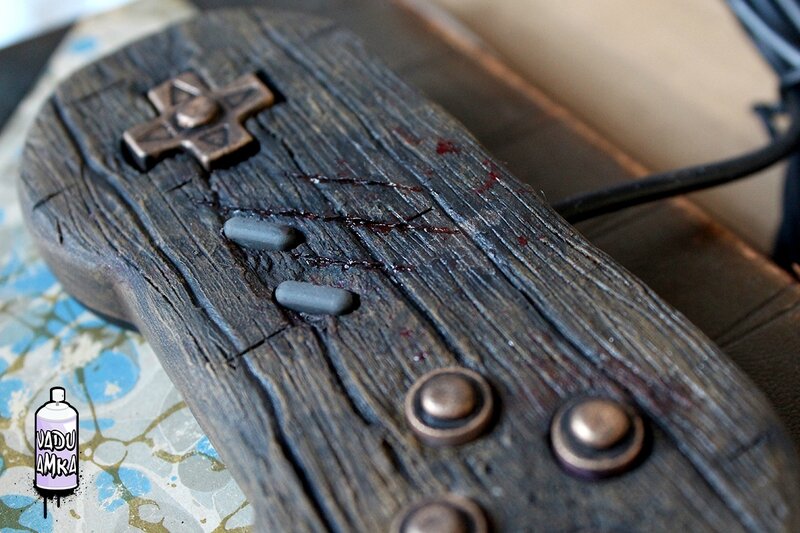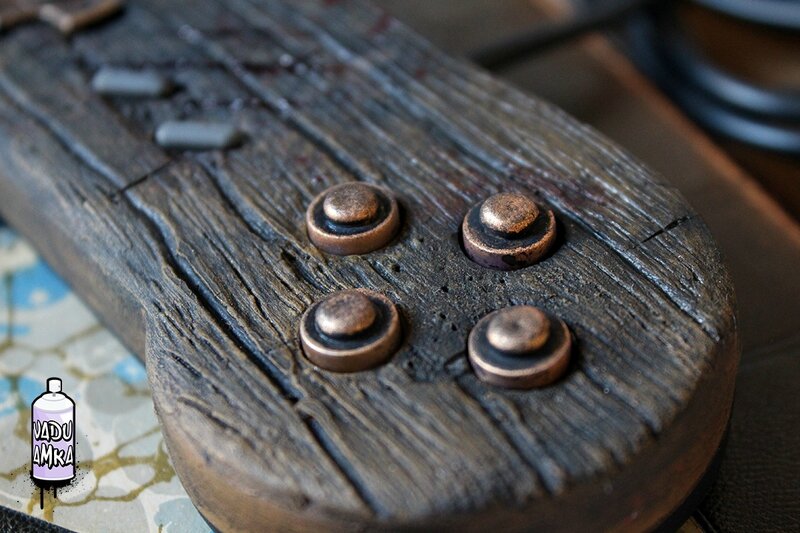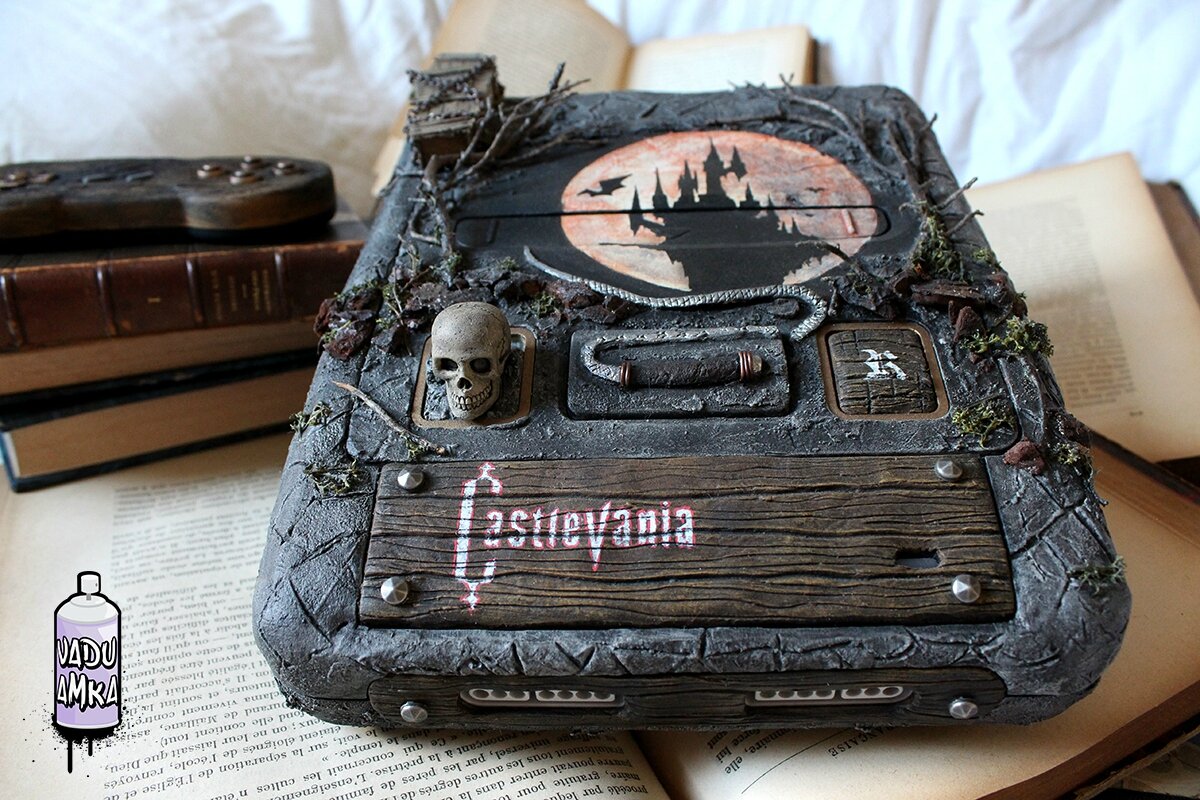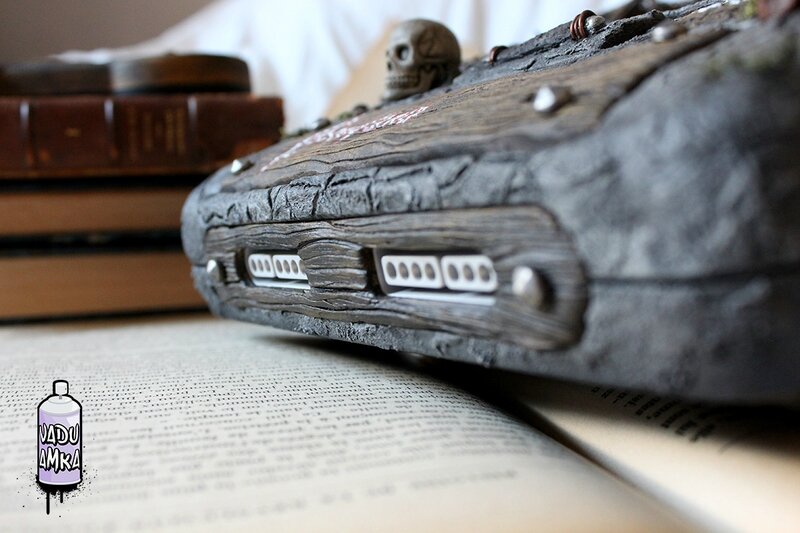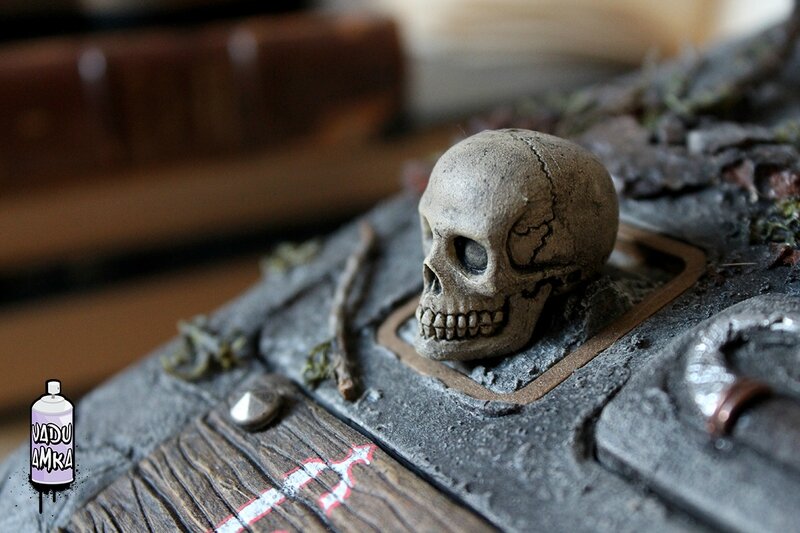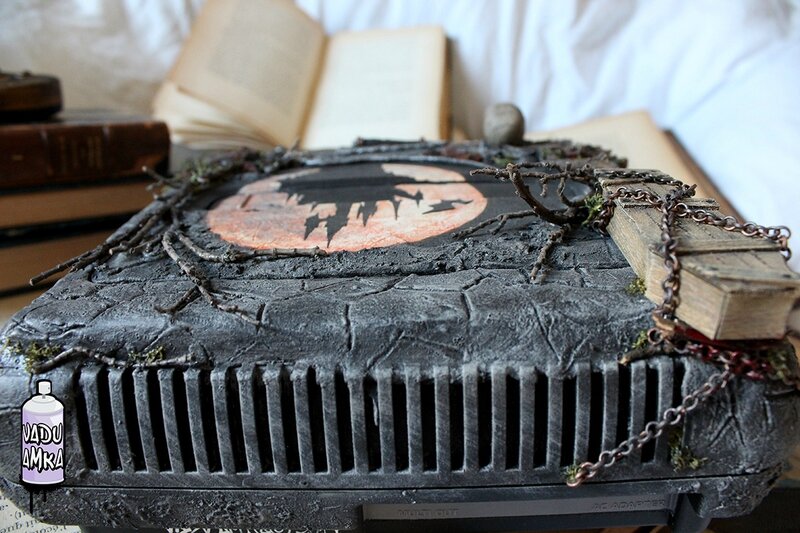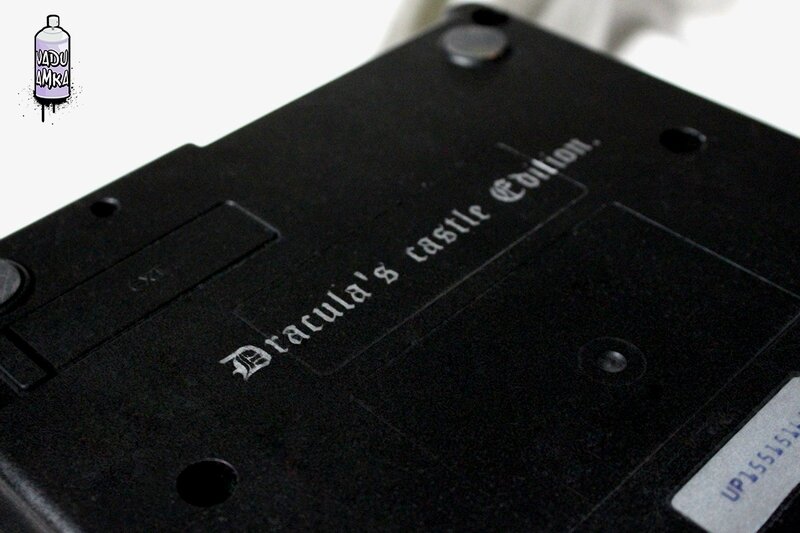 Résultat final :



Remerciements à Sam et Alex, qui sont toujours de bon conseil.
Mention spéciale au Shamman de la résine qui m'aide bien souvent, même à distance !
Et à ma traductrice ;_;...
Cartouche Game Boy originale, modelée et sculptée à la main.