Entre le steampunk et le post-apocalyptique, cette console emprunte un style revisité à la Mad Max. Réalisée avec du cuivre, du laiton, de l'argent, du métal et du bois. Elle ravira peut-être le propriétaire d'un cabinet de curiosités ? Parfaitement fonctionnelle et presque ergonomique si vous possédez des doigts suffisamment fins. Elle est bien évidemment unique et fera partie des prochaines expositions !
Un ornement mystérieux d'une ancienne civilisation geek se cache au coeur de cette console, saurez-vous l'identifier ?

---

Between steampunk and post apocalyptic, this console burrows a revisited Mad Max style. This console is made of copper, brass, silver, metal and wood. Perhaps it will delight the owner of a curiosity cabinet? Fully functional and almost ergonomic if your fingers are thin. It is a unique artwork and will be part of future exhibitions! A mysterious ornement from an ancient geek civilisation is hidden inside the console, will you be able to identify it?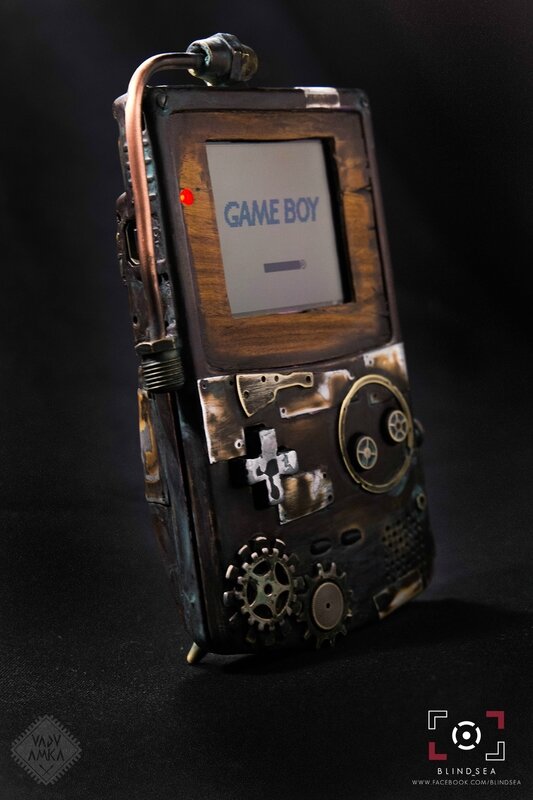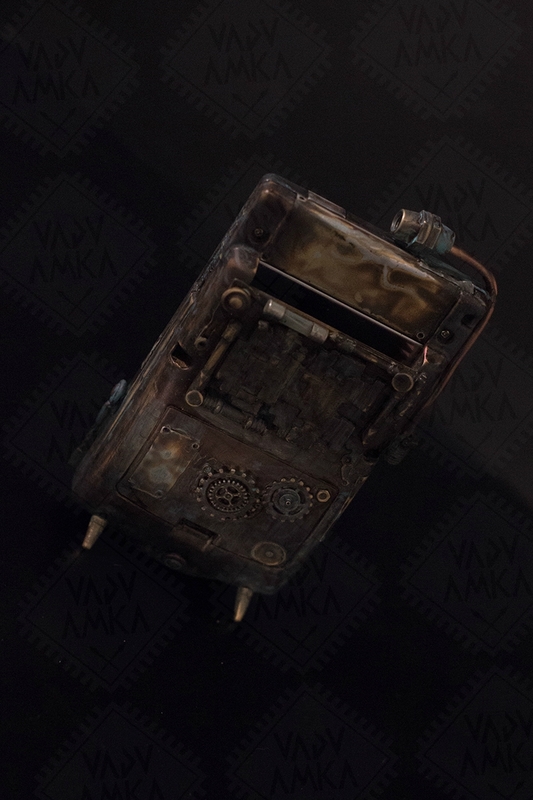 Metal Slug n'est certes pas le thème le plus attendu sur un support Game Boy Advance, mais ce jeu d'arcade à eu au moins le mérite d'être original sur cette petite portable. D'un point de vue matériaux, la coque a été entièrement recouverte de plaques métalliques, brossés et patiné en noir, brun et oxyde. L'effet de rouille a été réalisé à base d'acrylique, rehaussé d'un brossage métallisé. Le rendu donne un aspect camouflage et usé à la fois. Les touches sont celles d'origine. L'écran et les parties en caoutchouc ont été entièrement remplacés par des éléments neufs. Cette console est tout à fait fonctionnelle et prête à partir en guerre !
---
Metal Slug is not the most awaited theme for the Game Boy Advance, but this arcade game is has the merit of being original on this small portable console. On the topic of materials used, the hull was completely covered with metal plates, brushed and weathered in black, brown and oxide. The rusty effect has been done with acrylic paint, enhanced with metallic brushing. The rendering gives it a camouflage aspect while looking used. The buttons are the orignal ones. The screen and caoutchouc parts were replaced with new ones. This console is fully fonctionnal and ready to go war!

Available - Disponible here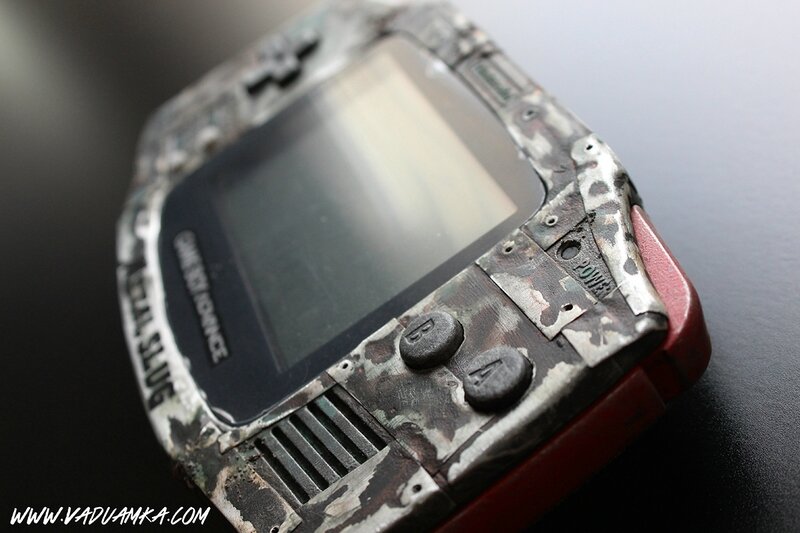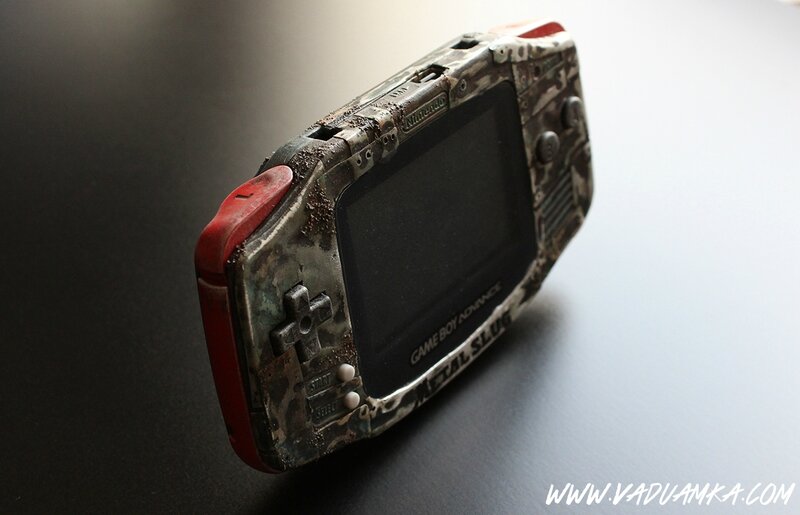 Game Boy réalisée sur commande pour un collectionneur privé.
Thème Super Mario Land et plus particulièrement le niveau « Egyptien » d'où le choix d'une couleur beige proche des pyramides. L'apparence d'une brique poreuse ou calcaireuse est voulu pour rappeler le désert et les constructions antiques. Les touches font un clin d'oeil aux pièces du jeu, quant au cache piles, il est orné d'une très imposante plante carnivore, attention à ne pas y laisser un doigt lors d'une partie. J'allais oublier de mentionner, qu'évidemment la console fonctionne !
Comme beaucoup d'entre vous, je reviens du cinéma. Ce 16 décembre, c'était la sortie de l'épisode VII de Star Wars. Je travaillais depuis quelques semaines sur un projet, pour un cadeau. Et en trainant sur internet, j'ai pu constater que je n'étais pas la seule à avoir eu comme idée de réaliser une console Star Wars. C'est souvent répétitif : du noir, du jaune, le logo, une galaxie, les artworks refaits à l'aérographe (très bien refaits tout de même!) ... et parfois un jouet détourné, comme ce R2D2 super émulateur et la console Faucon Millénium. Je cherchais quelque chose de différent et c'est là que j'ai eu le déclic, en voyant cette épave de Destroyer dans le désert de Jakku, d'ailleurs ce décor a une importance particulière puisqu'il nous rappelle aussi Tatooine. Mais je ne vais pas m'étendre sur l'histoire de la saga.

Like many of you, I return of cinema. This December 16th it was the release of Star Wars Episode VII. I worked for several weeks on a project for a gift. While surfing the Internet, I noticed that I wasn't the only one who had the idea of doing a Star Wars console. It was often repetitive: black, yellow, the logo, a galaxy, the artworks remade with airbrush (and it's very good anyway!) ... And sometimes a "hijacked toy", as R2D2 super emulator and the Millennium Falcon console. I was looking for something different and it was when I saw the new Star Wars, and particularly when I saw the wreck of a Destroyer in the Jakku's desert. Moreover, this decor is particularly important because it also reminds us Tatooine. But I will not talk about the saga, it's not the point.

Il m'aura fallu une trentaine d'heures pour en voir la fin. J'ai martelé de l'aluminium, poncé et cloué, j'ai même été acheter de l'étain en feuille pour le faire fondre. Je me suis vraiment amusée sur cette réalisation !

It took me thirty hours to see finaly the end. I hammered aluminum, sanded donw and nailed ! I was even bought tin sheets to melt it. I really had fun on this realization !

Je remercie l'excellent Joffrey qui ne cesse de surprendre dans ses divers travaux de customs de jouets. C'est un peu grâce à lui que j'ai aussi osé me couper la main et faire une nuit blanche à tester de nouveaux matériaux.

Star Wars Logo - TM & © Lucasfilm Ltd. All Rights Reserved
Console Game Boy Advance, réalisée sur le thème des Chocobos issus de l'univers Final Fantasy.
Exemplaire unique.
Couleur : signal white et melon yellow. Finition vernis mat UV.

Game Boy Advance console, inspired by the theme of the Chocobos from Final Fantasy universe.
Unique model.
Color: white and melon yellow signal. Finishing with UV matt varnish.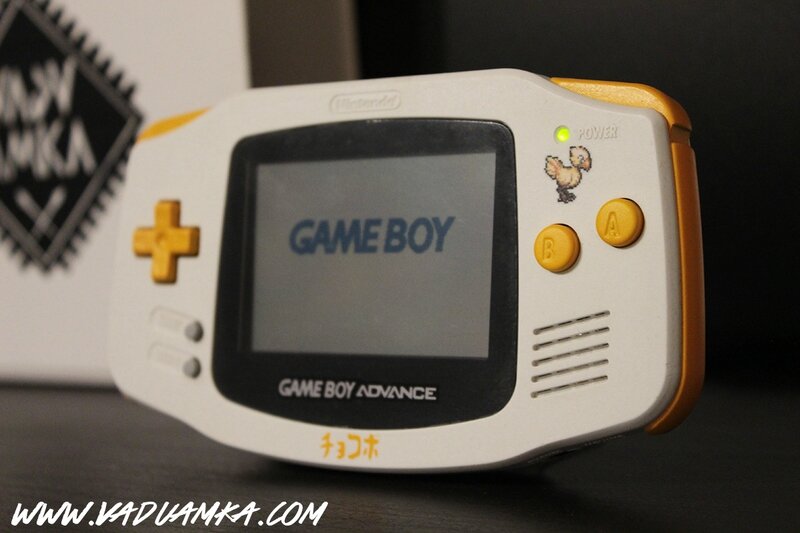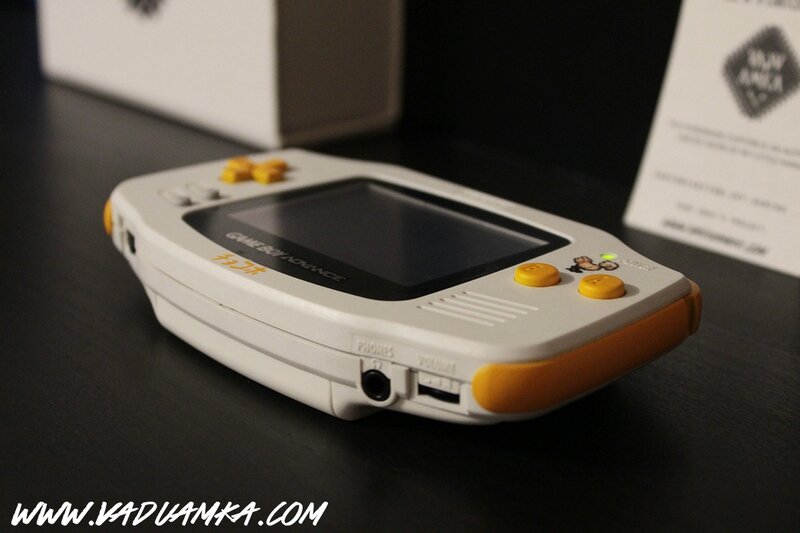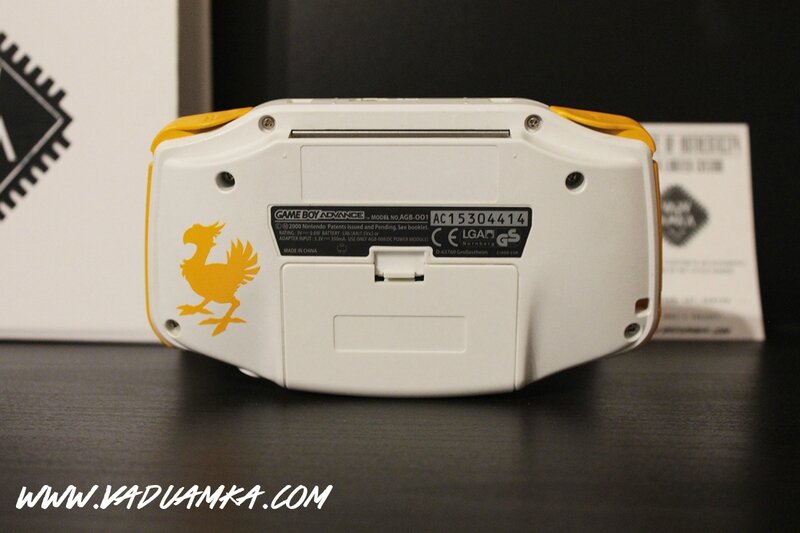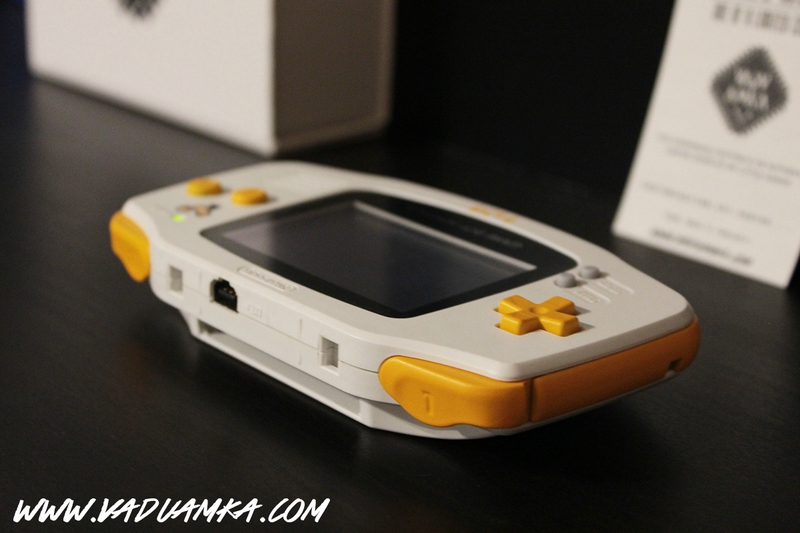 Nouvelle console sur le thème de Pokémon, il s'agit cette fois des ruines Zarbi (Unown en anglais), La console a été réalisé pour un certain "Gogetoad", son pseudo est écrit en alphabet Zarbi au dos de la console. Les boutons A et B sont eux aussi déclinés de la même façon. A l'avant de la console on peut reconnaitre la carte de Kanto et à l'inverse derrière, Johto. Pour la petite annecdote, j'ai réalisé en 2014 une console Pokémon rouge et bleue et Togepi, annonçant la suite de la série de manière chronologique par rapport à la série TV et aux jeux vidéo. Cette console reprend donc l'univers de Or et Argent... :) Je réserve autre chose pour Suicune.

Le but de cette création était de donner l'illusion d'un objet antique et mystérieux issu des ruines.

Et si l'envie vous prend de rejouer à Pokémon en 2019 sur Android, jetez un oeil à ce top 6 des applications en rapport avec la franchise. Et oui ! Il n'y a pas que Pokémon Go dans la vie :)


---
New console on Pokemon's theme ; This time it's about Unown Ruins. This console has been made for "Gogetoad", his nickname is written in Unown alphabet in the back of the console. A and B buttons are also written the same way. On the front of the console, we can easily recognize Kanto's map, wheareas Johto's is on the back. One small anecdote: in 2014 I had made another Pokemon console (blue, red and Togepi), annoncing that this serie would continue chronologically and follow the TV show and video games. Thus, this console is using Gold and Silver universe... émoticône smile I am going to do something else for Suicune.

The purpose of this creation was to give te illusion that it's an old and mysterious artefact found in the ruins.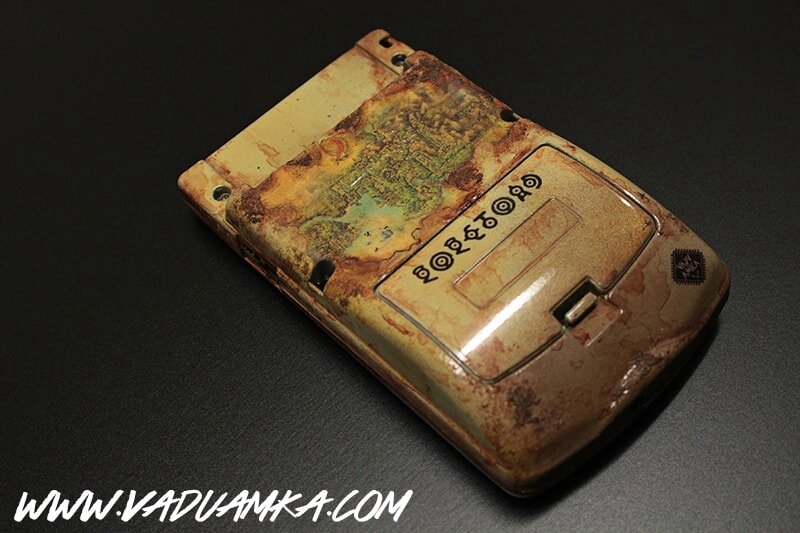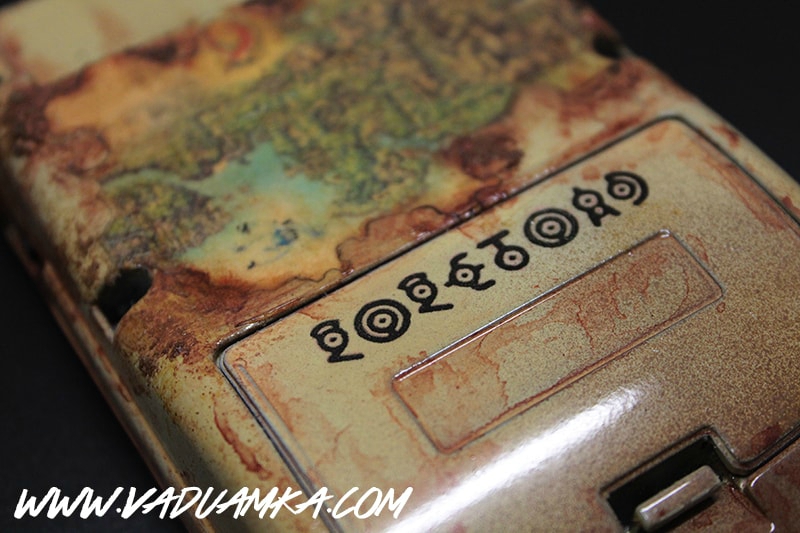 Dans le cadre du financement participatif du guide complet Zelda par l'Association Trop Gaming. le Dr. Lakav m'a demandé si il était possible de réaliser une édition speciale avec une cartouche en loose d'un Zelda ALTTP PAL FR !

* Ils proposeront à la fin de la campagne (celle-ci a atteint son objectif à 400%!) un tirage au sort permettant de gagner ma création. *

Cette cartouche super nintendo, The Legend of Zelda : A Link to the Past est un exemplaire unique et un fanmade. J'ai réalisé la boite sur base des bons conseils de www.nintandbox.net , merci y(oYo). Si vous souhaitez refaire vos boites et pas les vendre. Je vous recommande ce site! :)
J'ai opté pour du papier A3 300gr brillant de la mort mais pas trop non plus. Un papier trop épais a tendance à craquer lors du pliage.

Le lot se compose de :
La cartouche custom Zelda ALTTP PAL FR.

Ce n'est pas un cartmod !

La boite du jeu avec un calage, relooké par mes soins.
Le certificat d'authenticité.
Game Boy Advance - Capsule Corporation.
Inspiration "Dr. Brief" - Univers Dragon Ball
Vernis mat, Peinture "tulipe blue", légères usures à force de parcourir le monde à la recherche des boules de cristal.
Bulma a du la faire tomber quelques fois... *rire* Son effet usé est absolument recherché :)
Exemplaire unique et fonctionnel, remis à neuf.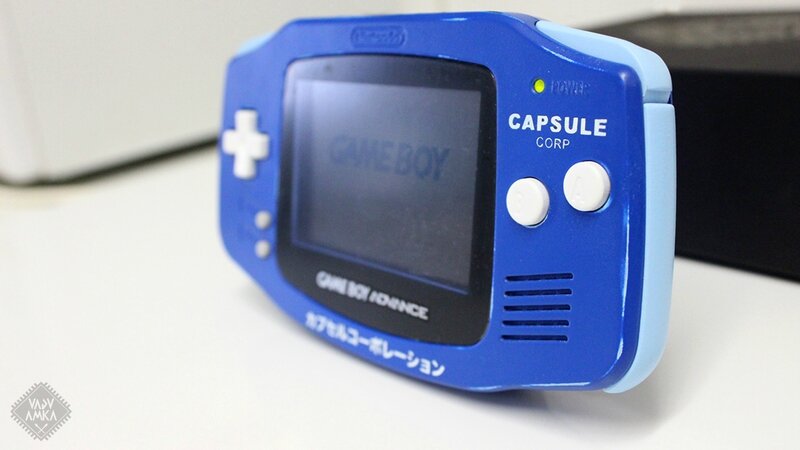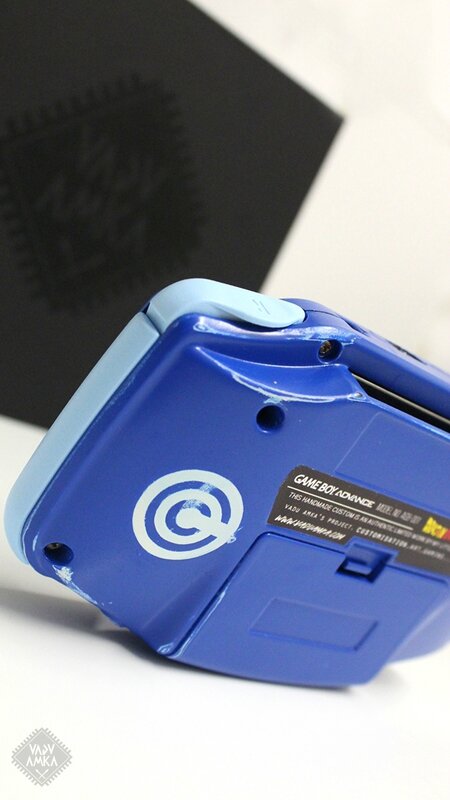 Une Nintendo 64 de plus sur le thème de The Legend of Zelda, Ocarina of Time.
Un cadeau surprise commandé par la copine de Mika', car ce jeune homme est un grand fan de la licence et vous êtes très, très nombreux !
Les pierres ancestrales étant des objets de quête très importants dans le jeu, j'ai choisi de rappeler leur forme sous le logo de la console, pour rappel, il s'agit de l'Émeraude Kokiri, du Rubis Goron et du Saphir Zora. Le logo de la console, lui aussi a été refait pour se rapprocher de la typographie de la saga. Un petit clin d'oeil supplémentaire pour faire plaisir à cet ami. Le reste de la technique a été abordée dans les articles précédents, le bouclier a été remoulé en résine et un chouïa rendu plus fin et anguleux. Le modèle de base vient de la forge de MetalFGS . Le doré des touches est usé et brillant pour être homogène avec le reste de la console qui est plutôt ancienne. Et La Triforce est rappelée sur la manette.

---

A Nintendo 64 based on The Legend of Zelda, Ocarina of time.
It's a surprise gift ordered by Mika's girlfriend. He's a huge fan of this licence, just like so many of you, Guys.
The ancestral gems being very important items for the main quest, I chose to remind their shape under the console's logo. As a reminder, they are the Kokiri emerald, the Goron ruby and the Zora saphire. The console's logo was also remade in order to stay close to the saga's typography.
A little additional wink for this friend to please him.
I have already explained the techniques I used in previous publishings, the shield was remolded in resin, for a little bit thinner and angular rendering.
The basic model comes from the MetalFGS forge. The gold aspect for the buttons is worn and shiny to match with the rest of the console, that is rather ancestral. At last, the Triforce is remembered on the game pad.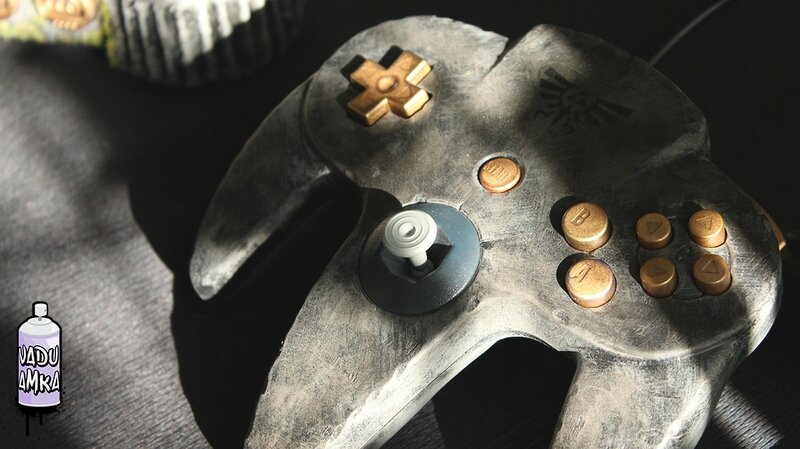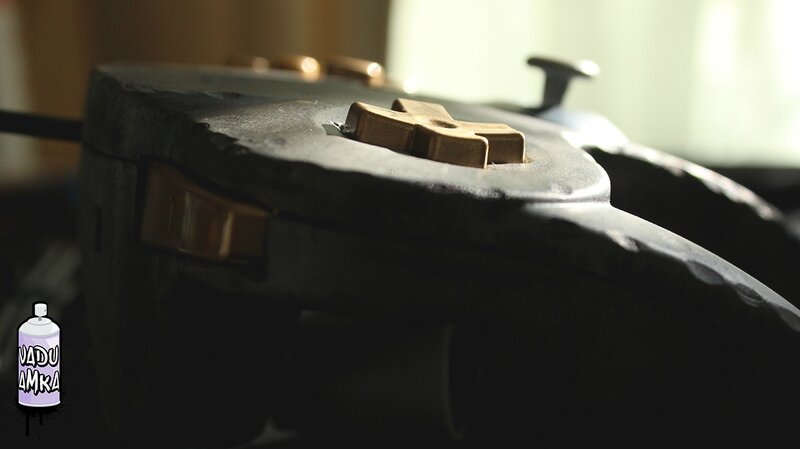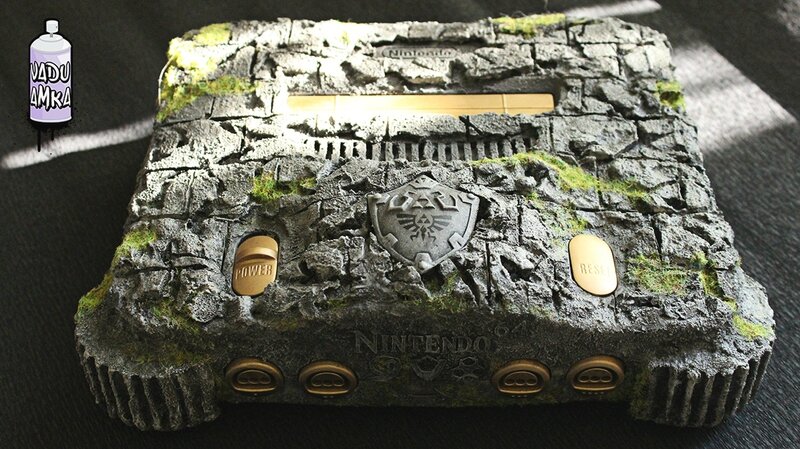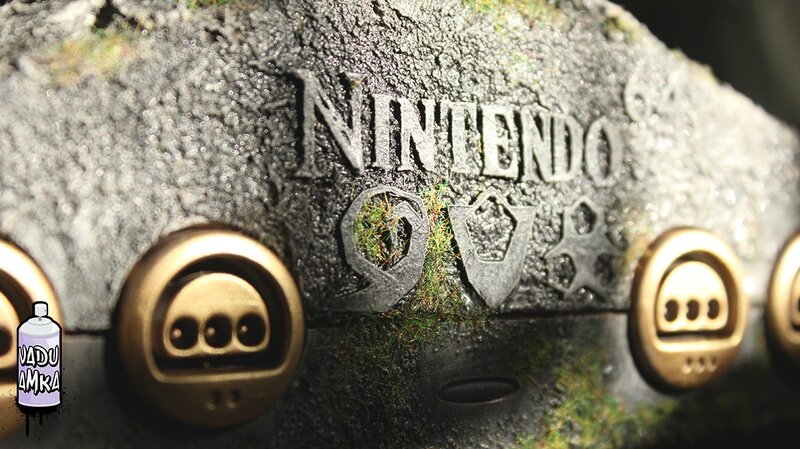 Happy Birthday Mika!
GameCube Inspirée des fresques du volet The Legend of Zelda : The Wind Waker.
Temps de réalisation : 3 mois en étant sur d'autres projets à la fois.
Matière : Résine, pâte époxy double composant, acrylique et gel texturant
La console est entièrement réalisée à la main, les ports manette ont été ornés des nombres 1 à 4 en alphabet Hylien. La réalisation de la manette est basé sur un manche rappelant une épée (Je ne parle pas forcement de la Master Sword mais juste d'une forme) Le bouclier sert de bouton Start, il est absolument fonctionnel. Il en va de même pour les sticks. Le premier plus décoratif étant en laiton. Le second est un élément d'origine. J'essaie à chaque fois de garder tel quel au moins un élément de la console. Bien qu'il soit d'un très beau jaune. (Il est aussi relativement difficile de customiser du silicone, c'est une surface qu'il faut éviter de peindre).
Certains remarqueront peut-être quelques fissures sur le côté droit. Link est prié de ne pas l'exploser! Autres détails, l'arrière de la console (la poignée) est en faux cuir noir.
Je vous laisse désormais regarder tout ça de plus près !
A très vite.

---
Gamecube inspired by The Legend of Zelda : The Wind Waker.
It was completed in 3 months, while working on other projects at the same time.The Materials I used were resin, Double component epoxy paste, acrylic paint and texturizing gel.The console is entirely hand made. Joystick ports were adorned with numbers from 1 to 4, using the Hylian alphabet. The controller's design was inspired by a sword (that does not necessary mean that it is the Master sword). The Start button is covered by a shield but is fully functional. So are the sticks. First one is more decorative while using brass. The second one is an original item. I always try to keep unchanged something on the console. It is very difficult to customize silicon parts because it is hard to paint on it . You may have noticed the cracks on the right side. lease tell Link that he is not supposed to blow them up.Another detail you may have noticed is the fake leather covering the handle. I will just let you have a closer look at the whole.
See you soon!

Not for sale - Pas à vendre
Photos du work in progress sur plusieurs semaines :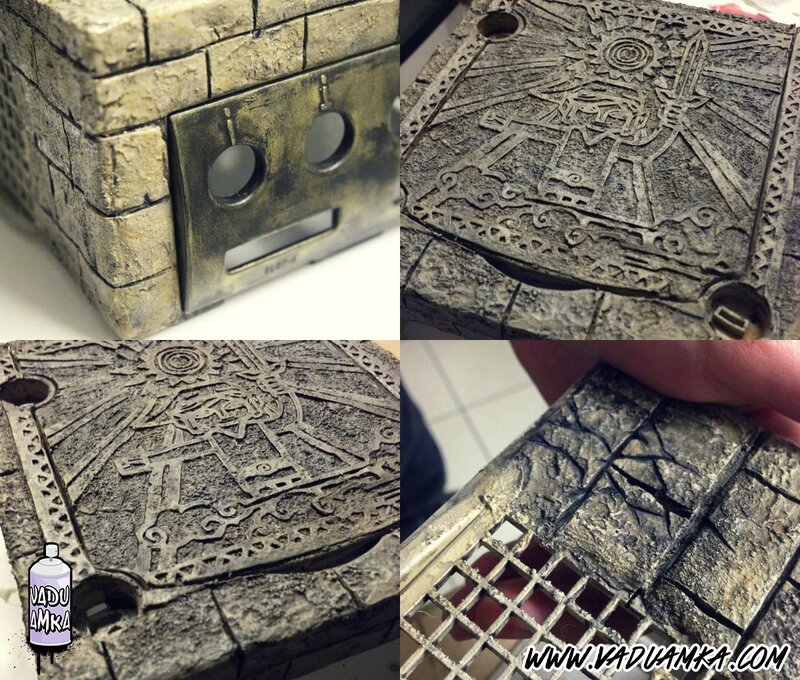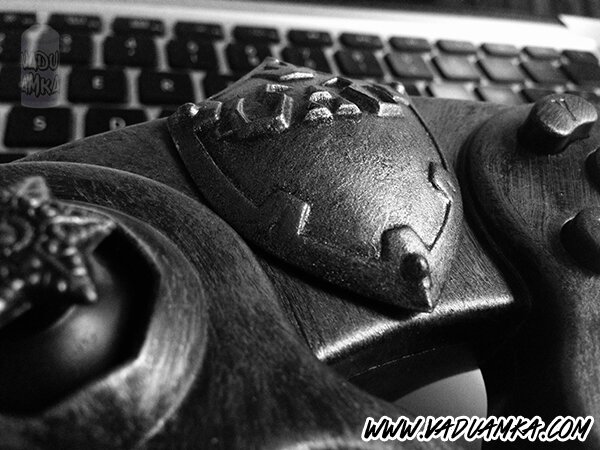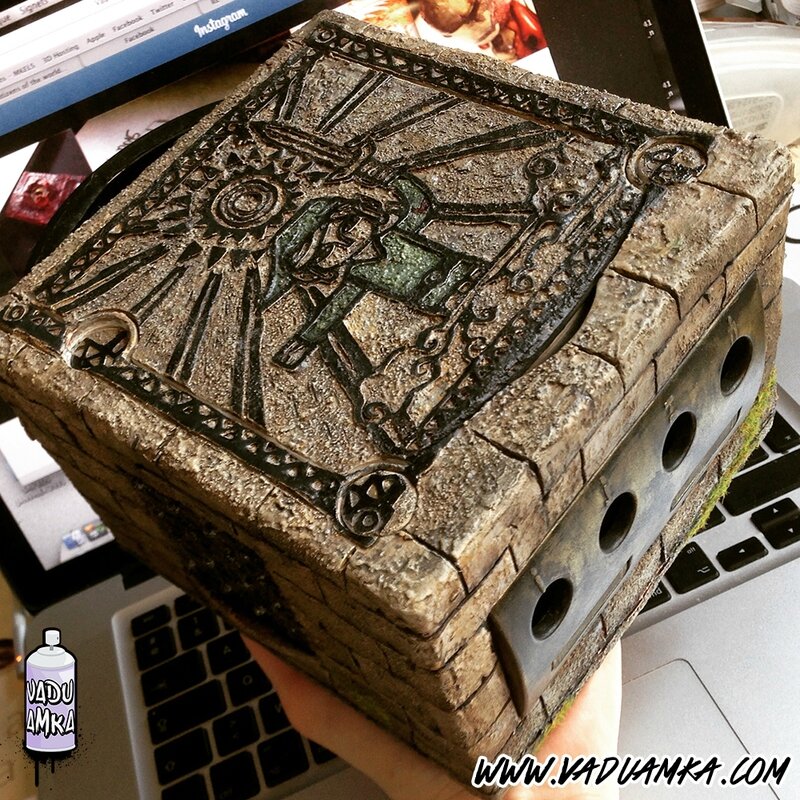 --- Final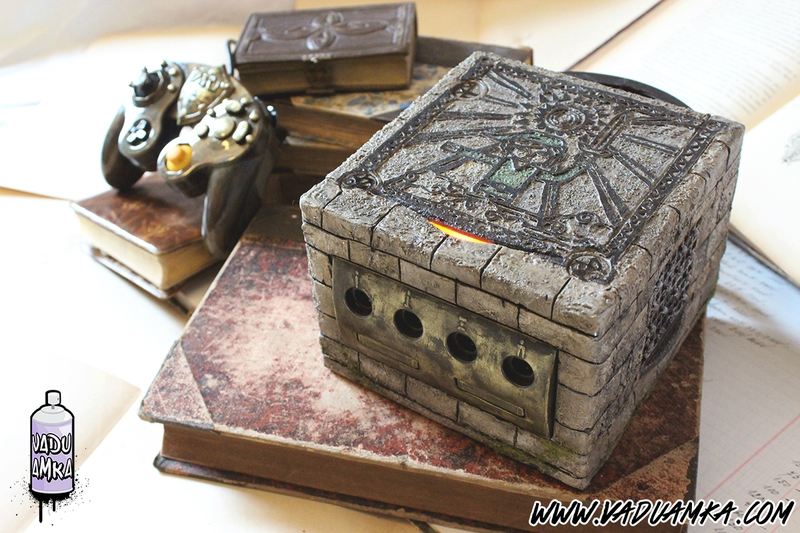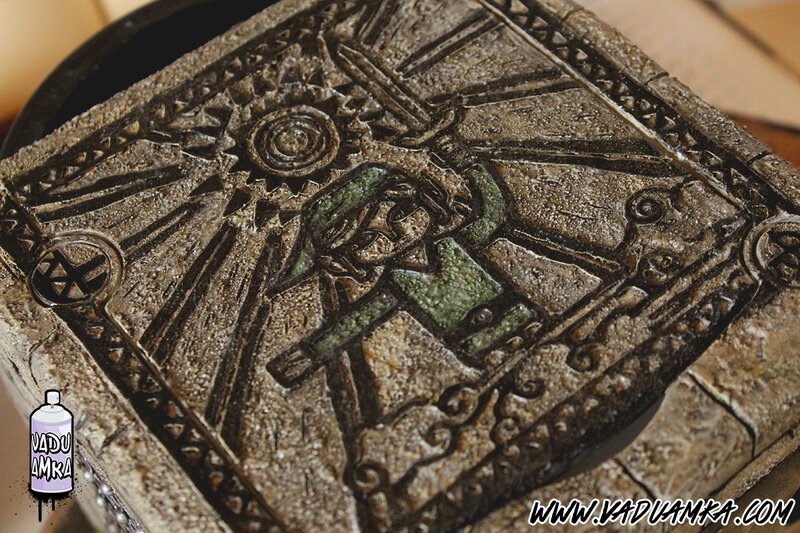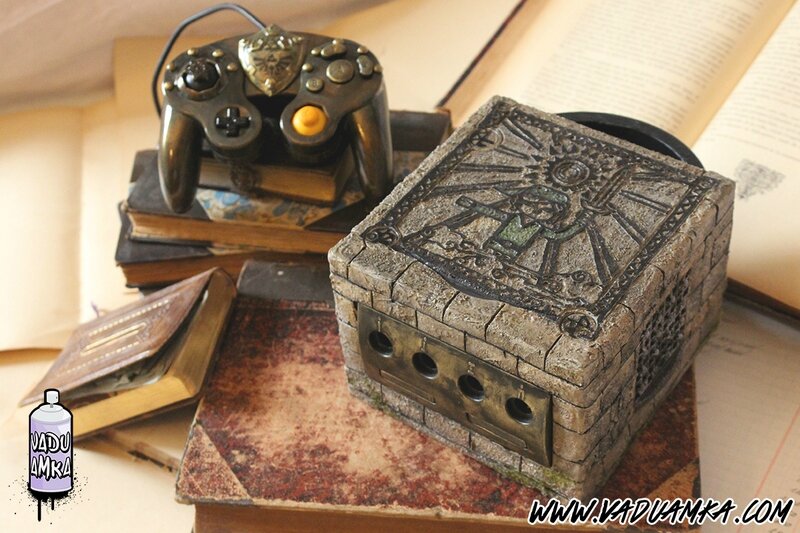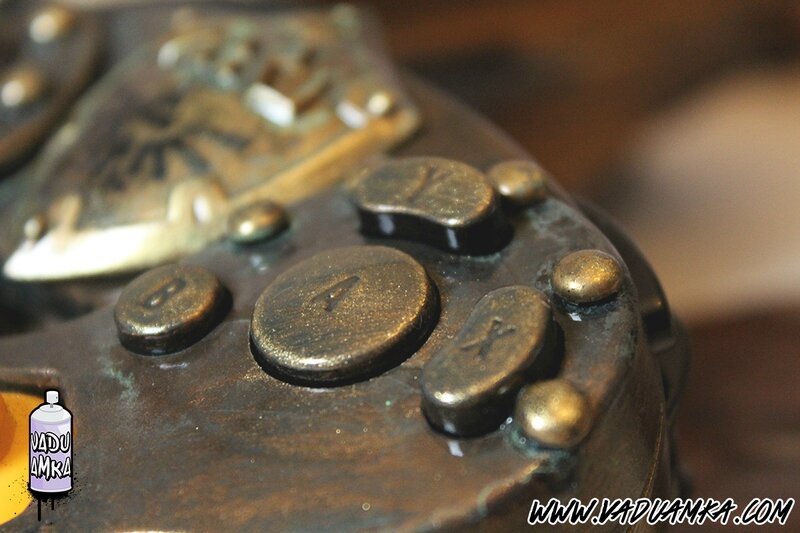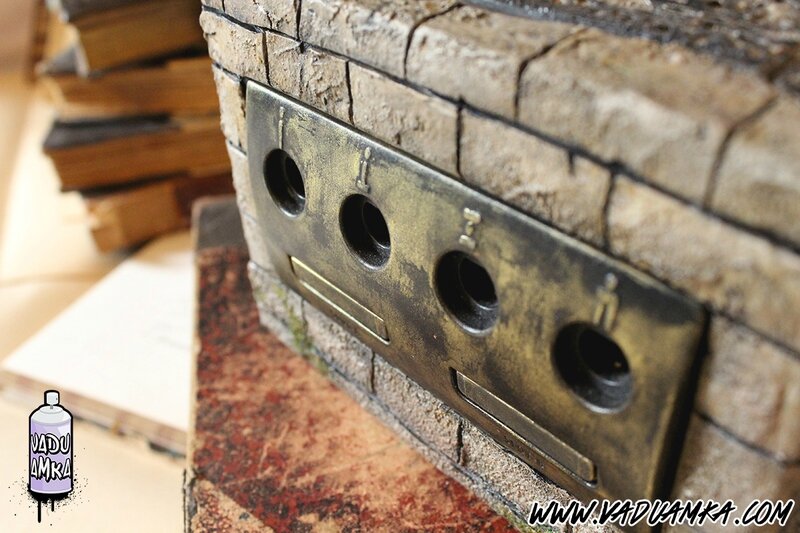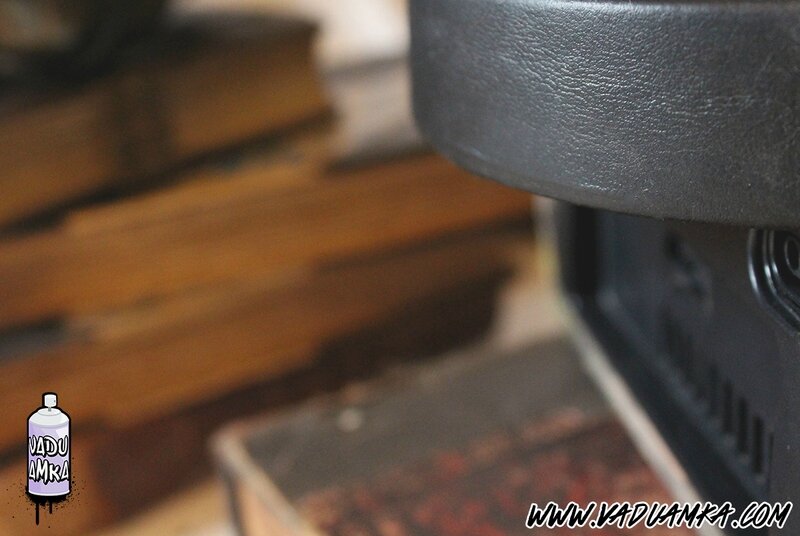 --- Bonus / Making-of