Retour aux sources avec cette personnalisation de Mega Drive en l'honneur du jeu de Bitmap Bureau, le très attendu Xeno Crisis.

Il s'agit d'un homebrew SEGA Megadrive qui a déjà pas mal fait parler de lui avec sa campagne Kickstarter. Et nous voilà embarqué, (à nouveau), sur du retrogaming pour le meilleur et pour le pire ! Découvrez dès maintenant cette console alien ultra limitée et qui ne manque pas de tentacules...

Je remercie mes cooéquipiers de guerre d'avoir assuré à mes côtés la conception de cette délicate petite machine mutante. ♥

Xeno Crisis sera disponible sur Mega Drive, Dreamcast, Nintendo Switch et Steam !
---
"Xeno Crisis is a new top-down arena shooter for up to 2 players that is best described as Smash TV meets Aliens! Run and gun your way through thousands of enemies spread over 6 areas as you attempt to discover the cause of the alien menace."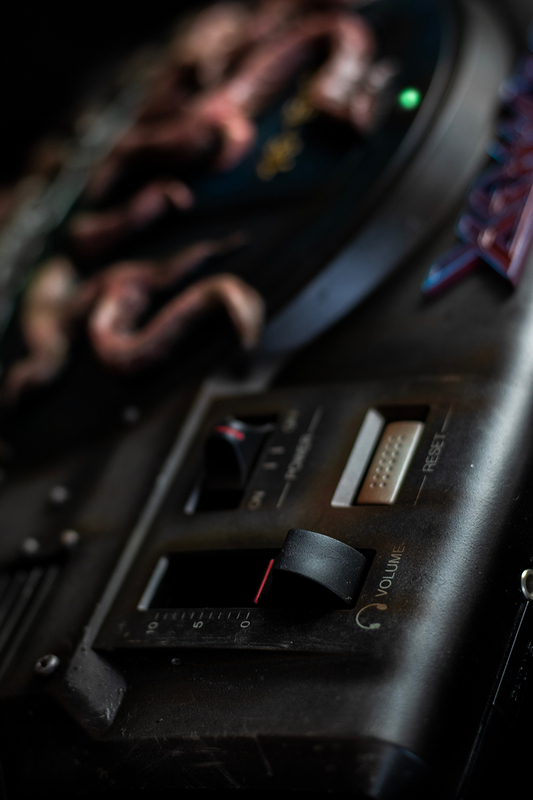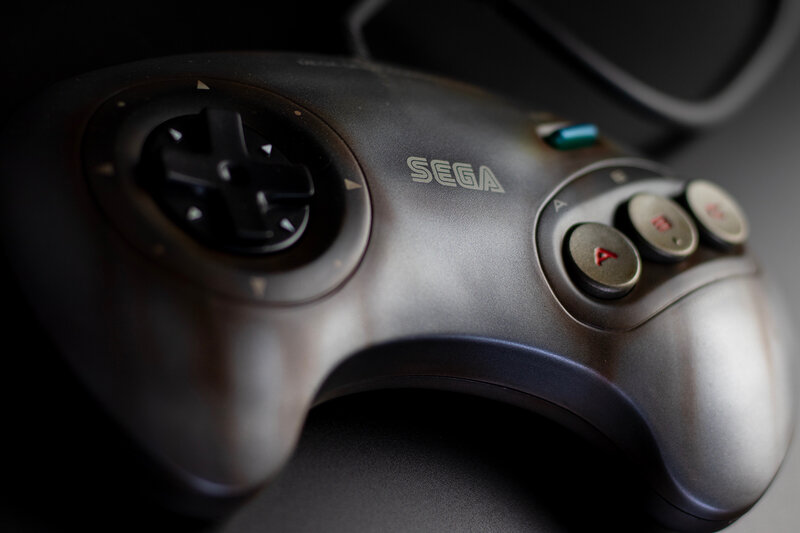 Une collaboration Random Print - Studio x Focus Home Interactive sur World War Z Game !

Que la horde soit lâchée !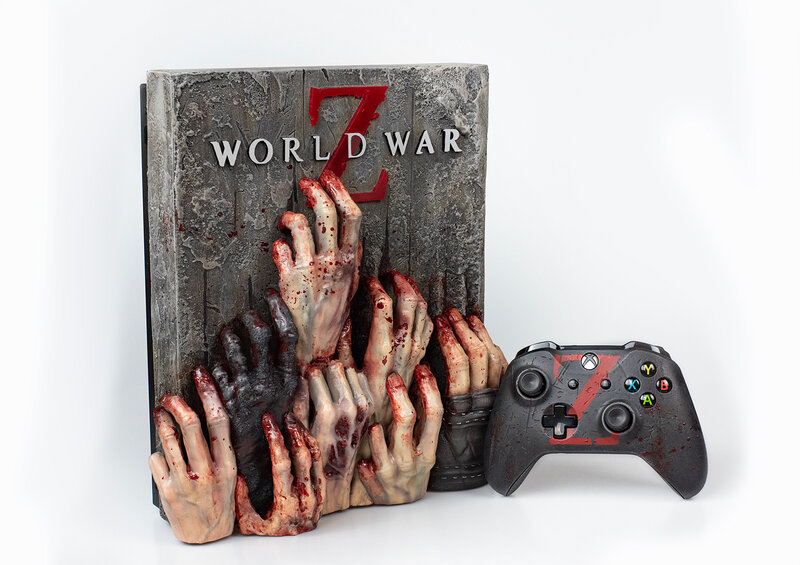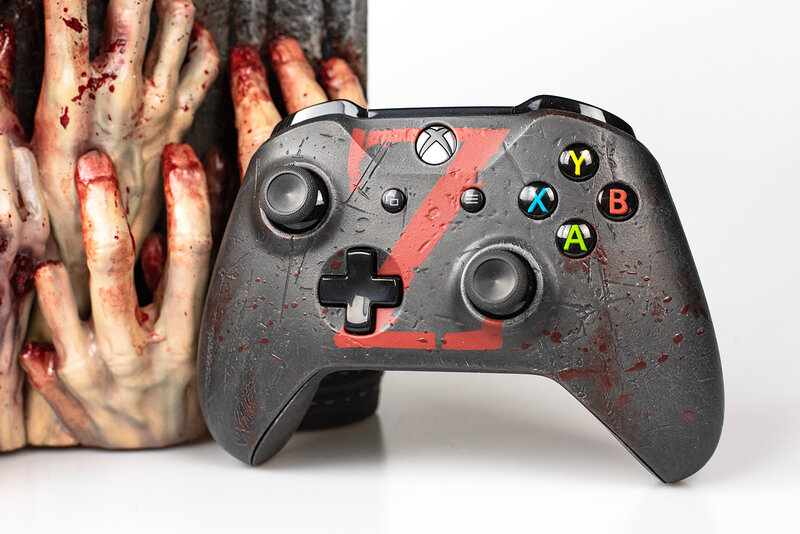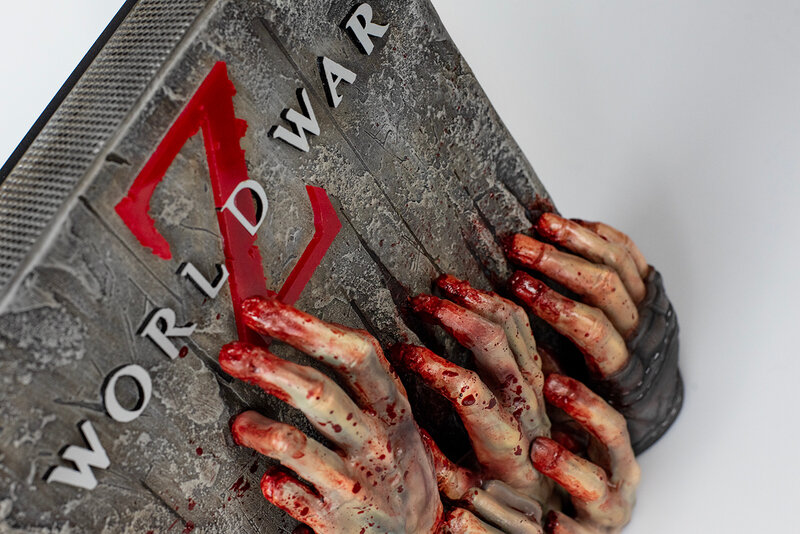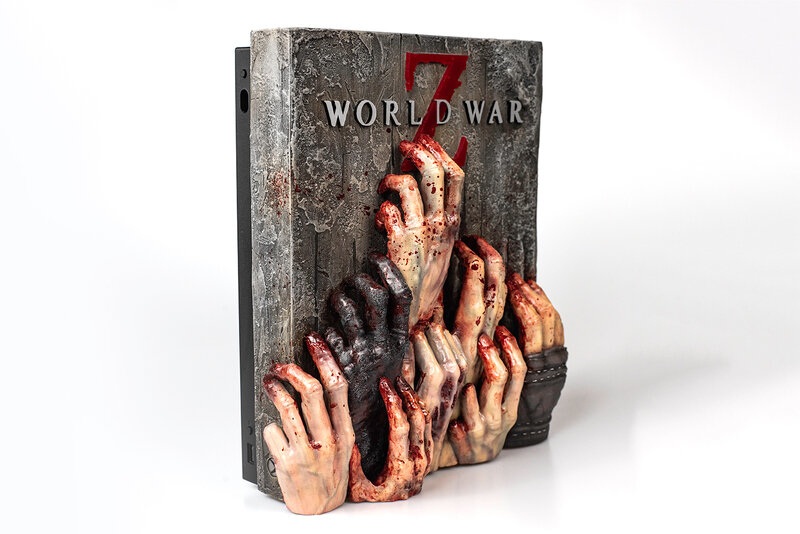 Concept art Random Print Studio
Scultp & settings : Stéphane J. - . Amandine D.
Technical : Louis C. - Amandine D.
Paint : Elsa R. - Vadu Amka
Assembly & texture : Elsa R. - Vadu Amka
Photography : Louis C.
Notre contribution à la sortie du jeu World of Tanks: Mercenaries (2018), avec mes partenaires de crimes Random Print Studio.
La console "tank" (un peu tout terrain sur les bords faut-il le préciser?) au design rappelant celui du char Crazy Snake x Slapjack est une machine promotionnelle réalisée pour l'éditeur.

Penses-tu encore avoir de la place pour celle-ci dans ton meuble TV ?


© 2018 Wargaming.net Tous droits réservés. « Wargaming.net » et « World of Tanks » et leurs logos respectifs sont des marques commerciales et/ou déposées de Wargaming. « PS4 » est une marque commerciale de Sony Interactive Entertainment Inc.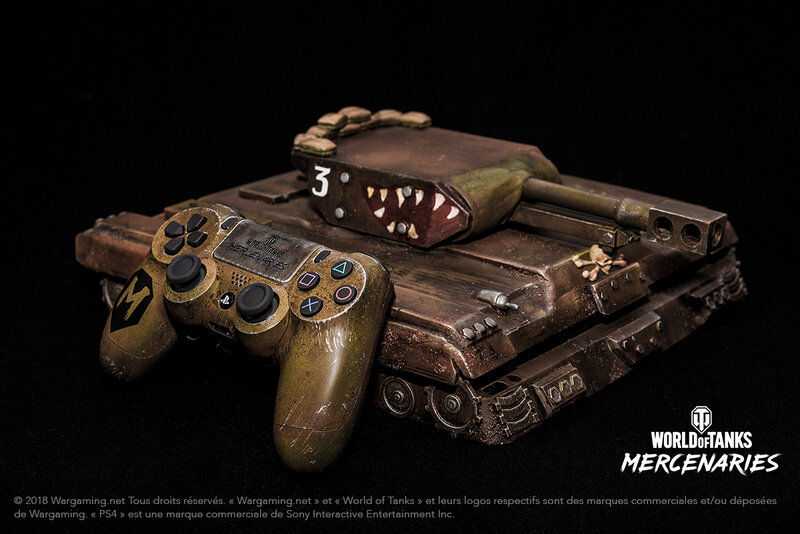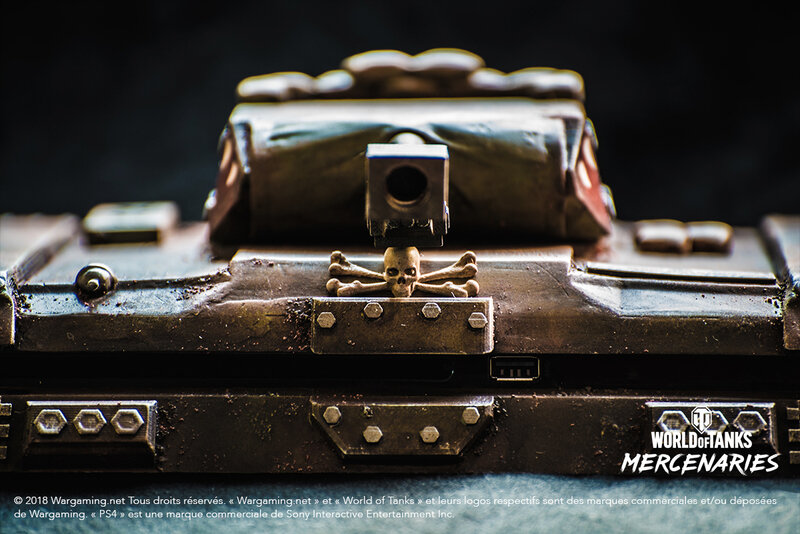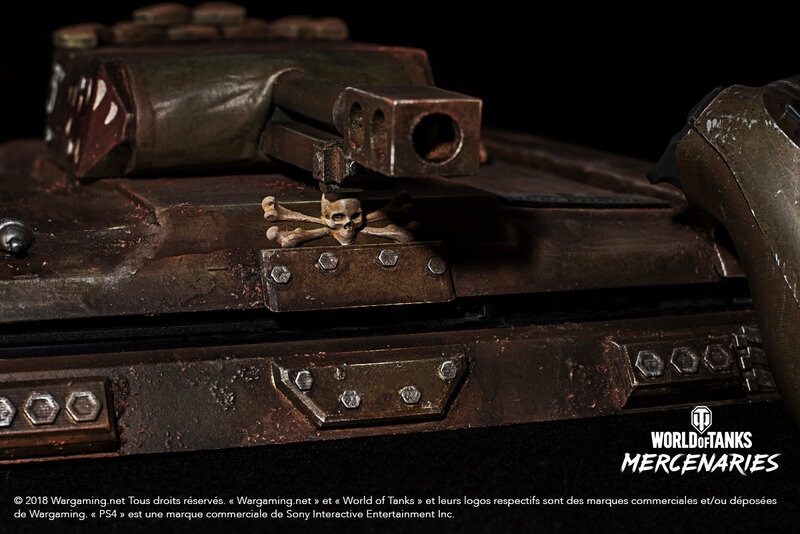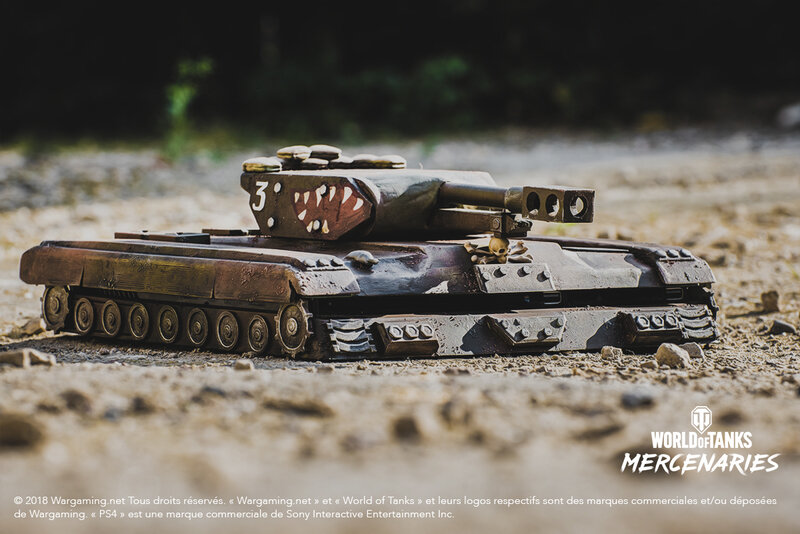 Here is the DeLoreNes DMC-12.
I only made one for the OrdiRetro Retrogaming Association from France.
This is an exclusive machine for the Paris Games Week. You will be able to see the console exposed on their stand in the pavilion 3.
This curious machine keeps the appearance of a NES. But you'll need at least 1.21 gigawatts to turn it on.

Stay connected. It will soon be on sale to help the association realize its dream ... !

This project was made with Amandine from Random Print and for the PGW 2018

[EDIT]
La Nintendo NES "DeLoreNes" est maintenant en vente aux enchères et c'est pour la bonne cause ! OrdiRetro a besoin de vous pour la préservation et la culture du jeu vidéo !
Leur rêve ? Ouvrir un musée, la vente de cette machine est très symbolique car ils accordent également une grande importance à la place de l'art dans le jeu vidéo.
Pour les soutenir, vous pouvez soit essayer d'acquérir cet objet unique ou simplement partager cette vente à vos amis. Je compte sur vous
Faites une belle cagnotte !!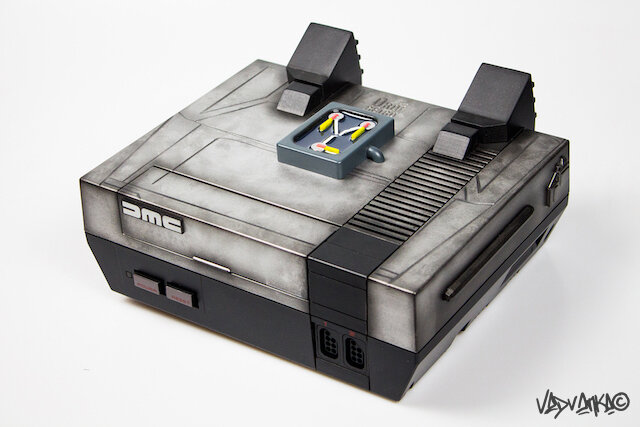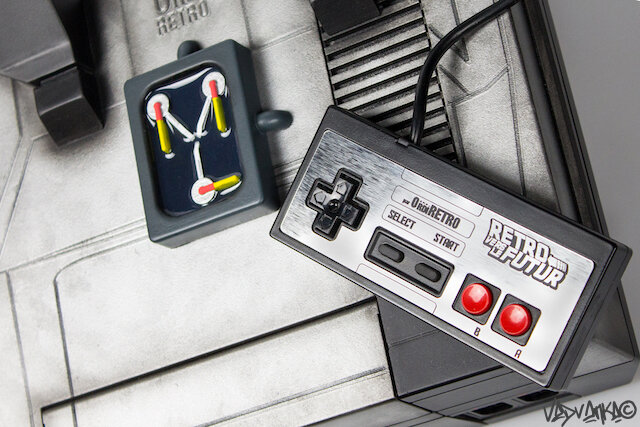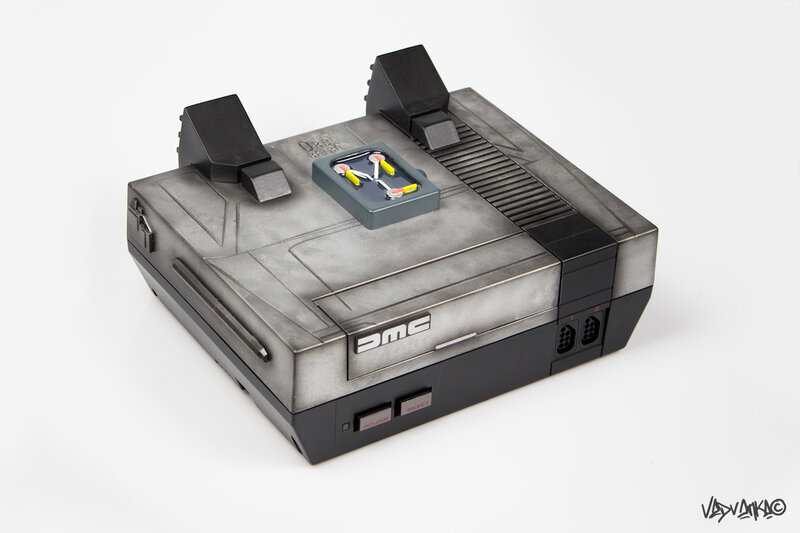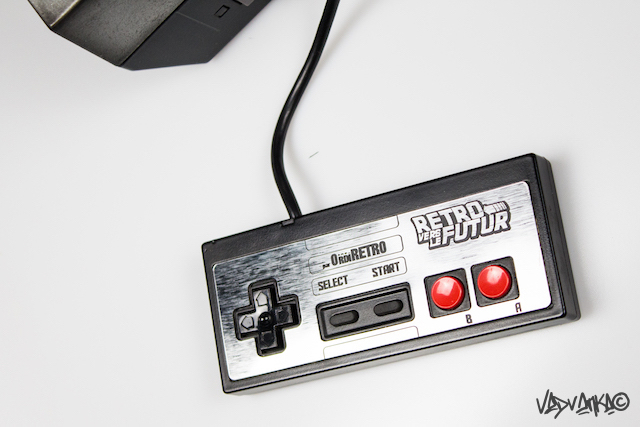 Realization on the theme of the famous game : Fortnite.
With your ticket for the LGX 2018 you can win this Playstation 4 Fornite!

Each visitor will be able to participate in a draw and have the chance to win this exclusive machine for the event.
Come and bring all your friends to this wonderful festival taking place for the 3rd time this year ! The largest exhibition in Luxembourg dedicated to Gaming and new technologies that offers this year for the 3rd edition an experience worthy of the biggest world events.

Not for resale / Promotional Only.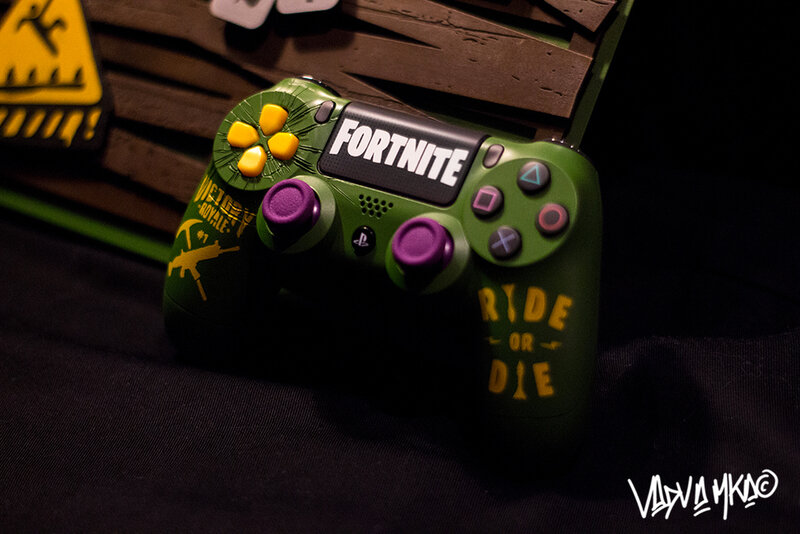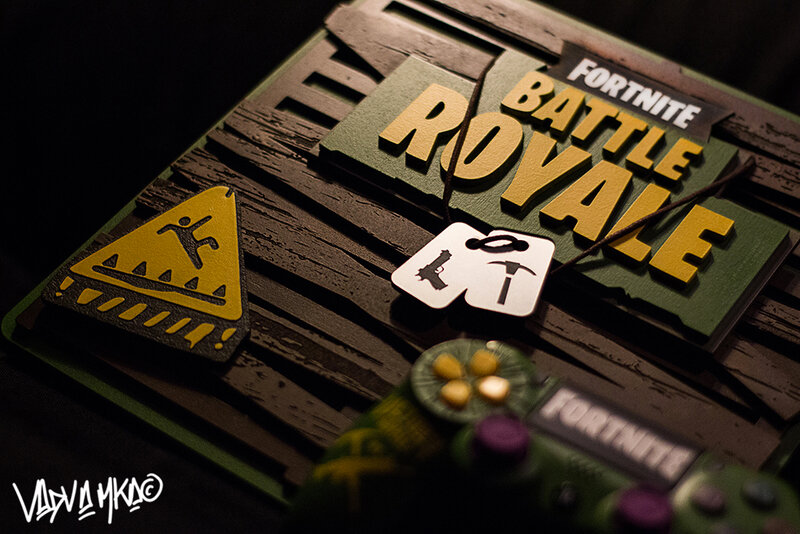 "Rudy the abomination" est une création originale, sans réelle thématique liée au jeu vidéo. Il s'agit avant tout d'une vilaine console mutante, modifiée pour le fun. J'affectionne particulière le style horrifique et les props sanguinolents. La machine était initialement HS et très abimée. Une coque en somme parfaite pour le custom ! J'ai débuté cette modification de console durant l'été 2017 pour enfin trouver le temps de l'achever il y a tout juste un mois !

Je remercie Blind_Sea pour les photos ;)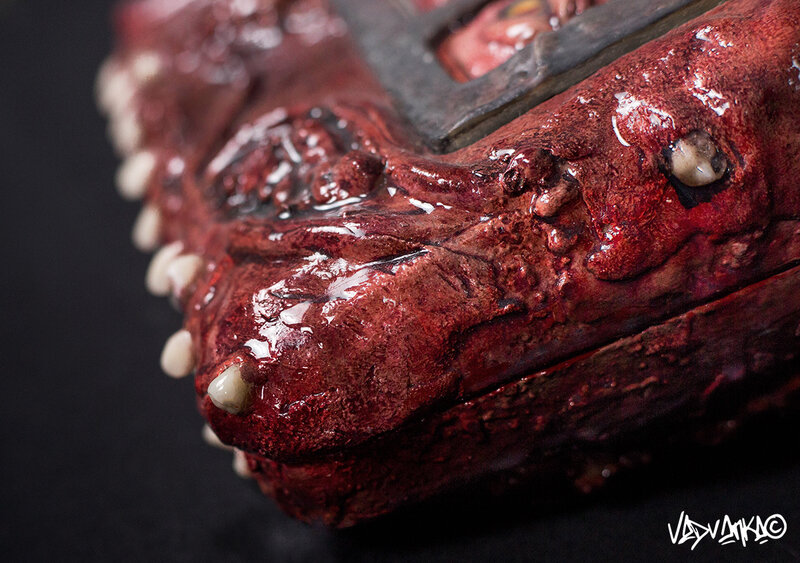 The White or the Dark side of the force ?
Fan de Star Wars, ce duo de console est peut-être pour toi !
Création de deux consoles customs Playstation 4 à l'occasion de la sortie du film : Star Wars : le dernier Jedi ce 13 décembre 2017. Les machines sont actuellement à gagner au Saturn Luxembourg-City . Il s'agit de machines promotionnels non destinées à la vente et en parfait état de fonctionnement. Réalisations en resine, acrylique et metal (Empire).

May be the force with you !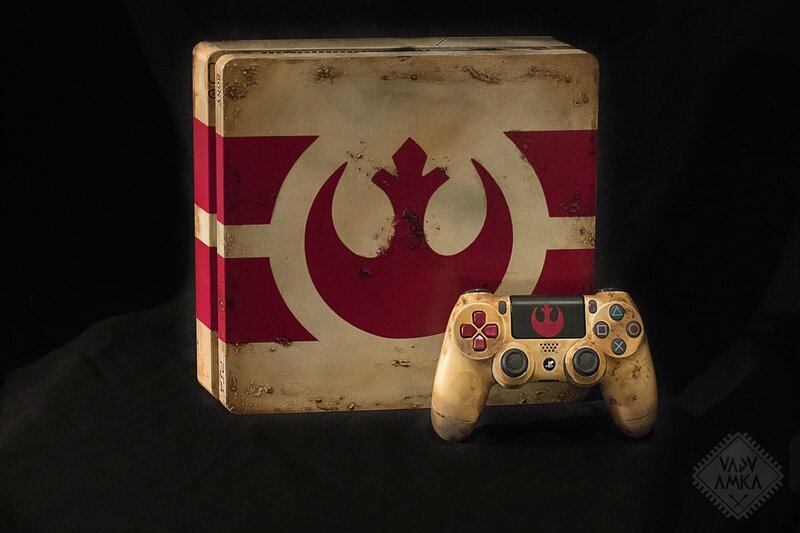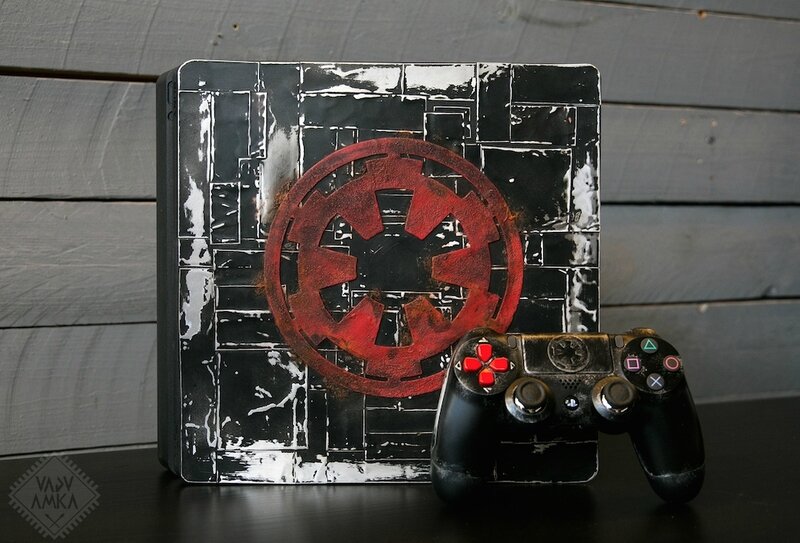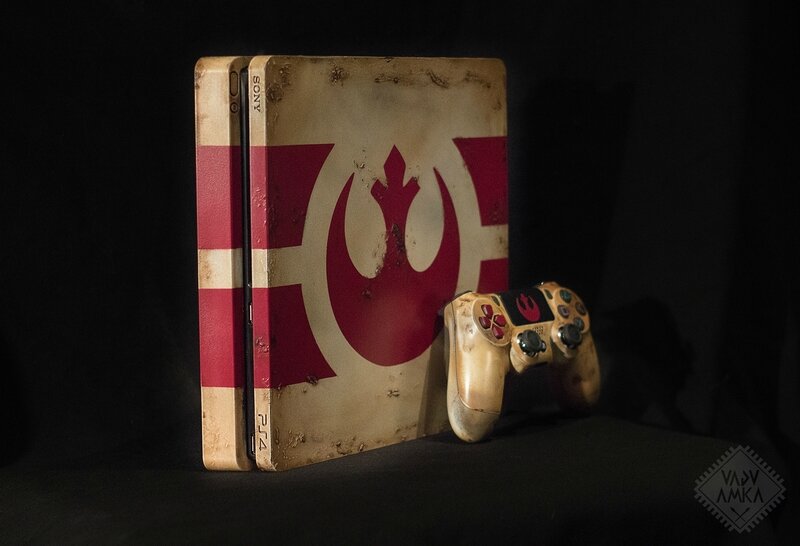 Projet officiel réalisé pour le Studio Focus Home interactive et présenté sur le salon Paris Games Week du 1 au 5 novembre sur l'espace de l'éditeur. La console est actuellement à remporter sur le salon, pour participer rien de plus ismple, rendez-vous sur le stand afin de réaliser un selfie original avec la console et poster votre plus beau shoot avec la bête sur twitter avec hashtags suivants : #focuspgw #JMIF #cthulhu

CALL OF CTHULHU, le jeu officiel dont la sortie est prévue pour 2018 est un RPG d'investigation aux mécaniques de survival horror et d'infiltration développé par Cyanide Studios pour la Playstation 4, Xbox One et PC.
Son atmosphère somvre et oppressante rendent hommage à l'univers de Lovecraft, le jeu emmènera le joueur mêner l'enquête sur l'île de Darkwater Island pour y somber dans la folie et déterrer les secrets les plus profondément enfouis. 1920, vous incarnez Edward Pierce , un vétéran de la Grande Guerre devenu détective. Il aura pour tâche d'enquêter sur la mystérieuse et tragique disparition de l'artiste reconnue s'étant récemment installée sur l'île : Sarah Hawkins .
Le Studio Focus Home interactive nous livre à leur tour leurs univers autour de la mythologie Cthulhu qui compte aujourd'hui parmi les univers les plus largement représentés à travers le monde, donnant naissance à d'innombrables histoires, films ou encore nouvelles depuis la publication originelle en 1928 de The Call of Cthulhu par H.P Lovecraft.

Concept art : Vadu Amka
Tentacle sculptor : Stéphane Janssens
3D Tentacle print technician : Amandine Delmarre
Modding & Crafting : Vadu Amka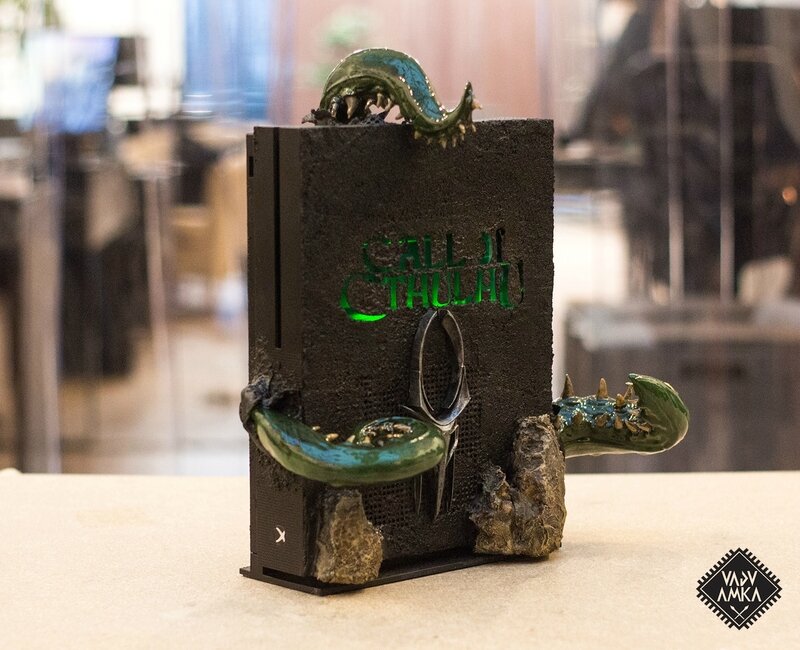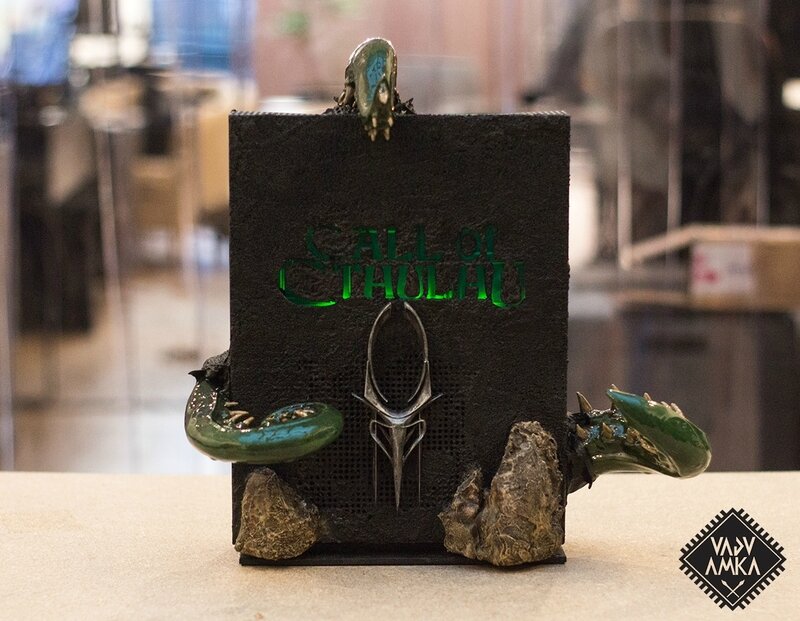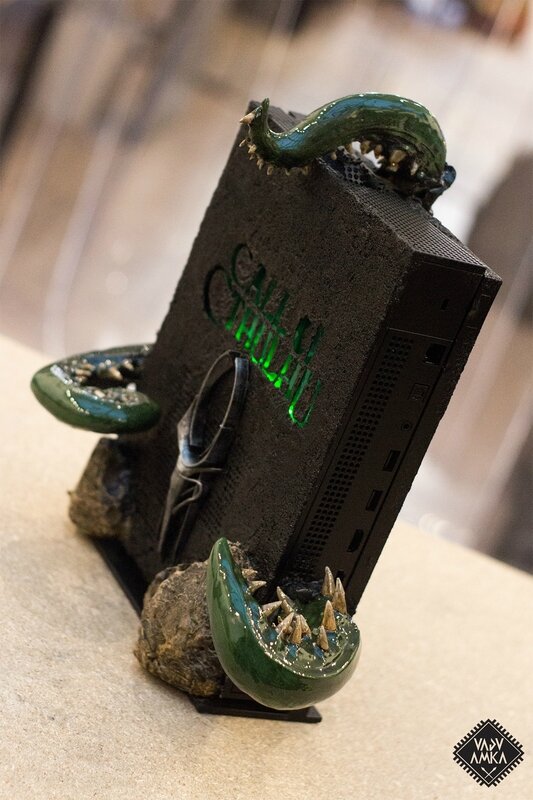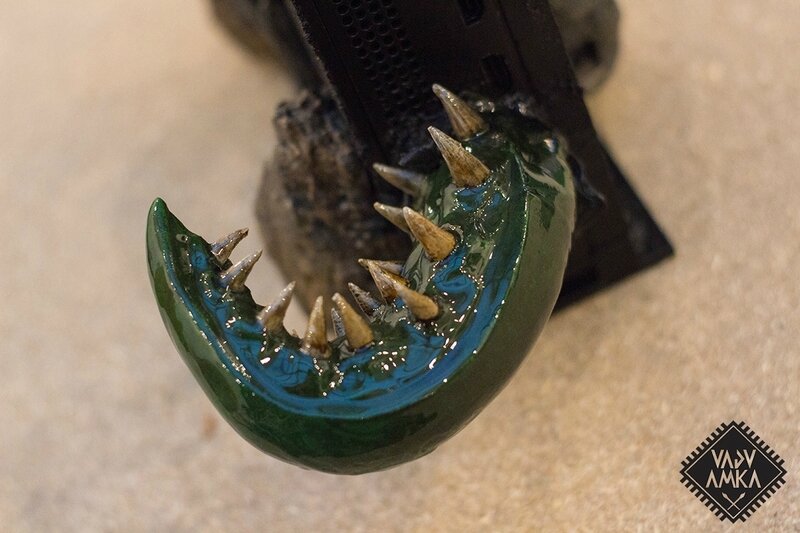 Tentez de gagner cette Xbox en tweetant votre photo avec elle au stand #PGW2017 @FocusHome avec #FocusPGW #JMIF #Xbox #CallofCthulhu! pic.twitter.com/ByV2jS1iEH

— Call Of Cthulhu (@CoC_thegame) 1 novembre 2017
Ces dernières semaines, nous avons réalisés pas mal de chouettes projets avec Random Print ! On vous dévoile la dernière fournée : Un Art Toy géant pour South Park : L'Annale du Destin qui sort ce 17 octobre. Il s'agit d'un jeu vidéo de rôle, basé sur l'univers du dessin animé South Park, développé par Ubisoft San Francisco et édité par Ubisoft. L'équipe a eu l'opportunité de travailler sur un petit projet (de 22 x 20cm tout de même!) pour la sortie du jeu en Belgique ! Une collaboration pour l'enseigne Smartoys qui ne manque pas de...pets !
Nous avons opté pour un rendu brut façon vieux bronze patiné sur un socle en bois massif ciré.

Lead sculptor : Stéphane Janssens | 3D print technician : Amandine Delmarre | Paint & Crafting : Vadu Amka

© 2017 South Park Digital Studios LLC. All Rights Reserved. South Park and all elements thereof © 2017 Comedy Partners. All Rights Reserved. Comedy Central, South Park and all related titles, logos, and characters are trademarks of Comedy Partners. Game software © 2017 Ubisoft Entertainment. All Rights Reserved. Ubisoft and the Ubisoft logo are trademarks of Ubisoft Entertainment in the U.S. and/or other countries.