"Rudy the abomination" est une création originale, sans réelle thématique liée au jeu vidéo. Il s'agit avant tout d'une vilaine console mutante, modifiée pour le fun. J'affectionne particulière le style horrifique et les props sanguinolents. La machine était initialement HS et très abimée. Une coque en somme parfaite pour le custom ! J'ai débuté cette modification de console durant l'été 2017 pour enfin trouver le temps de l'achever il y a tout juste un mois !

Je remercie Blind_Sea pour les photos ;)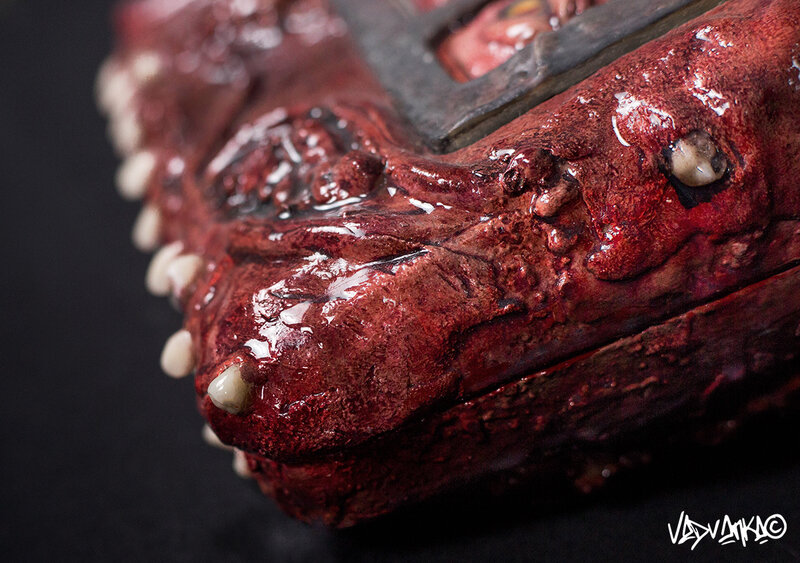 Nouvelle collaboration et réalisation pour la chaine de magasin Smartoys, cette fois c'est la marque Dragon War qui se prête au custom avec sa
Dragon Shock 4 filaire pour PS4. Comme vous le savez, Resident Evil 7 « Biohazard » sort le 24 janvier. C'est une excellente raison pour chouchouter cette la licence de Capcom et réaliser une manette sur le thème de ce mythique survival horror. Mes viscères en trépignent d'impatience !

En attendant, tu peux remporter cette manette sur la page Facebook de Smartoys :
"Vous allez peut-être gagner cet exemplaire unique au monde !!! Suivez bien les instructions ci-dessous, tirage au sort ce 24 janvier, jour de sortie de Resident Evil 7 (...) !"

Resident Evil 7 Biohazard ©CAPCOM CO., LTD. ALL RIGHTS RESERVED.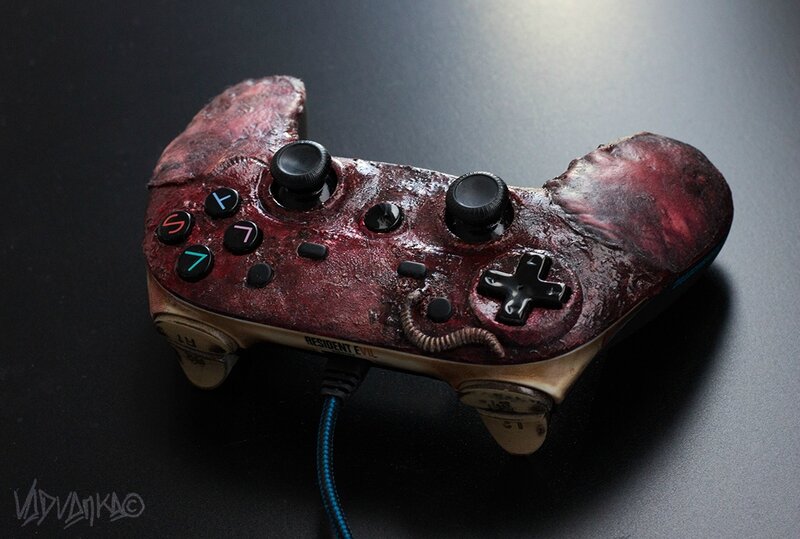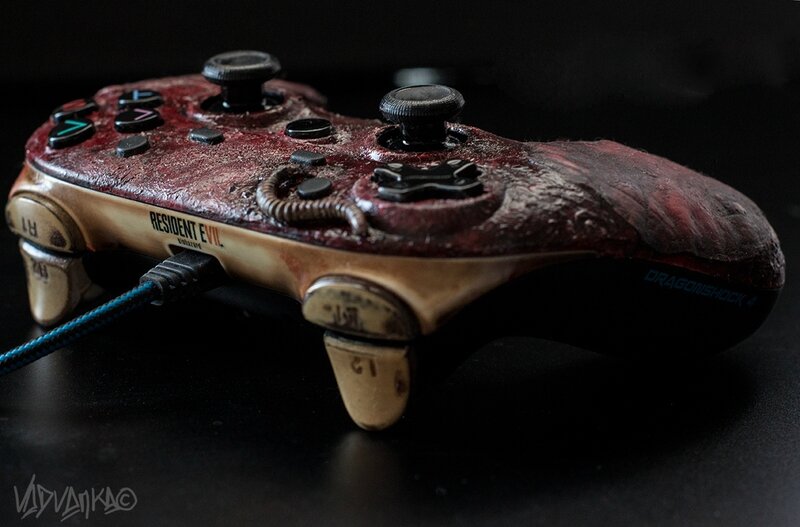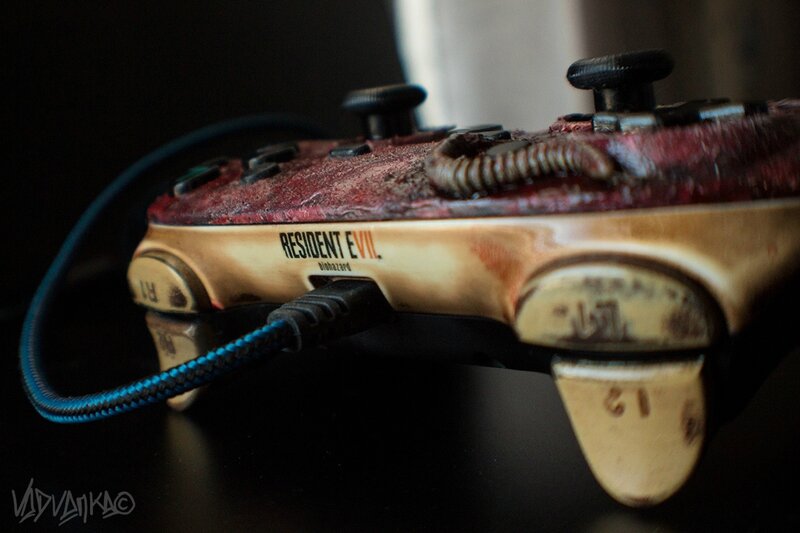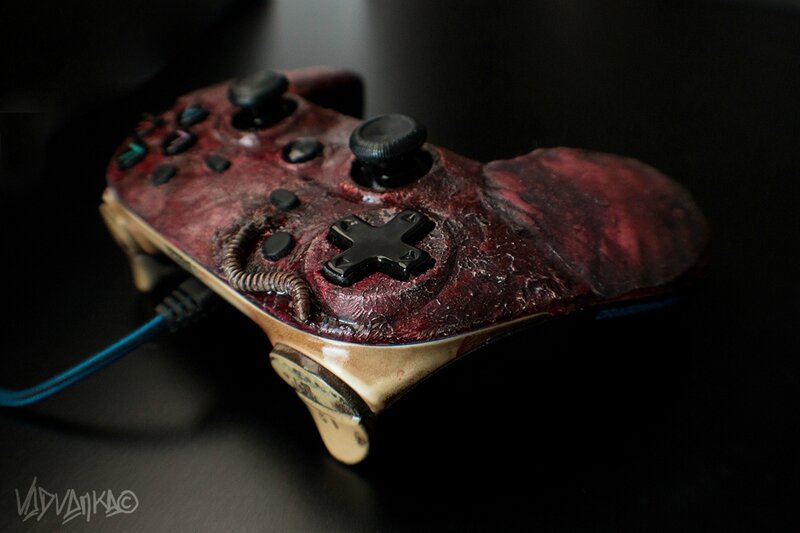 Console d'exposition, basée sur le syndrôme "Red Ring Of Death" et le thème The Walking Dead. Il s'agit d'une commande et d'un modèle unique présent lors du salon Made in Asia à Bruxelles et visible du 13 au 15 Mars 2015.
Réalisation 1 mois et demi.
Matériaux : Latex, acrylique, pâte texturisante, résine.

Not for resale - Promotional only

→ The Walking Dead le Magazine Officiel N°10 Juin 2015 p.11

---

Exhibition console, based on the "Red ring of Death" syndrome and on The Walking Dead theme. It's an order and a unique model showed from march the 13th to 15th 2015 at the Made in Asia in Brussel.
Time: 1month & 1/2
Materials: Latex, Acrylic, Modding paste, resin


Copyright © 2010-2015 AMC Network Entertainment LLC. All rights reserved.
BD Walking Dead © Editions Delcourt 2015


2014-2015 project
20 juin 2014
4GB Game Boy Cartridge
Glow in the dark
14 mars 2014
Entre R-Type et Nemesis, on ne sait pas trop. Il s'agit en tout cas d'une coque ébréchée que j'ai gardé précieusement pour ce type de modification mutée. La console sera présente lors du week-end du salon Made in Asia à Bruxelles, après quoi je lui offrirais un nouveau lecteur optique. La console est entièrement réalisée en acrylique et pâte texturée. Quant à la manette, elle est putrifi... purement décorative (vidée avec seulement le led d'opérationnel). Led de la console : rouge.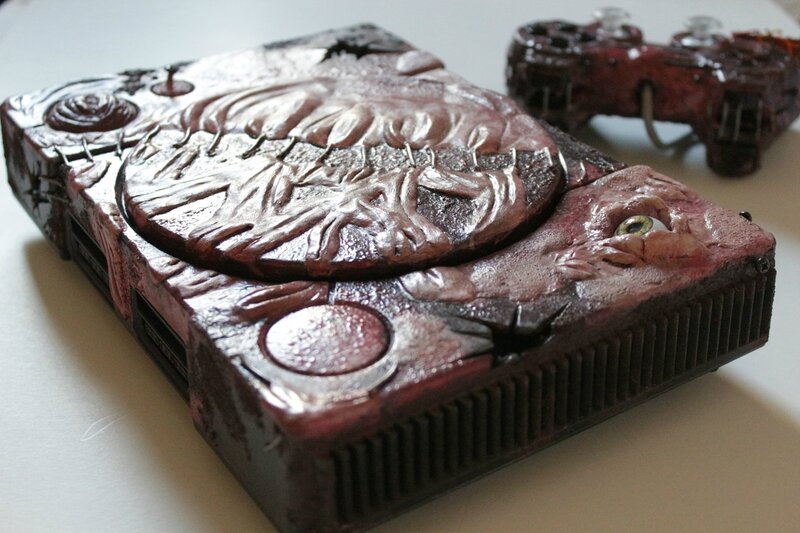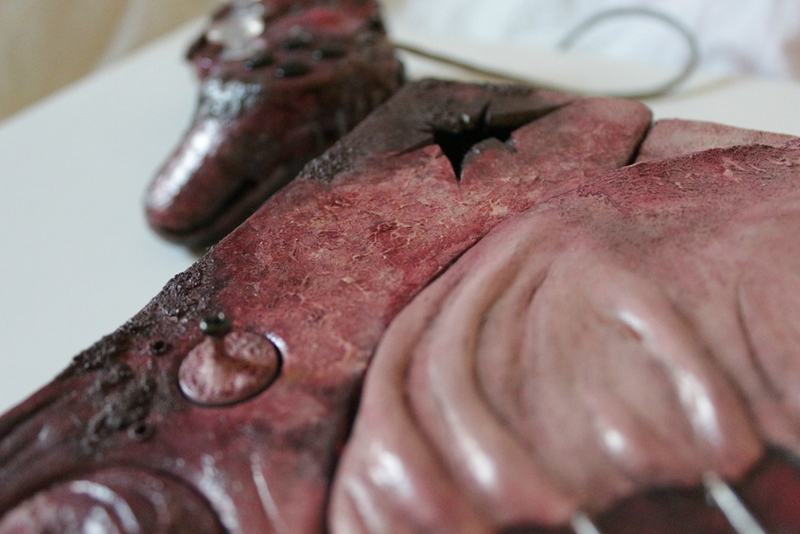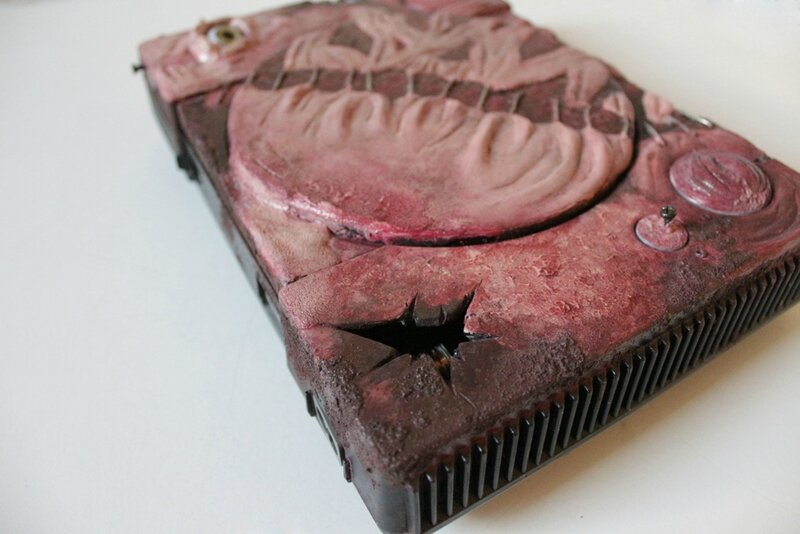 Et la photo souvenir de la console présente à la Made in Asia de Bruxelles sur le stand de PxlBBQ !