Playstation 2 PAL (EU), console fonctionelle.
Thème : Temple dédié à Aku Aku.
Car oui, il existe des jeux Crash Bandicoot sur PS2 et même sur GameCube ! Les premiers opus, restent mes préférés.
Projet débuté en 2015 et laissé de côté par manque de temps pour m'y consacrer pleinement. Je l'ai achevé en Février 2016.
Matériaux : Résine, mastic epoxy bi-composant, acrylique. Le masque est réalisé en résine et en mousse contre plaqué de bois de tilleul et de cerisier. Elle sera présent au salon Made in Asia à Bruxelles, au Re-play Festival près de Cannes et au Kamo-con à Dijon.
Elle partira ensuite aux États-Unis. Exemplaire unique non destiné à la vente.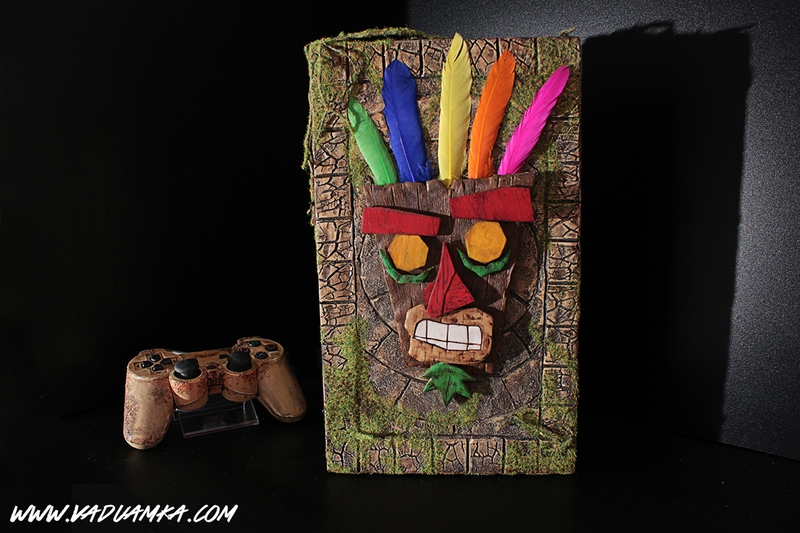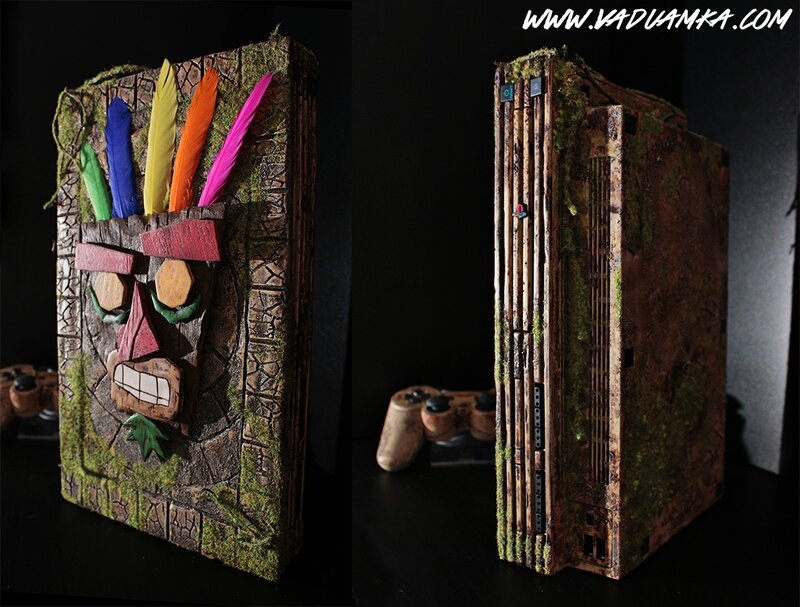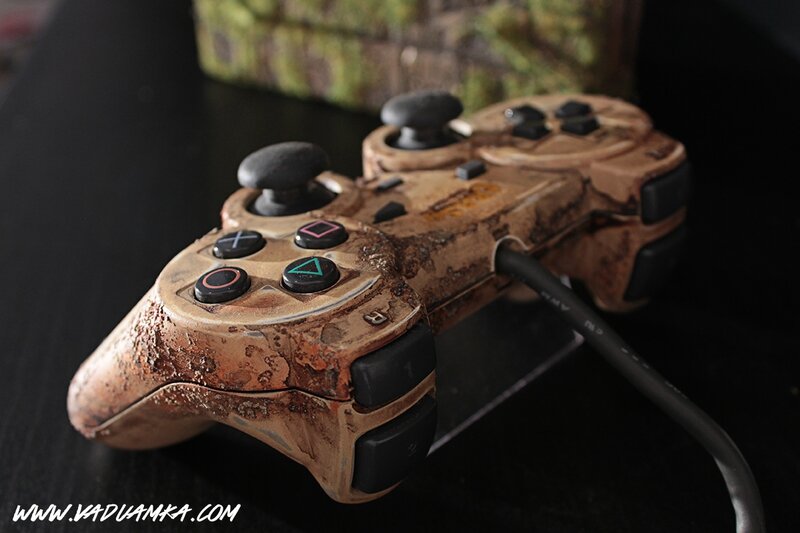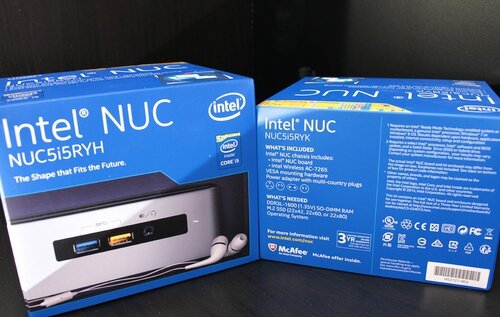 Il y a quelques mois, on m'a contactée pour un type de projet un peu pionnier à mes yeux, puisque depuis je travaille aussi sur la génération actuelle de consoles. Il s'agit de relooker un mini PC de chez Intel. Pas très rassurée à l'idée de m'attaquer à un ordinateur récent, j'étais même effrayée à l'idée d'oser ouvrir le boitier. Et pourtant, après avoir mis en place le SSD et la barrette de 4 Go de ram qu'on m'a fournie, j'ai pu renouer avec windows et quelques drivers fastidieux à installer. Il faut passer par un menu de boot, avoir une super clée USB de la Nasa ainsi que se rappeler des commandes du BIOS... Bon j'abuse. C'est moi qui est nulle avec les kits. Alors le premier truc que je me suis dit, c'est que c'est Ultra compact et peut-être pas forcément puissant, la surface va vraiment être délicate à bosser vu qu'il s'agit de métal brossé. Seule la partie supérieure est en plastique.

* cliquer pour agrandir les images

Principales caractéristiques :
Processeur Intel Core i5-5250U (Dual-Core 1.6 GHz - Turbo 2.7 GHz - 4 threads - cache 3 Mo - TDP 15W)
Prise en charge de la mémoire DDR3L

Capacité maximale de RAM 16 Go

Faible consommation d'énergie
Sorties vidéo Mini-HDMI 1.4a & Mini-Displayport 1.2
Port M.2
Emplacement pour HDD 2.5" (M.2 ou SATA3)
4 ports USB 3.0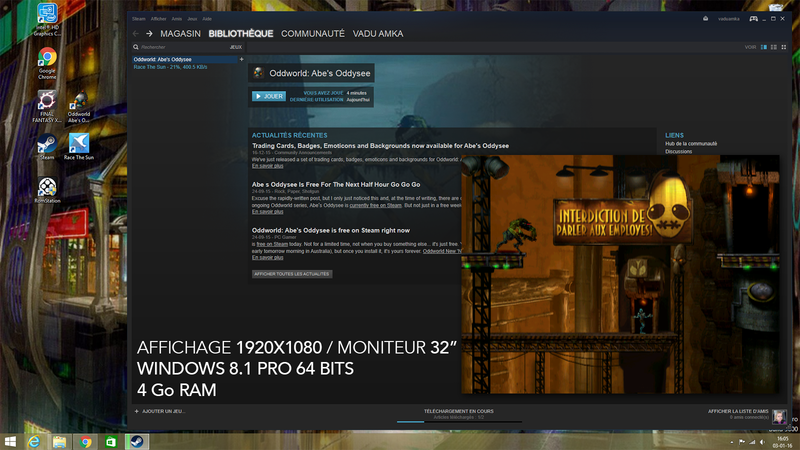 * cliquer pour agrandir les images
Il est temps de tester l'engin. Le NUC démarre et là... Magie en 2 secondes je suis sur mon bureau. D'accord, c'est du SSD et il est vide. On va un peu le malmener avec Steam, Romstation et pourquoi pas FFXIV ?!... Fichtre, il ne tousse même pas alors que mon macbook pro 2011, lui, se transforme en réacteur nucléaire. Et même s'il ne possède qu'un processeur Intel Core de 5ème génération, mon vieux mac a tout à lui envier. Déjà avec ses quatre port en USB 3.0 et son SSD (74go, un peu light mais j'ai reçu le strict minimum). Malgré ma petite configuration et le kit de base, il offre de superbes performances. Grâce à son HD 6000 et permet de faire tourner de façon fluide les jeux récents.

Quant à mon défi, j'ai opté pour un custom façon Robinson Crusoé !
Comme beaucoup d'entre vous, je reviens du cinéma. Ce 16 décembre, c'était la sortie de l'épisode VII de Star Wars. Je travaillais depuis quelques semaines sur un projet, pour un cadeau. Et en trainant sur internet, j'ai pu constater que je n'étais pas la seule à avoir eu comme idée de réaliser une console Star Wars. C'est souvent répétitif : du noir, du jaune, le logo, une galaxie, les artworks refaits à l'aérographe (très bien refaits tout de même!) ... et parfois un jouet détourné, comme ce R2D2 super émulateur et la console Faucon Millénium. Je cherchais quelque chose de différent et c'est là que j'ai eu le déclic, en voyant cette épave de Destroyer dans le désert de Jakku, d'ailleurs ce décor a une importance particulière puisqu'il nous rappelle aussi Tatooine. Mais je ne vais pas m'étendre sur l'histoire de la saga.

Like many of you, I return of cinema. This December 16th it was the release of Star Wars Episode VII. I worked for several weeks on a project for a gift. While surfing the Internet, I noticed that I wasn't the only one who had the idea of doing a Star Wars console. It was often repetitive: black, yellow, the logo, a galaxy, the artworks remade with airbrush (and it's very good anyway!) ... And sometimes a "hijacked toy", as R2D2 super emulator and the Millennium Falcon console. I was looking for something different and it was when I saw the new Star Wars, and particularly when I saw the wreck of a Destroyer in the Jakku's desert. Moreover, this decor is particularly important because it also reminds us Tatooine. But I will not talk about the saga, it's not the point.

Il m'aura fallu une trentaine d'heures pour en voir la fin. J'ai martelé de l'aluminium, poncé et cloué, j'ai même été acheter de l'étain en feuille pour le faire fondre. Je me suis vraiment amusée sur cette réalisation !

It took me thirty hours to see finaly the end. I hammered aluminum, sanded donw and nailed ! I was even bought tin sheets to melt it. I really had fun on this realization !

Je remercie l'excellent Joffrey qui ne cesse de surprendre dans ses divers travaux de customs de jouets. C'est un peu grâce à lui que j'ai aussi osé me couper la main et faire une nuit blanche à tester de nouveaux matériaux.

Star Wars Logo - TM & © Lucasfilm Ltd. All Rights Reserved
Ma première réalisation sur une manette Xbox One, la composition est entièrement issue de l'univers de Tomb Raider.
Il s'agit d'une manette d'exposition, un exemplaire unique non destiné à la vente.
Vernis : Satiné & Brillant
My first realization on Xbox One controller, entirely based on the Tomb Raider universe.
This is a unique display controller not meant to be sold.
The varnish has a glossy Satin finish.

Artwork original Rise of the Tomb Raider - Tomb Raider ® Square Enix Ltd.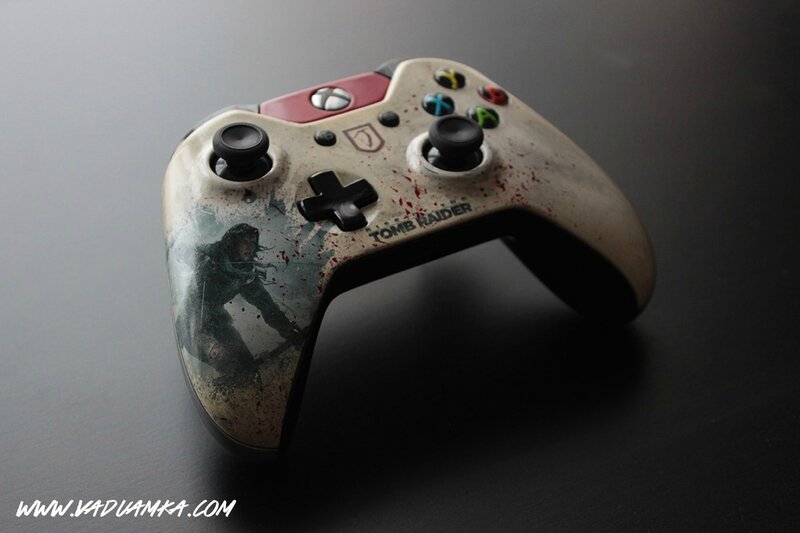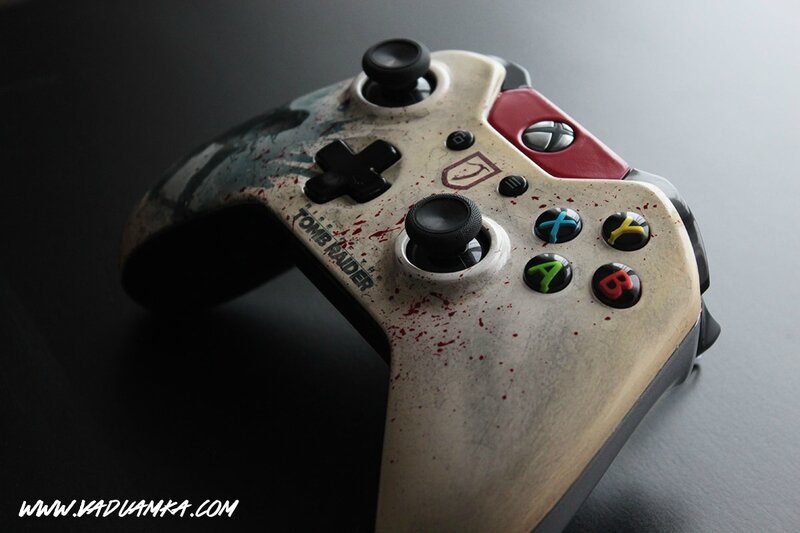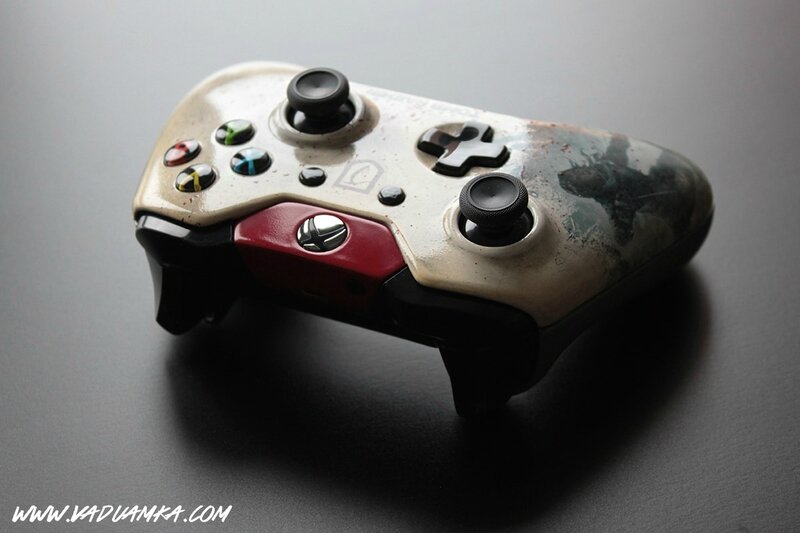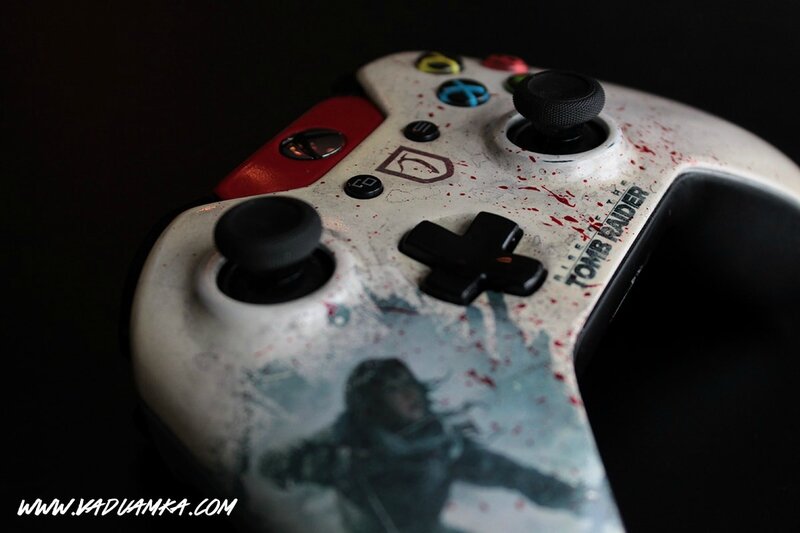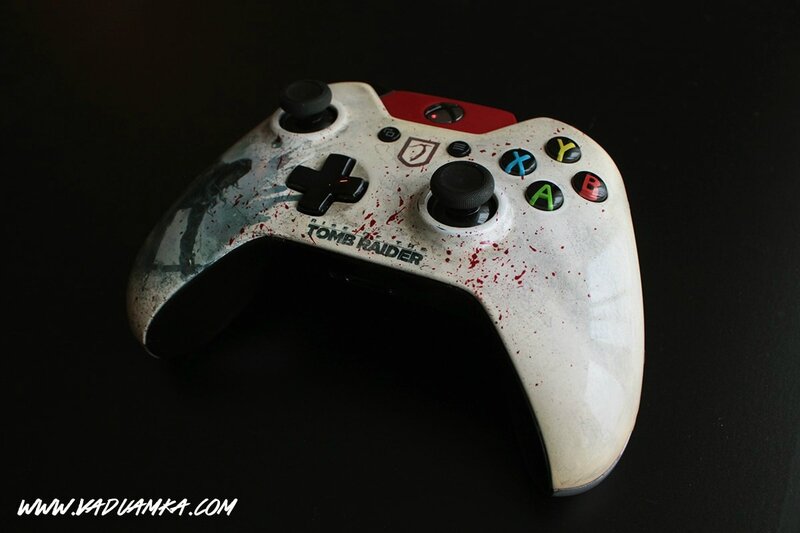 Nouvelle console sur le thème de Pokémon, il s'agit cette fois des ruines Zarbi (Unown en anglais), La console a été réalisé pour un certain "Gogetoad", son pseudo est écrit en alphabet Zarbi au dos de la console. Les boutons A et B sont eux aussi déclinés de la même façon. A l'avant de la console on peut reconnaitre la carte de Kanto et à l'inverse derrière, Johto. Pour la petite annecdote, j'ai réalisé en 2014 une console Pokémon rouge et bleue et Togepi, annonçant la suite de la série de manière chronologique par rapport à la série TV et aux jeux vidéo. Cette console reprend donc l'univers de Or et Argent... :) Je réserve autre chose pour Suicune.

Le but de cette création était de donner l'illusion d'un objet antique et mystérieux issu des ruines.

Et si l'envie vous prend de rejouer à Pokémon en 2019 sur Android, jetez un oeil à ce top 6 des applications en rapport avec la franchise. Et oui ! Il n'y a pas que Pokémon Go dans la vie :)


---
New console on Pokemon's theme ; This time it's about Unown Ruins. This console has been made for "Gogetoad", his nickname is written in Unown alphabet in the back of the console. A and B buttons are also written the same way. On the front of the console, we can easily recognize Kanto's map, wheareas Johto's is on the back. One small anecdote: in 2014 I had made another Pokemon console (blue, red and Togepi), annoncing that this serie would continue chronologically and follow the TV show and video games. Thus, this console is using Gold and Silver universe... émoticône smile I am going to do something else for Suicune.

The purpose of this creation was to give te illusion that it's an old and mysterious artefact found in the ruins.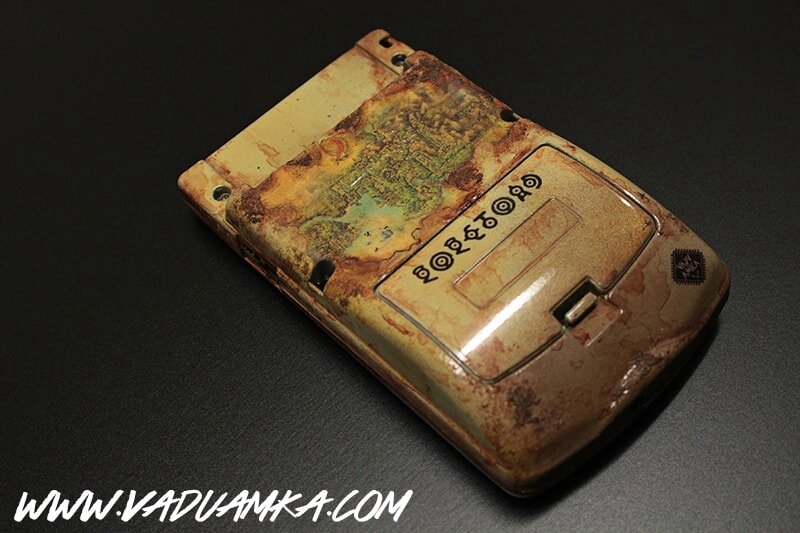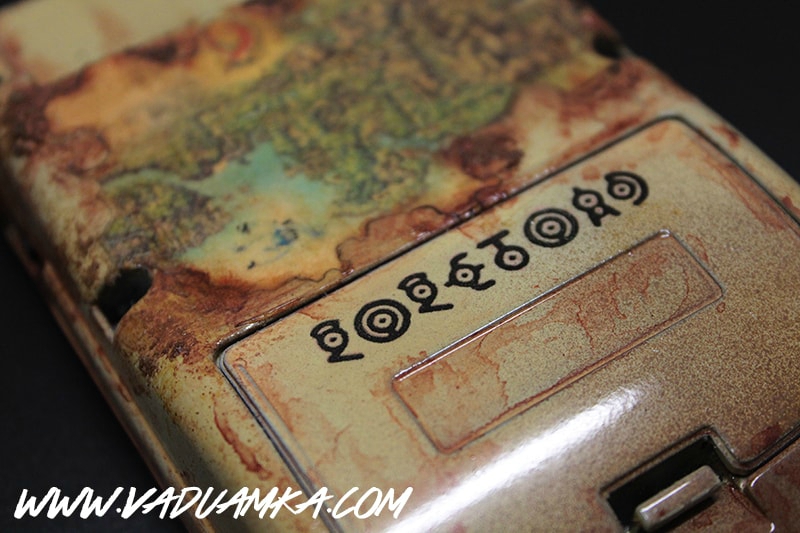 Voici une petite nouveauté pour alimenter les actus du blog,

Ma troisième réalisation sur le thème de Skies of Arcadia,
Il s'agit d'une commande passée à la galerie Kochi courant le mois du février 2015.
Cette fois on part sur la base d'un aéronef qui a subi pas mal d'altérations.
J'ai utilisé du bois de tilleul pour le capot, celui-ci ayant été découpé au préalable à l'aide d'un outil de découpe rotatifs. (Dremel). Les imperfections du bois ont été rebouchées à l'aide d'une pâte de bois clair, poncé et teinté à la lasure acajou, et peint en gris bleuté, poncé de nouveau pour un aspect plus dégradé et vieilli. Le capot est ensuite ciré et imperméabilisé. Dans celui-ci se loge une grille à petites mailles, oxydée à l'aide de pigment Ocre, Terre d'ombre naturelle = oxyde de fer synthétique. Le reste est un jeu de trompe-l'oeil avec plusieurs jus de noir et de brun. Ce qui semble être un anneau métallique est en réalité un bandeau en cuir traité et lui aussi passé à la peinture oxydée.
Les slots à manettes ont été réalisés par le même procédé que le capot.
Le logo a été reproduit en plexiglass et remoulé à l'aide de Silicone Silgum en pâte 2 composants. Ensuite coulé en résine et peint.

---

Hello!
Here is the latest news feed of my blog.

It is about my third creation on the « Skies of Arcadia » theme.
That is an order for the Kochi gallery placed back in February.
The main idea behind the custom was to make it look like a heavily damaged spacecraft.
I used lime wood I previously cut with a rotating cutter (called a dremel) for the hood. All the wood's imperfections were first resealed with some light color wood paste, then sanded stained with mahogany stain. After that, I painted it with a blue and gray color before sanding it one more time to give it a more degraded and aged look. I waxed the hood and made it waterproof. I put inside a small grid, oxidizing it with ocher pigment called « natural earth shade » (synthetic iron oxyde). All the rest is an optical illusion made from several black and brown juices. What seems to be metal ring is, in fact, a leather band treated and painted with oxyde paint. I used the same pattern for the gamepads slots. I finally reproduced the logo with plexiglass and remolded it with some 2-component silicone slim before molding it in resin and painting it.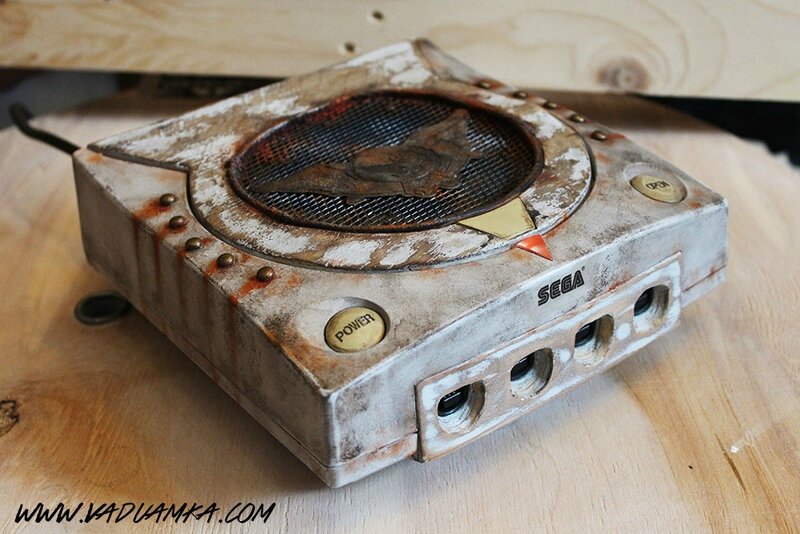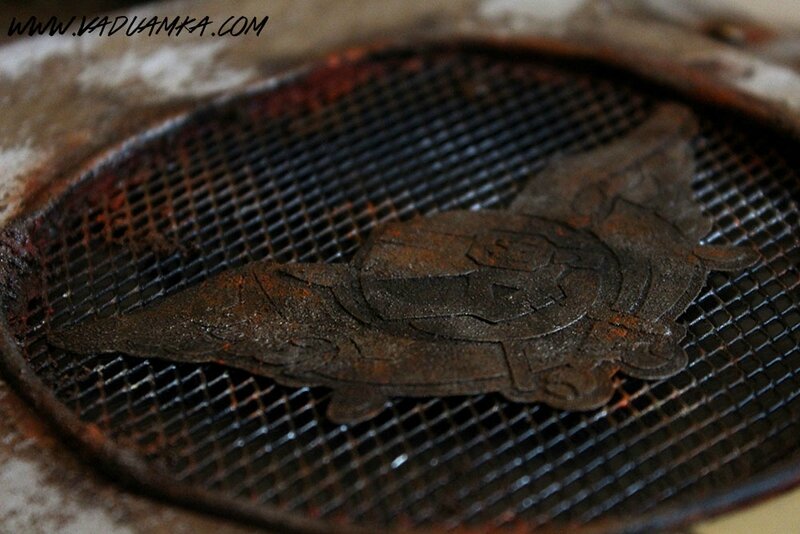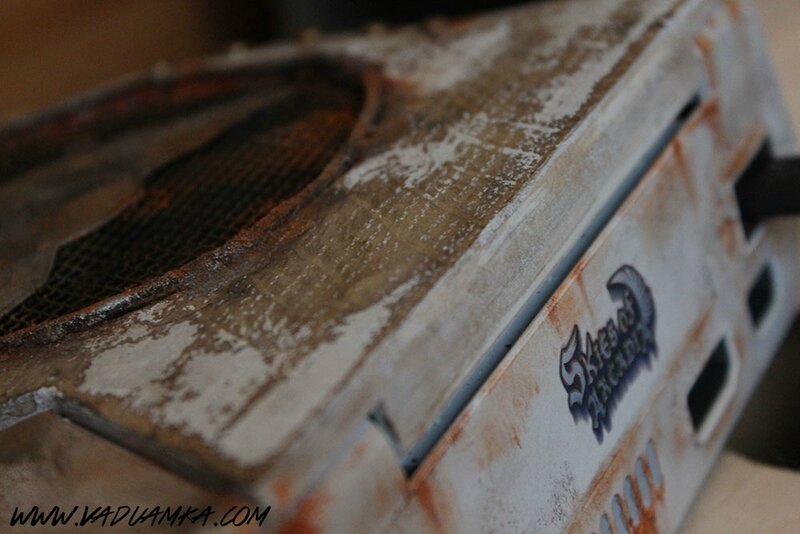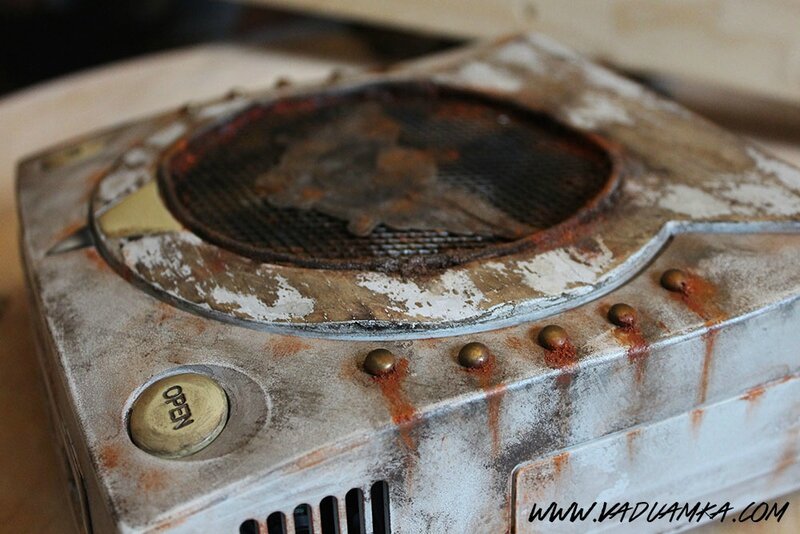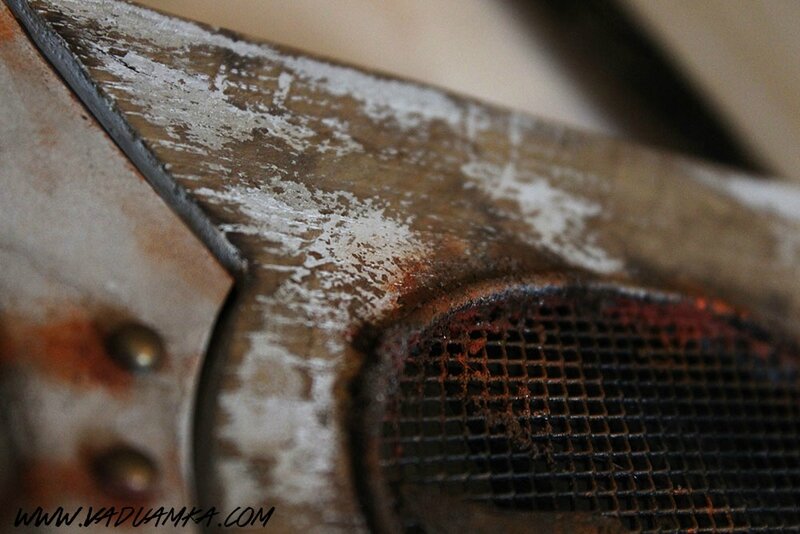 Commande Mars - Avril / Commission March - April

Réalisation sur commande pour un particulier auprès de la Galerie KOCHI.
Super Nintendo personnalisée sur le thème de Final Fantasy VI. Il s'agit d'une console sur mesure et suivant les conseils et goûts du client. Cette console n'est pas disponible.
Commission for the gallery KOCHI (Paris)
Super Nintendo personalized on the theme of Final Fantasy VI. It is about a custom-made console and according to the advice and the choice of the customer. This console is not for sale
"Mutation" FrakenBoy, Cartridge on Canvas 24 x 30 cm
Signed and dated on the side


@Liège Retrogaming P"Art"y 14/12/2014
Nouvelle commande personnalisée pour une Belge! Une grande fan de la série Crash Bandicoot m'a demandé de réaliser une console à l'effigie du personnage principal. Je me suis inspirée des premiers niveaux du jeu dont « Jungle Rollers » et le menu en fin de partie, où viennent se fracasser sur la tête de Crash toutes les boites qu'on a oubliées.

Au départ, j'étais partie sur une console Aku-Aku avec le masque en relief sur une base rappelant la jungle. Mais le héros devait absolument figurer sur la console, ou un élément le rappelant (= l'orange). J'ai alors opté pour l'effet de vieux temple gris foncé / verdâtre avec pas mal de branches et quelques lianes. Un petit effet sablé à certains endroits et des crevasses. Les boutons Reset & Power sont en bois teinté. Des petites pierres sont disposées sur le Power pour rappeler un foyer de feu (level avec le sanglier et la première île). L'Eject est une boite de TNT vue du haut en bois de tilleul (handmade).

______________


New custom order for a belgian customer!
A huge Crash Bandicoot fan asked me if I could make her a console with the main character on it.
My inspirations came from the first game levels (such as « Jungle Rollers ») but also from the end- game menu (when all the boxes Crash forgot come and smash themselves into his face).
At first, I wanted to make an AKU-AKU console with the mask on it and the jungle for the background. But the hero (or something reminding him) had to be on the gaming system. So I finally decided to create an old dark grey and green temple effect with branches and creepers. I applied as well a small sandy effect on a few places . Both Reset and power buttons were covered with tainted wood. Tiny rocks were also placed on the power button to remind us a campfire (like the wild boar level and the first island). The eject button is a TNT wooden box, seen from above, made from basswood.


"Jungle Rollers is the second level of the first island in Crash Bandicoot. It is the first level in the game - and, by extension, the entire series - to feature a bonus round and TNT crates. It is also the first level in the entire series to require a colored gem. It was the level chosen to represent Crash Bandicoot in the first ever Playstation 'Demo Disc' known as 'Demo 1'. " crashbandicoot.wikia.com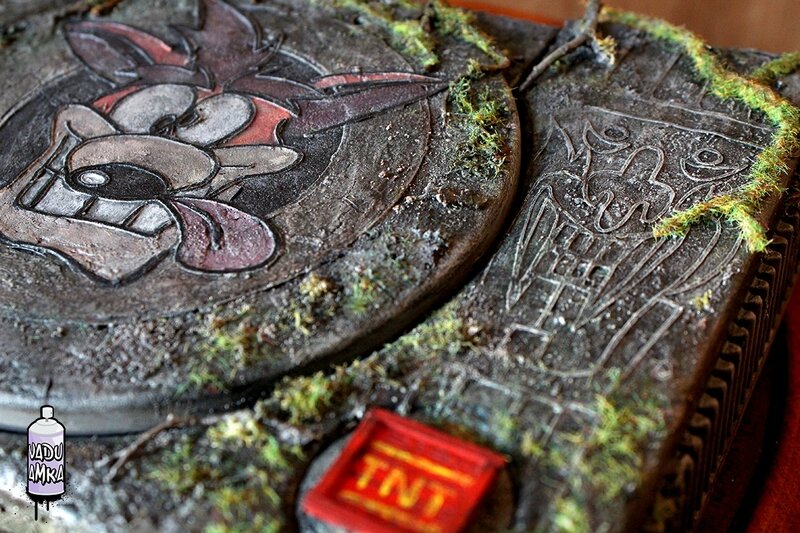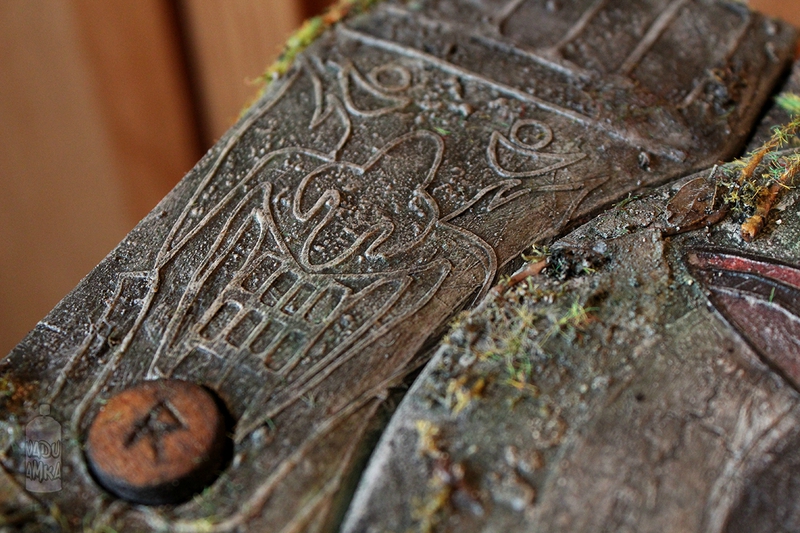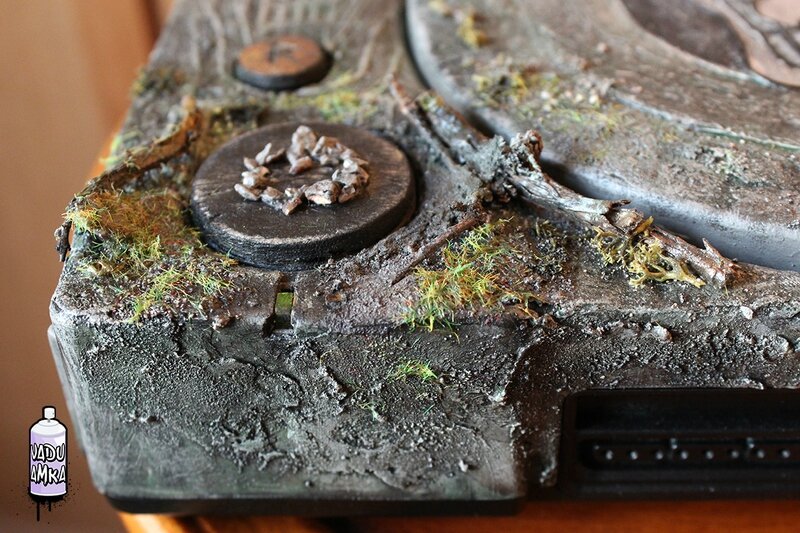 25 févr. 2016
While waiting for the next custom project, here are some news !

All information is available in English on the shop.

Delivered with a certificate.
Shipping worldwide.

Available