Nouvelle collaboration pour la sortie d'un jeu anthologique : Crash Bandicoot ! Vous n'êtes sans doute pas sans savoir que Crash Bandicoot N. Sane Trilogy sort ce 30 juin sur Playstation 4. Pour l'occasion, la société Activision Blizzard m'a contactée afin d'élaborer 3 consoles sur cette saga emblématiques (et je n'en reviens toujours pas!). J'ai eu carte blanche pour une grande partie du projet, étant moi-même une grande fan de la série, j'ai pris le projet très à coeur. Nous avons choisi d'utiliser un personnage tout aussi iconique que notre ami roux : le masque Aku-Aku ! La console est réalisée en résine, acrylique et plastique. La partie inférieure du masque est entièrement en bois ainsi que le logo en bas à gauche.

Je remercie Activision Blizzard pour leur confiance ! :)

NB: Si vous utilisez les photos, merci de créditer l'artiste, le photographe Blind_Sea et évidemment les ayants droits !

© 2017 Activision Publishing, Inc. ACTIVISION and CRASH BANDICOOT are trademarks of Activision Publishing, Inc. The rating icon is a trademark of the Entertainment Software Association. All other trademarks and trade names are the properties of their respective owners.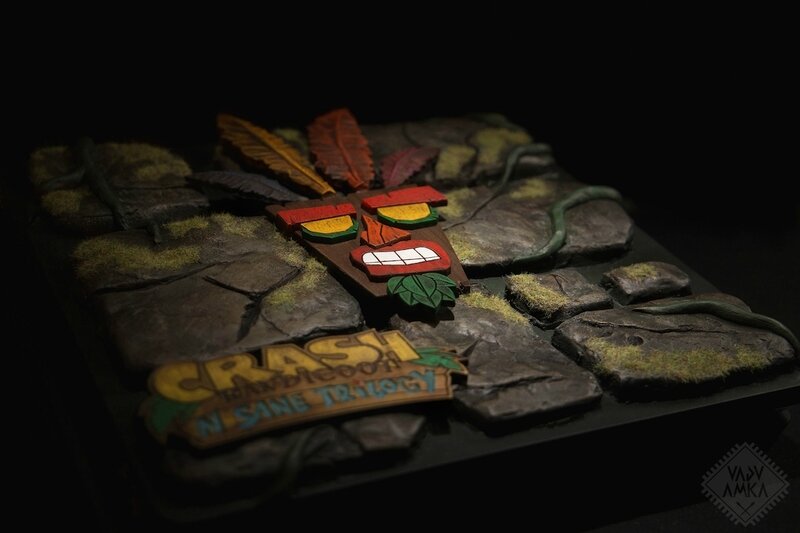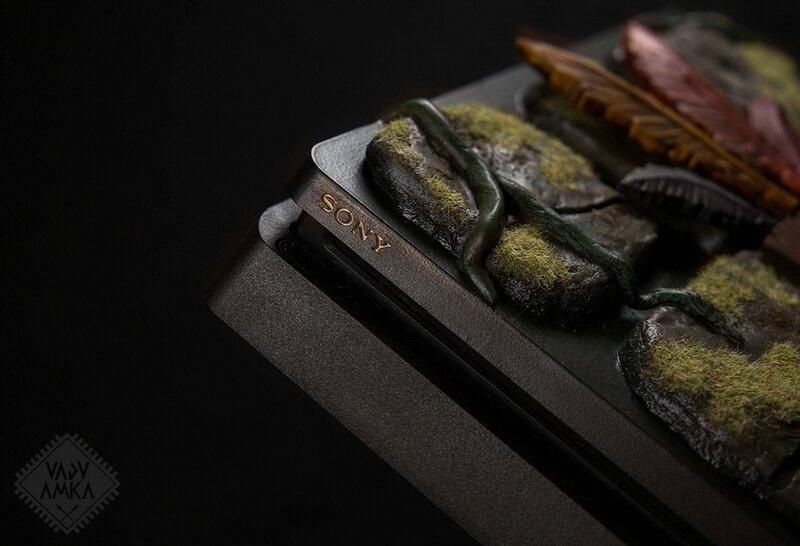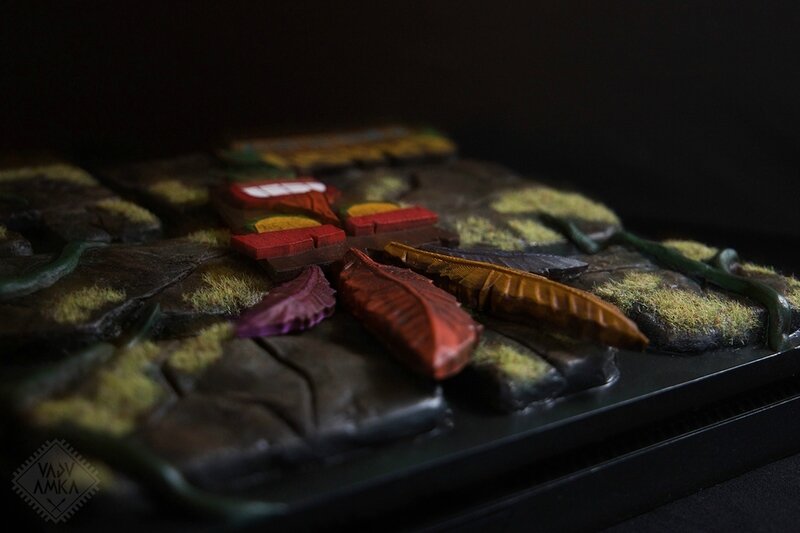 Merci aussi Blind_Sea pour les photos et l'équipe de Shoops ; Amandine , Rodolf et Stéphane pour m'avoir assistée dans les choix de matériaux et la précieuse aide apportée (surtout lors de mes crises existencielles au sujet des plumes).
Culture games s'est occupé du packaging pour le jeu Half-Life sur Dreamcast qui n'est jamais sorti autrement qu'en abandonware sur internet. Ils comptent organiser un concours permettant d'en gagner un exemplaire (avec le jeu et un boitier neuf comme si le jeu était réellement sorti) et pour que le concours soit encore plus marquant, ils m'ont demandé de réaliser une Dreamcast aux couleurs de Half Life et d'ainsi proposer un pack complet.
Réalisation : J'ai repris les couleurs du personnage principal au pied de biche. Je ne voulais pas faire une console complètement orange, la couleur est souvent assimilée à Metroid. J'ai principalement travaillé l'aspect de peinture écaillée et de rouille. La console reste à mon goût relativement sobre et fidèle aux visuels des jacquettes.
Temps : 1 mois & demi

---

A Half-Life Dreamcast for Culture Games
Culture games took care of the packaging for the game "Half-Life" on Dreamcast, which was never released anywhere else than on abandonware sites. They plan to hold a contest to win a copy (with the game and a new case as if it was actually released) and the competition is even more striking, they asked me to make a customized Dreamcast on the Half Life theme and thereby propose a complete package.

I took the colors of the main character with the crowbar. I didn't want a completely orange console, the color is often linked to Metroid. I mainly worked on the paint peeling and rust appearance. According to my taste, the console remains relatively sober and faithful to the covers' visuals.

Time spent: 1 month and a half
Console réalisée pour Fred (Sparadrap), acteur de la web-série Noob, grand fan de la série Castlevania. Ce dernier a fait le souhait ultime de posséder une Super Nintendo unique et « of the dead » évidemment !
Débutée durant le mois d'avril après de longues soirées de délibérations et de décisions cruciales… C'est au final le château de Dracula qui se dessine sur la partie centrale de la console. Choix de quelques éléments emblématiques ou faisant un clin d'œil à la saga : cercueil, croix, chaînes, fouet, squelette, bois, dorures, pierre, et décor vampirique.
Easter Eggs cachés sur la manette (3) : rapide et agile, il apparaît dans Dracula X, Symphony of the Night, Circle of the Moon…
Les traces d'un objet perdu ou arraché sont visibles. Peut-être les restes d'une lutte acharnée ?
---
Console made for Fred (Sparadrap), actor in the Noob web-serie and a Castlevania's big fan! He's made a wish to own a unique Super Nintendo and " of the dead" naturally!
Started in April, after long evenings of negociations and crucial decisions… Finally it's Dracula's Castle that's designed in the central part of the console. Some emblems of the serie have been chosen: coffin, cross, chains, whip, skeleton, wood, gilding, stone and vampire decoration.
Hidden Easter Eggs (3) : Fast and agile, he appears in Dracula X, Symphony of the Night, Circle of the Moon… Marks of a lost or snatched item are visible. Maybe the rests of a bitter fight?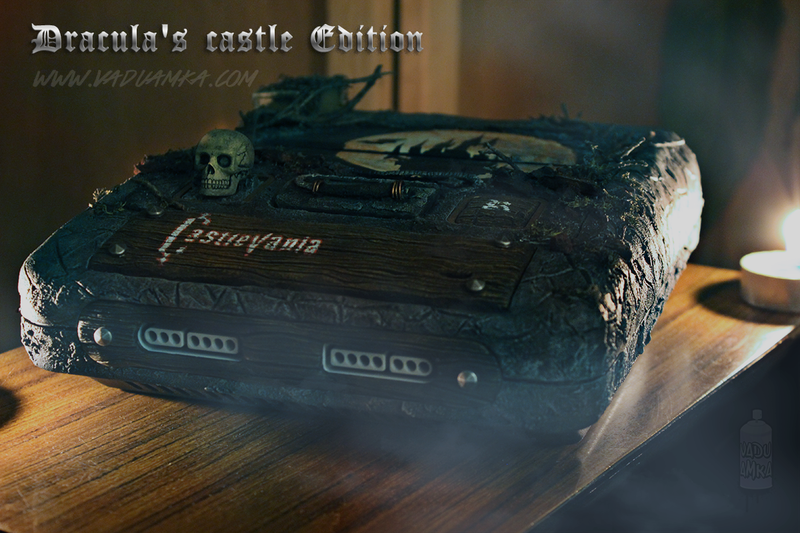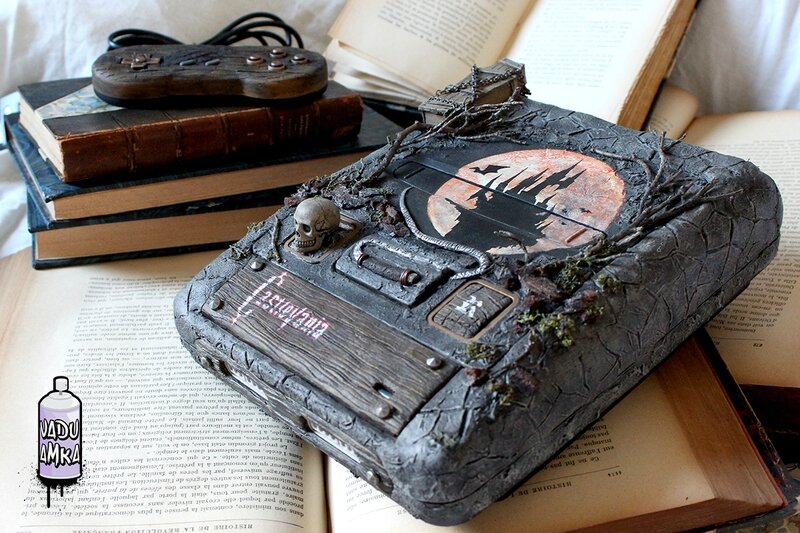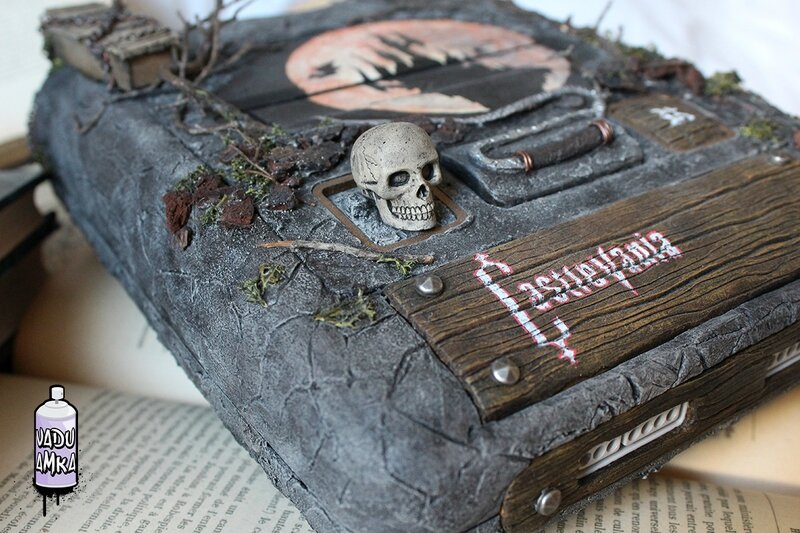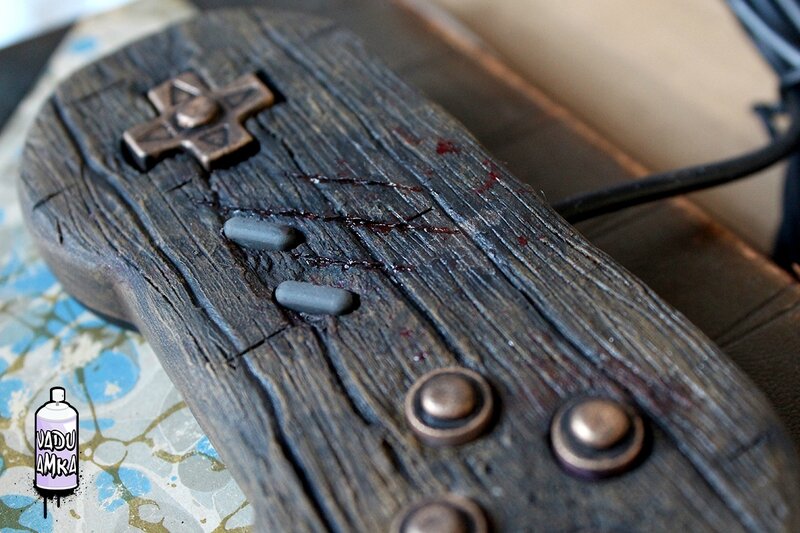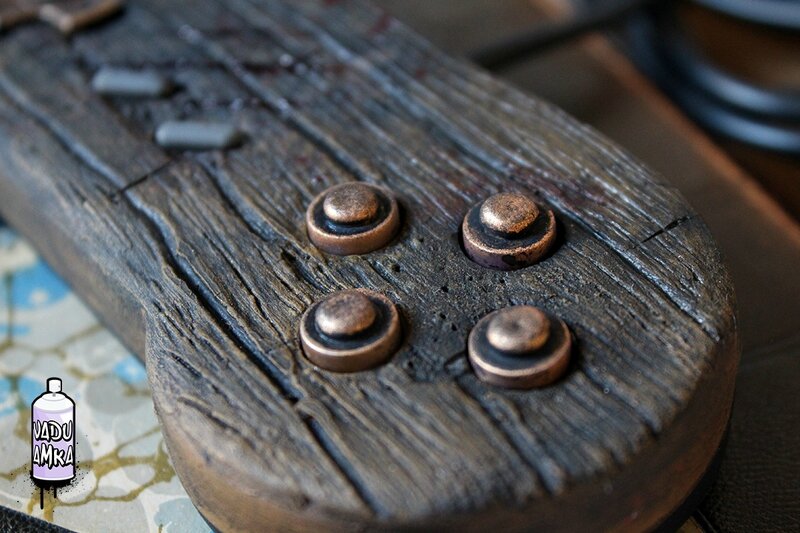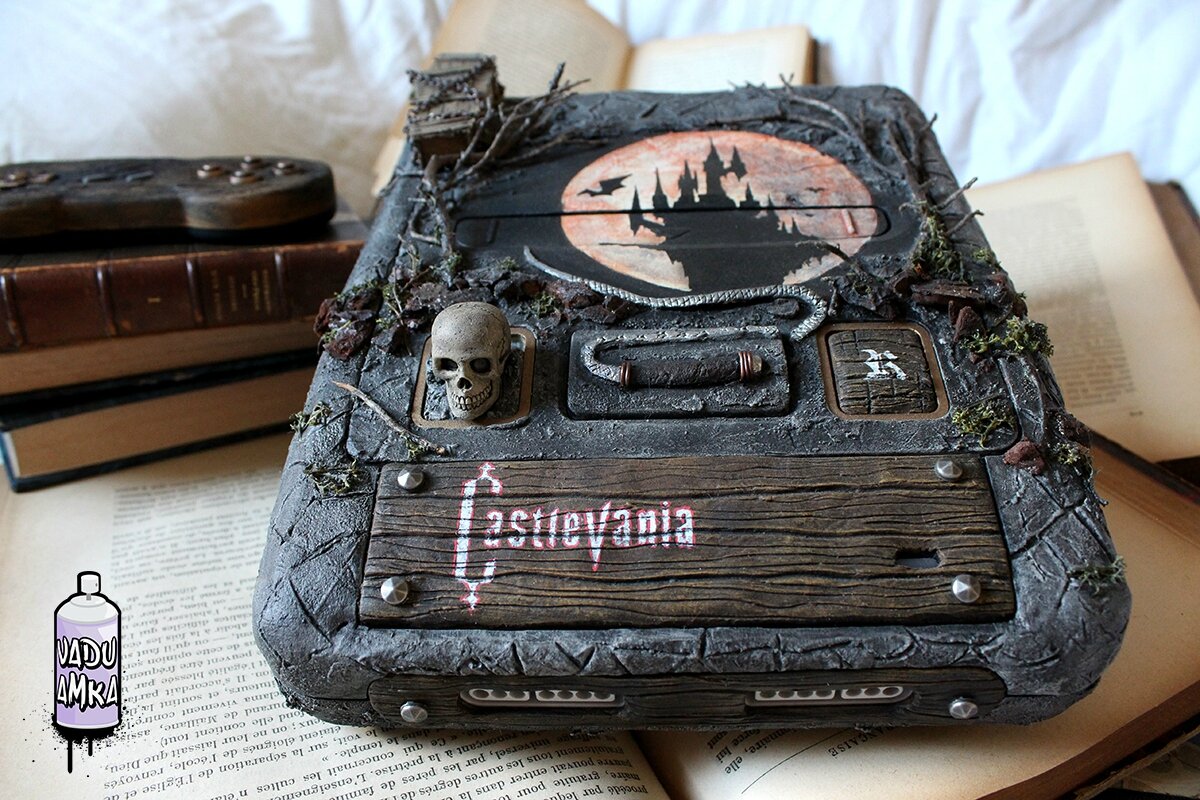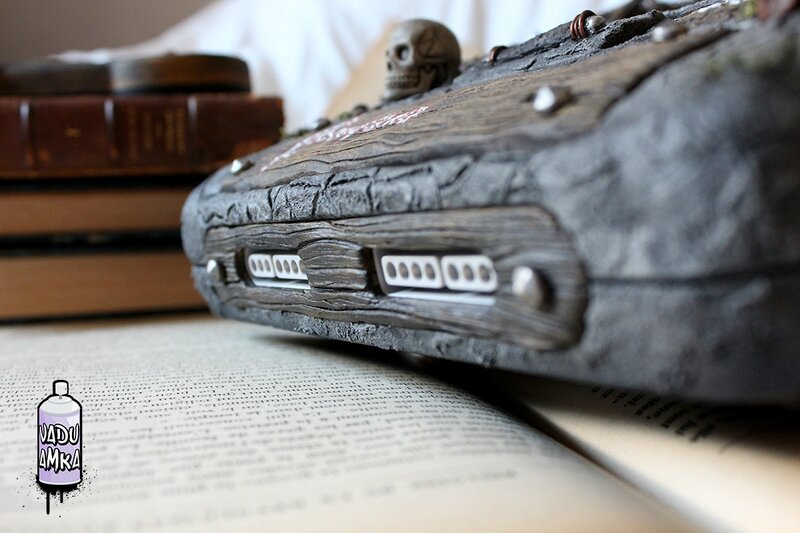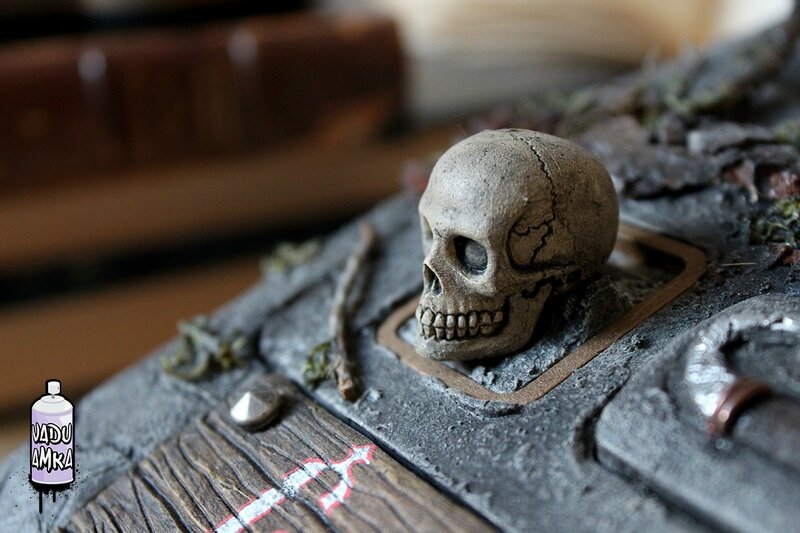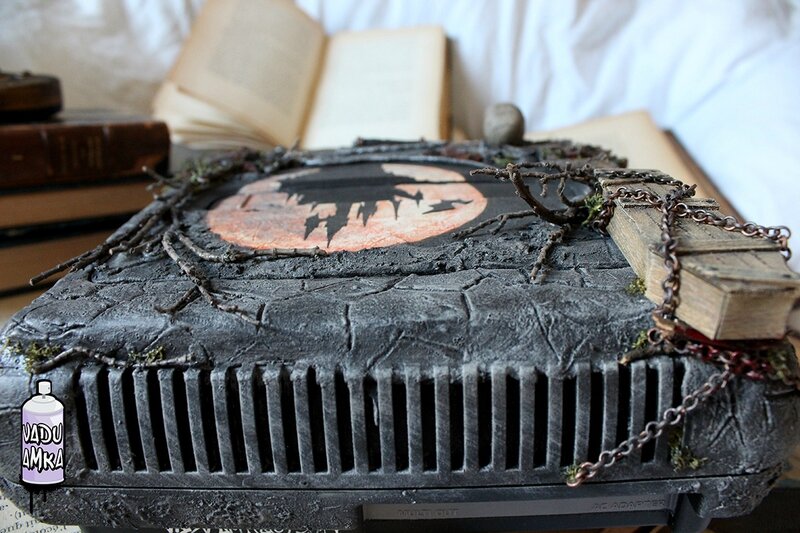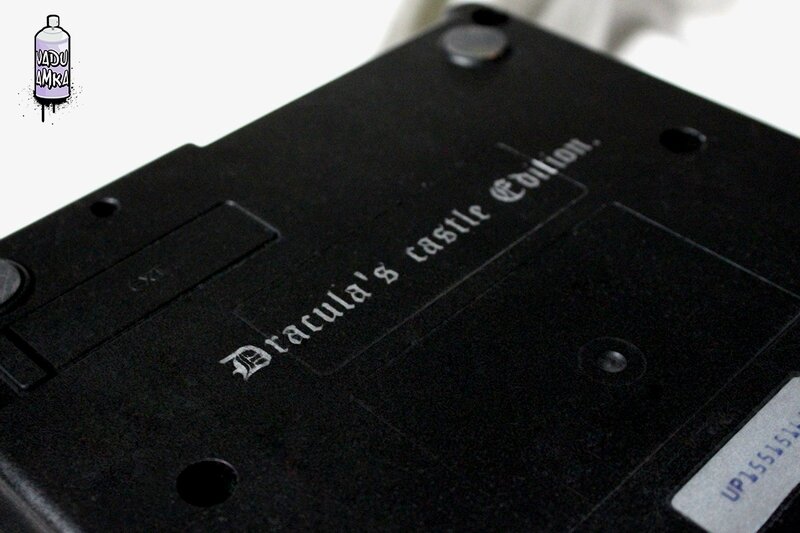 Résultat final :



Remerciements à Sam et Alex, qui sont toujours de bon conseil.
Mention spéciale au Shamman de la résine qui m'aide bien souvent, même à distance !
Et à ma traductrice ;_;...

Inspiré d'une publicitée de Donkey Kong Country 2, j'ai réalisé le plus fidèlement possible une reproduction de la GBA SP sur ce même thème.
La console fonctionne parfaitement et est jouable. Elle était en exposition à la Retro Made in Asia @NamurExpo. Elle est entièrement sculptée à la main, certaines parties remoulées (produits: résine, enduit gras, sculpey, acrylique... )

Détails : écran AGS 001 "frontlight" , modèle européen. Touches directionnelles en bambou.
La console est en position ouverte et n'est pas prévue pour se fermer.
Dimensions : 15,5cm x 8cm.
Poids : 180gr
---
Inspired by an old Donkey Kong Country 2 advertisement, I made as accurately as possible a GBA SP reproduction on this theme.The console works perfectly fine and is totally playable. It was shown on exhibition at the Retro Made In Asia @NamurExpo.The design is entirely handmade carved, some parts has been remolded with the following stuff : resin, bold coating, sculpey , acrylic,...
Details : AGS 001 screen "frontlight", european model. Directional buttons are made of bamboo. The console is in it's open position and it isn't intended to close it as an artistic choice.
Dimension : 15.5cm x 8cm and weight : 180gr
↓ Not the original advertisement .

And yes, it works!

Review 2015


Après quelques modifications et retouches, les trajets des conventions et expositions à répétition ont peu à peu fragilisé la coque (Surtout un voyage en avion). J'ai profité de l'été et de son premier anniversaire pour refaire une partie de la peinture et remodeler les touches. La voilà à nouveau neuve!
21 mars 2014
Peinture Acrylique - Vernis UVs Mat
Led bleu
Pour ceux qui se posent la question "mais pourquoi un logo SFC" sur une SNES PAL, il faut pour cela remonter à l'origine du jeu Final Fantasy VI. Sorti initialement sur Super Famicom en 1994. Je tenais à ce petit détail :)