XBOX ONE X - SHELTER // FALLOUT 76
Our Future Begins,
Parce qu'on aime bien raconter une histoire avec des consoles qui ont du vécu; cette fois on transforme la XBOX ONE X en shelter (abri) post-apocalyptique pour la sortie de Fallout 76. Un peu rouillée ? Elle reste jouable et sobre pour une prise en main optimale durant votre séjour dans l'abri 76.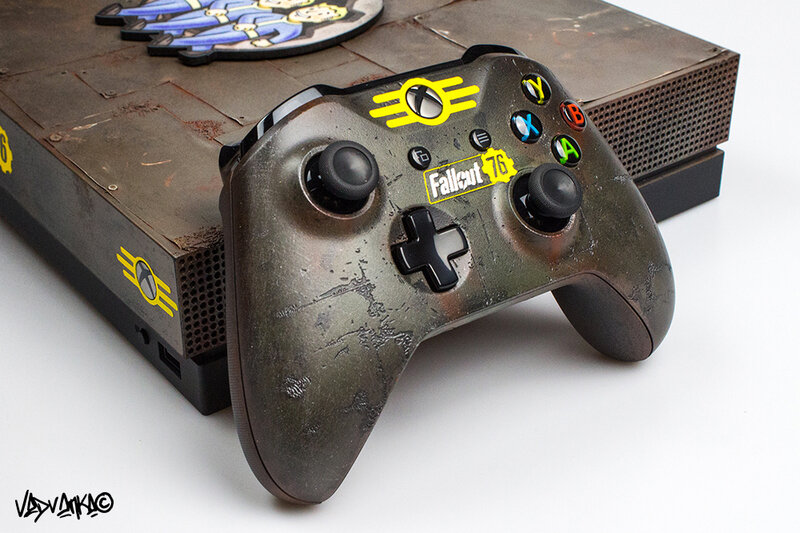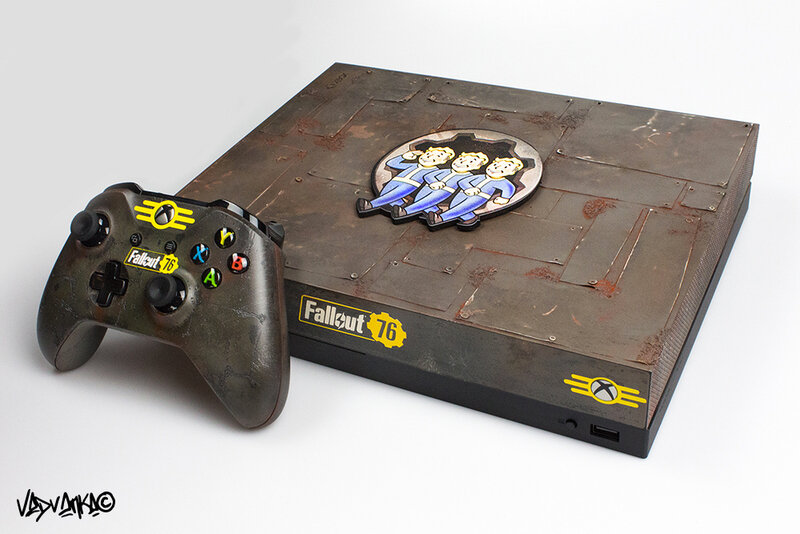 © 2018 Bethesda Softworks LLC, a ZeniMax Media company. Les marques appartiennent à leurs propriétaires respectifs. Tous droits réservés.



[#Concours] #Fallout76 ☢️ Une console uniquement pour le Benelux ! Et tu peux la gagner via @Smartoys_tv pour la sortie du jeu ! Plus d'infos sur https://t.co/ZNdsp7p4Ry et les #RS de #Smartoys Big up à @bethesda_nl @XboxBenelux pic.twitter.com/rhbhTz4XQx

— Vadu Amka @ Japan (@VaduAmka) 17 novembre 2018
Promotional : PlayerUnknown's Battlegrounds themed controller series for Smartoys.
Only on XBOX ONE
Not available for sale

Copyright © 2018 PUBG Corporation. Tous droits réservés. PLAYERUNKNOWN'S BATTLEGROUNDS et PUBG sont des marques déposées de PUBG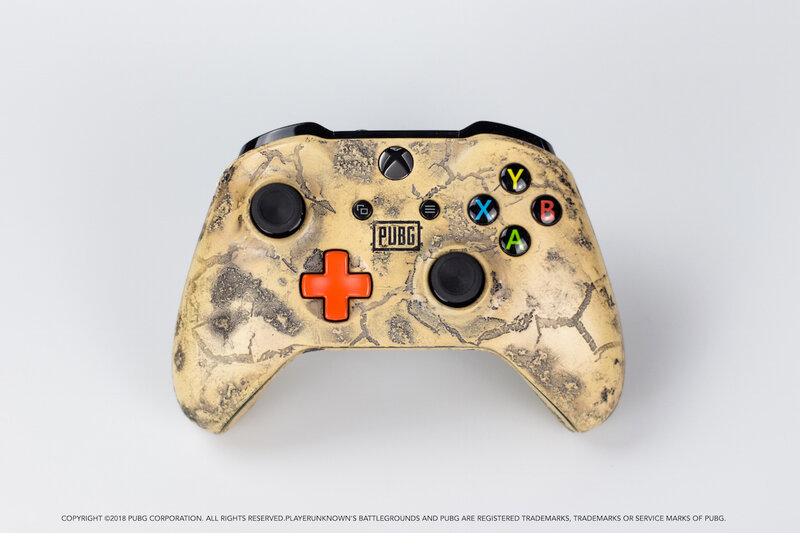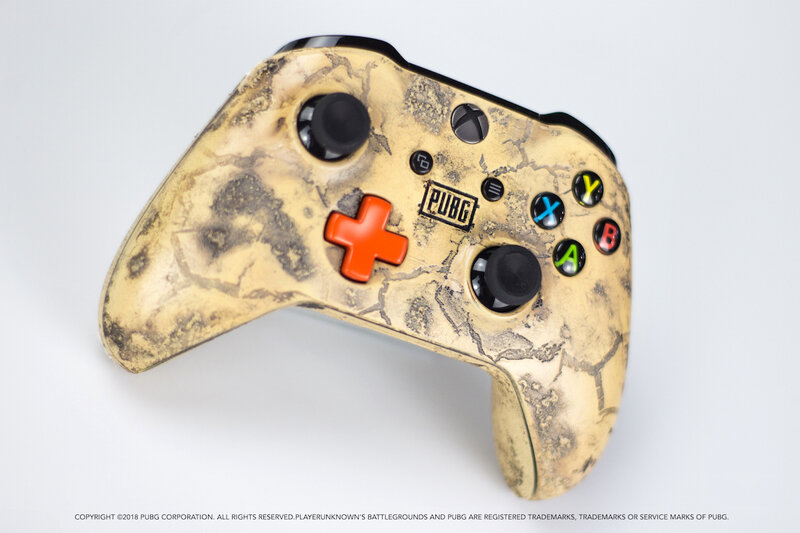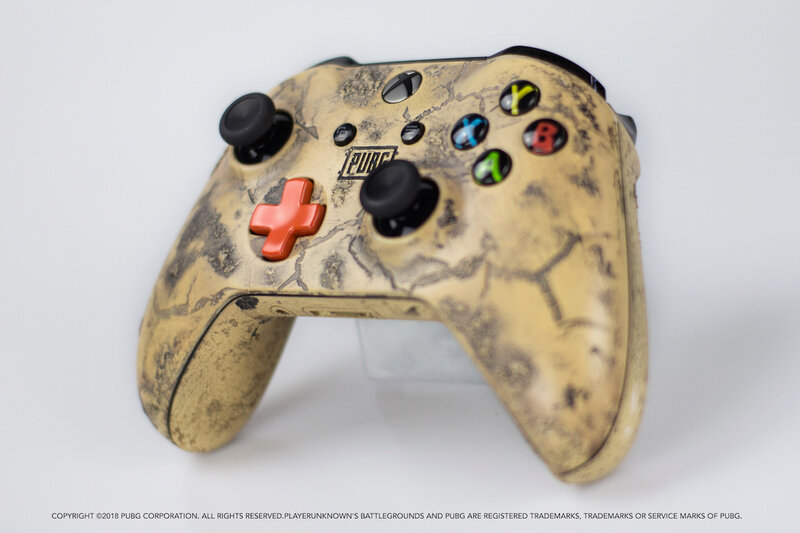 Modding @ Random Print
PlayerUnknown's Battlegrounds est un jeu vidéo multijoueur en ligne de type battle royale développé par l'éditeur Bluehole et dès maintenant disponible sur les Xbox One et Xbox One X .

Ce mois-ci, deux exemplaires de consoles PUBG ont été réalisés pour la sortie du jeu. L'une d'entre elle est actuellement à gagner auprès de Smartoys. Pour participer à leur concours, il suffit de vous rendre sur leur page facebook et de suivre les règles du concours. A Winner Winner Chicken Dinner !

Réalisation : plastique & résine, peinture acrylique, vernis UV.
Logos réinterprétés pour ces deux consoles. Création du modèle 3D sur base d'un concept et impression par la team Random Print .
Post production manuelle.


COPYRIGHT ©2017 PUBG Corporation. ALL RIGHTS RESERVED. PLAYERUNKNOWN'S BATTLEGROUNDS is a registered trademark, trademark or service mark of PUBG Corporation and its affiliates.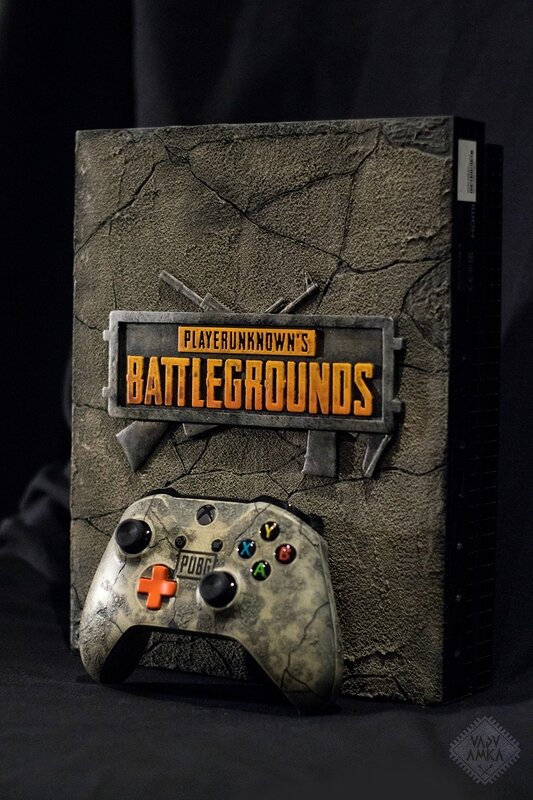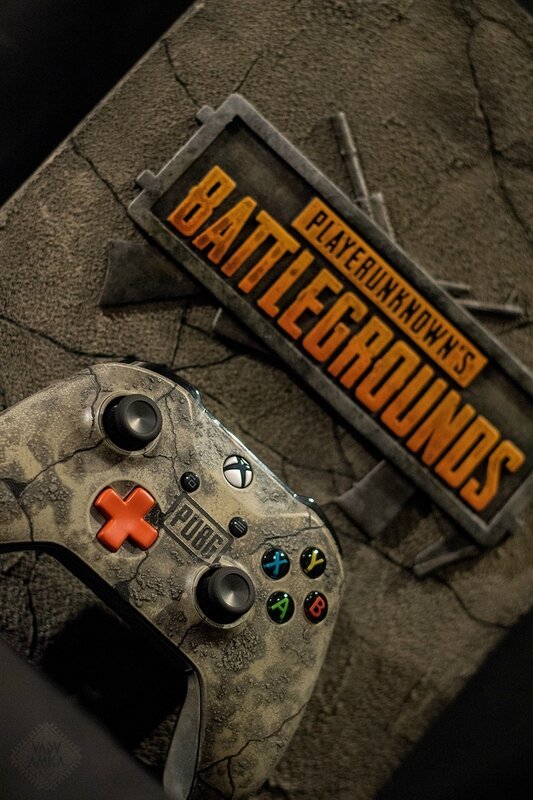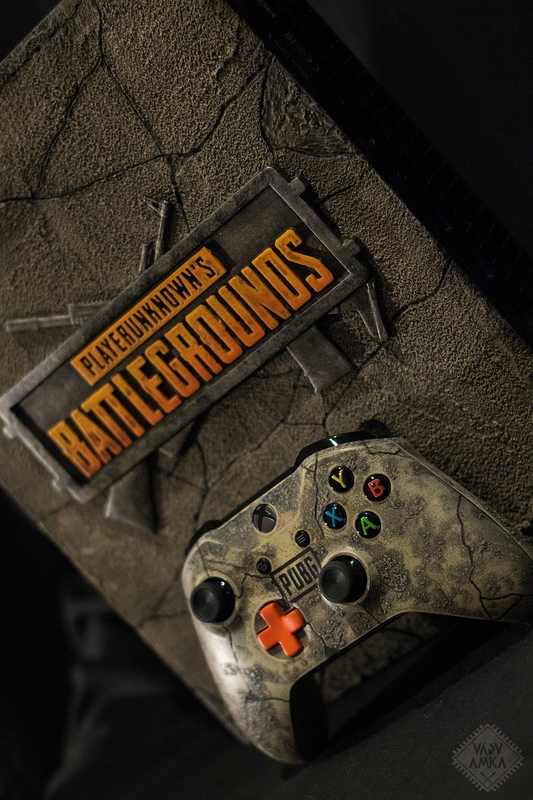 Voici une petite nouveauté pour alimenter les actus du blog,

Ma troisième réalisation sur le thème de Skies of Arcadia,
Il s'agit d'une commande passée à la galerie Kochi courant le mois du février 2015.
Cette fois on part sur la base d'un aéronef qui a subi pas mal d'altérations.
J'ai utilisé du bois de tilleul pour le capot, celui-ci ayant été découpé au préalable à l'aide d'un outil de découpe rotatifs. (Dremel). Les imperfections du bois ont été rebouchées à l'aide d'une pâte de bois clair, poncé et teinté à la lasure acajou, et peint en gris bleuté, poncé de nouveau pour un aspect plus dégradé et vieilli. Le capot est ensuite ciré et imperméabilisé. Dans celui-ci se loge une grille à petites mailles, oxydée à l'aide de pigment Ocre, Terre d'ombre naturelle = oxyde de fer synthétique. Le reste est un jeu de trompe-l'oeil avec plusieurs jus de noir et de brun. Ce qui semble être un anneau métallique est en réalité un bandeau en cuir traité et lui aussi passé à la peinture oxydée.
Les slots à manettes ont été réalisés par le même procédé que le capot.
Le logo a été reproduit en plexiglass et remoulé à l'aide de Silicone Silgum en pâte 2 composants. Ensuite coulé en résine et peint.

---

Hello!
Here is the latest news feed of my blog.

It is about my third creation on the « Skies of Arcadia » theme.
That is an order for the Kochi gallery placed back in February.
The main idea behind the custom was to make it look like a heavily damaged spacecraft.
I used lime wood I previously cut with a rotating cutter (called a dremel) for the hood. All the wood's imperfections were first resealed with some light color wood paste, then sanded stained with mahogany stain. After that, I painted it with a blue and gray color before sanding it one more time to give it a more degraded and aged look. I waxed the hood and made it waterproof. I put inside a small grid, oxidizing it with ocher pigment called « natural earth shade » (synthetic iron oxyde). All the rest is an optical illusion made from several black and brown juices. What seems to be metal ring is, in fact, a leather band treated and painted with oxyde paint. I used the same pattern for the gamepads slots. I finally reproduced the logo with plexiglass and remolded it with some 2-component silicone slim before molding it in resin and painting it.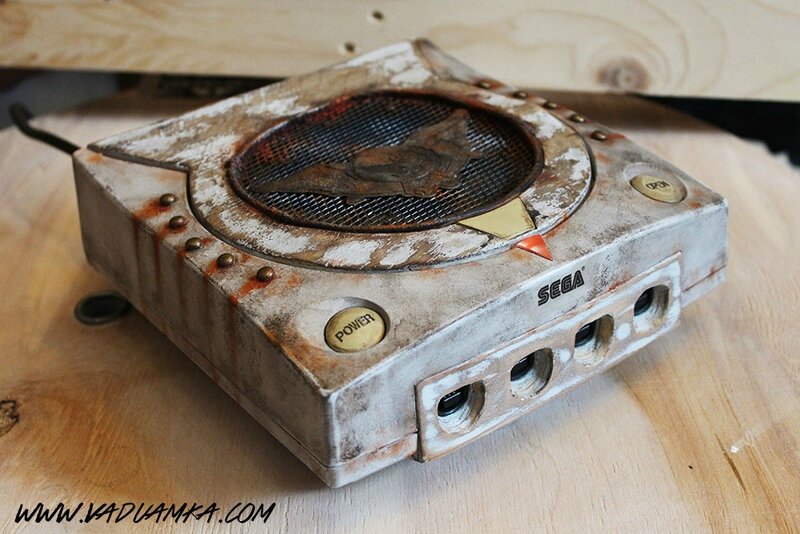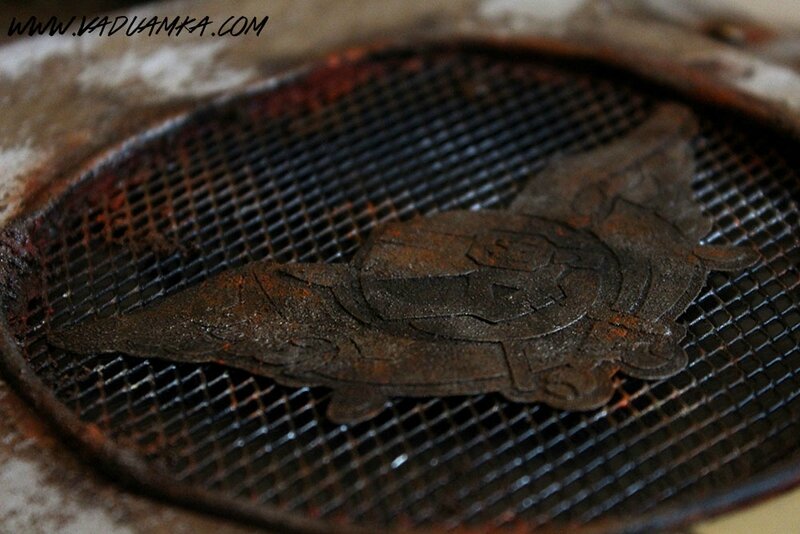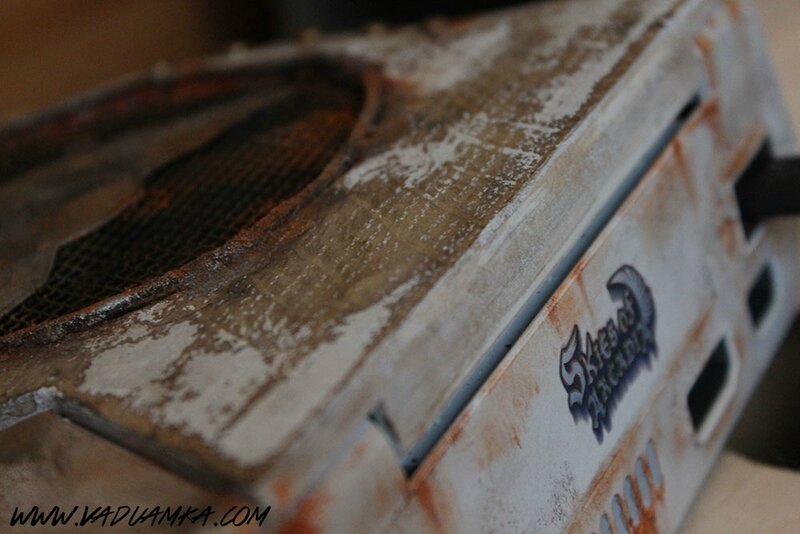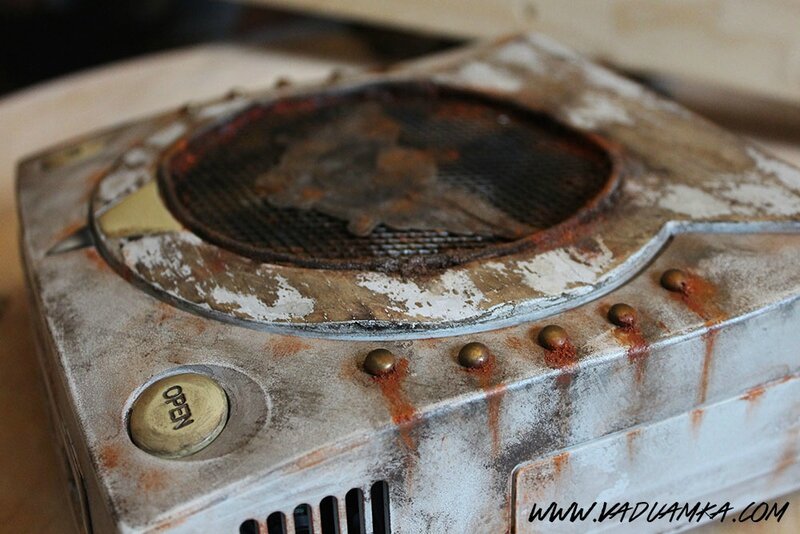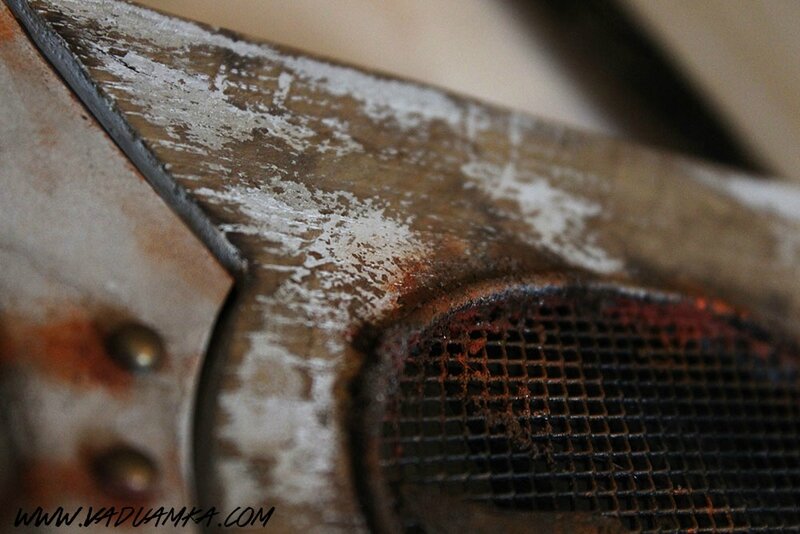 GameCube Inspirée des fresques du volet The Legend of Zelda : The Wind Waker.
Temps de réalisation : 3 mois en étant sur d'autres projets à la fois.
Matière : Résine, pâte époxy double composant, acrylique et gel texturant
La console est entièrement réalisée à la main, les ports manette ont été ornés des nombres 1 à 4 en alphabet Hylien. La réalisation de la manette est basé sur un manche rappelant une épée (Je ne parle pas forcement de la Master Sword mais juste d'une forme) Le bouclier sert de bouton Start, il est absolument fonctionnel. Il en va de même pour les sticks. Le premier plus décoratif étant en laiton. Le second est un élément d'origine. J'essaie à chaque fois de garder tel quel au moins un élément de la console. Bien qu'il soit d'un très beau jaune. (Il est aussi relativement difficile de customiser du silicone, c'est une surface qu'il faut éviter de peindre).
Certains remarqueront peut-être quelques fissures sur le côté droit. Link est prié de ne pas l'exploser! Autres détails, l'arrière de la console (la poignée) est en faux cuir noir.
Je vous laisse désormais regarder tout ça de plus près !
A très vite.

---
Gamecube inspired by The Legend of Zelda : The Wind Waker.
It was completed in 3 months, while working on other projects at the same time.The Materials I used were resin, Double component epoxy paste, acrylic paint and texturizing gel.The console is entirely hand made. Joystick ports were adorned with numbers from 1 to 4, using the Hylian alphabet. The controller's design was inspired by a sword (that does not necessary mean that it is the Master sword). The Start button is covered by a shield but is fully functional. So are the sticks. First one is more decorative while using brass. The second one is an original item. I always try to keep unchanged something on the console. It is very difficult to customize silicon parts because it is hard to paint on it . You may have noticed the cracks on the right side. lease tell Link that he is not supposed to blow them up.Another detail you may have noticed is the fake leather covering the handle. I will just let you have a closer look at the whole.
See you soon!

Not for sale - Pas à vendre
Photos du work in progress sur plusieurs semaines :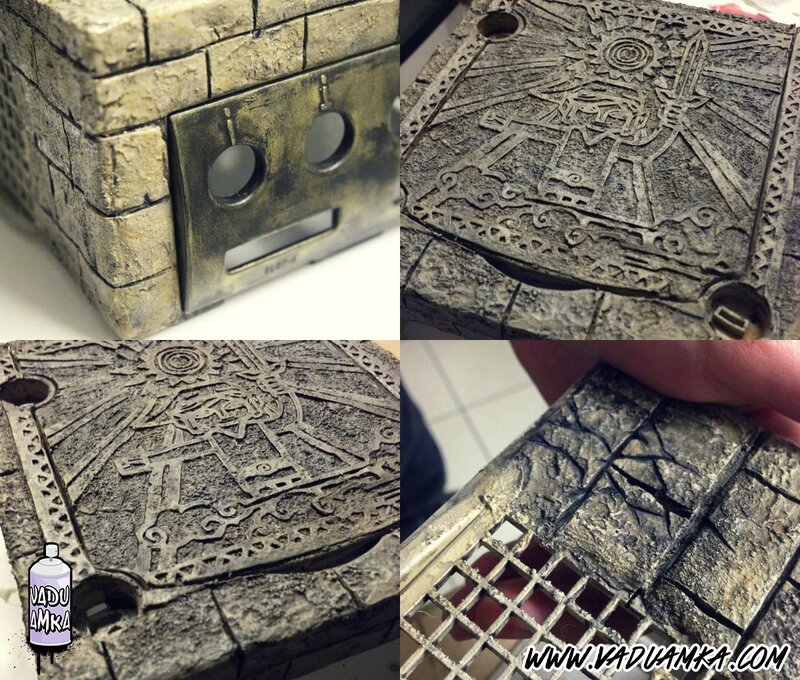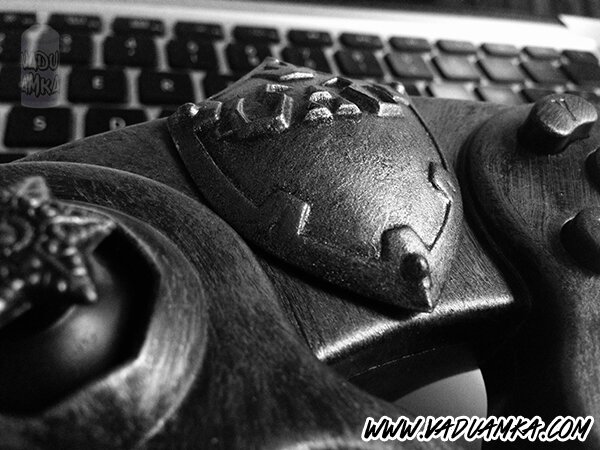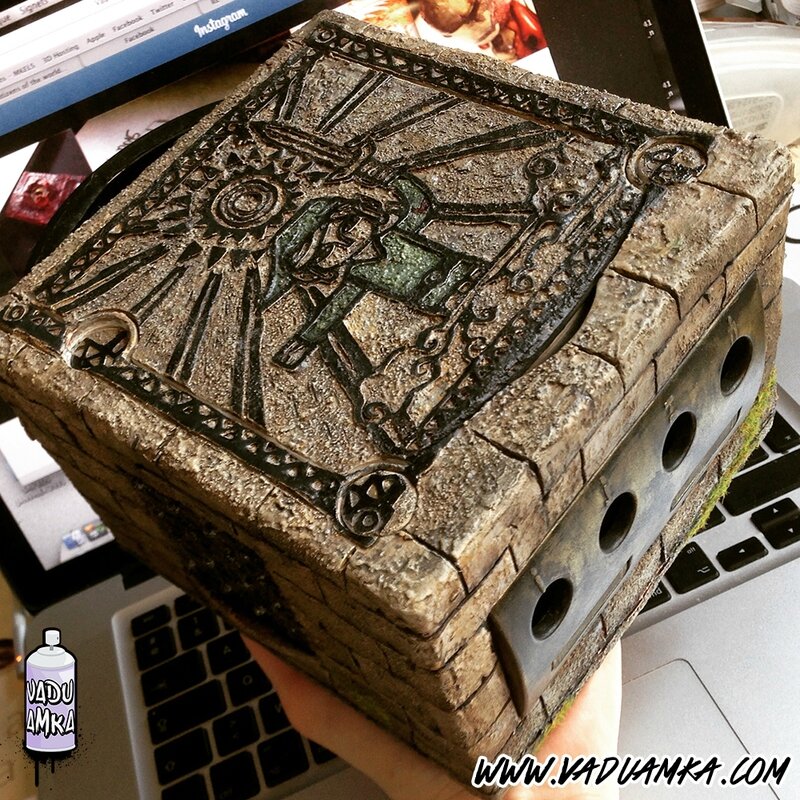 --- Final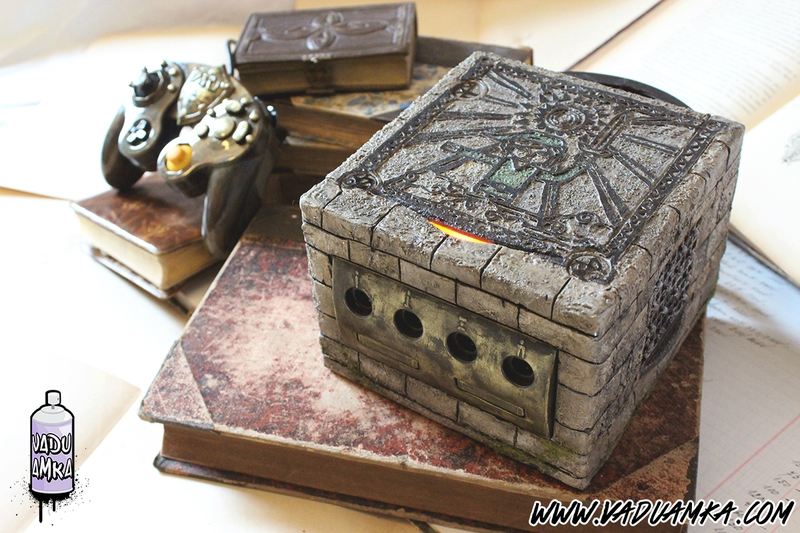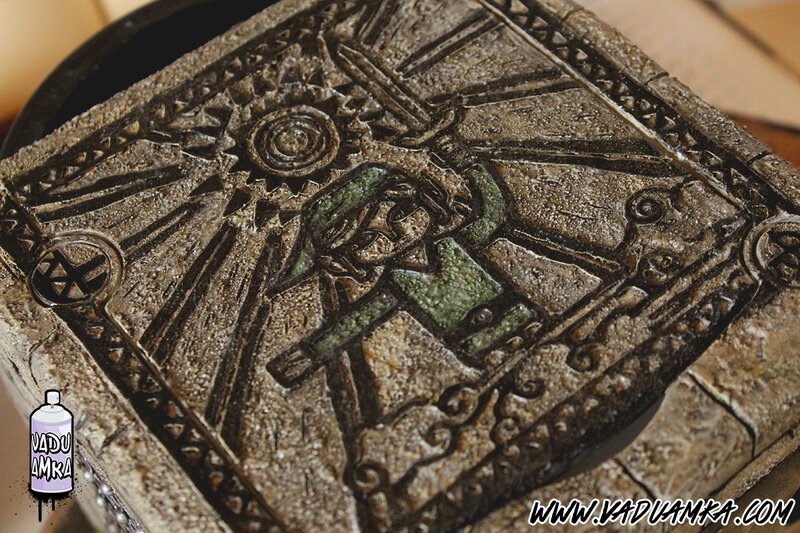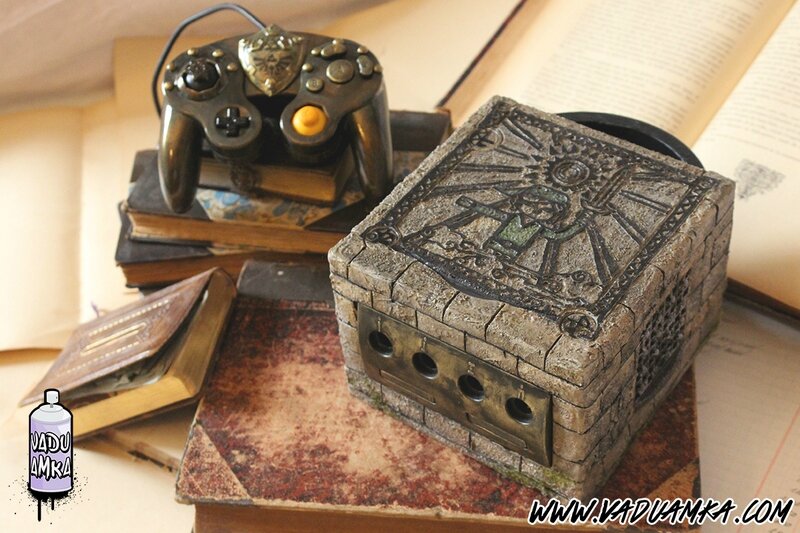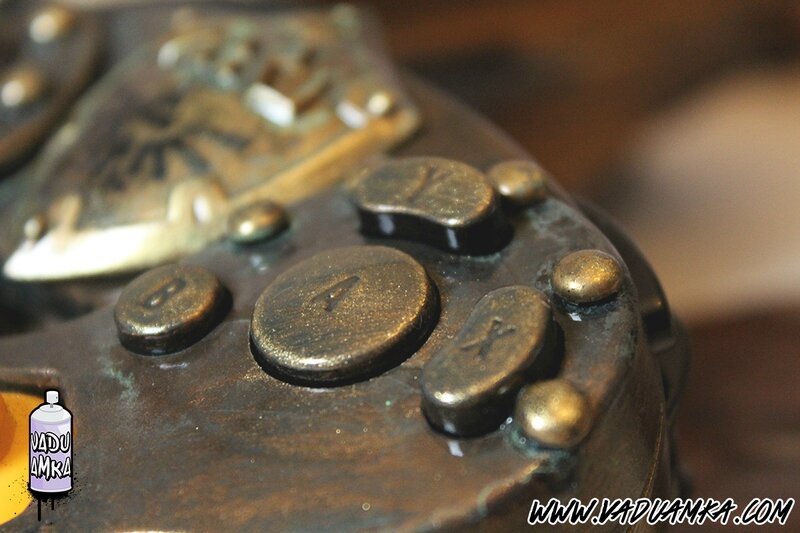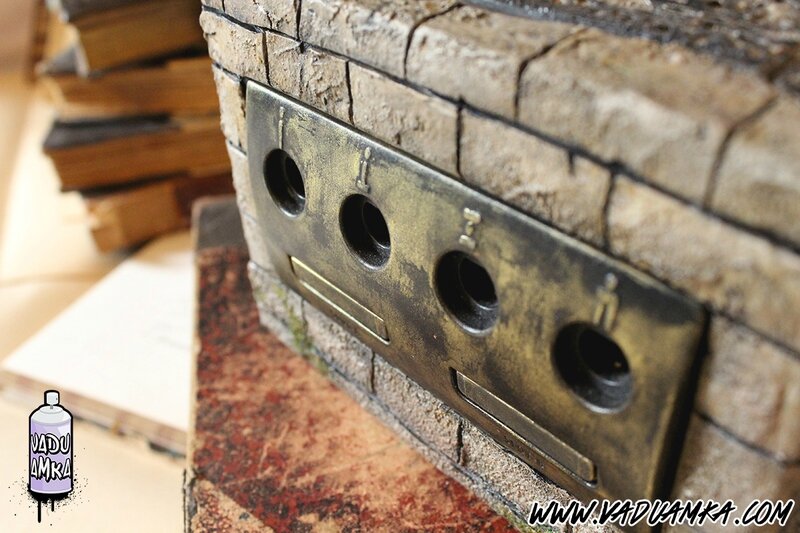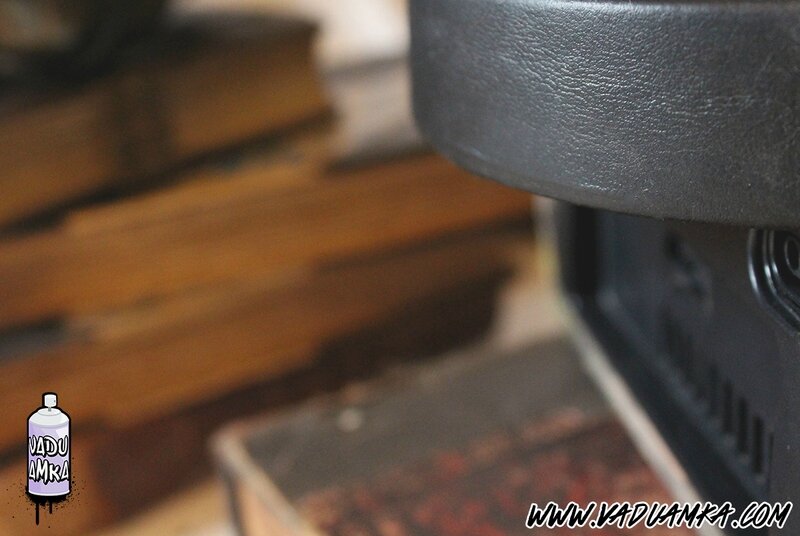 --- Bonus / Making-of
14 juin 2014
Console sur le thème de Castlevania ; parti sur l'idée d'un cercueil. J'ai essayé de reproduire une texture de vieux bois. Je pense que le plus gros du travail a été réalisé à l'arrière. Les touches sont en bois, je n'ai aucun talent d'ébéniste et c'est ma première fois ;_; ...
Au niveau des coloris pour l'arrière: terre sienne & terre d'ombre. Ecriture au poscas. L'avant est un mélange de texture et la prolongation de l'illustration. Je voulais un effet "sorti de terre" (ou d'une crypte héhé) et le volume des rochers présents sur la cover originale. Protection présente sur l'écran*