Culture games s'est occupé du packaging pour le jeu Half-Life sur Dreamcast qui n'est jamais sorti autrement qu'en abandonware sur internet. Ils comptent organiser un concours permettant d'en gagner un exemplaire (avec le jeu et un boitier neuf comme si le jeu était réellement sorti) et pour que le concours soit encore plus marquant, ils m'ont demandé de réaliser une Dreamcast aux couleurs de Half Life et d'ainsi proposer un pack complet.
Réalisation : J'ai repris les couleurs du personnage principal au pied de biche. Je ne voulais pas faire une console complètement orange, la couleur est souvent assimilée à Metroid. J'ai principalement travaillé l'aspect de peinture écaillée et de rouille. La console reste à mon goût relativement sobre et fidèle aux visuels des jacquettes.
Temps : 1 mois & demi

---

A Half-Life Dreamcast for Culture Games
Culture games took care of the packaging for the game "Half-Life" on Dreamcast, which was never released anywhere else than on abandonware sites. They plan to hold a contest to win a copy (with the game and a new case as if it was actually released) and the competition is even more striking, they asked me to make a customized Dreamcast on the Half Life theme and thereby propose a complete package.

I took the colors of the main character with the crowbar. I didn't want a completely orange console, the color is often linked to Metroid. I mainly worked on the paint peeling and rust appearance. According to my taste, the console remains relatively sober and faithful to the covers' visuals.

Time spent: 1 month and a half
GameCube Inspirée des fresques du volet The Legend of Zelda : The Wind Waker.
Temps de réalisation : 3 mois en étant sur d'autres projets à la fois.
Matière : Résine, pâte époxy double composant, acrylique et gel texturant
La console est entièrement réalisée à la main, les ports manette ont été ornés des nombres 1 à 4 en alphabet Hylien. La réalisation de la manette est basé sur un manche rappelant une épée (Je ne parle pas forcement de la Master Sword mais juste d'une forme) Le bouclier sert de bouton Start, il est absolument fonctionnel. Il en va de même pour les sticks. Le premier plus décoratif étant en laiton. Le second est un élément d'origine. J'essaie à chaque fois de garder tel quel au moins un élément de la console. Bien qu'il soit d'un très beau jaune. (Il est aussi relativement difficile de customiser du silicone, c'est une surface qu'il faut éviter de peindre).
Certains remarqueront peut-être quelques fissures sur le côté droit. Link est prié de ne pas l'exploser! Autres détails, l'arrière de la console (la poignée) est en faux cuir noir.
Je vous laisse désormais regarder tout ça de plus près !
A très vite.

---
Gamecube inspired by The Legend of Zelda : The Wind Waker.
It was completed in 3 months, while working on other projects at the same time.The Materials I used were resin, Double component epoxy paste, acrylic paint and texturizing gel.The console is entirely hand made. Joystick ports were adorned with numbers from 1 to 4, using the Hylian alphabet. The controller's design was inspired by a sword (that does not necessary mean that it is the Master sword). The Start button is covered by a shield but is fully functional. So are the sticks. First one is more decorative while using brass. The second one is an original item. I always try to keep unchanged something on the console. It is very difficult to customize silicon parts because it is hard to paint on it . You may have noticed the cracks on the right side. lease tell Link that he is not supposed to blow them up.Another detail you may have noticed is the fake leather covering the handle. I will just let you have a closer look at the whole.
See you soon!

Not for sale - Pas à vendre
Photos du work in progress sur plusieurs semaines :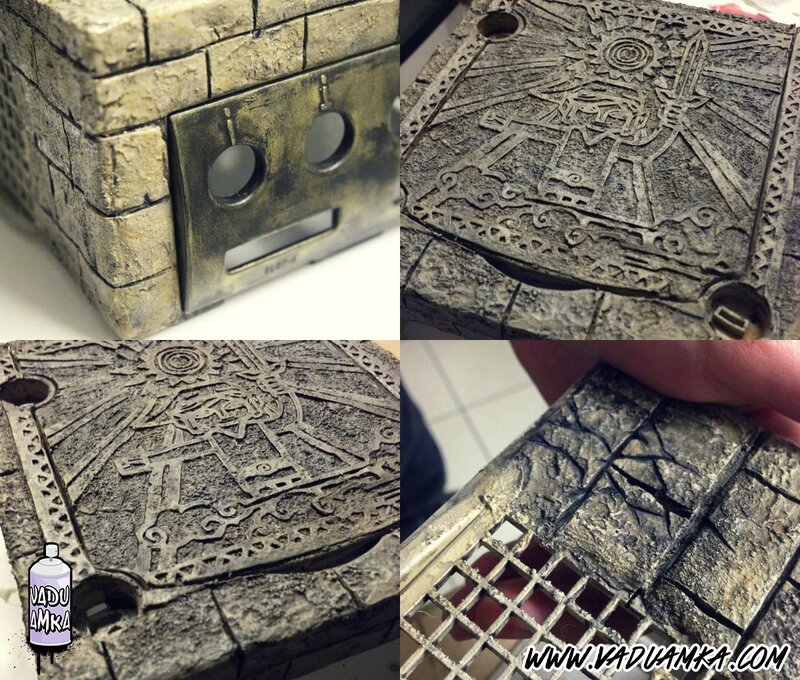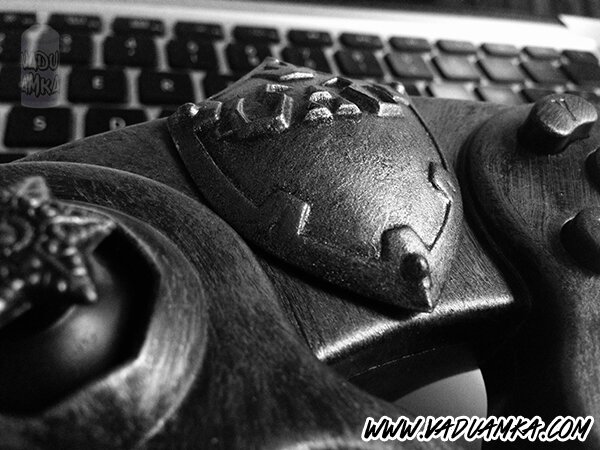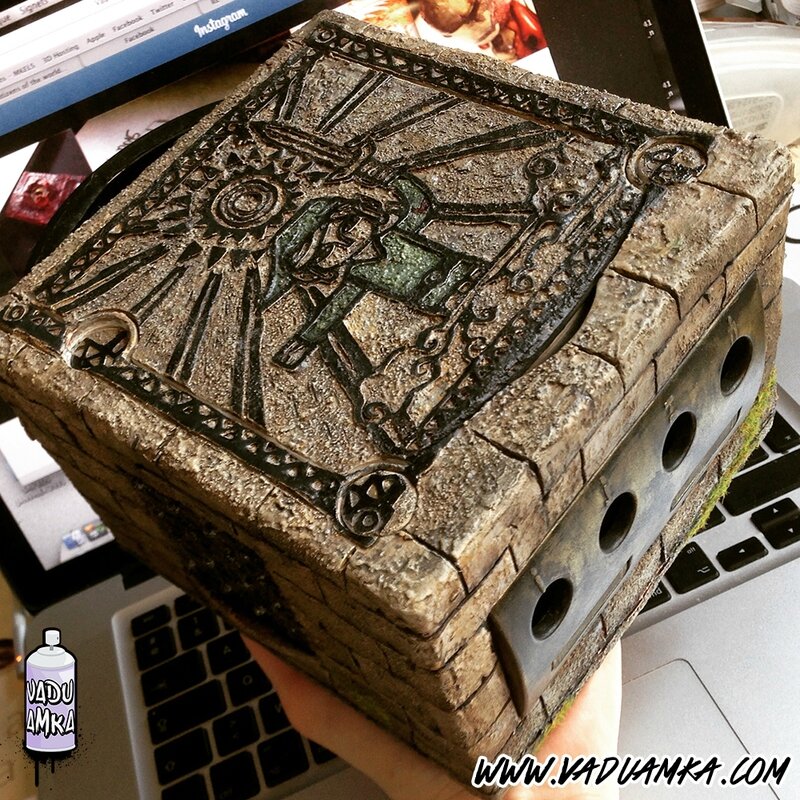 --- Final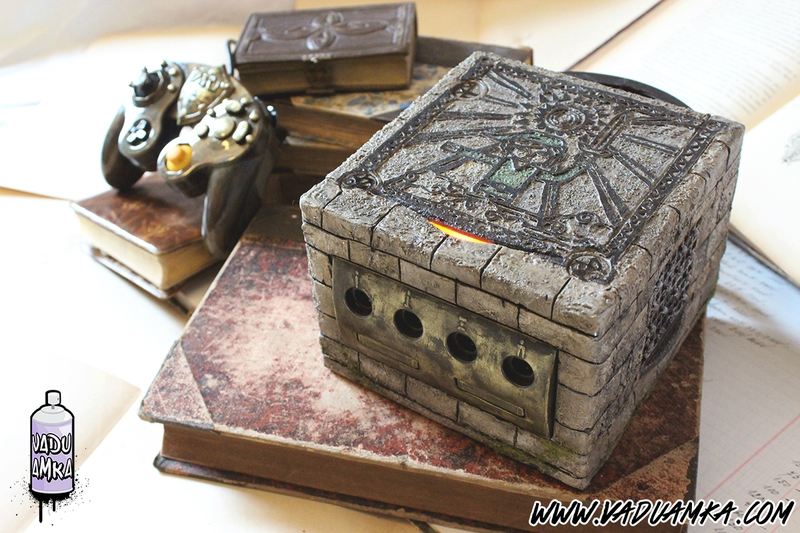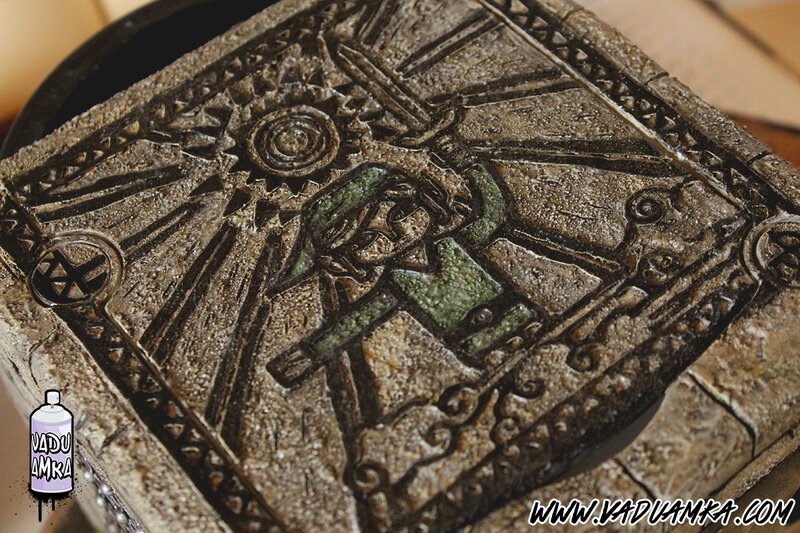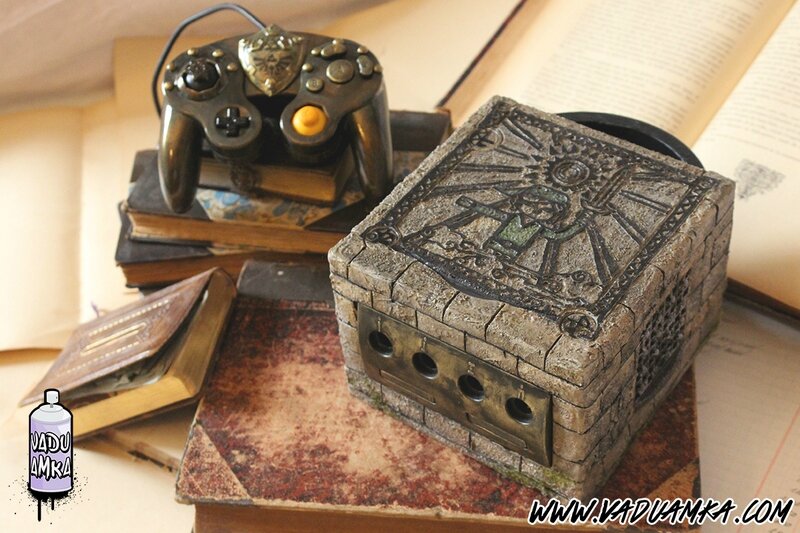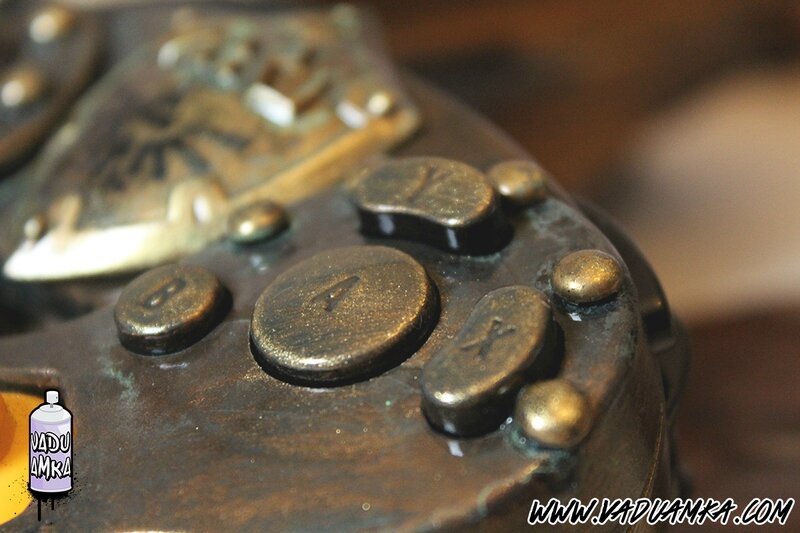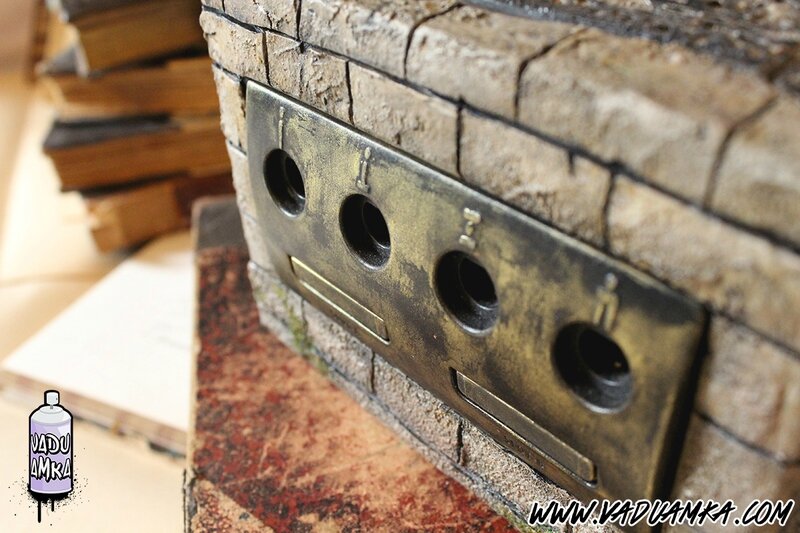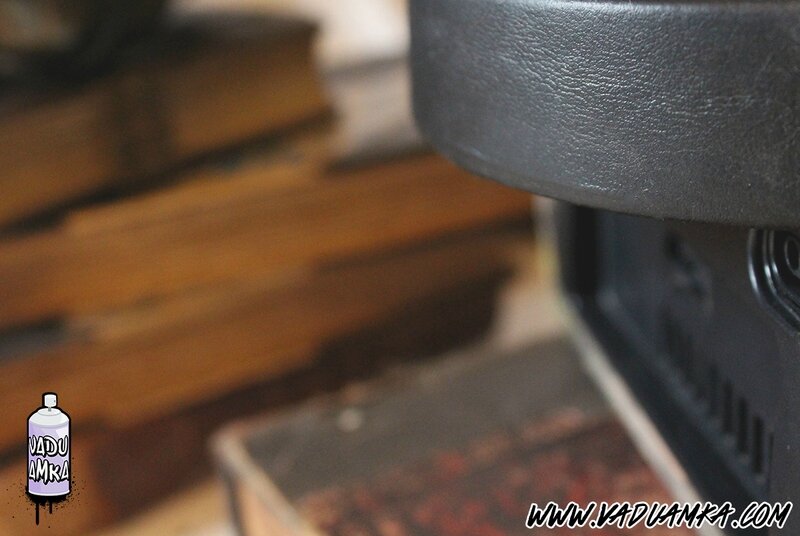 --- Bonus / Making-of
Console promotionnel réalisé sur commande pour Shainiiigaming & son émission Belge Ma maison de retrogamer
Peintures : Signal White & Swet rouge traffic Belton Molotow Premium + écran DMG blanc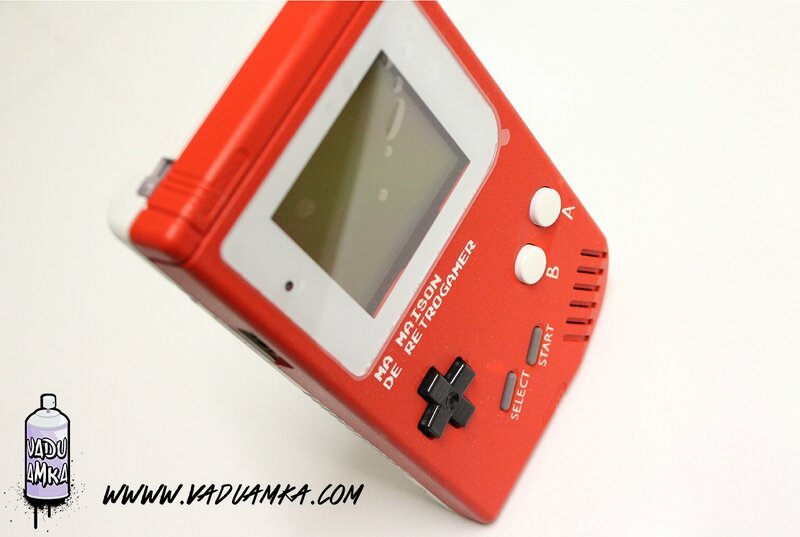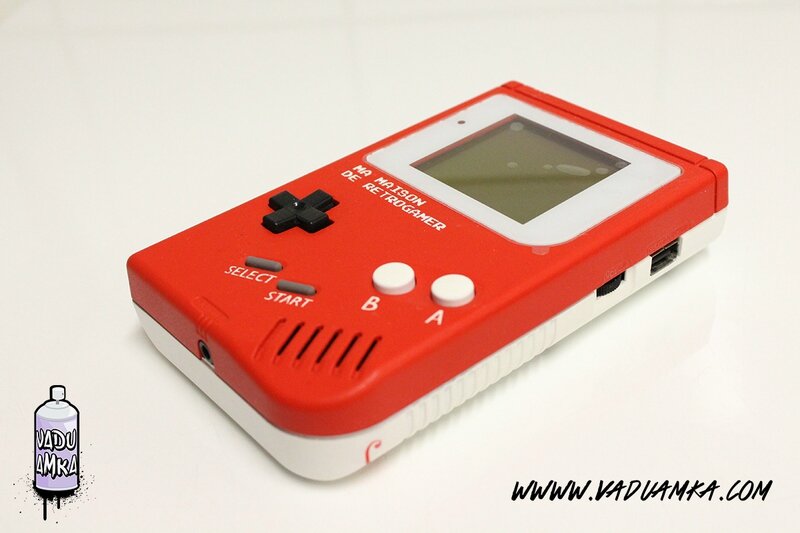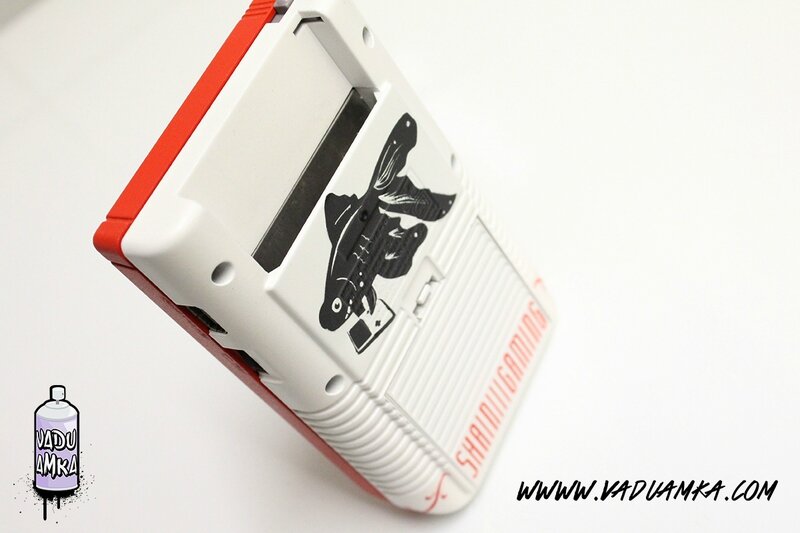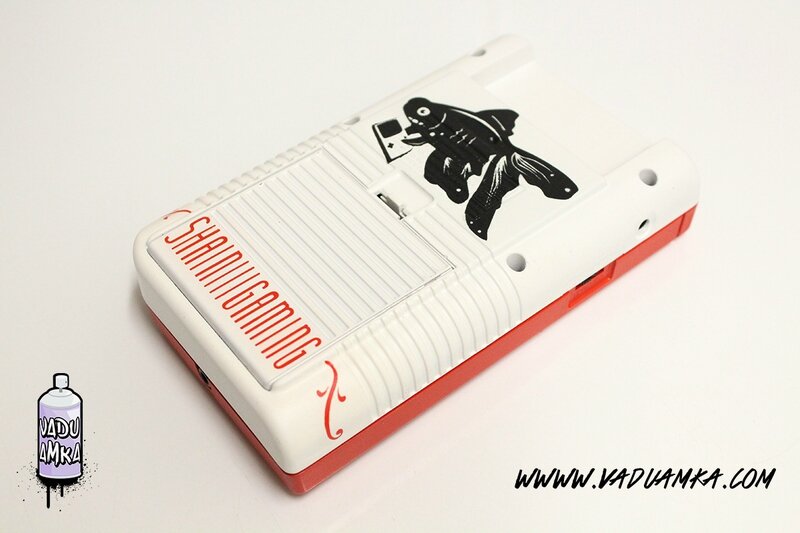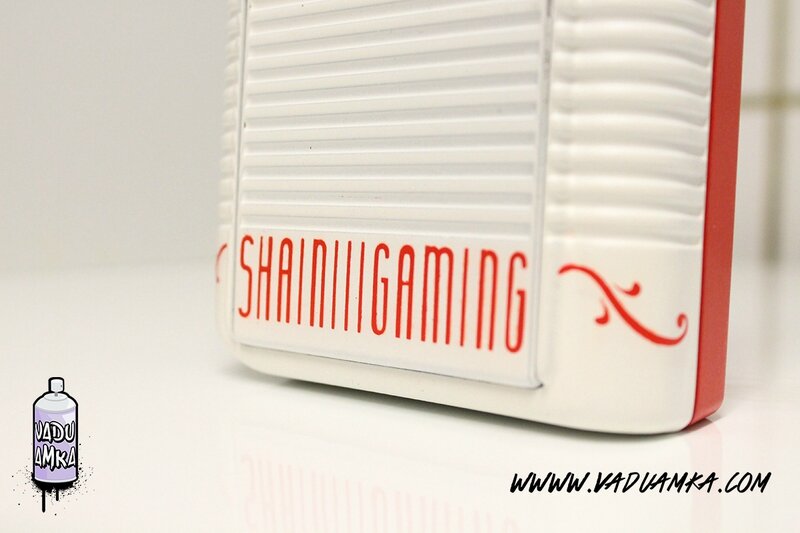 N64 Cartridge - Majora's Mask 25x25
Exemplaire unique - JANV 2015
Résine époxy / Polyfilla

Customs N64 cartridge available online at KOCHI Gallery, here.
WIP: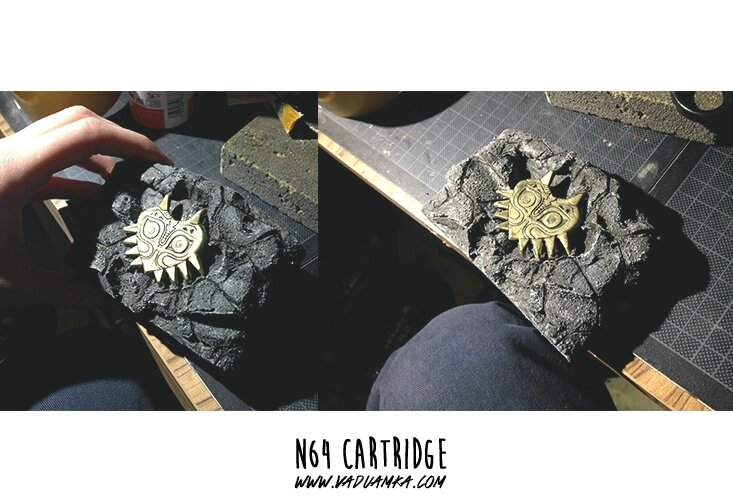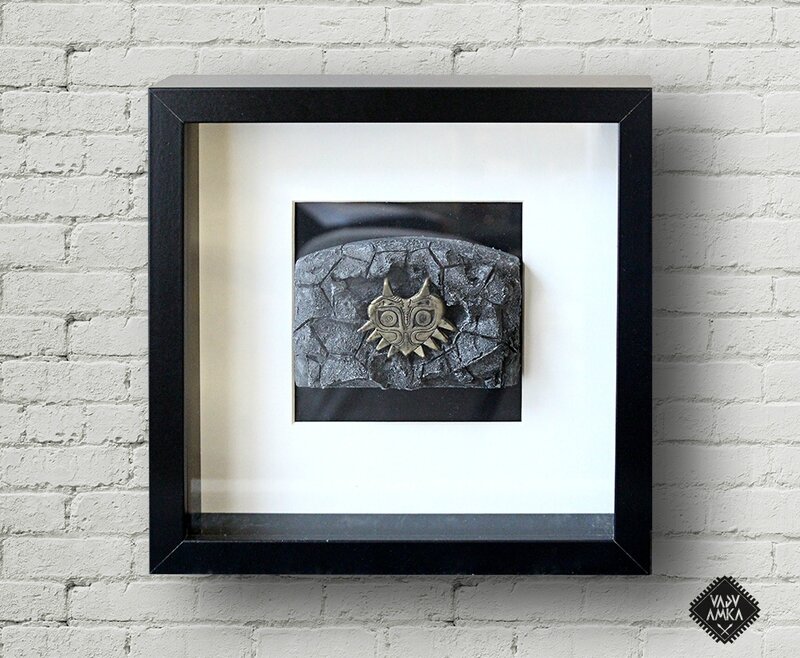 Dans l'esprit de la Super Nintendo Dracula's Castle Edition,
j'ai réalisé un nouveau custom de la mythique console de Nintendo avec pour thème la célèbre franchise de Konami. Mais cette fois-ci, c'est sur la thématique d'un tombeau scellé ou d'une crypte que j'ai axé mon travail selon les directives de son futur propriétaire.
La base de la console est un mélange de résine et de gels de texture (acrylique).
Le capot supérieur est en bois de tilleul et balsa pour les plus petites parties. Il est teinté à la lasure acajou, poncé de nouveau et teinté en plusieurs couches de noir. Décoré de laiton et d'un mélange de peinture bronze qui est ensuite vieilli pour donner l'aspect d'oxydation.
Il aura fallu près de 80 heures de travail sur la coque pour arriver à l'aspect final.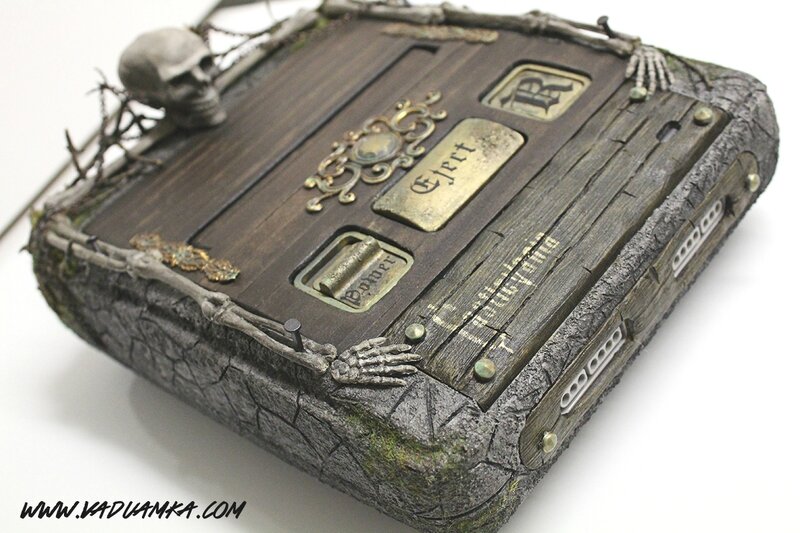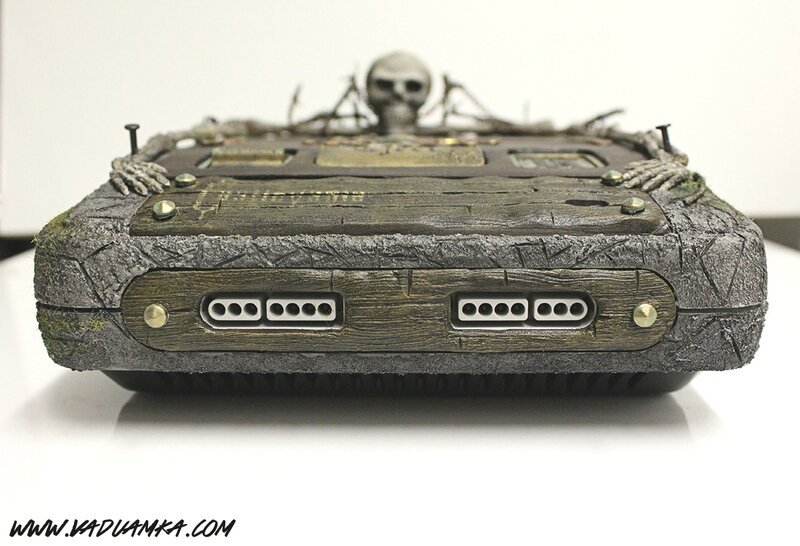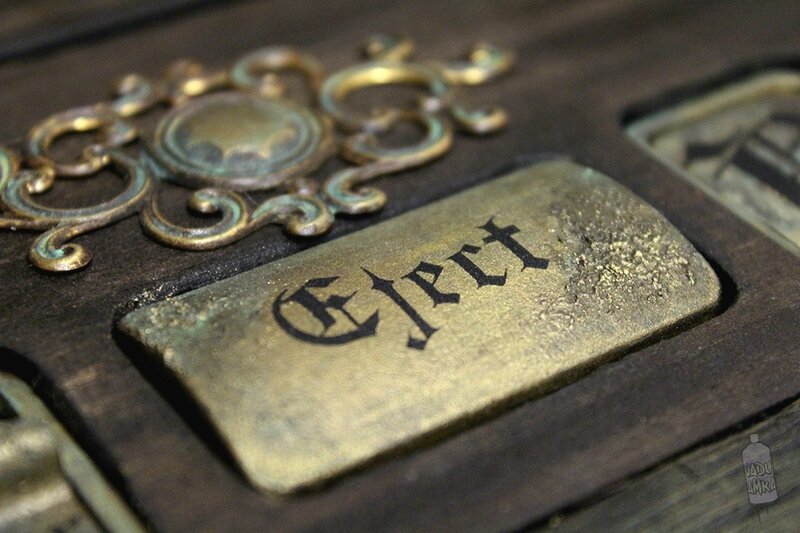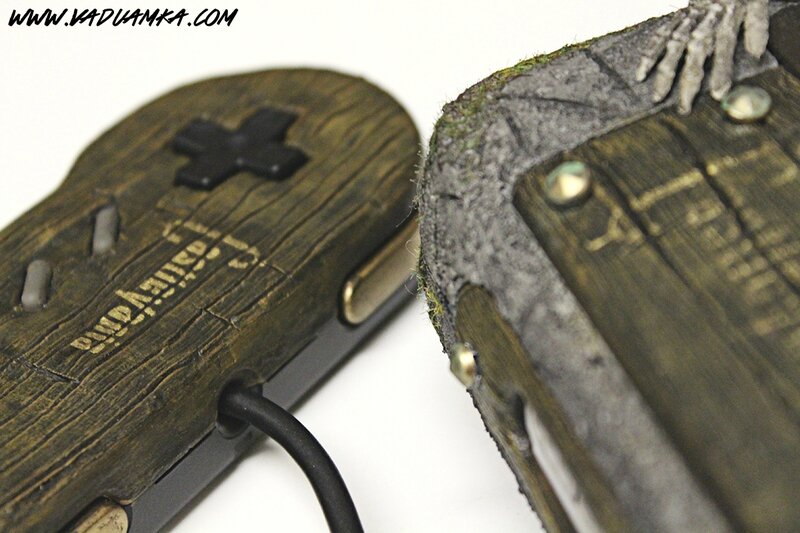 (Gift) Super Nintendo Controller II - Burned cherry wood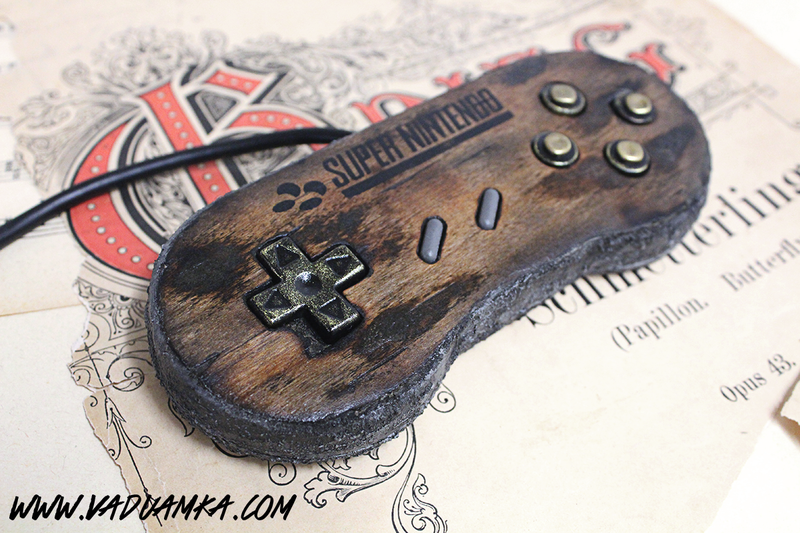 Game Boy Color en honneur du Pokémon N°175 : Togepi !
Petit bundle pack reprenant la première génération. (Oui, oui les cartouches sont comprises!)
Couleur de base signal white - Vernis mat UV
Retroéclairage du logo COLOR, N° de série d'origine.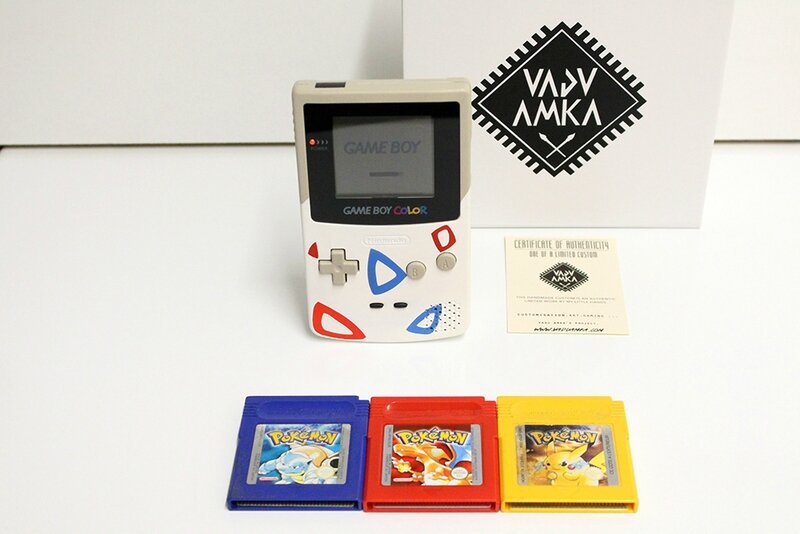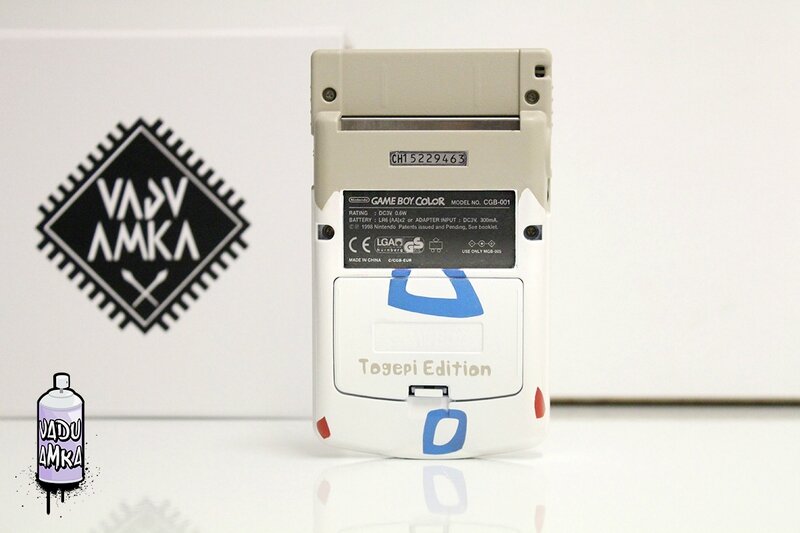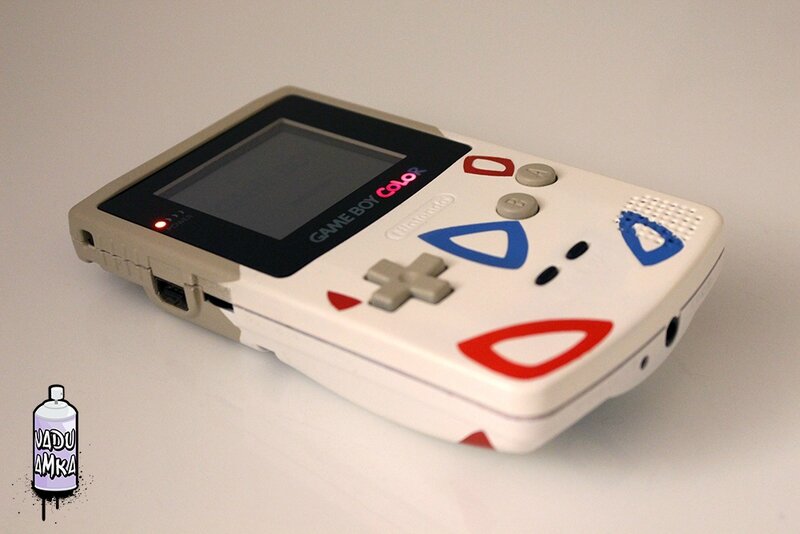 Vernis brillant, couleur choisi en fonction du Orbital Frame Jehuty dans Zone of the Enders.

Game Boy Advance (EU version) customized on the theme of Zone of the Enders: The Fist of Mars, the Konami game released in 2001 for Game Boy Advance.

Color of Orbital Flame Jehuty : metallic paint, glossy glazing, no backlighting

Customs consoles available online at KOCHI Gallery, here
Cette console est disponible en ligne à la galerie KOCHI Gallery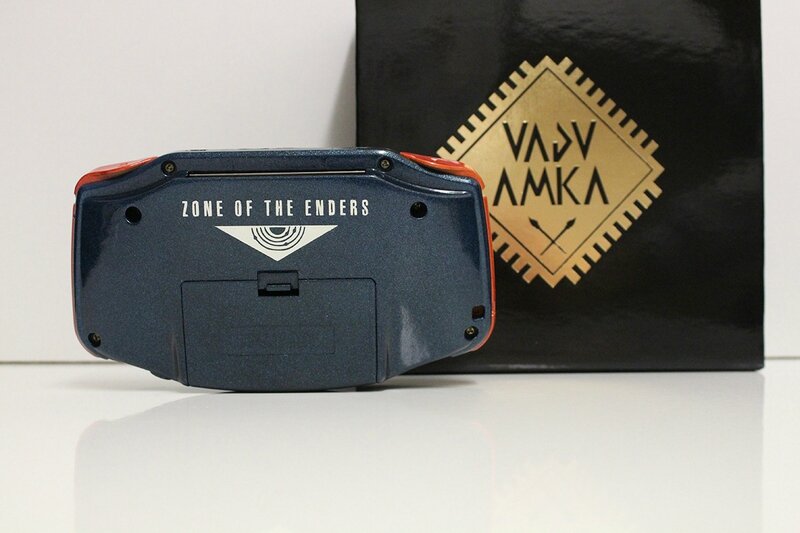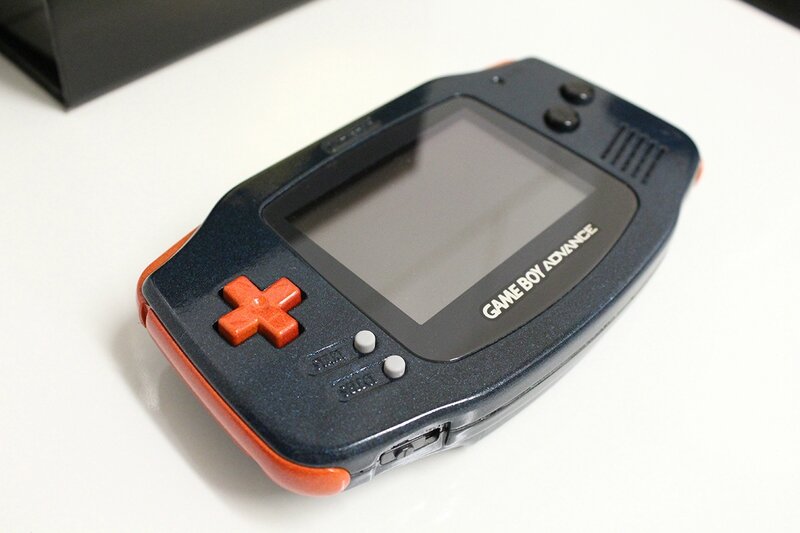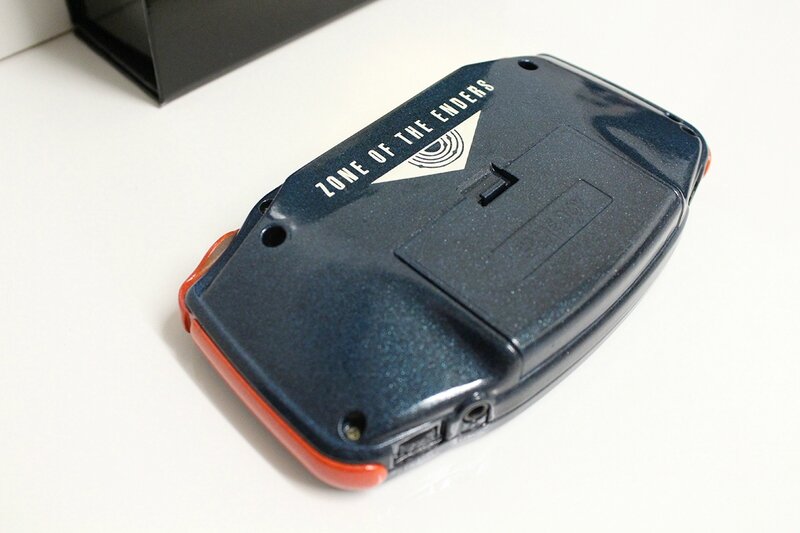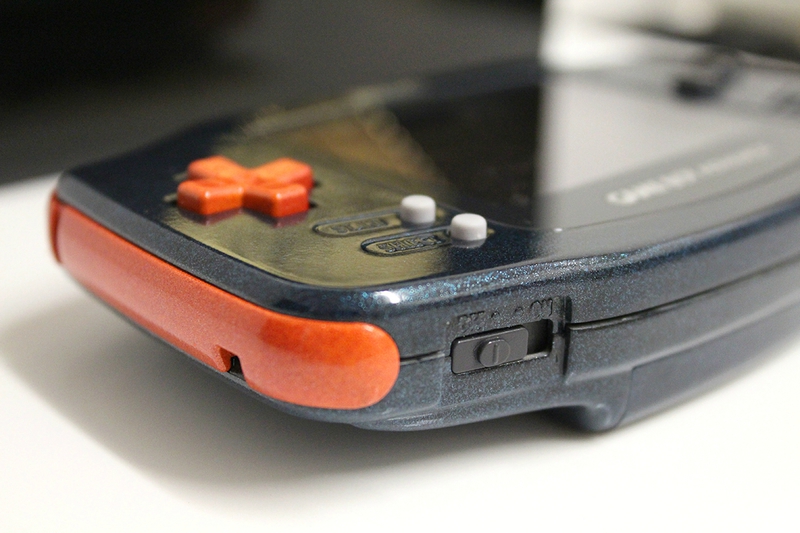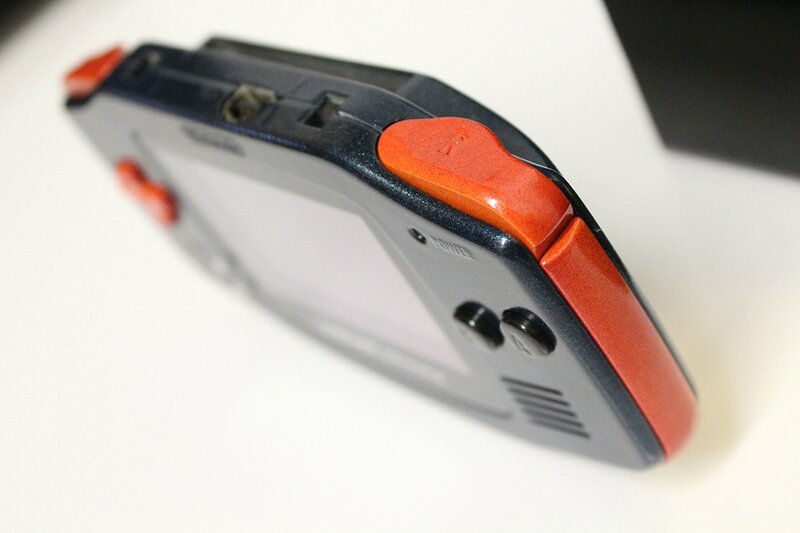 Review sur un projet déjà abordé DC SoA : Décembre -Janvier 2013

Je tenais à retravailler ce même thème mais d'une façon différente. Les textures sont plus abouties, la peinture est plus lumineuse dans les effets de matières et le logo plus fidèle. Il ne s'agit pas d'un N°2 mais bien d'une nouvelle console avec une nouvelle approche des techniques.

I really wanted to use the « Skies of Arcadia » theme one more time but in a very different way.This time, I have improved the textures, the materials effects are brighter on the paint and the logo is more accurate.That is definitely not a second one but a reboot with a different technical approach

SCPH-5502 BIOS 3.0 1997-01-06 PAL

Reboot PS1 Oddworld project x Steampunk
Vernis brillant, patine bronze, effet brossé et oxydé.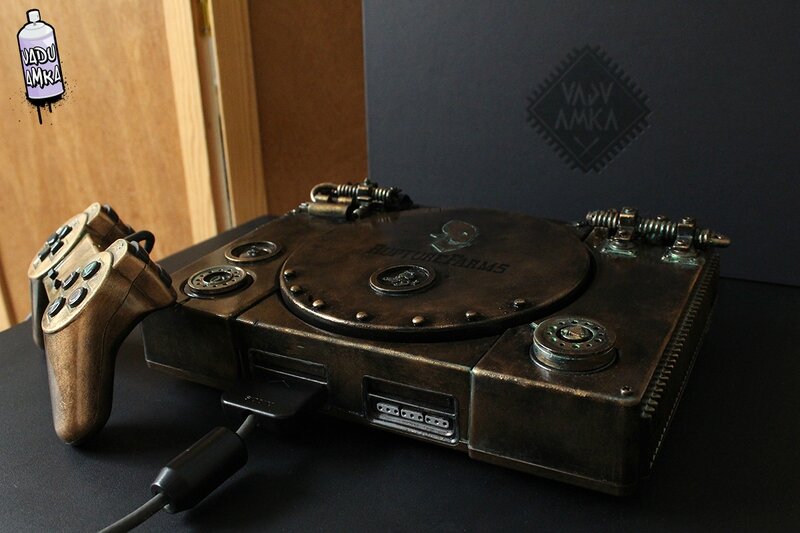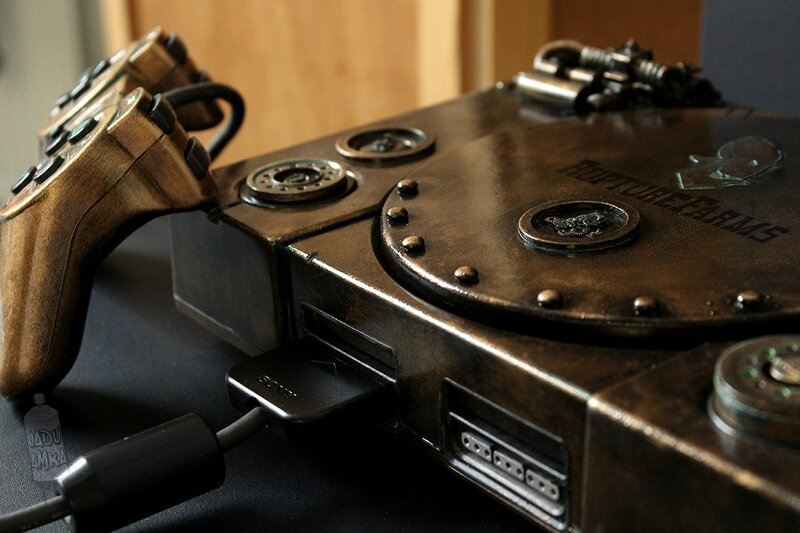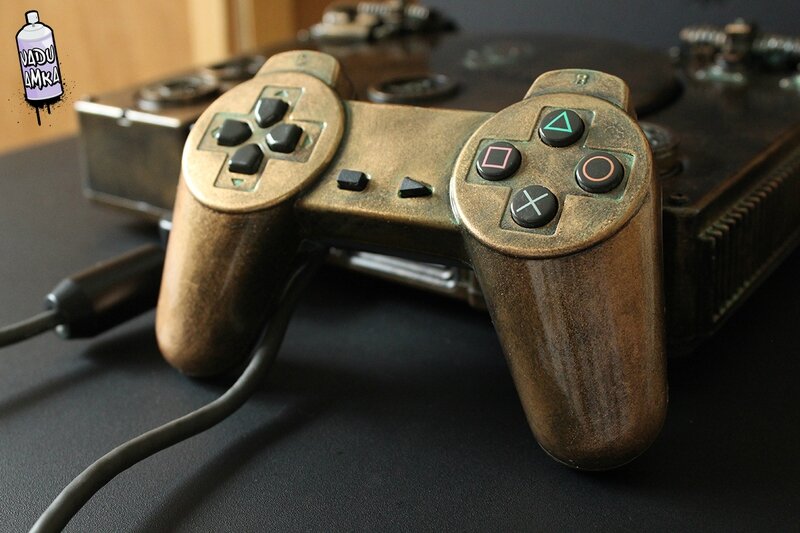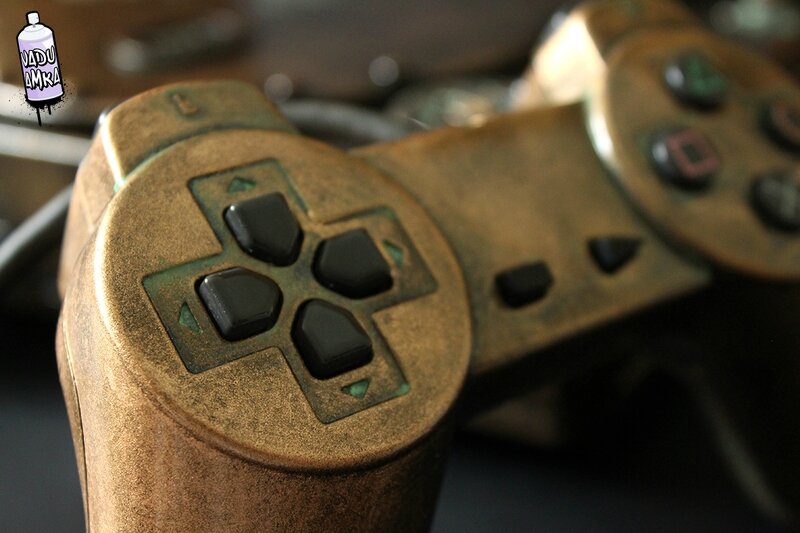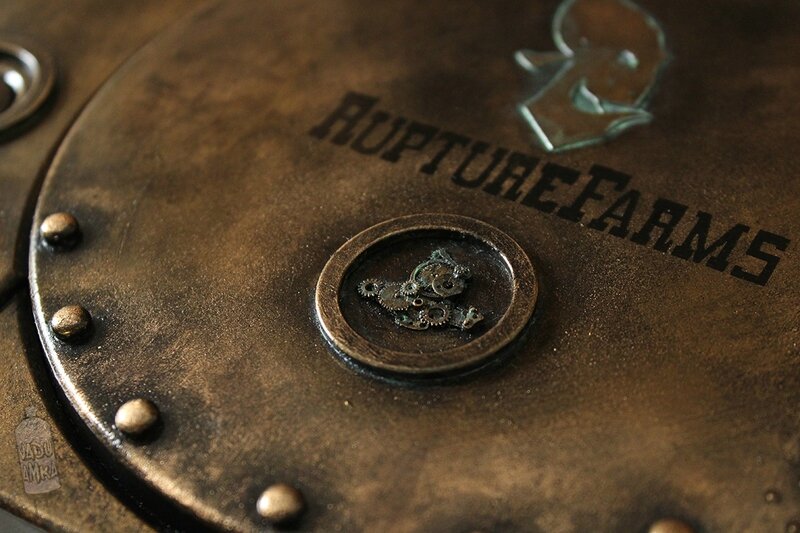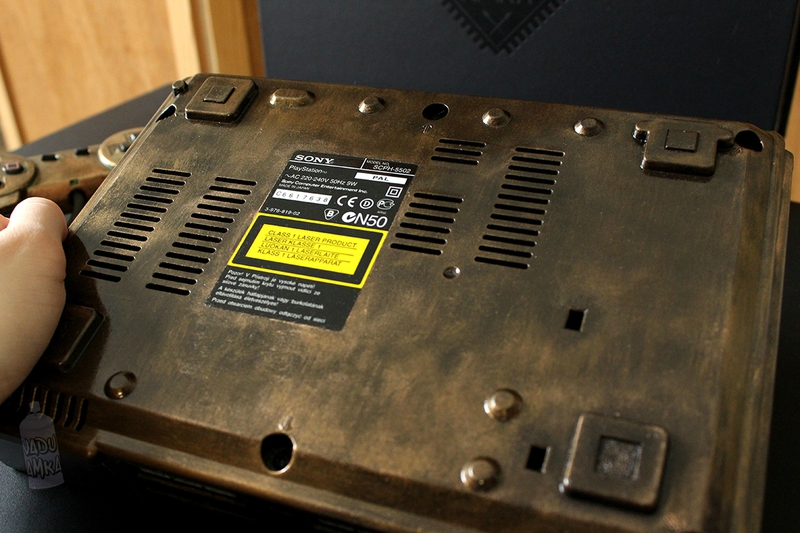 Inspiré d'une publicitée de Donkey Kong Country 2, j'ai réalisé le plus fidèlement possible une reproduction de la GBA SP sur ce même thème.
La console fonctionne parfaitement et est jouable. Elle était en exposition à la Retro Made in Asia @NamurExpo. Elle est entièrement sculptée à la main, certaines parties remoulées (produits: résine, enduit gras, sculpey, acrylique... )

Détails : écran AGS 001 "frontlight" , modèle européen. Touches directionnelles en bambou.
La console est en position ouverte et n'est pas prévue pour se fermer.
Dimensions : 15,5cm x 8cm.
Poids : 180gr
---
Inspired by an old Donkey Kong Country 2 advertisement, I made as accurately as possible a GBA SP reproduction on this theme.The console works perfectly fine and is totally playable. It was shown on exhibition at the Retro Made In Asia @NamurExpo.The design is entirely handmade carved, some parts has been remolded with the following stuff : resin, bold coating, sculpey , acrylic,...
Details : AGS 001 screen "frontlight", european model. Directional buttons are made of bamboo. The console is in it's open position and it isn't intended to close it as an artistic choice.
Dimension : 15.5cm x 8cm and weight : 180gr
↓ Not the original advertisement .

And yes, it works!

Review 2015


Après quelques modifications et retouches, les trajets des conventions et expositions à répétition ont peu à peu fragilisé la coque (Surtout un voyage en avion). J'ai profité de l'été et de son premier anniversaire pour refaire une partie de la peinture et remodeler les touches. La voilà à nouveau neuve!