Conception d'une console XBOX ONE X The Surge 2 avec un système de LED indépendant de la mise en route de la console. Le dispositif dépend uniquement du branchement secteur de la console. Pas de câble supplémentaire ni de piles archaïques ! Ce même dispositif est recouvert d'un tube en résine semi-opaque, permettant une diffusion optimale entre les stries.
Console réalisée dans le cadre d'une campagne avec Focus Homes Interative. Cette pièce est unique et non destinée à la vente.


©2019 Deck13 and Focus Home Interactive. Deck13 and its logos are trademarks or registered trademarks of Deck13. All rights reserved.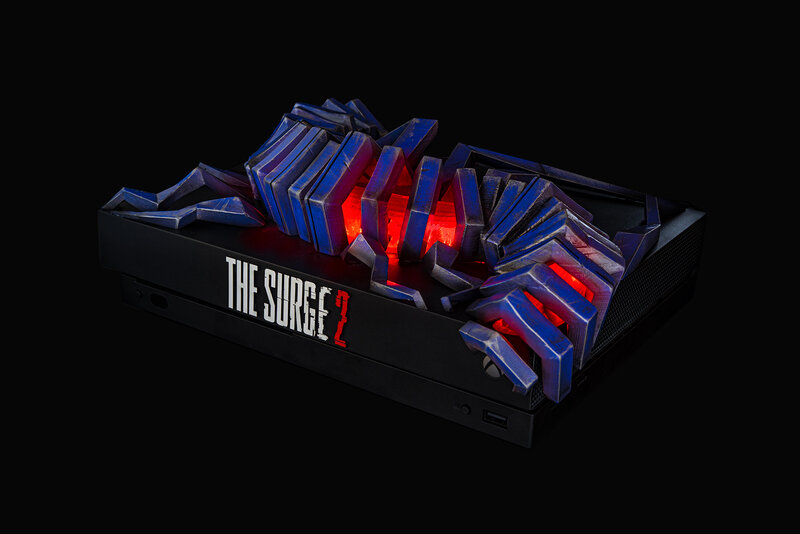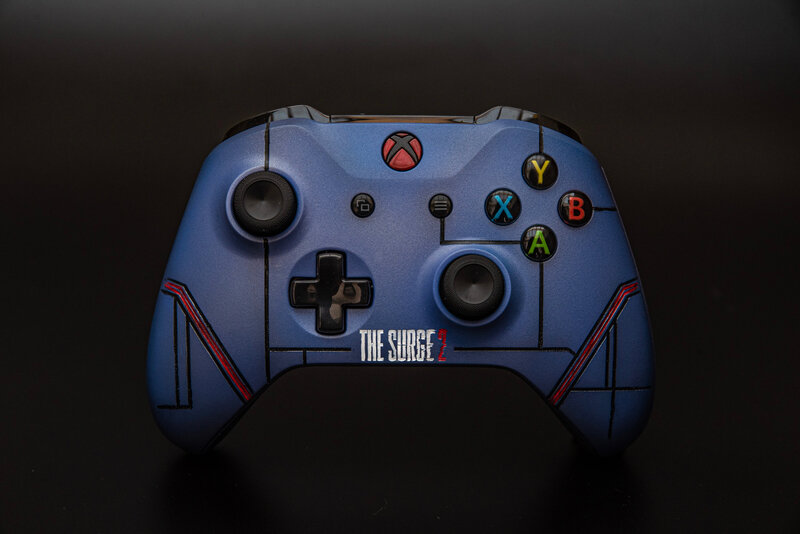 💡Beau petit « prototype » domptant les leds grâce à un ingénieux système qui ne prend que 2mm sous la coque de la console. Il nous aura fallu DES mois pour développer un rendu homogène de diffusion et safe à long terme. Sans bloc d'alim externe, ni batteries. @RandomPrintSPRL pic.twitter.com/5TVlc0j4Sh

— Vadu Amka (@VaduAmka) 26 septembre 2019

Concept art : Random Print
3D Team : Louis C. , Stéphane J. & Amandine D.
Cutting & Print technicians : Amandine D. & Louis C.
Crafting & Painting : Vadu Amka & Elsa R.

Une collaboration Random Print - Studio x Focus Home Interactive sur World War Z Game !

Que la horde soit lâchée !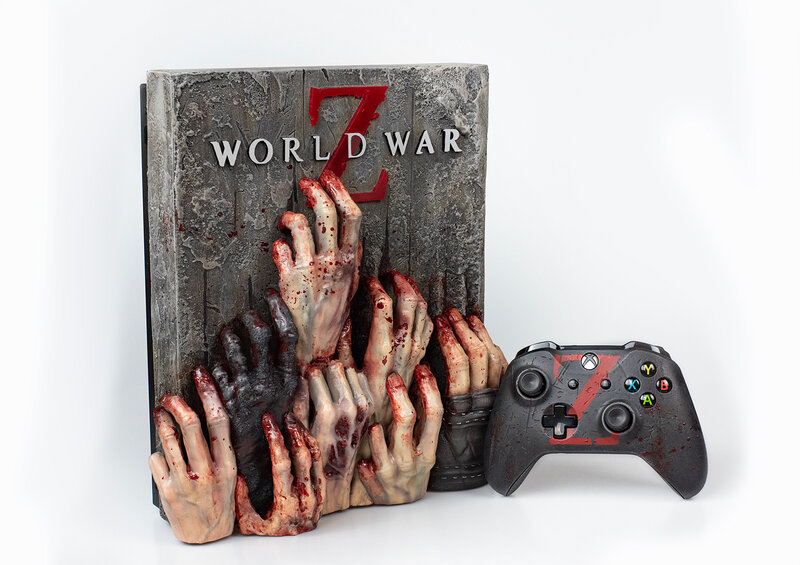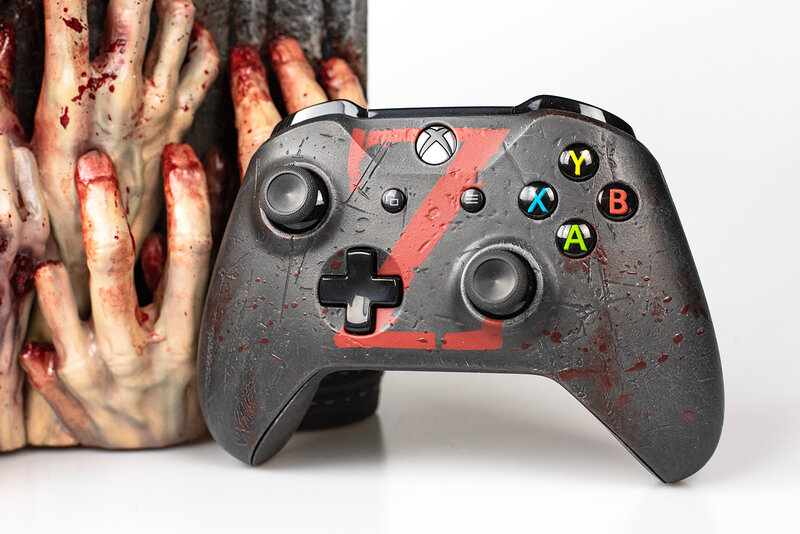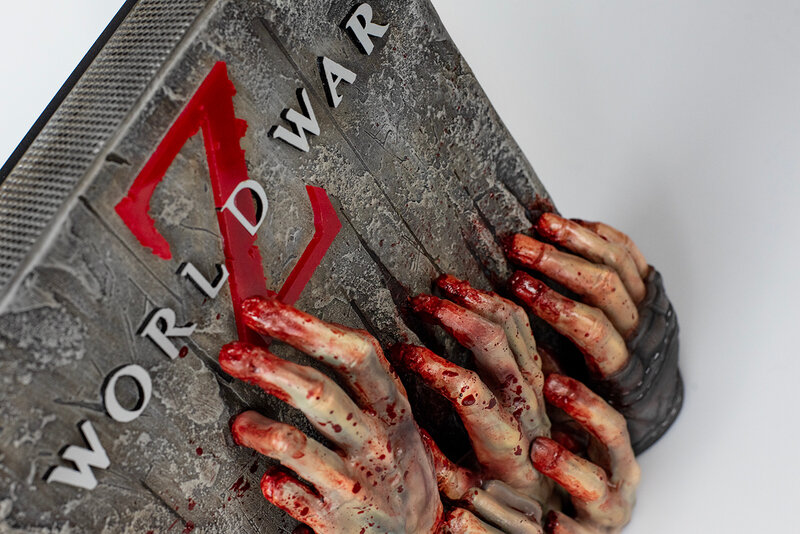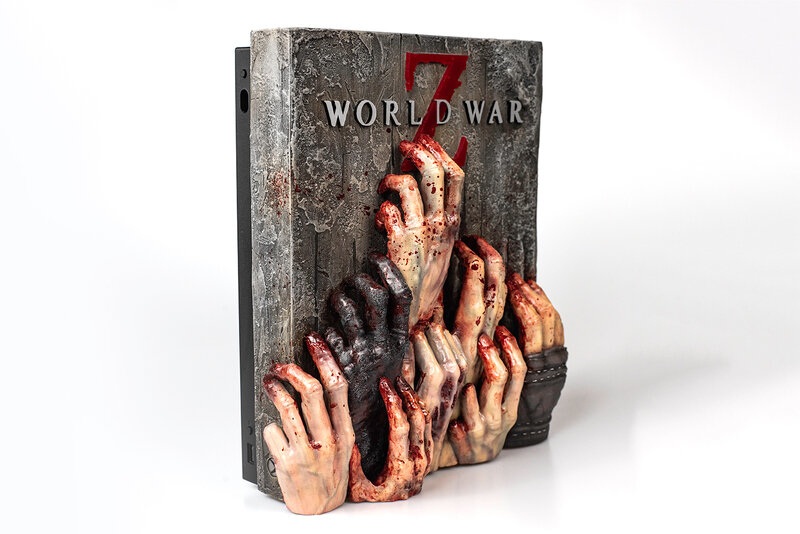 Concept art Random Print Studio
Scultp & settings : Stéphane J. - . Amandine D.
Technical : Louis C. - Amandine D.
Paint : Elsa R. - Vadu Amka
Assembly & texture : Elsa R. - Vadu Amka
Photography : Louis C.
Nous sommes 10 artistes internationaux à avoir collaboré avec Geek-Art et Ubisoft à l'occasion de la sortie de Far Cry 5. Retrouver chacune de nos intérprétations sur la page Facebook de Geek-Art et Ubisoft.
Pour cette opération officielle Far Cry 5, une Playstation 4 a été réalisée en hommage à la franchise. Celle-ci est en bois de noyer, découpée et gravé sur le thème du jeu. Ce design a été réfléchi pour être un modèle unique. La console n'est pas déstinée à la vente.

Réalisation de la gravure avec Random Print.

© 2018 Ubisoft Entertainment. All Rights Reserved. Far Cry, Ubisoft and the Ubisoft logo are registered or unregistered trademarks of Ubisoft Entertainment in the US and/or other countries. Based on Crytek's original Far Cry directed by Cevat Yerli. Powered by Crytek's technology "CryEngine".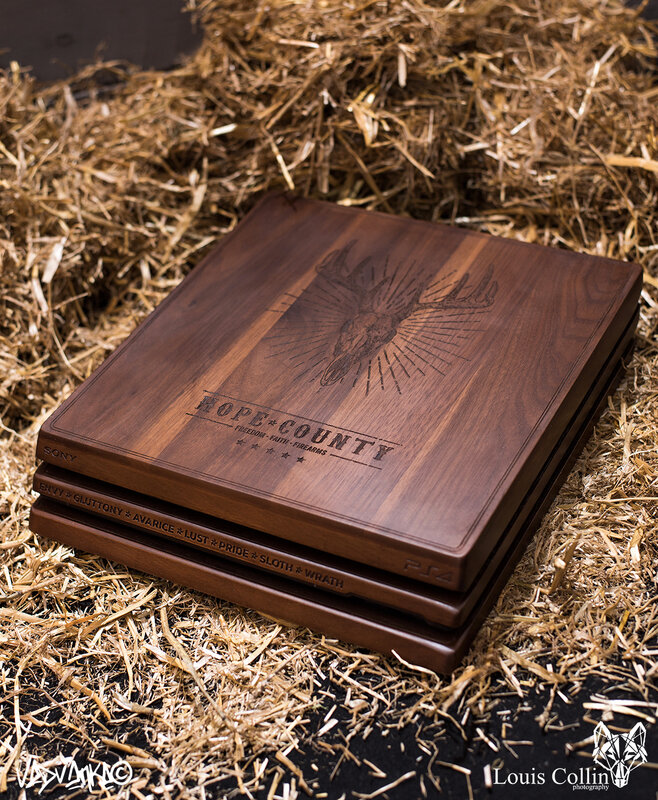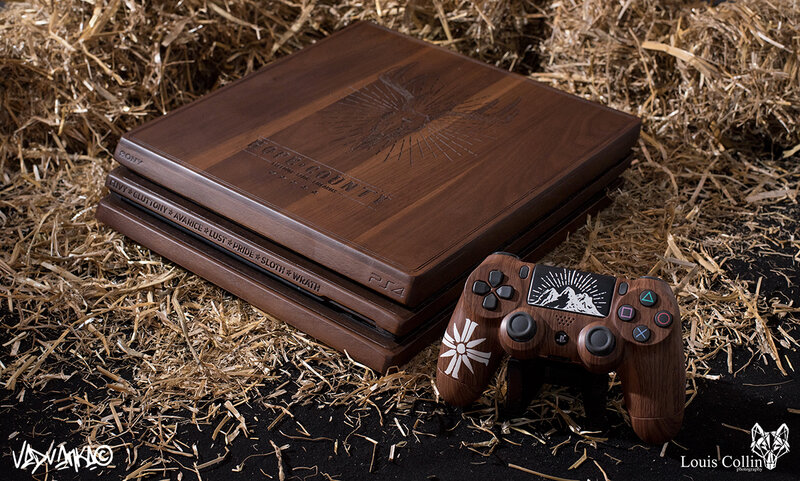 Découvrez maintenant une partie du Making-of derrière la réalisation de la PS4 FAR CRY ! Il s'agit de ma participation avec 9 autres artistes internationaux pour la sortie de Far Cry 5 !
PlayerUnknown's Battlegrounds est un jeu vidéo multijoueur en ligne de type battle royale développé par l'éditeur Bluehole et dès maintenant disponible sur les Xbox One et Xbox One X .

Ce mois-ci, deux exemplaires de consoles PUBG ont été réalisés pour la sortie du jeu. L'une d'entre elle est actuellement à gagner auprès de Smartoys. Pour participer à leur concours, il suffit de vous rendre sur leur page facebook et de suivre les règles du concours. A Winner Winner Chicken Dinner !

Réalisation : plastique & résine, peinture acrylique, vernis UV.
Logos réinterprétés pour ces deux consoles. Création du modèle 3D sur base d'un concept et impression par la team Random Print .
Post production manuelle.


COPYRIGHT ©2017 PUBG Corporation. ALL RIGHTS RESERVED. PLAYERUNKNOWN'S BATTLEGROUNDS is a registered trademark, trademark or service mark of PUBG Corporation and its affiliates.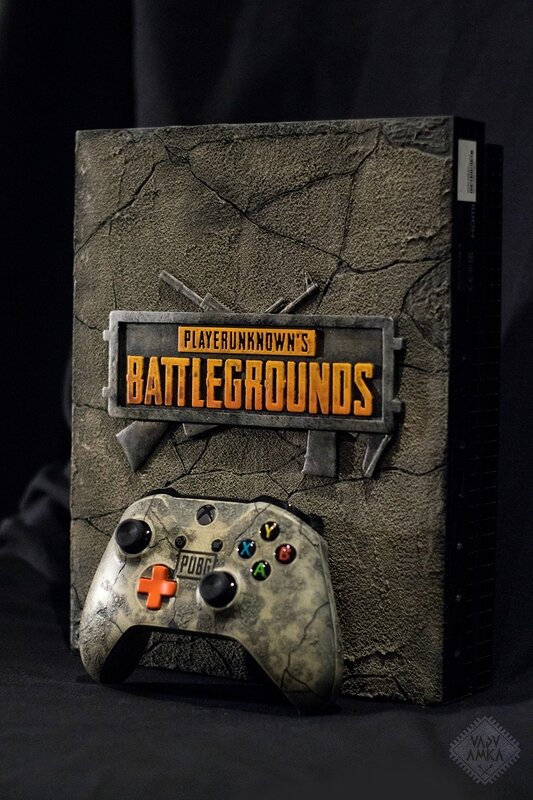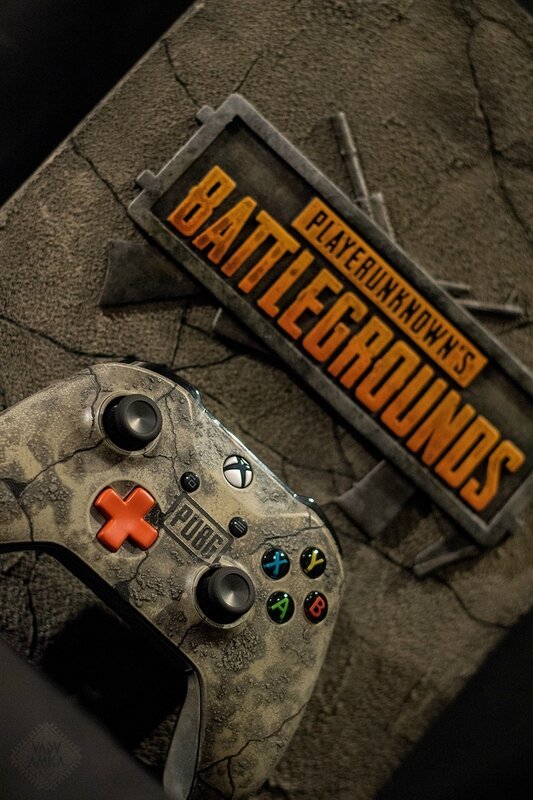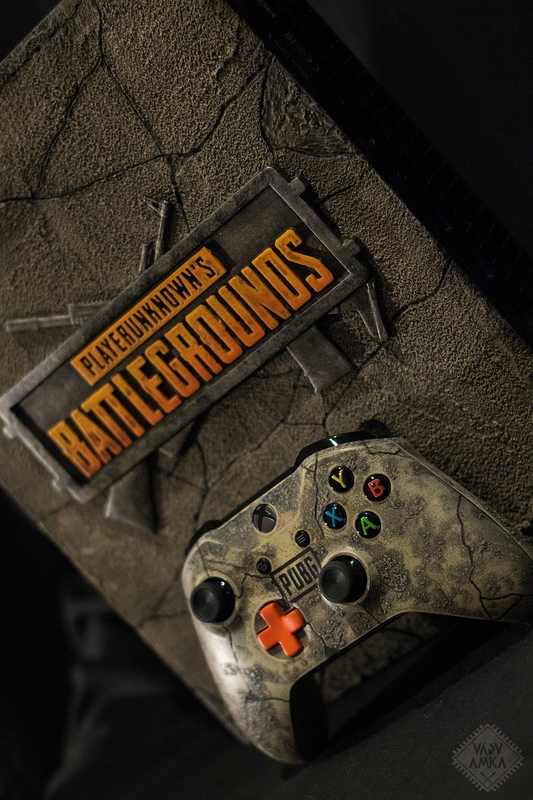 The White or the Dark side of the force ?
Fan de Star Wars, ce duo de console est peut-être pour toi !
Création de deux consoles customs Playstation 4 à l'occasion de la sortie du film : Star Wars : le dernier Jedi ce 13 décembre 2017. Les machines sont actuellement à gagner au Saturn Luxembourg-City . Il s'agit de machines promotionnels non destinées à la vente et en parfait état de fonctionnement. Réalisations en resine, acrylique et metal (Empire).

May be the force with you !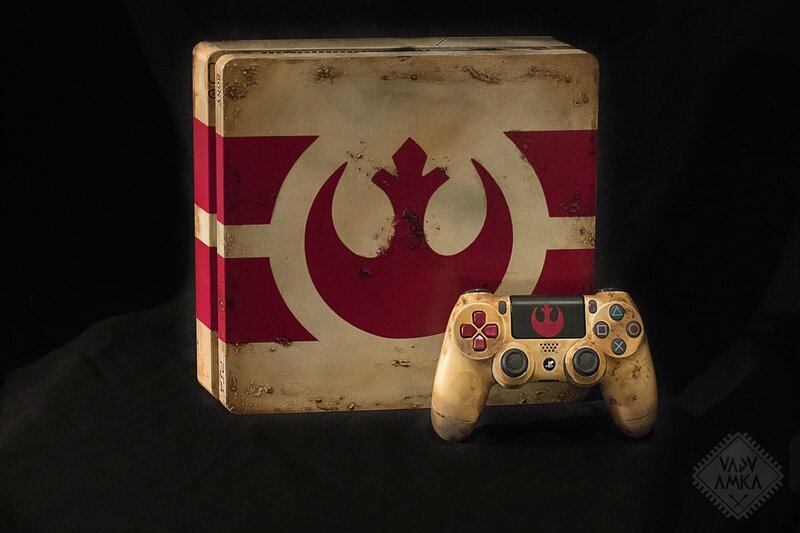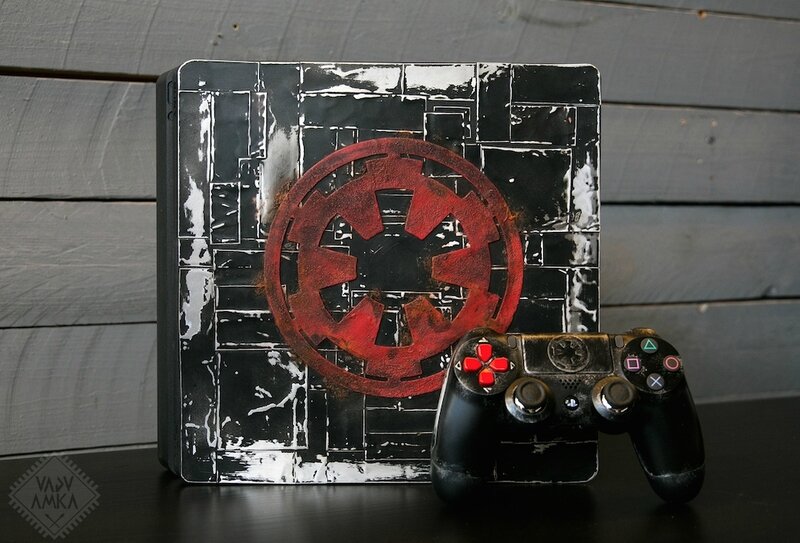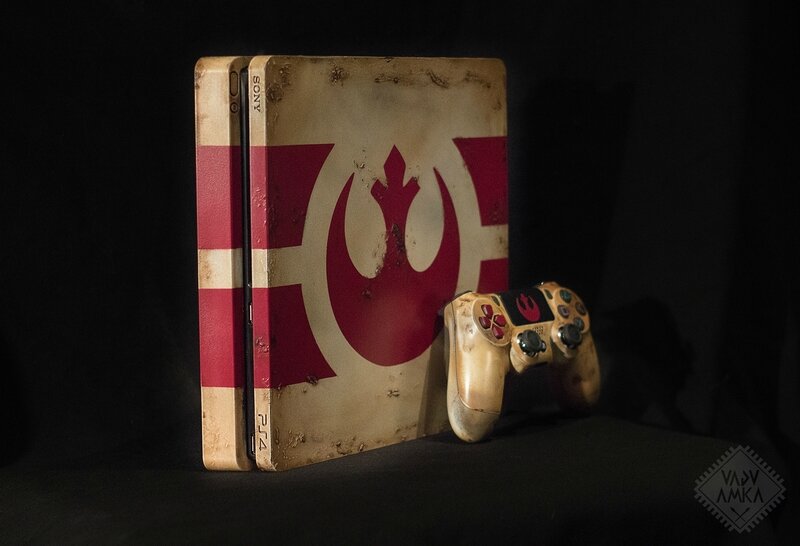 Cette console a été réalisée avec la participation de BANDAI NAMCO Entertainment et spécifiquement pour la sortie du jeu. Il s'agit d'un modèle unique dont le cache du disque est en bois de palissandre, ciré. La typographie de jeu a été reproduite le plus fidèlement possible, avec des marques d'usures et un reflet légèrement cuivré, métalisé. La partie inférieur est en aluminium brossé et martelé.

Vous pouvez participer au concours ici via l'application Facebook pour tenter de gagner cette console custom unique créée spécialement pour la sortie de DARK SOULS III ce 12 avril, en Europe !

Dark Souls™ Ⅲ & ©BANDAI NAMCO Entertainment Inc. ©2011-2016

Photography by Blind_sea [If you use the pictures, please mention the artist & photographer]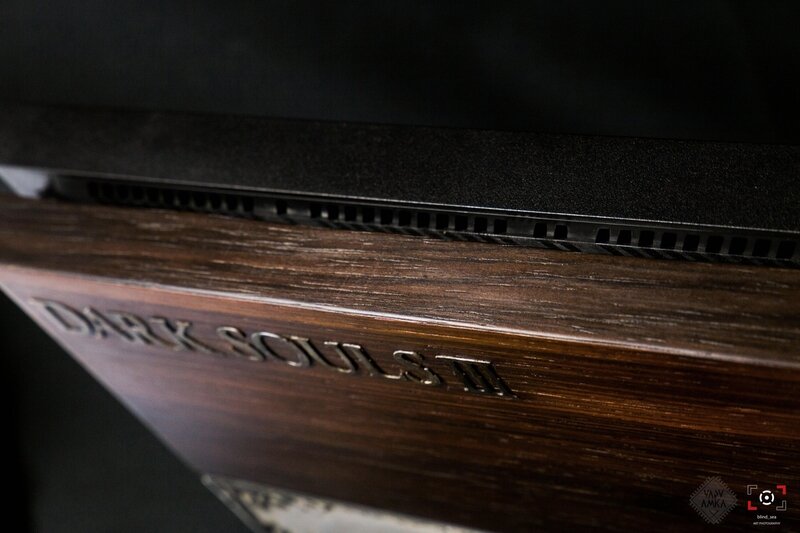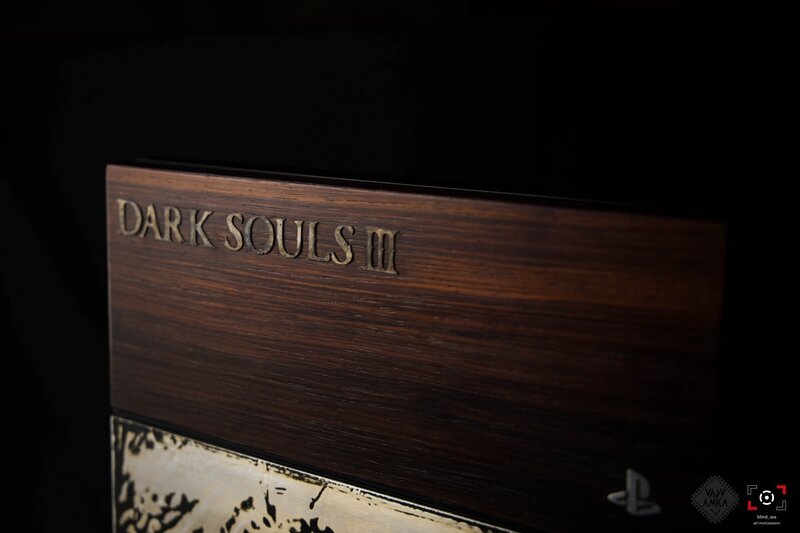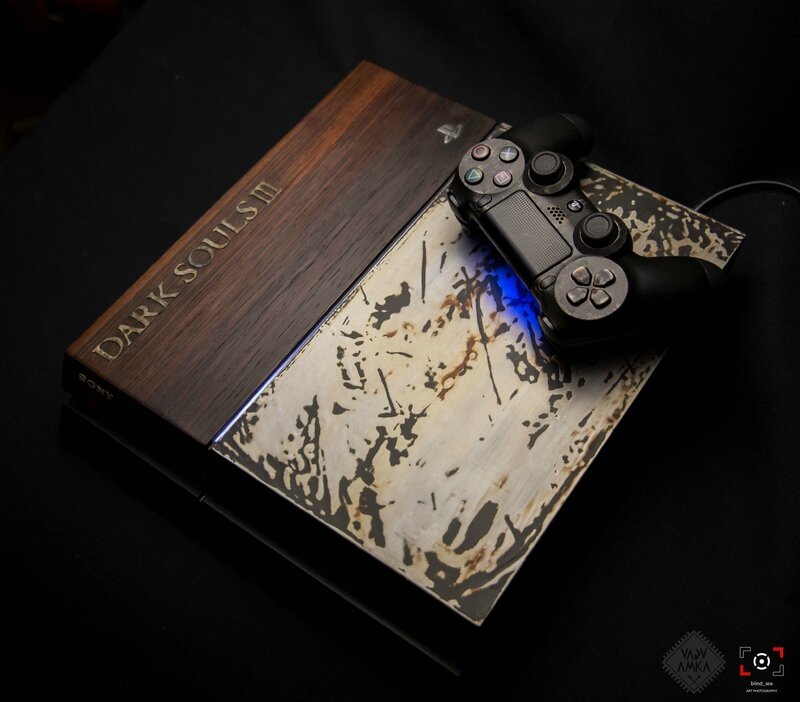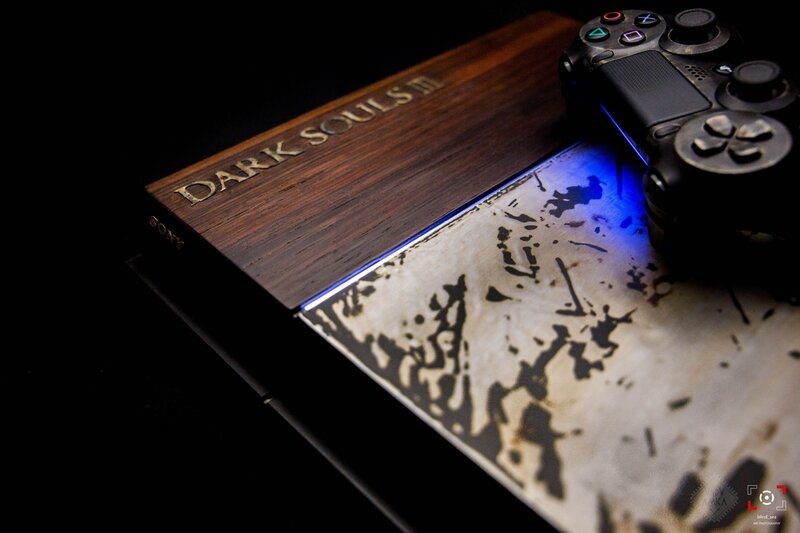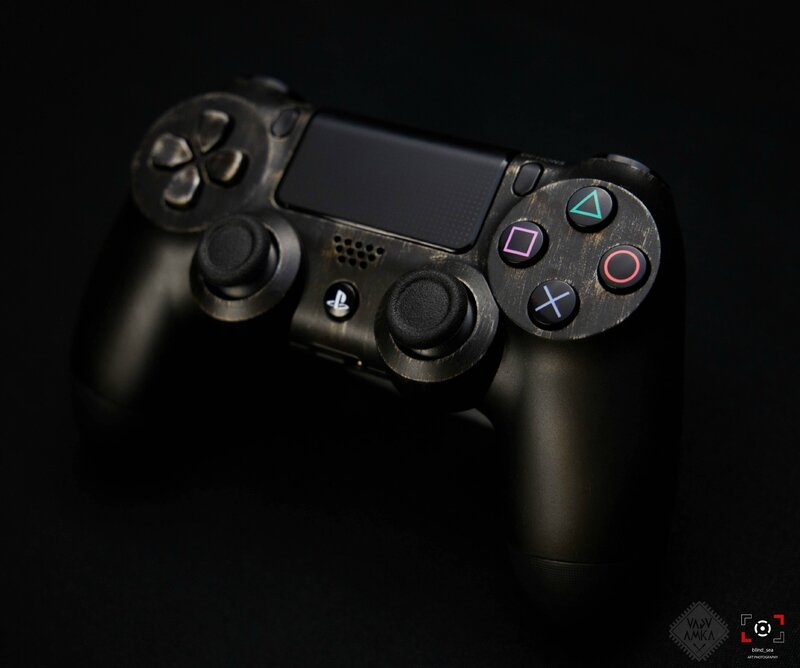 Ma première réalisation sur une manette Xbox One, la composition est entièrement issue de l'univers de Tomb Raider.
Il s'agit d'une manette d'exposition, un exemplaire unique non destiné à la vente.
Vernis : Satiné & Brillant
My first realization on Xbox One controller, entirely based on the Tomb Raider universe.
This is a unique display controller not meant to be sold.
The varnish has a glossy Satin finish.

Artwork original Rise of the Tomb Raider - Tomb Raider ® Square Enix Ltd.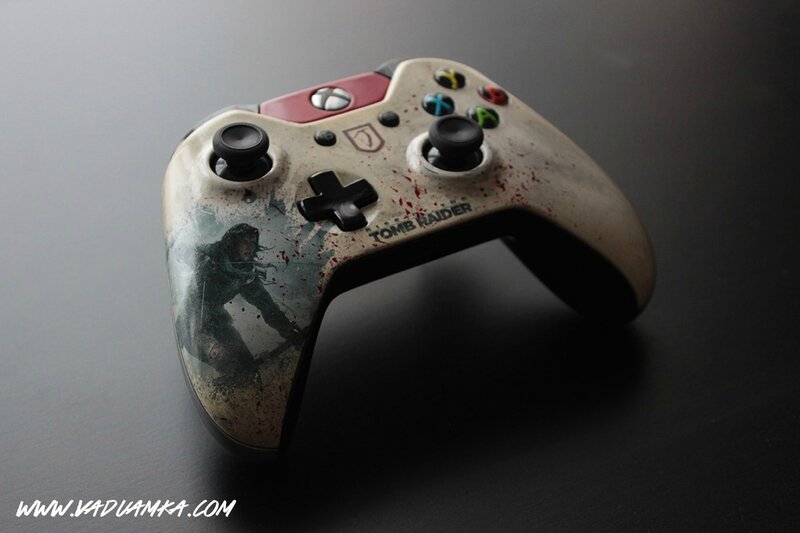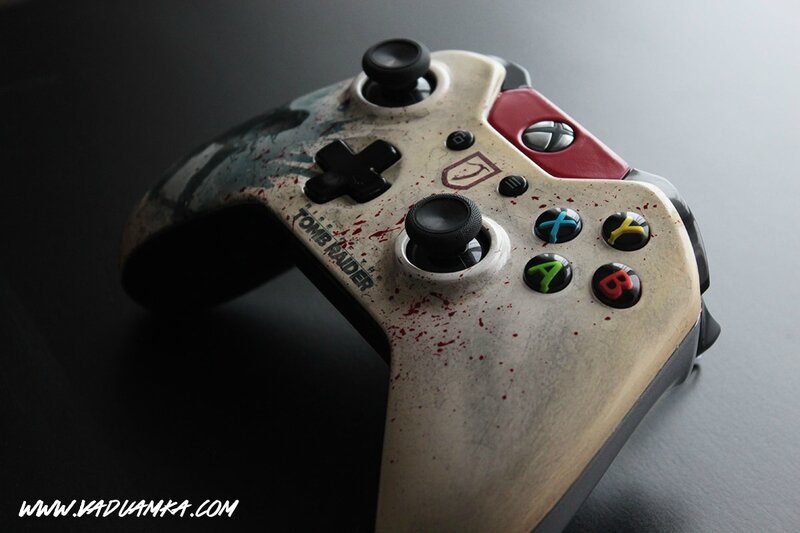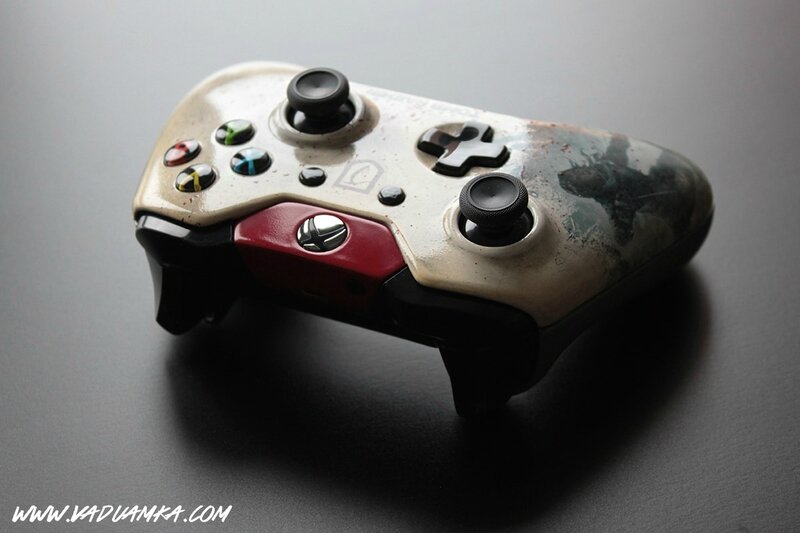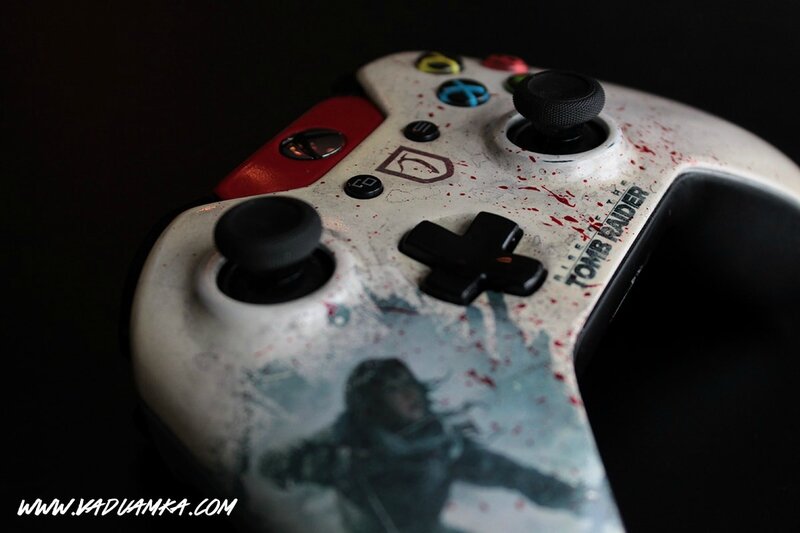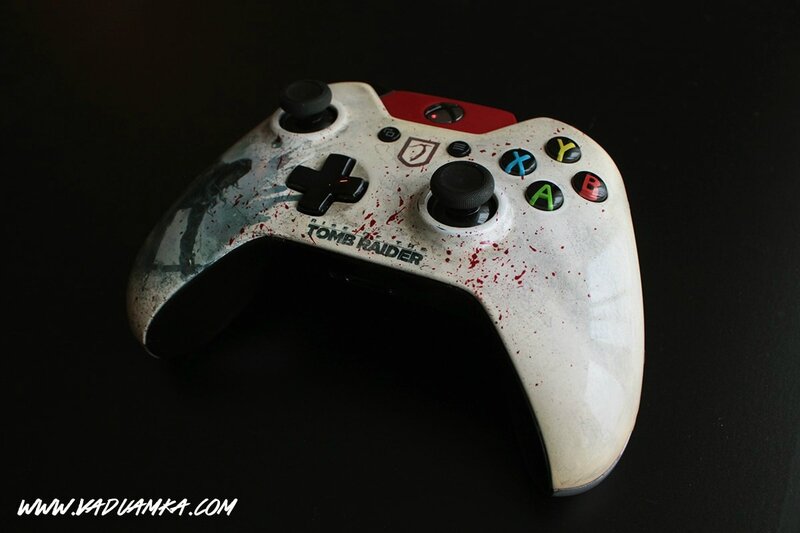 Nouvelle console sur le thème de Pokémon, il s'agit cette fois des ruines Zarbi (Unown en anglais), La console a été réalisé pour un certain "Gogetoad", son pseudo est écrit en alphabet Zarbi au dos de la console. Les boutons A et B sont eux aussi déclinés de la même façon. A l'avant de la console on peut reconnaitre la carte de Kanto et à l'inverse derrière, Johto. Pour la petite annecdote, j'ai réalisé en 2014 une console Pokémon rouge et bleue et Togepi, annonçant la suite de la série de manière chronologique par rapport à la série TV et aux jeux vidéo. Cette console reprend donc l'univers de Or et Argent... :) Je réserve autre chose pour Suicune.

Le but de cette création était de donner l'illusion d'un objet antique et mystérieux issu des ruines.

Et si l'envie vous prend de rejouer à Pokémon en 2019 sur Android, jetez un oeil à ce top 6 des applications en rapport avec la franchise. Et oui ! Il n'y a pas que Pokémon Go dans la vie :)


---
New console on Pokemon's theme ; This time it's about Unown Ruins. This console has been made for "Gogetoad", his nickname is written in Unown alphabet in the back of the console. A and B buttons are also written the same way. On the front of the console, we can easily recognize Kanto's map, wheareas Johto's is on the back. One small anecdote: in 2014 I had made another Pokemon console (blue, red and Togepi), annoncing that this serie would continue chronologically and follow the TV show and video games. Thus, this console is using Gold and Silver universe... émoticône smile I am going to do something else for Suicune.

The purpose of this creation was to give te illusion that it's an old and mysterious artefact found in the ruins.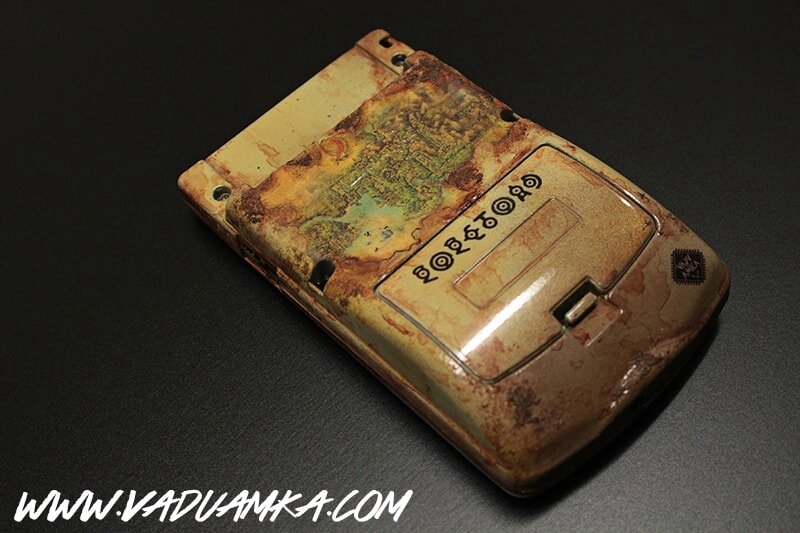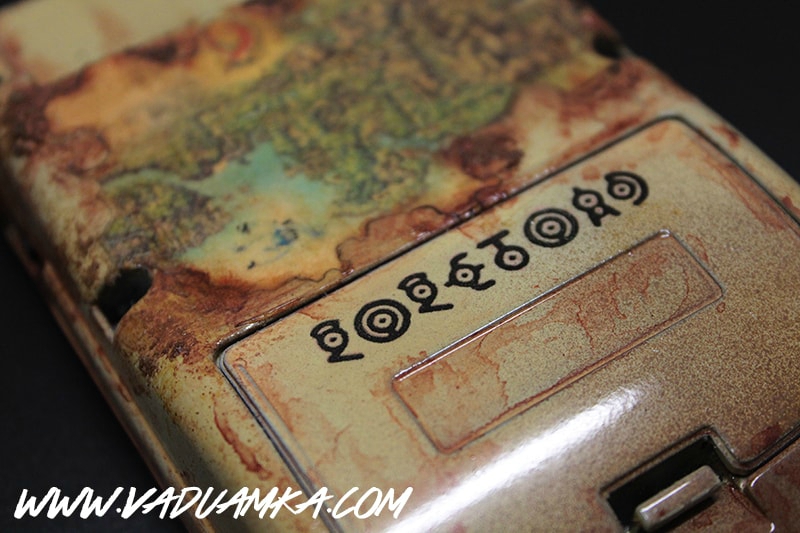 Voici une petite nouveauté pour alimenter les actus du blog,

Ma troisième réalisation sur le thème de Skies of Arcadia,
Il s'agit d'une commande passée à la galerie Kochi courant le mois du février 2015.
Cette fois on part sur la base d'un aéronef qui a subi pas mal d'altérations.
J'ai utilisé du bois de tilleul pour le capot, celui-ci ayant été découpé au préalable à l'aide d'un outil de découpe rotatifs. (Dremel). Les imperfections du bois ont été rebouchées à l'aide d'une pâte de bois clair, poncé et teinté à la lasure acajou, et peint en gris bleuté, poncé de nouveau pour un aspect plus dégradé et vieilli. Le capot est ensuite ciré et imperméabilisé. Dans celui-ci se loge une grille à petites mailles, oxydée à l'aide de pigment Ocre, Terre d'ombre naturelle = oxyde de fer synthétique. Le reste est un jeu de trompe-l'oeil avec plusieurs jus de noir et de brun. Ce qui semble être un anneau métallique est en réalité un bandeau en cuir traité et lui aussi passé à la peinture oxydée.
Les slots à manettes ont été réalisés par le même procédé que le capot.
Le logo a été reproduit en plexiglass et remoulé à l'aide de Silicone Silgum en pâte 2 composants. Ensuite coulé en résine et peint.

---

Hello!
Here is the latest news feed of my blog.

It is about my third creation on the « Skies of Arcadia » theme.
That is an order for the Kochi gallery placed back in February.
The main idea behind the custom was to make it look like a heavily damaged spacecraft.
I used lime wood I previously cut with a rotating cutter (called a dremel) for the hood. All the wood's imperfections were first resealed with some light color wood paste, then sanded stained with mahogany stain. After that, I painted it with a blue and gray color before sanding it one more time to give it a more degraded and aged look. I waxed the hood and made it waterproof. I put inside a small grid, oxidizing it with ocher pigment called « natural earth shade » (synthetic iron oxyde). All the rest is an optical illusion made from several black and brown juices. What seems to be metal ring is, in fact, a leather band treated and painted with oxyde paint. I used the same pattern for the gamepads slots. I finally reproduced the logo with plexiglass and remolded it with some 2-component silicone slim before molding it in resin and painting it.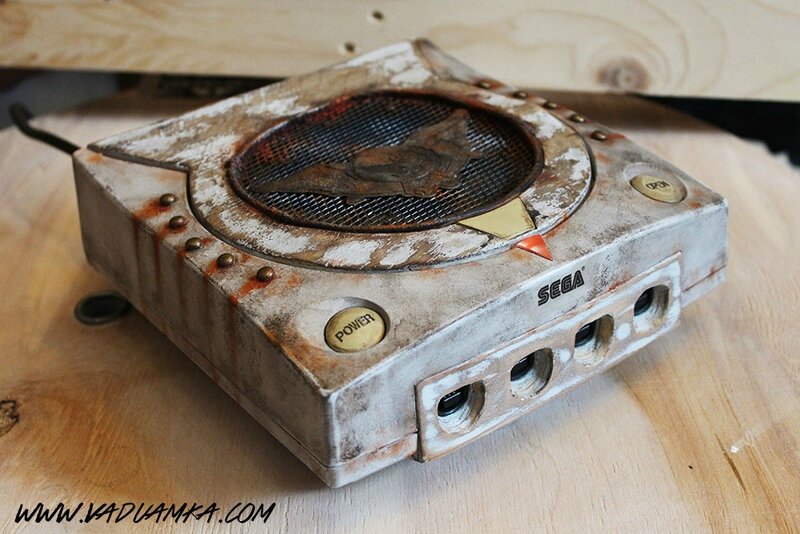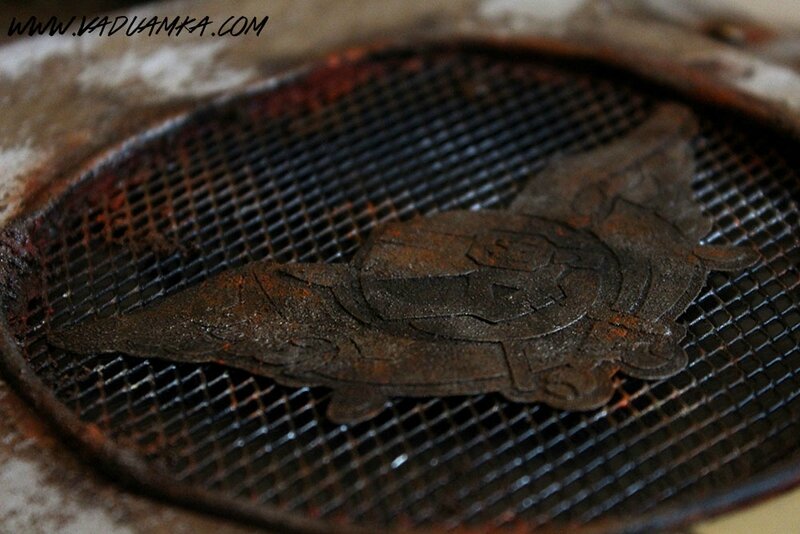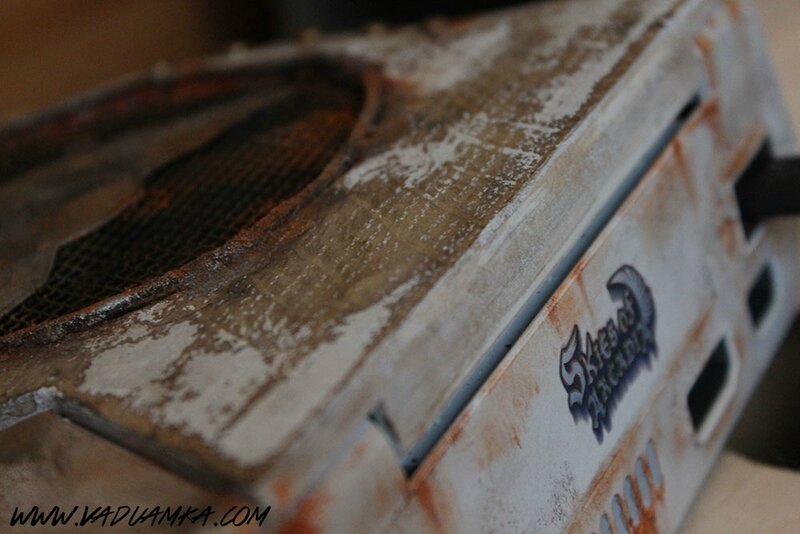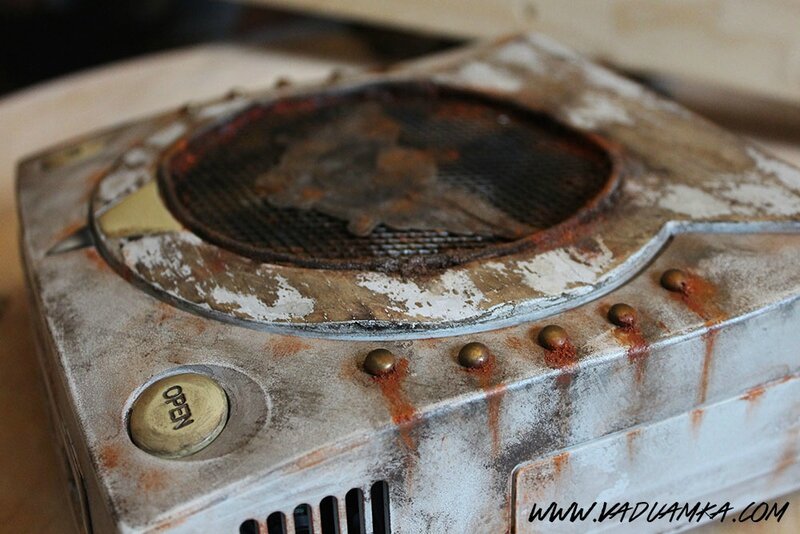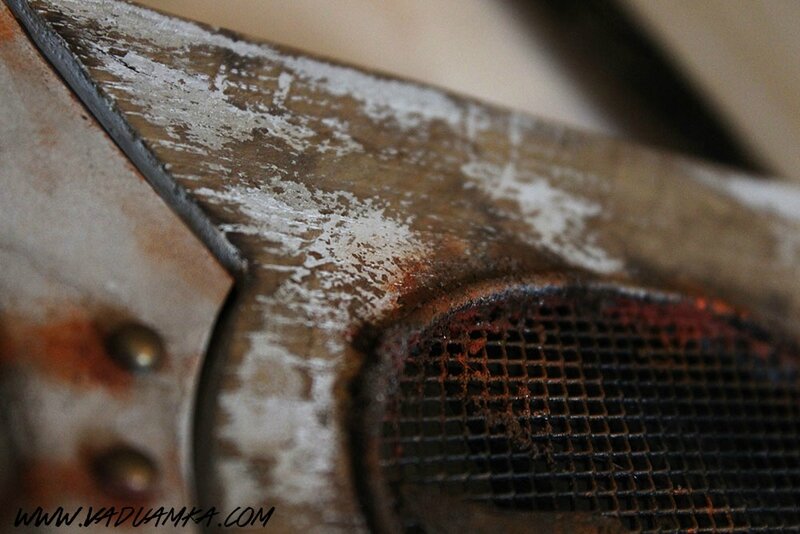 Une Nintendo 64 de plus sur le thème de The Legend of Zelda, Ocarina of Time.
Un cadeau surprise commandé par la copine de Mika', car ce jeune homme est un grand fan de la licence et vous êtes très, très nombreux !
Les pierres ancestrales étant des objets de quête très importants dans le jeu, j'ai choisi de rappeler leur forme sous le logo de la console, pour rappel, il s'agit de l'Émeraude Kokiri, du Rubis Goron et du Saphir Zora. Le logo de la console, lui aussi a été refait pour se rapprocher de la typographie de la saga. Un petit clin d'oeil supplémentaire pour faire plaisir à cet ami. Le reste de la technique a été abordée dans les articles précédents, le bouclier a été remoulé en résine et un chouïa rendu plus fin et anguleux. Le modèle de base vient de la forge de MetalFGS . Le doré des touches est usé et brillant pour être homogène avec le reste de la console qui est plutôt ancienne. Et La Triforce est rappelée sur la manette.

---

A Nintendo 64 based on The Legend of Zelda, Ocarina of time.
It's a surprise gift ordered by Mika's girlfriend. He's a huge fan of this licence, just like so many of you, Guys.
The ancestral gems being very important items for the main quest, I chose to remind their shape under the console's logo. As a reminder, they are the Kokiri emerald, the Goron ruby and the Zora saphire. The console's logo was also remade in order to stay close to the saga's typography.
A little additional wink for this friend to please him.
I have already explained the techniques I used in previous publishings, the shield was remolded in resin, for a little bit thinner and angular rendering.
The basic model comes from the MetalFGS forge. The gold aspect for the buttons is worn and shiny to match with the rest of the console, that is rather ancestral. At last, the Triforce is remembered on the game pad.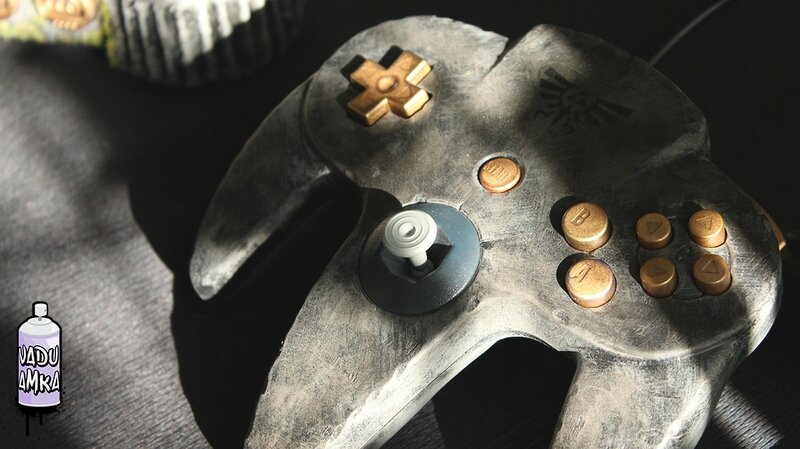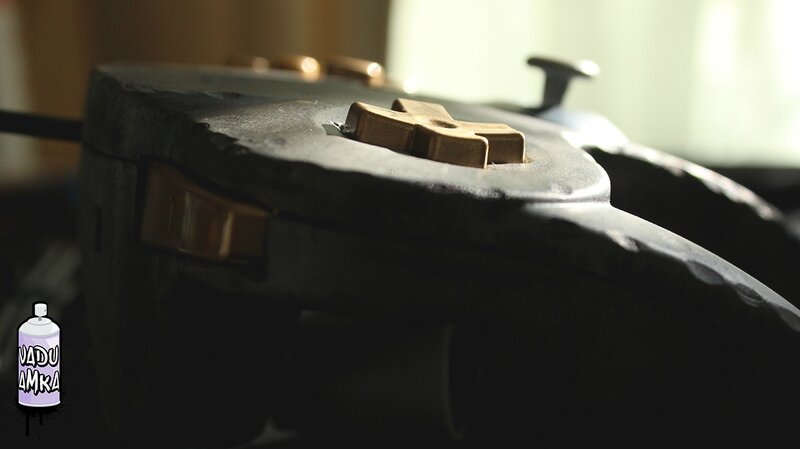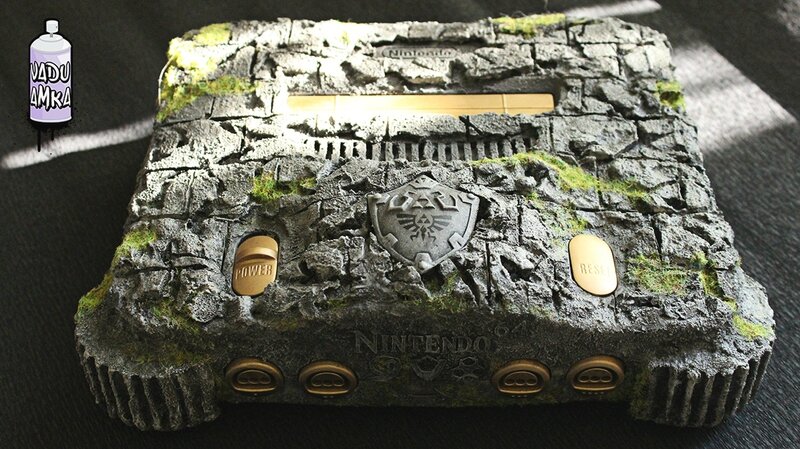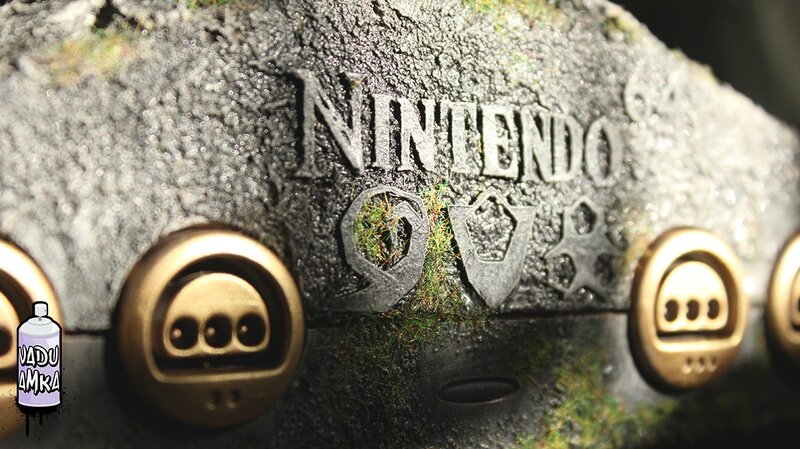 Happy Birthday Mika!