D'ailleurs devinez qui est de retour ? On l'avait gardé bien au chaud pour sa sortie ! La Nintendo Switch a aussi droit à son custom Spyro Reignited Trilogy tout comme la Playstation 4 en novembre dernier ! Dans le même esprit que les consoles précédentes mais tout de même adaptés au petit gabarit de la Nintendo Switch. Le diamant vert en forme de dragon est plus que resplendissant avec sa finition full gloss. Les teintes sont plus contrastées à l'image des couleurs funs que peuvent avoir certaines éditions de consoles de chez Nintendo. Les petites gravures sont toujours présentes tout comme le chouïa de dorure dans les ornements extérieurs.

La console a été produite dans une nombre très limité. Elles seront à gagner sur les réseaux sociaux !

Réalisé en collaboration avec Activision x Random Print Studio

© 2019 Activision Publishing, Inc. ACTIVISION, SPYRO, SPYRO REIGNITED TRILOGY, SPYRO THE DRAGON, SPYRO 2 RIPTO'S RAGE! and SPYRO YEAR OF THE DRAGON are trademarks of Activision Publishing, Inc.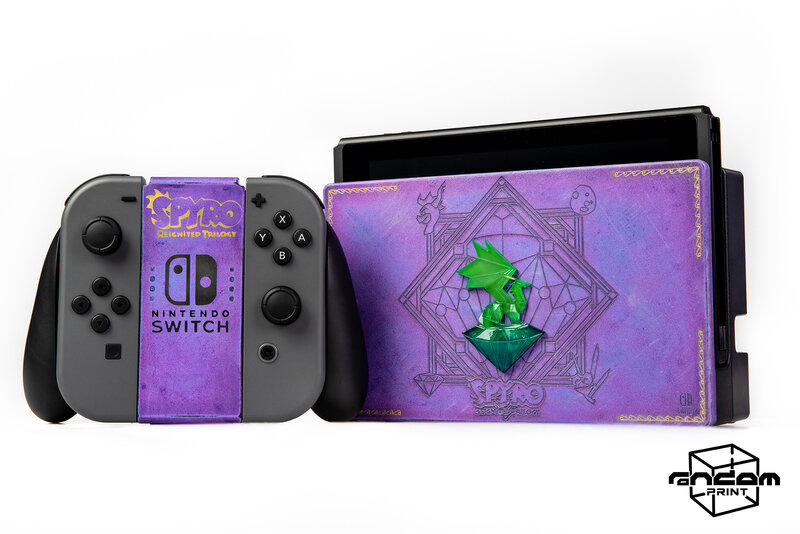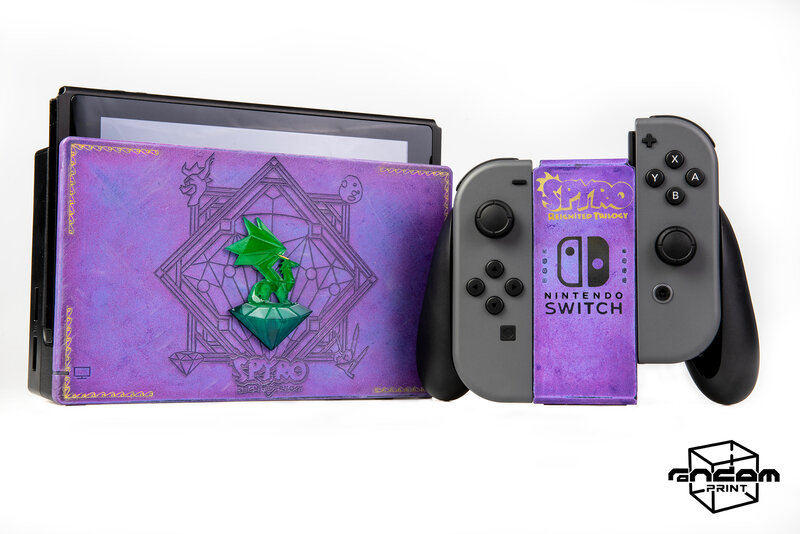 Il y a quelques mois, nous avons entamé une collaboration avec Activision sur la création d'une série de consoles au design spécial et rappelant les couleurs de Spyro le dragon ! Ses ornements aux pigments d'or et son dragon de crystal en résine teintée rajoutent un côté authentique à cette console de collection. Nous espérons qu'elle vous ravivera quelques souvenirs sur ce magnifique jeu de notre enfance !
Ce projet a été réalisé en Belgique avec la participation de Random Print Studio .


Et si elle était à gagner ? Ca serait encore plus cool non ?! :)
Et si on vous faisait gagner une PlayStation 4 Spyro exclusive by @VaduAmka ? pic.twitter.com/hx9mQlzfWj

— Micromania - Zing (@Micromania_Fr) 12 novembre 2018
#JeuConcours 🎁|À l'occasion de la sortie du jeu #SpyroReignitedTrilogy 🐲, tentez de gagner avec @Activision une #PS4 customisées aux couleurs de @SpyroTheDragon, avec @VaduAmka 🔥. Pour Participer ➡ RT + follow @Fnac 😀
>>https://t.co/AHWFCPWOd2 pic.twitter.com/xNLiKjooZu

— Fnac (@Fnac) 13 novembre 2018