(2018)
GOLD Legendary 虹 [niji] // GameBoy cartridge customized
with acrylic and resin, epoxy (framed, 25 x 25 cm)
Only 5 pieces / Limited of 5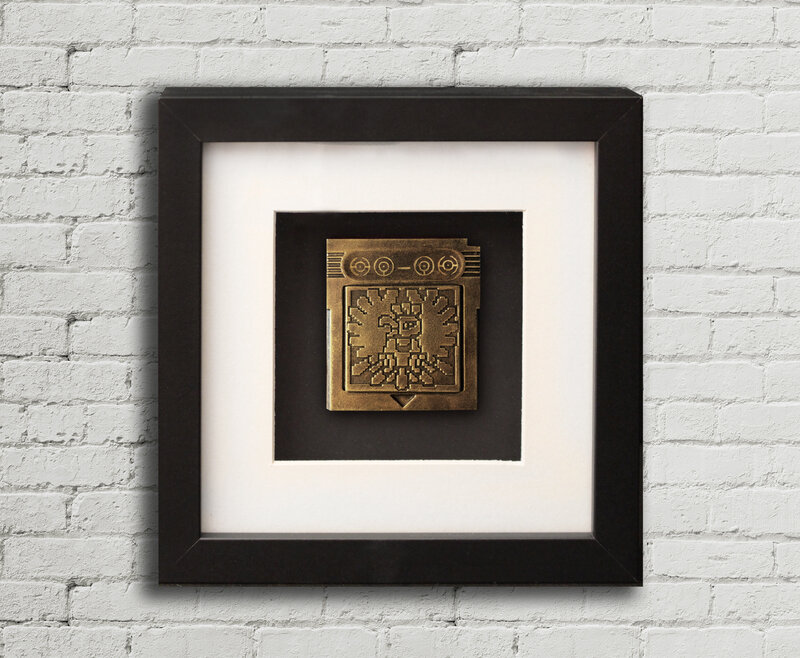 Nouvelle console sur le thème de Pokémon, il s'agit cette fois des ruines Zarbi (Unown en anglais), La console a été réalisé pour un certain "Gogetoad", son pseudo est écrit en alphabet Zarbi au dos de la console. Les boutons A et B sont eux aussi déclinés de la même façon. A l'avant de la console on peut reconnaitre la carte de Kanto et à l'inverse derrière, Johto. Pour la petite annecdote, j'ai réalisé en 2014 une console Pokémon rouge et bleue et Togepi, annonçant la suite de la série de manière chronologique par rapport à la série TV et aux jeux vidéo. Cette console reprend donc l'univers de Or et Argent... :) Je réserve autre chose pour Suicune.

Le but de cette création était de donner l'illusion d'un objet antique et mystérieux issu des ruines.

Et si l'envie vous prend de rejouer à Pokémon en 2019 sur Android, jetez un oeil à ce top 6 des applications en rapport avec la franchise. Et oui ! Il n'y a pas que Pokémon Go dans la vie :)


---
New console on Pokemon's theme ; This time it's about Unown Ruins. This console has been made for "Gogetoad", his nickname is written in Unown alphabet in the back of the console. A and B buttons are also written the same way. On the front of the console, we can easily recognize Kanto's map, wheareas Johto's is on the back. One small anecdote: in 2014 I had made another Pokemon console (blue, red and Togepi), annoncing that this serie would continue chronologically and follow the TV show and video games. Thus, this console is using Gold and Silver universe... émoticône smile I am going to do something else for Suicune.

The purpose of this creation was to give te illusion that it's an old and mysterious artefact found in the ruins.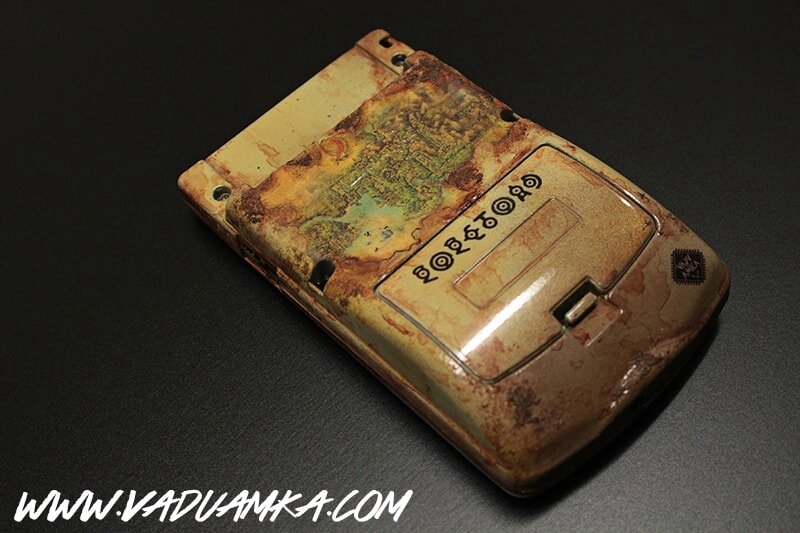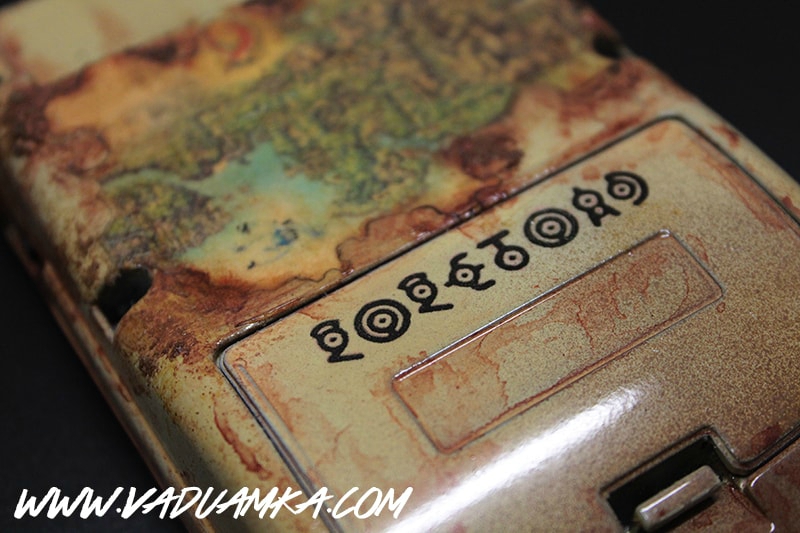 Game Boy Color en honneur du Pokémon N°175 : Togepi !
Petit bundle pack reprenant la première génération. (Oui, oui les cartouches sont comprises!)
Couleur de base signal white - Vernis mat UV
Retroéclairage du logo COLOR, N° de série d'origine.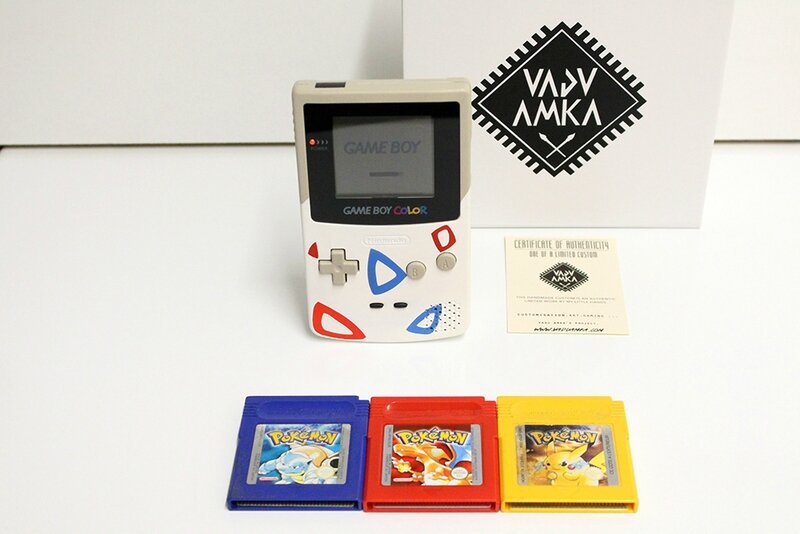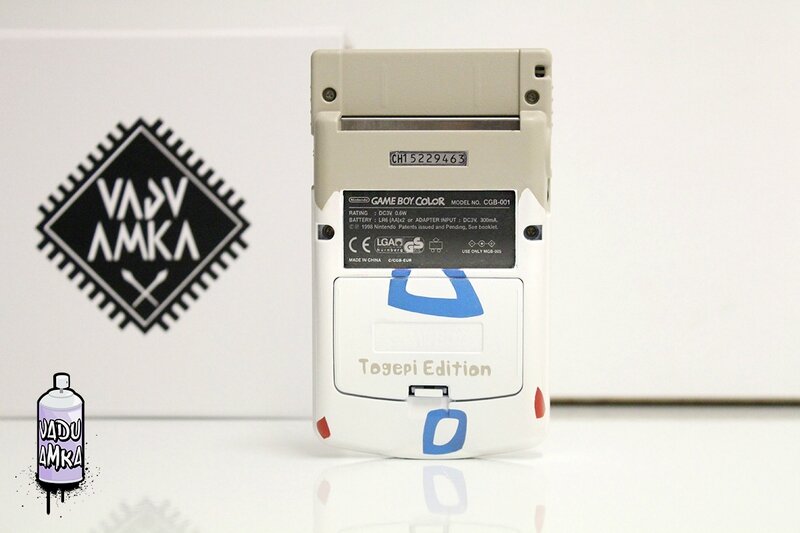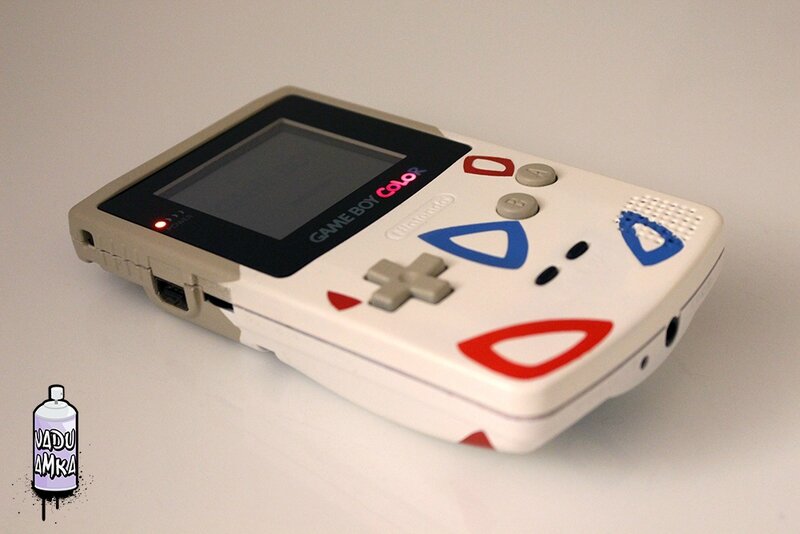 05 mai 2014
Inspiré de la Nintendo 64 édition Pokémon, voici la Game Boy aux couleurs de Pokémon Rouge et Bleu. Il s'agit d'une impression sur mesure, il en va de même pour le montage et la découpe. La console est vernie sur 2 couches. Pour mélanger les techniques, les boutons "pokéball" ont été réalisées à la peinture ainsi que le logo à l'arrière de la GB. La lentille de la console est neuve avec un film de protection. NB : Il y a un Easter egg caché ! Voir même deux ...

Disponible / Available