Bandai Namco Entertainment et Tarsier Studios ont présenté Little Nightmares II durant la soirée d'Opening Night Live durant la Gamescom 2019.

Préparez-vous à repartir dans son univers cauchemardesque ! Prévu pour 2020, le jeu de plateforme et d'exploration contiendra son lot de nouveaux ennemis et environnements. On retrouvera Six accompagnée d'un nouveau personnage : Mono.

La sortie de Little Nightmares II est prévue sur PC, PlayStation 4, Xbox One et Nintendo Switch.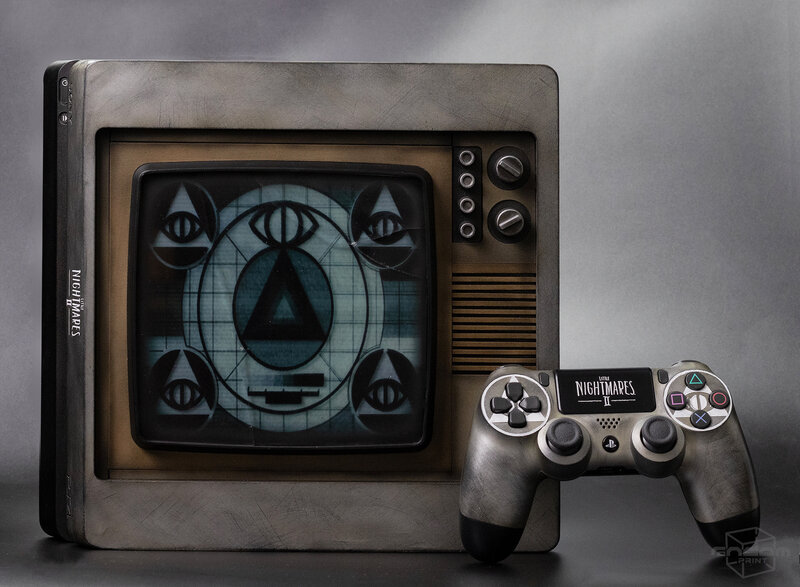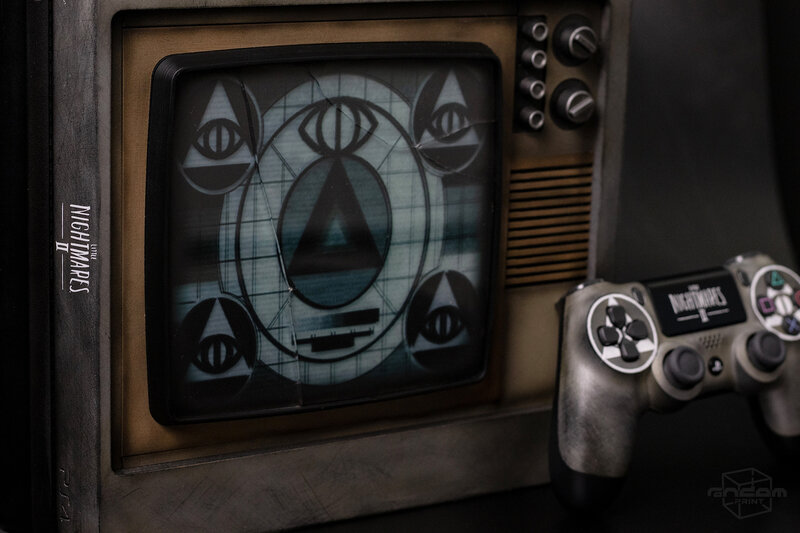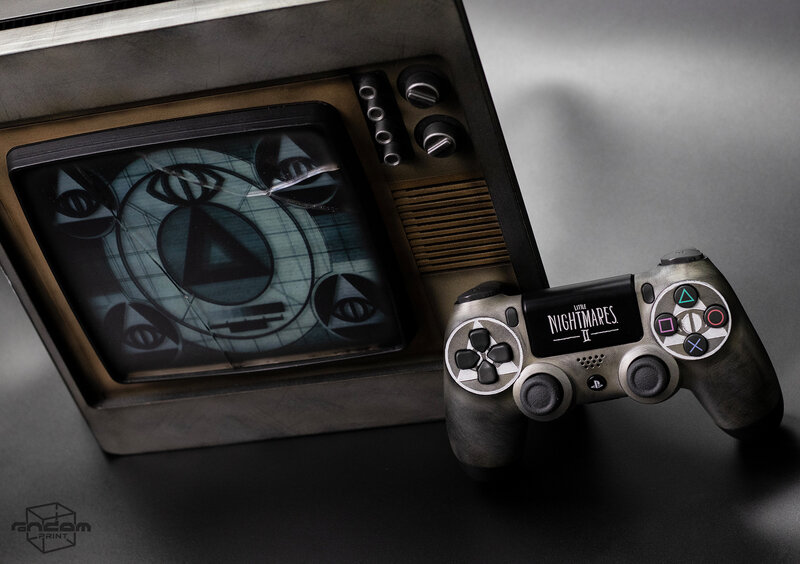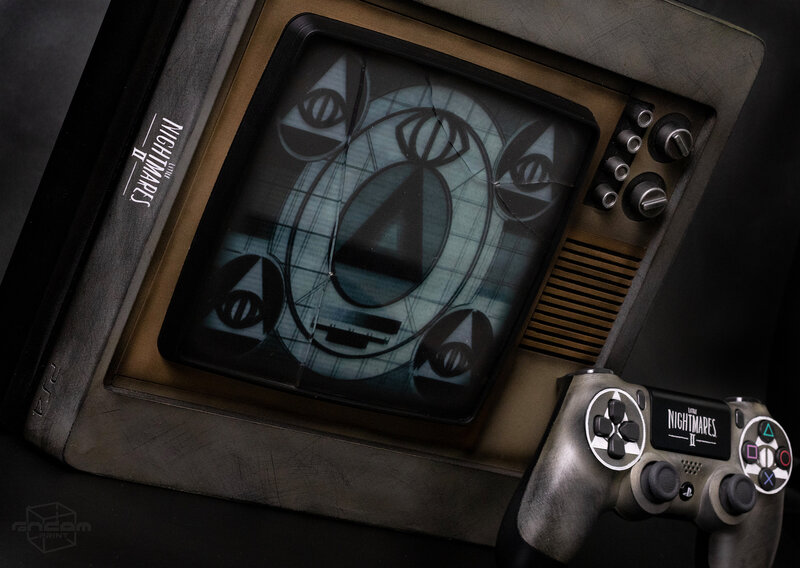 C'est également l'occasion pour nous de démontrer encore une fois le savoir faire locale. L'équipe Random Print au complet a collaboré avec Bandai Namco Entertainment pour confectionner cette Playstation 4 unique en son genre et tout droit tiré de l'univers du jeu !
Concept art : Random Print & Bandai Namco Entertainment
3D Team : Louis C. , Stéphane J. & Amandine D.
Cutting & Print technicians : Amandine D. & Louis C.
Crafting & Painting : Vadu Amka
Screen breaker : Louis alias Arthur C. King of the hammer

Playstation 4 non destinée à la vente. Object unique, promotionelle à gagner lors d'un concours organisé par Bandai Namco Entertainement Europe.

© 2010 - 2019 BANDAI NAMCO Entertainment Europe S.A.S

Notre contribution à la sortie du jeu World of Tanks: Mercenaries (2018), avec mes partenaires de crimes Random Print Studio.
La console "tank" (un peu tout terrain sur les bords faut-il le préciser?) au design rappelant celui du char Crazy Snake x Slapjack est une machine promotionnelle réalisée pour l'éditeur.

Penses-tu encore avoir de la place pour celle-ci dans ton meuble TV ?


© 2018 Wargaming.net Tous droits réservés. « Wargaming.net » et « World of Tanks » et leurs logos respectifs sont des marques commerciales et/ou déposées de Wargaming. « PS4 » est une marque commerciale de Sony Interactive Entertainment Inc.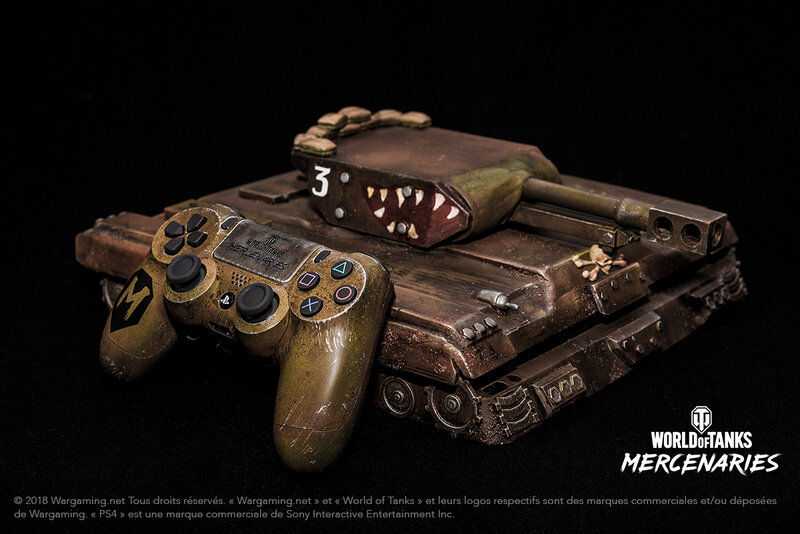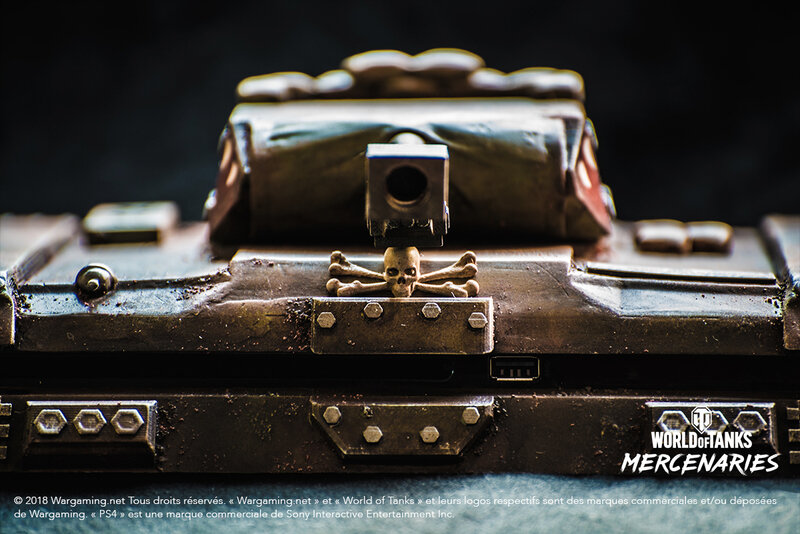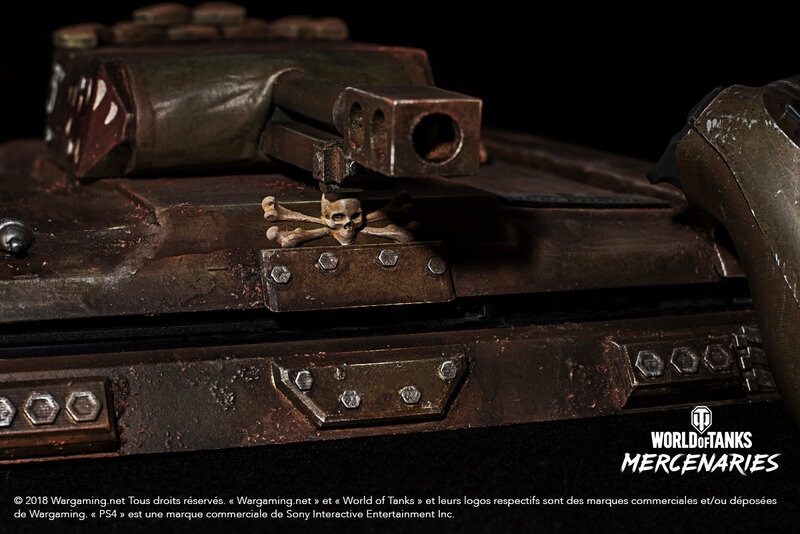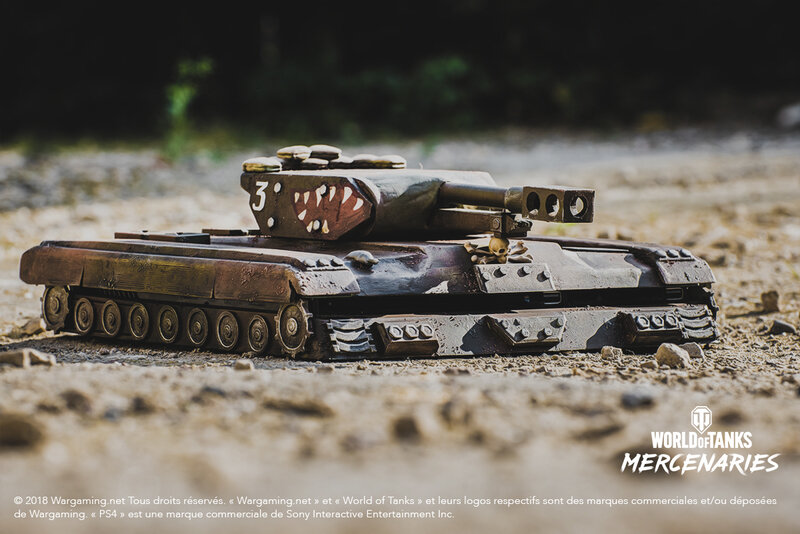 Controller realized for an event during the release of the game.
Unique creation for the Benelux. (via @Smartoys)

Promotional controller, not intended for sale.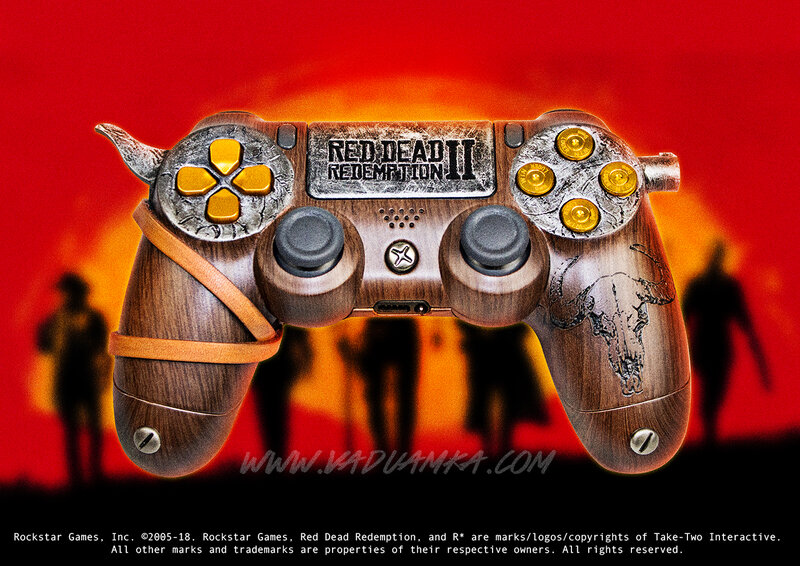 Il y a quelques mois, nous avons entamé une collaboration avec Activision sur la création d'une série de consoles au design spécial et rappelant les couleurs de Spyro le dragon ! Ses ornements aux pigments d'or et son dragon de crystal en résine teintée rajoutent un côté authentique à cette console de collection. Nous espérons qu'elle vous ravivera quelques souvenirs sur ce magnifique jeu de notre enfance !
Ce projet a été réalisé en Belgique avec la participation de Random Print Studio .


Et si elle était à gagner ? Ca serait encore plus cool non ?! :)
Et si on vous faisait gagner une PlayStation 4 Spyro exclusive by @VaduAmka ? pic.twitter.com/hx9mQlzfWj

— Micromania - Zing (@Micromania_Fr) 12 novembre 2018
#JeuConcours 🎁|À l'occasion de la sortie du jeu #SpyroReignitedTrilogy 🐲, tentez de gagner avec @Activision une #PS4 customisées aux couleurs de @SpyroTheDragon, avec @VaduAmka 🔥. Pour Participer ➡ RT + follow @Fnac 😀
>>https://t.co/AHWFCPWOd2 pic.twitter.com/xNLiKjooZu

— Fnac (@Fnac) 13 novembre 2018
Realization on the theme of the famous game : Fortnite.
With your ticket for the LGX 2018 you can win this Playstation 4 Fornite!

Each visitor will be able to participate in a draw and have the chance to win this exclusive machine for the event.
Come and bring all your friends to this wonderful festival taking place for the 3rd time this year ! The largest exhibition in Luxembourg dedicated to Gaming and new technologies that offers this year for the 3rd edition an experience worthy of the biggest world events.

Not for resale / Promotional Only.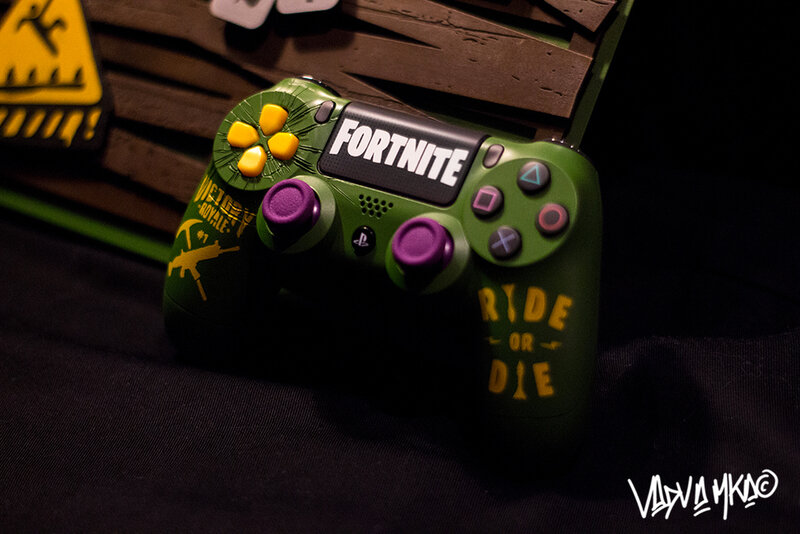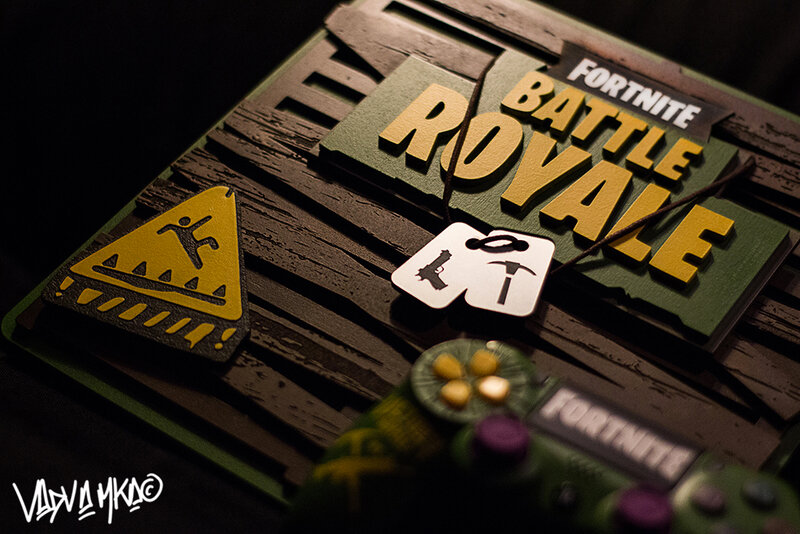 Un peu d'archéologie sur le blog en détérant ce projet d'il y a déjà 10 mois et que j'avais complétement oublié de vous présenter... Le temps passe BEAUCOUP trop vite !

Il s'agissait de ma première collaboration avec Activision Blizzard, Inc pour les Etats-Unis. Ils m'ont commandé en 2017, un cadeau pour les fans de Overwatch ! Une console XBOX ONE S Junkrat réalisée avec les recommandations et l'oeil bienveillant du staff d'Activision Blizzard US. C'était vraiment le projet parfait pour un calendrier de l'avant !

Pour me faire pardonner de ces 10 petits mois de retard, je vous montre quelques photos WIP dans mon atelier lors de la peinture d'un autre modèle de console Junkrat, elle aussi destinée à l'éditeur.
©2018 BLIZZARD ENTERTAINMENT, INC. TOUS DROITS RÉSERVÉS. Toutes les marques citées appartiennent à leur propriétaire.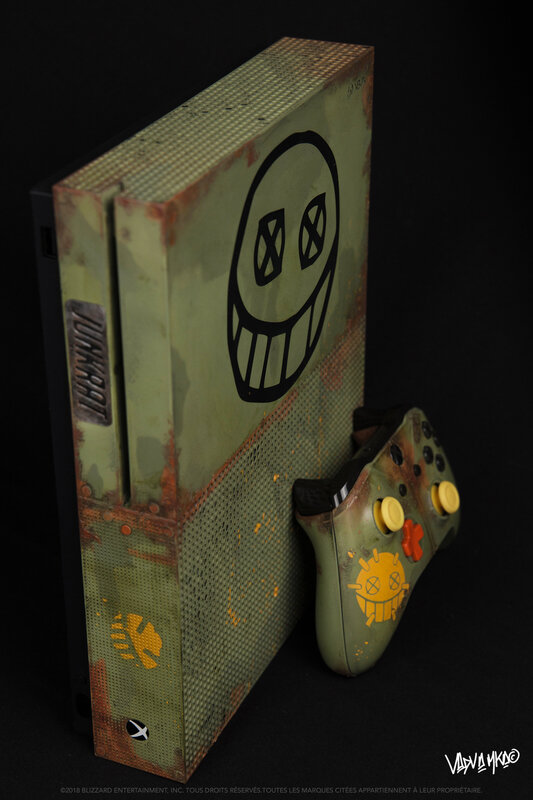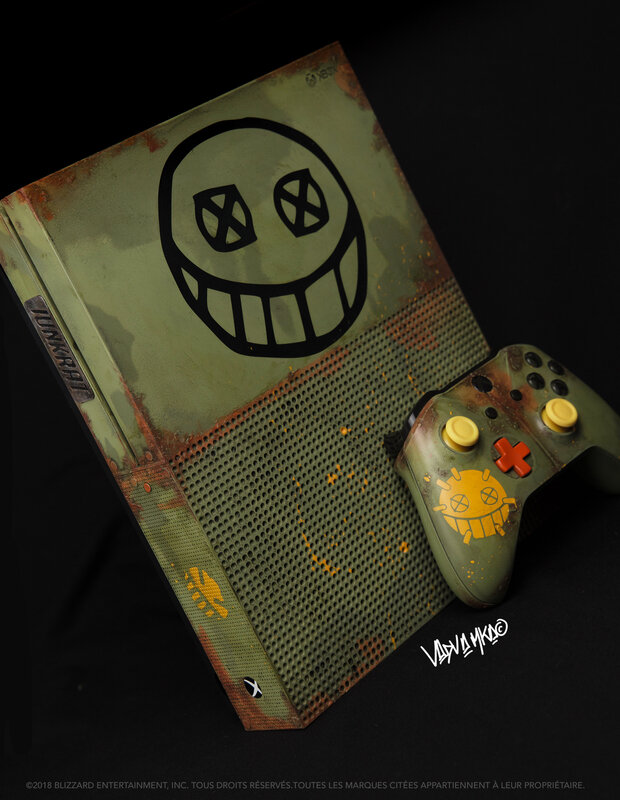 #HappyHeroDays! 12 prizes, 12 days.

DAY 6: Junkertown Xbox One S. RT to enter to win the sweepstakes!

📜 https://t.co/TlBppne8dV pic.twitter.com/uD0HJ6y9IA

— Overwatch (@PlayOverwatch) 16 décembre 2017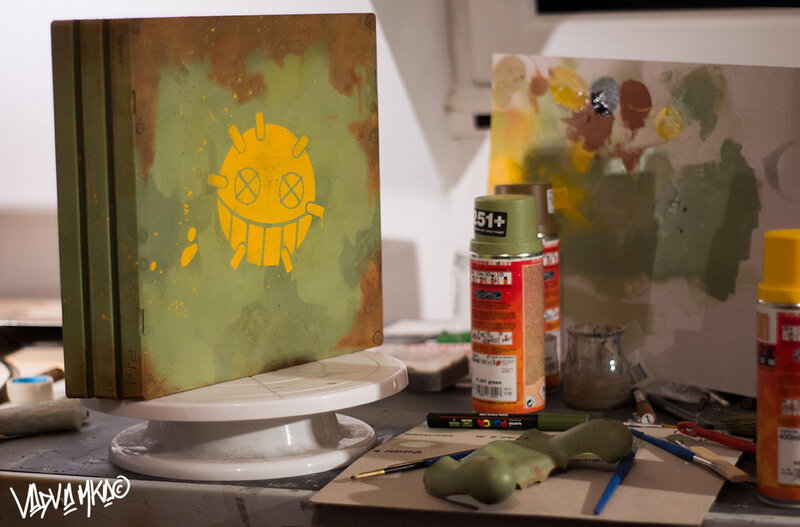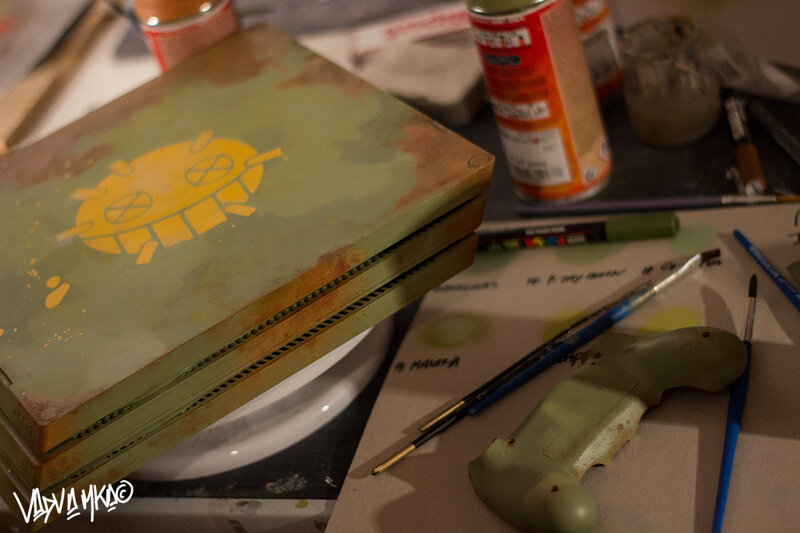 Notre Spartiate préféré est de retour sur la Playstation 4 !

"On ne va pas vous le cacher, le nouveau God of War de Santa Monica a rejoint le panthéon des jeux les mieux notés et avec le meilleur démarrage de ventes. (...) Il aura fallu cinq années à Cory Barlog et son équipe pour arriver à ce résultat qui frôle l'excellence.
Cinq années pour transformer Kratos en un père en difficulté et développer cette facette encore insoupçonnée de ce tas de muscles colérique." Vous pouvez découvrir la suite de mon test sur Pxlbbq.com
Et par la même occasion, tentez de remporter cette semaine une playstation 4 à l'effigie des runes de God of War. Un exemplaire unique qu'on ne trouvera nul part ailleurs que sur la page instagram de Fun Radio Belgique !


Abonnez-vous maintenant sur notre compte insta @funradiobe et tentez de remporter cette superbe PS4 Custom " God of War " unique au monde 😍 Suivez nous 🔥
244 Likes, 173 Comments - Fun Radio BE (@funradiobe) on Instagram: "Abonnez-vous maintenant sur notre compte insta @funradiobe et tentez de remporter cette superbe PS4..."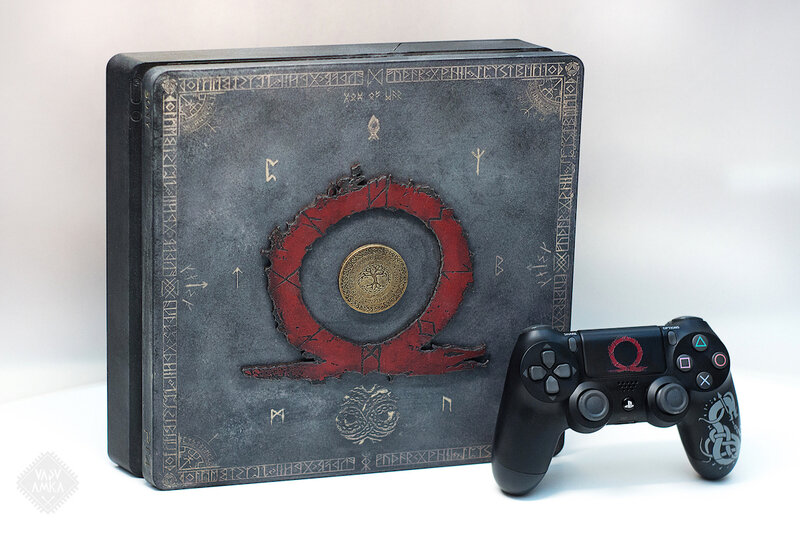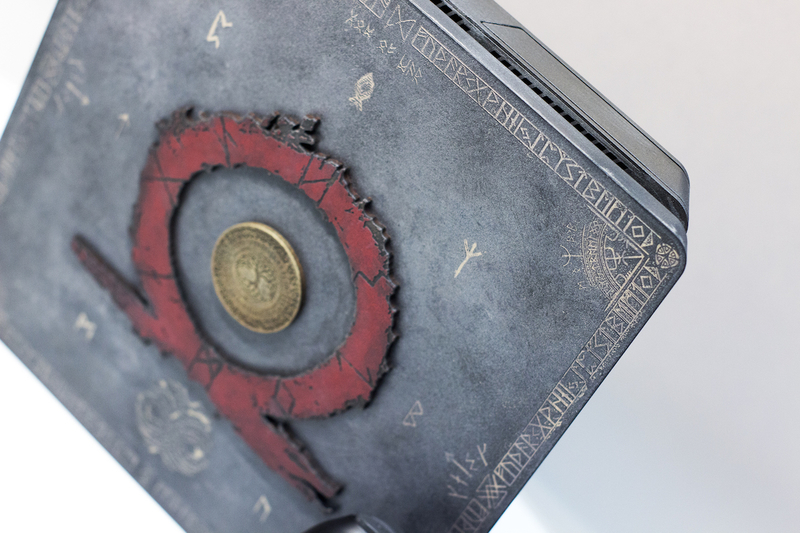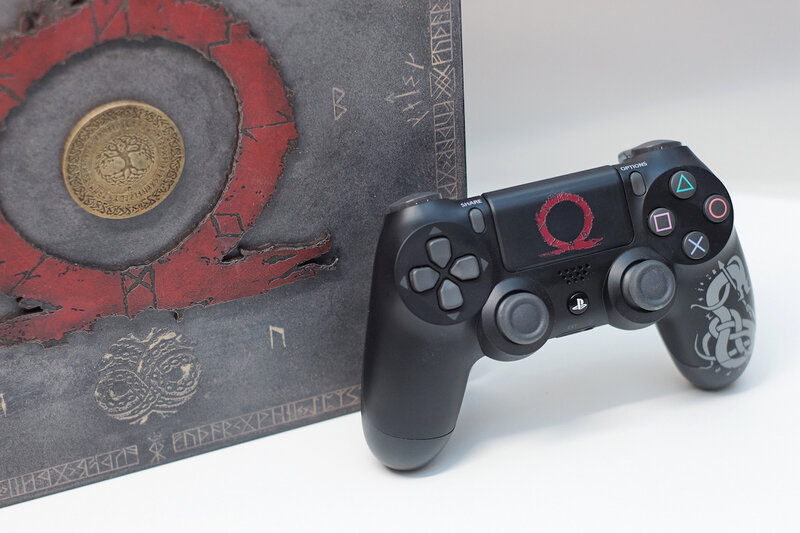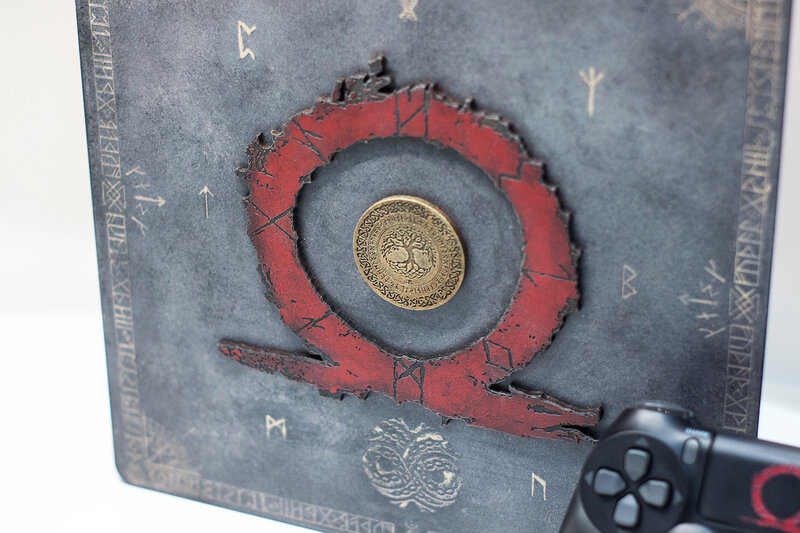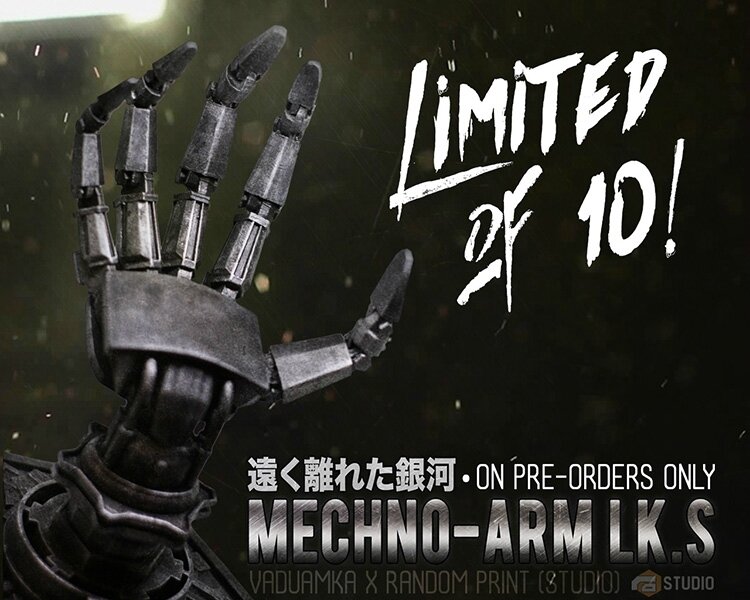 • Pre-orders Open
• Précommandes Ouvertes
" Mechno ARMS LK.S 1:1 Scale "
Peinture métallisée finition satiné
Décoration en résine, polymère, acrylique et epoxy
1:1 Scale Life Size
H: 20cm / 7.87 inches
Controller Display - Décoration
Limited of 10 pieces
Réalisé en Belgique, Made in Belgium
Signed and dated by the team !
Delivered with a certificate.
Shipping worldwide.
•Livraison à partir de Février
•Delivery from February

Vadu Amka x Random Print (Studio)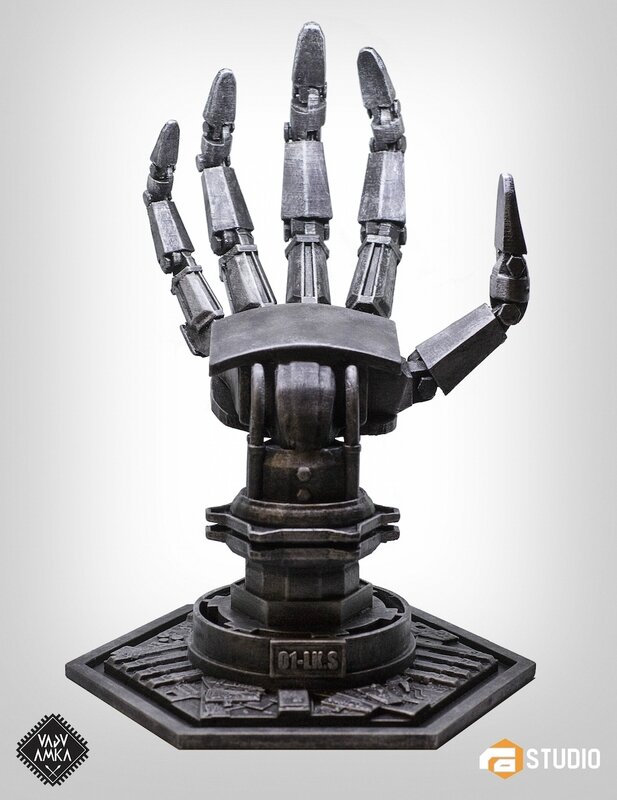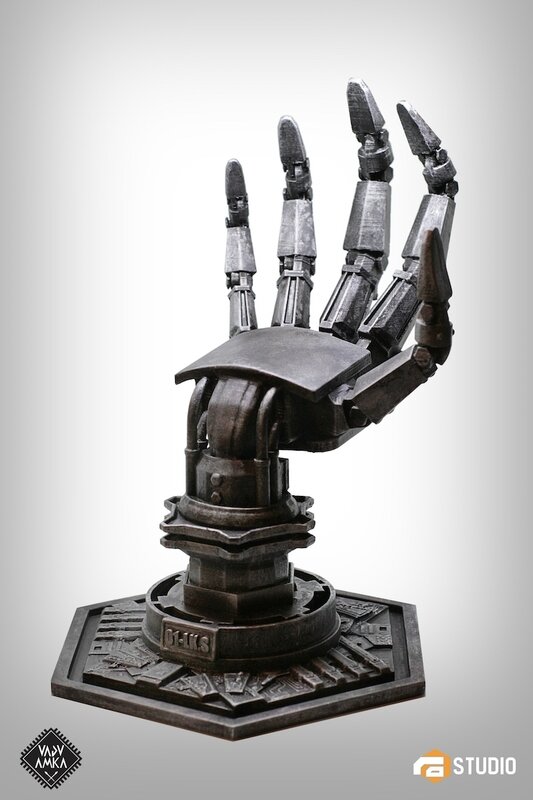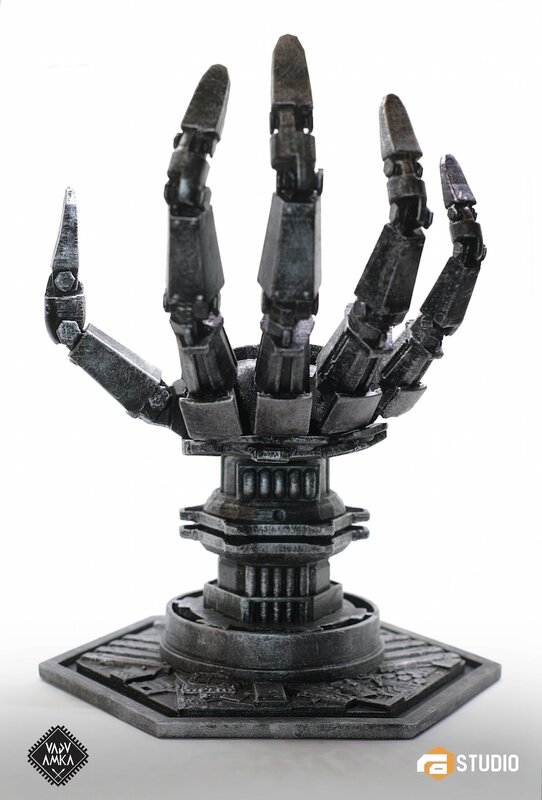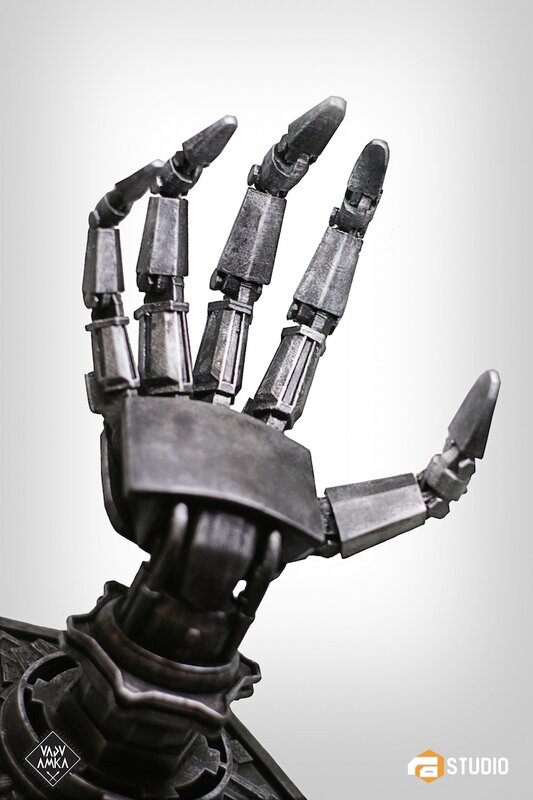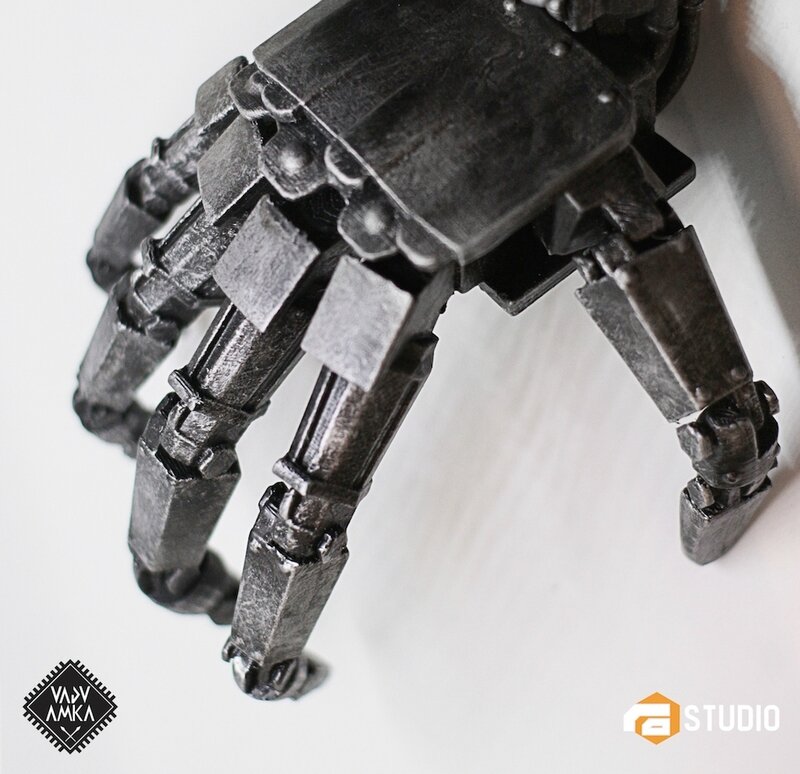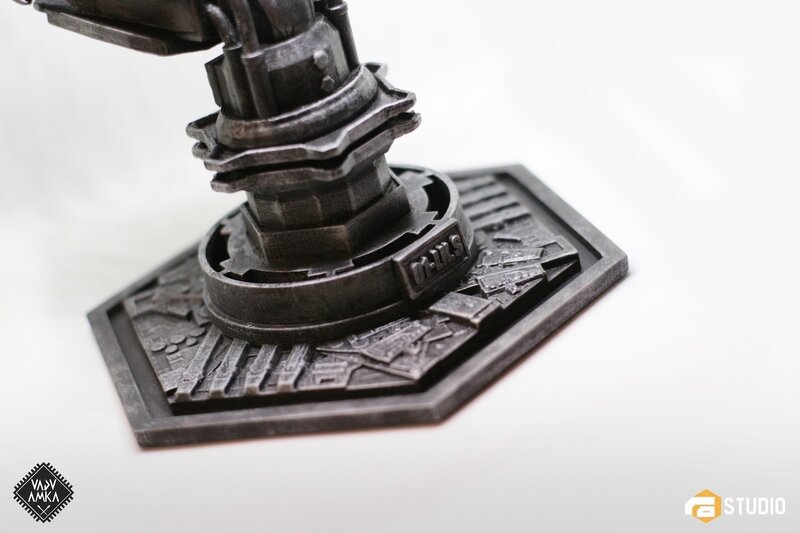 The White or the Dark side of the force ?
Fan de Star Wars, ce duo de console est peut-être pour toi !
Création de deux consoles customs Playstation 4 à l'occasion de la sortie du film : Star Wars : le dernier Jedi ce 13 décembre 2017. Les machines sont actuellement à gagner au Saturn Luxembourg-City . Il s'agit de machines promotionnels non destinées à la vente et en parfait état de fonctionnement. Réalisations en resine, acrylique et metal (Empire).

May be the force with you !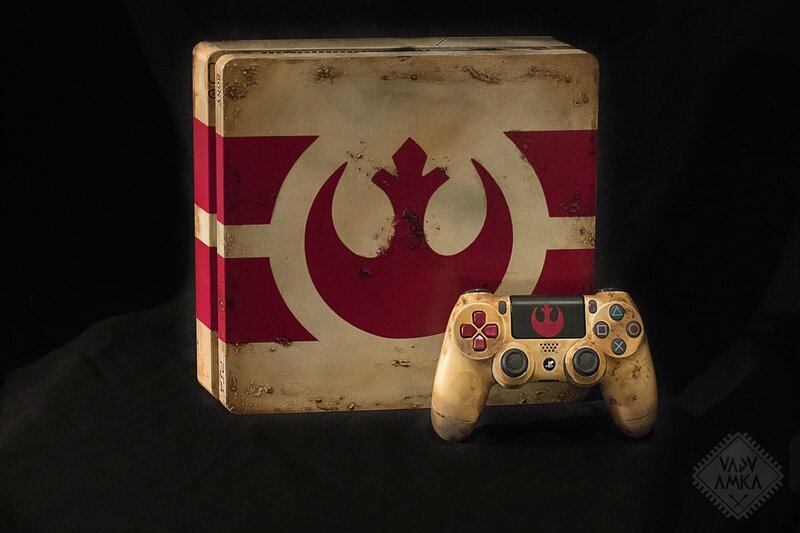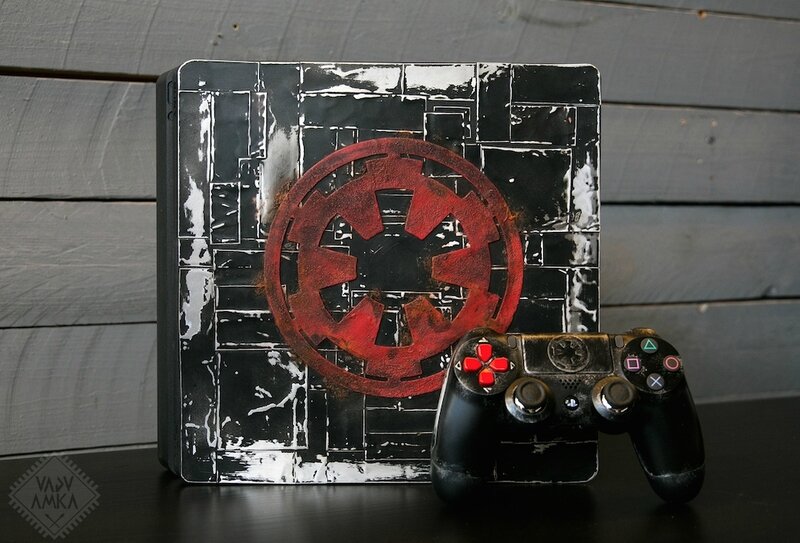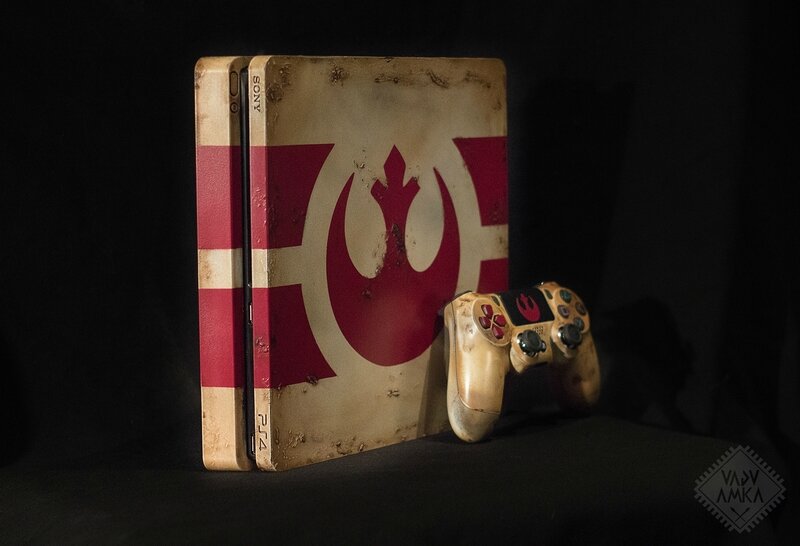 La console Playstation 4 : Call of Duty: WWII , véritable vétéran de guerre ?

Afin de réaliser quelque chose de nouveau et éviter le camouflage vu et revu ou de la découpe avec leds, j'ai choisi d'illustrer ce thème de "guerre" avec des impacts incrustés dans la coque de la console, laissant penser à une plaque métallique criblé de balles.
Réalisation des impacts de balles en résine et plastique. Peinture Acrylique avec finition UV semi-mat.

© 2017 Activision Publishing, Inc. ACTIVISION, CALL OF DUTY, MODERN WARFARE, CALL OF DUTY MODERN WARFARE, CALL OF DUTY BLACK OPS, CALL OF DUTY GHOSTS, CALL OF DUTY ADVANCED WARFARE, CALL OF DUTY INFINITE WARFARE, et le logo CALL OF DUTY WORLD LEAGUE sont des marques commerciales de Activision Publishing, Inc.