Comme beaucoup d'entre vous, je reviens du cinéma. Ce 16 décembre, c'était la sortie de l'épisode VII de Star Wars. Je travaillais depuis quelques semaines sur un projet, pour un cadeau. Et en trainant sur internet, j'ai pu constater que je n'étais pas la seule à avoir eu comme idée de réaliser une console Star Wars. C'est souvent répétitif : du noir, du jaune, le logo, une galaxie, les artworks refaits à l'aérographe (très bien refaits tout de même!) ... et parfois un jouet détourné, comme ce R2D2 super émulateur et la console Faucon Millénium. Je cherchais quelque chose de différent et c'est là que j'ai eu le déclic, en voyant cette épave de Destroyer dans le désert de Jakku, d'ailleurs ce décor a une importance particulière puisqu'il nous rappelle aussi Tatooine. Mais je ne vais pas m'étendre sur l'histoire de la saga.

Like many of you, I return of cinema. This December 16th it was the release of Star Wars Episode VII. I worked for several weeks on a project for a gift. While surfing the Internet, I noticed that I wasn't the only one who had the idea of doing a Star Wars console. It was often repetitive: black, yellow, the logo, a galaxy, the artworks remade with airbrush (and it's very good anyway!) ... And sometimes a "hijacked toy", as R2D2 super emulator and the Millennium Falcon console. I was looking for something different and it was when I saw the new Star Wars, and particularly when I saw the wreck of a Destroyer in the Jakku's desert. Moreover, this decor is particularly important because it also reminds us Tatooine. But I will not talk about the saga, it's not the point.

Il m'aura fallu une trentaine d'heures pour en voir la fin. J'ai martelé de l'aluminium, poncé et cloué, j'ai même été acheter de l'étain en feuille pour le faire fondre. Je me suis vraiment amusée sur cette réalisation !

It took me thirty hours to see finaly the end. I hammered aluminum, sanded donw and nailed ! I was even bought tin sheets to melt it. I really had fun on this realization !

Je remercie l'excellent Joffrey qui ne cesse de surprendre dans ses divers travaux de customs de jouets. C'est un peu grâce à lui que j'ai aussi osé me couper la main et faire une nuit blanche à tester de nouveaux matériaux.

Star Wars Logo - TM & © Lucasfilm Ltd. All Rights Reserved
Une Nintendo 64 de plus sur le thème de The Legend of Zelda, Ocarina of Time.
Un cadeau surprise commandé par la copine de Mika', car ce jeune homme est un grand fan de la licence et vous êtes très, très nombreux !
Les pierres ancestrales étant des objets de quête très importants dans le jeu, j'ai choisi de rappeler leur forme sous le logo de la console, pour rappel, il s'agit de l'Émeraude Kokiri, du Rubis Goron et du Saphir Zora. Le logo de la console, lui aussi a été refait pour se rapprocher de la typographie de la saga. Un petit clin d'oeil supplémentaire pour faire plaisir à cet ami. Le reste de la technique a été abordée dans les articles précédents, le bouclier a été remoulé en résine et un chouïa rendu plus fin et anguleux. Le modèle de base vient de la forge de MetalFGS . Le doré des touches est usé et brillant pour être homogène avec le reste de la console qui est plutôt ancienne. Et La Triforce est rappelée sur la manette.

---

A Nintendo 64 based on The Legend of Zelda, Ocarina of time.
It's a surprise gift ordered by Mika's girlfriend. He's a huge fan of this licence, just like so many of you, Guys.
The ancestral gems being very important items for the main quest, I chose to remind their shape under the console's logo. As a reminder, they are the Kokiri emerald, the Goron ruby and the Zora saphire. The console's logo was also remade in order to stay close to the saga's typography.
A little additional wink for this friend to please him.
I have already explained the techniques I used in previous publishings, the shield was remolded in resin, for a little bit thinner and angular rendering.
The basic model comes from the MetalFGS forge. The gold aspect for the buttons is worn and shiny to match with the rest of the console, that is rather ancestral. At last, the Triforce is remembered on the game pad.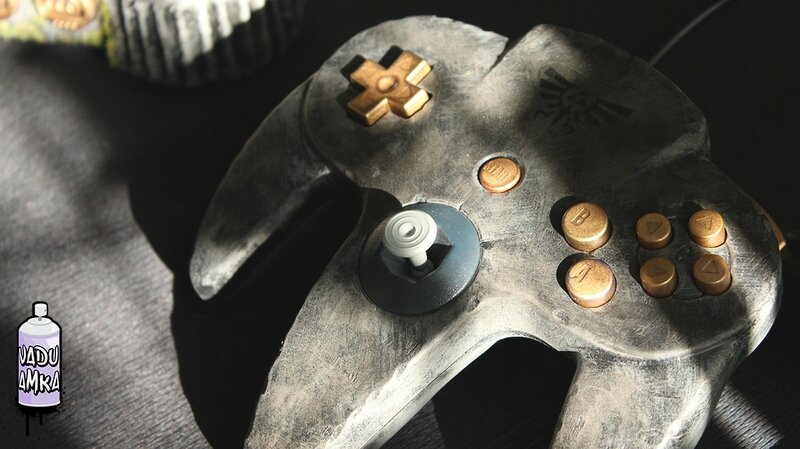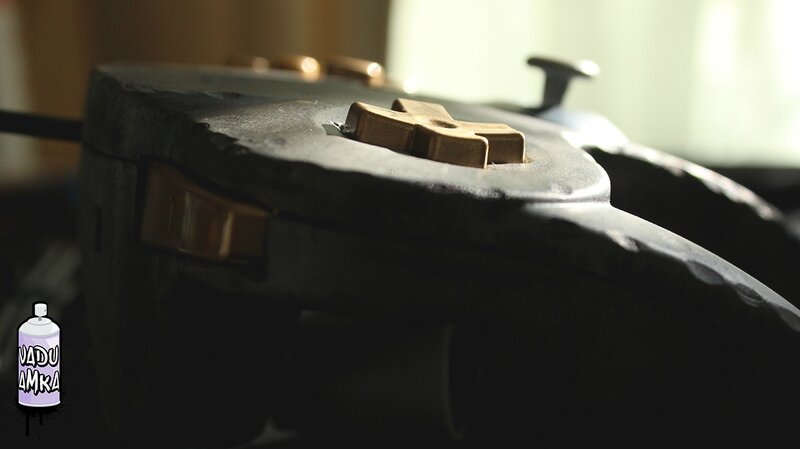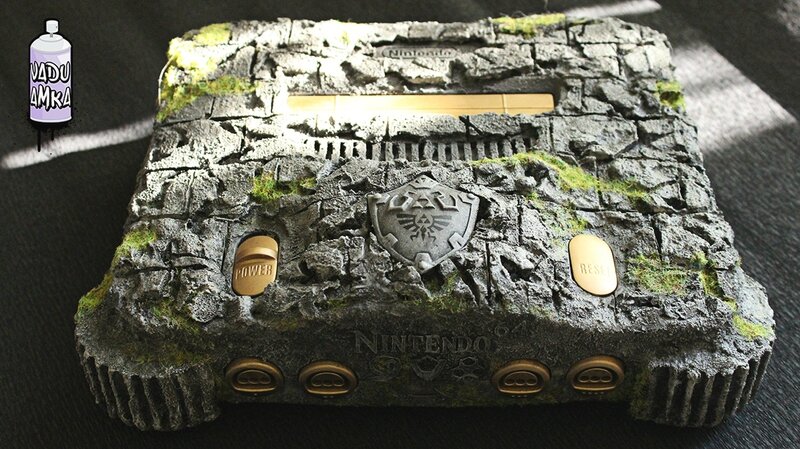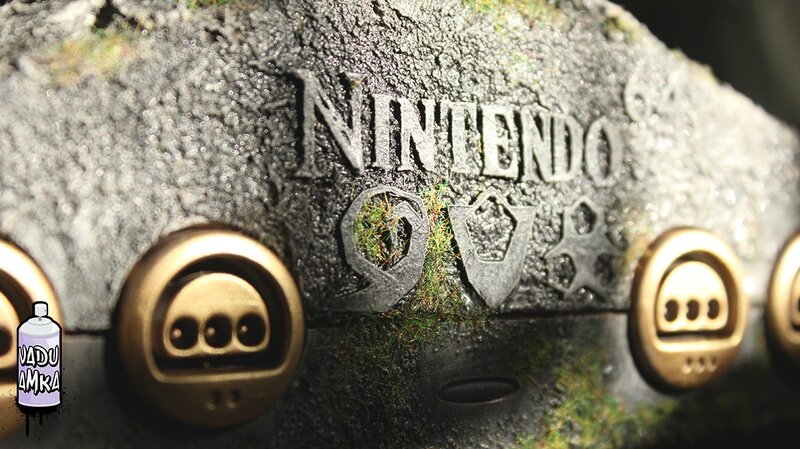 Happy Birthday Mika!
N64 Cartridge - Majora's Mask 25x25
Exemplaire unique - JANV 2015
Résine époxy / Polyfilla

Customs N64 cartridge available online at KOCHI Gallery, here.
WIP: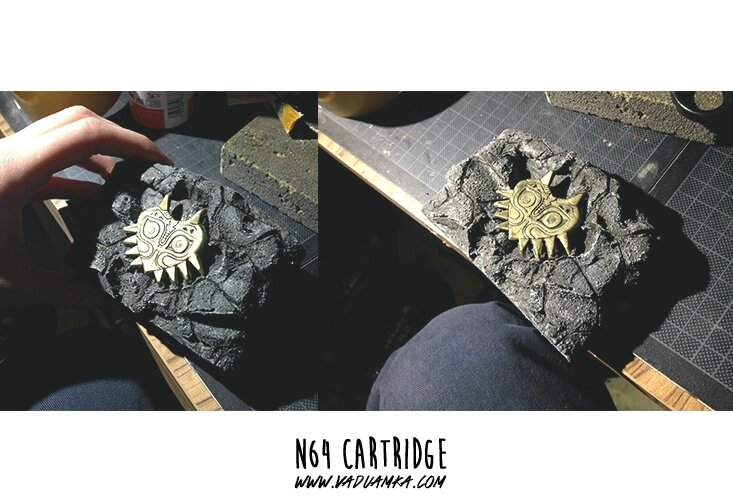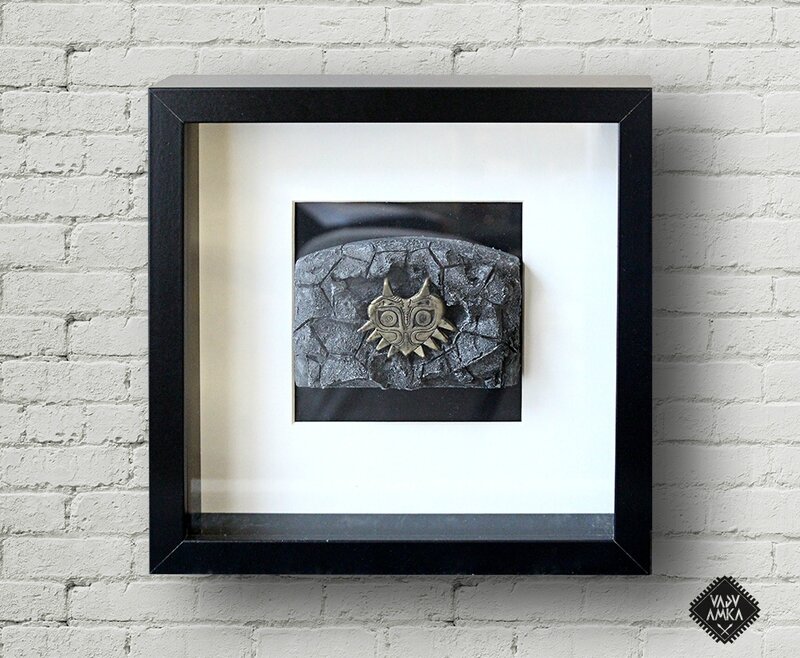 20 juil. 2014
Encore un thème sur Zelda me direz vous! Oui, encore... Beaucoup de demandes et puis il y a matière à faire! *private joke*
Cette fois j'ai essayé de sculpter une couche plus fine pour ne pas alourdir la coque (encore une autre technique). Il s'agit d'une commande qui date du mois de mai-juin et que je viens de terminer. Tampon original par reptiletc dont j'ai modifié l'aspect tribal pour mieux coller au reste de la compo.

NB: Il n'y a que deux Game Boy effet pierre réalisées par mes soins.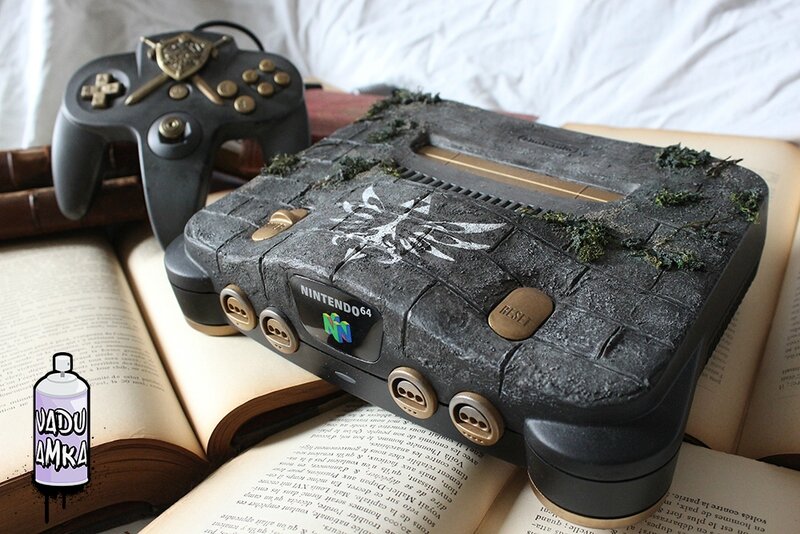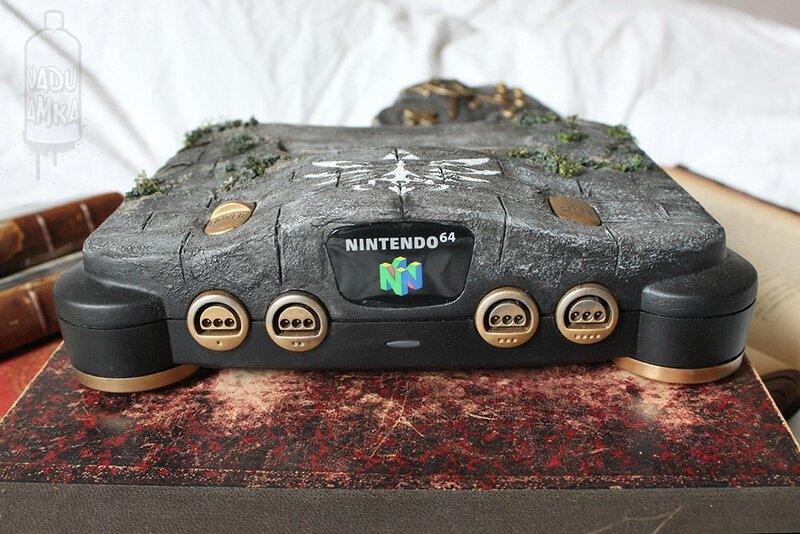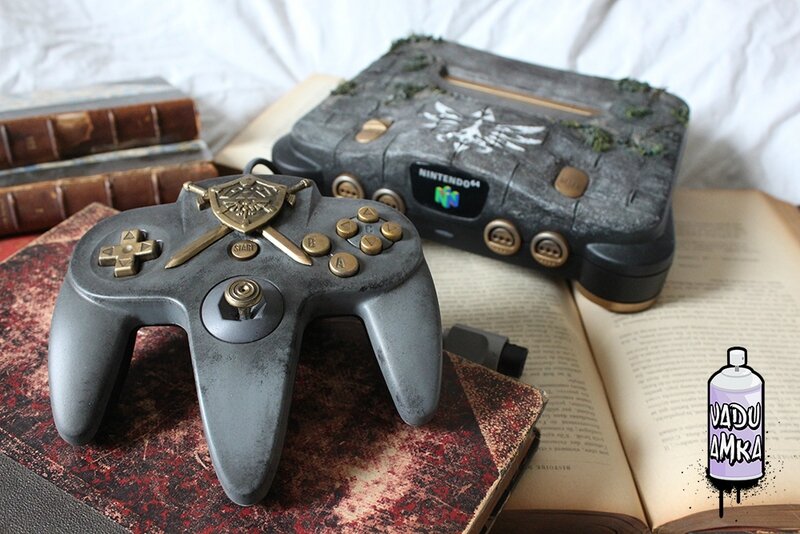 05 mai 2014
Inspiré de la Nintendo 64 édition Pokémon, voici la Game Boy aux couleurs de Pokémon Rouge et Bleu. Il s'agit d'une impression sur mesure, il en va de même pour le montage et la découpe. La console est vernie sur 2 couches. Pour mélanger les techniques, les boutons "pokéball" ont été réalisées à la peinture ainsi que le logo à l'arrière de la GB. La lentille de la console est neuve avec un film de protection. NB : Il y a un Easter egg caché ! Voir même deux ...

Disponible / Available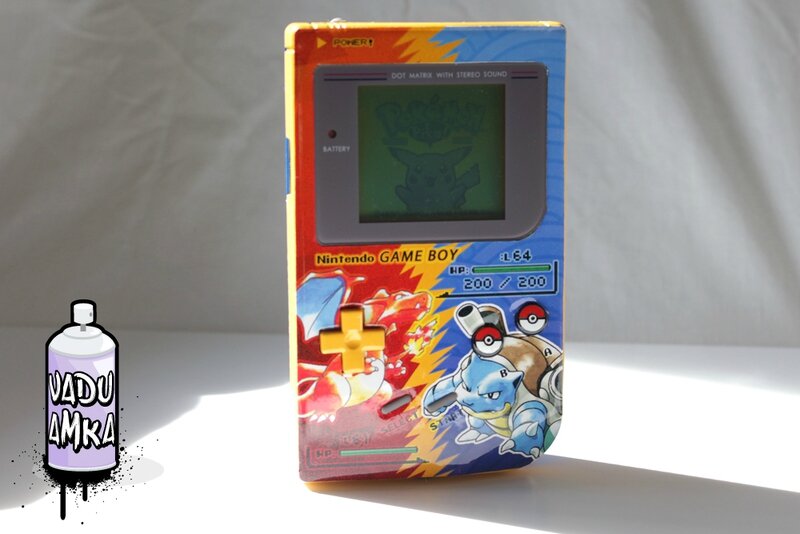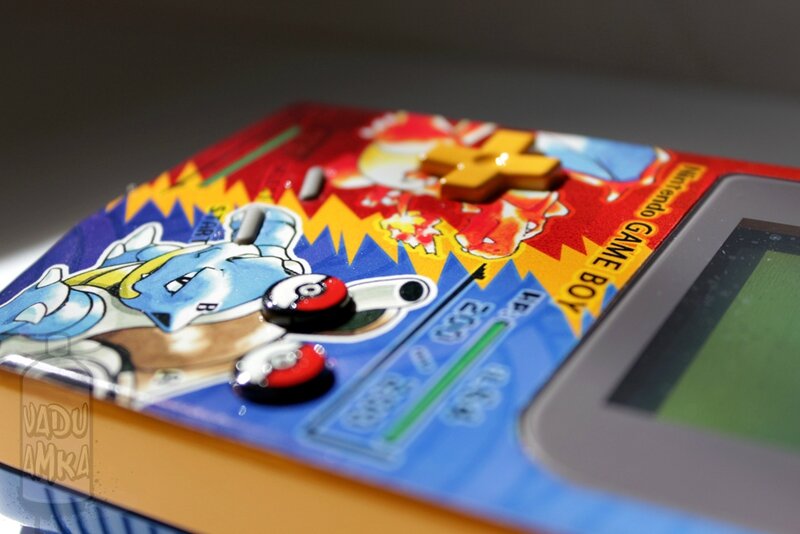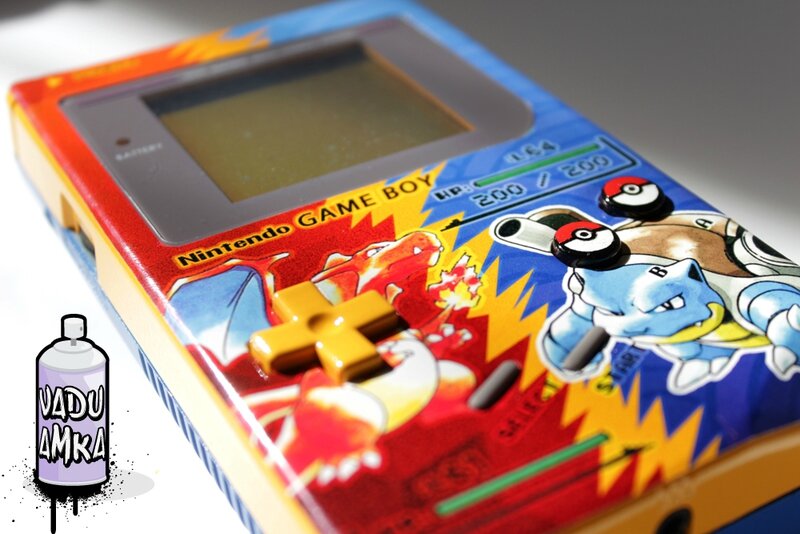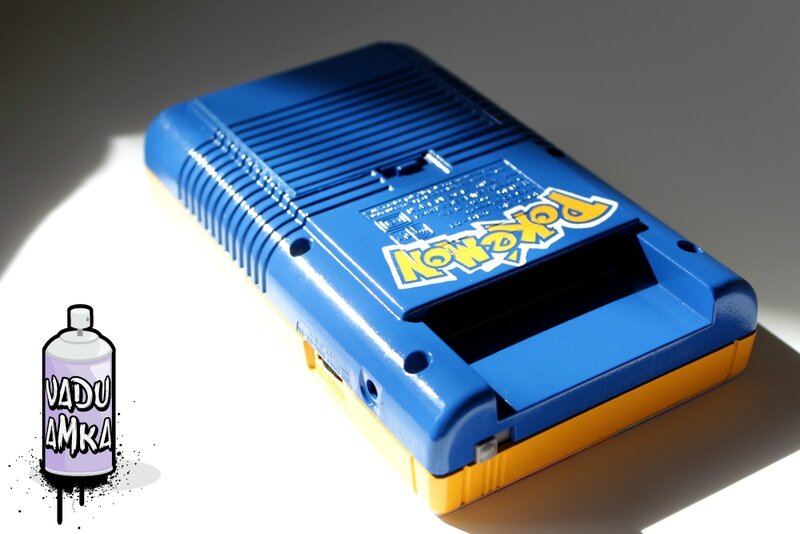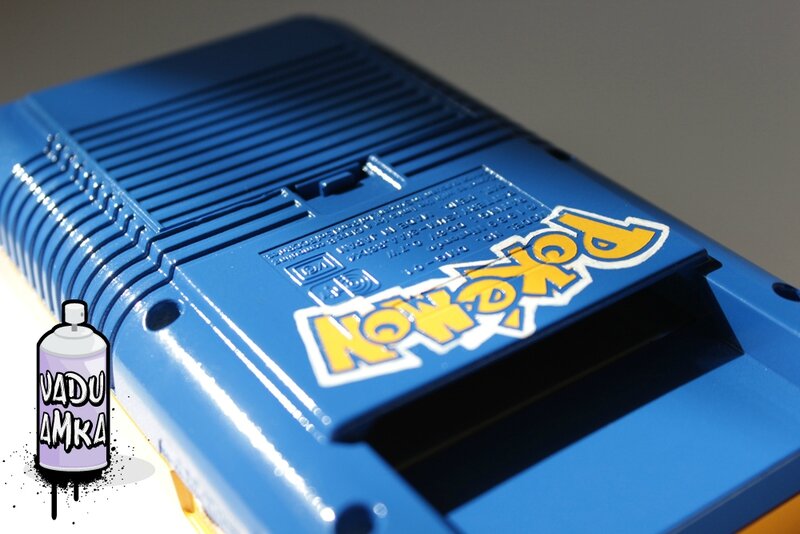 20 févr. 2014
Il s'agit d'une peinture palettée posé en plusieurs couches et dont la base est noir. Vernis glossy pour la finition et petit coup de polish/lustreuse. Dessin à l'acrylique et poscas sur base d'une illustration.
NB: Petite anecdote, j'ai du recommencer la partie supérieur, grâce à mon chat kamikaze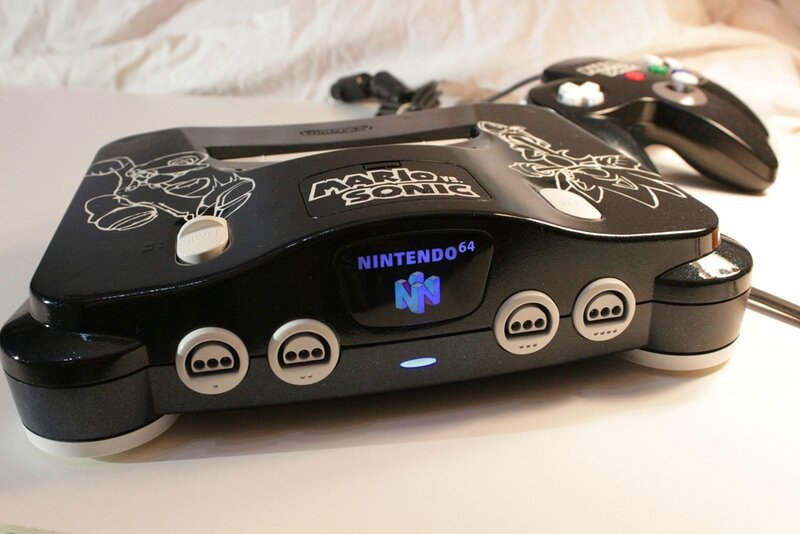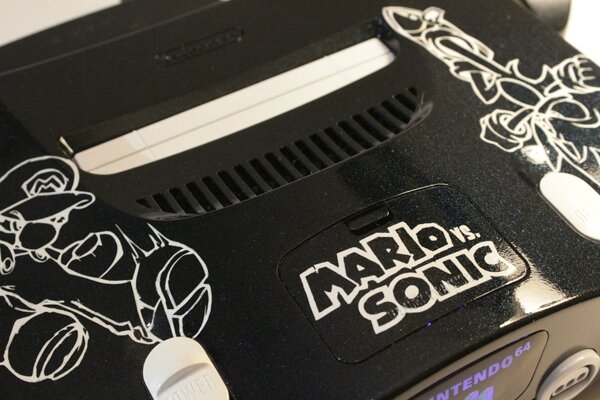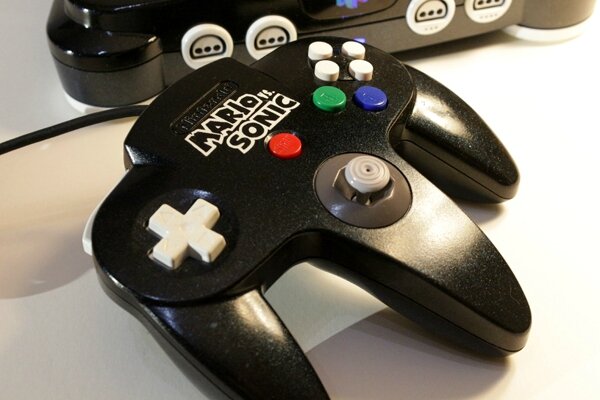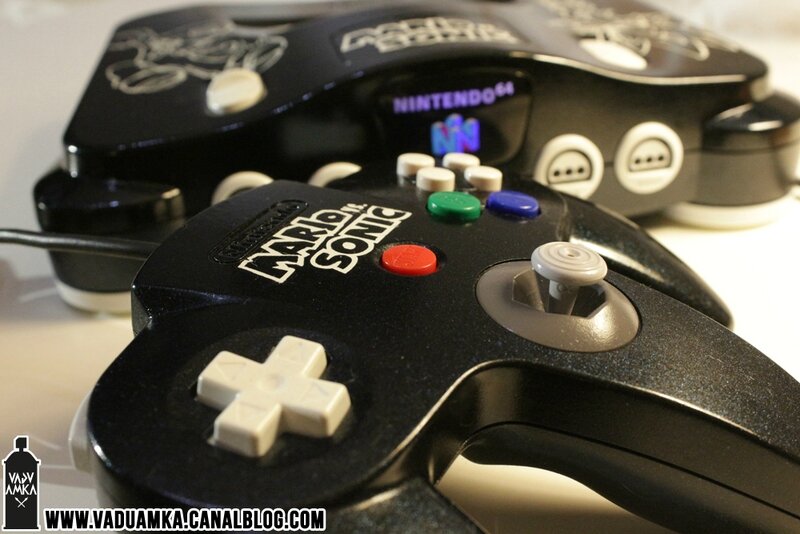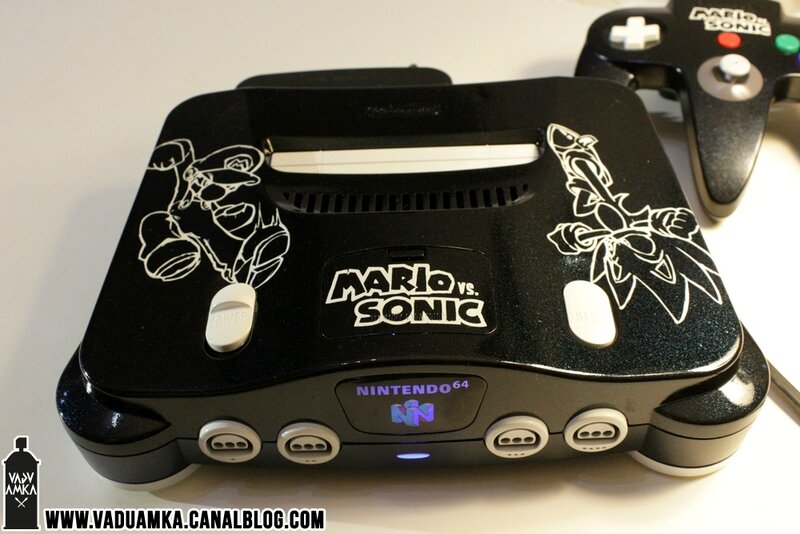 03 oct. 2013
Réalisation à main levée et au Posca de deux manettes Majora's Mask .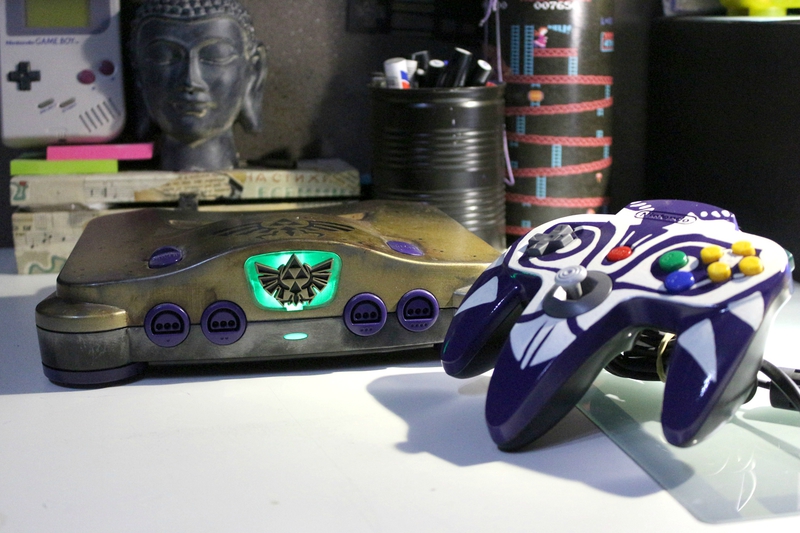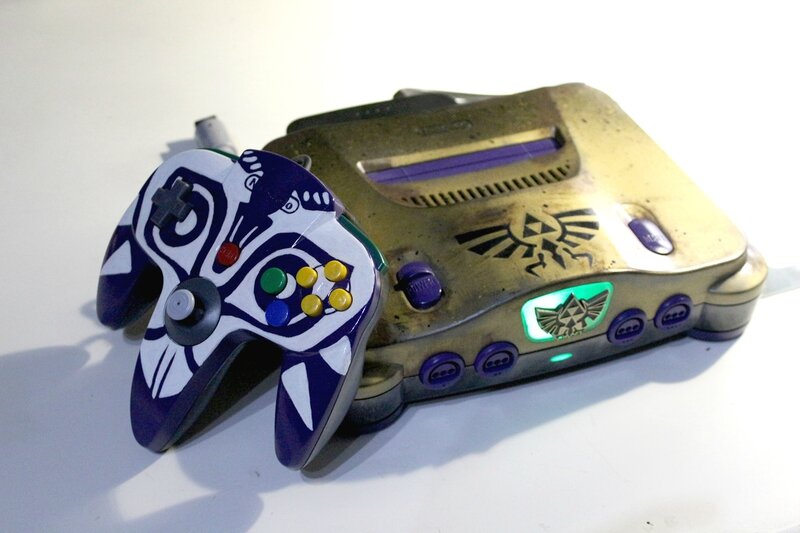 02 oct. 2013
Console aux couleurs de Majora's mask. Cache expansion pak retiré (le reste est présent sous la coque = jouable).