C'est un plaisir de pousser toujours plus loin le modding sur console de salon.
Encore une fois, il s'agit d'unpojet ambitieux et absolument génial à concevoir et à peindre. Un tel objet, nécessite quelques jours de réflexion et de conception en 3D avec l'aide de l'amie @Elcloporte. Il en va de même pour l'impression d'une partie du squelette externe qui compose ce coffre. L'ensemble est monté sur une véritable Xbox One X fonctionnelle. Il faudra compter par loin des 145 heures d'impressions pour toutes les parties composants ce coffre "Hood". L'intérieur comporte une découpe en mousse sur-mesure pour acceuilir la manette personnalisée. La partie supérieure à l'intérieur du coffre est recouverte d'un cuir noir épais.

Il parait que vous appréciez les projets improbables du blog ? Pour célébrer le lancement de Hood: Outlaws & Legends, l'éditeur Focus Home Interactive, vous offre sur ses réseaux sociaux une chance de remporter cette console coffre unique Xbox One X ainsi que sa manette !



© 2021 Hood: Outlaws & Legends, a game developed by Sumo Digital and published by Focus Home Interactive. Hood: Outlaws & Legends and its logos are Focus Home Interactive's trademarks. All rights reserved.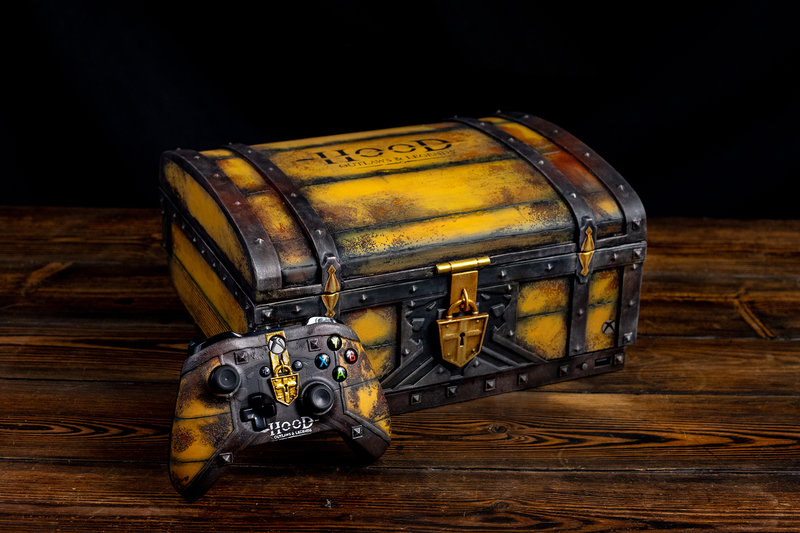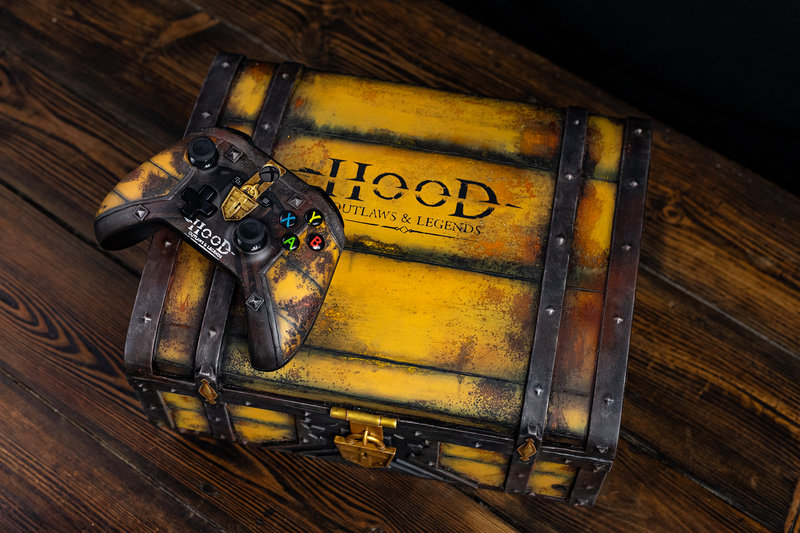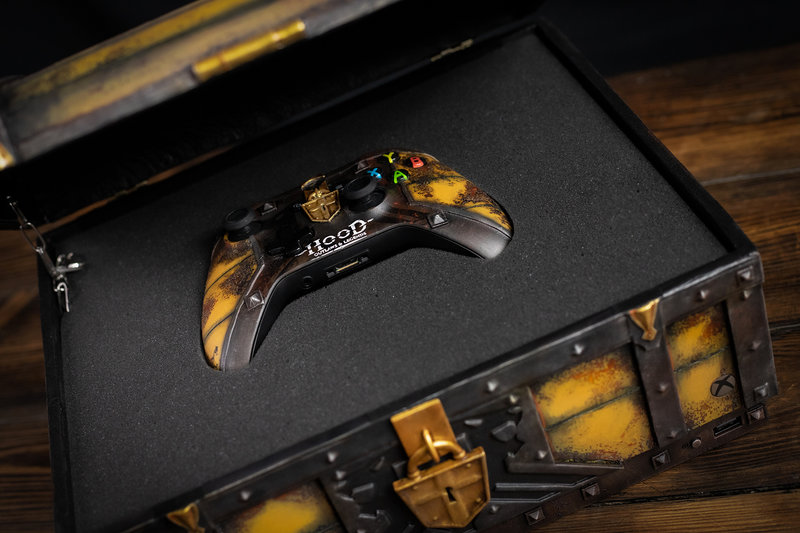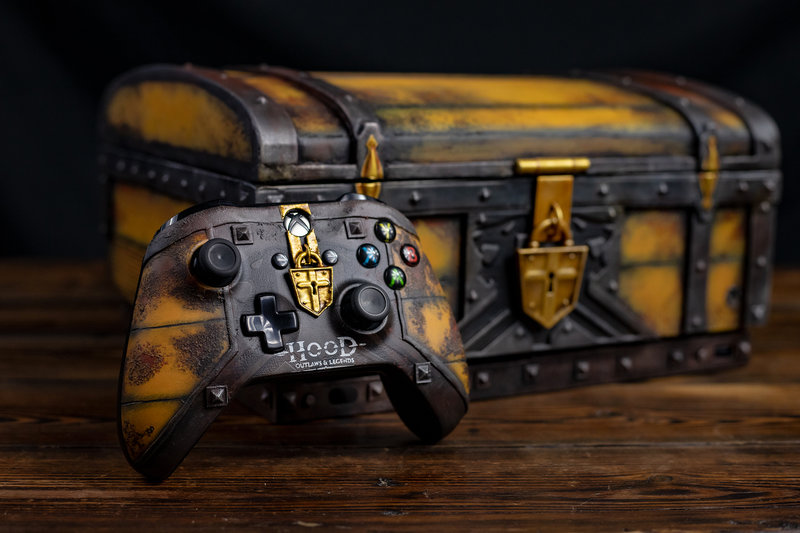 Découvrez les coulisses de la conception de la console coffre sur l'Instagram de Kryptide Production et sur le site web de Succesone.fr


We are all outlaws… but one of us will become a legend.

To celebrate the launch of @Hood_OL, we are happy to give away this beautiful Xbox One X to one lucky winner!

🎁 Follow us and retweet this tweet
🎮 Tag a friend you'd love to play Hood with! pic.twitter.com/z3xxJQfKyG

— Focus Home Interactive (@FocusHome) May 7, 2021
GreedFall : Une XBOX ONE X pour le RPG de Spiders

Réalisation d'un exemplaire unique en bois pour la France.
Matériaux : Acrylique, plastique et canvas.
Avec gravures et peinture à l'aérographe pour sa manette.
Non destiné à la vente. Objet promotionnel à remporter sur les réseau sociaux.
It's time to set off to Teer Fradee!

Get a chance to win this beautiful Xbox One X customized for the game by @RandomPrintSPRL:
🍂 FOLLOW us on Twitter
🔄 RT this tweet

Contest ends September 24. Official rules: https://t.co/OO2mTftH4d pic.twitter.com/ffCrnDMCPD

— Focus Home Interactive (@FocusHome) 10 septembre 2019

Réalisé avec le studio Random Print et l'éditeur Focus Home Interactive
©2019 Spiders and Focus Home Interactive. Spiders and its logos are trademarks or registered trademarks of Spiders. Focus Home Interactive and its logos are trademarks or registered trademarks of Focus Home Interactive. All other trademarks, registered trademarks and their logos belong to their respective owners. All rights reserved.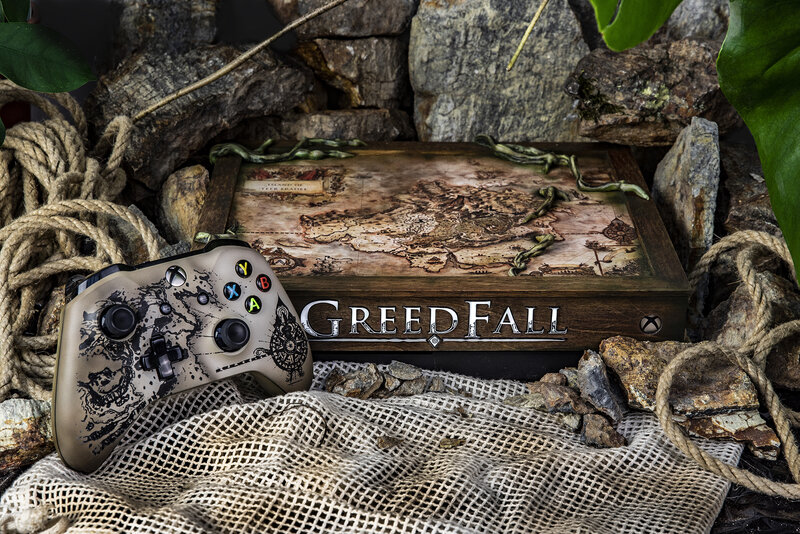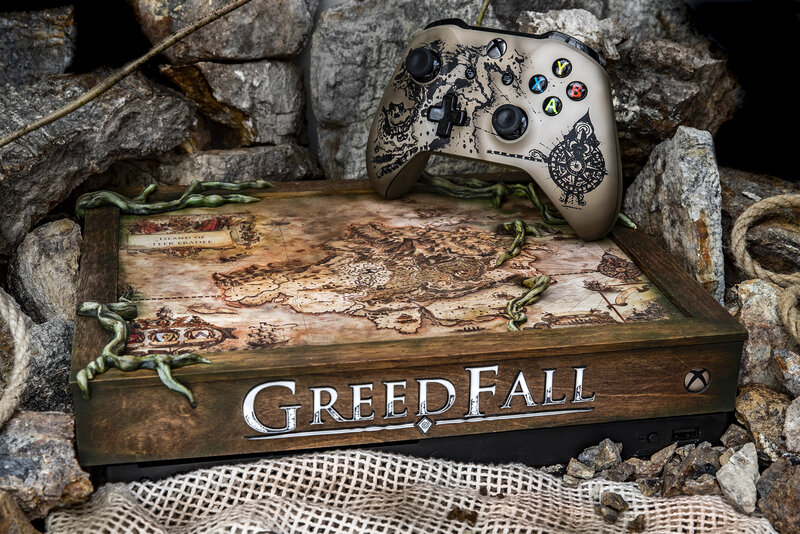 D'ailleurs devinez qui est de retour ? On l'avait gardé bien au chaud pour sa sortie ! La Nintendo Switch a aussi droit à son custom Spyro Reignited Trilogy tout comme la Playstation 4 en novembre dernier ! Dans le même esprit que les consoles précédentes mais tout de même adaptés au petit gabarit de la Nintendo Switch. Le diamant vert en forme de dragon est plus que resplendissant avec sa finition full gloss. Les teintes sont plus contrastées à l'image des couleurs funs que peuvent avoir certaines éditions de consoles de chez Nintendo. Les petites gravures sont toujours présentes tout comme le chouïa de dorure dans les ornements extérieurs.

La console a été produite dans une nombre très limité. Elles seront à gagner sur les réseaux sociaux !

Réalisé en collaboration avec Activision x Random Print Studio

© 2019 Activision Publishing, Inc. ACTIVISION, SPYRO, SPYRO REIGNITED TRILOGY, SPYRO THE DRAGON, SPYRO 2 RIPTO'S RAGE! and SPYRO YEAR OF THE DRAGON are trademarks of Activision Publishing, Inc.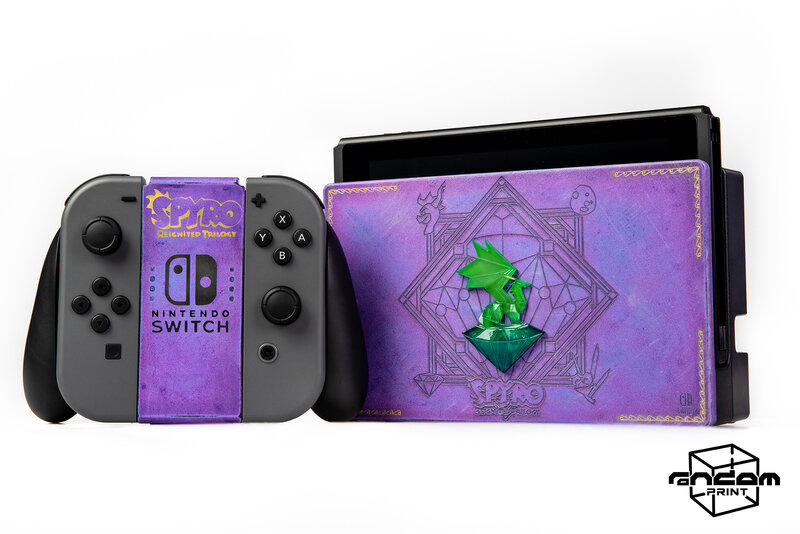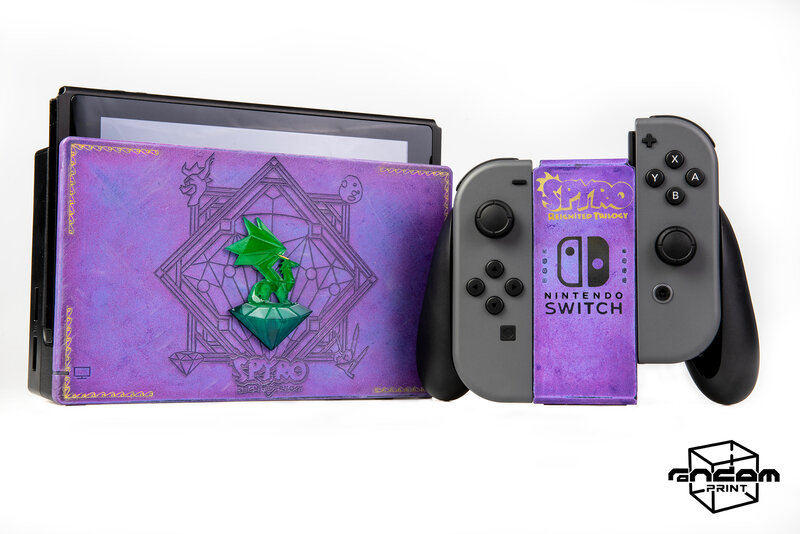 Retour aux sources avec cette personnalisation de Mega Drive en l'honneur du jeu de Bitmap Bureau, le très attendu Xeno Crisis.

Il s'agit d'un homebrew SEGA Megadrive qui a déjà pas mal fait parler de lui avec sa campagne Kickstarter. Et nous voilà embarqué, (à nouveau), sur du retrogaming pour le meilleur et pour le pire ! Découvrez dès maintenant cette console alien ultra limitée et qui ne manque pas de tentacules...

Je remercie mes cooéquipiers de guerre d'avoir assuré à mes côtés la conception de cette délicate petite machine mutante. ♥

Xeno Crisis sera disponible sur Mega Drive, Dreamcast, Nintendo Switch et Steam !
---
"Xeno Crisis is a new top-down arena shooter for up to 2 players that is best described as Smash TV meets Aliens! Run and gun your way through thousands of enemies spread over 6 areas as you attempt to discover the cause of the alien menace."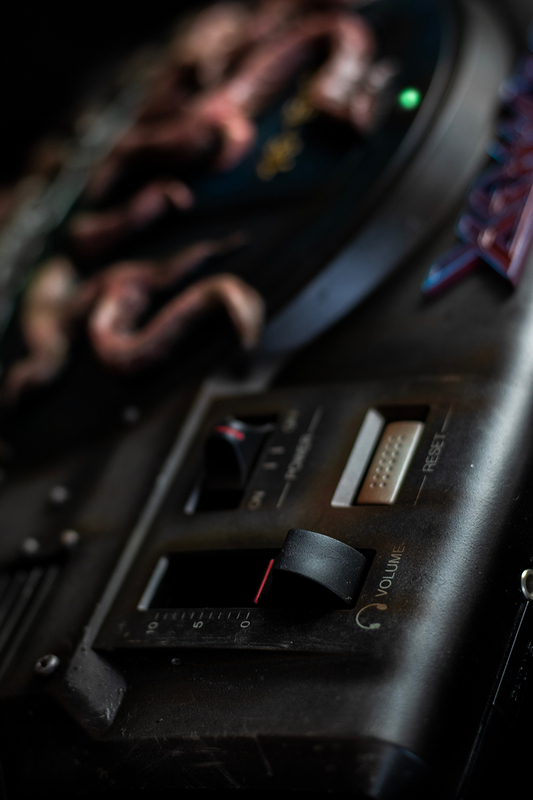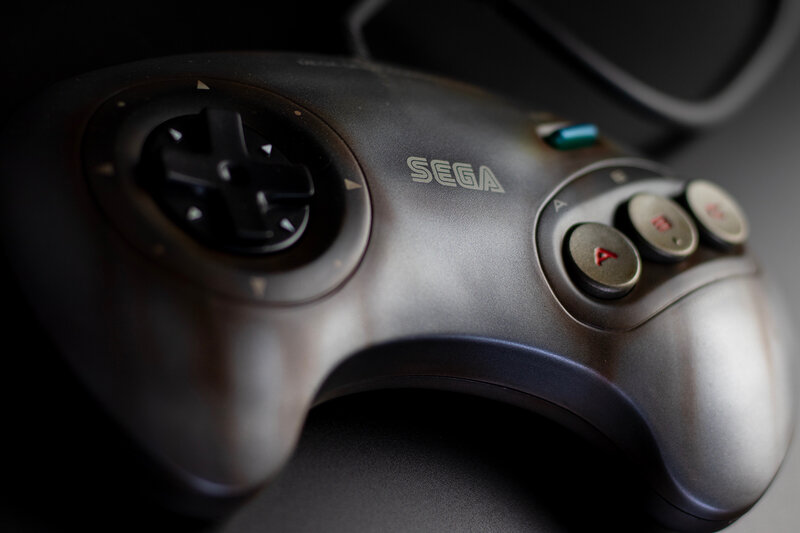 We made this incredible console for Asobo Studio and Focus Home Interactive editor.
Realized in a few weeks. The XBOX ONE X represents a scene from the game that we revisited with our team Random Print.
We are very proud to have contributed to the creation of this project.
Time of realization: 120h

Concept art by Random Print x Focus Home Interactive
Scultp & settings : Stéphane J. - . Amandine D.
Technical : Louis C. - Amandine D.
Paint, texture & assembly : Vadu Amka
Photography : Vadu Amka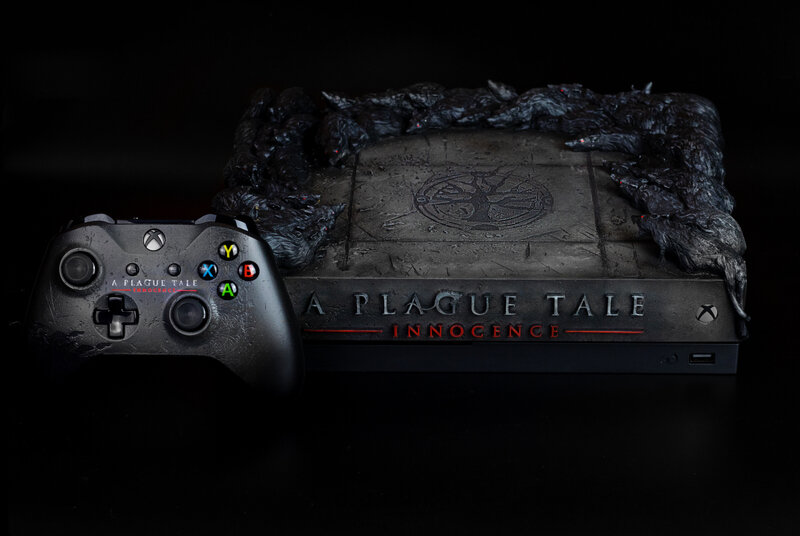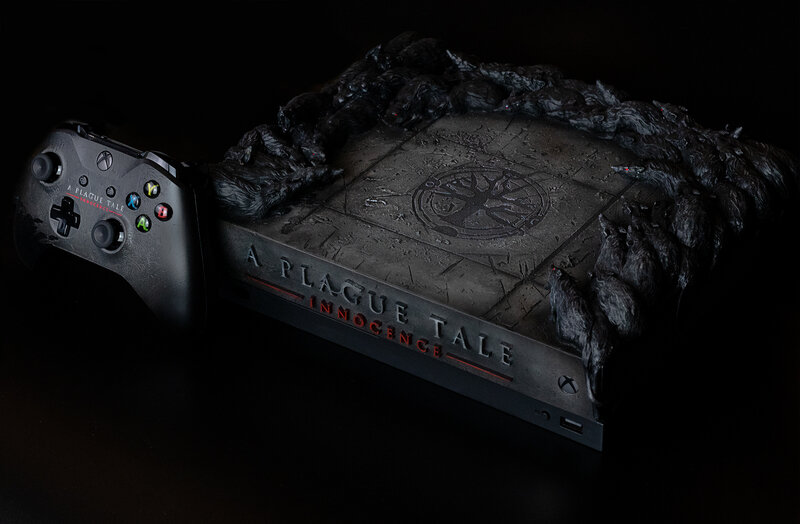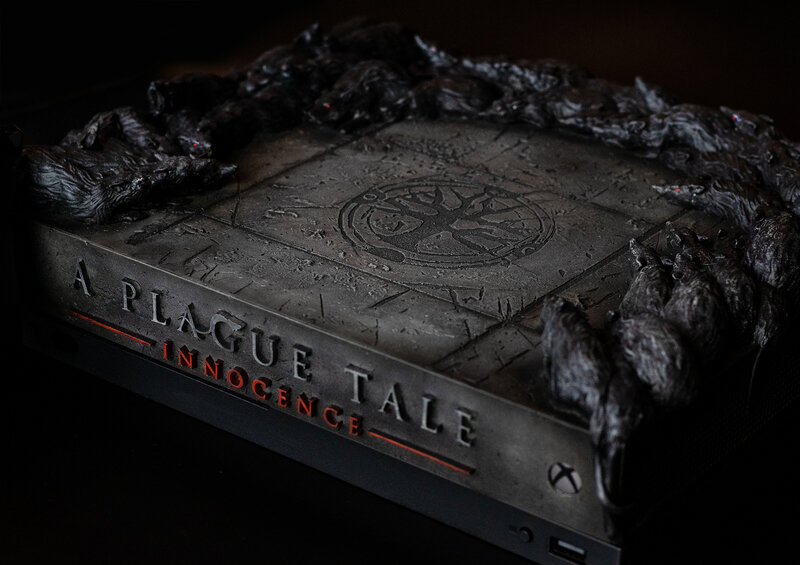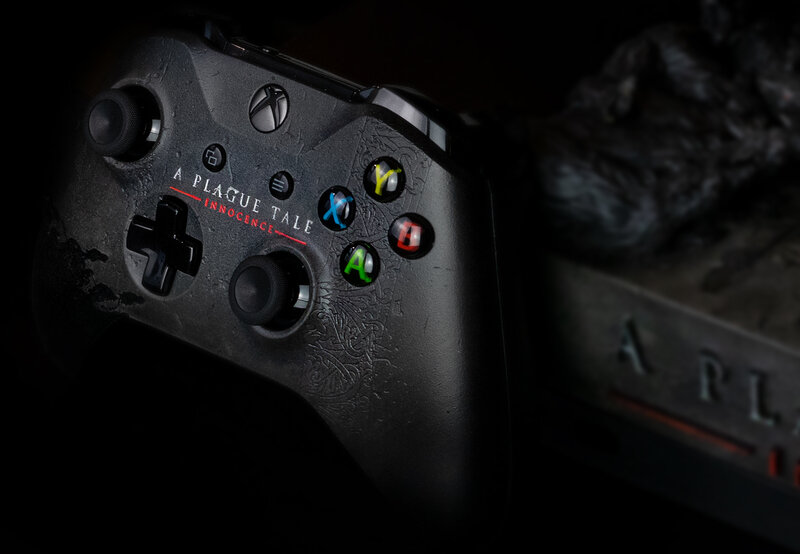 XBOX ONE X - SHELTER // FALLOUT 76
Our Future Begins,
Parce qu'on aime bien raconter une histoire avec des consoles qui ont du vécu; cette fois on transforme la XBOX ONE X en shelter (abri) post-apocalyptique pour la sortie de Fallout 76. Un peu rouillée ? Elle reste jouable et sobre pour une prise en main optimale durant votre séjour dans l'abri 76.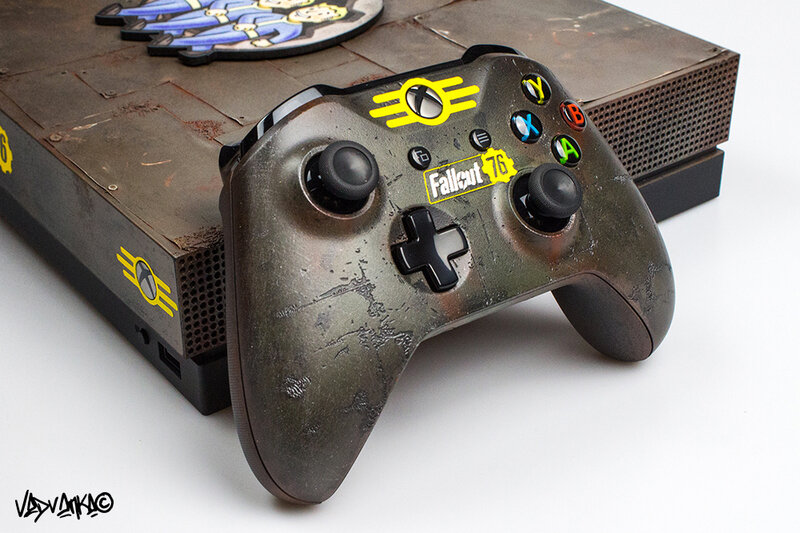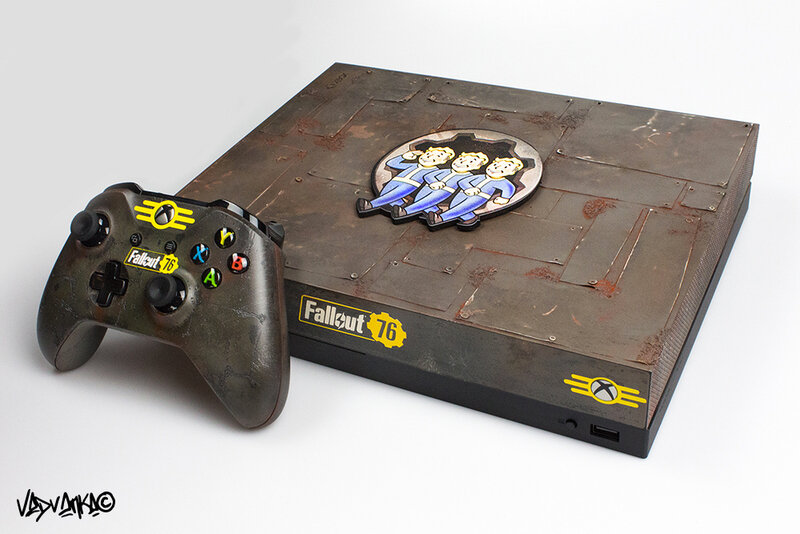 © 2018 Bethesda Softworks LLC, a ZeniMax Media company. Les marques appartiennent à leurs propriétaires respectifs. Tous droits réservés.



[#Concours] #Fallout76 ☢️ Une console uniquement pour le Benelux ! Et tu peux la gagner via @Smartoys_tv pour la sortie du jeu ! Plus d'infos sur https://t.co/ZNdsp7p4Ry et les #RS de #Smartoys Big up à @bethesda_nl @XboxBenelux pic.twitter.com/rhbhTz4XQx

— Vadu Amka @ Japan (@VaduAmka) 17 novembre 2018