Game Boy Advance - Capsule Corporation.
Inspiration "Dr. Brief" - Univers Dragon Ball
Vernis mat, Peinture "tulipe blue", légères usures à force de parcourir le monde à la recherche des boules de cristal.
Bulma a du la faire tomber quelques fois... *rire* Son effet usé est absolument recherché :)
Exemplaire unique et fonctionnel, remis à neuf.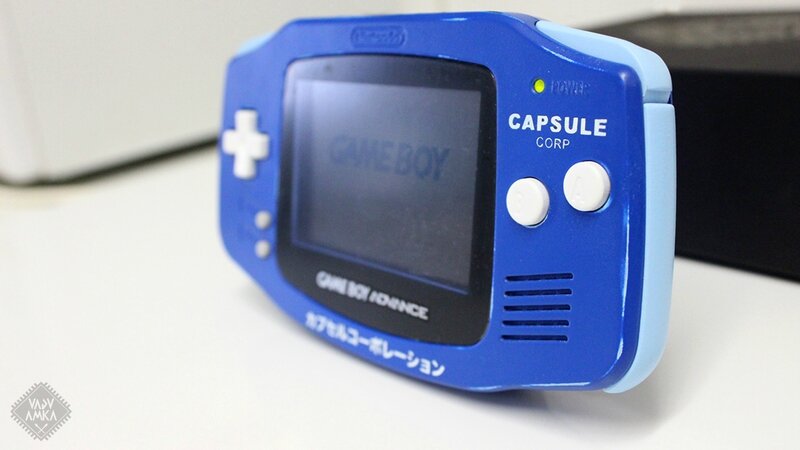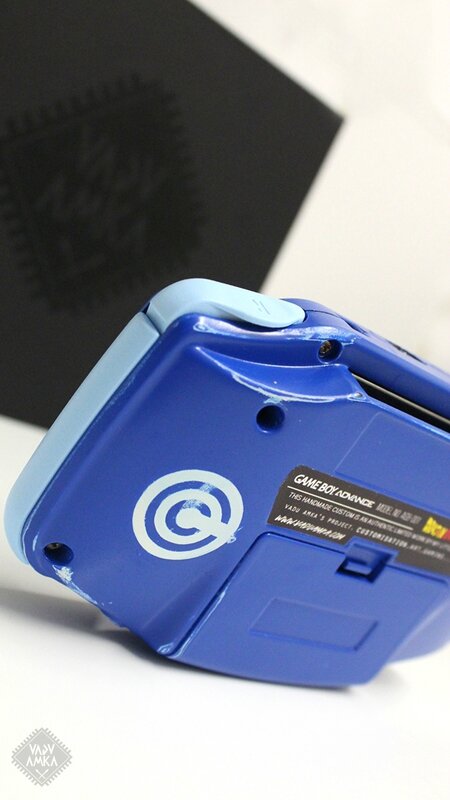 Commande Mars - Avril / Commission March - April

Réalisation sur commande pour un particulier auprès de la Galerie KOCHI.
Super Nintendo personnalisée sur le thème de Final Fantasy VI. Il s'agit d'une console sur mesure et suivant les conseils et goûts du client. Cette console n'est pas disponible.
Commission for the gallery KOCHI (Paris)
Super Nintendo personalized on the theme of Final Fantasy VI. It is about a custom-made console and according to the advice and the choice of the customer. This console is not for sale
Une Nintendo 64 de plus sur le thème de The Legend of Zelda, Ocarina of Time.
Un cadeau surprise commandé par la copine de Mika', car ce jeune homme est un grand fan de la licence et vous êtes très, très nombreux !
Les pierres ancestrales étant des objets de quête très importants dans le jeu, j'ai choisi de rappeler leur forme sous le logo de la console, pour rappel, il s'agit de l'Émeraude Kokiri, du Rubis Goron et du Saphir Zora. Le logo de la console, lui aussi a été refait pour se rapprocher de la typographie de la saga. Un petit clin d'oeil supplémentaire pour faire plaisir à cet ami. Le reste de la technique a été abordée dans les articles précédents, le bouclier a été remoulé en résine et un chouïa rendu plus fin et anguleux. Le modèle de base vient de la forge de MetalFGS . Le doré des touches est usé et brillant pour être homogène avec le reste de la console qui est plutôt ancienne. Et La Triforce est rappelée sur la manette.

---

A Nintendo 64 based on The Legend of Zelda, Ocarina of time.
It's a surprise gift ordered by Mika's girlfriend. He's a huge fan of this licence, just like so many of you, Guys.
The ancestral gems being very important items for the main quest, I chose to remind their shape under the console's logo. As a reminder, they are the Kokiri emerald, the Goron ruby and the Zora saphire. The console's logo was also remade in order to stay close to the saga's typography.
A little additional wink for this friend to please him.
I have already explained the techniques I used in previous publishings, the shield was remolded in resin, for a little bit thinner and angular rendering.
The basic model comes from the MetalFGS forge. The gold aspect for the buttons is worn and shiny to match with the rest of the console, that is rather ancestral. At last, the Triforce is remembered on the game pad.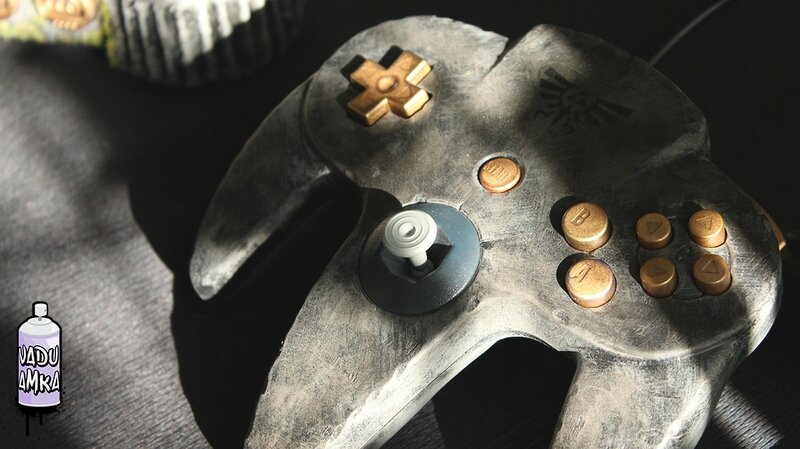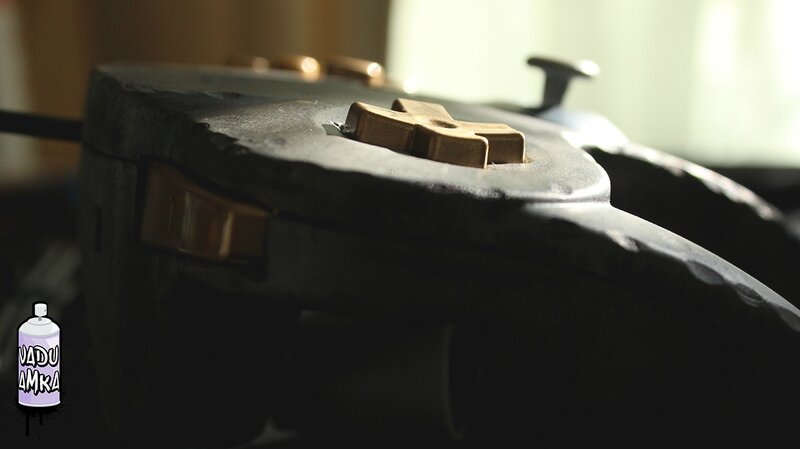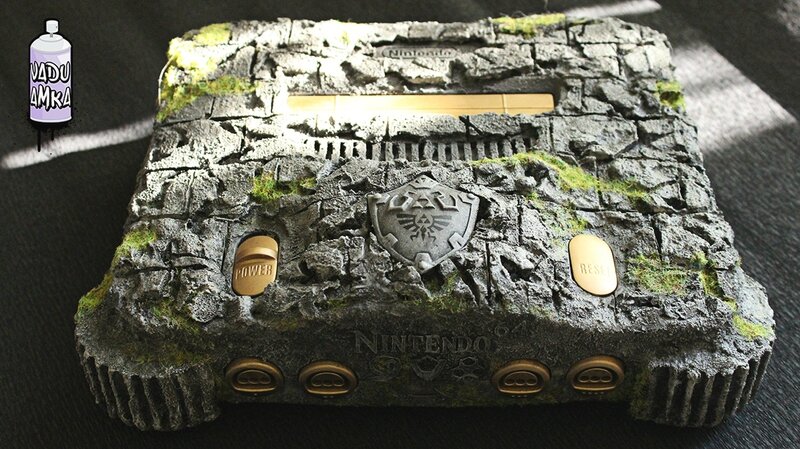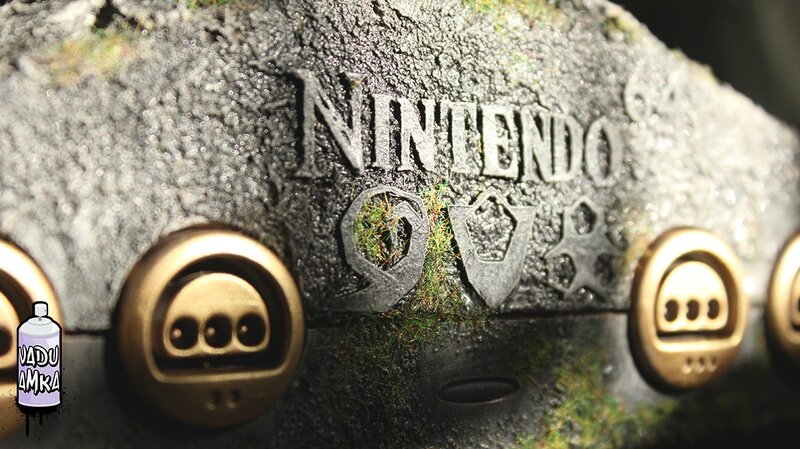 Happy Birthday Mika!
Culture games s'est occupé du packaging pour le jeu Half-Life sur Dreamcast qui n'est jamais sorti autrement qu'en abandonware sur internet. Ils comptent organiser un concours permettant d'en gagner un exemplaire (avec le jeu et un boitier neuf comme si le jeu était réellement sorti) et pour que le concours soit encore plus marquant, ils m'ont demandé de réaliser une Dreamcast aux couleurs de Half Life et d'ainsi proposer un pack complet.
Réalisation : J'ai repris les couleurs du personnage principal au pied de biche. Je ne voulais pas faire une console complètement orange, la couleur est souvent assimilée à Metroid. J'ai principalement travaillé l'aspect de peinture écaillée et de rouille. La console reste à mon goût relativement sobre et fidèle aux visuels des jacquettes.
Temps : 1 mois & demi

---

A Half-Life Dreamcast for Culture Games
Culture games took care of the packaging for the game "Half-Life" on Dreamcast, which was never released anywhere else than on abandonware sites. They plan to hold a contest to win a copy (with the game and a new case as if it was actually released) and the competition is even more striking, they asked me to make a customized Dreamcast on the Half Life theme and thereby propose a complete package.

I took the colors of the main character with the crowbar. I didn't want a completely orange console, the color is often linked to Metroid. I mainly worked on the paint peeling and rust appearance. According to my taste, the console remains relatively sober and faithful to the covers' visuals.

Time spent: 1 month and a half
N64 Cartridge - Majora's Mask 25x25
Exemplaire unique - JANV 2015
Résine époxy / Polyfilla

Customs N64 cartridge available online at KOCHI Gallery, here.
WIP: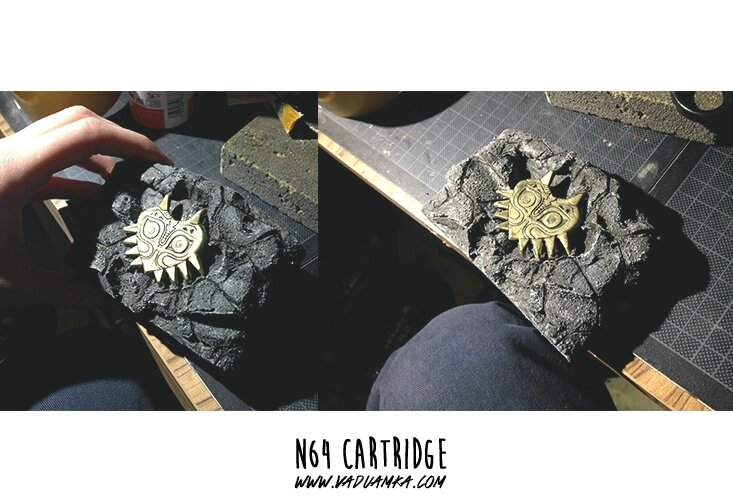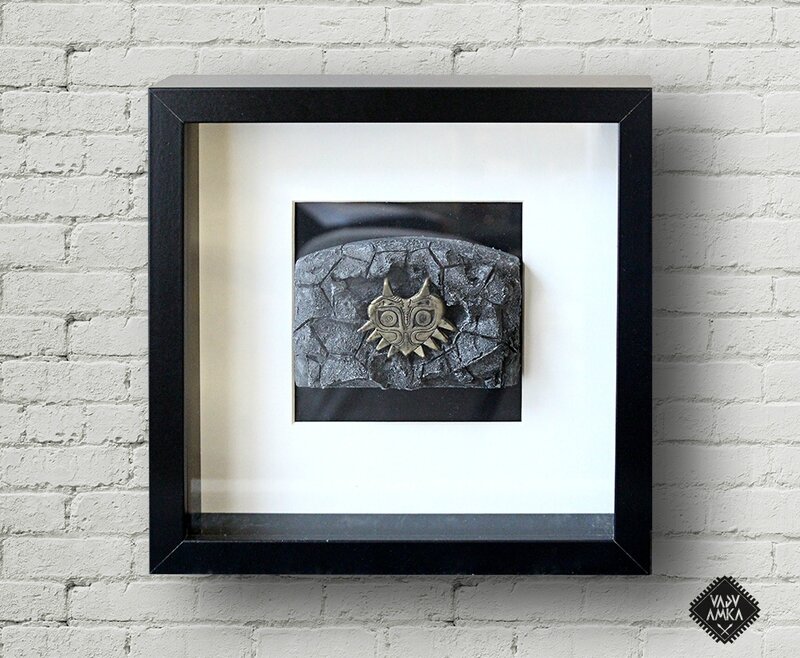 Console d'exposition, basée sur le syndrôme "Red Ring Of Death" et le thème The Walking Dead. Il s'agit d'une commande et d'un modèle unique présent lors du salon Made in Asia à Bruxelles et visible du 13 au 15 Mars 2015.
Réalisation 1 mois et demi.
Matériaux : Latex, acrylique, pâte texturisante, résine.

Not for resale - Promotional only

→ The Walking Dead le Magazine Officiel N°10 Juin 2015 p.11

---

Exhibition console, based on the "Red ring of Death" syndrome and on The Walking Dead theme. It's an order and a unique model showed from march the 13th to 15th 2015 at the Made in Asia in Brussel.
Time: 1month & 1/2
Materials: Latex, Acrylic, Modding paste, resin


Copyright © 2010-2015 AMC Network Entertainment LLC. All rights reserved.
BD Walking Dead © Editions Delcourt 2015


2014-2015 project
"Mutation" FrakenBoy, Cartridge on Canvas 24 x 30 cm
Signed and dated on the side


@Liège Retrogaming P"Art"y 14/12/2014
Game Boy Color en honneur du Pokémon N°175 : Togepi !
Petit bundle pack reprenant la première génération. (Oui, oui les cartouches sont comprises!)
Couleur de base signal white - Vernis mat UV
Retroéclairage du logo COLOR, N° de série d'origine.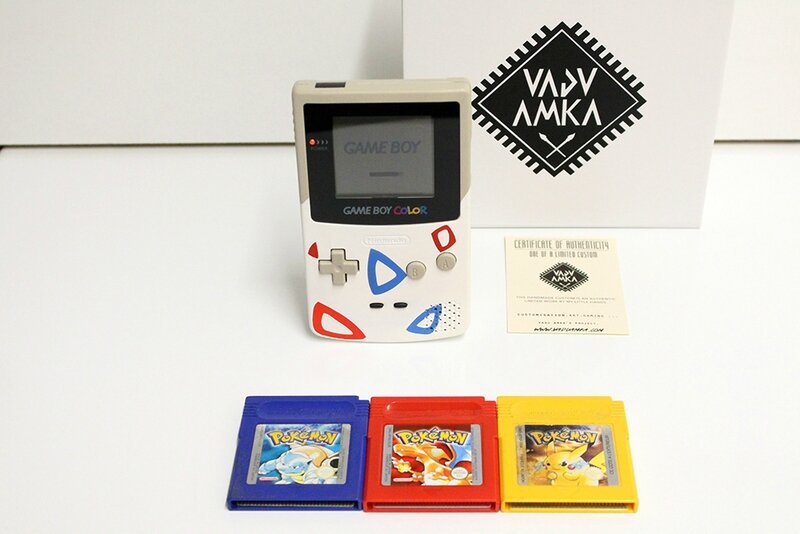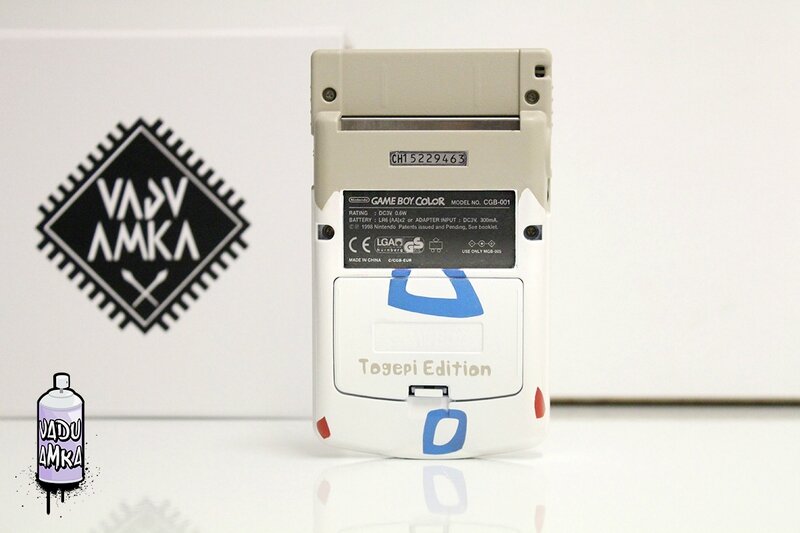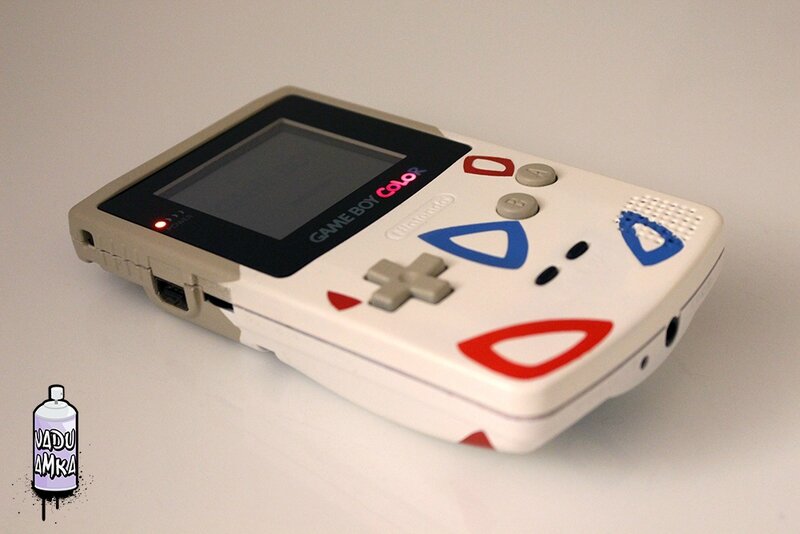 Nouvelle commande personnalisée pour une Belge! Une grande fan de la série Crash Bandicoot m'a demandé de réaliser une console à l'effigie du personnage principal. Je me suis inspirée des premiers niveaux du jeu dont « Jungle Rollers » et le menu en fin de partie, où viennent se fracasser sur la tête de Crash toutes les boites qu'on a oubliées.

Au départ, j'étais partie sur une console Aku-Aku avec le masque en relief sur une base rappelant la jungle. Mais le héros devait absolument figurer sur la console, ou un élément le rappelant (= l'orange). J'ai alors opté pour l'effet de vieux temple gris foncé / verdâtre avec pas mal de branches et quelques lianes. Un petit effet sablé à certains endroits et des crevasses. Les boutons Reset & Power sont en bois teinté. Des petites pierres sont disposées sur le Power pour rappeler un foyer de feu (level avec le sanglier et la première île). L'Eject est une boite de TNT vue du haut en bois de tilleul (handmade).

______________


New custom order for a belgian customer!
A huge Crash Bandicoot fan asked me if I could make her a console with the main character on it.
My inspirations came from the first game levels (such as « Jungle Rollers ») but also from the end- game menu (when all the boxes Crash forgot come and smash themselves into his face).
At first, I wanted to make an AKU-AKU console with the mask on it and the jungle for the background. But the hero (or something reminding him) had to be on the gaming system. So I finally decided to create an old dark grey and green temple effect with branches and creepers. I applied as well a small sandy effect on a few places . Both Reset and power buttons were covered with tainted wood. Tiny rocks were also placed on the power button to remind us a campfire (like the wild boar level and the first island). The eject button is a TNT wooden box, seen from above, made from basswood.


"Jungle Rollers is the second level of the first island in Crash Bandicoot. It is the first level in the game - and, by extension, the entire series - to feature a bonus round and TNT crates. It is also the first level in the entire series to require a colored gem. It was the level chosen to represent Crash Bandicoot in the first ever Playstation 'Demo Disc' known as 'Demo 1'. " crashbandicoot.wikia.com