Nouvelle collaboration pour la sortie d'un jeu anthologique : Crash Bandicoot ! Vous n'êtes sans doute pas sans savoir que Crash Bandicoot N. Sane Trilogy sort ce 30 juin sur Playstation 4. Pour l'occasion, la société Activision Blizzard m'a contactée afin d'élaborer 3 consoles sur cette saga emblématiques (et je n'en reviens toujours pas!). J'ai eu carte blanche pour une grande partie du projet, étant moi-même une grande fan de la série, j'ai pris le projet très à coeur. Nous avons choisi d'utiliser un personnage tout aussi iconique que notre ami roux : le masque Aku-Aku ! La console est réalisée en résine, acrylique et plastique. La partie inférieure du masque est entièrement en bois ainsi que le logo en bas à gauche.

Je remercie Activision Blizzard pour leur confiance ! :)

NB: Si vous utilisez les photos, merci de créditer l'artiste, le photographe Blind_Sea et évidemment les ayants droits !

© 2017 Activision Publishing, Inc. ACTIVISION and CRASH BANDICOOT are trademarks of Activision Publishing, Inc. The rating icon is a trademark of the Entertainment Software Association. All other trademarks and trade names are the properties of their respective owners.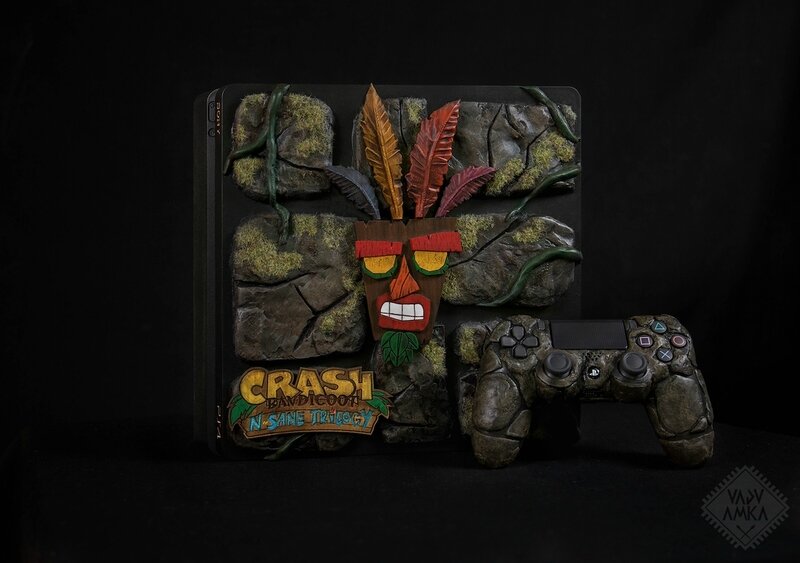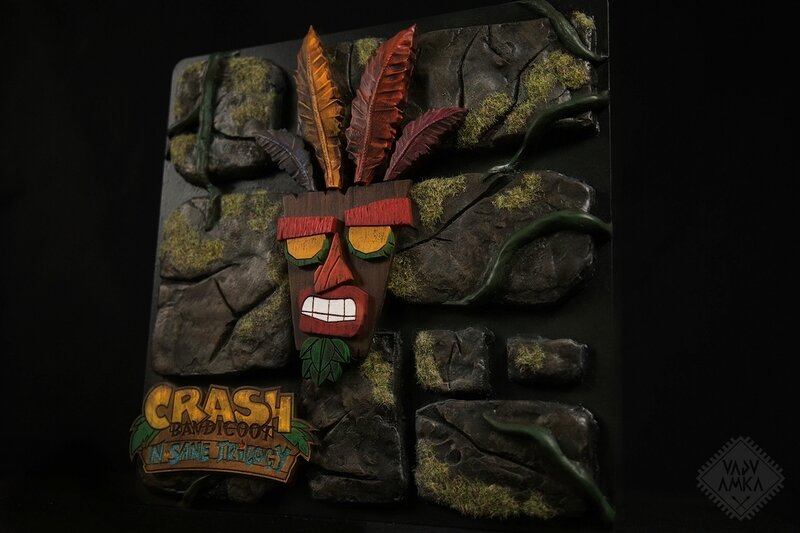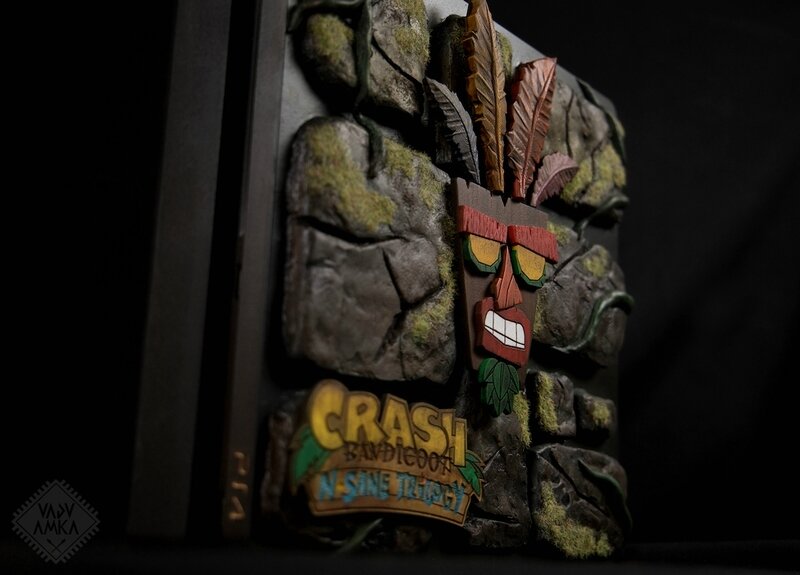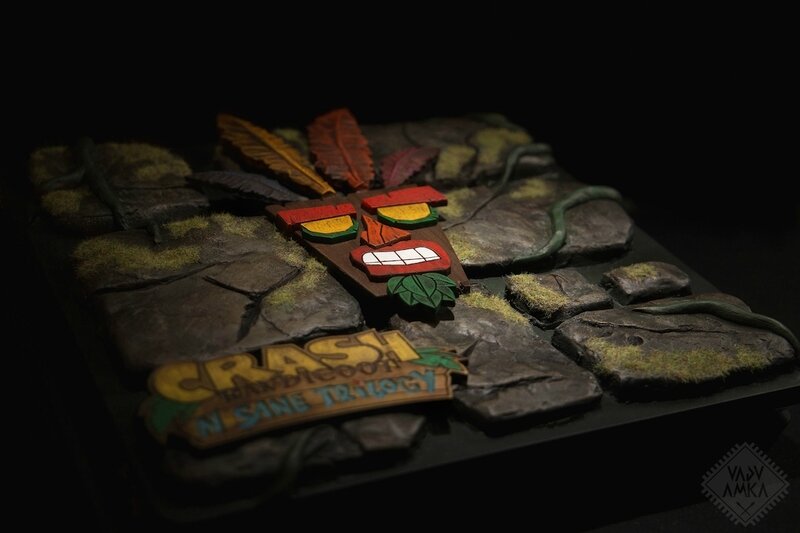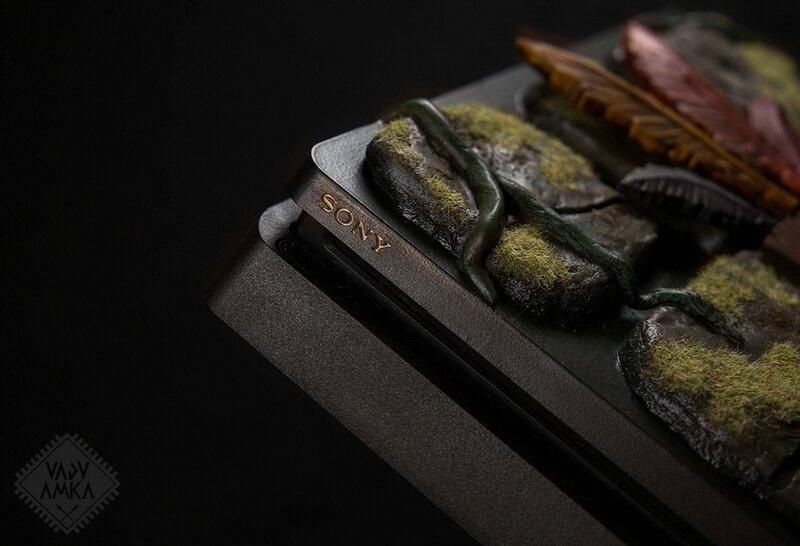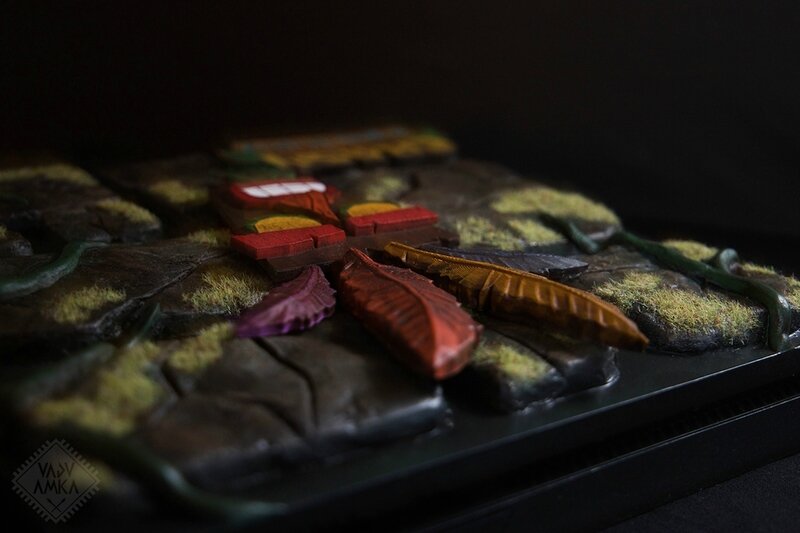 Merci aussi Blind_Sea pour les photos et l'équipe de Shoops ; Amandine , Rodolf et Stéphane pour m'avoir assistée dans les choix de matériaux et la précieuse aide apportée (surtout lors de mes crises existencielles au sujet des plumes).
Nouvelle commande personnalisée pour une Belge! Une grande fan de la série Crash Bandicoot m'a demandé de réaliser une console à l'effigie du personnage principal. Je me suis inspirée des premiers niveaux du jeu dont « Jungle Rollers » et le menu en fin de partie, où viennent se fracasser sur la tête de Crash toutes les boites qu'on a oubliées.

Au départ, j'étais partie sur une console Aku-Aku avec le masque en relief sur une base rappelant la jungle. Mais le héros devait absolument figurer sur la console, ou un élément le rappelant (= l'orange). J'ai alors opté pour l'effet de vieux temple gris foncé / verdâtre avec pas mal de branches et quelques lianes. Un petit effet sablé à certains endroits et des crevasses. Les boutons Reset & Power sont en bois teinté. Des petites pierres sont disposées sur le Power pour rappeler un foyer de feu (level avec le sanglier et la première île). L'Eject est une boite de TNT vue du haut en bois de tilleul (handmade).

______________


New custom order for a belgian customer!
A huge Crash Bandicoot fan asked me if I could make her a console with the main character on it.
My inspirations came from the first game levels (such as « Jungle Rollers ») but also from the end- game menu (when all the boxes Crash forgot come and smash themselves into his face).
At first, I wanted to make an AKU-AKU console with the mask on it and the jungle for the background. But the hero (or something reminding him) had to be on the gaming system. So I finally decided to create an old dark grey and green temple effect with branches and creepers. I applied as well a small sandy effect on a few places . Both Reset and power buttons were covered with tainted wood. Tiny rocks were also placed on the power button to remind us a campfire (like the wild boar level and the first island). The eject button is a TNT wooden box, seen from above, made from basswood.


"Jungle Rollers is the second level of the first island in Crash Bandicoot. It is the first level in the game - and, by extension, the entire series - to feature a bonus round and TNT crates. It is also the first level in the entire series to require a colored gem. It was the level chosen to represent Crash Bandicoot in the first ever Playstation 'Demo Disc' known as 'Demo 1'. " crashbandicoot.wikia.com