Conception de trois manettes @nacongaming au style viking en immitation bois, pour le lancement d'Assassin's Creed Valhalla par @ubisoft.

Manettes promotionnelles, non destinées à la vente.

© 2020 Ubisoft Entertainment. All Rights Reserved.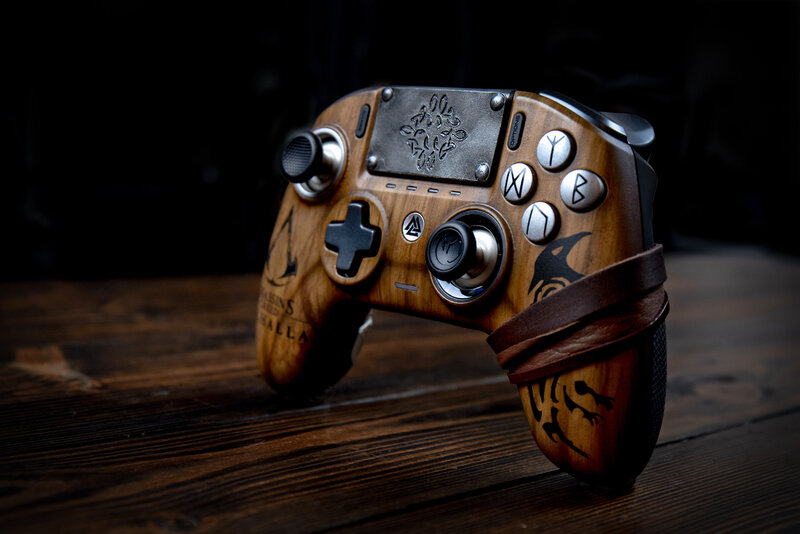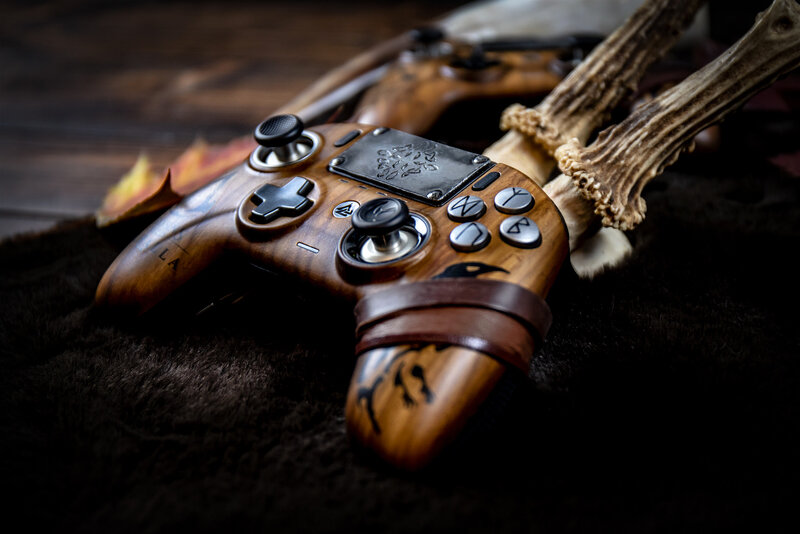 Promotional : PlayerUnknown's Battlegrounds themed controller series for Smartoys.
Only on XBOX ONE
Not available for sale

Copyright © 2018 PUBG Corporation. Tous droits réservés. PLAYERUNKNOWN'S BATTLEGROUNDS et PUBG sont des marques déposées de PUBG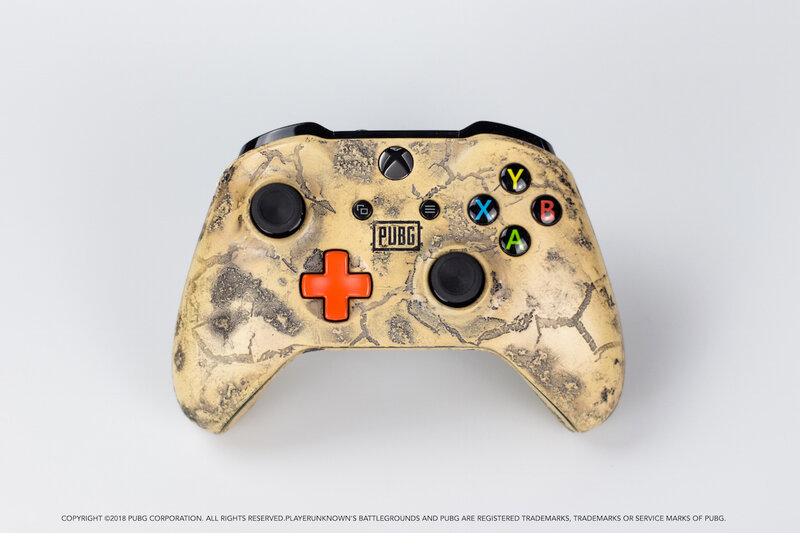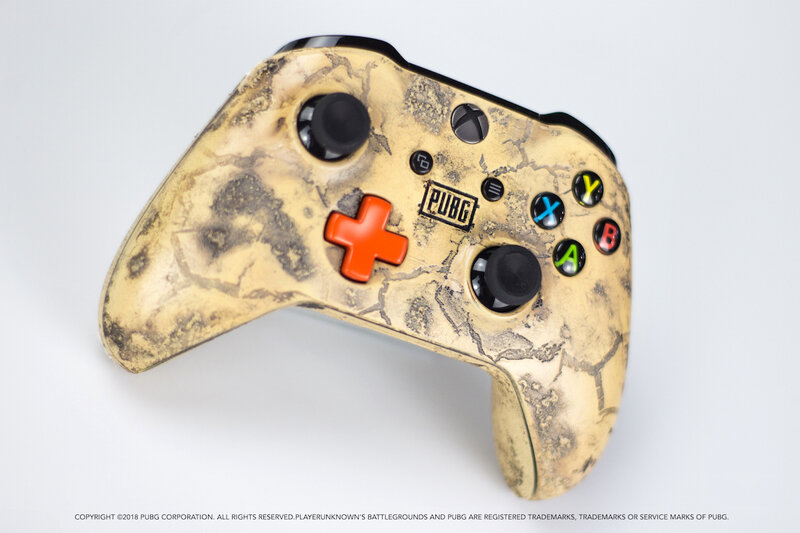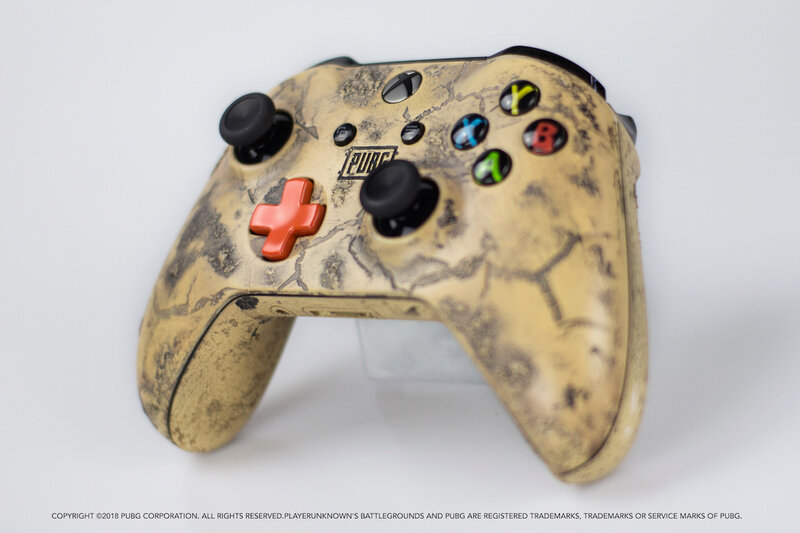 Modding @ Random Print
Manette Playstation 4 promotionnelle réalisée pour la sortie du jeu ASSASSIN'S CREED ORIGINS.
Cette pièce unique a été réalisé pour un concours Smartoys en Belgique.
Matériaux : Lanières en cuir clair, logo en résine et plastique, peinture acrylique.
Finition version UV mat.

Modèle unique, non destiné à la vente.

© 2017 Ubisoft Entertainment. All Rights Reserved. Assassin's Creed, Ubisoft, and the Ubisoft logo are trademarks of Ubisoft Entertainment in the US and/or other countries.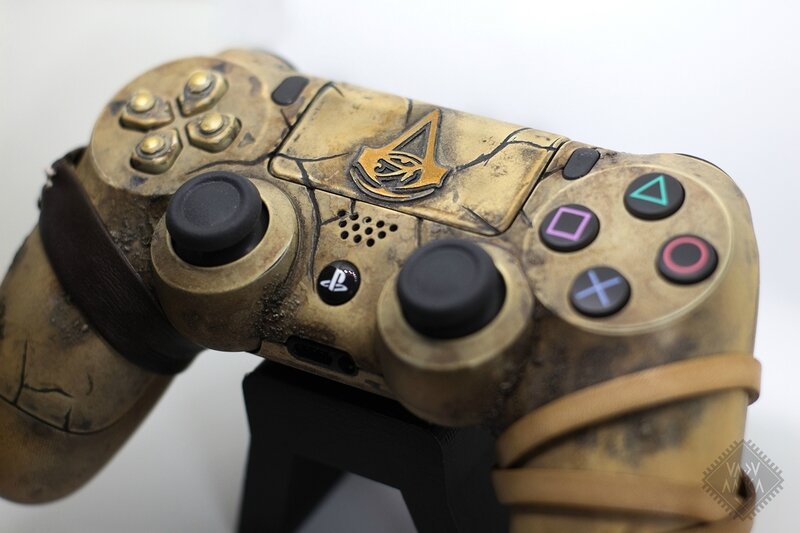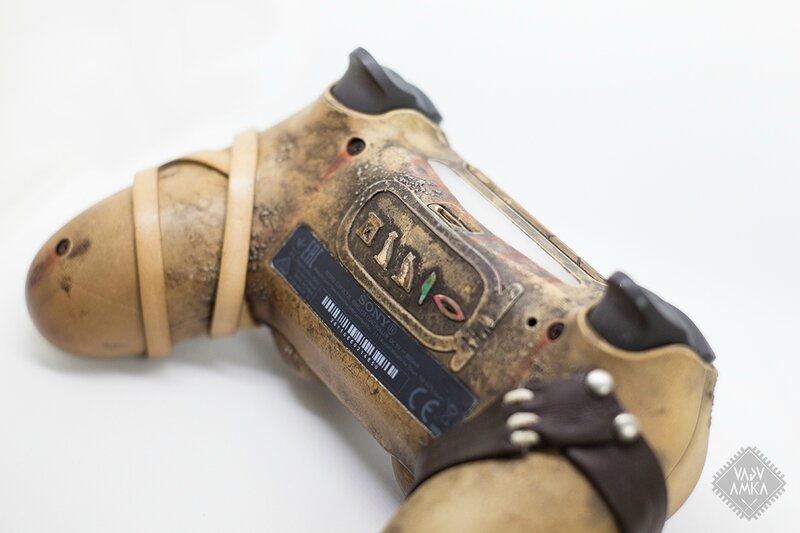 `
Réalisation d'une Fightpad Wii U sur le thème d'Hyrule. Le bouclier, qui est l'ornement principal, est réalisé en résine. Peinture à la main avec un "gold ancient" brossé avec un peu de métallisé. La manette est entièrement retravaillée, sculptée et avec un aspect patine de bronze, verre de gris (oxyde). Les lanières sont en cuir épais. Le pad directionnel est en métal et les différents éléments en reliefs sont en céramique.

Disponible / Available soon.

Realization of a Fightpad Wii U on the theme of Hyrule. The shield, which is the main ornament, is made of resin. Hand painted with an "ancient gold" brushed with a metallic effect. The controller is entirely reworked, sculpted and with a patina appearance of bronze, glass of gray (oxide). Straps are thick leather. The directionnal pad is made of metal and the various relief elements are made of ceramic.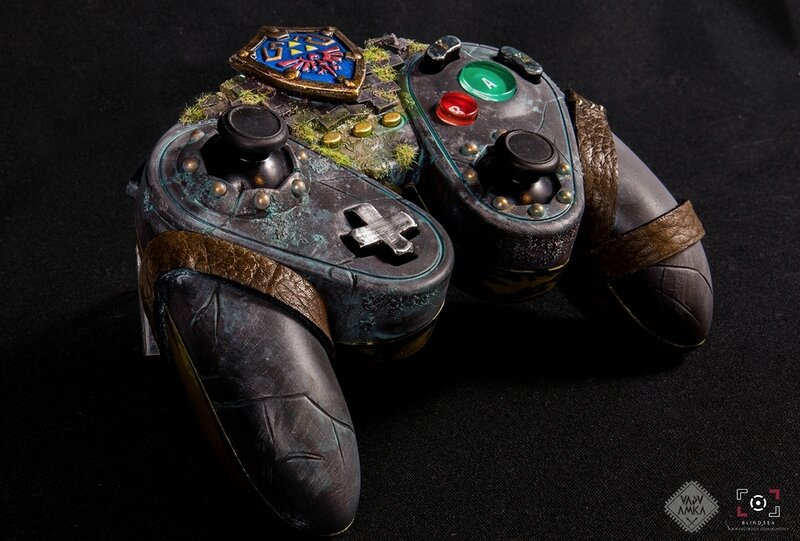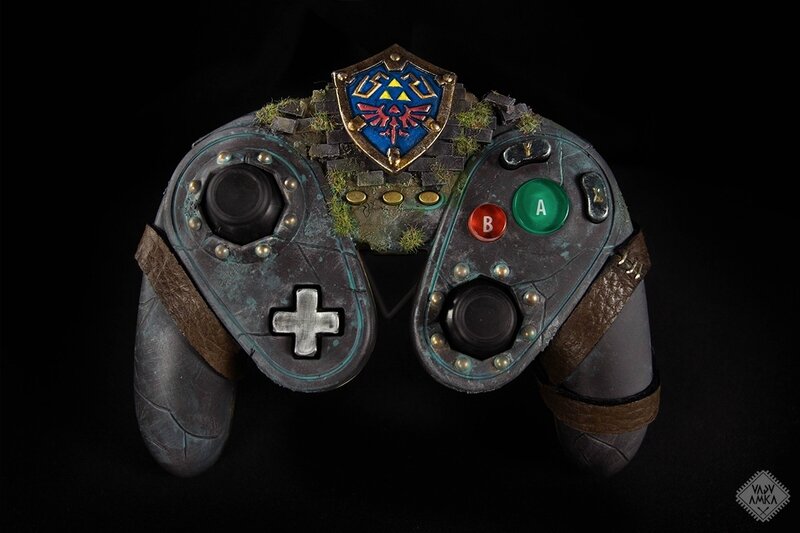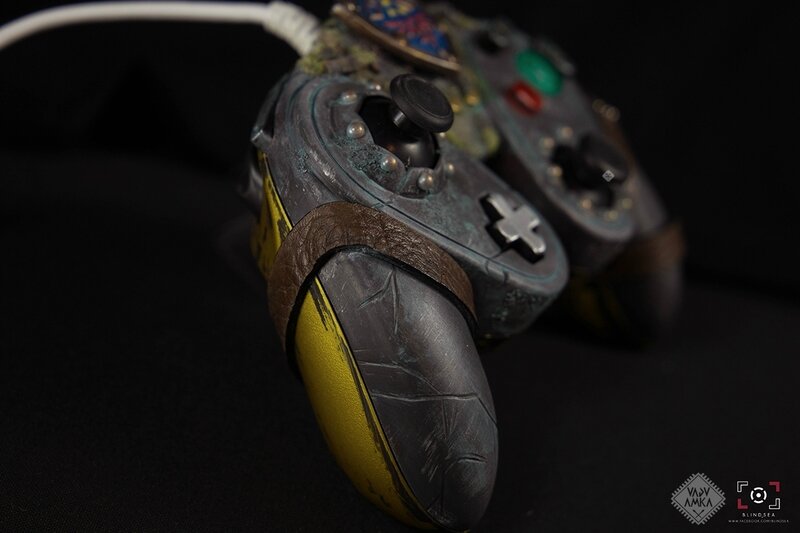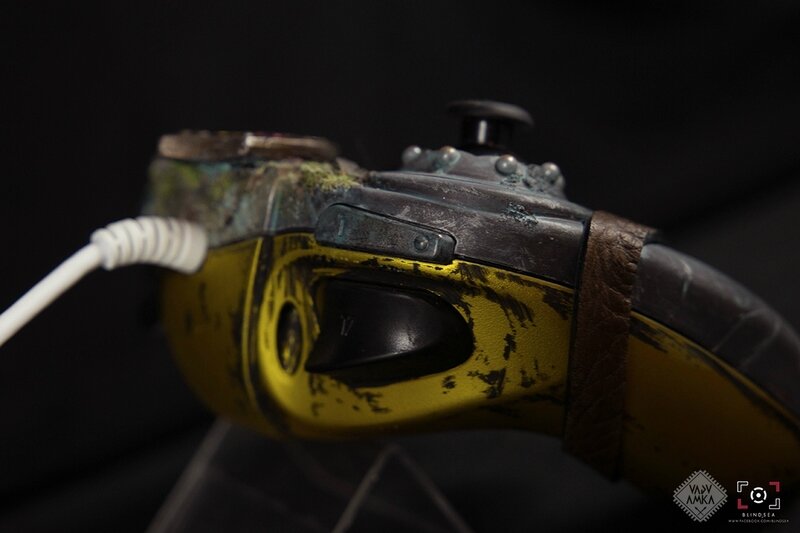 Réalisation d'une manette unique promotionelle sur le thème de Grand Theft Auto V.

Dans le cadre de la "Journée de la Gameuse" la chaîne de magasin Smartoys organise un concours d'envergure ainsi qu'une soirée ce samedi 20/05 au bar gaming Meltdown Brussels. Rendez-vous dans un Smartoys pour bénéficier d'une réduction de 10% et vous pouvez également postez une photo sur Facebook ou Instagram avec le hashtag #womeningames afin de gagner cette manette Custom GTA V !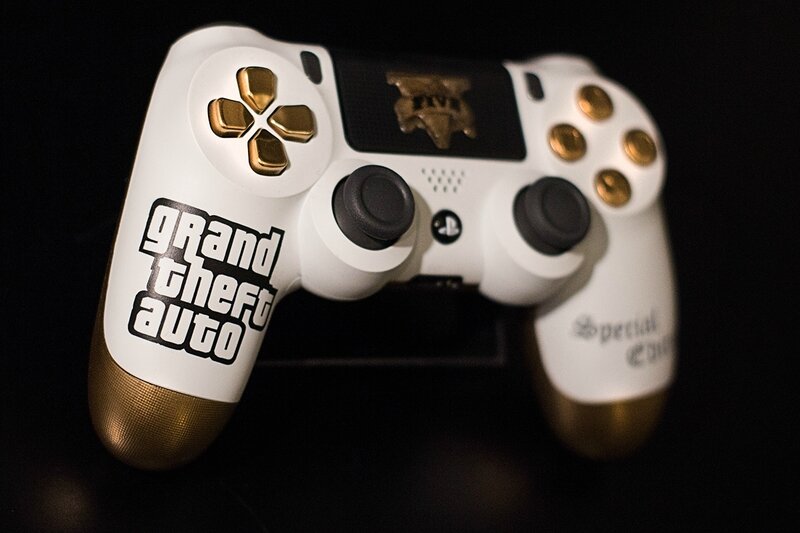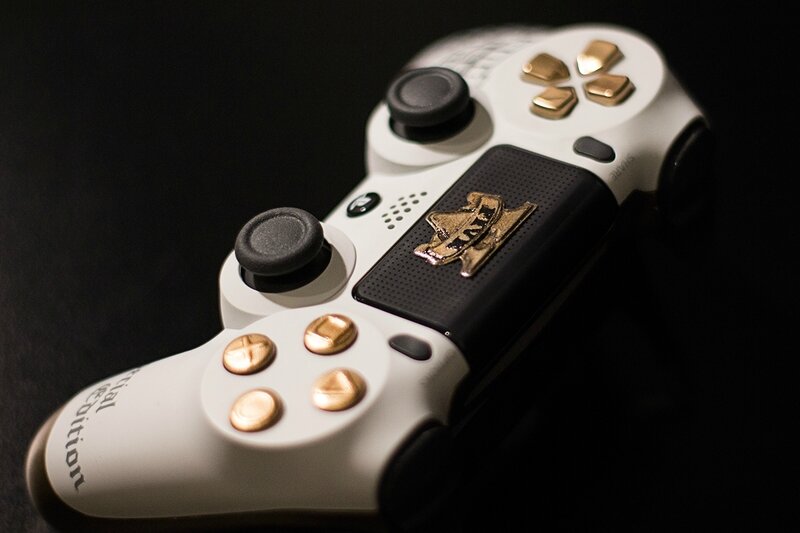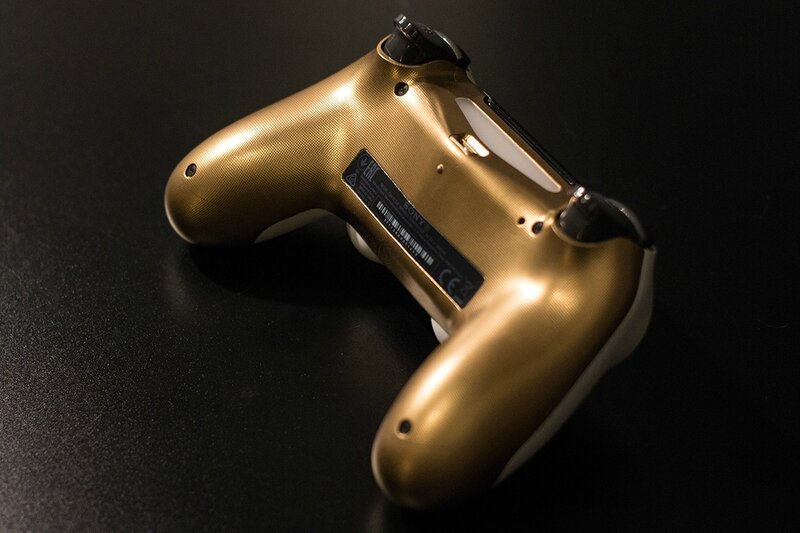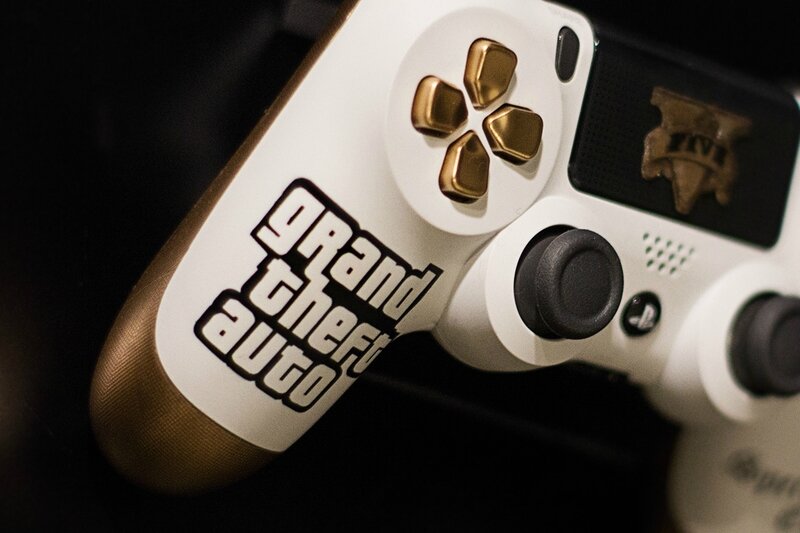 Pièce unique pour la promotion et la sortie de PREY en Belgique. Manette réalisée en résine et époxy, finition mate.
Couleurs inspirées de l'équipement des personnages. Reliefs noirs entourant la manette sur base des "Mimics". Inspiration principale Manette infectée par un symbiote.

Elle est à gagner ici !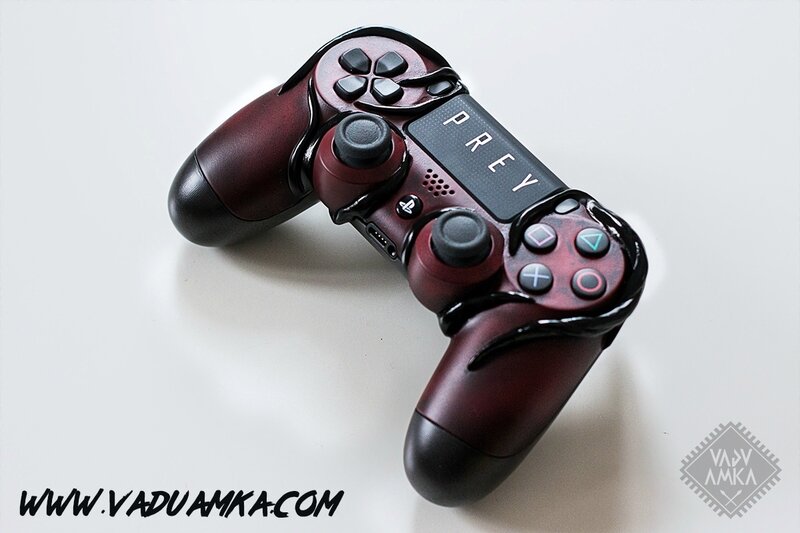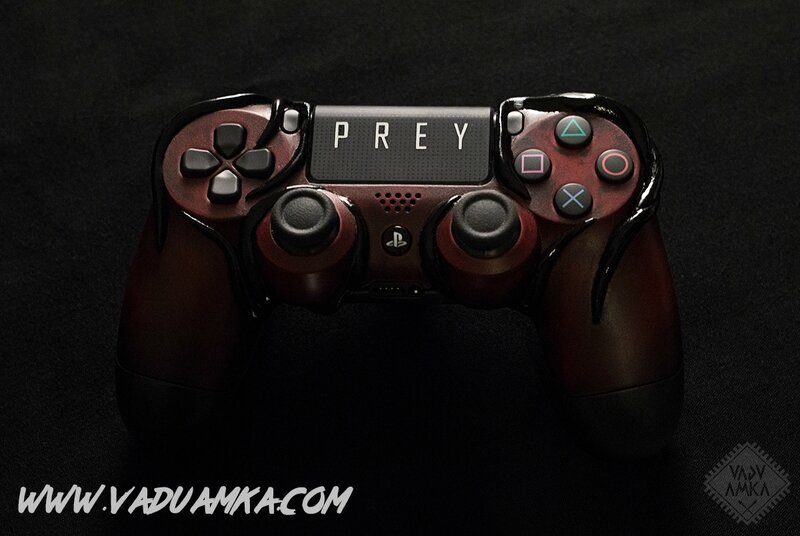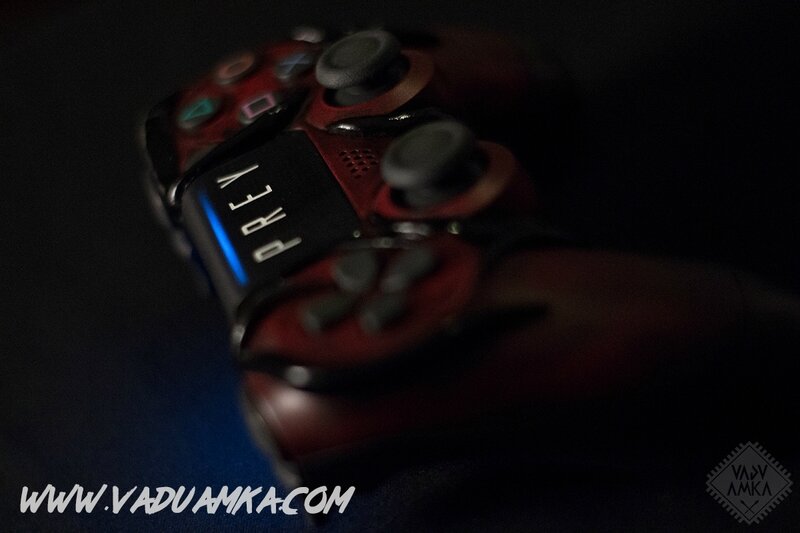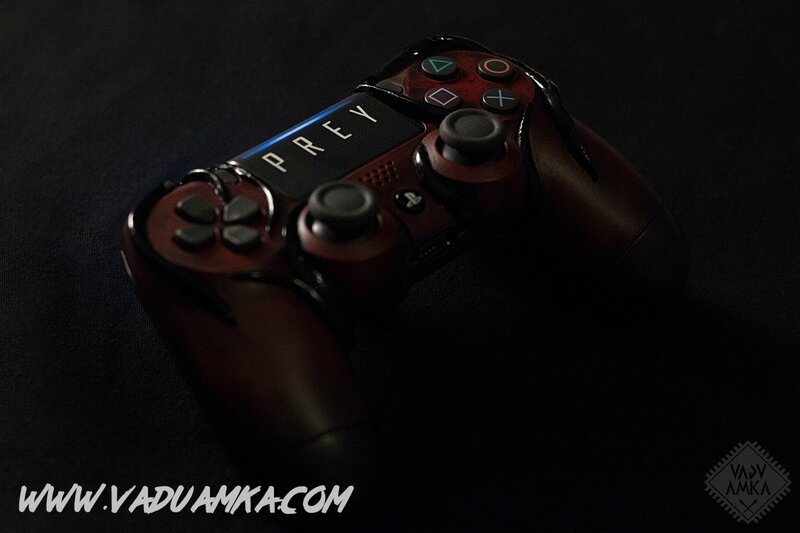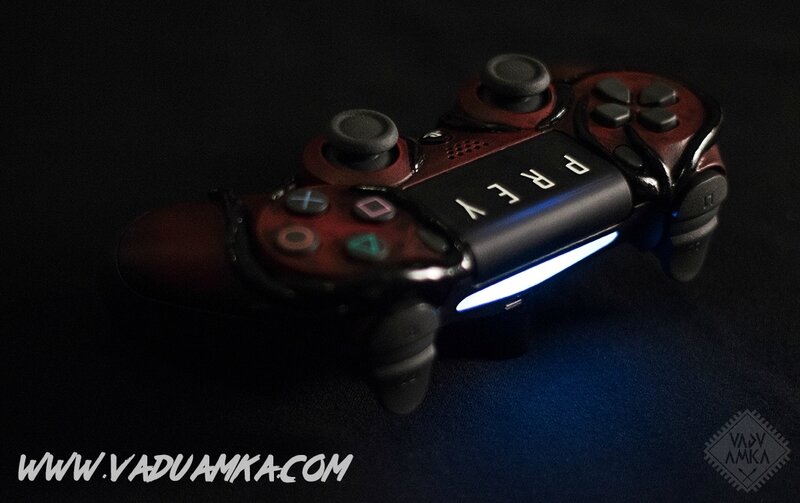 Ce 14 février 2017 c'est la Saint... Honor ! A l'occasion de la sortie de For Honor sur Playstation 4, le nouveau bébé d'Ubisoft Montréal , Smartoys vous fait gagner une manette custom unique réalisée par mes soins. En tout cas, chevalier, viking ou samouraï, ça va cogner sec ! Surtout avec cette manette sortie de son fourreau. Avant de partir en croisade sachez qu'il sera possible de l'acquérir uniquement lors de la précommande du jeu dans l'un des 19 magasins de Smartoys. Rendez-vous sur leur page Facebook !

For Honor © 2016 Ubisoft Entertainment. All Rights Reserved.

Xbox One Custom controller "The Walking Dead"
Brand new model.
Unique piece
The controller is fully functional functional, black metal thumbsticks (aluminium)
Mat varnish.
Vendredi 13 est à l'honneur ce mois-ci avec une manette sur le thème de Jason. Cette réalisation reprend les traits graphiques du masque de hockey de l'effroyable Jason. Je ne suis d'ailleurs pas la première à réaliser un custom sur ce thème. Cependant, je tenais à y apporter ma petite touche. La manette est parfaitement fonctionnelle. Afin de garder une bonne ergonomie en main, seulement deux bandes en cuir ont été rajoutées latéralement pour rappeler les attaches du masque. La base de la peinture est un blanc légèrement teinté en beige et sali. Sans trop tomber dans le poisseux. On retrouve 3-4 petites traces de doigts ensanglantées et suffisament discrètes. Il existe deux exemplaires : l'une pour un particulier car il s'agit d'une commande et la seconde manette est reservée pour les expositions. Et sera donc très prochainement visible !


-----

Friday the 13th is featured this month, with a Jason themed controller. This artwork takes the graphical lines of the mask of the frightening Jason. Although I am not the first one to do a custom on this theme, I wanted to add my personal touch to it. This controller is fully fonctional. To keep a maximum of its ergonomic features, I have only added two stripes of leather side way to remind of the mask fasteners. The base of the painting is white with a tint of dirty beige, without being too sticky. We can find 3-4 discrete bloody finger marks on it. There are two copies of this artwork : one is for a customer and the other is reserved for exhibition. It means that you will be able to see it soon!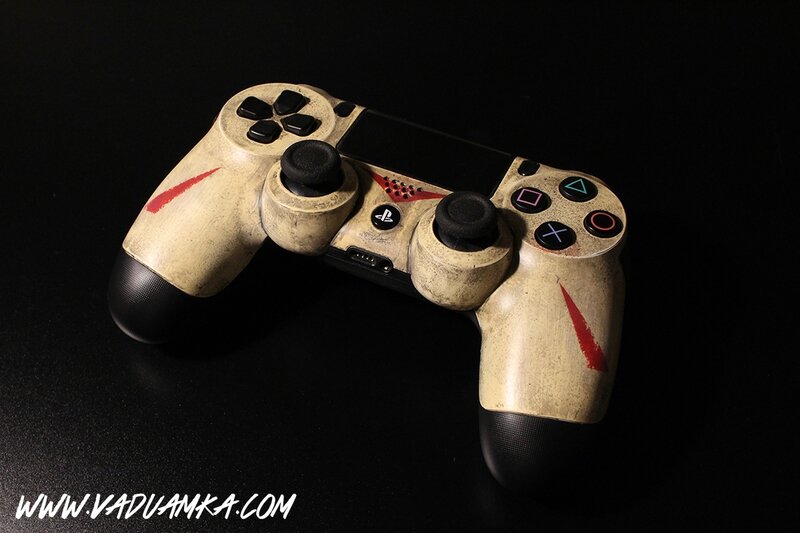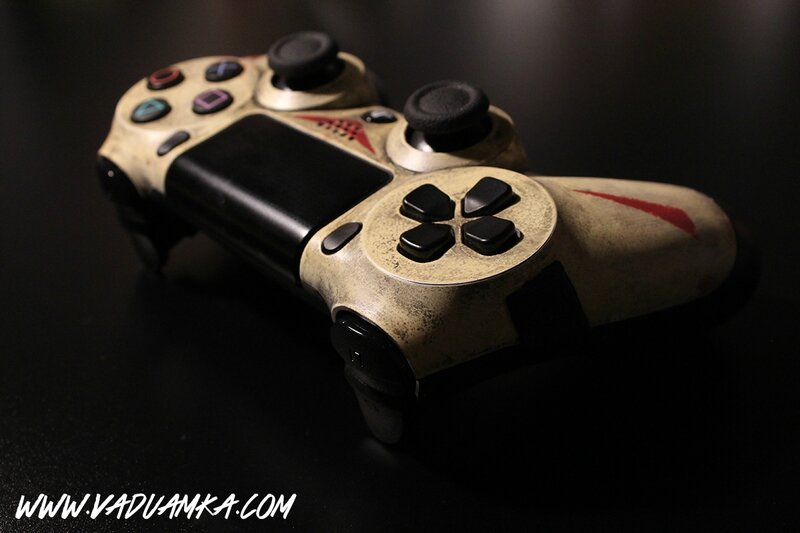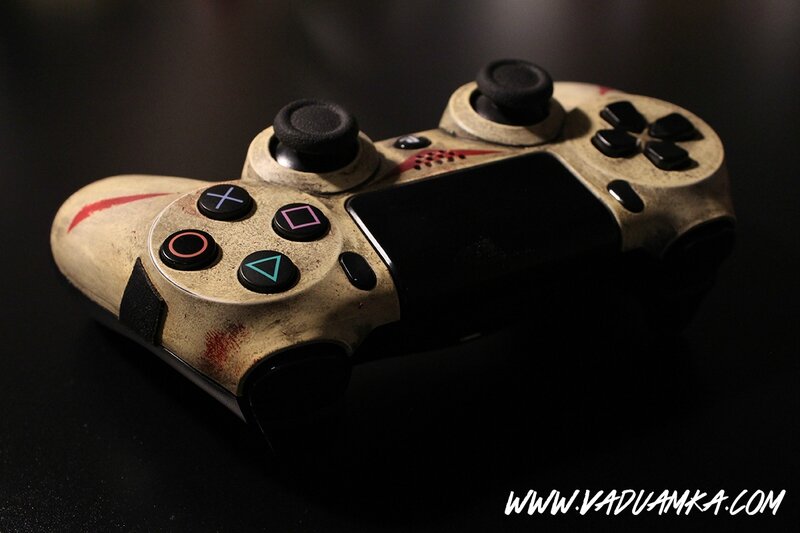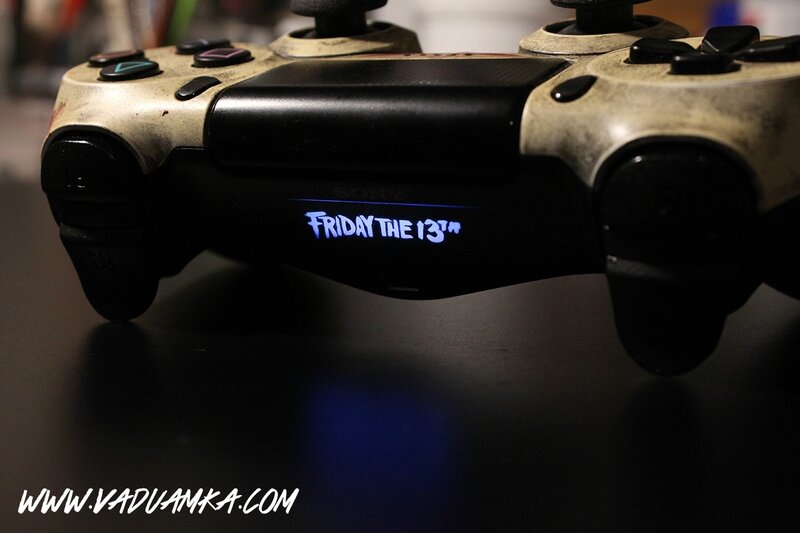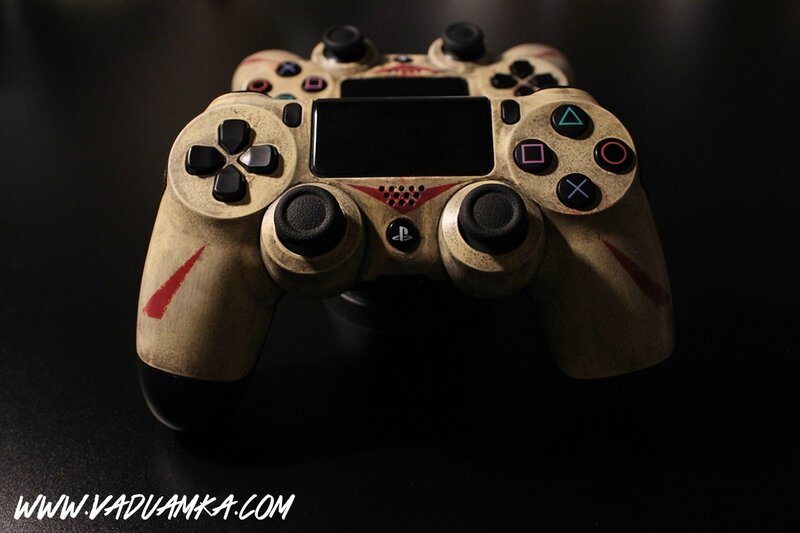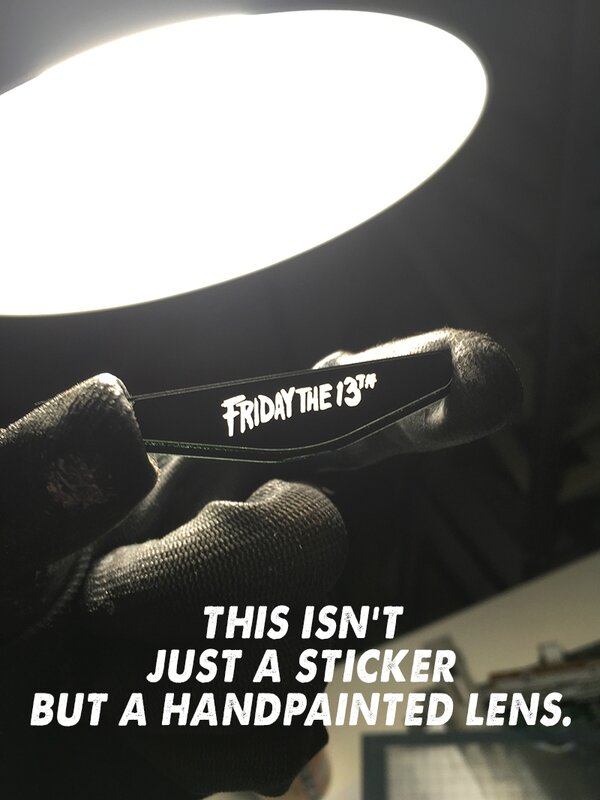 Ma première réalisation sur une manette Xbox One, la composition est entièrement issue de l'univers de Tomb Raider.
Il s'agit d'une manette d'exposition, un exemplaire unique non destiné à la vente.
Vernis : Satiné & Brillant
My first realization on Xbox One controller, entirely based on the Tomb Raider universe.
This is a unique display controller not meant to be sold.
The varnish has a glossy Satin finish.

Artwork original Rise of the Tomb Raider - Tomb Raider ® Square Enix Ltd.