Une Nintendo 64 de plus sur le thème de The Legend of Zelda, Ocarina of Time.
Un cadeau surprise commandé par la copine de Mika', car ce jeune homme est un grand fan de la licence et vous êtes très, très nombreux !
Les pierres ancestrales étant des objets de quête très importants dans le jeu, j'ai choisi de rappeler leur forme sous le logo de la console, pour rappel, il s'agit de l'Émeraude Kokiri, du Rubis Goron et du Saphir Zora. Le logo de la console, lui aussi a été refait pour se rapprocher de la typographie de la saga. Un petit clin d'oeil supplémentaire pour faire plaisir à cet ami. Le reste de la technique a été abordée dans les articles précédents, le bouclier a été remoulé en résine et un chouïa rendu plus fin et anguleux. Le modèle de base vient de la forge de MetalFGS . Le doré des touches est usé et brillant pour être homogène avec le reste de la console qui est plutôt ancienne. Et La Triforce est rappelée sur la manette.

---

A Nintendo 64 based on The Legend of Zelda, Ocarina of time.
It's a surprise gift ordered by Mika's girlfriend. He's a huge fan of this licence, just like so many of you, Guys.
The ancestral gems being very important items for the main quest, I chose to remind their shape under the console's logo. As a reminder, they are the Kokiri emerald, the Goron ruby and the Zora saphire. The console's logo was also remade in order to stay close to the saga's typography.
A little additional wink for this friend to please him.
I have already explained the techniques I used in previous publishings, the shield was remolded in resin, for a little bit thinner and angular rendering.
The basic model comes from the MetalFGS forge. The gold aspect for the buttons is worn and shiny to match with the rest of the console, that is rather ancestral. At last, the Triforce is remembered on the game pad.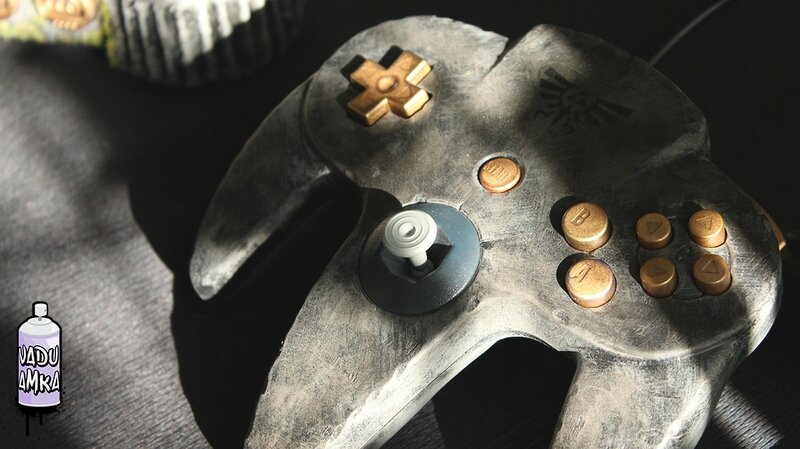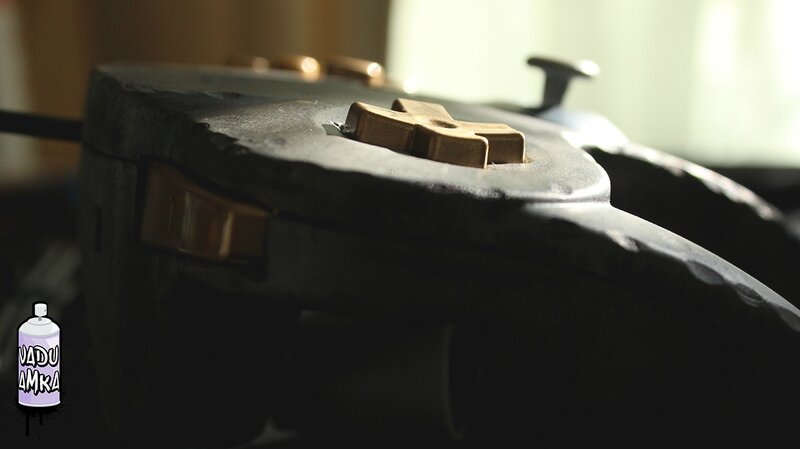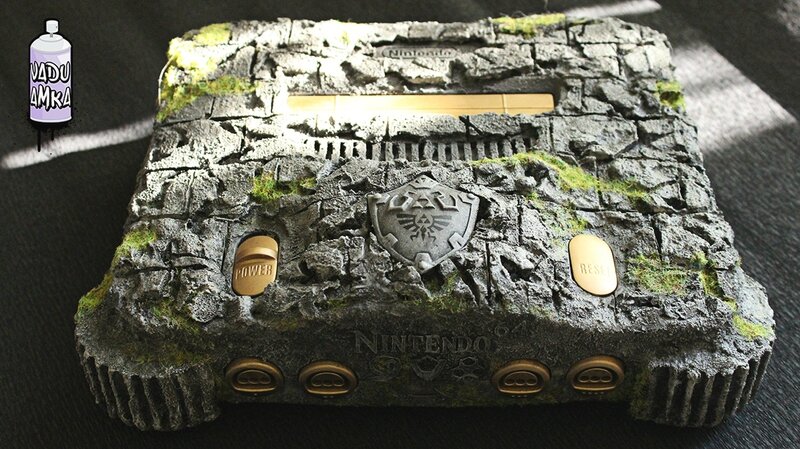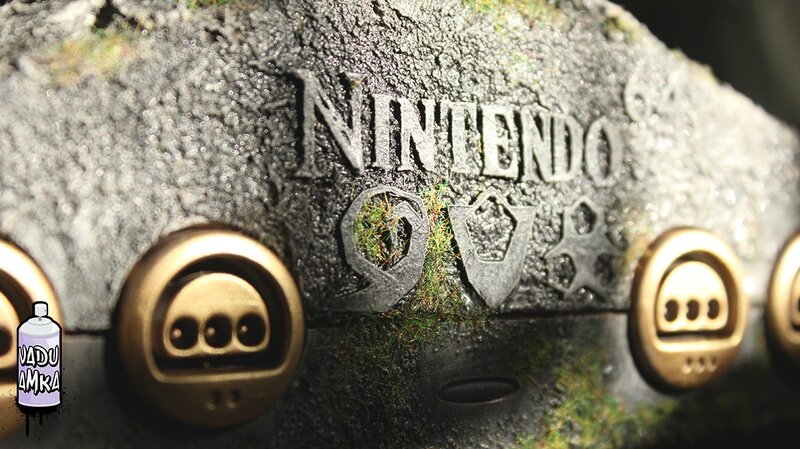 Happy Birthday Mika!
Culture games s'est occupé du packaging pour le jeu Half-Life sur Dreamcast qui n'est jamais sorti autrement qu'en abandonware sur internet. Ils comptent organiser un concours permettant d'en gagner un exemplaire (avec le jeu et un boitier neuf comme si le jeu était réellement sorti) et pour que le concours soit encore plus marquant, ils m'ont demandé de réaliser une Dreamcast aux couleurs de Half Life et d'ainsi proposer un pack complet.
Réalisation : J'ai repris les couleurs du personnage principal au pied de biche. Je ne voulais pas faire une console complètement orange, la couleur est souvent assimilée à Metroid. J'ai principalement travaillé l'aspect de peinture écaillée et de rouille. La console reste à mon goût relativement sobre et fidèle aux visuels des jacquettes.
Temps : 1 mois & demi

---

A Half-Life Dreamcast for Culture Games
Culture games took care of the packaging for the game "Half-Life" on Dreamcast, which was never released anywhere else than on abandonware sites. They plan to hold a contest to win a copy (with the game and a new case as if it was actually released) and the competition is even more striking, they asked me to make a customized Dreamcast on the Half Life theme and thereby propose a complete package.

I took the colors of the main character with the crowbar. I didn't want a completely orange console, the color is often linked to Metroid. I mainly worked on the paint peeling and rust appearance. According to my taste, the console remains relatively sober and faithful to the covers' visuals.

Time spent: 1 month and a half
GameCube Inspirée des fresques du volet The Legend of Zelda : The Wind Waker.
Temps de réalisation : 3 mois en étant sur d'autres projets à la fois.
Matière : Résine, pâte époxy double composant, acrylique et gel texturant
La console est entièrement réalisée à la main, les ports manette ont été ornés des nombres 1 à 4 en alphabet Hylien. La réalisation de la manette est basé sur un manche rappelant une épée (Je ne parle pas forcement de la Master Sword mais juste d'une forme) Le bouclier sert de bouton Start, il est absolument fonctionnel. Il en va de même pour les sticks. Le premier plus décoratif étant en laiton. Le second est un élément d'origine. J'essaie à chaque fois de garder tel quel au moins un élément de la console. Bien qu'il soit d'un très beau jaune. (Il est aussi relativement difficile de customiser du silicone, c'est une surface qu'il faut éviter de peindre).
Certains remarqueront peut-être quelques fissures sur le côté droit. Link est prié de ne pas l'exploser! Autres détails, l'arrière de la console (la poignée) est en faux cuir noir.
Je vous laisse désormais regarder tout ça de plus près !
A très vite.

---
Gamecube inspired by The Legend of Zelda : The Wind Waker.
It was completed in 3 months, while working on other projects at the same time.The Materials I used were resin, Double component epoxy paste, acrylic paint and texturizing gel.The console is entirely hand made. Joystick ports were adorned with numbers from 1 to 4, using the Hylian alphabet. The controller's design was inspired by a sword (that does not necessary mean that it is the Master sword). The Start button is covered by a shield but is fully functional. So are the sticks. First one is more decorative while using brass. The second one is an original item. I always try to keep unchanged something on the console. It is very difficult to customize silicon parts because it is hard to paint on it . You may have noticed the cracks on the right side. lease tell Link that he is not supposed to blow them up.Another detail you may have noticed is the fake leather covering the handle. I will just let you have a closer look at the whole.
See you soon!

Not for sale - Pas à vendre
Photos du work in progress sur plusieurs semaines :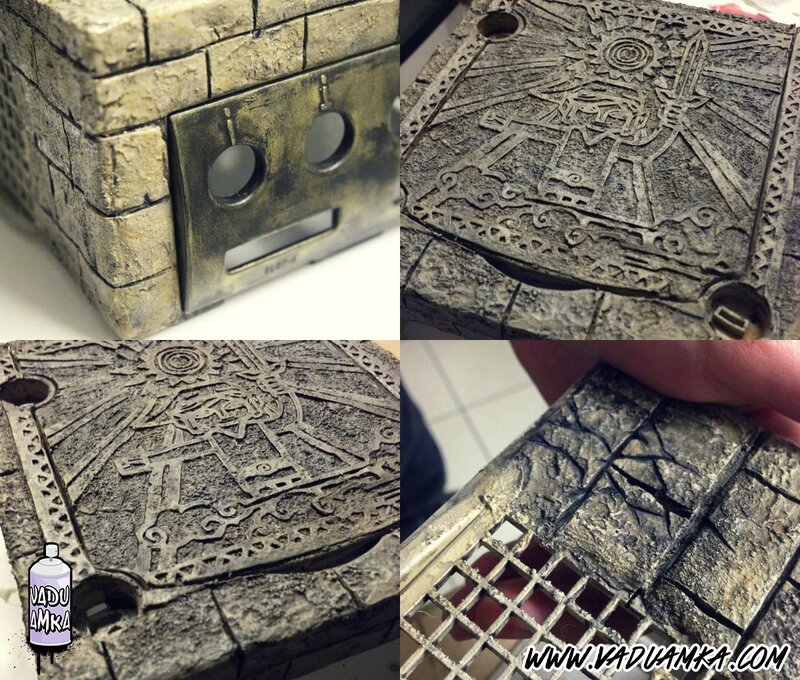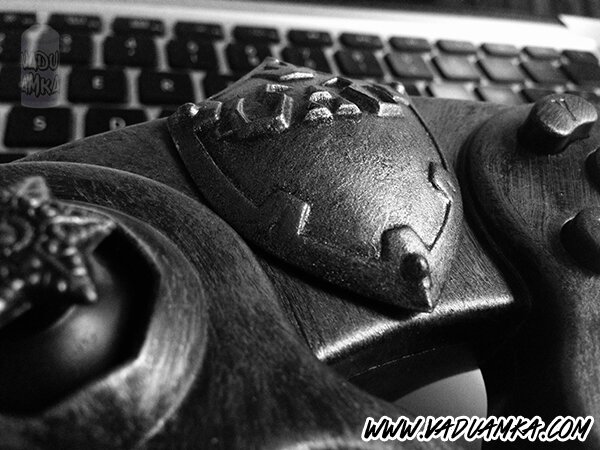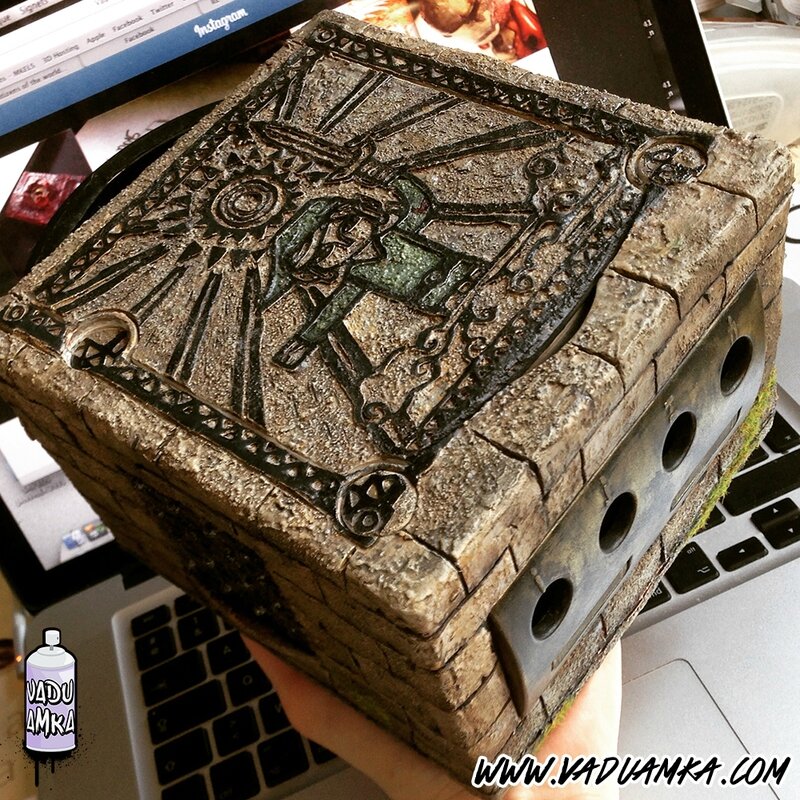 --- Final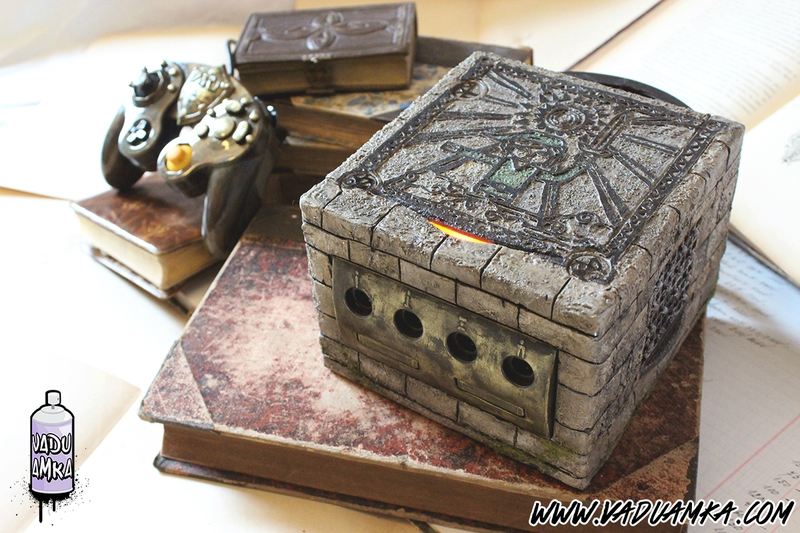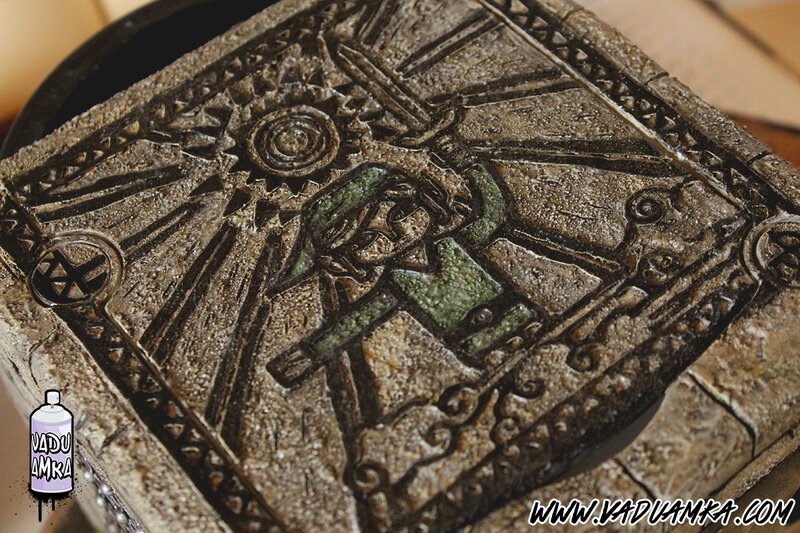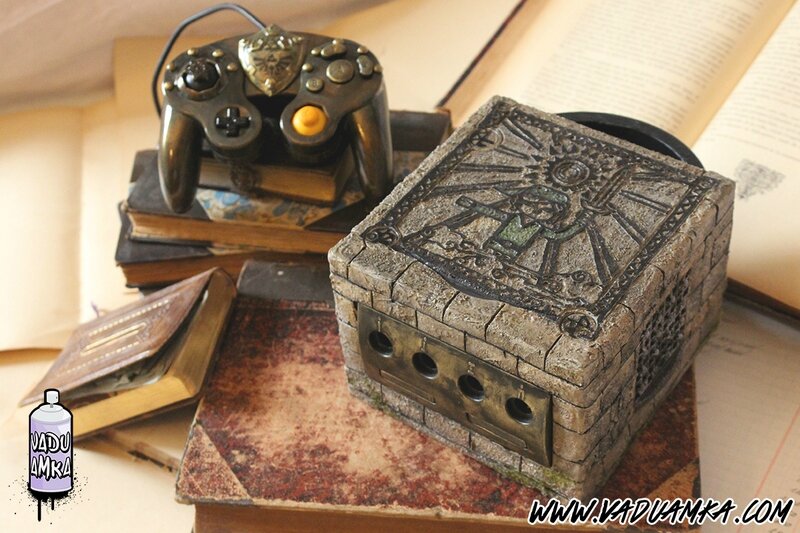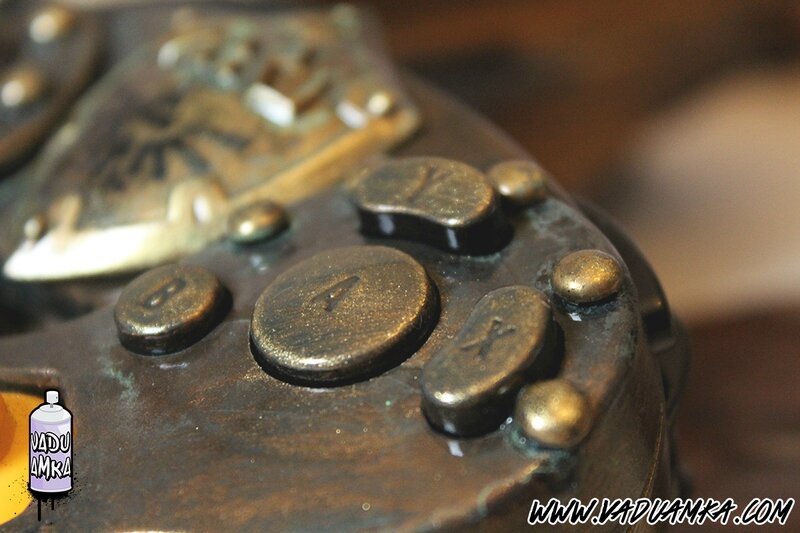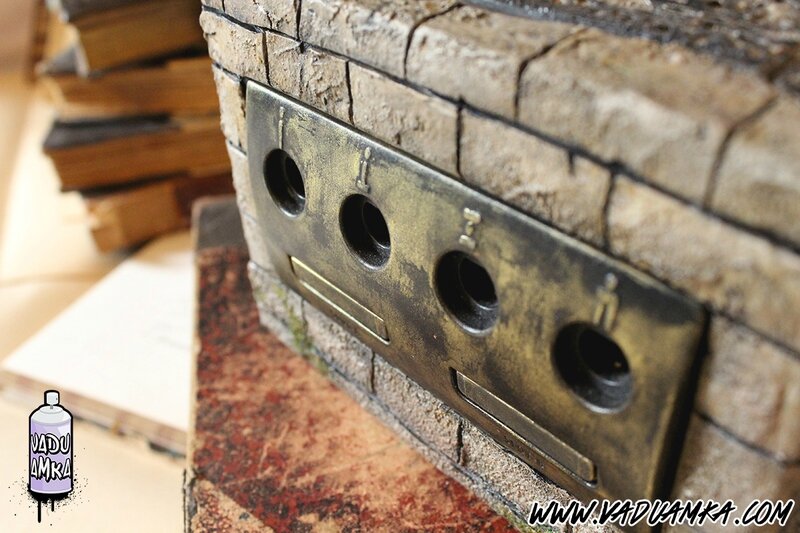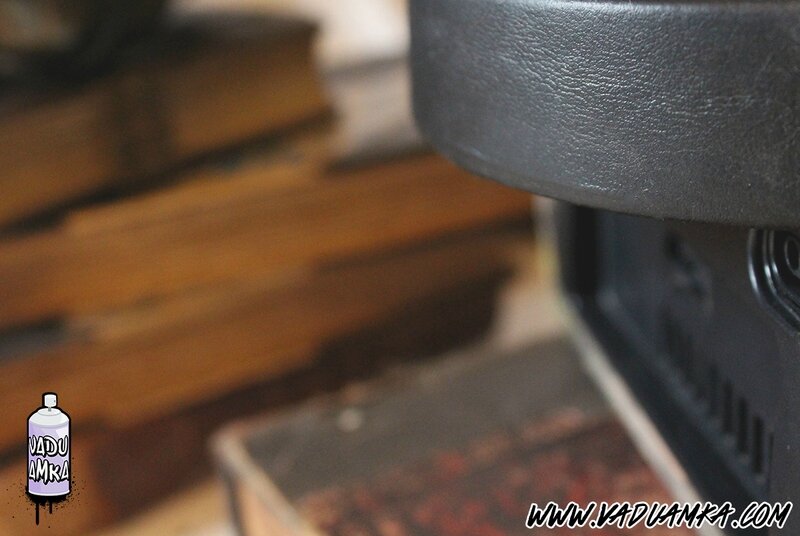 --- Bonus / Making-of
Salut la customunauté!
Nous allons nous pencher cette fois sur la fabrication de nos propres boites de jeux "custom". Ces derniers mois, plusieurs petits business juteux ont pu fleurir sur les sites de ventes dont celui des boites. Qui n'a pas rêvé de posséder son jeu favori dans un état irréprochable et proche du neuf?
Si tu es un peu débrouillard et proche de tes sous, j'ai la solution. Je me suis penchée sur le cas de plusieurs boutiques qui revendent des "clear cases", boitiers transparents pour GBA/GB color et GB. Mais nom d'un petit scarabée, serait-ce un boitier de DS? Bingo! Comment avons-nous pu oublier cet insert en plastique prévu pour les jeux GBA et si facilement... détournable!

Cependant, petite mise en garde. Ce qui suit ne vise pas à refaire le packaging original en carton d'un jeu mais bien à l'adapter selon vos goûts et vos besoins en attendant d'acquérir le Saint-Graal.
Mais certains s'en satisfont sans doute pour garder hors de la poussière leurs cartouches. Je vous propose donc une alternative parmi tant d'autres afin d'embellir à petit budget votre collection de jeux en loose.
NB: Dans le cas où vous opterez pour un achat tout-en-un d'un boitier + cover, comptez entre 8 et 15euro sur le net.
Pour cette astuce il vous faudra :
- Au moins un boitier DS de récup (1-3euro pour les jeux pas top style refonte de casse brique).
- Une pince et une lame de cutter
- Un programme de retouche : Adobe Photoshop, Gimp, Picasa,...
- Une imprimante, de l'encre ainsi que des feuilles A4.
1. La récupération de boitiers.
Rendez-vous dans votre magasin de seconde main de prédilection afin de mettre la main sur des jeux pas top, bradés et dont le boitier est intacte. Il est possible de trouver des jeux DS entre 1 et 3euro. (Ne sacrifiez cependant pas des jeux pour rien, nous aurons une utilité prochaine pour les cartouches. A moins de les offrir en lot à votre futur ex-meilleur pote…).
2. Adaptation de l'insert en fonction du type de jeu.
Si vous avez décidé de refaire un boitier GBA, pas de soucis! Rendez-vous au prochain point.
Si non, il est l'heure de dégainer la pince et la lame de cutter pour "racler" habilement la partie inférieure en plastique de cet insert. Il suffit de tourner délicatement (et non de croquer le plastique) puis de couper à l'aide de la lame ce qui dépasse. Pour les méticuleux, vous pouvez même essayer de poncer avec un grammage très fin. (Mais je ne serai pas aussi maniaque dans ce tuto).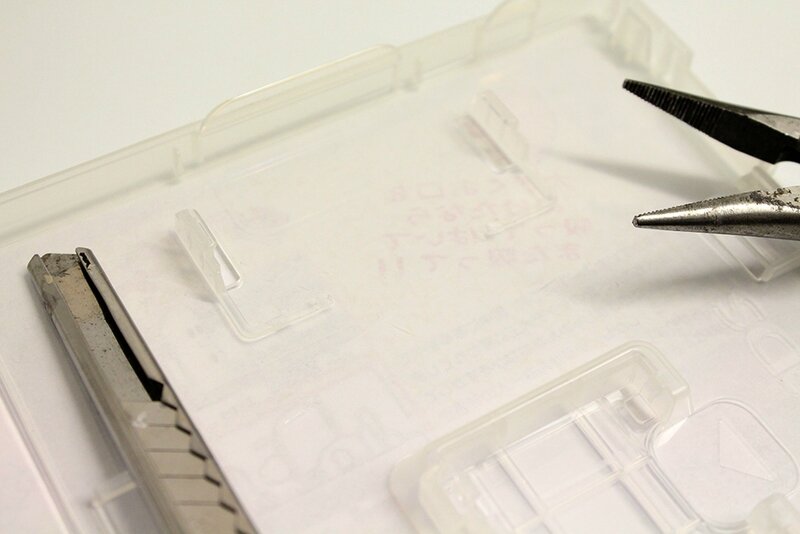 3. Place à la création du cover / jaquette
Dimension du boitier DS : 13 x 1,8 x 13 cm de long et 11,5 cm de haut.
Vous trouverez ci-joint un document .PSD en 150dpi pour photoshop avec le bon format et un template pour Game Boy (DMG).
dpi = Le point par pouce
150 dpi est une résolution acceptable.
lien pour télécharger.
Pour fabriquer votre cover, vous aurez sans doute besoin d'un fichier "source". Un élément original rescanné et diffusé gratuitement sur internet comme par exemple sur : www.nintandbox.net (Voilà pourquoi c'est pas bien de télécharger ces fichiers et les revendre!).
Ou encore ce site : www.thecoverproject.net
Vous pouvez aussi faire preuve de créativité et improviser un design!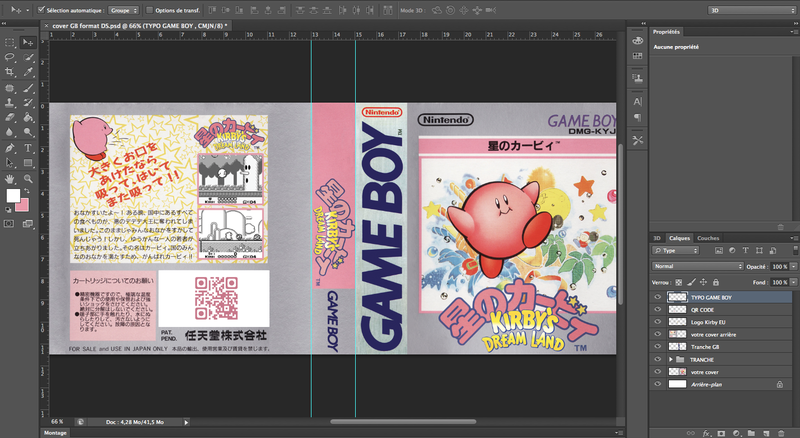 4. L'impression
Format A4, une simple feuille devrait suffire.
Pour un rendu plus vrai, essayez de vous procurer des feuilles glacées / brillantes 120 g/m (Dépliant ou photo).
Et puis forcement, découpez proprement.
5. Dernière étape

Rangez votre jeu!
Alors, tu en dis quoi de ton boitier?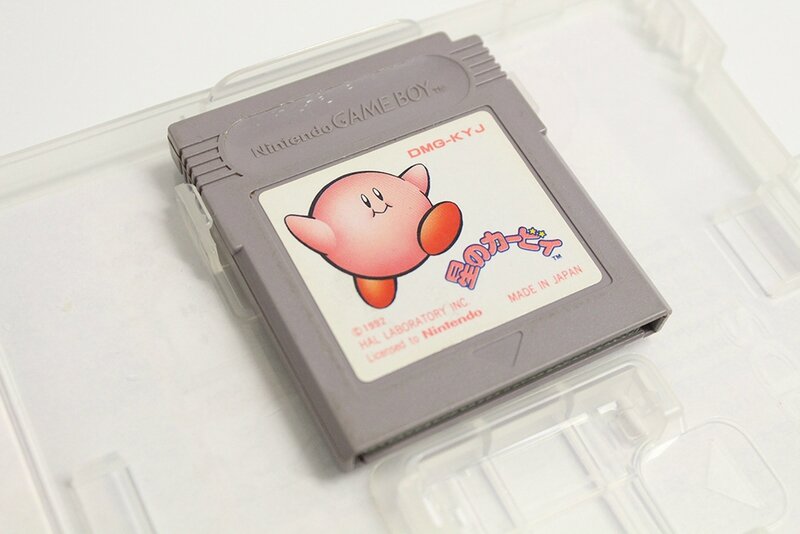 40x50cm
Sonic 2 - Tails

Painting available online at KOCHI Gallery, here.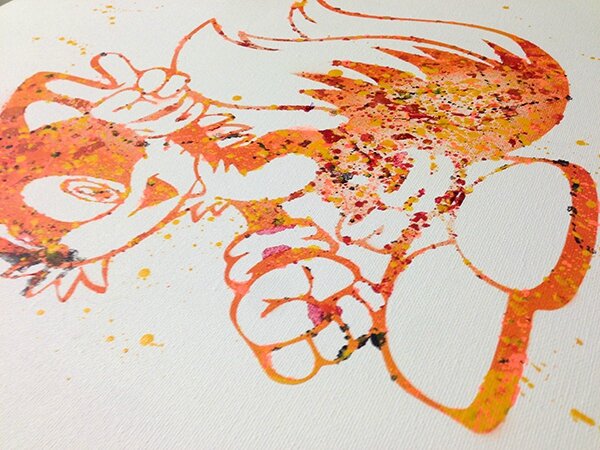 Console promotionnel réalisé sur commande pour Shainiiigaming & son émission Belge Ma maison de retrogamer
Peintures : Signal White & Swet rouge traffic Belton Molotow Premium + écran DMG blanc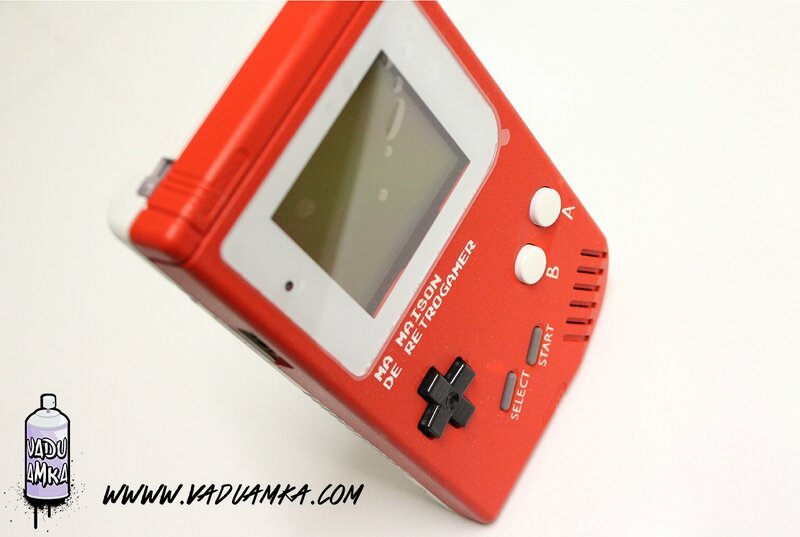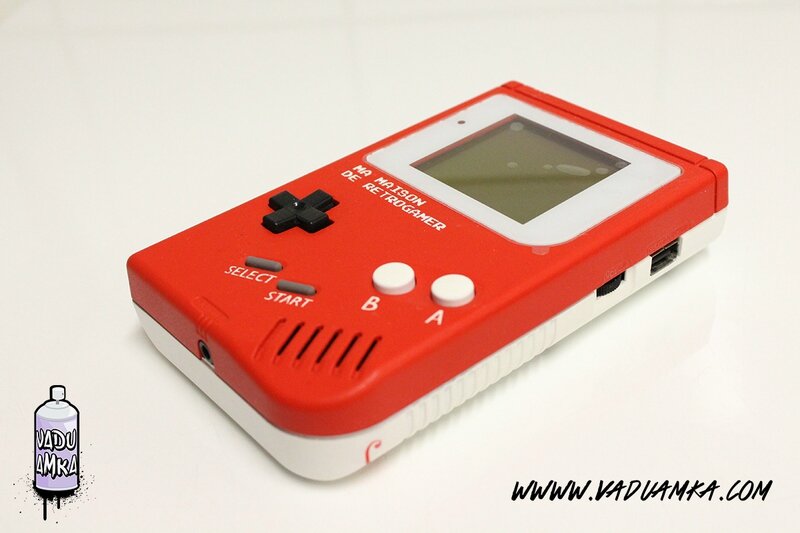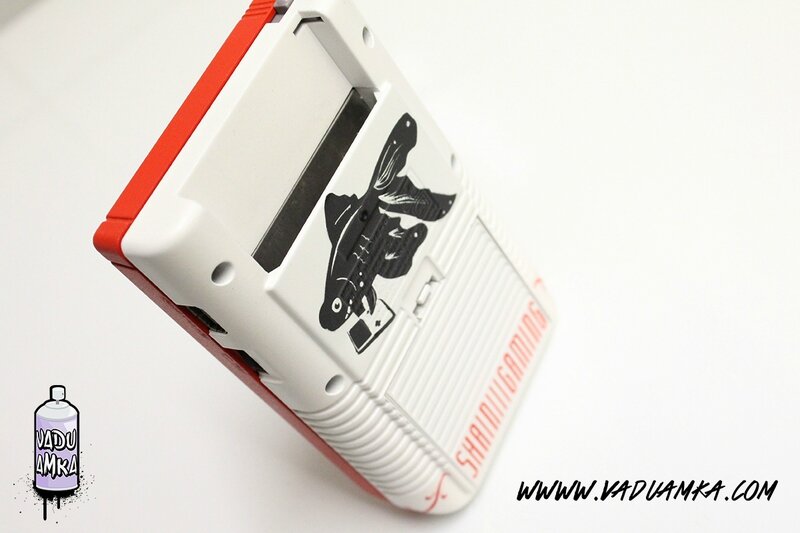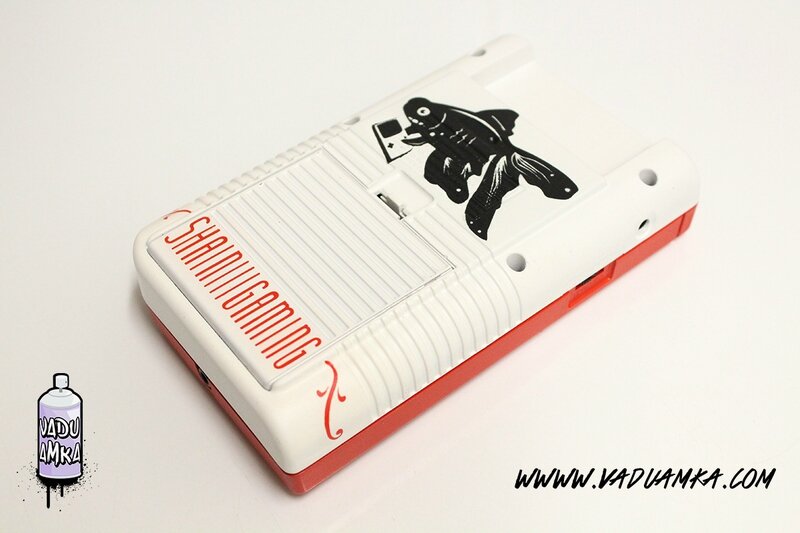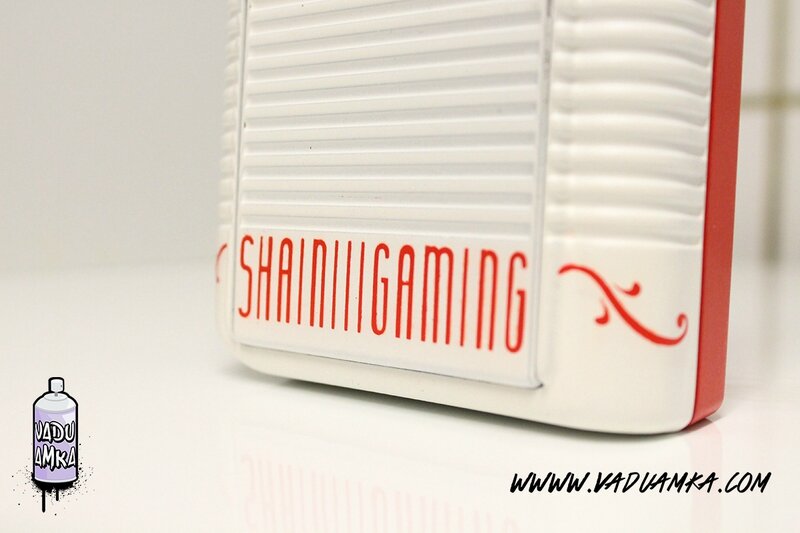 N64 Cartridge - Majora's Mask 25x25
Exemplaire unique - JANV 2015
Résine époxy / Polyfilla

Customs N64 cartridge available online at KOCHI Gallery, here.
WIP: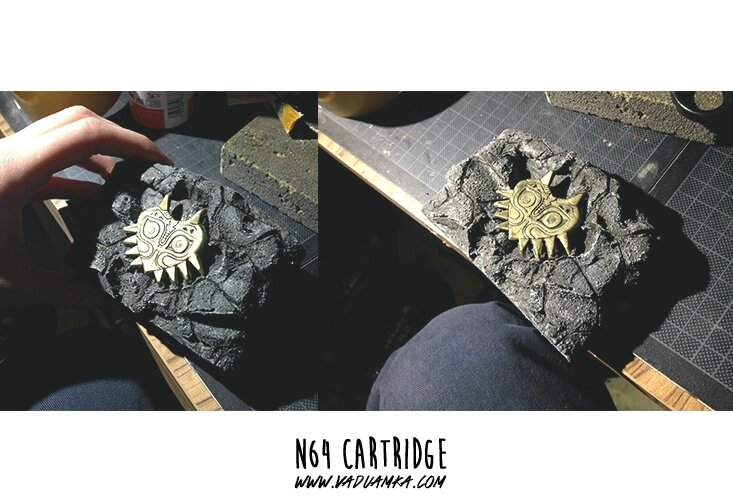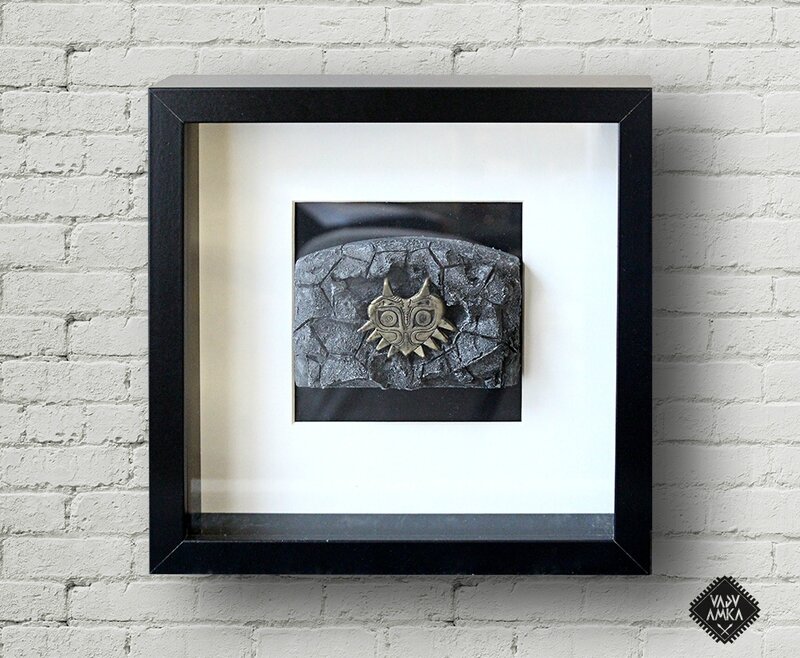 Prism Stormtrooper (2015)
Acrylic and spray paint on canvas 40 x 30 cm
Limited edition of 5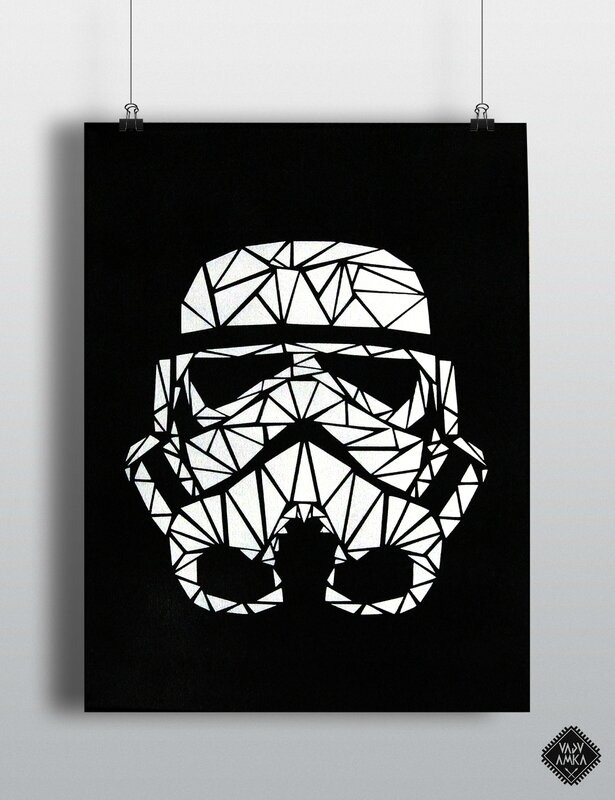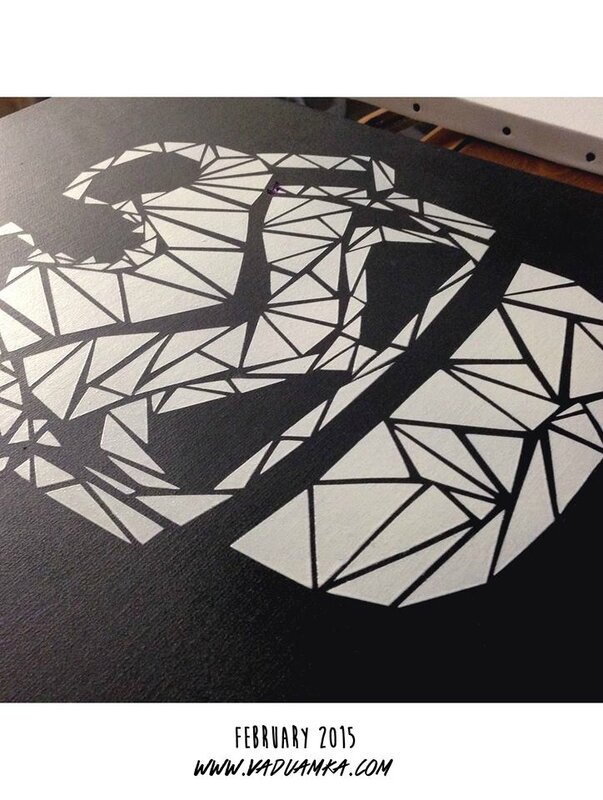 Console d'exposition, basée sur le syndrôme "Red Ring Of Death" et le thème The Walking Dead. Il s'agit d'une commande et d'un modèle unique présent lors du salon Made in Asia à Bruxelles et visible du 13 au 15 Mars 2015.
Réalisation 1 mois et demi.
Matériaux : Latex, acrylique, pâte texturisante, résine.

Not for resale - Promotional only

→ The Walking Dead le Magazine Officiel N°10 Juin 2015 p.11

---

Exhibition console, based on the "Red ring of Death" syndrome and on The Walking Dead theme. It's an order and a unique model showed from march the 13th to 15th 2015 at the Made in Asia in Brussel.
Time: 1month & 1/2
Materials: Latex, Acrylic, Modding paste, resin


Copyright © 2010-2015 AMC Network Entertainment LLC. All rights reserved.
BD Walking Dead © Editions Delcourt 2015


2014-2015 project