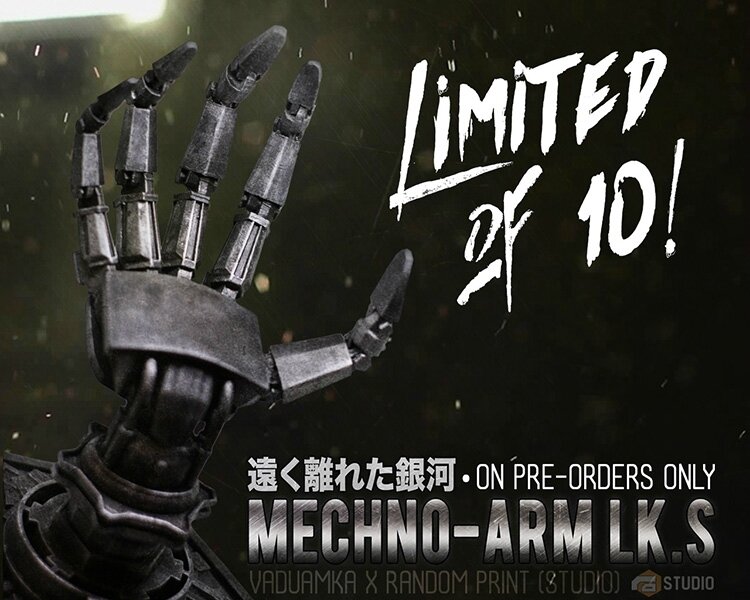 • Pre-orders Open
• Précommandes Ouvertes
" Mechno ARMS LK.S 1:1 Scale "
Peinture métallisée finition satiné
Décoration en résine, polymère, acrylique et epoxy
1:1 Scale Life Size
H: 20cm / 7.87 inches
Controller Display - Décoration
Limited of 10 pieces
Réalisé en Belgique, Made in Belgium
Signed and dated by the team !
Delivered with a certificate.
Shipping worldwide.
•Livraison à partir de Février
•Delivery from February

Vadu Amka x Random Print (Studio)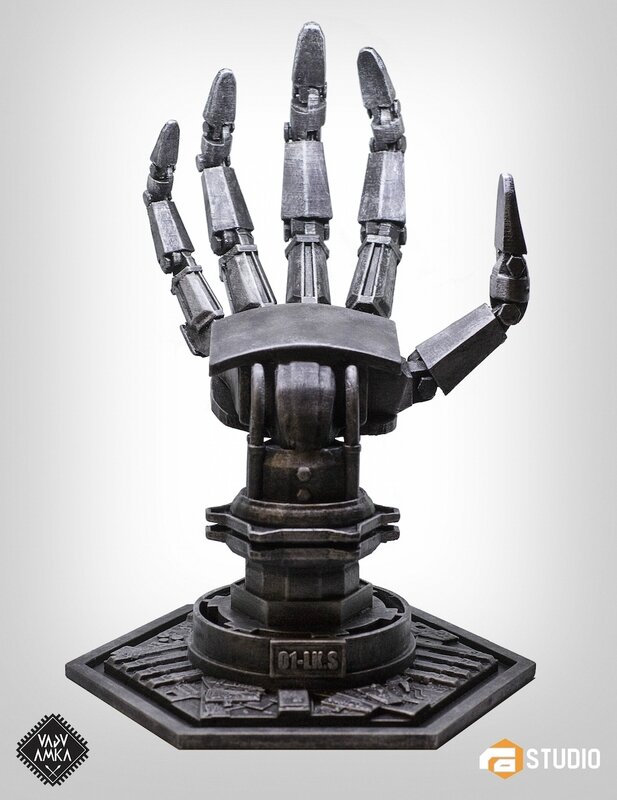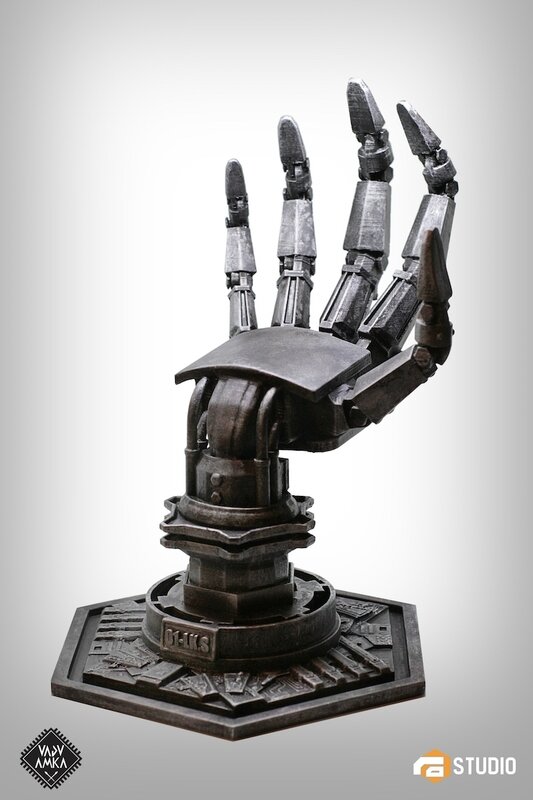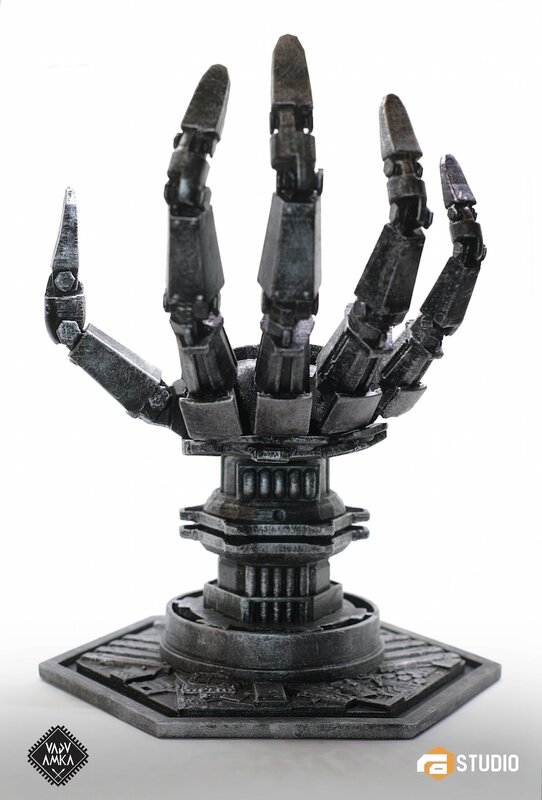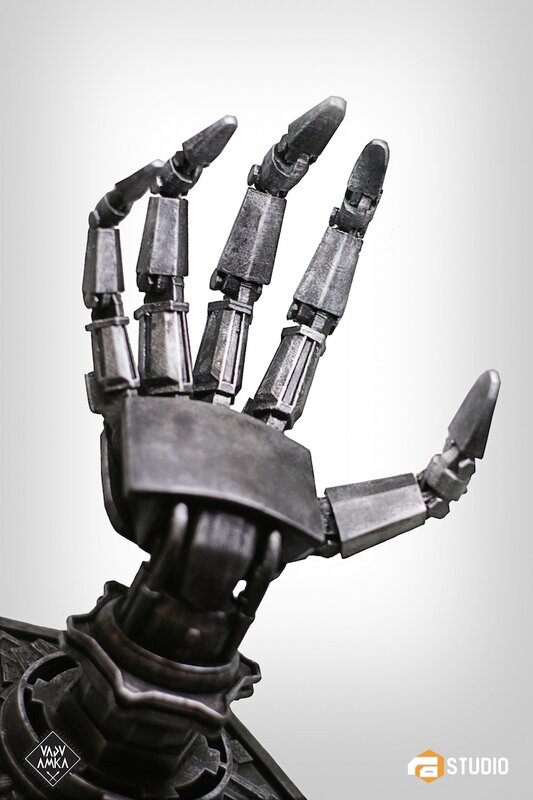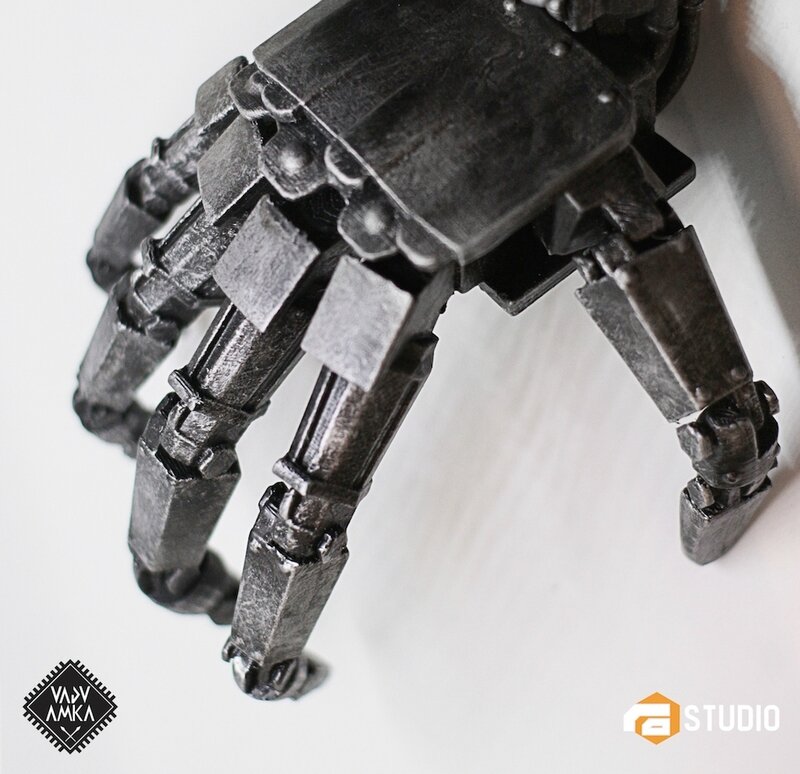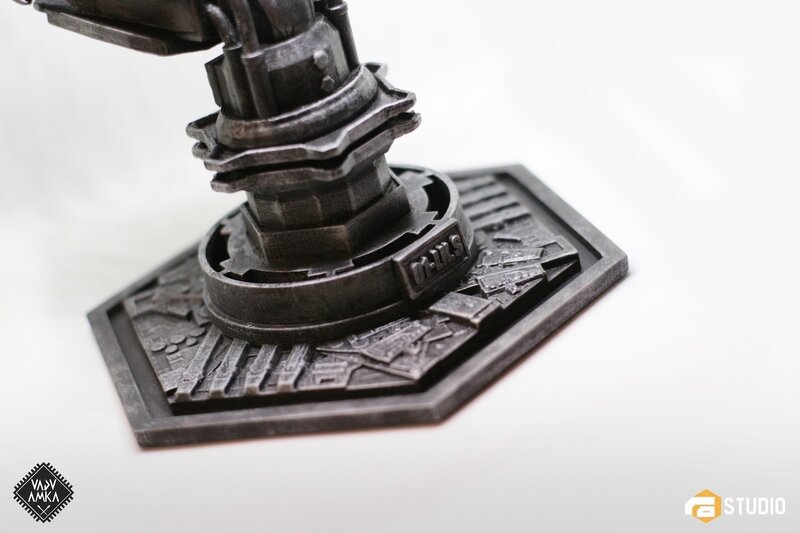 PlayerUnknown's Battlegrounds est un jeu vidéo multijoueur en ligne de type battle royale développé par l'éditeur Bluehole et dès maintenant disponible sur les Xbox One et Xbox One X .

Ce mois-ci, deux exemplaires de consoles PUBG ont été réalisés pour la sortie du jeu. L'une d'entre elle est actuellement à gagner auprès de Smartoys. Pour participer à leur concours, il suffit de vous rendre sur leur page facebook et de suivre les règles du concours. A Winner Winner Chicken Dinner !

Réalisation : plastique & résine, peinture acrylique, vernis UV.
Logos réinterprétés pour ces deux consoles. Création du modèle 3D sur base d'un concept et impression par la team Random Print .
Post production manuelle.


COPYRIGHT ©2017 PUBG Corporation. ALL RIGHTS RESERVED. PLAYERUNKNOWN'S BATTLEGROUNDS is a registered trademark, trademark or service mark of PUBG Corporation and its affiliates.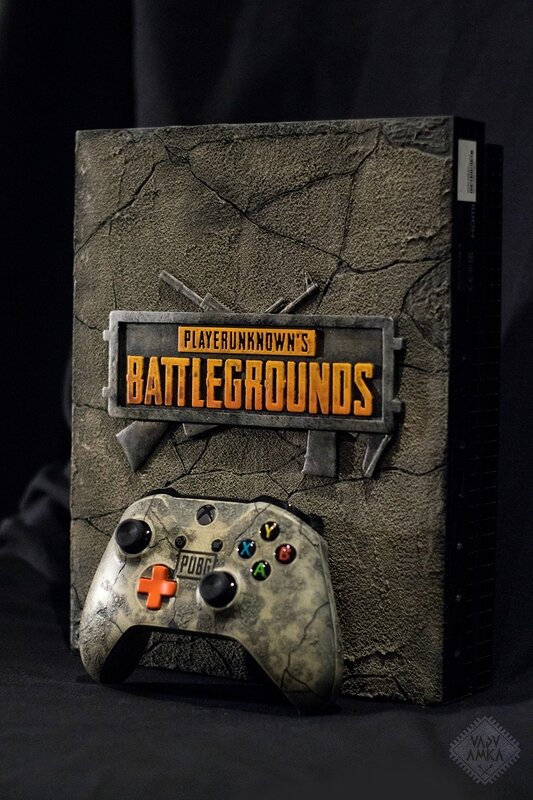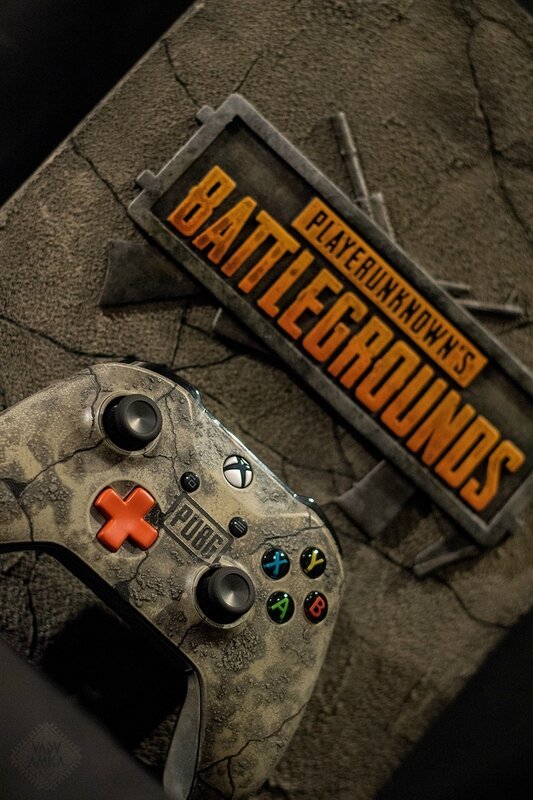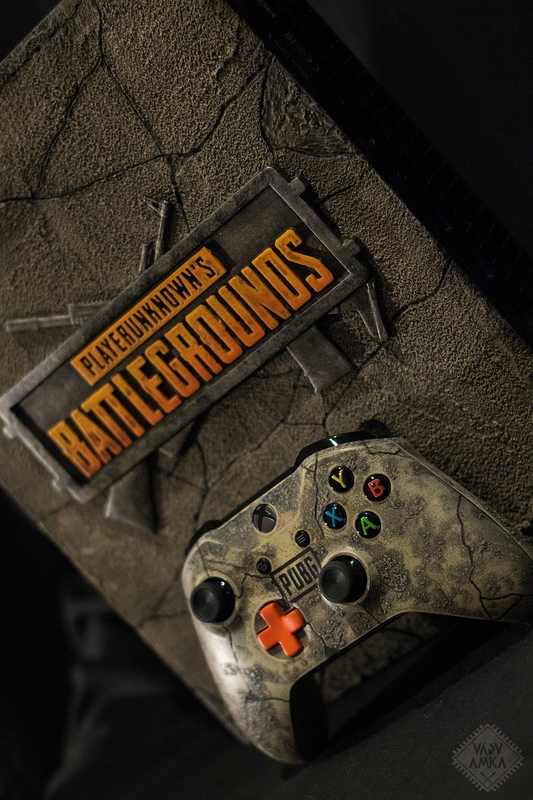 The White or the Dark side of the force ?
Fan de Star Wars, ce duo de console est peut-être pour toi !
Création de deux consoles customs Playstation 4 à l'occasion de la sortie du film : Star Wars : le dernier Jedi ce 13 décembre 2017. Les machines sont actuellement à gagner au Saturn Luxembourg-City . Il s'agit de machines promotionnels non destinées à la vente et en parfait état de fonctionnement. Réalisations en resine, acrylique et metal (Empire).

May be the force with you !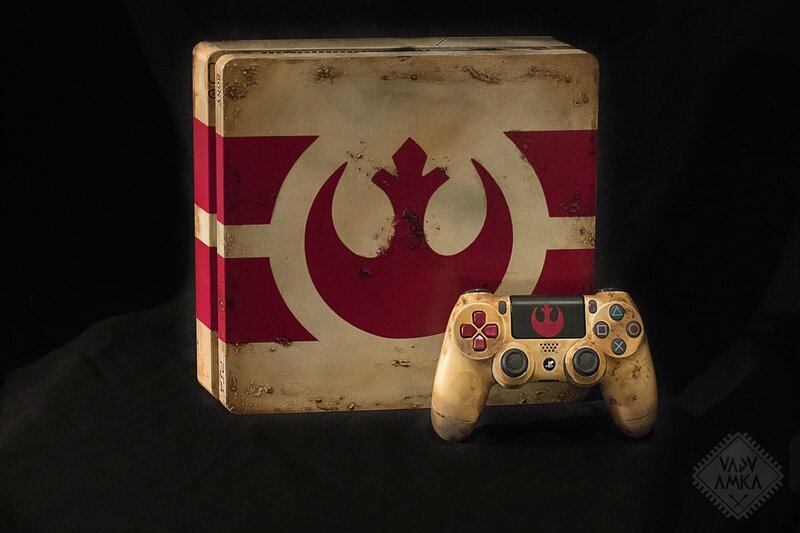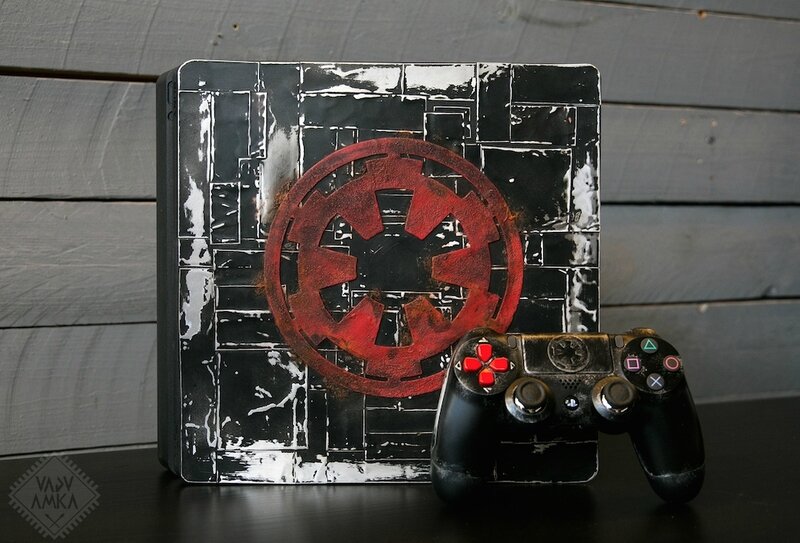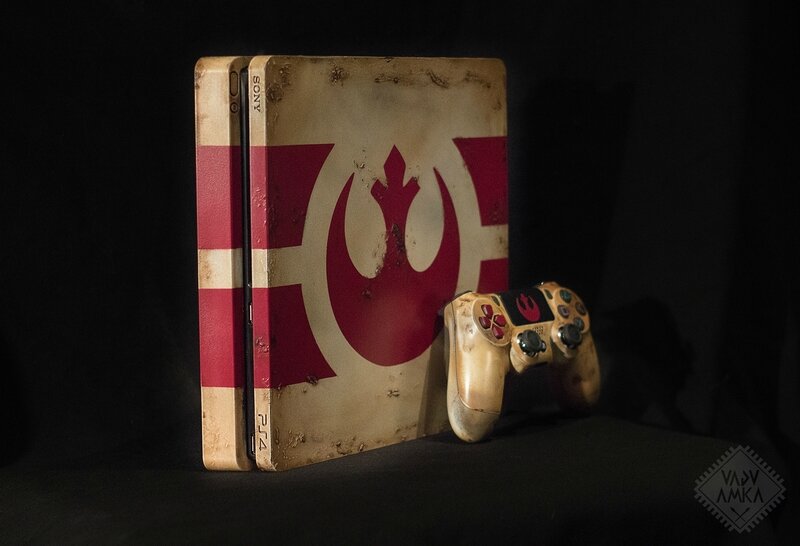 La console Playstation 4 : Call of Duty: WWII , véritable vétéran de guerre ?

Afin de réaliser quelque chose de nouveau et éviter le camouflage vu et revu ou de la découpe avec leds, j'ai choisi d'illustrer ce thème de "guerre" avec des impacts incrustés dans la coque de la console, laissant penser à une plaque métallique criblé de balles.
Réalisation des impacts de balles en résine et plastique. Peinture Acrylique avec finition UV semi-mat.

© 2017 Activision Publishing, Inc. ACTIVISION, CALL OF DUTY, MODERN WARFARE, CALL OF DUTY MODERN WARFARE, CALL OF DUTY BLACK OPS, CALL OF DUTY GHOSTS, CALL OF DUTY ADVANCED WARFARE, CALL OF DUTY INFINITE WARFARE, et le logo CALL OF DUTY WORLD LEAGUE sont des marques commerciales de Activision Publishing, Inc.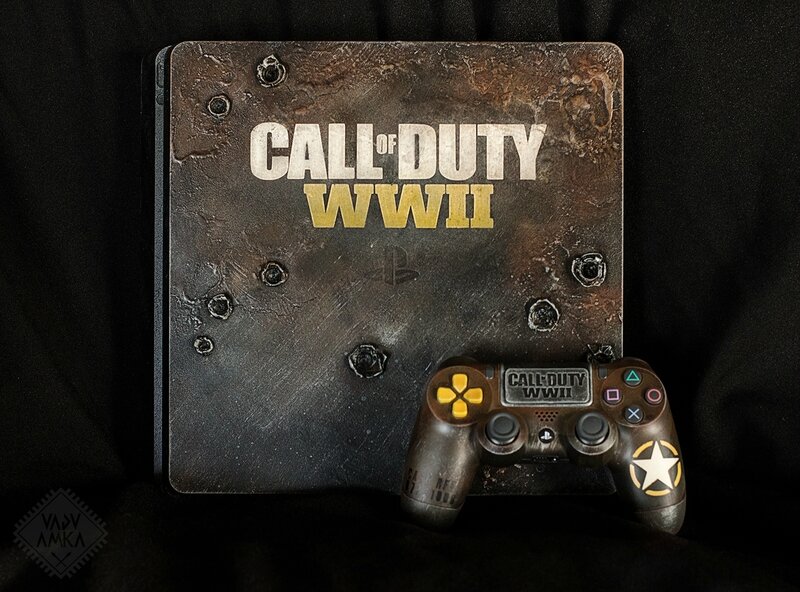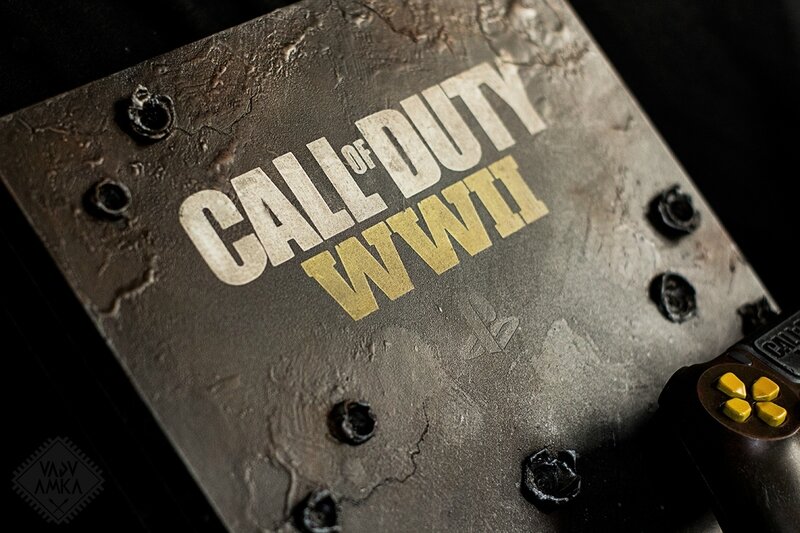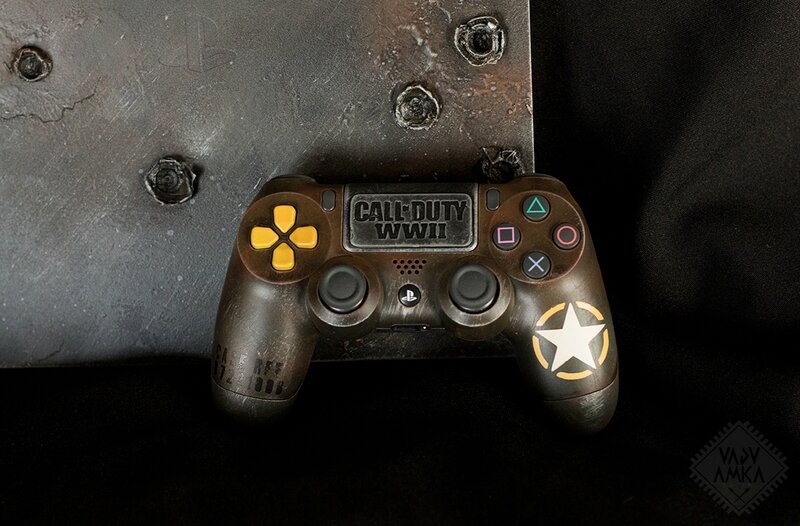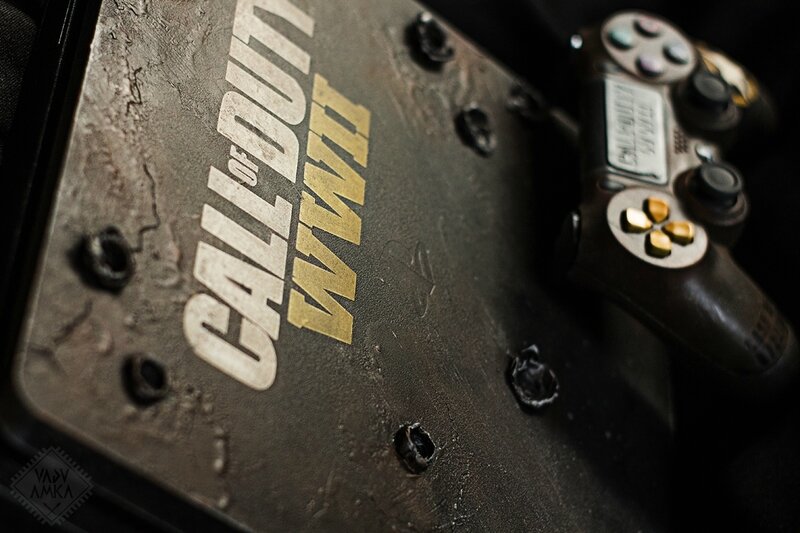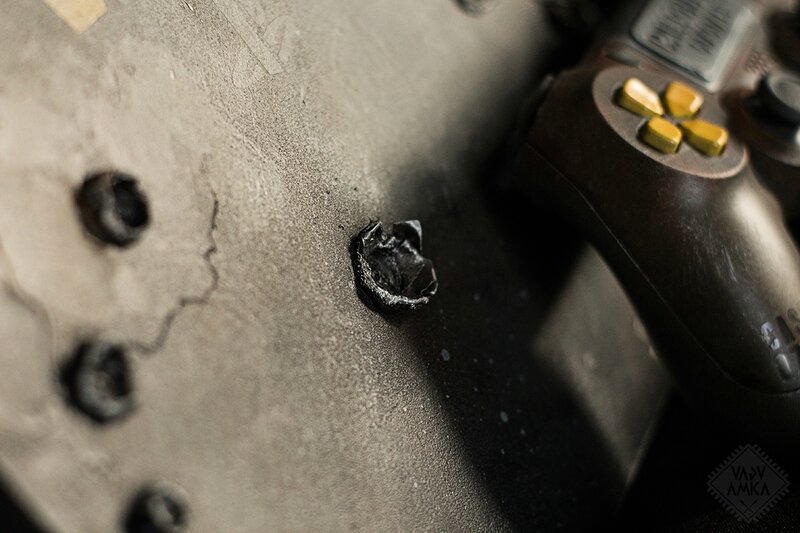 Projet officiel réalisé pour le Studio Focus Home interactive et présenté sur le salon Paris Games Week du 1 au 5 novembre sur l'espace de l'éditeur. La console est actuellement à remporter sur le salon, pour participer rien de plus ismple, rendez-vous sur le stand afin de réaliser un selfie original avec la console et poster votre plus beau shoot avec la bête sur twitter avec hashtags suivants : #focuspgw #JMIF #cthulhu

CALL OF CTHULHU, le jeu officiel dont la sortie est prévue pour 2018 est un RPG d'investigation aux mécaniques de survival horror et d'infiltration développé par Cyanide Studios pour la Playstation 4, Xbox One et PC.
Son atmosphère somvre et oppressante rendent hommage à l'univers de Lovecraft, le jeu emmènera le joueur mêner l'enquête sur l'île de Darkwater Island pour y somber dans la folie et déterrer les secrets les plus profondément enfouis. 1920, vous incarnez Edward Pierce , un vétéran de la Grande Guerre devenu détective. Il aura pour tâche d'enquêter sur la mystérieuse et tragique disparition de l'artiste reconnue s'étant récemment installée sur l'île : Sarah Hawkins .
Le Studio Focus Home interactive nous livre à leur tour leurs univers autour de la mythologie Cthulhu qui compte aujourd'hui parmi les univers les plus largement représentés à travers le monde, donnant naissance à d'innombrables histoires, films ou encore nouvelles depuis la publication originelle en 1928 de The Call of Cthulhu par H.P Lovecraft.

Concept art : Vadu Amka
Tentacle sculptor : Stéphane Janssens
3D Tentacle print technician : Amandine Delmarre
Modding & Crafting : Vadu Amka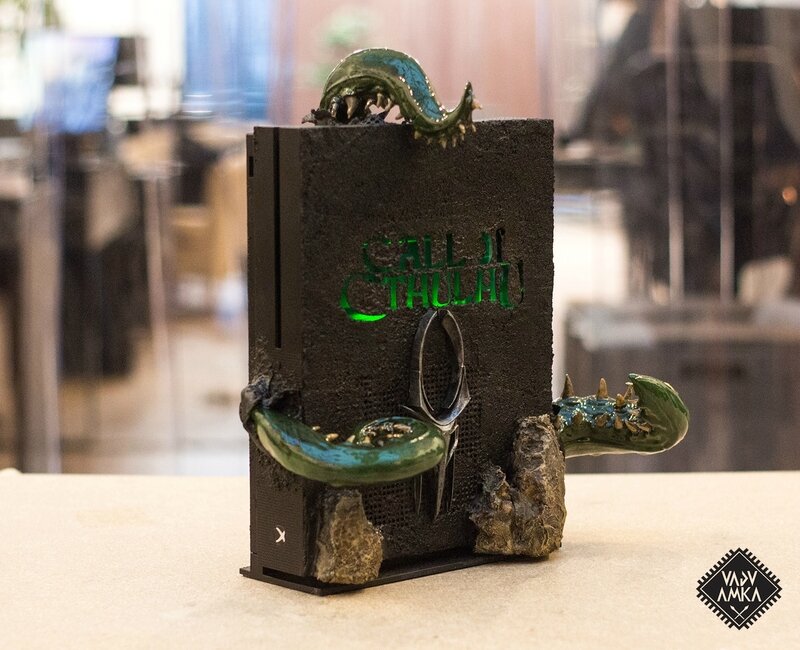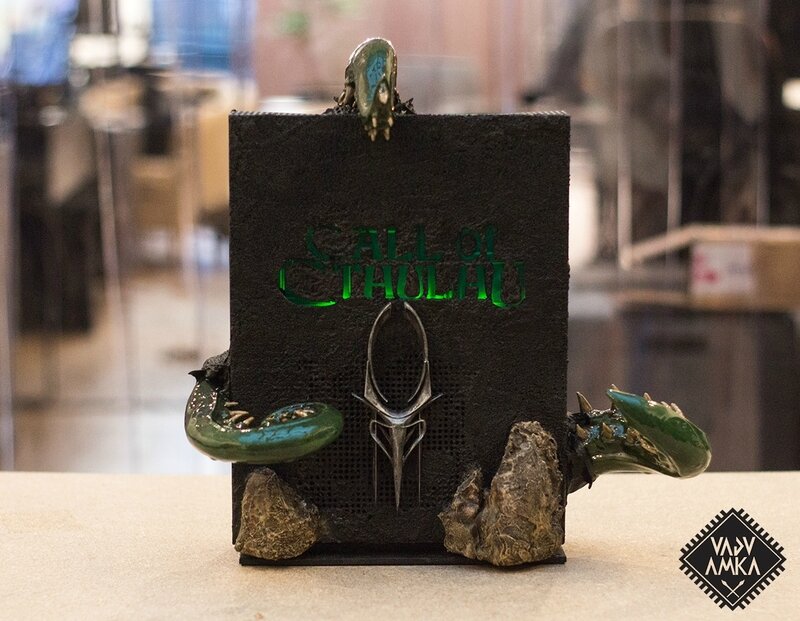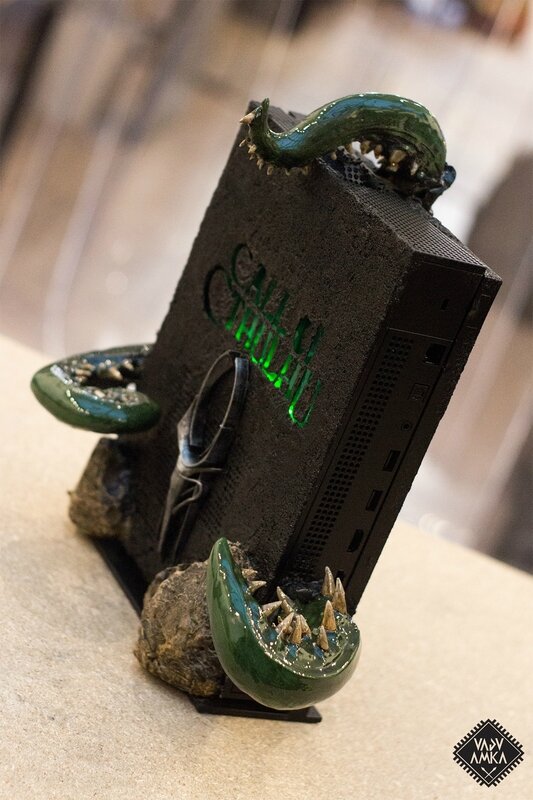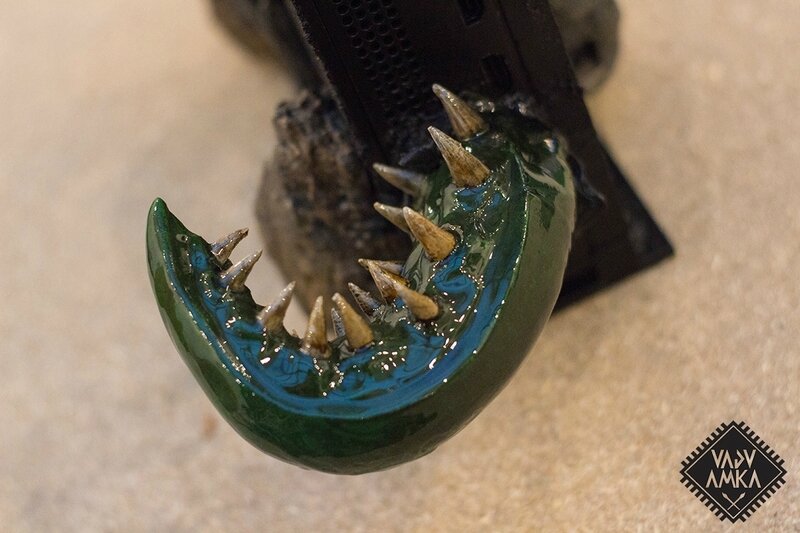 Tentez de gagner cette Xbox en tweetant votre photo avec elle au stand #PGW2017 @FocusHome avec #FocusPGW #JMIF #Xbox #CallofCthulhu! pic.twitter.com/ByV2jS1iEH

— Call Of Cthulhu (@CoC_thegame) 1 novembre 2017
Manette Playstation 4 promotionnelle réalisée pour la sortie du jeu ASSASSIN'S CREED ORIGINS.
Cette pièce unique a été réalisé pour un concours Smartoys en Belgique.
Matériaux : Lanières en cuir clair, logo en résine et plastique, peinture acrylique.
Finition version UV mat.

Modèle unique, non destiné à la vente.

© 2017 Ubisoft Entertainment. All Rights Reserved. Assassin's Creed, Ubisoft, and the Ubisoft logo are trademarks of Ubisoft Entertainment in the US and/or other countries.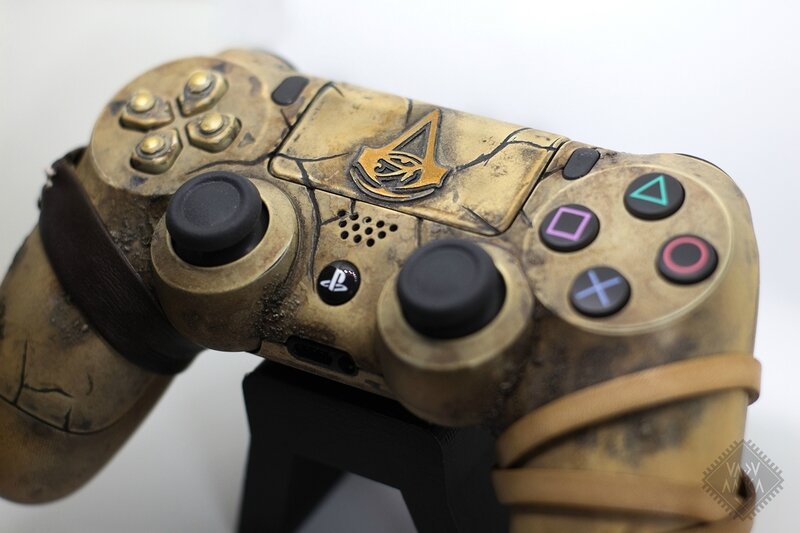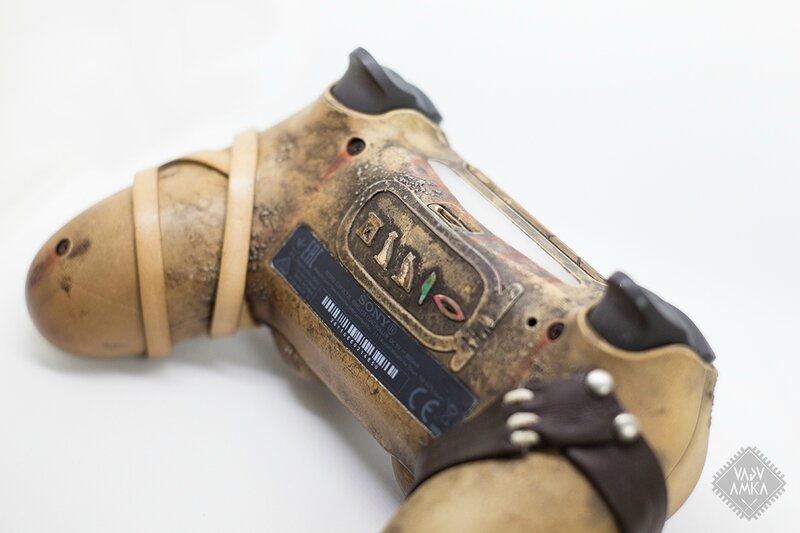 `
Ces dernières semaines, nous avons réalisés pas mal de chouettes projets avec Random Print ! On vous dévoile la dernière fournée : Un Art Toy géant pour South Park : L'Annale du Destin qui sort ce 17 octobre. Il s'agit d'un jeu vidéo de rôle, basé sur l'univers du dessin animé South Park, développé par Ubisoft San Francisco et édité par Ubisoft. L'équipe a eu l'opportunité de travailler sur un petit projet (de 22 x 20cm tout de même!) pour la sortie du jeu en Belgique ! Une collaboration pour l'enseigne Smartoys qui ne manque pas de...pets !
Nous avons opté pour un rendu brut façon vieux bronze patiné sur un socle en bois massif ciré.

Lead sculptor : Stéphane Janssens | 3D print technician : Amandine Delmarre | Paint & Crafting : Vadu Amka

© 2017 South Park Digital Studios LLC. All Rights Reserved. South Park and all elements thereof © 2017 Comedy Partners. All Rights Reserved. Comedy Central, South Park and all related titles, logos, and characters are trademarks of Comedy Partners. Game software © 2017 Ubisoft Entertainment. All Rights Reserved. Ubisoft and the Ubisoft logo are trademarks of Ubisoft Entertainment in the U.S. and/or other countries.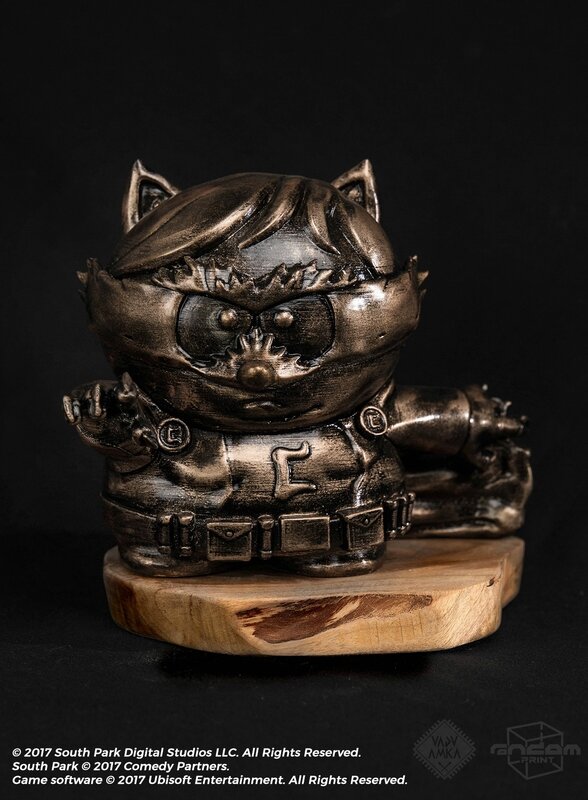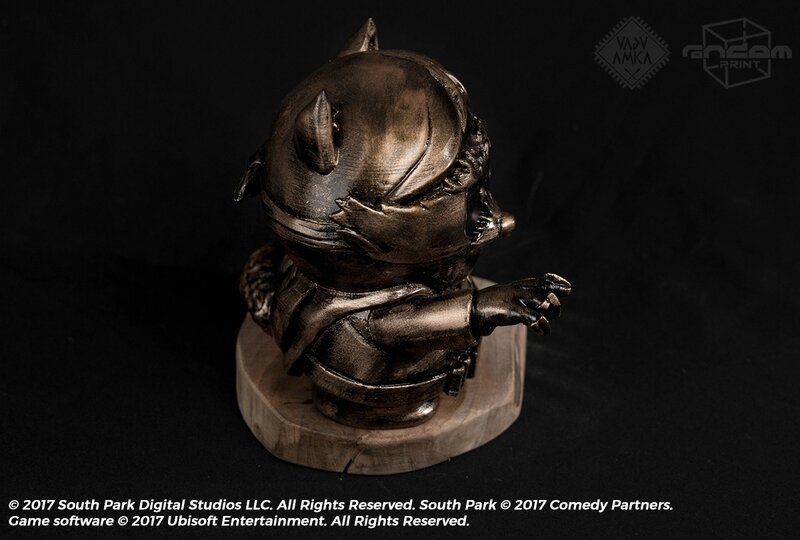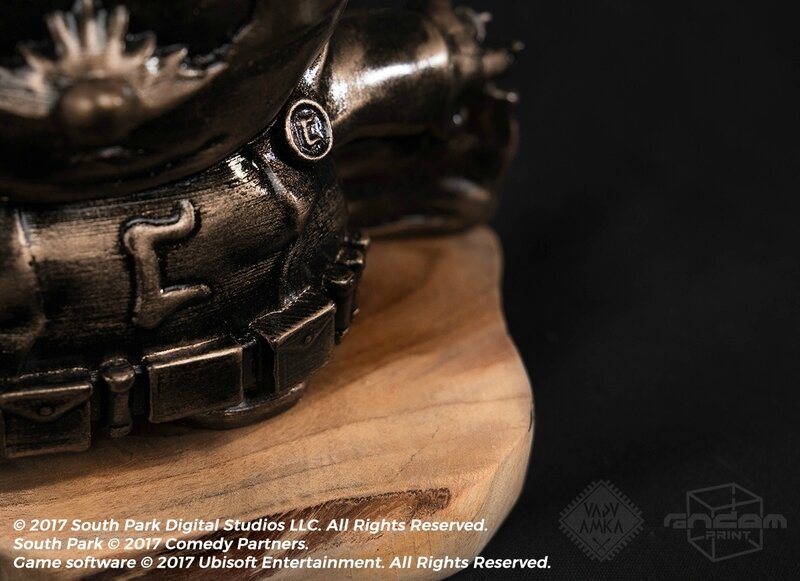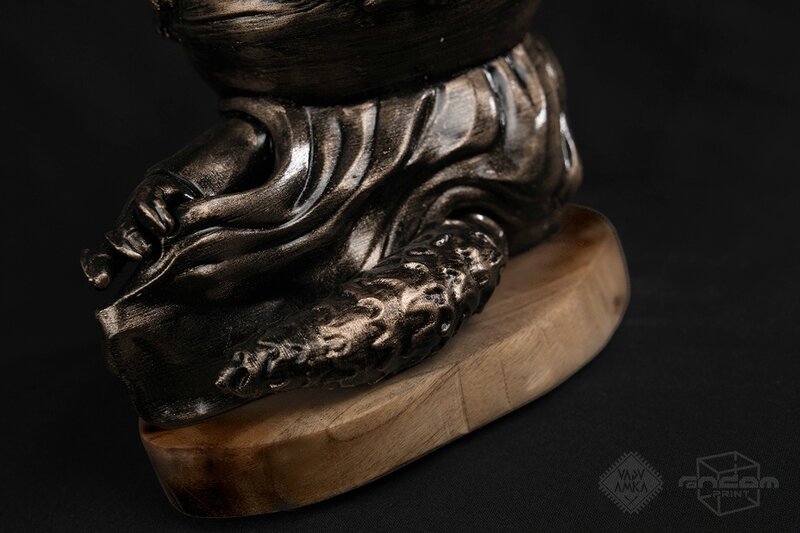 Projet promotionel réalisé pour la sortie du jeu The Evil Within 2 sur Playstation 4. Elle est a gagner jusqu'au 20 octobre sur la page Facebook de Smartoys ! Peinture acrylique nature white, signal white et teinte gris "chaud". Effet barbé gris / blanc.
Finition version UV mat.
Modèle unique, non destiné à la vente.

© 2017 Bethesda Softworks LLC, a ZeniMax Media company. All Rights Reserved. All other trademarks or trade names are the property of their respective owners. All Rights Reserved.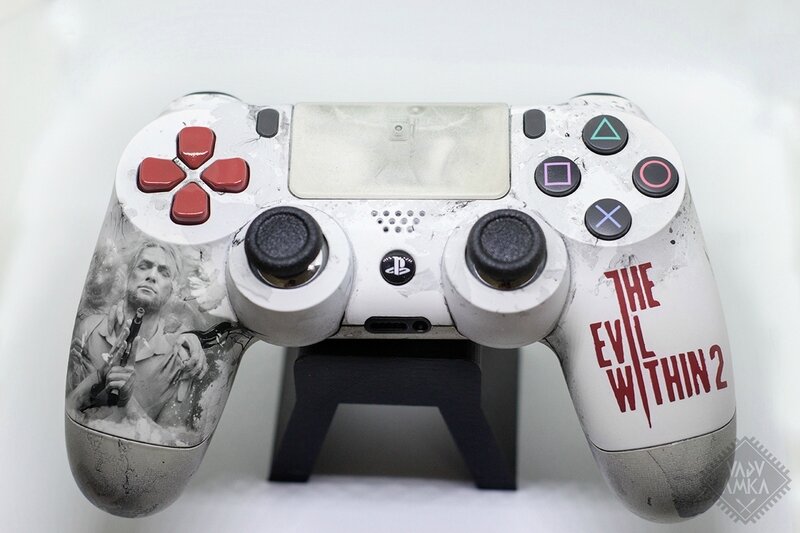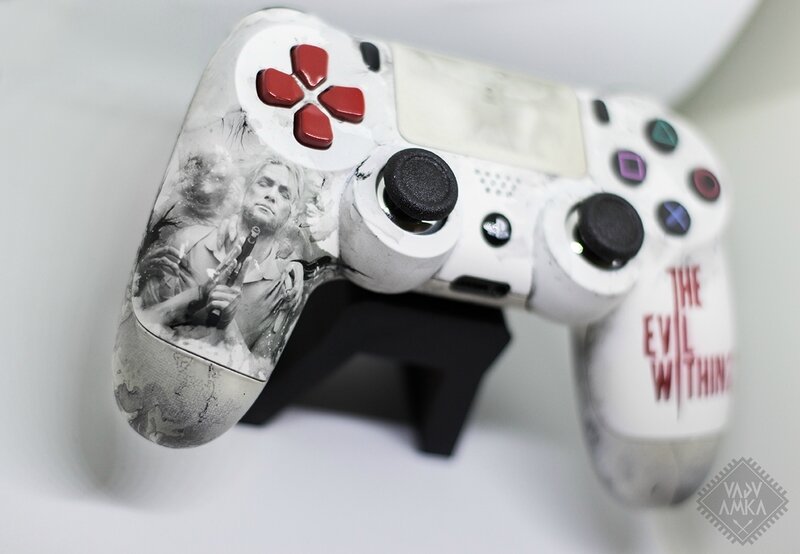 Customisation d'une Super Nintendo sur le thème de StarFox 2 pour la soirée LGX Retro Night à Luxembourg City. Peinture acrylique du logo Super Nintendo, vernis UV Mat avec sous couche aux pigments luminescents, ainsi la console brille la nuit ! Logo réalisé en plastique.
Exemplaire unique, promotionel.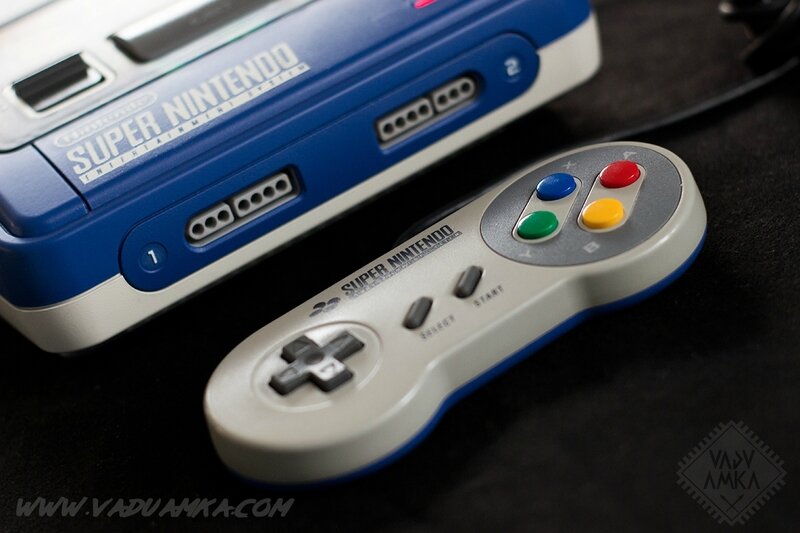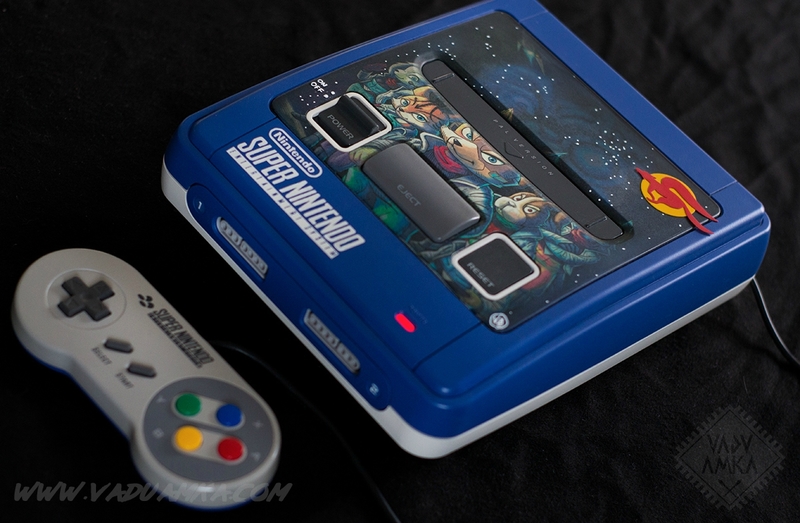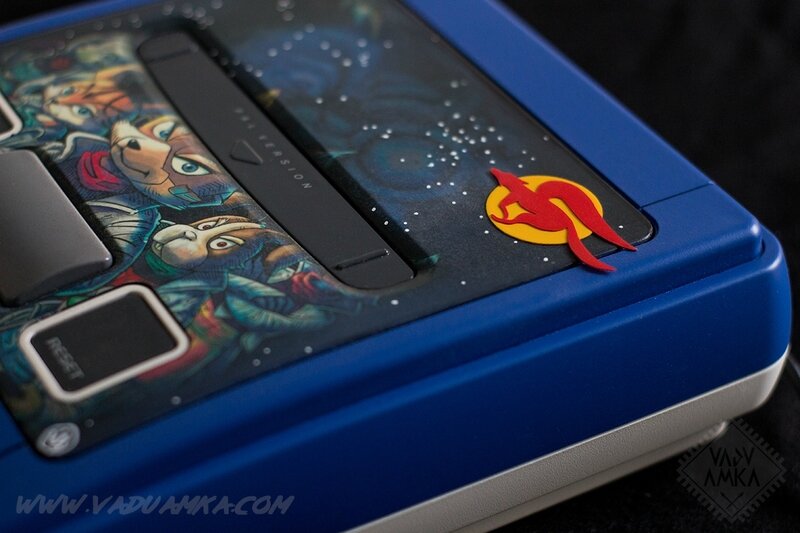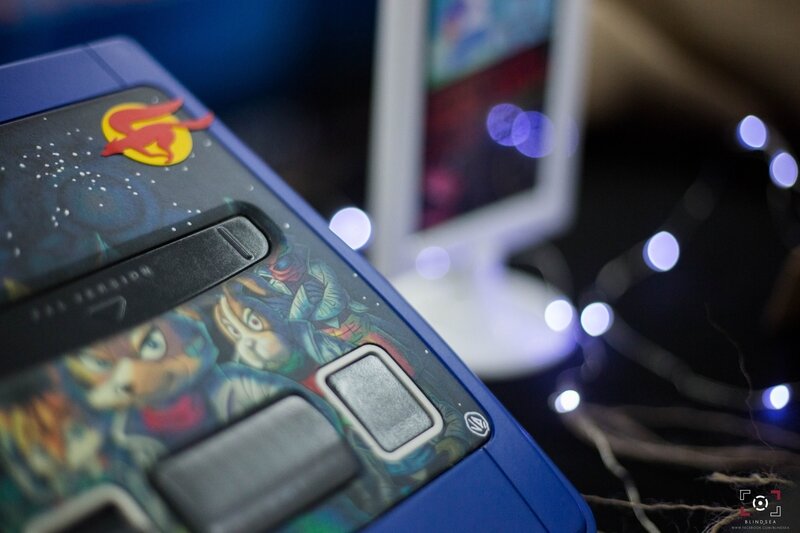 L'album de l'event sur Facebook, avec photo du workshop :
" Oui dans Super Mario Land 2: 6 Golden Coins ! "

Alors que Mario + Rabbids : Kingdom Battle, le crossover surprise sur Nintendo Switch déboulait cet été; je m'attelais dans mon atelier à achever ce petit gars moustachu, doté de sa nouvelle combinaison... Lapin Crétin ! Une pièce unique réalisée pour Smartoys.

Objet promotionel non destiné à la vente.

Dimension : 21cm de haut
Matériaux : résine, acrylique, epoxy
Cloche en verre et socle en bois.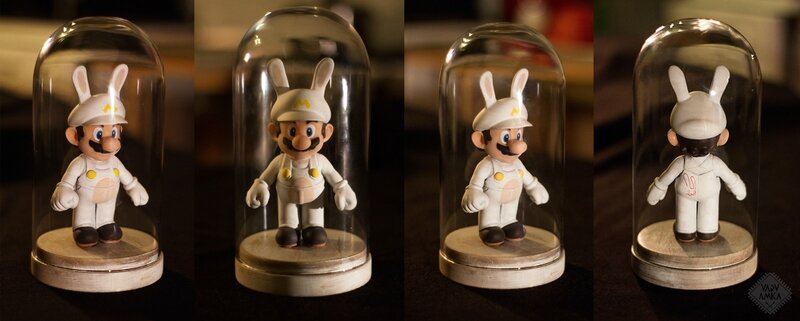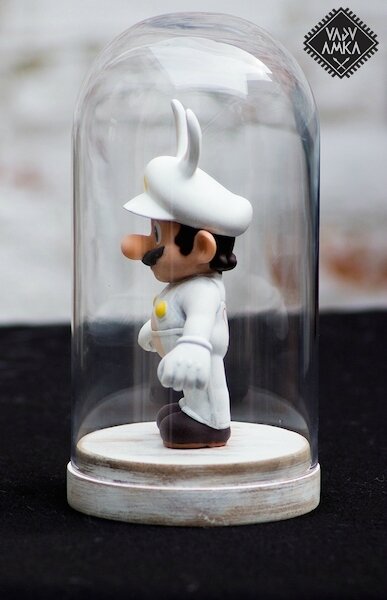 BONUS : WORK IN PROGRESS