GameCube Inspirée des fresques du volet The Legend of Zelda : The Wind Waker.
Temps de réalisation : 3 mois en étant sur d'autres projets à la fois.
Matière : Résine, pâte époxy double composant, acrylique et gel texturant
La console est entièrement réalisée à la main, les ports manette ont été ornés des nombres 1 à 4 en alphabet Hylien. La réalisation de la manette est basé sur un manche rappelant une épée (Je ne parle pas forcement de la Master Sword mais juste d'une forme) Le bouclier sert de bouton Start, il est absolument fonctionnel. Il en va de même pour les sticks. Le premier plus décoratif étant en laiton. Le second est un élément d'origine. J'essaie à chaque fois de garder tel quel au moins un élément de la console. Bien qu'il soit d'un très beau jaune. (Il est aussi relativement difficile de customiser du silicone, c'est une surface qu'il faut éviter de peindre).
Certains remarqueront peut-être quelques fissures sur le côté droit. Link est prié de ne pas l'exploser! Autres détails, l'arrière de la console (la poignée) est en faux cuir noir.
Je vous laisse désormais regarder tout ça de plus près !
A très vite.

---
Gamecube inspired by The Legend of Zelda : The Wind Waker.
It was completed in 3 months, while working on other projects at the same time.The Materials I used were resin, Double component epoxy paste, acrylic paint and texturizing gel.The console is entirely hand made. Joystick ports were adorned with numbers from 1 to 4, using the Hylian alphabet. The controller's design was inspired by a sword (that does not necessary mean that it is the Master sword). The Start button is covered by a shield but is fully functional. So are the sticks. First one is more decorative while using brass. The second one is an original item. I always try to keep unchanged something on the console. It is very difficult to customize silicon parts because it is hard to paint on it . You may have noticed the cracks on the right side. lease tell Link that he is not supposed to blow them up.Another detail you may have noticed is the fake leather covering the handle. I will just let you have a closer look at the whole.
See you soon!

Not for sale - Pas à vendre
Photos du work in progress sur plusieurs semaines :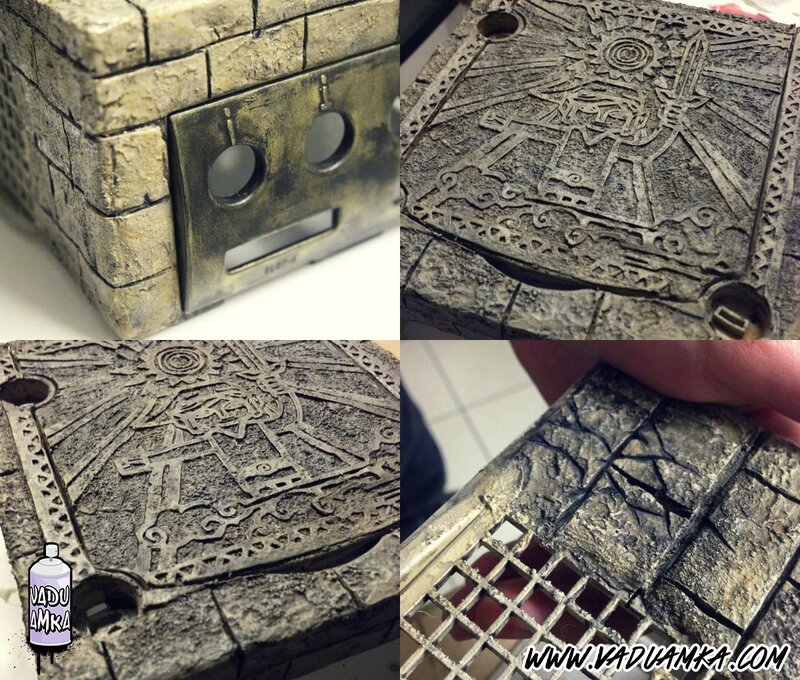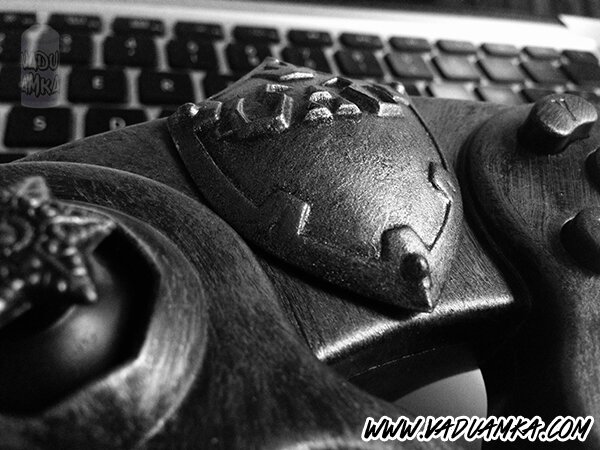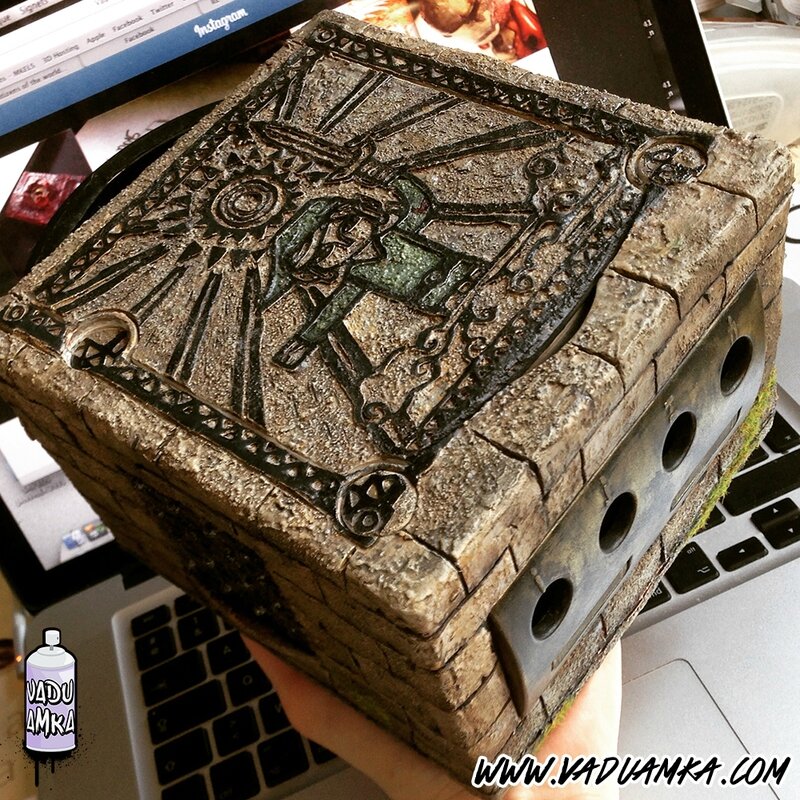 --- Final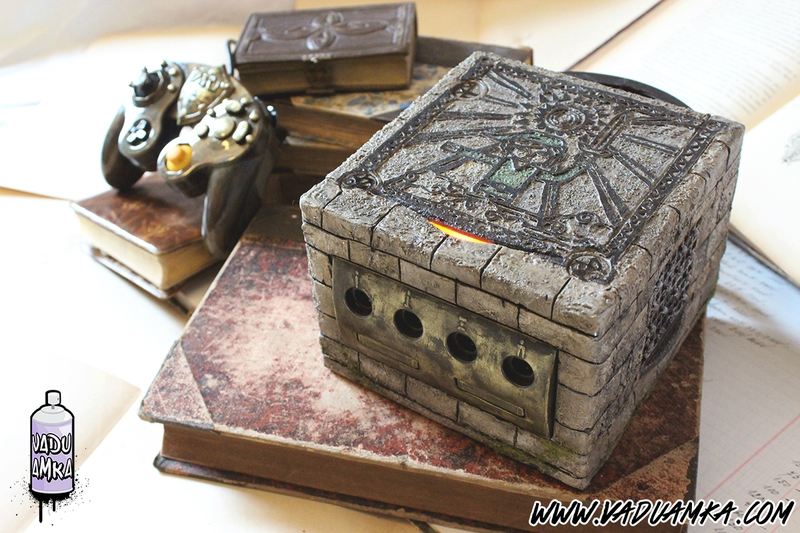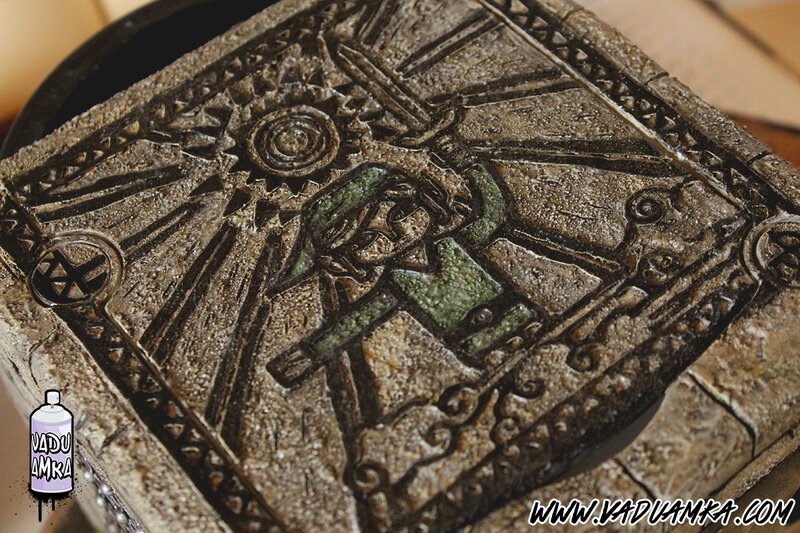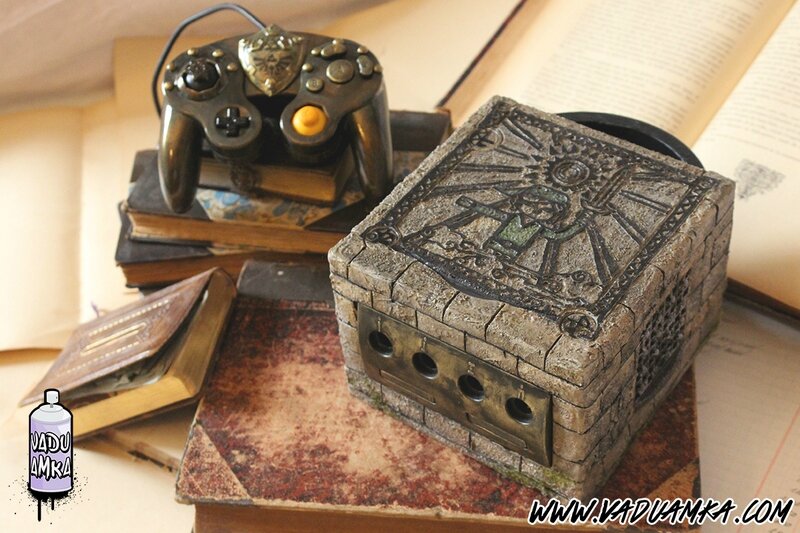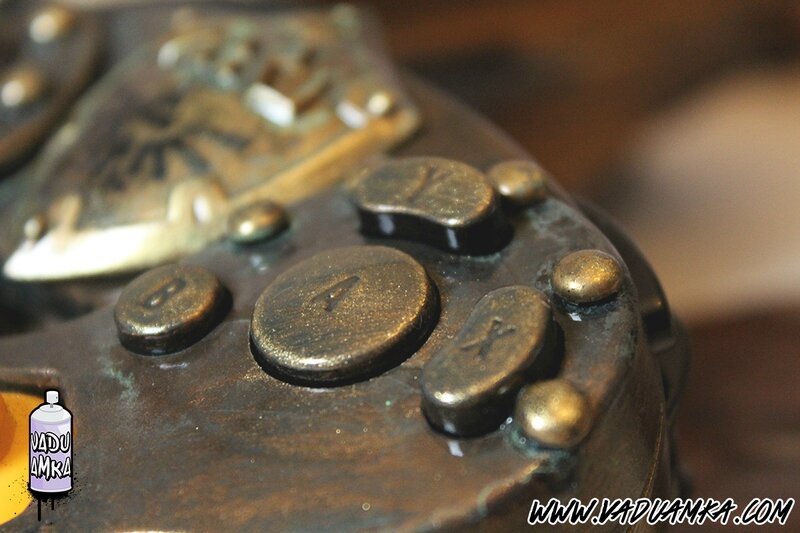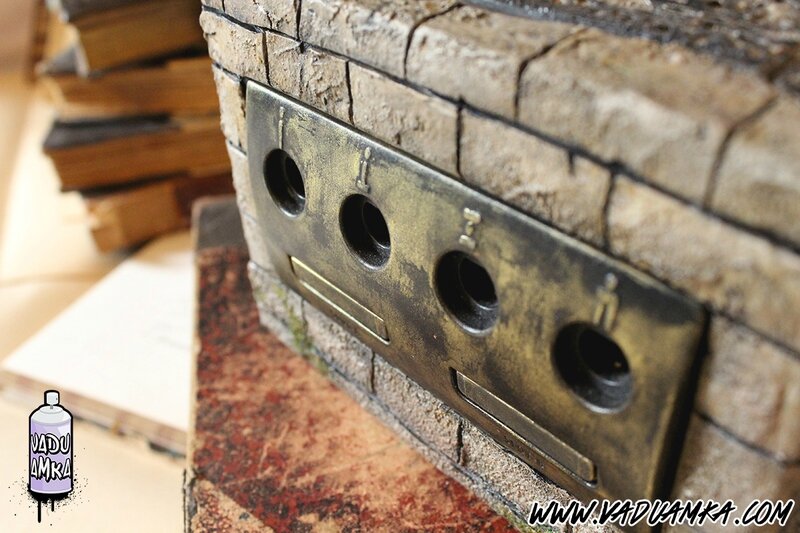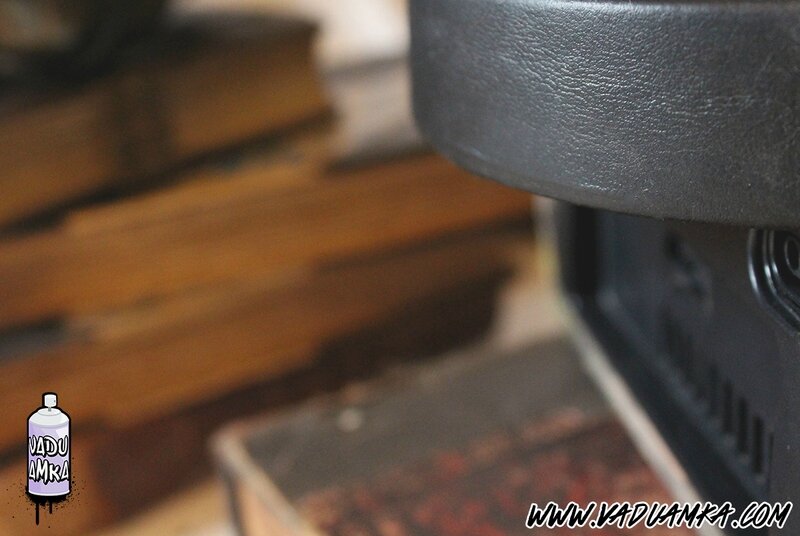 --- Bonus / Making-of
40x50cm
Sonic 2 - Tails

Painting available online at KOCHI Gallery, here.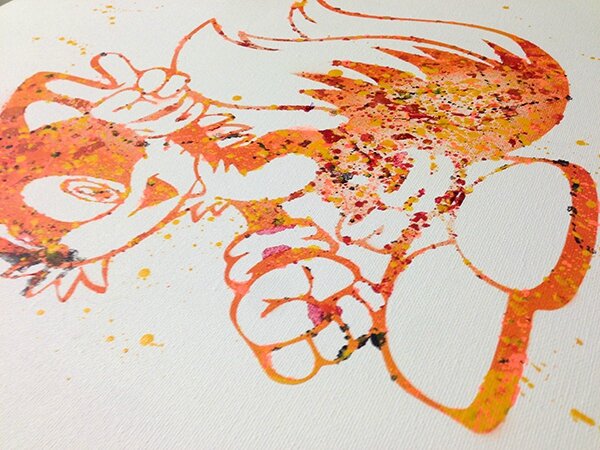 Console promotionnel réalisé sur commande pour Shainiiigaming & son émission Belge Ma maison de retrogamer
Peintures : Signal White & Swet rouge traffic Belton Molotow Premium + écran DMG blanc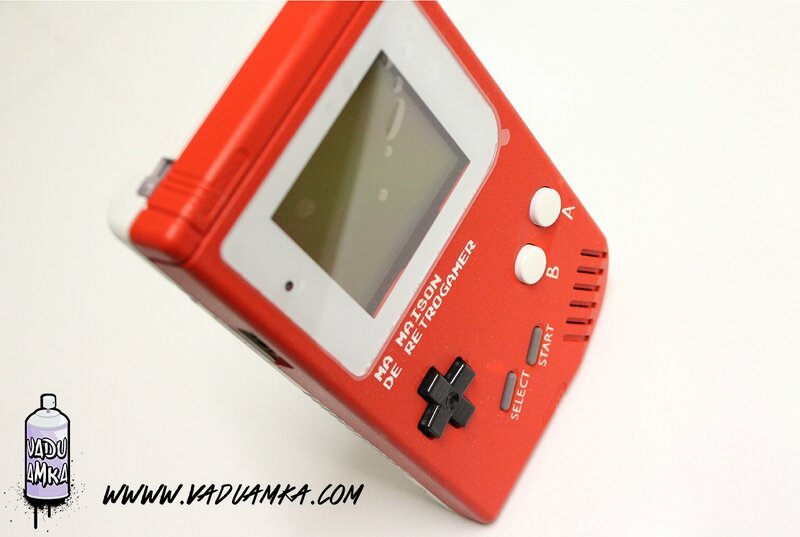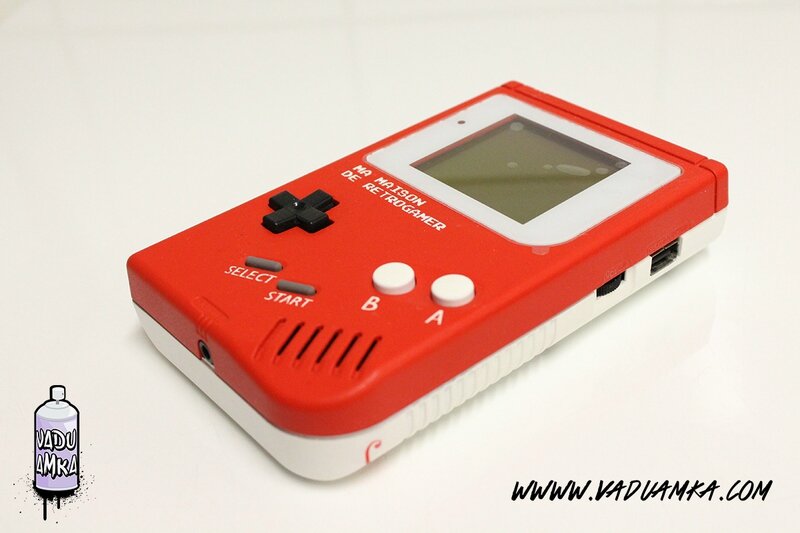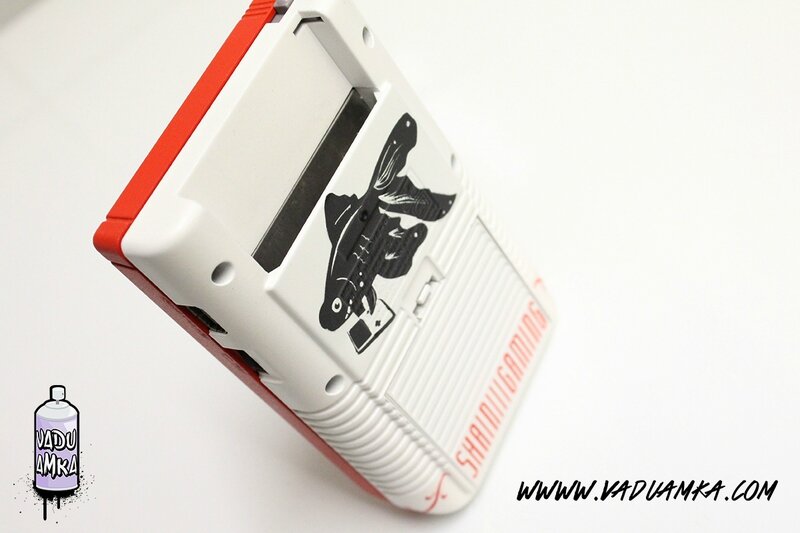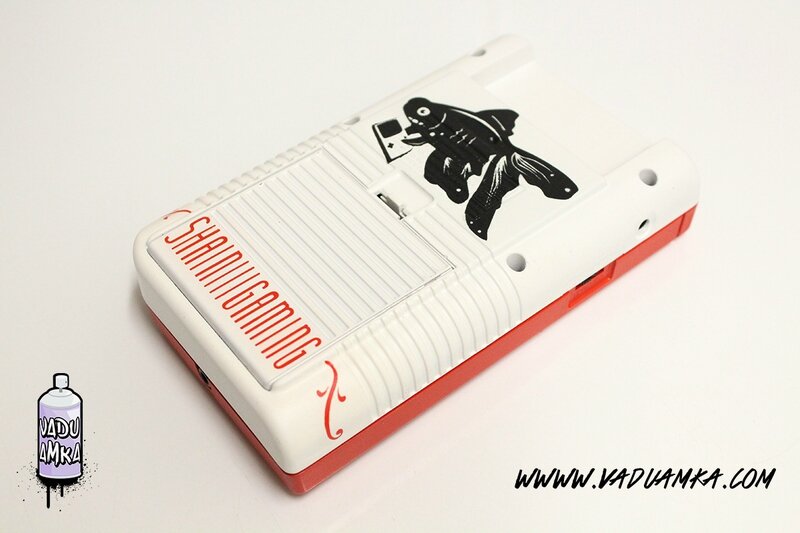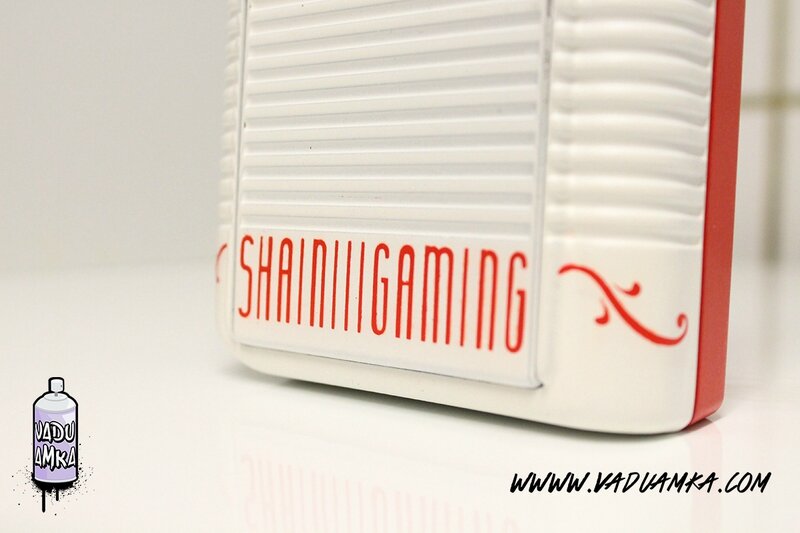 N64 Cartridge - Majora's Mask 25x25
Exemplaire unique - JANV 2015
Résine époxy / Polyfilla

Customs N64 cartridge available online at KOCHI Gallery, here.
WIP: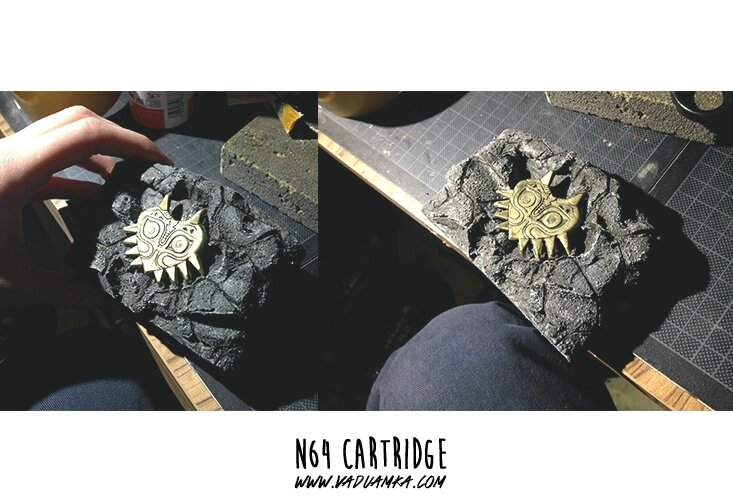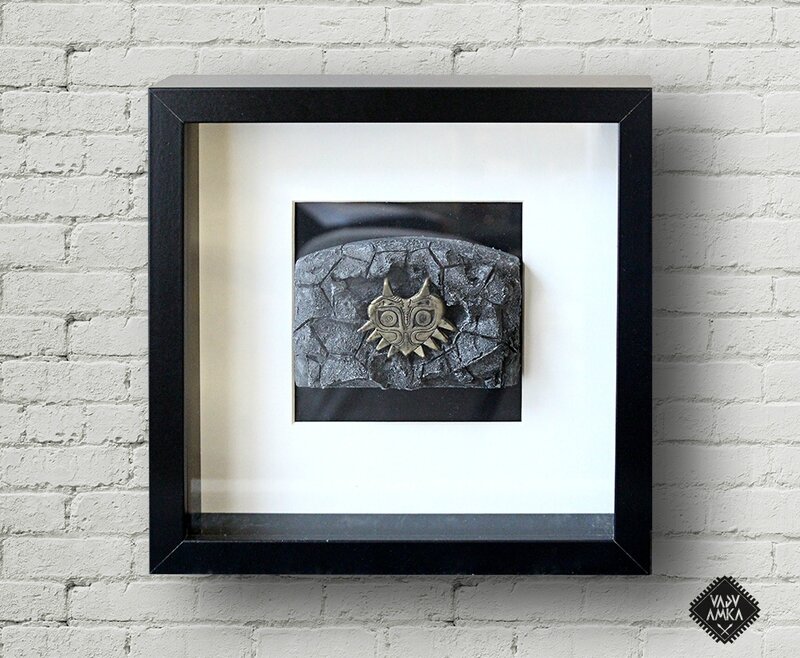 Prism Stormtrooper (2015)
Acrylic and spray paint on canvas 40 x 30 cm
Limited edition of 5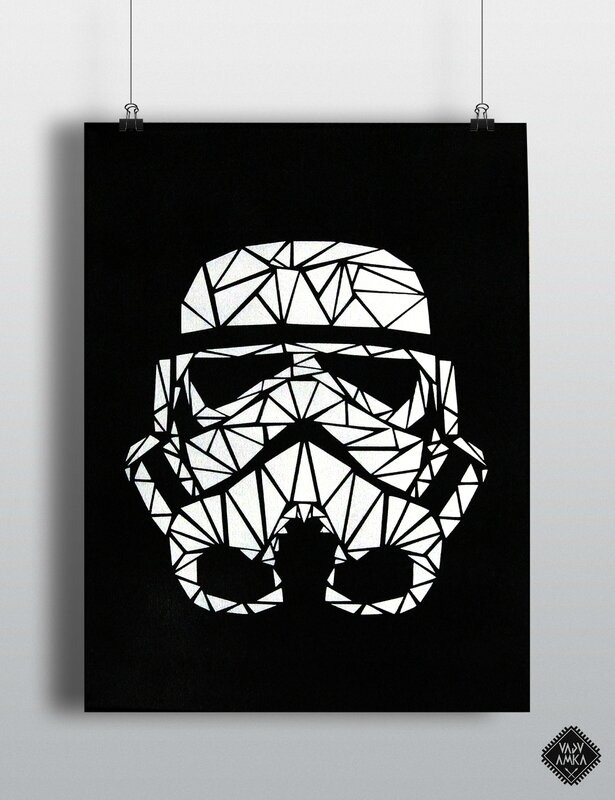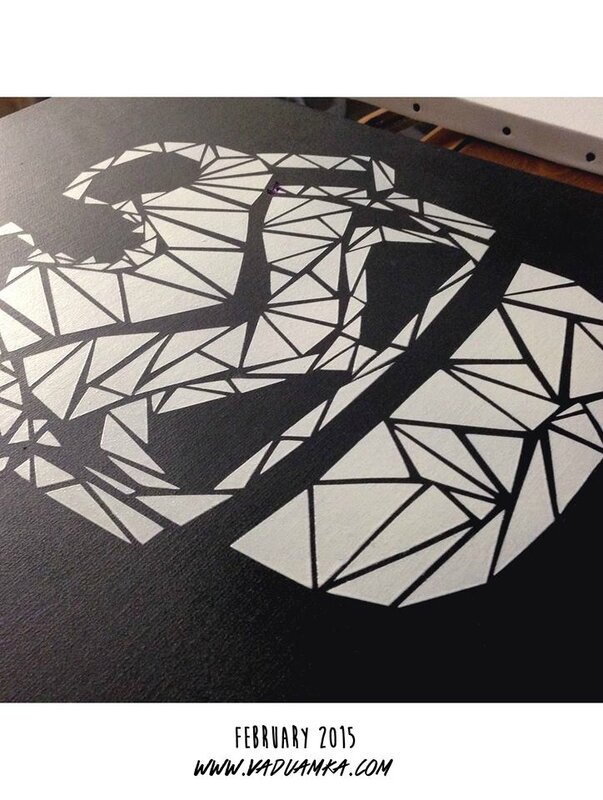 Dans l'esprit de la Super Nintendo Dracula's Castle Edition,
j'ai réalisé un nouveau custom de la mythique console de Nintendo avec pour thème la célèbre franchise de Konami. Mais cette fois-ci, c'est sur la thématique d'un tombeau scellé ou d'une crypte que j'ai axé mon travail selon les directives de son futur propriétaire.
La base de la console est un mélange de résine et de gels de texture (acrylique).
Le capot supérieur est en bois de tilleul et balsa pour les plus petites parties. Il est teinté à la lasure acajou, poncé de nouveau et teinté en plusieurs couches de noir. Décoré de laiton et d'un mélange de peinture bronze qui est ensuite vieilli pour donner l'aspect d'oxydation.
Il aura fallu près de 80 heures de travail sur la coque pour arriver à l'aspect final.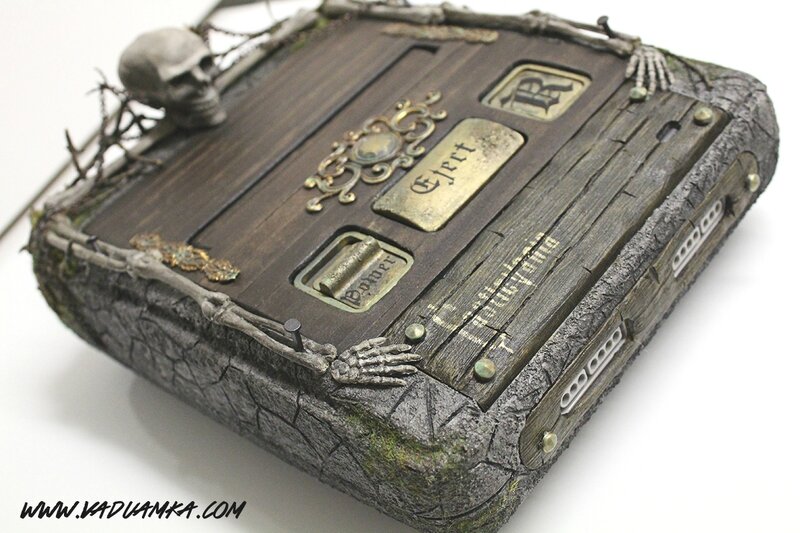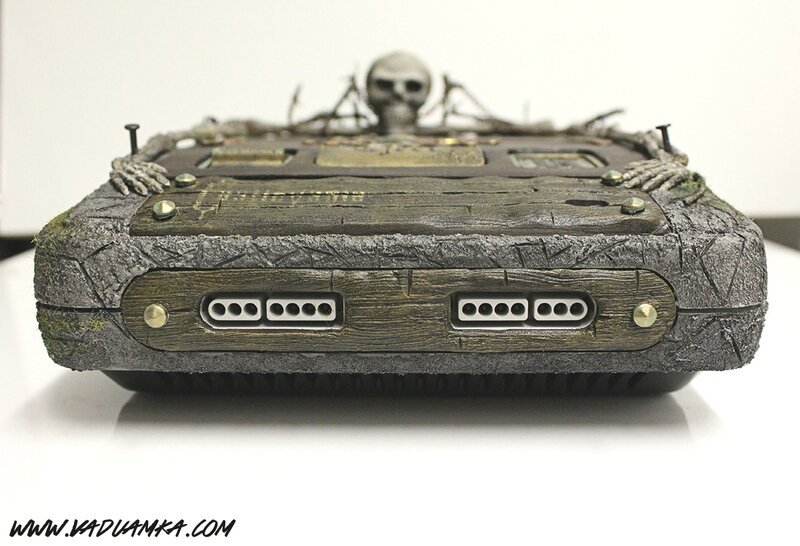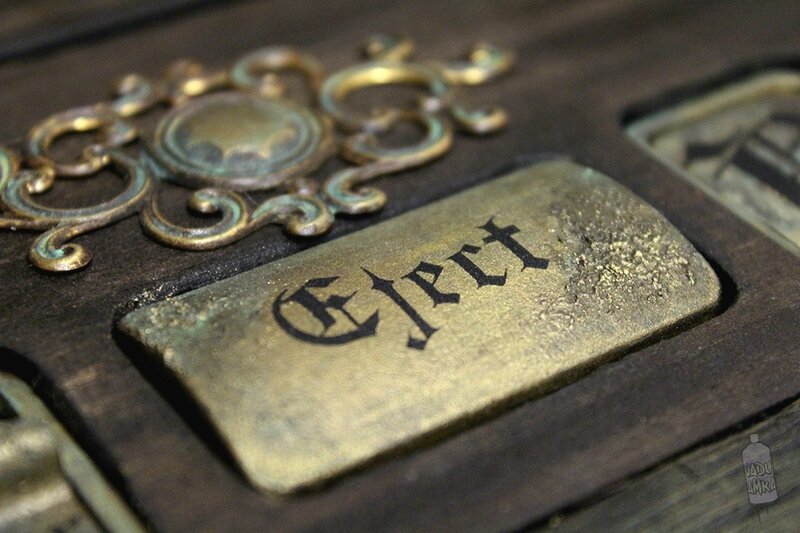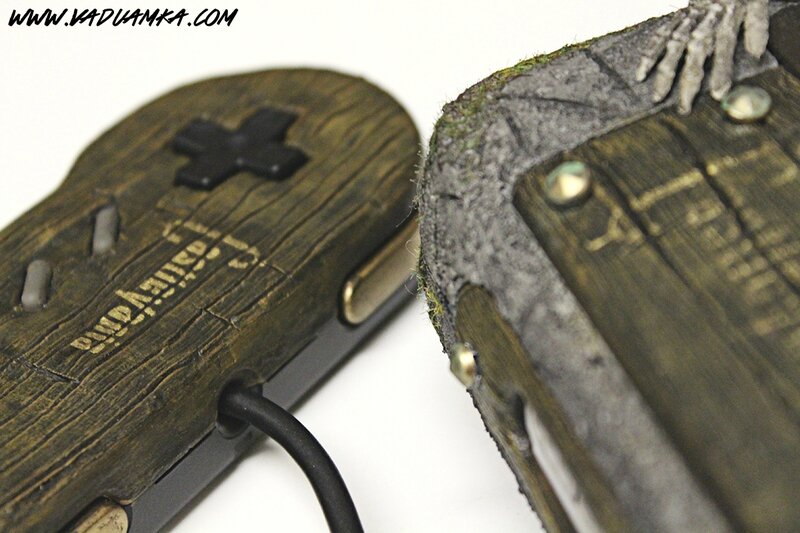 (Gift) Super Nintendo Controller II - Burned cherry wood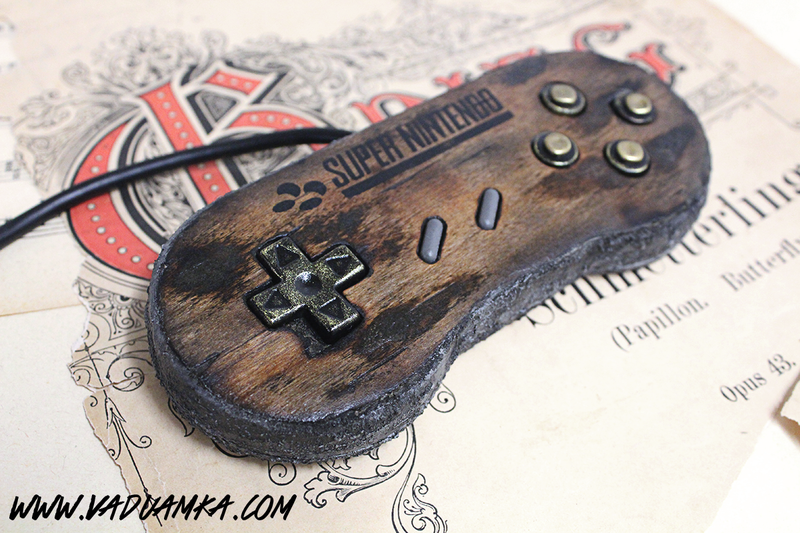 Le Munny c'est quoi? Il s'agit d'une figurine vierge qui peut adopter bien des apparences différentes et se prête ainsi à la customisation. On peut aussi les retrouver sous le nom d'art toys, designer toys ou urban vinyl.

Quant à mon tout premier Munny réalisé, il est sur le thème d'un Iron Man post apocalyptique. Je voulais m'éloigner des rendus lisses qu'on croise sur la toile et les toys quasi-parfaits, industriels. (Ils sont quand même beaux)

Si vous suivez régulièrement le blog, vous avez sans doute remarqué mon penchant pour la texture.
Ce petit bonhomme est donc réalisé avec des matériaux de récupération, du plexi, des câbles et de la peinture acrylique vernie

---


What exactly is a Munny? Well, that is à blank figure which can adopt à lot of différent appearances and is perfect for customization. You can find them in stores under the name of "art toys", "désigner toys" or "urban vinyl".
For the very first Munny I created, the theme I used was an "post apocalyptic Iron Man".
My main idea was not to reproduce all those smooth finishes and near-perfect industrial-Like toys you often come accross on the web. But i do agree with you : they look awesome!
If you follow the blog, you probably noticed that I really into that texture thing.
So that is why this little guy was made with recycled materials, plexiglass, cables and varnished acrylic paint.
"Mutation" FrakenBoy, Cartridge on Canvas 24 x 30 cm
Signed and dated on the side


@Liège Retrogaming P"Art"y 14/12/2014
Game Boy Color en honneur du Pokémon N°175 : Togepi !
Petit bundle pack reprenant la première génération. (Oui, oui les cartouches sont comprises!)
Couleur de base signal white - Vernis mat UV
Retroéclairage du logo COLOR, N° de série d'origine.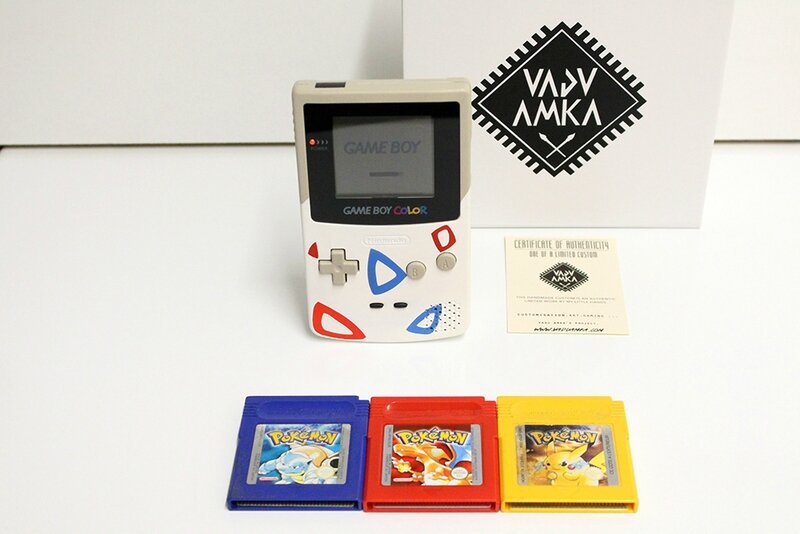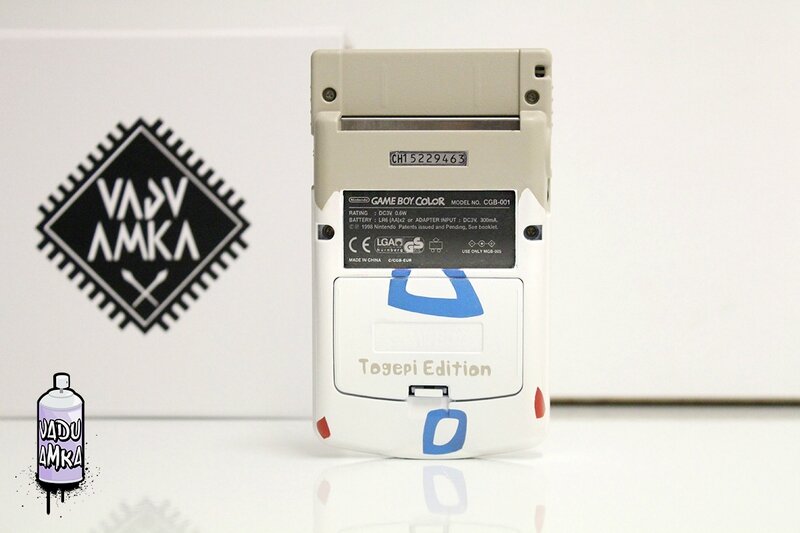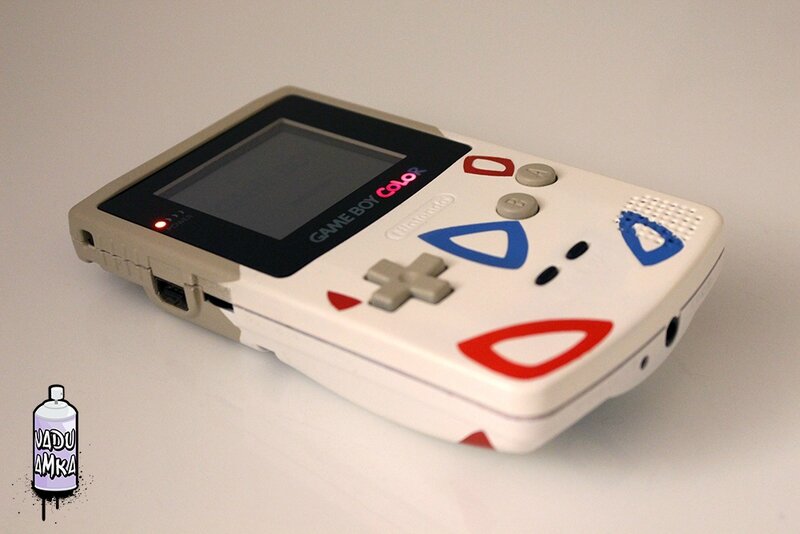 Nouvelle commande personnalisée pour une Belge! Une grande fan de la série Crash Bandicoot m'a demandé de réaliser une console à l'effigie du personnage principal. Je me suis inspirée des premiers niveaux du jeu dont « Jungle Rollers » et le menu en fin de partie, où viennent se fracasser sur la tête de Crash toutes les boites qu'on a oubliées.

Au départ, j'étais partie sur une console Aku-Aku avec le masque en relief sur une base rappelant la jungle. Mais le héros devait absolument figurer sur la console, ou un élément le rappelant (= l'orange). J'ai alors opté pour l'effet de vieux temple gris foncé / verdâtre avec pas mal de branches et quelques lianes. Un petit effet sablé à certains endroits et des crevasses. Les boutons Reset & Power sont en bois teinté. Des petites pierres sont disposées sur le Power pour rappeler un foyer de feu (level avec le sanglier et la première île). L'Eject est une boite de TNT vue du haut en bois de tilleul (handmade).

______________


New custom order for a belgian customer!
A huge Crash Bandicoot fan asked me if I could make her a console with the main character on it.
My inspirations came from the first game levels (such as « Jungle Rollers ») but also from the end- game menu (when all the boxes Crash forgot come and smash themselves into his face).
At first, I wanted to make an AKU-AKU console with the mask on it and the jungle for the background. But the hero (or something reminding him) had to be on the gaming system. So I finally decided to create an old dark grey and green temple effect with branches and creepers. I applied as well a small sandy effect on a few places . Both Reset and power buttons were covered with tainted wood. Tiny rocks were also placed on the power button to remind us a campfire (like the wild boar level and the first island). The eject button is a TNT wooden box, seen from above, made from basswood.


"Jungle Rollers is the second level of the first island in Crash Bandicoot. It is the first level in the game - and, by extension, the entire series - to feature a bonus round and TNT crates. It is also the first level in the entire series to require a colored gem. It was the level chosen to represent Crash Bandicoot in the first ever Playstation 'Demo Disc' known as 'Demo 1'. " crashbandicoot.wikia.com