Playstation 2 PAL (EU), console fonctionelle.
Thème : Temple dédié à Aku Aku.
Car oui, il existe des jeux Crash Bandicoot sur PS2 et même sur GameCube ! Les premiers opus, restent mes préférés.
Projet débuté en 2015 et laissé de côté par manque de temps pour m'y consacrer pleinement. Je l'ai achevé en Février 2016.
Matériaux : Résine, mastic epoxy bi-composant, acrylique. Le masque est réalisé en résine et en mousse contre plaqué de bois de tilleul et de cerisier. Elle sera présent au salon Made in Asia à Bruxelles, au Re-play Festival près de Cannes et au Kamo-con à Dijon.
Elle partira ensuite aux États-Unis. Exemplaire unique non destiné à la vente.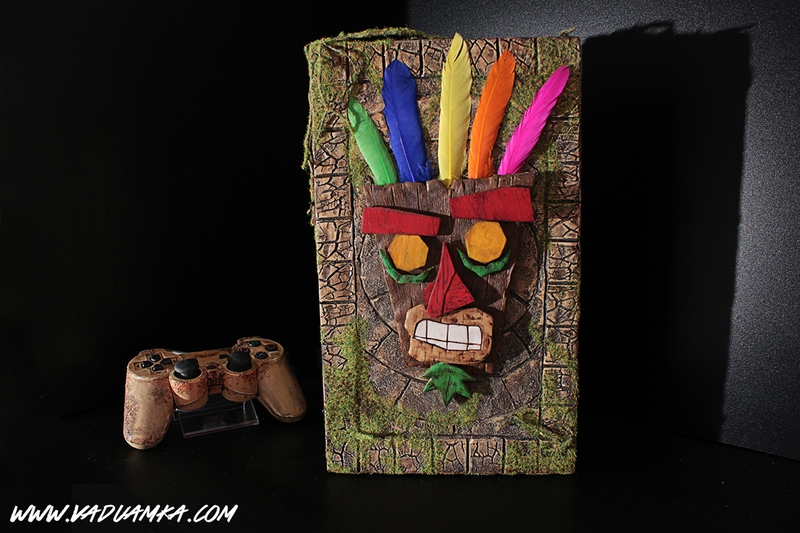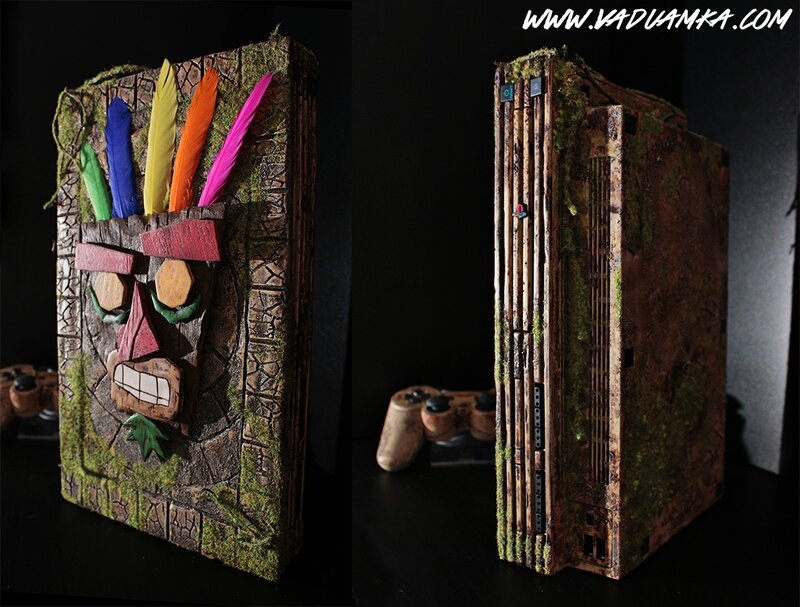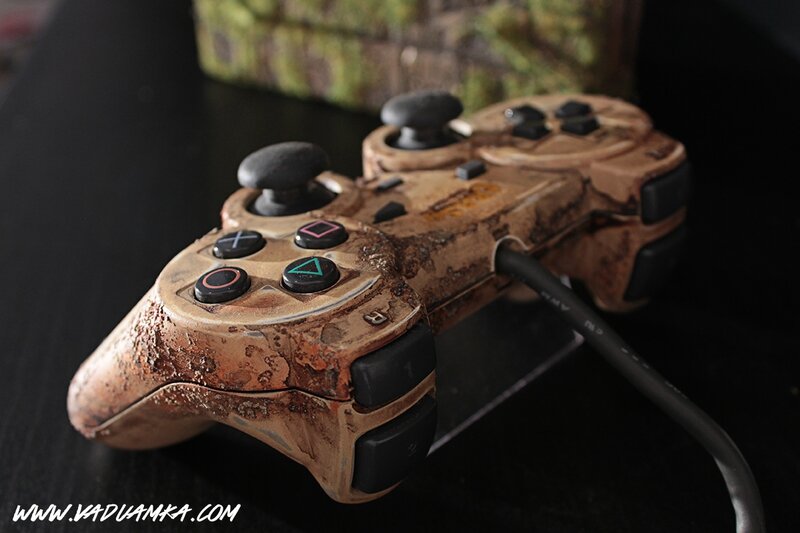 GAMEBOY CARTRIDGE HORRIFIC - MUTATED #2 (2015)
Unique GameBoy cartridge customized with acrylic and resin epoxy (framed, 25 x 25 cm)
Signed and dated on the back.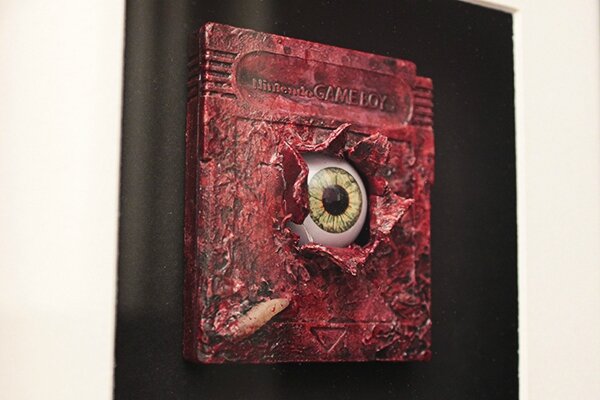 Comme beaucoup d'entre vous, je reviens du cinéma. Ce 16 décembre, c'était la sortie de l'épisode VII de Star Wars. Je travaillais depuis quelques semaines sur un projet, pour un cadeau. Et en trainant sur internet, j'ai pu constater que je n'étais pas la seule à avoir eu comme idée de réaliser une console Star Wars. C'est souvent répétitif : du noir, du jaune, le logo, une galaxie, les artworks refaits à l'aérographe (très bien refaits tout de même!) ... et parfois un jouet détourné, comme ce R2D2 super émulateur et la console Faucon Millénium. Je cherchais quelque chose de différent et c'est là que j'ai eu le déclic, en voyant cette épave de Destroyer dans le désert de Jakku, d'ailleurs ce décor a une importance particulière puisqu'il nous rappelle aussi Tatooine. Mais je ne vais pas m'étendre sur l'histoire de la saga.

Like many of you, I return of cinema. This December 16th it was the release of Star Wars Episode VII. I worked for several weeks on a project for a gift. While surfing the Internet, I noticed that I wasn't the only one who had the idea of doing a Star Wars console. It was often repetitive: black, yellow, the logo, a galaxy, the artworks remade with airbrush (and it's very good anyway!) ... And sometimes a "hijacked toy", as R2D2 super emulator and the Millennium Falcon console. I was looking for something different and it was when I saw the new Star Wars, and particularly when I saw the wreck of a Destroyer in the Jakku's desert. Moreover, this decor is particularly important because it also reminds us Tatooine. But I will not talk about the saga, it's not the point.

Il m'aura fallu une trentaine d'heures pour en voir la fin. J'ai martelé de l'aluminium, poncé et cloué, j'ai même été acheter de l'étain en feuille pour le faire fondre. Je me suis vraiment amusée sur cette réalisation !

It took me thirty hours to see finaly the end. I hammered aluminum, sanded donw and nailed ! I was even bought tin sheets to melt it. I really had fun on this realization !

Je remercie l'excellent Joffrey qui ne cesse de surprendre dans ses divers travaux de customs de jouets. C'est un peu grâce à lui que j'ai aussi osé me couper la main et faire une nuit blanche à tester de nouveaux matériaux.

Star Wars Logo - TM & © Lucasfilm Ltd. All Rights Reserved
Console Game Boy Advance, réalisée sur le thème des Chocobos issus de l'univers Final Fantasy.
Exemplaire unique.
Couleur : signal white et melon yellow. Finition vernis mat UV.

Game Boy Advance console, inspired by the theme of the Chocobos from Final Fantasy universe.
Unique model.
Color: white and melon yellow signal. Finishing with UV matt varnish.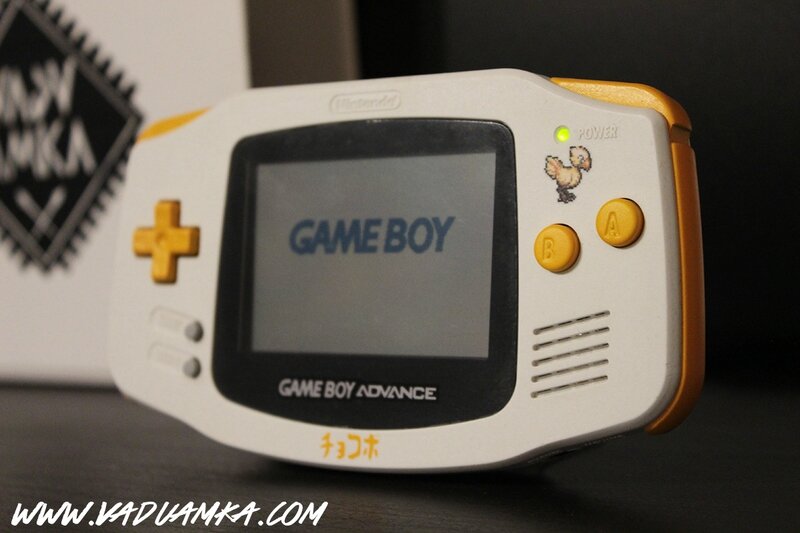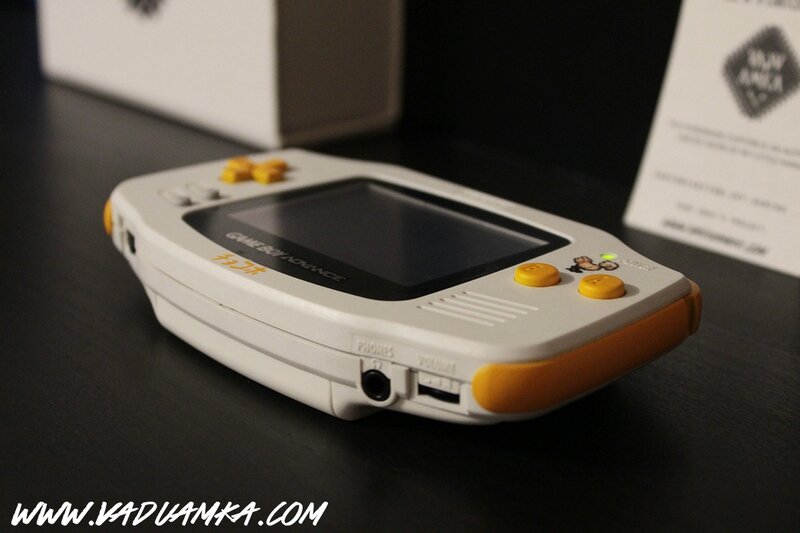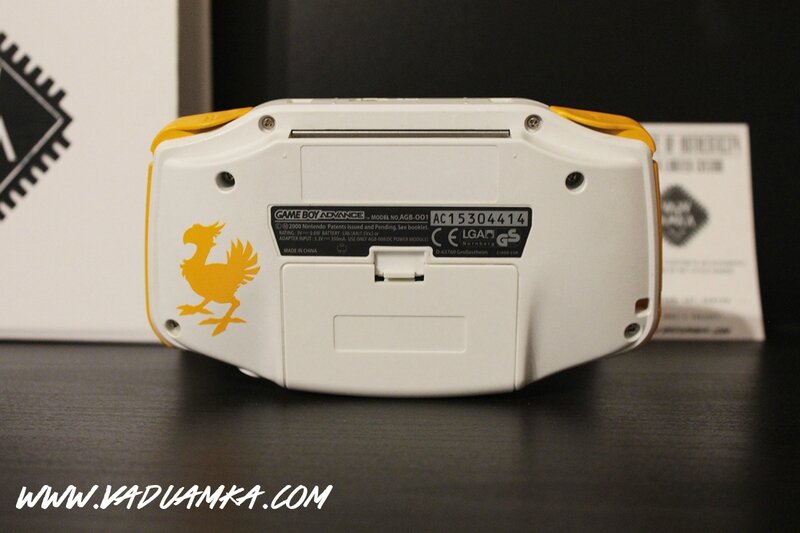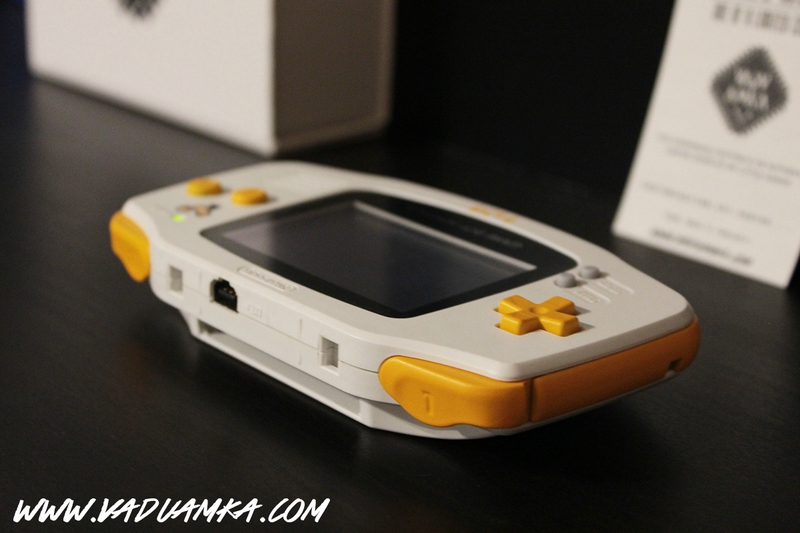 Voici une petite nouveauté pour alimenter les actus du blog,

Ma troisième réalisation sur le thème de Skies of Arcadia,
Il s'agit d'une commande passée à la galerie Kochi courant le mois du février 2015.
Cette fois on part sur la base d'un aéronef qui a subi pas mal d'altérations.
J'ai utilisé du bois de tilleul pour le capot, celui-ci ayant été découpé au préalable à l'aide d'un outil de découpe rotatifs. (Dremel). Les imperfections du bois ont été rebouchées à l'aide d'une pâte de bois clair, poncé et teinté à la lasure acajou, et peint en gris bleuté, poncé de nouveau pour un aspect plus dégradé et vieilli. Le capot est ensuite ciré et imperméabilisé. Dans celui-ci se loge une grille à petites mailles, oxydée à l'aide de pigment Ocre, Terre d'ombre naturelle = oxyde de fer synthétique. Le reste est un jeu de trompe-l'oeil avec plusieurs jus de noir et de brun. Ce qui semble être un anneau métallique est en réalité un bandeau en cuir traité et lui aussi passé à la peinture oxydée.
Les slots à manettes ont été réalisés par le même procédé que le capot.
Le logo a été reproduit en plexiglass et remoulé à l'aide de Silicone Silgum en pâte 2 composants. Ensuite coulé en résine et peint.

---

Hello!
Here is the latest news feed of my blog.

It is about my third creation on the « Skies of Arcadia » theme.
That is an order for the Kochi gallery placed back in February.
The main idea behind the custom was to make it look like a heavily damaged spacecraft.
I used lime wood I previously cut with a rotating cutter (called a dremel) for the hood. All the wood's imperfections were first resealed with some light color wood paste, then sanded stained with mahogany stain. After that, I painted it with a blue and gray color before sanding it one more time to give it a more degraded and aged look. I waxed the hood and made it waterproof. I put inside a small grid, oxidizing it with ocher pigment called « natural earth shade » (synthetic iron oxyde). All the rest is an optical illusion made from several black and brown juices. What seems to be metal ring is, in fact, a leather band treated and painted with oxyde paint. I used the same pattern for the gamepads slots. I finally reproduced the logo with plexiglass and remolded it with some 2-component silicone slim before molding it in resin and painting it.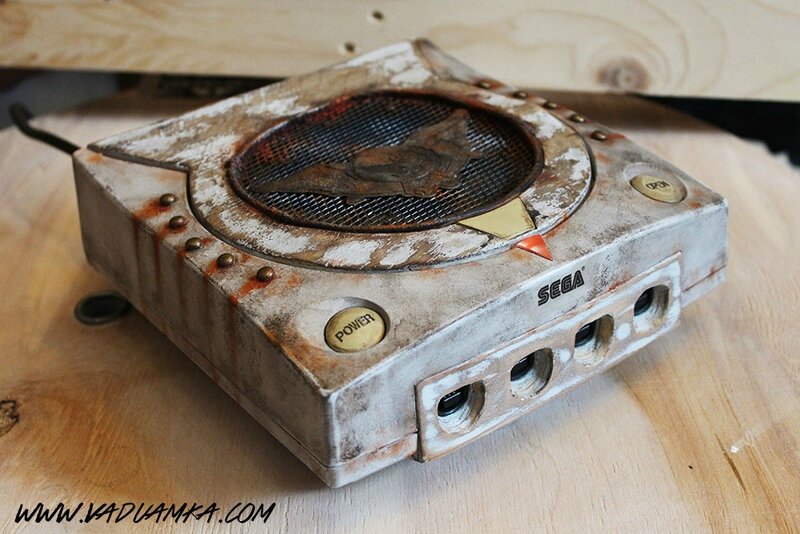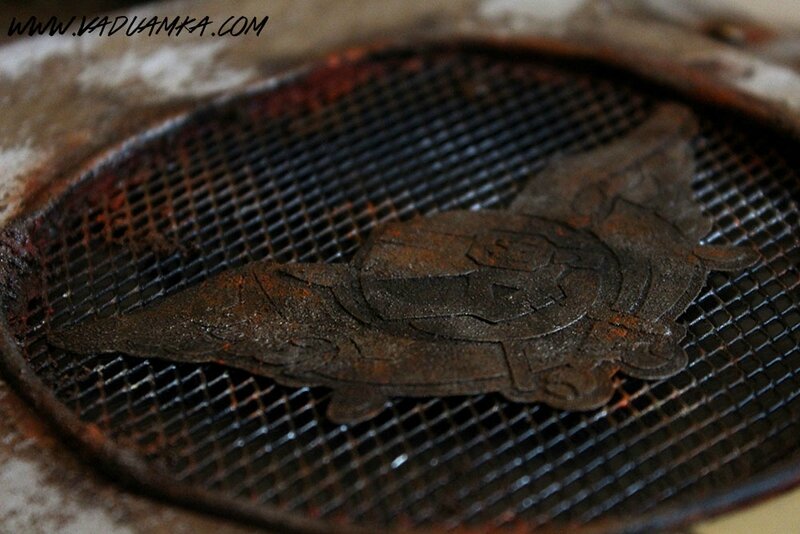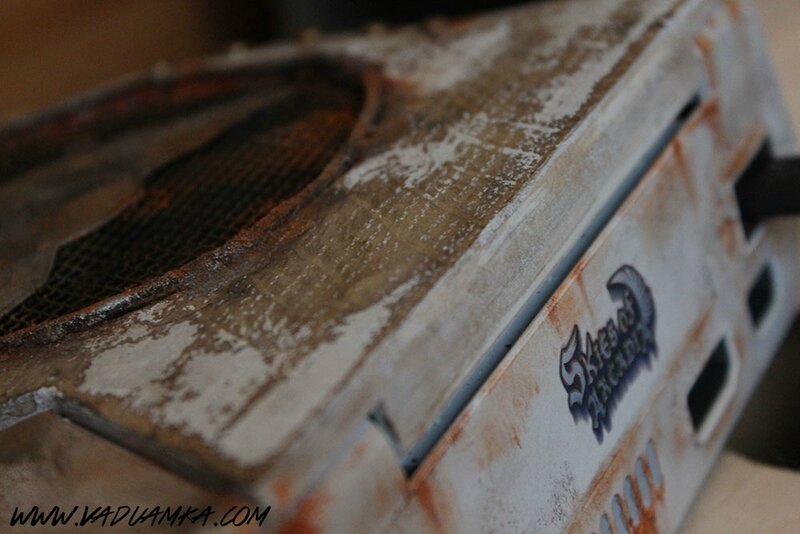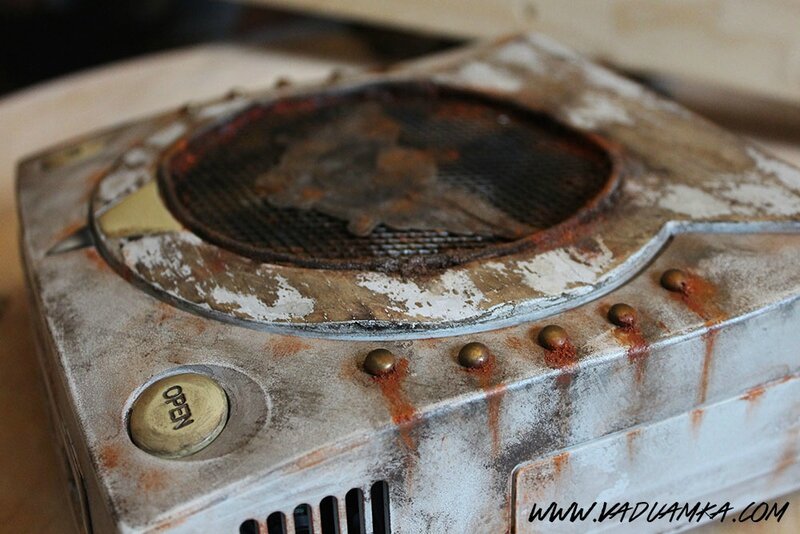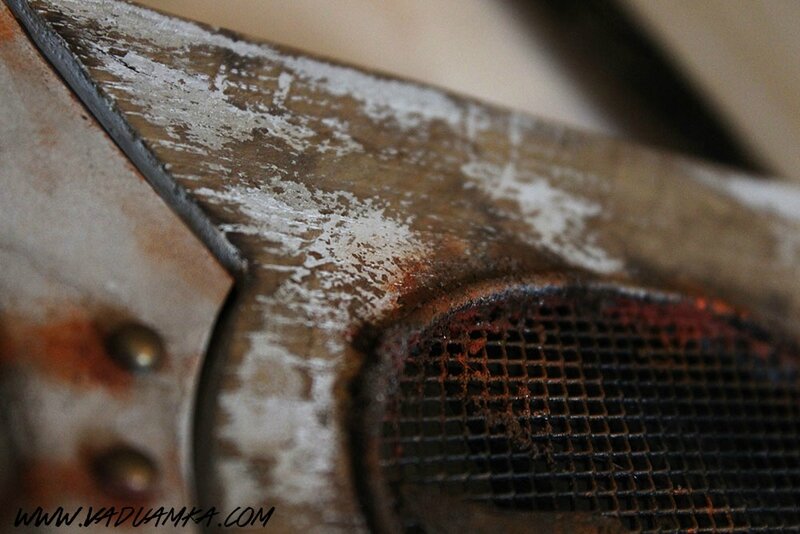 Dans le cadre du financement participatif du guide complet Zelda par l'Association Trop Gaming. le Dr. Lakav m'a demandé si il était possible de réaliser une édition speciale avec une cartouche en loose d'un Zelda ALTTP PAL FR !

* Ils proposeront à la fin de la campagne (celle-ci a atteint son objectif à 400%!) un tirage au sort permettant de gagner ma création. *

Cette cartouche super nintendo, The Legend of Zelda : A Link to the Past est un exemplaire unique et un fanmade. J'ai réalisé la boite sur base des bons conseils de www.nintandbox.net , merci y(oYo). Si vous souhaitez refaire vos boites et pas les vendre. Je vous recommande ce site! :)
J'ai opté pour du papier A3 300gr brillant de la mort mais pas trop non plus. Un papier trop épais a tendance à craquer lors du pliage.

Le lot se compose de :
La cartouche custom Zelda ALTTP PAL FR.

Ce n'est pas un cartmod !

La boite du jeu avec un calage, relooké par mes soins.
Le certificat d'authenticité.
Game Boy Advance - Capsule Corporation.
Inspiration "Dr. Brief" - Univers Dragon Ball
Vernis mat, Peinture "tulipe blue", légères usures à force de parcourir le monde à la recherche des boules de cristal.
Bulma a du la faire tomber quelques fois... *rire* Son effet usé est absolument recherché :)
Exemplaire unique et fonctionnel, remis à neuf.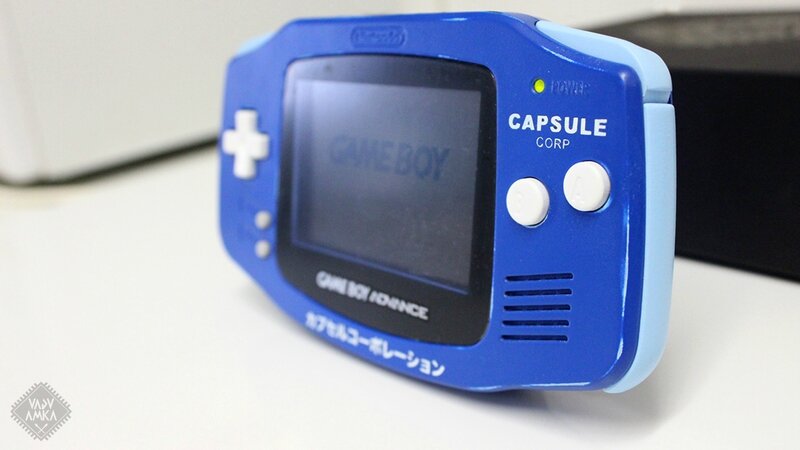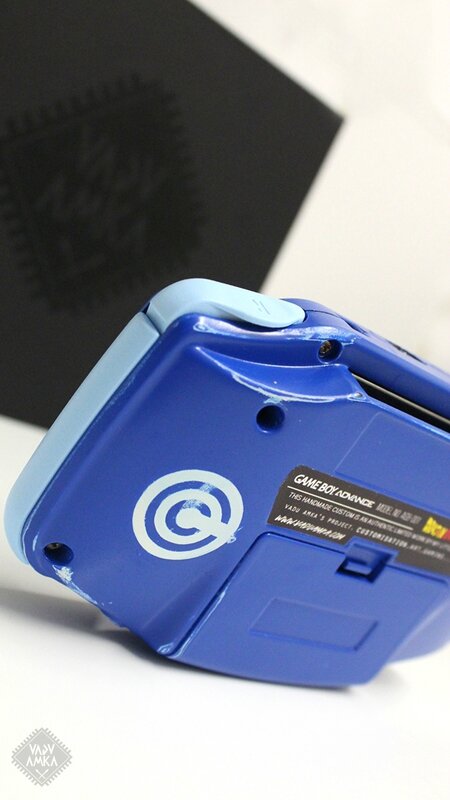 Commande Mars - Avril / Commission March - April

Réalisation sur commande pour un particulier auprès de la Galerie KOCHI.
Super Nintendo personnalisée sur le thème de Final Fantasy VI. Il s'agit d'une console sur mesure et suivant les conseils et goûts du client. Cette console n'est pas disponible.
Commission for the gallery KOCHI (Paris)
Super Nintendo personalized on the theme of Final Fantasy VI. It is about a custom-made console and according to the advice and the choice of the customer. This console is not for sale
Une Nintendo 64 de plus sur le thème de The Legend of Zelda, Ocarina of Time.
Un cadeau surprise commandé par la copine de Mika', car ce jeune homme est un grand fan de la licence et vous êtes très, très nombreux !
Les pierres ancestrales étant des objets de quête très importants dans le jeu, j'ai choisi de rappeler leur forme sous le logo de la console, pour rappel, il s'agit de l'Émeraude Kokiri, du Rubis Goron et du Saphir Zora. Le logo de la console, lui aussi a été refait pour se rapprocher de la typographie de la saga. Un petit clin d'oeil supplémentaire pour faire plaisir à cet ami. Le reste de la technique a été abordée dans les articles précédents, le bouclier a été remoulé en résine et un chouïa rendu plus fin et anguleux. Le modèle de base vient de la forge de MetalFGS . Le doré des touches est usé et brillant pour être homogène avec le reste de la console qui est plutôt ancienne. Et La Triforce est rappelée sur la manette.

---

A Nintendo 64 based on The Legend of Zelda, Ocarina of time.
It's a surprise gift ordered by Mika's girlfriend. He's a huge fan of this licence, just like so many of you, Guys.
The ancestral gems being very important items for the main quest, I chose to remind their shape under the console's logo. As a reminder, they are the Kokiri emerald, the Goron ruby and the Zora saphire. The console's logo was also remade in order to stay close to the saga's typography.
A little additional wink for this friend to please him.
I have already explained the techniques I used in previous publishings, the shield was remolded in resin, for a little bit thinner and angular rendering.
The basic model comes from the MetalFGS forge. The gold aspect for the buttons is worn and shiny to match with the rest of the console, that is rather ancestral. At last, the Triforce is remembered on the game pad.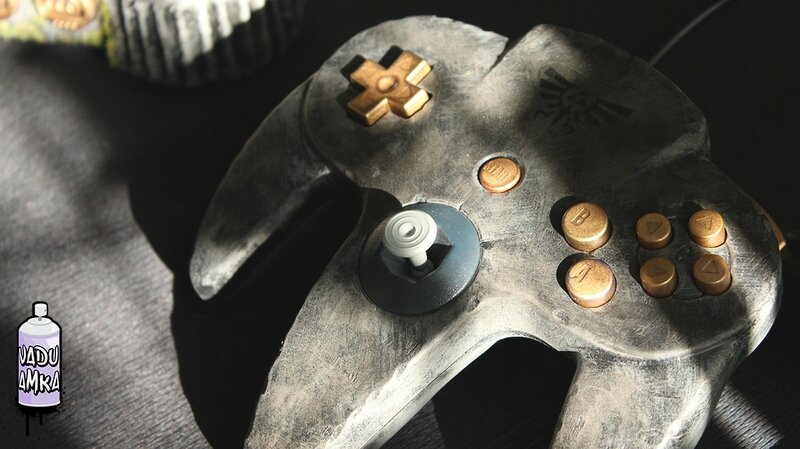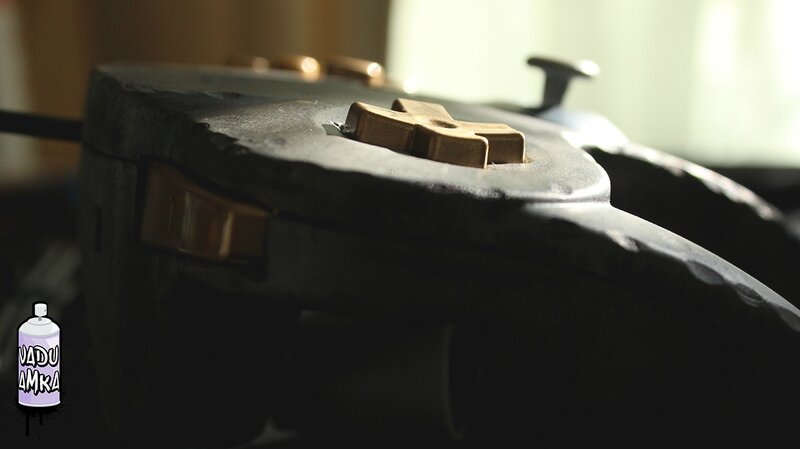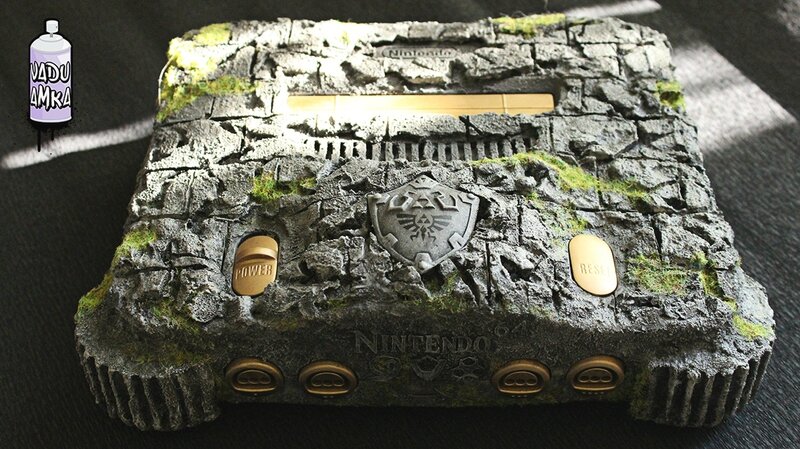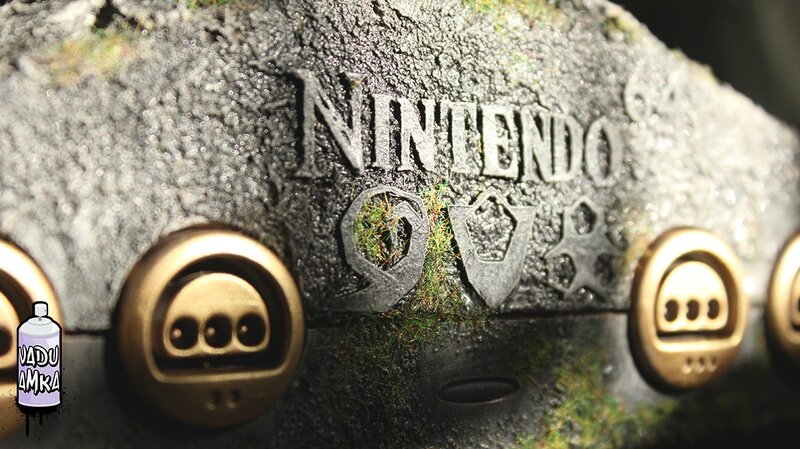 Happy Birthday Mika!
Culture games s'est occupé du packaging pour le jeu Half-Life sur Dreamcast qui n'est jamais sorti autrement qu'en abandonware sur internet. Ils comptent organiser un concours permettant d'en gagner un exemplaire (avec le jeu et un boitier neuf comme si le jeu était réellement sorti) et pour que le concours soit encore plus marquant, ils m'ont demandé de réaliser une Dreamcast aux couleurs de Half Life et d'ainsi proposer un pack complet.
Réalisation : J'ai repris les couleurs du personnage principal au pied de biche. Je ne voulais pas faire une console complètement orange, la couleur est souvent assimilée à Metroid. J'ai principalement travaillé l'aspect de peinture écaillée et de rouille. La console reste à mon goût relativement sobre et fidèle aux visuels des jacquettes.
Temps : 1 mois & demi

---

A Half-Life Dreamcast for Culture Games
Culture games took care of the packaging for the game "Half-Life" on Dreamcast, which was never released anywhere else than on abandonware sites. They plan to hold a contest to win a copy (with the game and a new case as if it was actually released) and the competition is even more striking, they asked me to make a customized Dreamcast on the Half Life theme and thereby propose a complete package.

I took the colors of the main character with the crowbar. I didn't want a completely orange console, the color is often linked to Metroid. I mainly worked on the paint peeling and rust appearance. According to my taste, the console remains relatively sober and faithful to the covers' visuals.

Time spent: 1 month and a half