Consoles customisées
(2018)
GOLD Legendary 虹 [niji] // GameBoy cartridge customized
with acrylic and resin, epoxy (framed, 25 x 25 cm)
Only 5 pieces / Limited of 5
Signed and dated on the back.
Delivered with a certificate.
Shipping worldwide.

Available on the store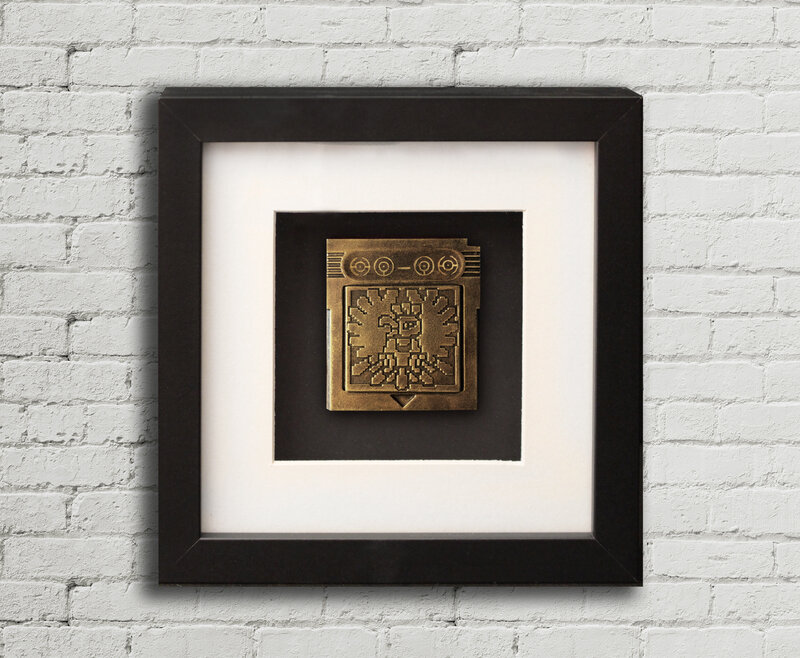 Il y a maintenant 3 ans, j'ai réalisé la première console GameCube The Legend of Zelda : The Wind Waker [Relic]. Inspirée par les fresques du jeu éponyme, j'ai toujours souhaité les adapter sur des machines (mon support de base) bien disctinctes afin de réaliser une "fresque" géante de consoles avec ces illustrations rendant hommage au jeu mais aussi à tous les fans de la franchise et de la GameCube!

Mais après plusieurs mois de boulot, j'ai finalement post posé ce(s) projet(s) par manque de temps. Chacune de ces machines est unique et raconte sa propre histoire : cette dernière n'est pas uniquement celle liée à leur gravure et ce qu'elle représente de manière figurée mais aussi l'histoire et l'origine de ces consoles que j'ai souvent récuperé pour beaucoup de la bène et réparée. Au fil des années, je m'y suis attaché à ces machines entassées et ces carcasses de consoles délabrées; et même si mon atelier ressemble plus à un cimetière et que pour certains je suis le professeur Frankenstein, le plus important à mes yeux est de voir parents, enfants, amis rédécouvrir et partager ensemble l'envie de se (re)lancer une partie.

Je continuerai de m'occuper de toutes ces consoles tant qu'il y aura des histoires et légendes à raconter et même si il me faudra encore de nombreuses années avant de toutes les achever. "A qui sait attendre, le temps ouvre ses portes."

Pour ce qu'il en est de ce projet, contrairement à son prédécesseur, il est à la gloire de Ganon et du combat face à Link. Il montre un aspect plus vétuste et obscure.

La console n'est pas destinée à la vente.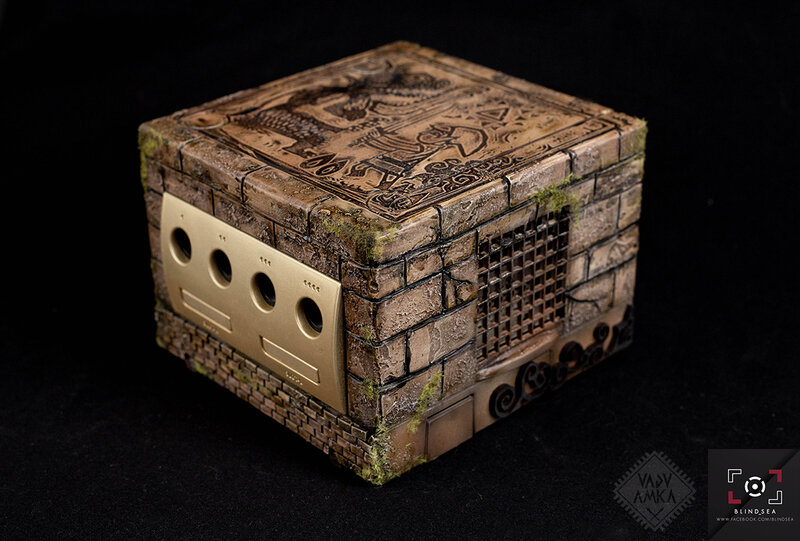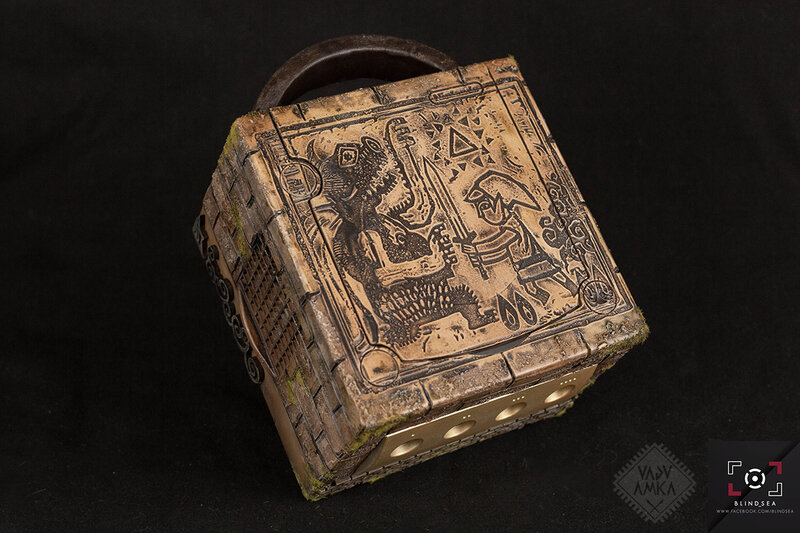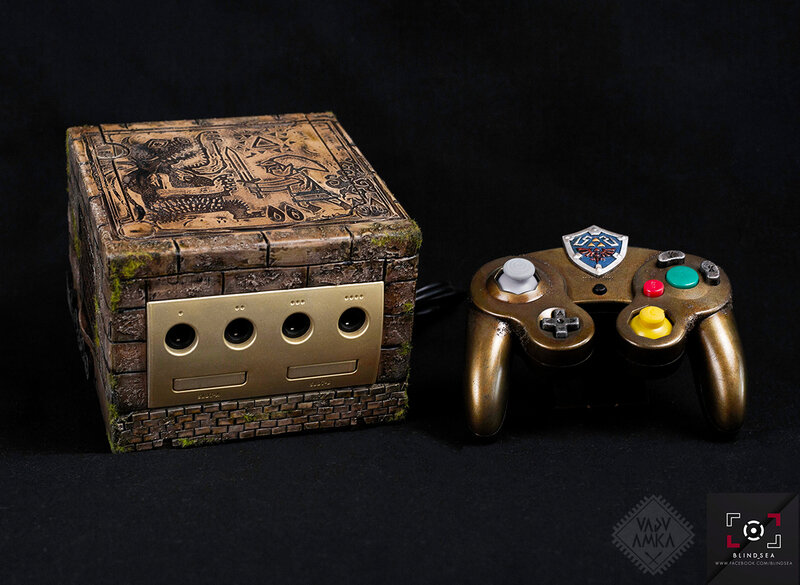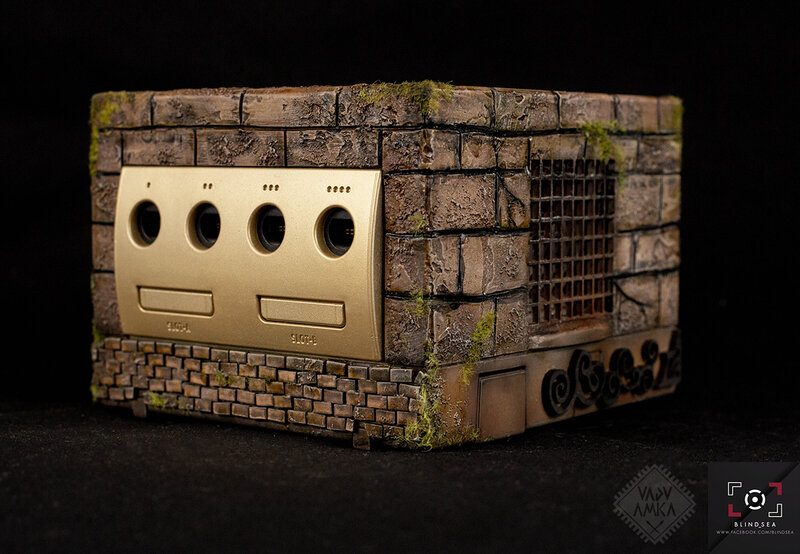 On a osé ! Il y a quelques mois, des fans d'Harry Potter m'ont mise au défis de réaliser une machine fanmade sur le thème des livres et films ; quelque chose avec des volumes et du détails.

Qu'à cela ne tienne, nous avons commencé à penser au projet dès le mois de juillet 2017. Et nous avons réellement débuté sa réalisation avec Amandine D. vers le mois d'octobre. Avec son aide nous avons réussi à réstituer le plus fidélement possible "presque tout" les batiments du château sur la petite surface d'une Playttaion 4 Slim. Il aura fallu plusieurs essais et des ratés pour arriver à cette version plusieurs mois plus tard... En 2018 ! Le volume qui recouvre la console est en grand parti creux et aéré par le centre (c'est bien caché ;D ). Les matériaux utilisés empêche la surchauffe.

Initialisement, je souhaitais réaliser le chateau en hiver. Et si celui-ci est creux, c'est car il devait être illuminé grâce à de petites leds pour simuler l'éclairage aux bougies, chandelles, etc... Mais par manque de temps et car j'ai répoussé le projet, on a finalement opté pour une version peinte "plus sobre".

Aide technicienne : Amandine D.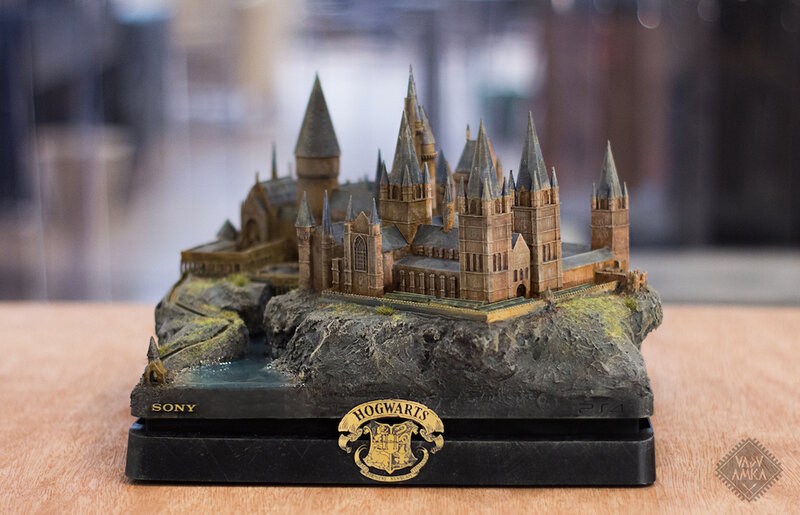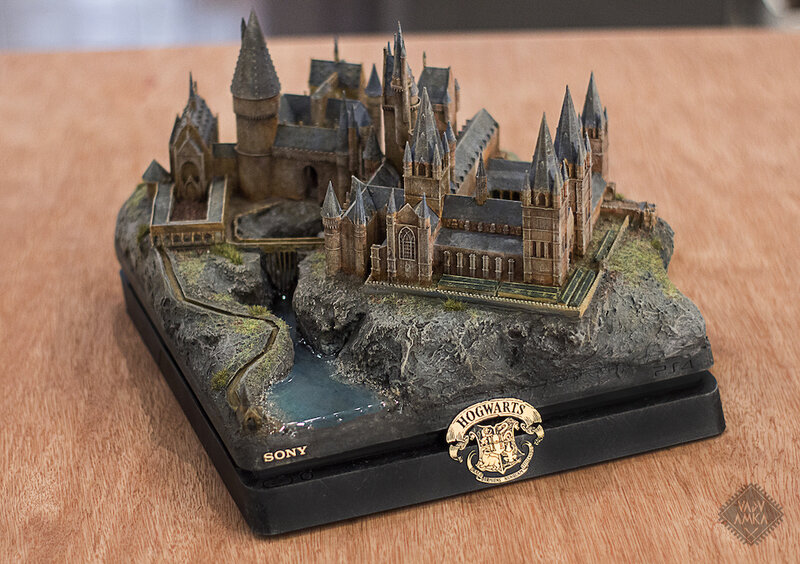 J.K. ROWLING'S WIZARDING WORLD is a trademark of J.K. Rowling and Warner Bros. Entertainment Inc.
Characters, names and related indicia from J.K Rowling's Wizarding World are ™ and © of Warner Bros. Entertainment Inc. All rights reserved.
Réalisation d'une Fightpad Wii U sur le thème d'Hyrule. Le bouclier, qui est l'ornement principal, est réalisé en résine. Peinture à la main avec un "gold ancient" brossé avec un peu de métallisé. La manette est entièrement retravaillée, sculptée et avec un aspect patine de bronze, verre de gris (oxyde). Les lanières sont en cuir épais. Le pad directionnel est en métal et les différents éléments en reliefs sont en céramique.

Disponible / Available soon.

Realization of a Fightpad Wii U on the theme of Hyrule. The shield, which is the main ornament, is made of resin. Hand painted with an "ancient gold" brushed with a metallic effect. The controller is entirely reworked, sculpted and with a patina appearance of bronze, glass of gray (oxide). Straps are thick leather. The directionnal pad is made of metal and the various relief elements are made of ceramic.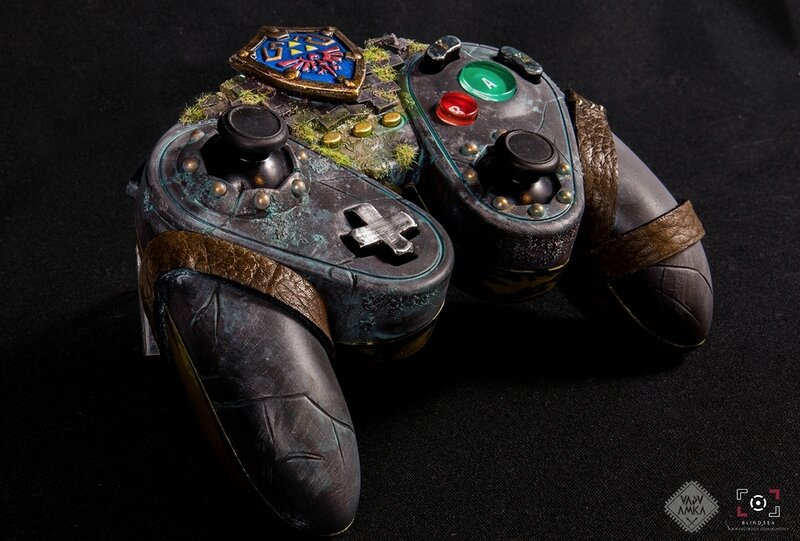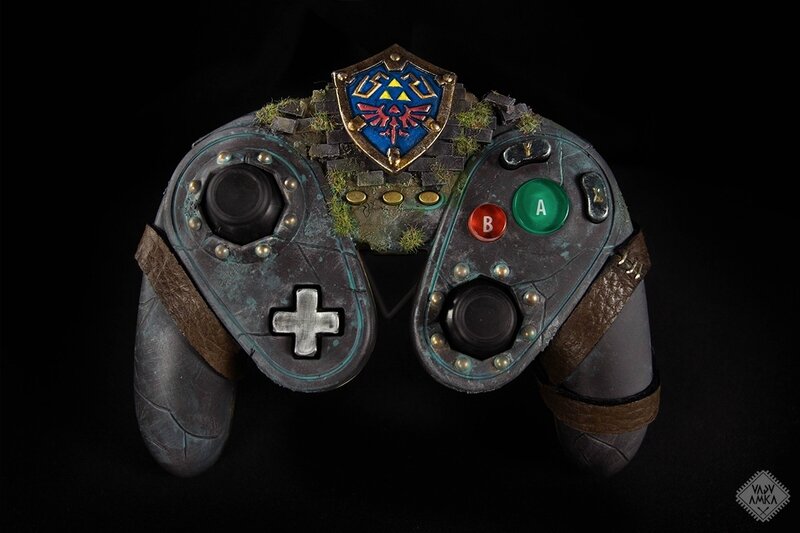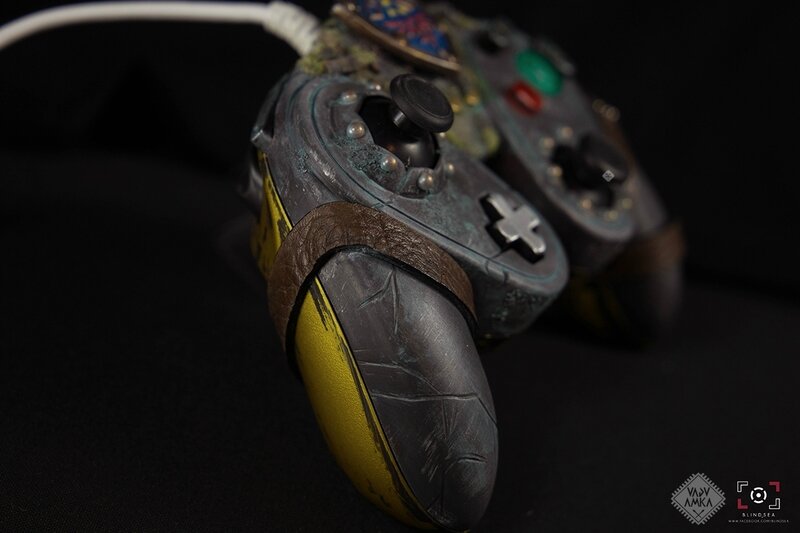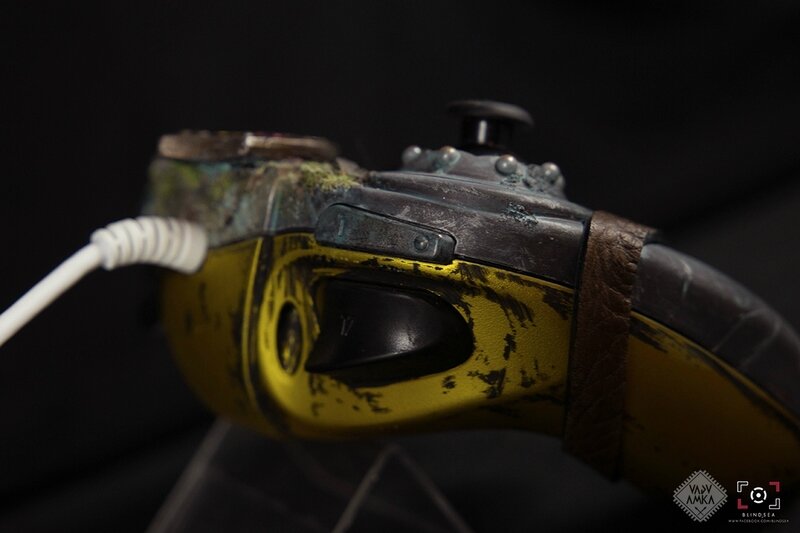 ANCIENT NES CARTRIDGE : The Legend of Zelda
Décoration en résine, acrylique et quartz.
Unique piece/ Pièce unique
25x25cm en cadre
Signed and dated.
Delivered with a certificate.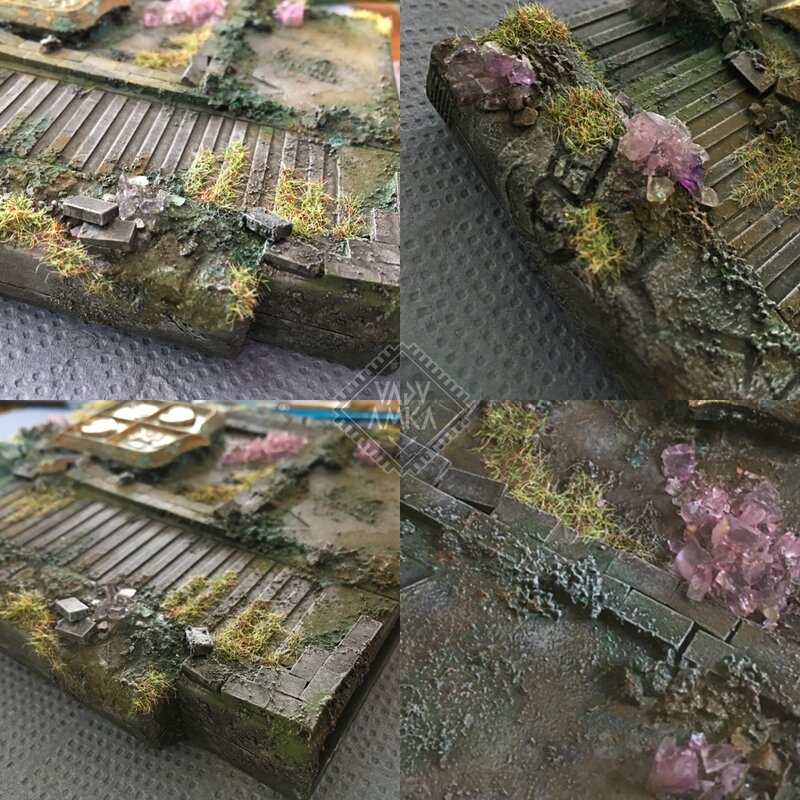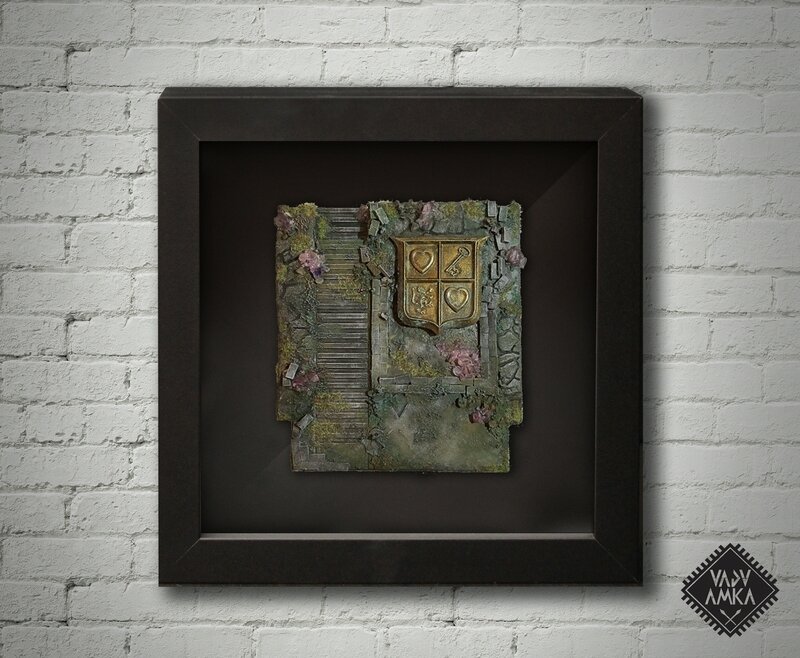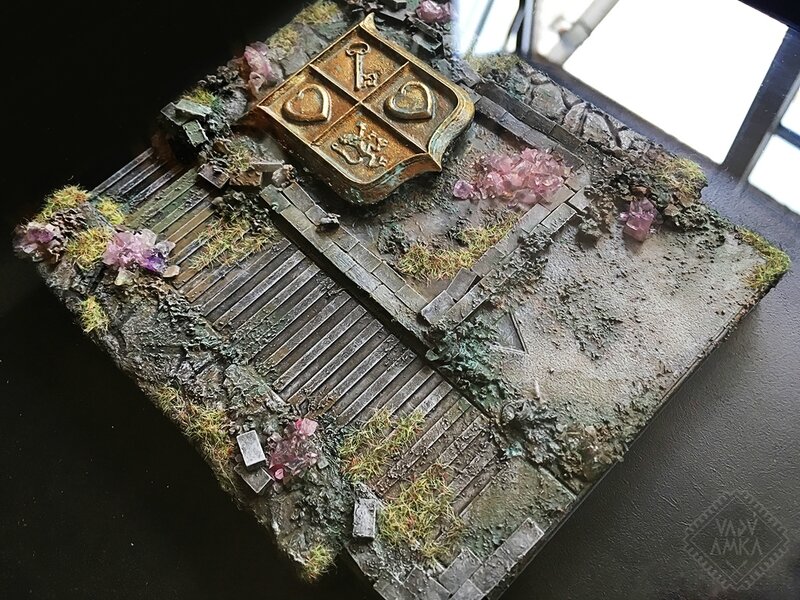 Ancient Guardians GameBoy cartridge
Customized with resin, epoxy and acrylic (framed, 25 x 25 cm). Limited to 5 numbered copies.
Signed and dated on the back.
Delivered with a certificate.

Signed and dated. Delivered with a certificate.
Shipping worldwide.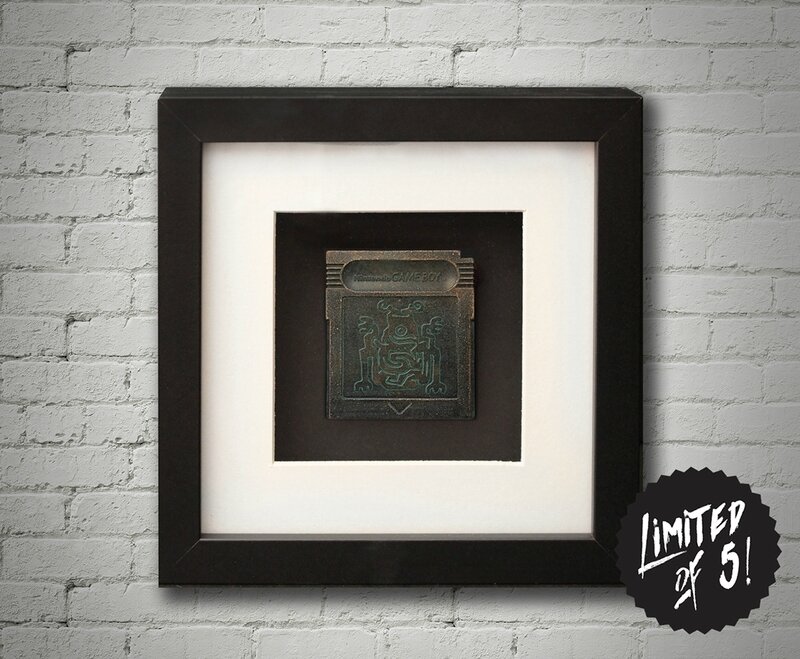 Console GBA SP PAL. AGS 001, modèle unique.
Réalisation artisinale dans du bois de Merisier.
Découpe à la main et lasure noire.
Coque en plastique noir, détails de la croix à la peinture chromée.

Non destinée à la vente.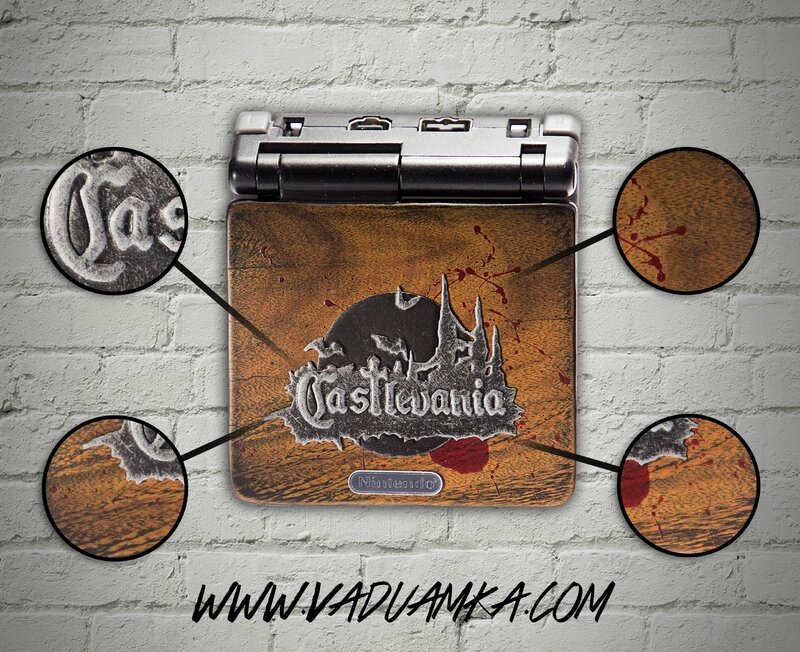 Vous avez sans doute dû passer à côté d'elle en arpentant les allées du salon Made in Asia à Bruxelles ! La Playstation 2 Tomb Raider était en exposition avec plusieurs autres créations durant ce petit week-end dans la capitale Belge. L'histoire dit qu'il s'agit d'une ancienne stèle érigée en l'honneur ou la mémoire d'une aventurière sans limite... Désormais elle réside dans une belle demeure, entourée d'autres consoles. Je l'ai réalisée spécialement sur demande pour un couple de gamers ! Monsieur a fait la grosse suprise à sa belle en lui offrant/dévoilant cette console lors du salon. Elle a failli ne pas s'en remettre ! ;)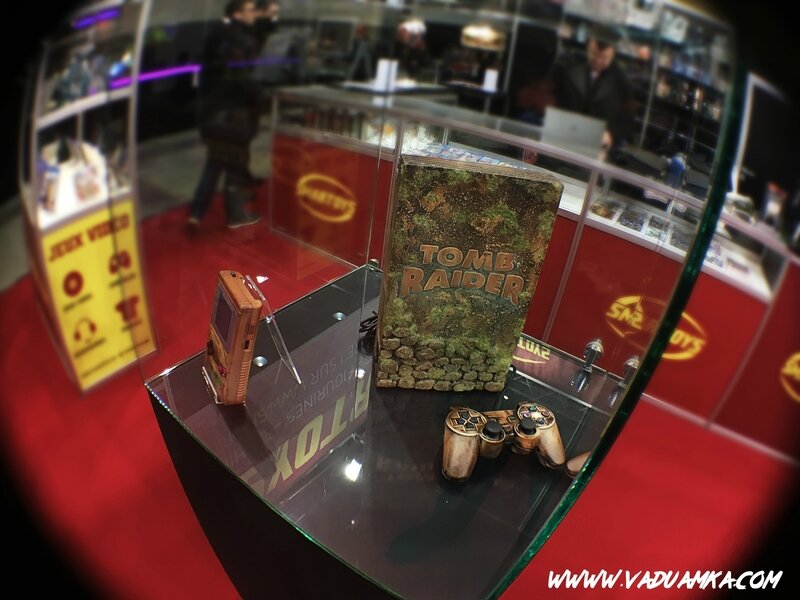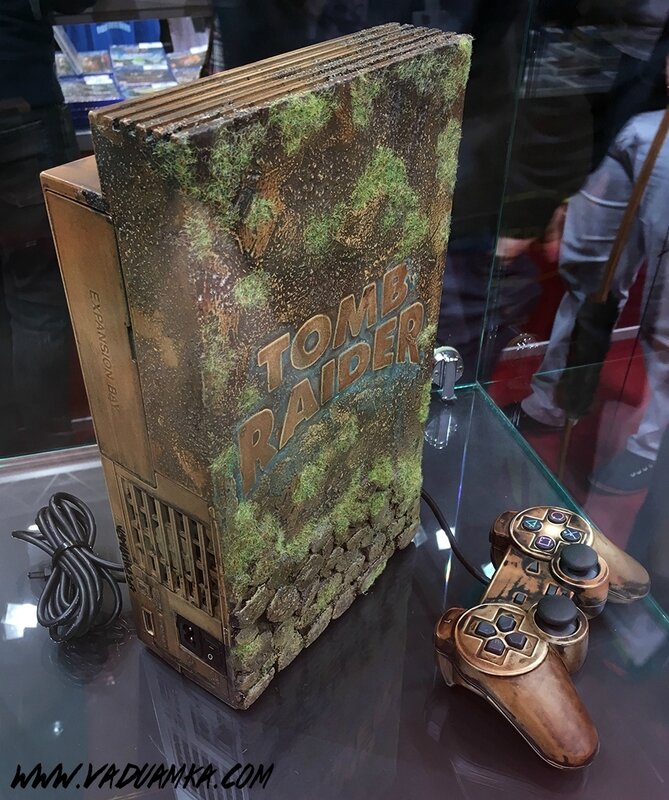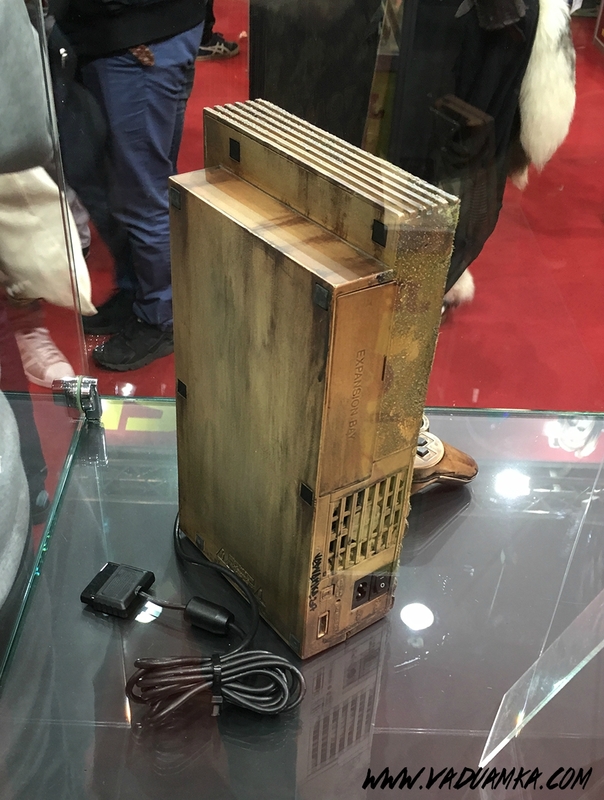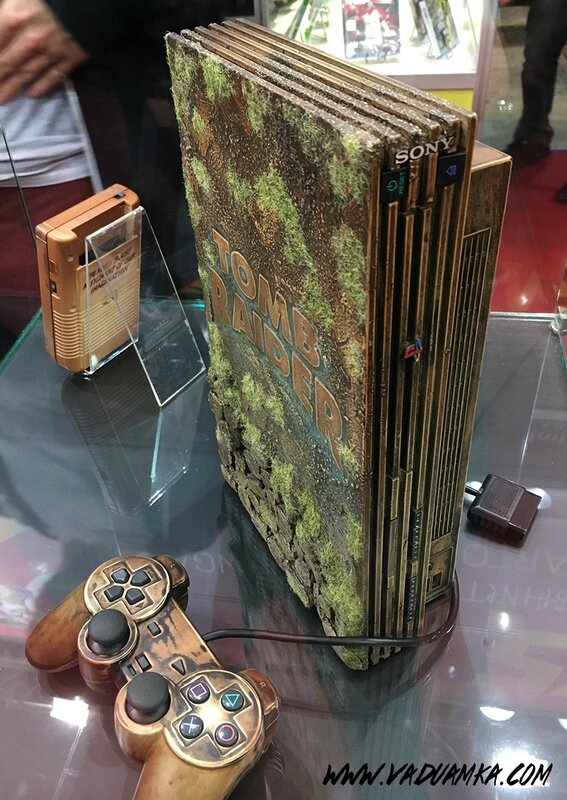 USB RIPPED ZOMBIE FINGER
Réalisation artisanale sur précommande uniquement. Possibilité de demander plus de sang ou un autre teinte : mauve , verdâtre, gris, noir,... Et même de modifier l'ongle ! :)
Délais de création 1 à 3 semaines.
Matériaux : Silicone, latex , acrylique
Choix USB : Sans / 16GB / 32GB
Expédition mondiale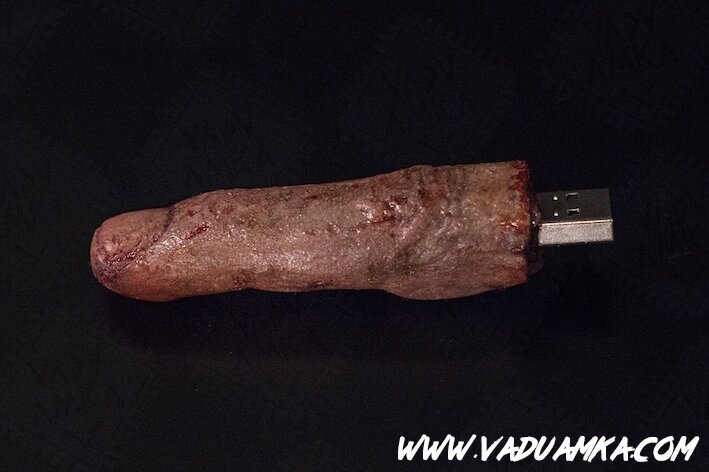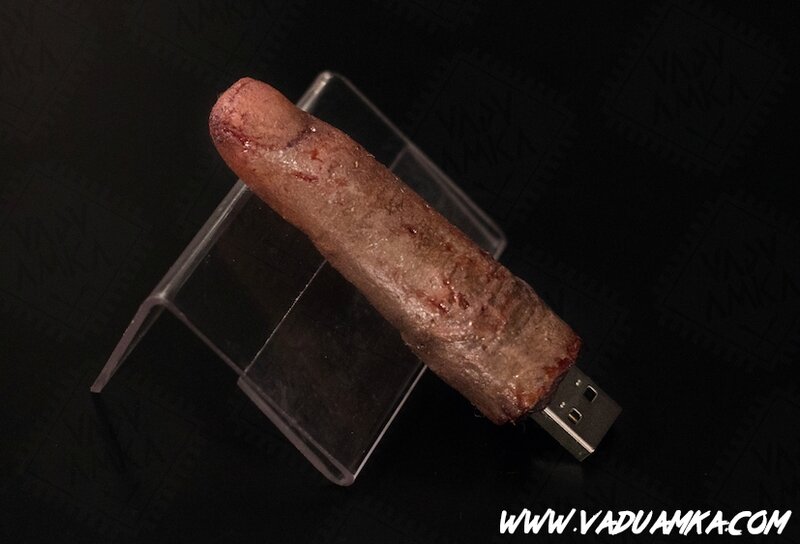 Entre le steampunk et le post-apocalyptique, cette console emprunte un style revisité à la Mad Max. Réalisée avec du cuivre, du laiton, de l'argent, du métal et du bois. Elle ravira peut-être le propriétaire d'un cabinet de curiosités ? Parfaitement fonctionnelle et presque ergonomique si vous possédez des doigts suffisamment fins. Elle est bien évidemment unique et fera partie des prochaines expositions !
Un ornement mystérieux d'une ancienne civilisation geek se cache au coeur de cette console, saurez-vous l'identifier ?

---

Between steampunk and post apocalyptic, this console burrows a revisited Mad Max style. This console is made of copper, brass, silver, metal and wood. Perhaps it will delight the owner of a curiosity cabinet? Fully functional and almost ergonomic if your fingers are thin. It is a unique artwork and will be part of future exhibitions! A mysterious ornement from an ancient geek civilisation is hidden inside the console, will you be able to identify it?