Consoles customisées
USB RIPPED ZOMBIE FINGER
Réalisation artisanale sur précommande uniquement. Possibilité de demander plus de sang ou un autre teinte : mauve , verdâtre, gris, noir,... Et même de modifier l'ongle ! :)
Délais de création 1 à 3 semaines.
Matériaux : Silicone, latex , acrylique
Choix USB : Sans / 16GB / 32GB
Expédition mondiale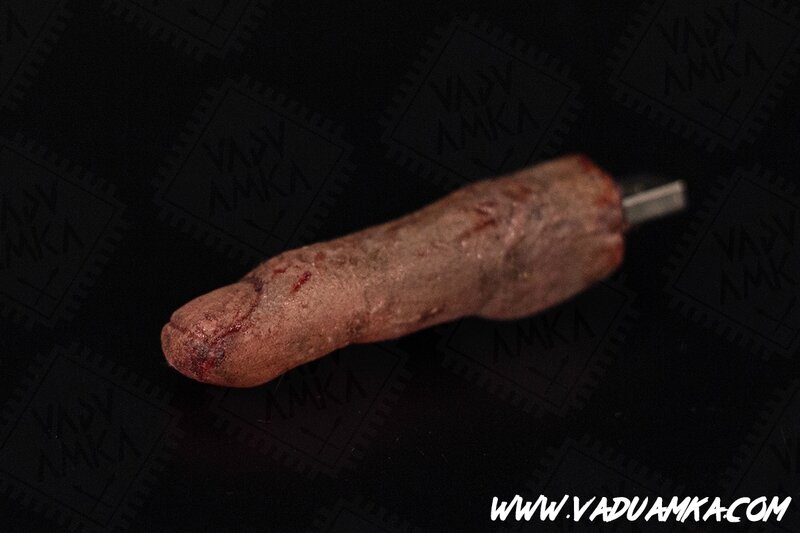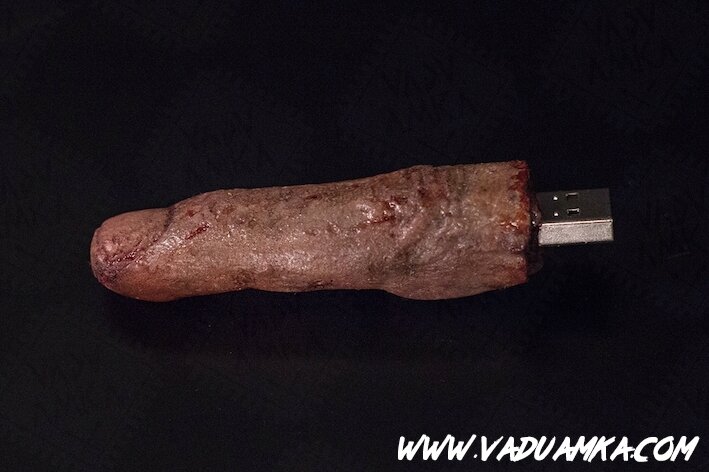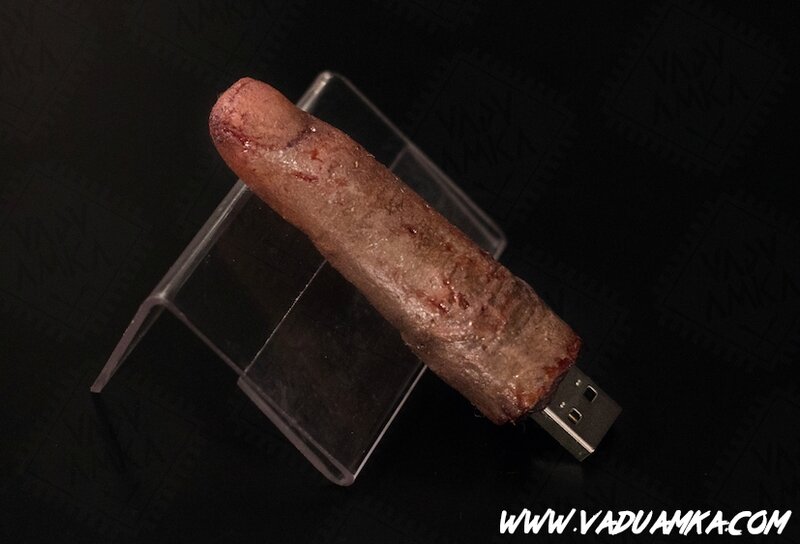 Entre le steampunk et le post-apocalyptique, cette console emprunte un style revisité à la Mad Max. Réalisée avec du cuivre, du laiton, de l'argent, du métal et du bois. Elle ravira peut-être le propriétaire d'un cabinet de curiosités ? Parfaitement fonctionnelle et presque ergonomique si vous possédez des doigts suffisamment fins. Elle est bien évidemment unique et fera partie des prochaines expositions !
Un ornement mystérieux d'une ancienne civilisation geek se cache au coeur de cette console, saurez-vous l'identifier ?

---

Between steampunk and post apocalyptic, this console burrows a revisited Mad Max style. This console is made of copper, brass, silver, metal and wood. Perhaps it will delight the owner of a curiosity cabinet? Fully functional and almost ergonomic if your fingers are thin. It is a unique artwork and will be part of future exhibitions! A mysterious ornement from an ancient geek civilisation is hidden inside the console, will you be able to identify it?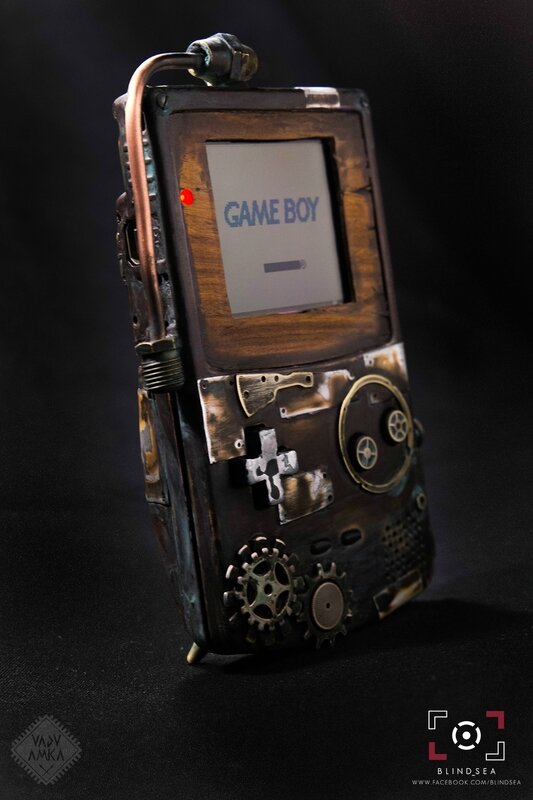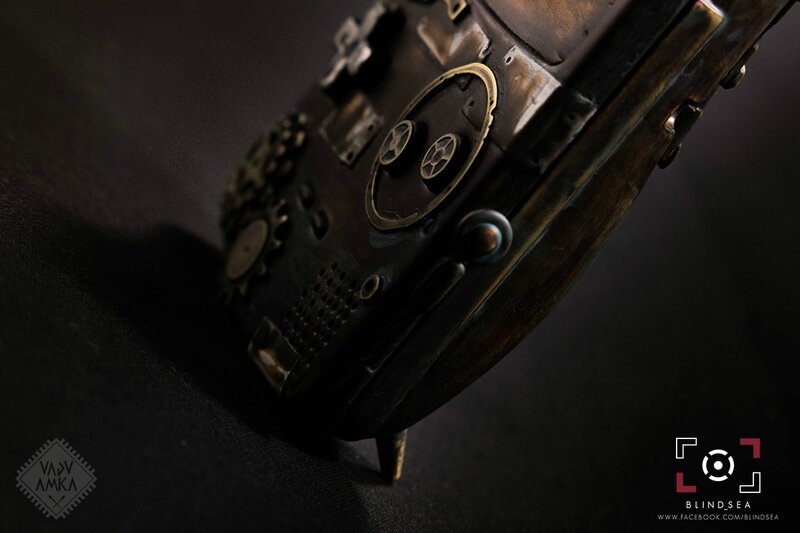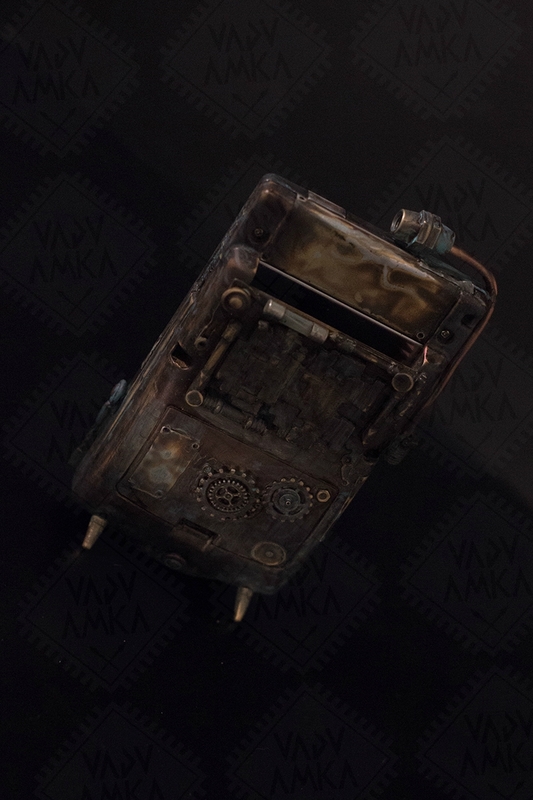 Xbox One Custom controller "The Walking Dead"
Brand new model.
Unique piece
The controller is fully functional functional, black metal thumbsticks (aluminium)
Mat varnish.
En projet depuis début janvier 2016, il m'aura fallu une année entière pour l'aboutissement de cette console. C'est elle qui détient actuellement le record de temps pour sa création. Ce sont les recherches, croquis et essais qui ont pris près de 1/3 de mon planning.

La partie supérieure de la console a été réalisée en une variété de palissandres et son port cartouche en essence de merisier. Comme le bois est un matériau vivant, il se rétracte et sa teinte peut varier dans le temps. J'ai passé plusieurs semaines à faire sécher mes pièces. (à poncer , vernir, poncer...) et observer son évolution. Les différents ornements sont réalisés en résine et peinte à la main et 80% de la coque a été sculptée. Les boutons et le port cartouche sont en métal. La manette possède une peinture oxydée et une plaque en métal circulaire avec un effet usé.

Elle appartient déjà à quelqu'un et n'est pas à vendre.
---

Started in January 2016, this project took me a year to be finished. This console holds the record of the longest creation time. Researches, sketches, and trials took almost one third of my planning.

The top of the console has been made with rosewood and the cartdrige port is in cherry wood. Like any living material, it can retract itself and its color can change over the time. I spent many weeks drying the various pieces (sanding, varnishing, sanding...) and to observe its evolution. The various decorations have been made in resin and hand-painted while 80% of the shell has been sculpted. The buttons and cartridge port are in metal. The controller has an oxydized paint and a circular metal plate with a used finish.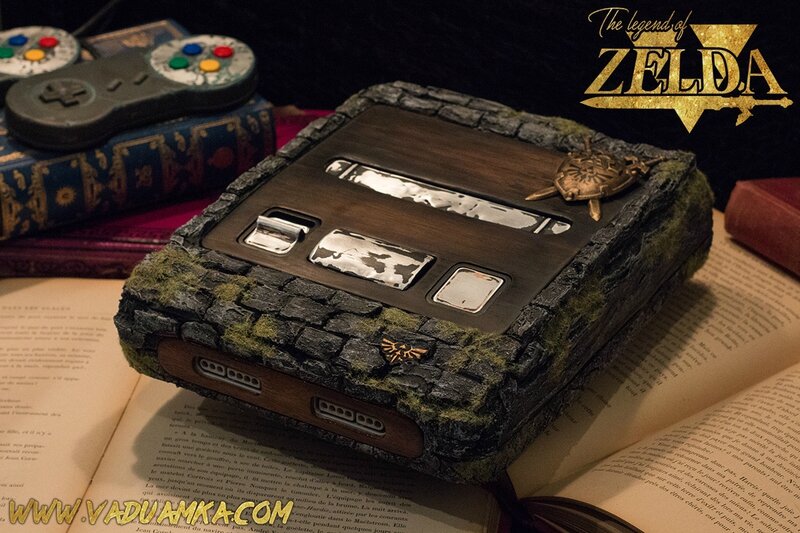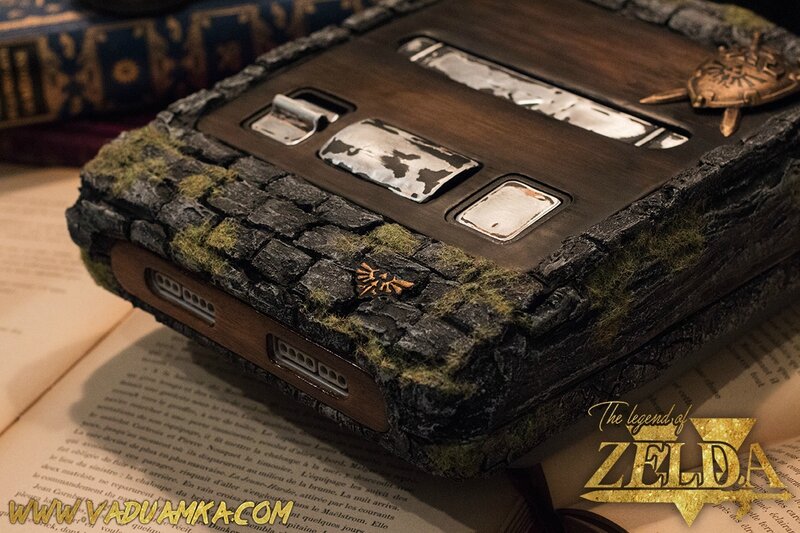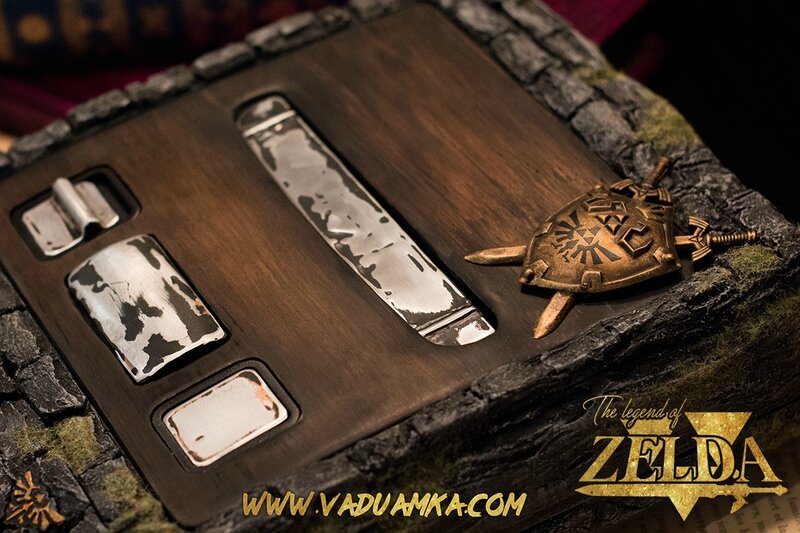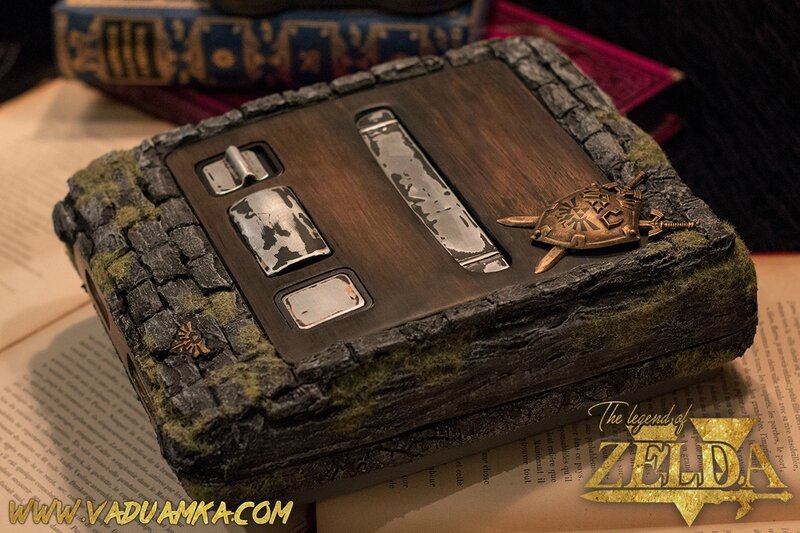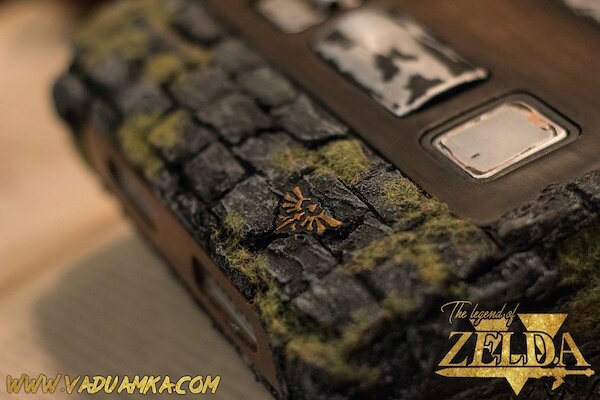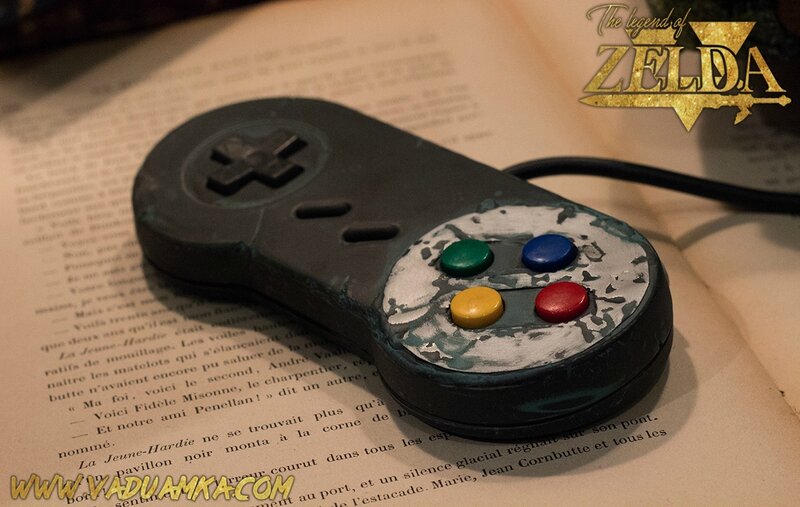 PS4 Custom Faceplate (Only) The Witcher 3 Wild Hunt.
Old exotic wood / Handcrafted
Satin varnish and waxed wood
(2017) Unique piece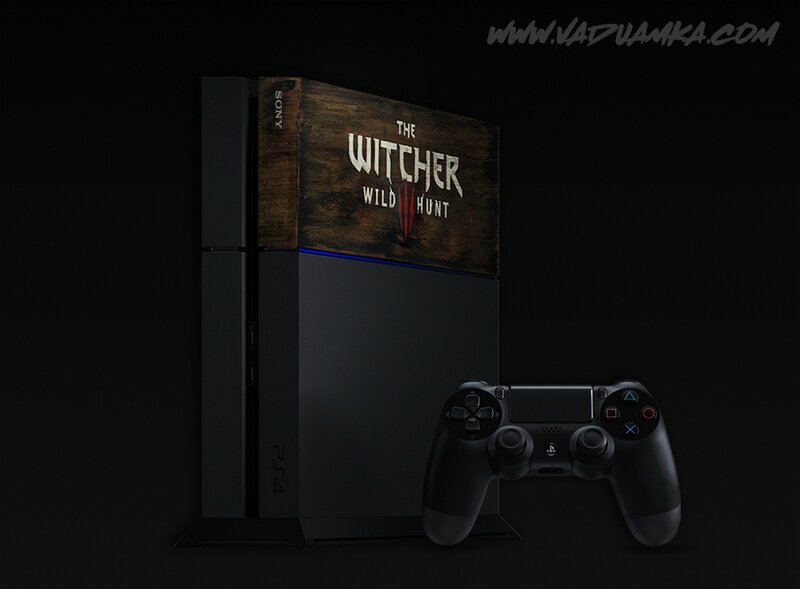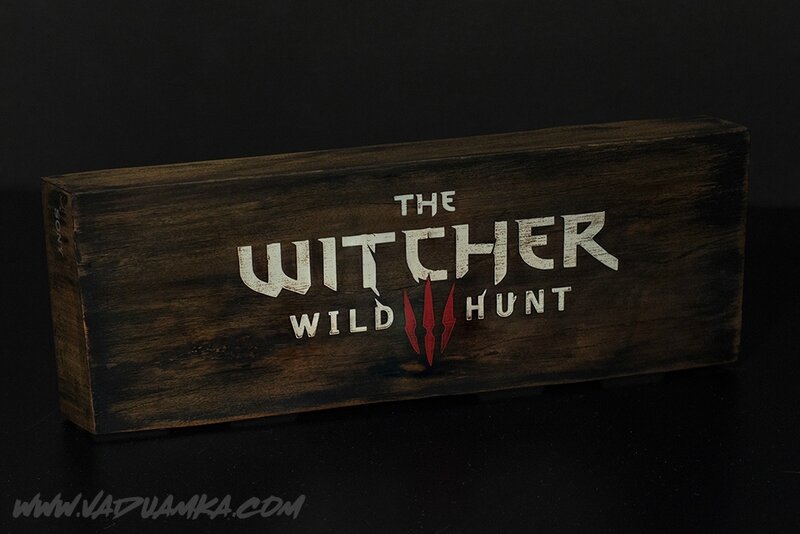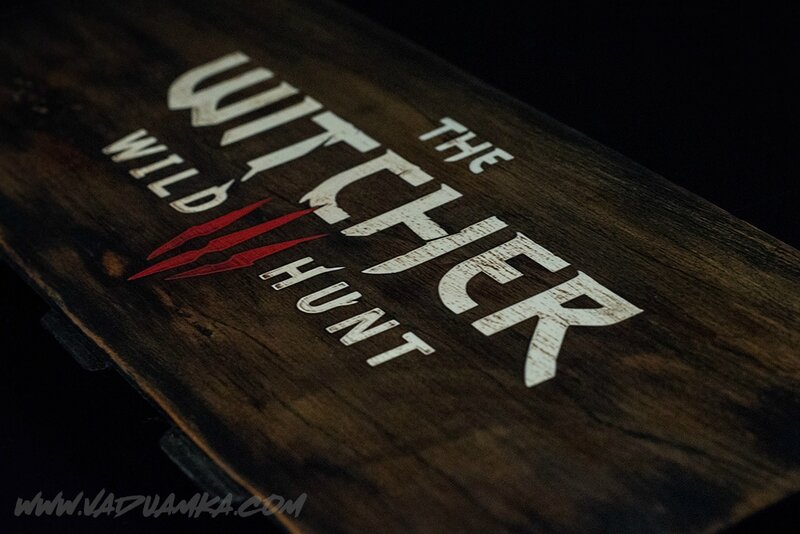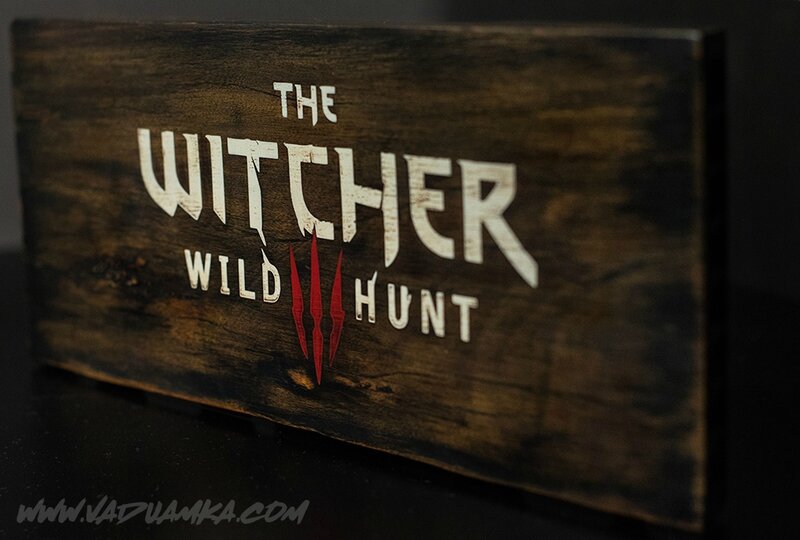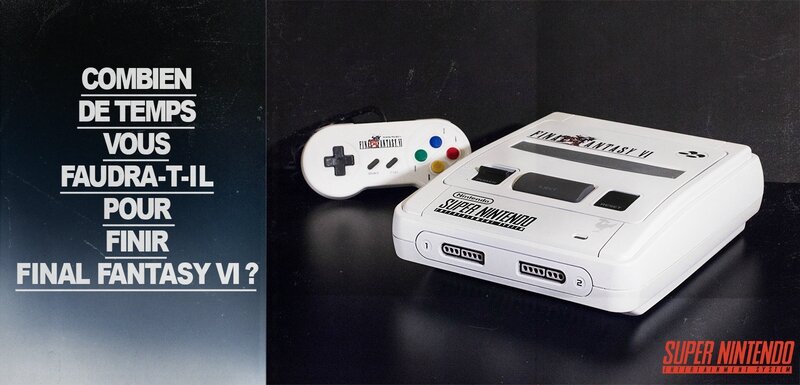 Il s'agit de ma 3ème réalisation sur le thème de Final Fantasy VI. Et on pousse le détail toujours plus loin ! Initialement, elle possédait bon nombre de coups et fissures. J'ai comblé du mieux que j'ai pu certains dégâts sur la coque et colmaté les fissures avec de la colle epoxy et du mastique Tamiya.

La console est plus sobre et fidèle à l'esprit des covers du jeu. Cette Super Nintendo PAL possède un switch pour lire les cartouche US. Son port a été soigneusement adapté pour accueillir les différentes versions. Elle a été customisée avec deux manettes dont les sérigraphies, très fines, reprennent la charte du boîtier du jeu ainsi que la typographie. Vous pouvez me laisser un avis en commentaire et partager cet article s'il vous a plu ! C'est toujours encourageant d'avoir des retours d'un peu partout dans le monde. A très bientôt pour un autre projet sur Super Nintendo.
---
This is my third realization on theme of Final Fantasy VI. This time, I'm pushing even further on the details. At the beginning, the console was damaged and had many bumps and cracks. I patched the case to the best of my abilities and filles holes with epoxy glue and Tamiya mastic.

This console is sober and respects the spirit of the game covers. This Super Nintendo PAL has a switch to read US cartridges. Its port has been carefully adapted to receive both versions. It comes with two controllers which have been customized with fine silkscreen prints, using the chart and typography of the game box. You can let me know what you think of this artwork in comments or share this article if you liked it! It's always encouraging to receive feedback from all around the word. See you soon with another project on Super Nintendo.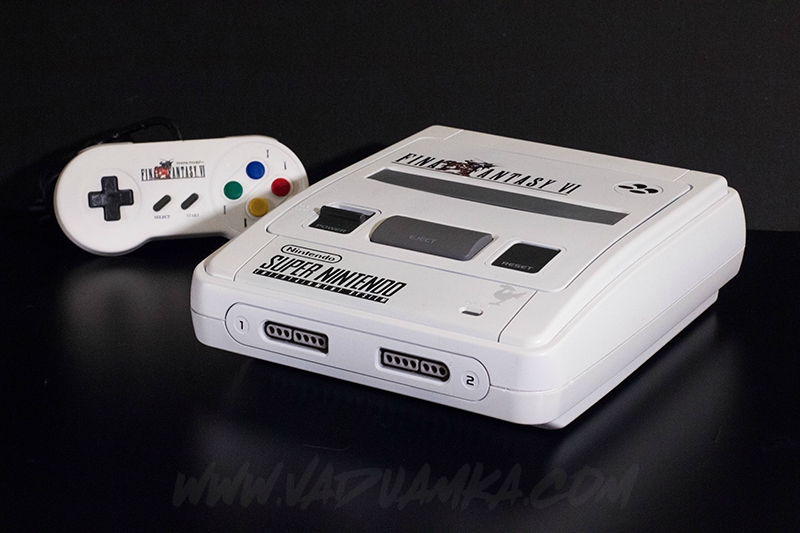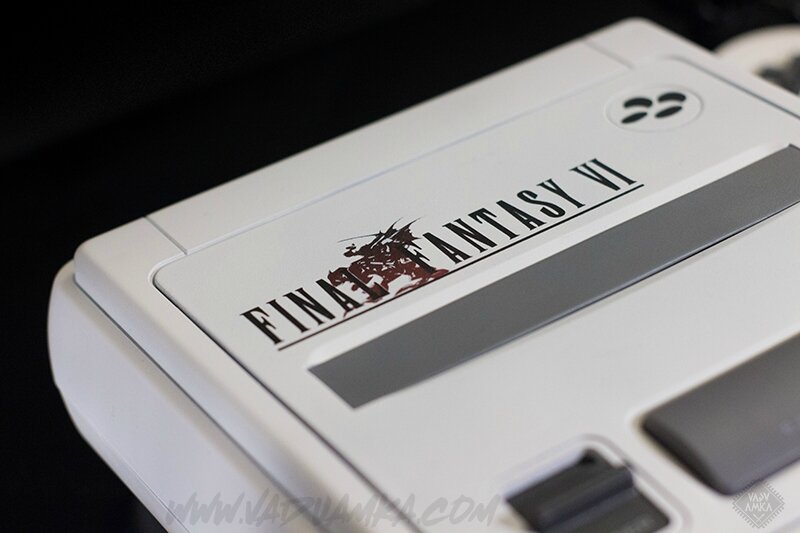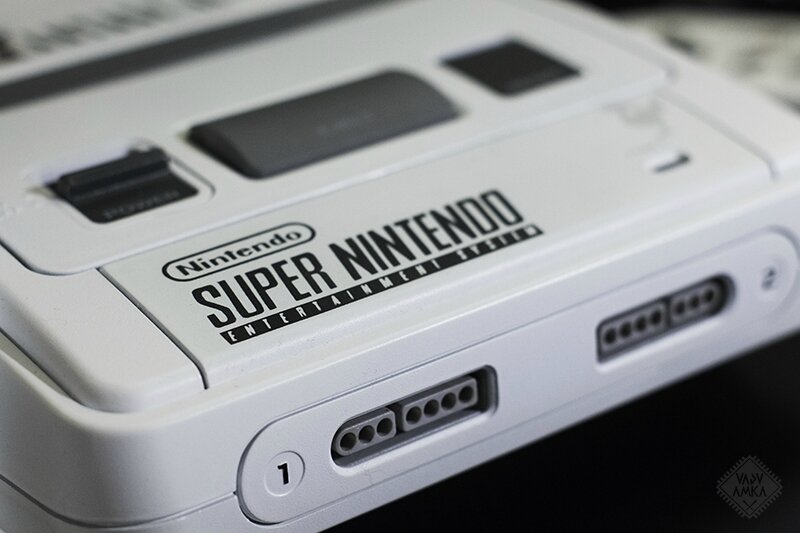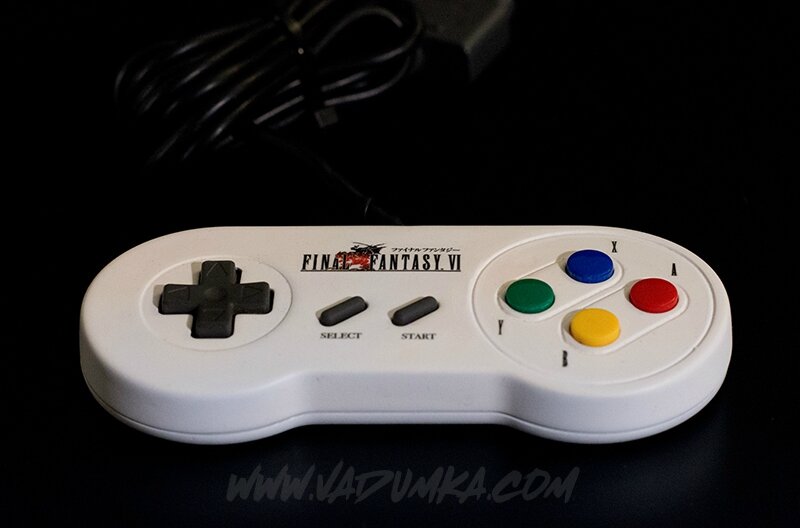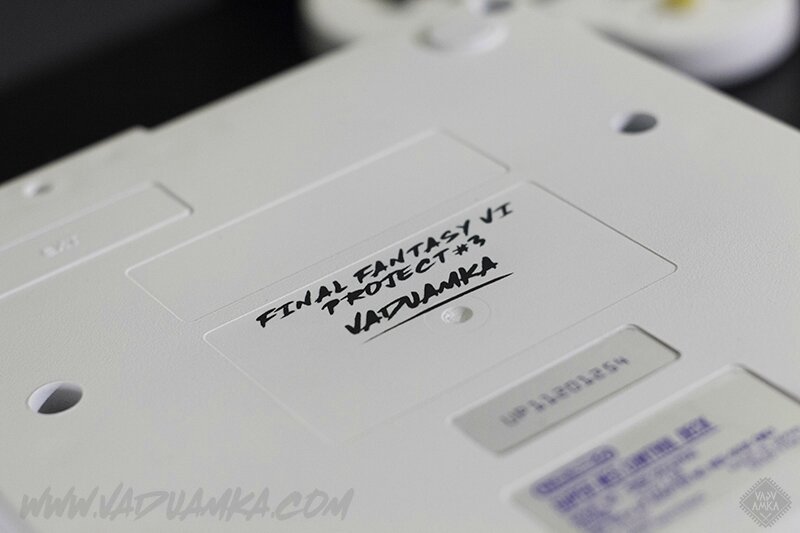 Vendredi 13 est à l'honneur ce mois-ci avec une manette sur le thème de Jason. Cette réalisation reprend les traits graphiques du masque de hockey de l'effroyable Jason. Je ne suis d'ailleurs pas la première à réaliser un custom sur ce thème. Cependant, je tenais à y apporter ma petite touche. La manette est parfaitement fonctionnelle. Afin de garder une bonne ergonomie en main, seulement deux bandes en cuir ont été rajoutées latéralement pour rappeler les attaches du masque. La base de la peinture est un blanc légèrement teinté en beige et sali. Sans trop tomber dans le poisseux. On retrouve 3-4 petites traces de doigts ensanglantées et suffisament discrètes. Il existe deux exemplaires : l'une pour un particulier car il s'agit d'une commande et la seconde manette est reservée pour les expositions. Et sera donc très prochainement visible !


-----

Friday the 13th is featured this month, with a Jason themed controller. This artwork takes the graphical lines of the mask of the frightening Jason. Although I am not the first one to do a custom on this theme, I wanted to add my personal touch to it. This controller is fully fonctional. To keep a maximum of its ergonomic features, I have only added two stripes of leather side way to remind of the mask fasteners. The base of the painting is white with a tint of dirty beige, without being too sticky. We can find 3-4 discrete bloody finger marks on it. There are two copies of this artwork : one is for a customer and the other is reserved for exhibition. It means that you will be able to see it soon!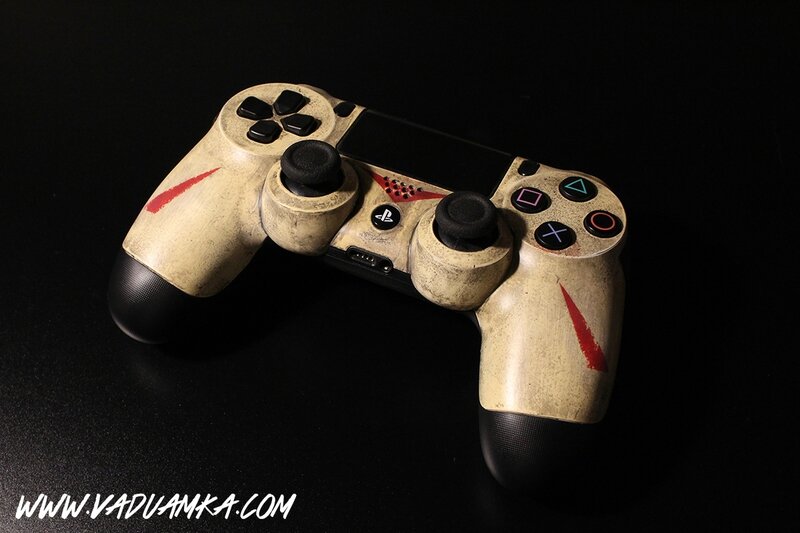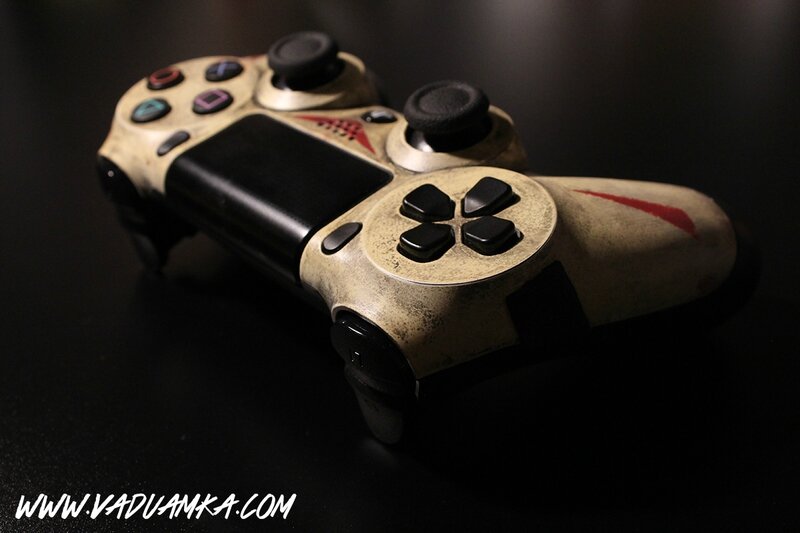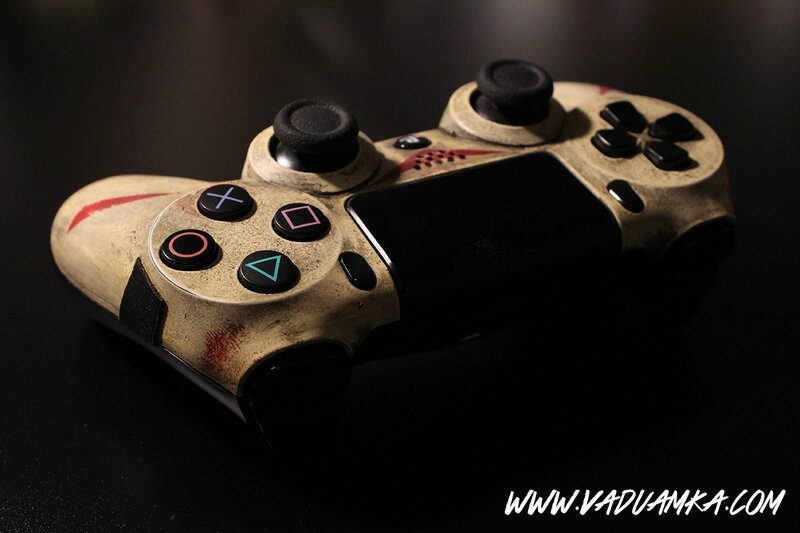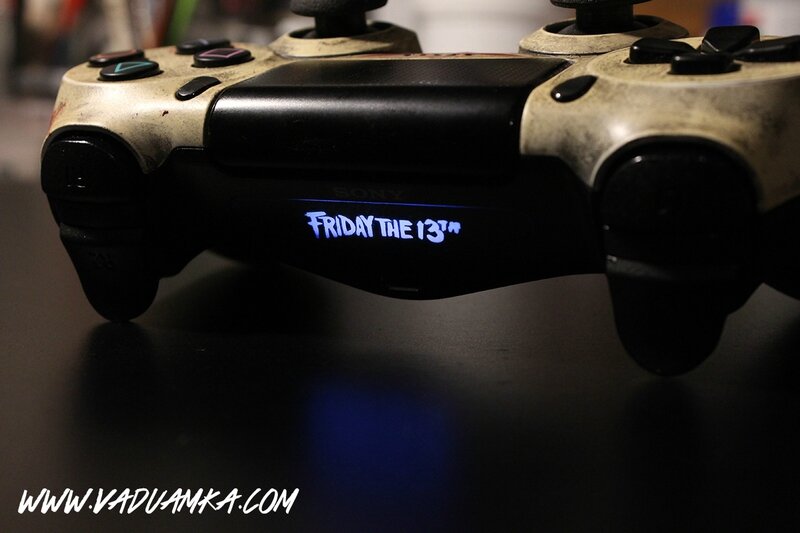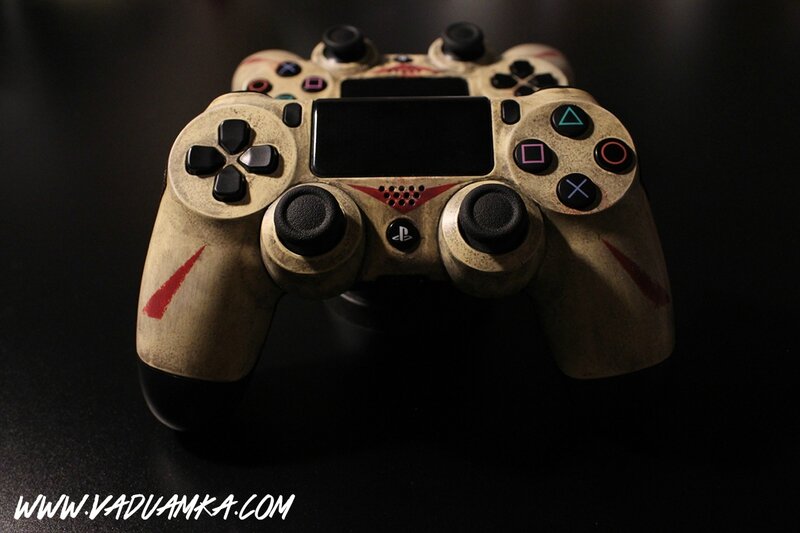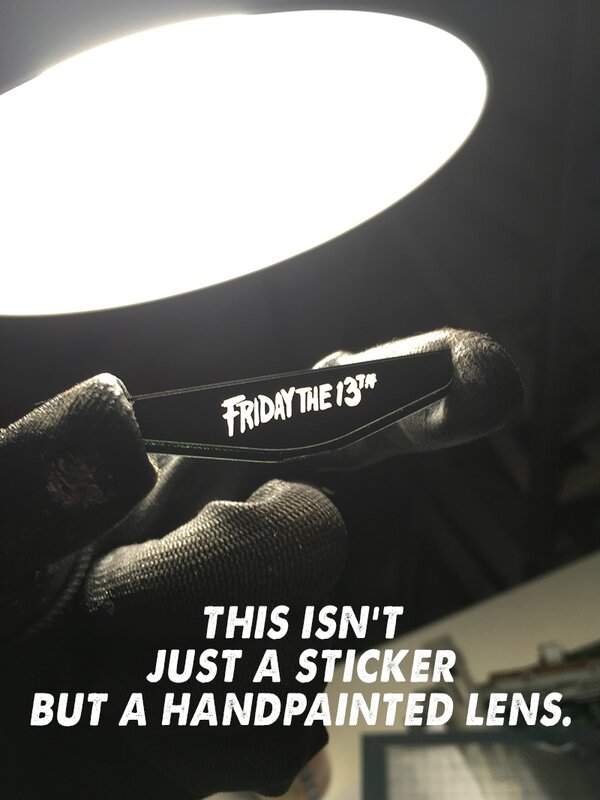 Certains ont déjà pu croiser cette playstation à Lille lors du Geeks Day ainsi qu'en Auvergne. Il s'agit d'une commande pour un particulier sur l'un de ses jeux préférés: Tomb Raider. Comme vous le savez, Lara Croft parcourt d'anciennes civilisations, des temples et des cités perdues : il s'avère que lors d'un détour par le Pérou notre héroïne découvre la tombe de Qualopec. Cette partie du jeu est remplie de références et d'artefacts précolombiens et les graphismes, notamment ceux de la cité perdue des Incas, sont également riche de motifs aztèques et mayas. Tout n'est pas forcément cohérent mais comme à la Syndey Fox, ou plutôt Indiana Jones, les clins d'œil envers des mythes et légendes sont plutôt sympa. Et puis, on peut aussi se dire qu'on a vu tel ou tel ex-voto en cours d'histoire de l'art. Ça c'est la frime. Mais du coup, revenons un peu sur Mr. Jones qui a été l'une des inspirations majeures lors du développement de Tomb Raider. On peut d'ailleurs croiser l'arche perdue dans le jeu ! Ce dernier regorge d'easters eggs comme le T-rex ou encore le squelette d'un certain Dr. Jones et bien d'autres choses ! Et ce n'est pas le seul à y être resté… Dans Lara Croft & the Temple of Osiris, on tombe sur le corps de Nathan Drake... C'est donc dans cette optique très macabre que je continue avec les malédictions et les trésors dérobés. Vous savez, comme celui de Cortez et l'or Aztèque dans Pirates Des Caraïbes. Vous voyez où je veux en venir ? Conspiration vadu-esque ! A vous d'ouvrir l'oeil et de scruter le moindre détail de la console.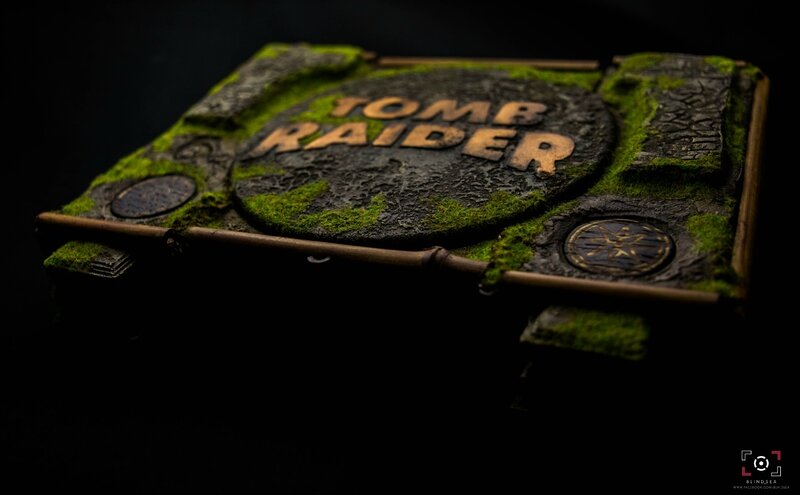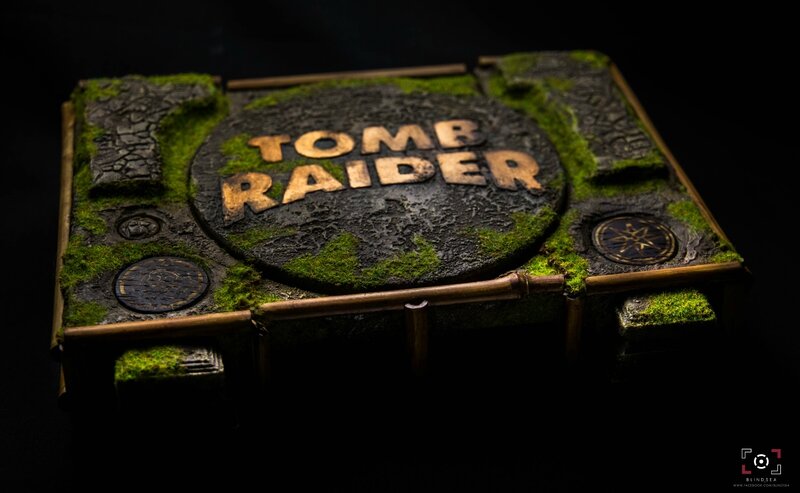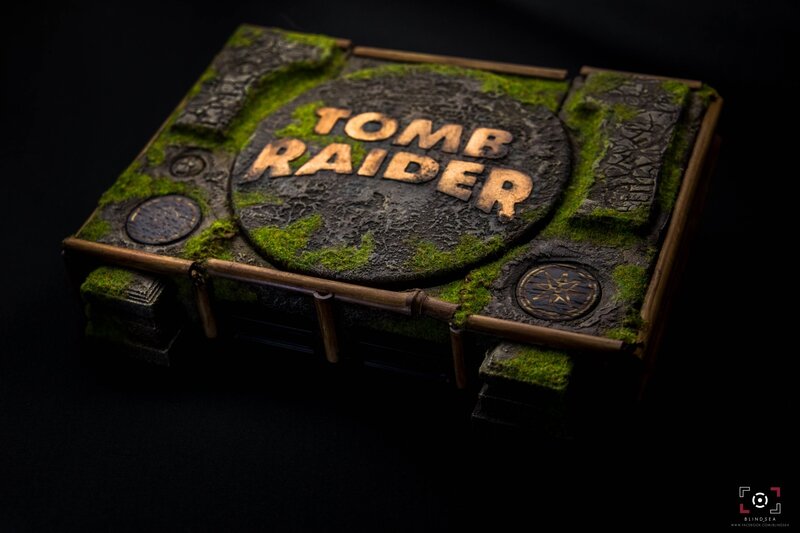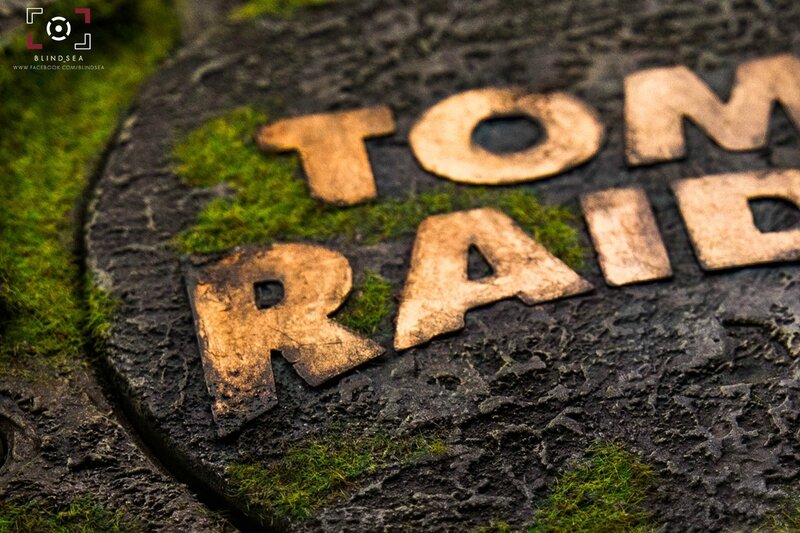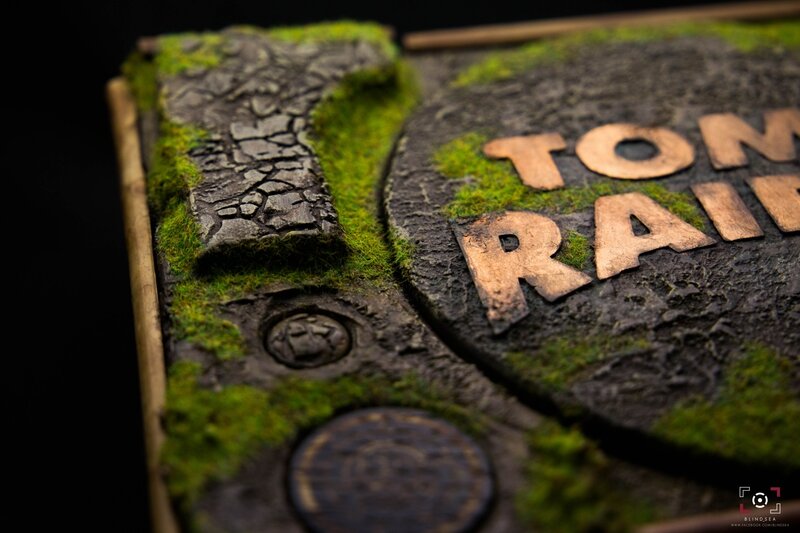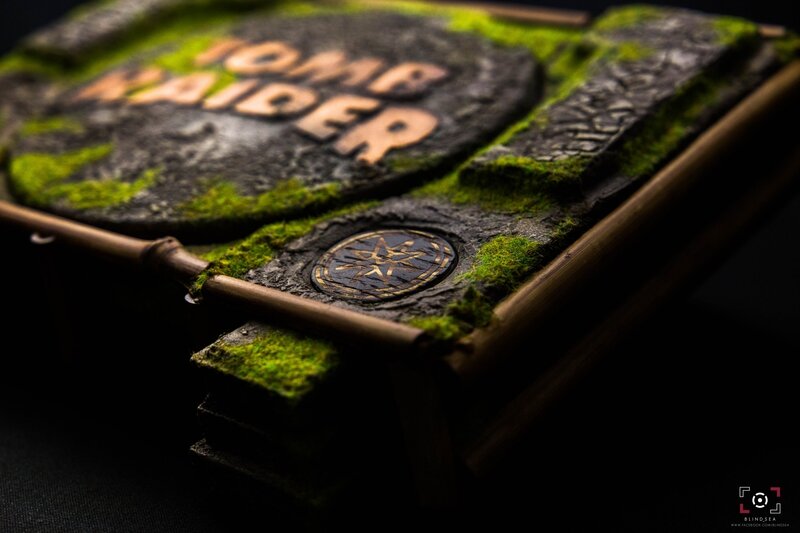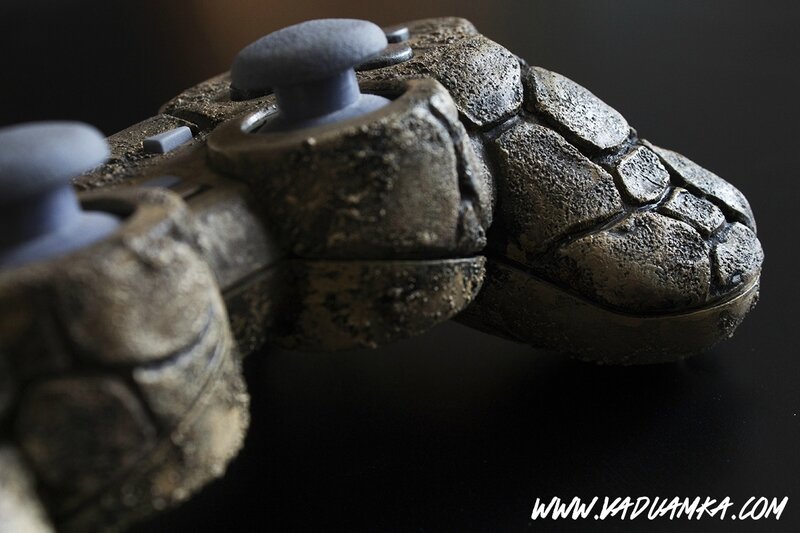 Metal Slug n'est certes pas le thème le plus attendu sur un support Game Boy Advance, mais ce jeu d'arcade à eu au moins le mérite d'être original sur cette petite portable. D'un point de vue matériaux, la coque a été entièrement recouverte de plaques métalliques, brossés et patiné en noir, brun et oxyde. L'effet de rouille a été réalisé à base d'acrylique, rehaussé d'un brossage métallisé. Le rendu donne un aspect camouflage et usé à la fois. Les touches sont celles d'origine. L'écran et les parties en caoutchouc ont été entièrement remplacés par des éléments neufs. Cette console est tout à fait fonctionnelle et prête à partir en guerre !
---
Metal Slug is not the most awaited theme for the Game Boy Advance, but this arcade game is has the merit of being original on this small portable console. On the topic of materials used, the hull was completely covered with metal plates, brushed and weathered in black, brown and oxide. The rusty effect has been done with acrylic paint, enhanced with metallic brushing. The rendering gives it a camouflage aspect while looking used. The buttons are the orignal ones. The screen and caoutchouc parts were replaced with new ones. This console is fully fonctionnal and ready to go war!

Available - Disponible here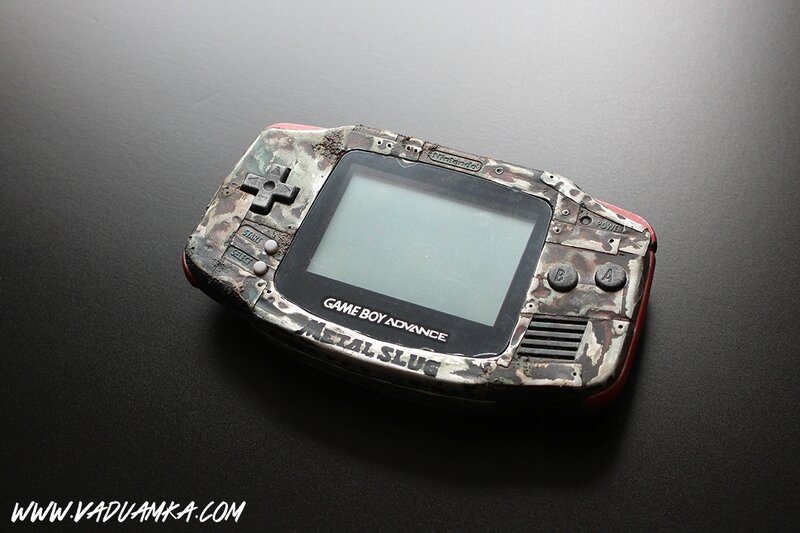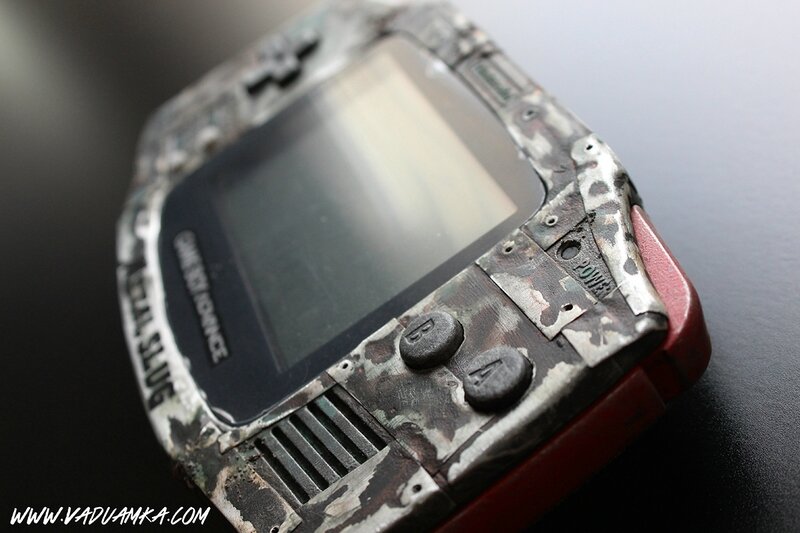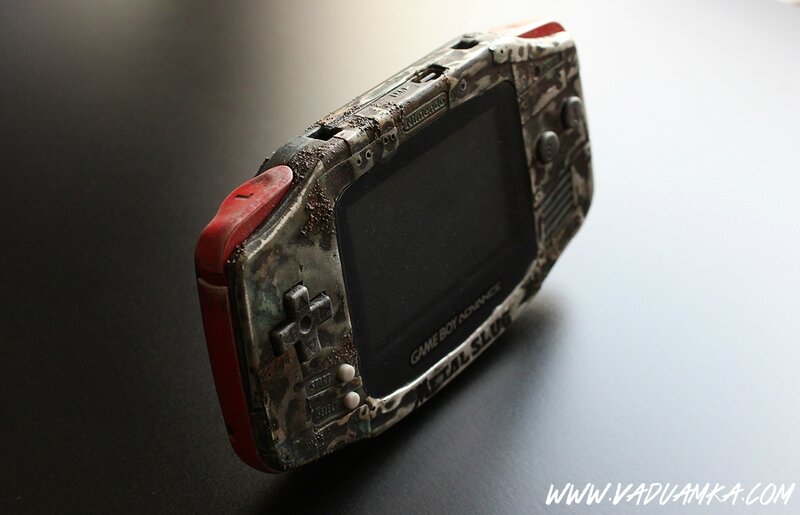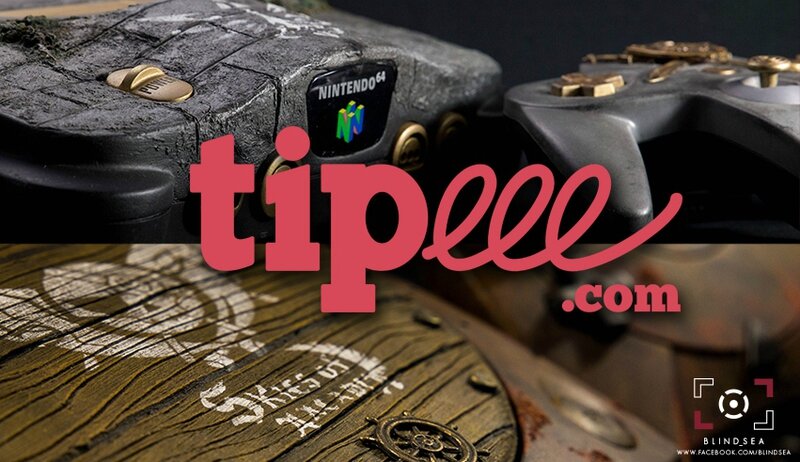 [FR]
un "Tipeee" c'est quoi ? Pour ceux qui ne savent pas ce que c'est, il s'agit d'une startup permettant aux internautes de rémunérer un créateur, il est aussi possible de fixer différents montants de soutien avec ou sans contreparties. Si ça me cogite c'est parce que l'idée de prendre des commandes pour particuliers ne me laisse pas beaucoup de possibilité pour l'exposition et il y a énormément de contraintes car je m'engage à exposer les biens d'autrui et je ne peux parfois faire que une ou deux conventions avec les nouveautés. De ce fait, je tourne depuis 2013 avec quelques consoles qui me sont généreusement re-prêtées pour divers événements. L'idée est de dégager les fonds nécessaires par mois pour financer au moins un projet en matière première et d'investir dans du matériel pour des expositions "ayant un peu plus de gueule". Tout ceci me permettrait aussi d'évoluer et de mieux pouvoir m'encadrer, car en effet pour les longues distances à couvrir (+1000km) il est plus simple de prendre la voiture et tout le matériel que le train ou l'avion (risque de casse, perte et ulcère en moins ).

Si vous soutenez financièrement le projet, vous aurez accès au process de certains projets avant leur publication et vous serez évidemment remercié, je m'engage aussi à fournir un contenu vidéo exclusif pour mes tipeurs. Néanmoins, je ne ferais pas de tutoriel. La contrepartie ultime et quelque part unique serait celle-ci : certaines consoles déjà exposées et qui peuvent prendre leur retraite seront proposées en tirage au sort interne aux tipeurs me soutenant.

Je remercie chacun d'entre vous de participer à cette aventure, importe la somme, vous êtes sûrement des passionnés d'art ou de jeux vidéo tout comme moi et même si ce n'est qu'un euro, il servira à créer bien des choses. Ce que je désire vraiment, c'est avant tout de pouvoir continuer à vous faire rêver.

Soutenir le projet ici !

[ENG]
My goals are, first of all, to gather enough regular funds to secure enough raw material, and therefore to be able to plan one full project every month. Then I'd focus on getting every equipment I may need to get the opportunity to travel to conventions safely, quickly and under the best possible conditions regarding the consoles I've got to take with me. For example: it is way easier and cheaper to hit the road with my car and all my stuff in the trunk when traveling huge distances (like more than a thousand kilometres) than to take a flight or a train… to avoid loss, theft, breakage and heart attacks as well…

If you financially support the project, you will have access to the process of some projects before their publication and you will be, of course, thanked for that. I also pledge to provide exclusive video content for my tippers. Nevertheless, I would not do tutorials. The ultimate and unique consideration would be this: some consoles already exposed and which can retire will be offered via a system of draw to the internal tippers supporting me.

I would like to thank every one of you guys who will back me up on this adventure. No matter how much you will donate, I'm sure you are as passionate about art and/or video games as I am myself. Even one single euro will be incredibly useful to create stunning new items. In the end, the only thing that matters to me is to keep on making you guys dream as best I can.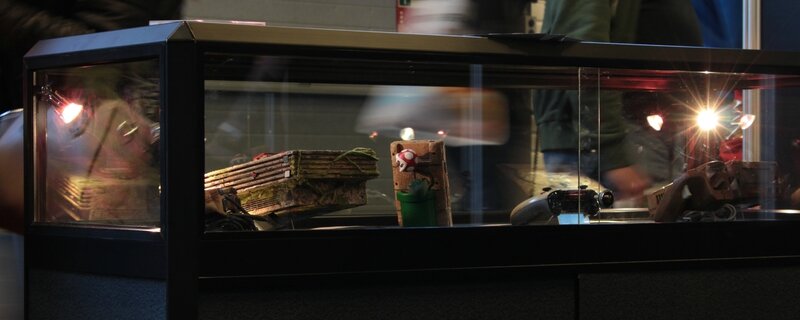 Les expositions actuelles :