Consoles customisées
Metal Slug n'est certes pas le thème le plus attendu sur un support Game Boy Advance, mais ce jeu d'arcade à eu au moins le mérite d'être original sur cette petite portable. D'un point de vue matériaux, la coque a été entièrement recouverte de plaques métalliques, brossés et patiné en noir, brun et oxyde. L'effet de rouille a été réalisé à base d'acrylique, rehaussé d'un brossage métallisé. Le rendu donne un aspect camouflage et usé à la fois. Les touches sont celles d'origine. L'écran et les parties en caoutchouc ont été entièrement remplacés par des éléments neufs. Cette console est tout à fait fonctionnelle et prête à partir en guerre !
---
Metal Slug is not the most awaited theme for the Game Boy Advance, but this arcade game is has the merit of being original on this small portable console. On the topic of materials used, the hull was completely covered with metal plates, brushed and weathered in black, brown and oxide. The rusty effect has been done with acrylic paint, enhanced with metallic brushing. The rendering gives it a camouflage aspect while looking used. The buttons are the orignal ones. The screen and caoutchouc parts were replaced with new ones. This console is fully fonctionnal and ready to go war!

Available - Disponible here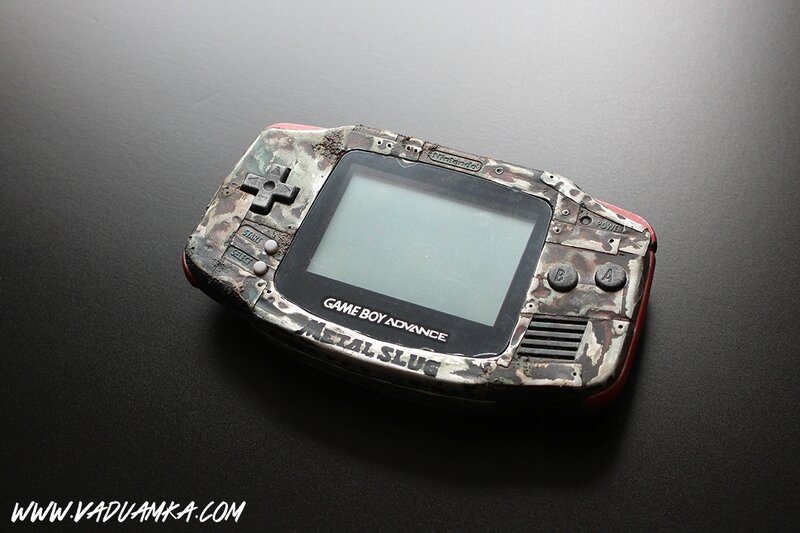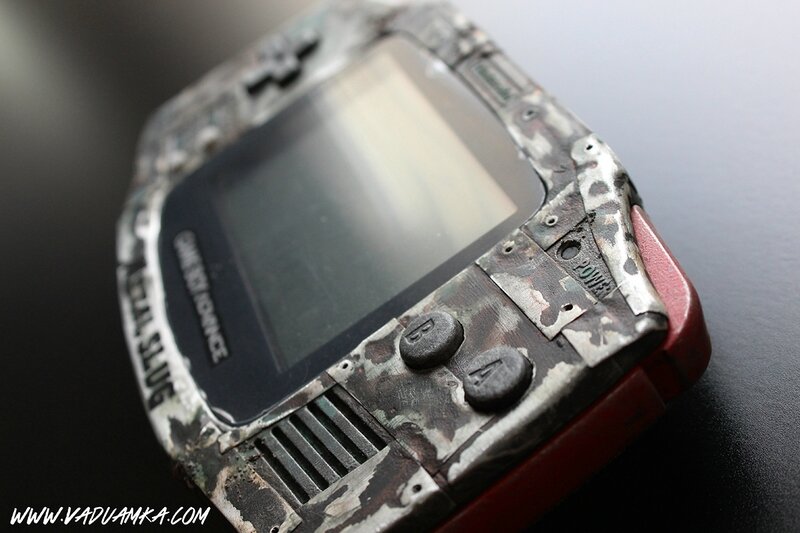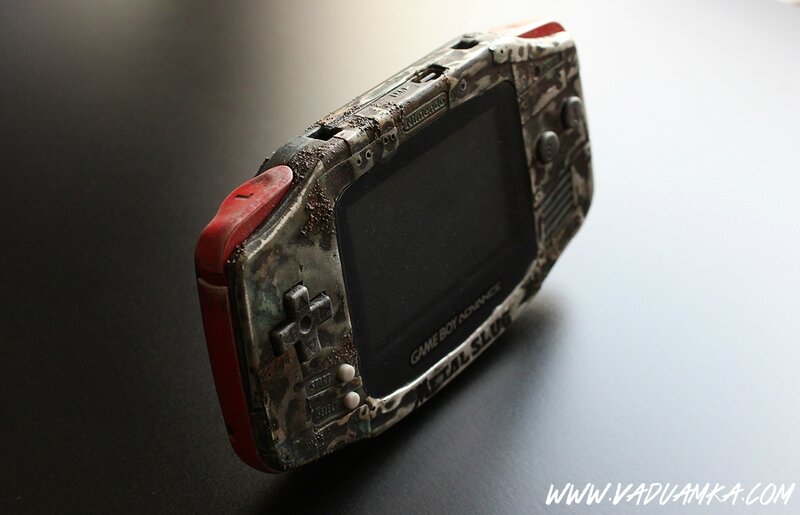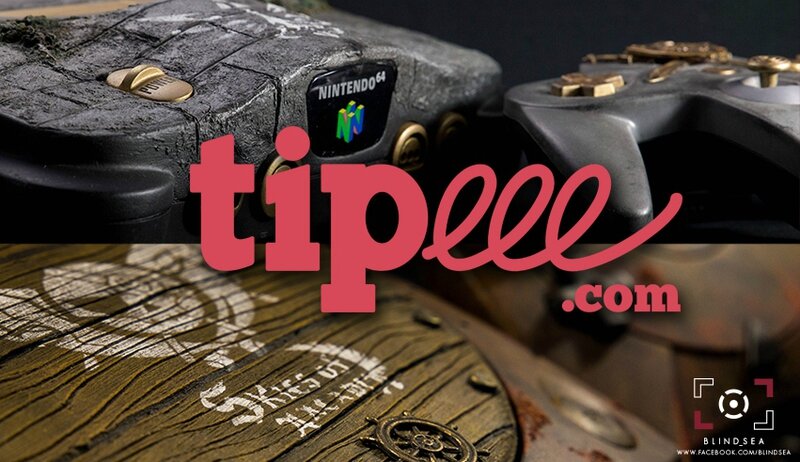 [FR]
un "Tipeee" c'est quoi ? Pour ceux qui ne savent pas ce que c'est, il s'agit d'une startup permettant aux internautes de rémunérer un créateur, il est aussi possible de fixer différents montants de soutien avec ou sans contreparties. Si ça me cogite c'est parce que l'idée de prendre des commandes pour particuliers ne me laisse pas beaucoup de possibilité pour l'exposition et il y a énormément de contraintes car je m'engage à exposer les biens d'autrui et je ne peux parfois faire que une ou deux conventions avec les nouveautés. De ce fait, je tourne depuis 2013 avec quelques consoles qui me sont généreusement re-prêtées pour divers événements. L'idée est de dégager les fonds nécessaires par mois pour financer au moins un projet en matière première et d'investir dans du matériel pour des expositions "ayant un peu plus de gueule". Tout ceci me permettrait aussi d'évoluer et de mieux pouvoir m'encadrer, car en effet pour les longues distances à couvrir (+1000km) il est plus simple de prendre la voiture et tout le matériel que le train ou l'avion (risque de casse, perte et ulcère en moins ).

Si vous soutenez financièrement le projet, vous aurez accès au process de certains projets avant leur publication et vous serez évidemment remercié, je m'engage aussi à fournir un contenu vidéo exclusif pour mes tipeurs. Néanmoins, je ne ferais pas de tutoriel. La contrepartie ultime et quelque part unique serait celle-ci : certaines consoles déjà exposées et qui peuvent prendre leur retraite seront proposées en tirage au sort interne aux tipeurs me soutenant.

Je remercie chacun d'entre vous de participer à cette aventure, importe la somme, vous êtes sûrement des passionnés d'art ou de jeux vidéo tout comme moi et même si ce n'est qu'un euro, il servira à créer bien des choses. Ce que je désire vraiment, c'est avant tout de pouvoir continuer à vous faire rêver.

Soutenir le projet ici !

[ENG]
My goals are, first of all, to gather enough regular funds to secure enough raw material, and therefore to be able to plan one full project every month. Then I'd focus on getting every equipment I may need to get the opportunity to travel to conventions safely, quickly and under the best possible conditions regarding the consoles I've got to take with me. For example: it is way easier and cheaper to hit the road with my car and all my stuff in the trunk when traveling huge distances (like more than a thousand kilometres) than to take a flight or a train… to avoid loss, theft, breakage and heart attacks as well…

If you financially support the project, you will have access to the process of some projects before their publication and you will be, of course, thanked for that. I also pledge to provide exclusive video content for my tippers. Nevertheless, I would not do tutorials. The ultimate and unique consideration would be this: some consoles already exposed and which can retire will be offered via a system of draw to the internal tippers supporting me.

I would like to thank every one of you guys who will back me up on this adventure. No matter how much you will donate, I'm sure you are as passionate about art and/or video games as I am myself. Even one single euro will be incredibly useful to create stunning new items. In the end, the only thing that matters to me is to keep on making you guys dream as best I can.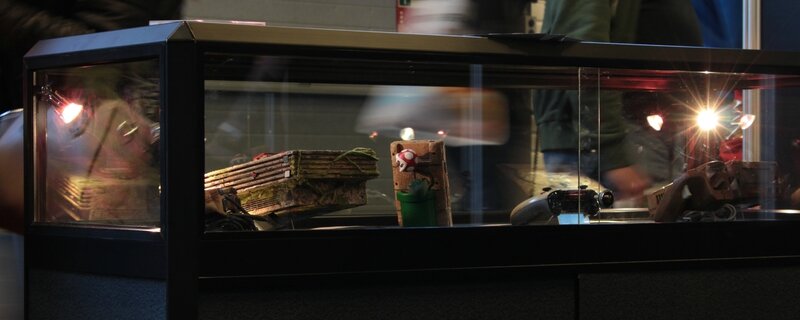 Les expositions actuelles :
Game Boy réalisée sur commande pour un collectionneur privé.
Thème Super Mario Land et plus particulièrement le niveau « Egyptien » d'où le choix d'une couleur beige proche des pyramides. L'apparence d'une brique poreuse ou calcaireuse est voulu pour rappeler le désert et les constructions antiques. Les touches font un clin d'oeil aux pièces du jeu, quant au cache piles, il est orné d'une très imposante plante carnivore, attention à ne pas y laisser un doigt lors d'une partie. J'allais oublier de mentionner, qu'évidemment la console fonctionne !
(2016)
GameBoy cartridge customized with acrylic and resin, epoxy (framed, 25 x 25 cm).
In exhibition : During Made in Asia ( Brussels - BE ) and in the RE-PLAY Festival (near Cannes - FR )

Sold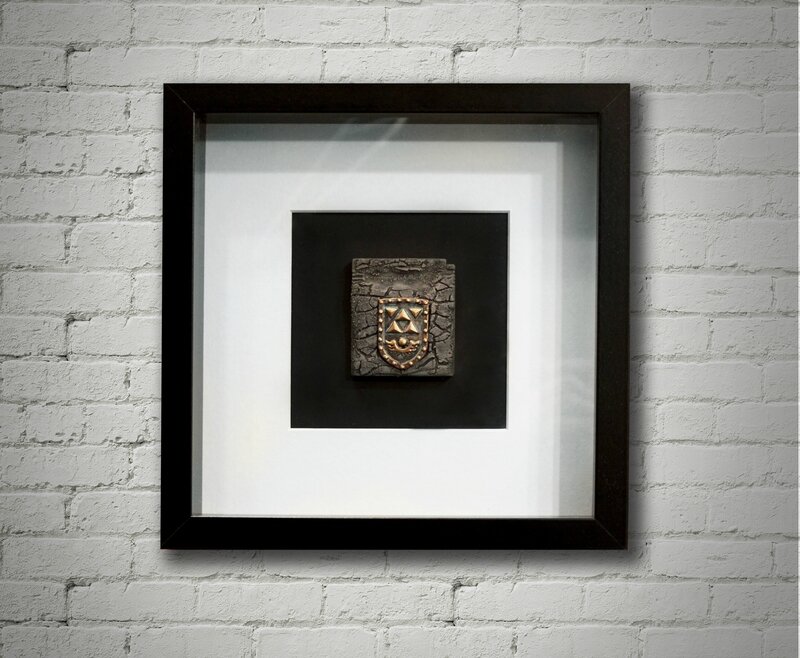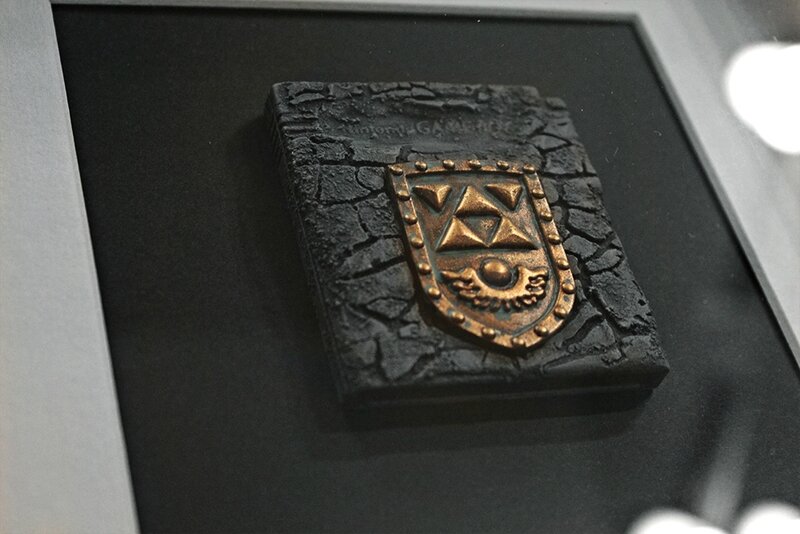 Playstation 2 PAL (EU), console fonctionelle.
Thème : Temple dédié à Aku Aku.
Car oui, il existe des jeux Crash Bandicoot sur PS2 et même sur GameCube ! Les premiers opus, restent mes préférés.
Projet débuté en 2015 et laissé de côté par manque de temps pour m'y consacrer pleinement. Je l'ai achevé en Février 2016.
Matériaux : Résine, mastic epoxy bi-composant, acrylique. Le masque est réalisé en résine et en mousse contre plaqué de bois de tilleul et de cerisier. Elle sera présent au salon Made in Asia à Bruxelles, au Re-play Festival près de Cannes et au Kamo-con à Dijon.
Elle partira ensuite aux États-Unis. Exemplaire unique non destiné à la vente.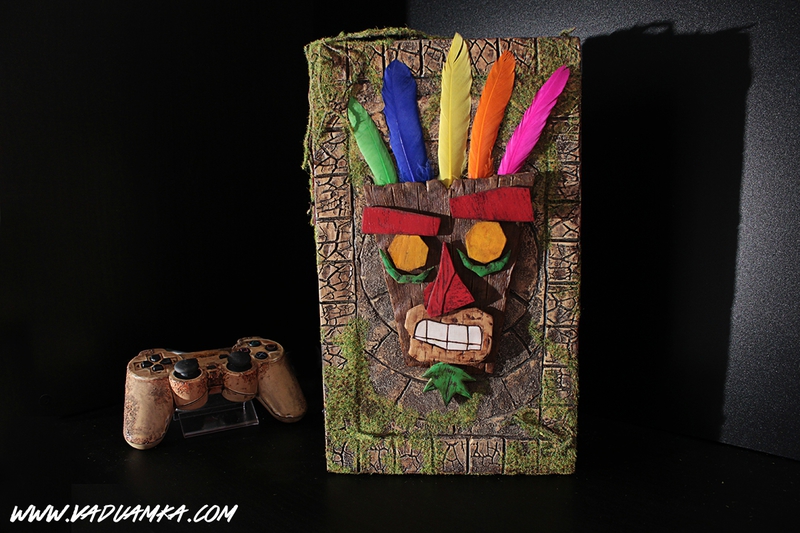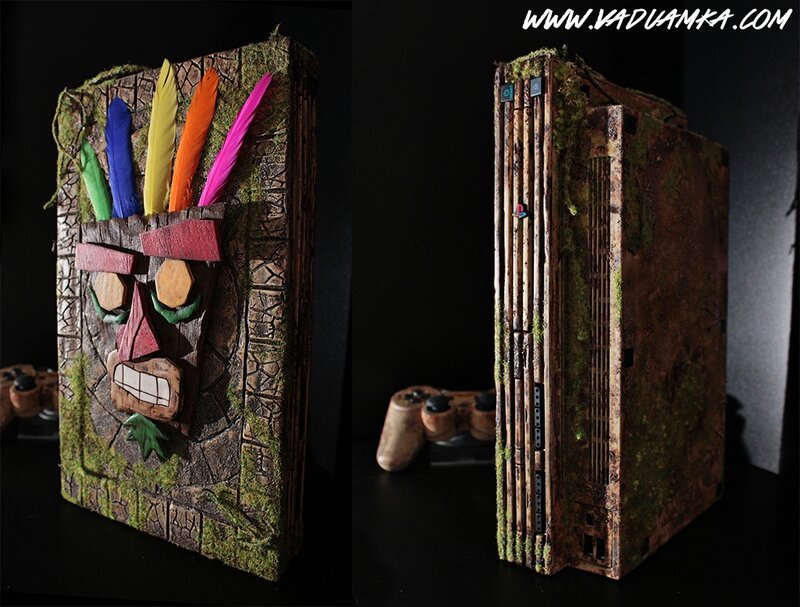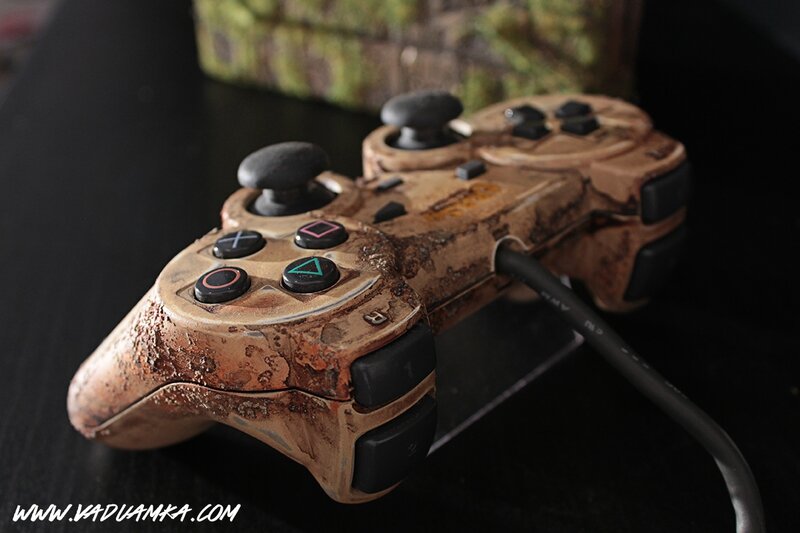 GAMEBOY CARTRIDGE HORRIFIC - MUTATED #2 (2015)
Unique GameBoy cartridge customized with acrylic and resin epoxy (framed, 25 x 25 cm)
Signed and dated on the back.

Available here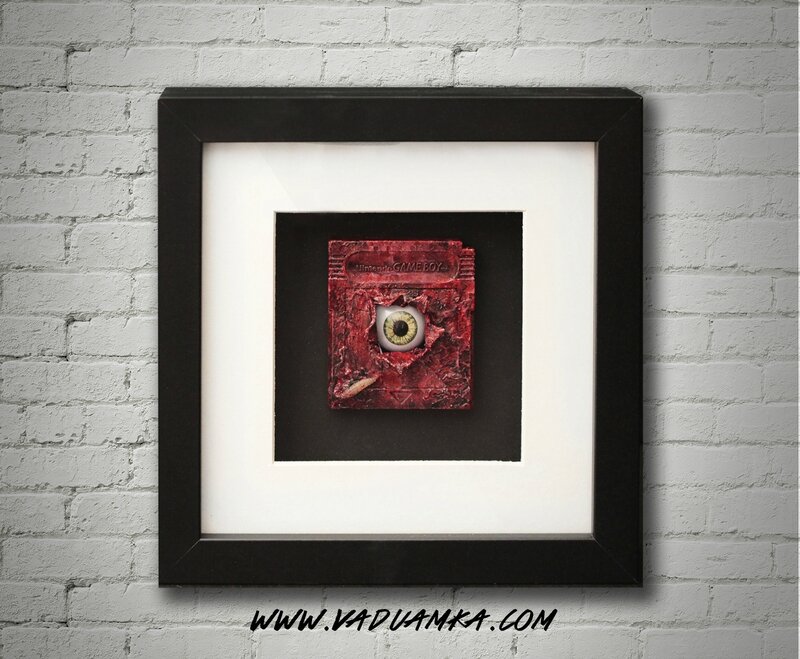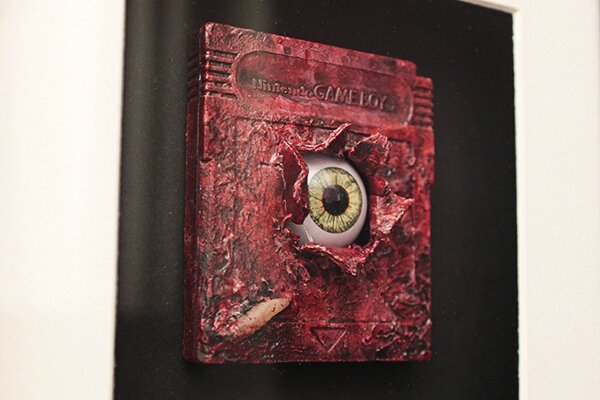 Comme beaucoup d'entre vous, je reviens du cinéma. Ce 16 décembre, c'était la sortie de l'épisode VII de Star Wars. Je travaillais depuis quelques semaines sur un projet, pour un cadeau. Et en trainant sur internet, j'ai pu constater que je n'étais pas la seule à avoir eu comme idée de réaliser une console Star Wars. C'est souvent répétitif : du noir, du jaune, le logo, une galaxie, les artworks refaits à l'aérographe (très bien refaits tout de même!) ... et parfois un jouet détourné, comme ce R2D2 super émulateur et la console Faucon Millénium. Je cherchais quelque chose de différent et c'est là que j'ai eu le déclic, en voyant cette épave de Destroyer dans le désert de Jakku, d'ailleurs ce décor a une importance particulière puisqu'il nous rappelle aussi Tatooine. Mais je ne vais pas m'étendre sur l'histoire de la saga.

Like many of you, I return of cinema. This December 16th it was the release of Star Wars Episode VII. I worked for several weeks on a project for a gift. While surfing the Internet, I noticed that I wasn't the only one who had the idea of doing a Star Wars console. It was often repetitive: black, yellow, the logo, a galaxy, the artworks remade with airbrush (and it's very good anyway!) ... And sometimes a "hijacked toy", as R2D2 super emulator and the Millennium Falcon console. I was looking for something different and it was when I saw the new Star Wars, and particularly when I saw the wreck of a Destroyer in the Jakku's desert. Moreover, this decor is particularly important because it also reminds us Tatooine. But I will not talk about the saga, it's not the point.

Il m'aura fallu une trentaine d'heures pour en voir la fin. J'ai martelé de l'aluminium, poncé et cloué, j'ai même été acheter de l'étain en feuille pour le faire fondre. Je me suis vraiment amusée sur cette réalisation !

It took me thirty hours to see finaly the end. I hammered aluminum, sanded donw and nailed ! I was even bought tin sheets to melt it. I really had fun on this realization !

Je remercie l'excellent Joffrey qui ne cesse de surprendre dans ses divers travaux de customs de jouets. C'est un peu grâce à lui que j'ai aussi osé me couper la main et faire une nuit blanche à tester de nouveaux matériaux.

Star Wars Logo - TM & © Lucasfilm Ltd. All Rights Reserved
Console Game Boy Advance, réalisée sur le thème des Chocobos issus de l'univers Final Fantasy.
Exemplaire unique.
Couleur : signal white et melon yellow. Finition vernis mat UV.

Game Boy Advance console, inspired by the theme of the Chocobos from Final Fantasy universe.
Unique model.
Color: white and melon yellow signal. Finishing with UV matt varnish.

Disponible / Available : ici - here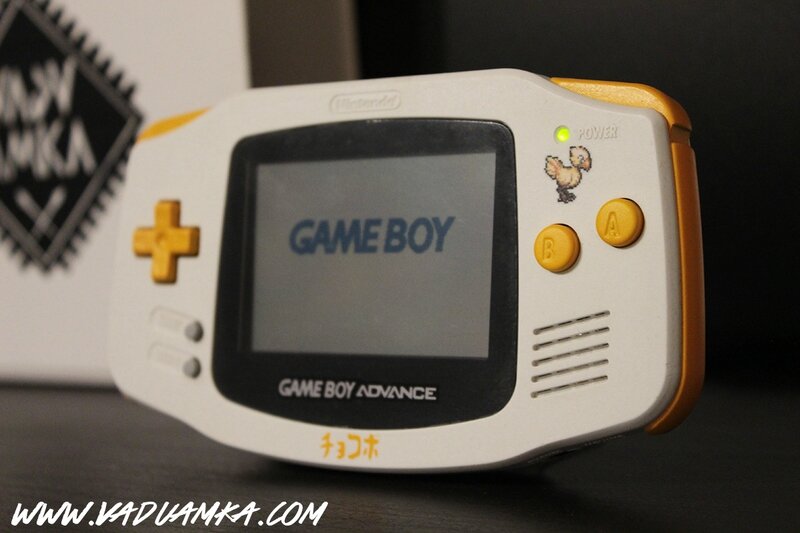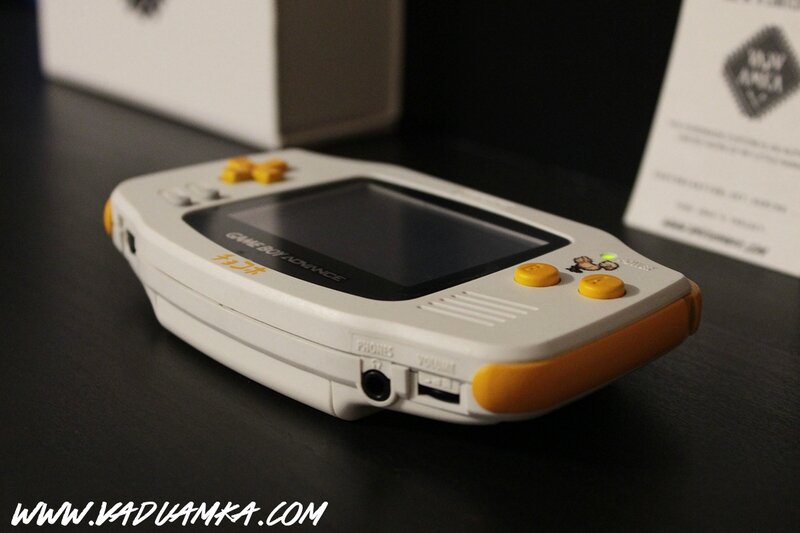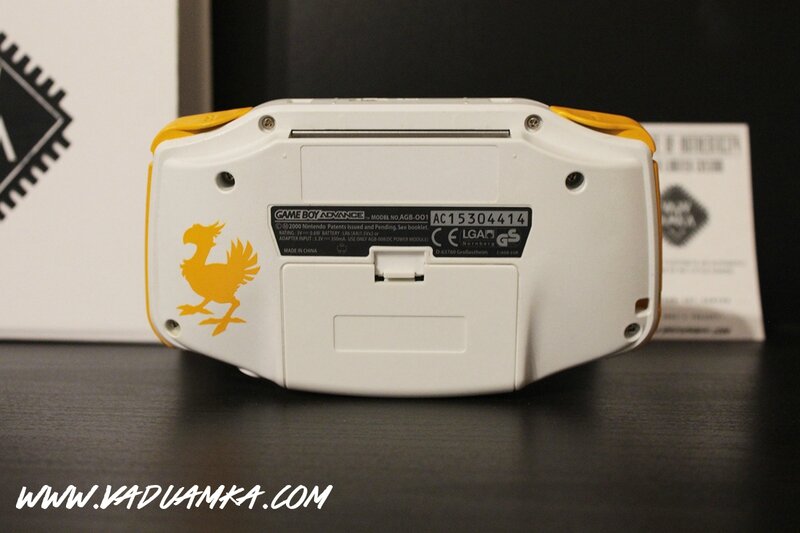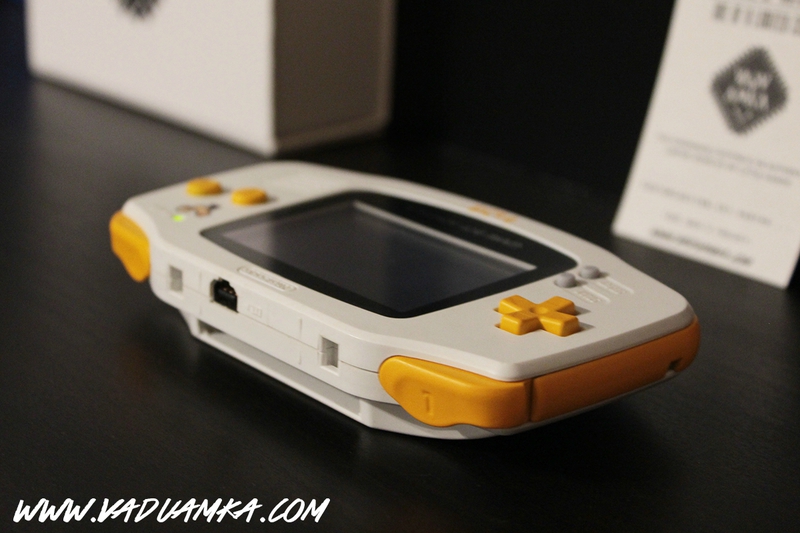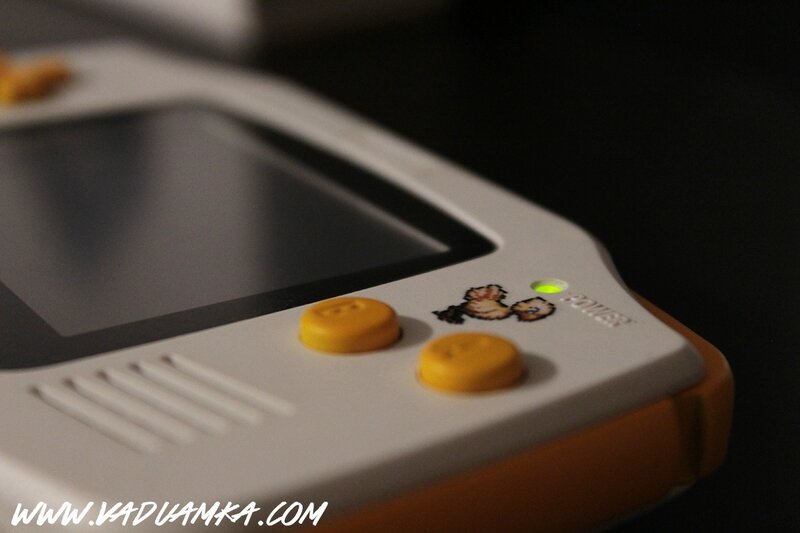 Voici une petite nouveauté pour alimenter les actus du blog,

Ma troisième réalisation sur le thème de Skies of Arcadia,
Il s'agit d'une commande passée à la galerie Kochi courant le mois du février 2015.
Cette fois on part sur la base d'un aéronef qui a subi pas mal d'altérations.
J'ai utilisé du bois de tilleul pour le capot, celui-ci ayant été découpé au préalable à l'aide d'un outil de découpe rotatifs. (Dremel). Les imperfections du bois ont été rebouchées à l'aide d'une pâte de bois clair, poncé et teinté à la lasure acajou, et peint en gris bleuté, poncé de nouveau pour un aspect plus dégradé et vieilli. Le capot est ensuite ciré et imperméabilisé. Dans celui-ci se loge une grille à petites mailles, oxydée à l'aide de pigment Ocre, Terre d'ombre naturelle = oxyde de fer synthétique. Le reste est un jeu de trompe-l'oeil avec plusieurs jus de noir et de brun. Ce qui semble être un anneau métallique est en réalité un bandeau en cuir traité et lui aussi passé à la peinture oxydée.
Les slots à manettes ont été réalisés par le même procédé que le capot.
Le logo a été reproduit en plexiglass et remoulé à l'aide de Silicone Silgum en pâte 2 composants. Ensuite coulé en résine et peint.

---

Hello!
Here is the latest news feed of my blog.

It is about my third creation on the « Skies of Arcadia » theme.
That is an order for the Kochi gallery placed back in February.
The main idea behind the custom was to make it look like a heavily damaged spacecraft.
I used lime wood I previously cut with a rotating cutter (called a dremel) for the hood. All the wood's imperfections were first resealed with some light color wood paste, then sanded stained with mahogany stain. After that, I painted it with a blue and gray color before sanding it one more time to give it a more degraded and aged look. I waxed the hood and made it waterproof. I put inside a small grid, oxidizing it with ocher pigment called « natural earth shade » (synthetic iron oxyde). All the rest is an optical illusion made from several black and brown juices. What seems to be metal ring is, in fact, a leather band treated and painted with oxyde paint. I used the same pattern for the gamepads slots. I finally reproduced the logo with plexiglass and remolded it with some 2-component silicone slim before molding it in resin and painting it.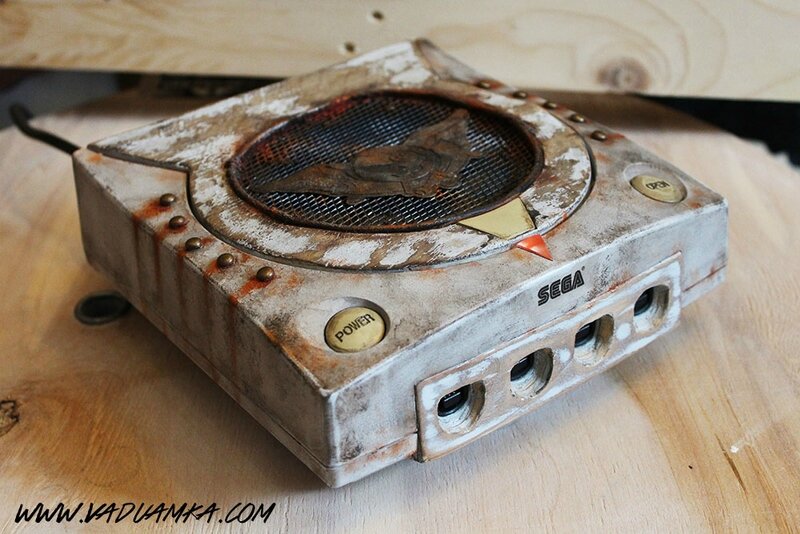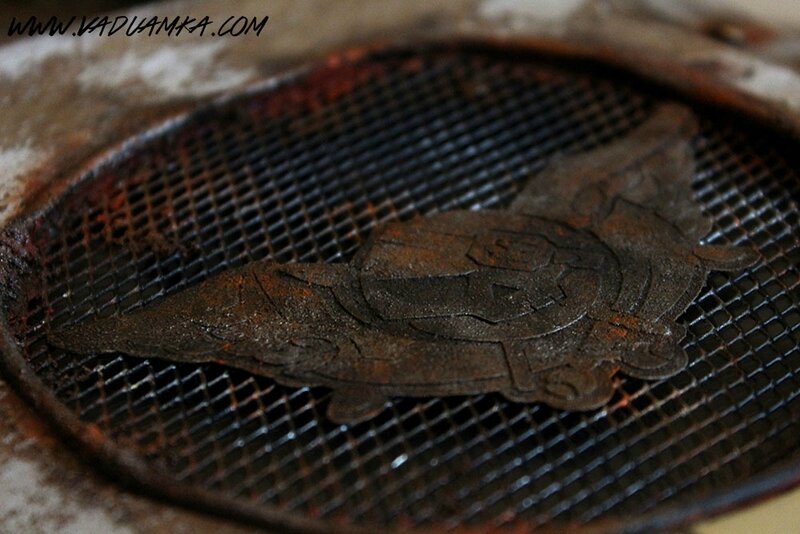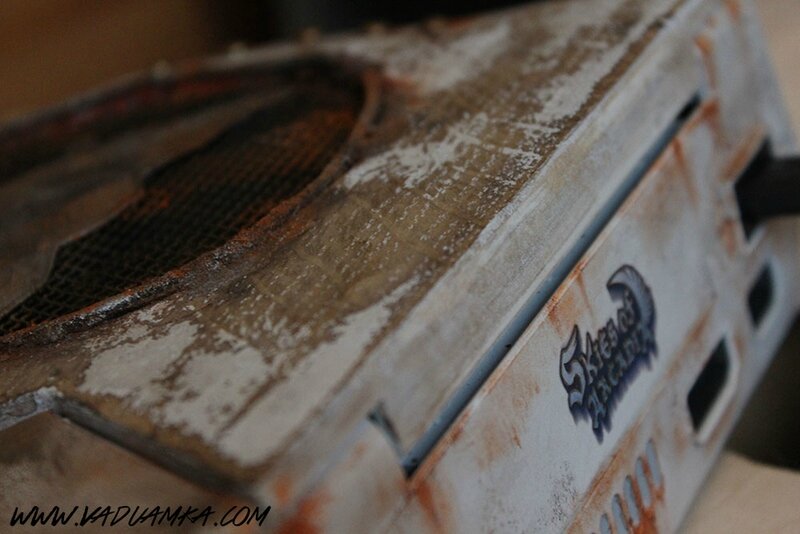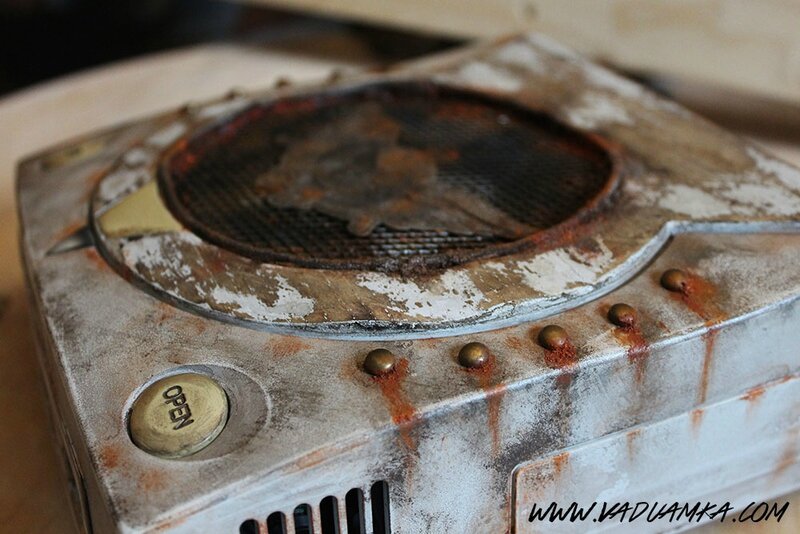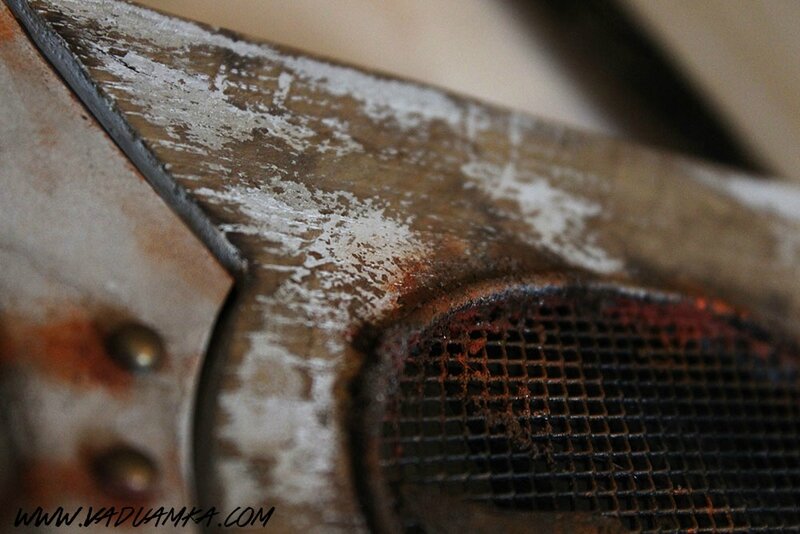 Dans le cadre du financement participatif du guide complet Zelda par l'Association Trop Gaming. le Dr. Lakav m'a demandé si il était possible de réaliser une édition speciale avec une cartouche en loose d'un Zelda ALTTP PAL FR !

* Ils proposeront à la fin de la campagne (celle-ci a atteint son objectif à 400%!) un tirage au sort permettant de gagner ma création. *

Cette cartouche super nintendo, The Legend of Zelda : A Link to the Past est un exemplaire unique et un fanmade. J'ai réalisé la boite sur base des bons conseils de www.nintandbox.net , merci y(oYo). Si vous souhaitez refaire vos boites et pas les vendre. Je vous recommande ce site! :)
J'ai opté pour du papier A3 300gr brillant de la mort mais pas trop non plus. Un papier trop épais a tendance à craquer lors du pliage.

Le lot se compose de :
La cartouche custom Zelda ALTTP PAL FR.

Ce n'est pas un cartmod !

La boite du jeu avec un calage, relooké par mes soins.
Le certificat d'authenticité.