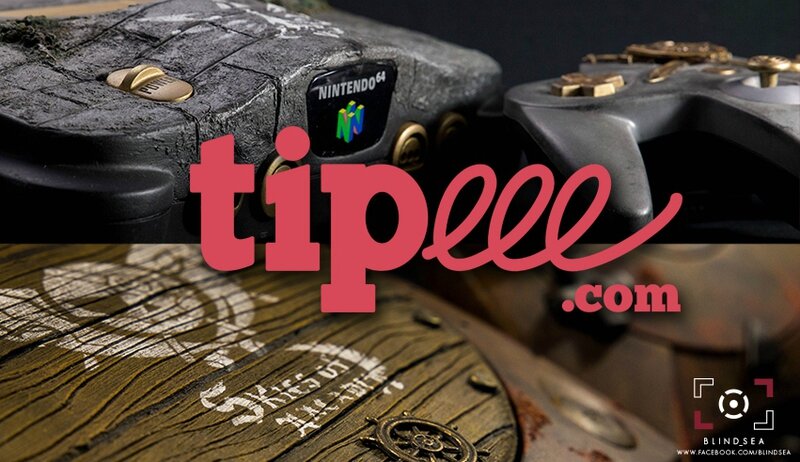 [FR]
un "Tipeee" c'est quoi ? Pour ceux qui ne savent pas ce que c'est, il s'agit d'une startup permettant aux internautes de rémunérer un créateur, il est aussi possible de fixer différents montants de soutien avec ou sans contreparties. Si ça me cogite c'est parce que l'idée de prendre des commandes pour particuliers ne me laisse pas beaucoup de possibilité pour l'exposition et il y a énormément de contraintes car je m'engage à exposer les biens d'autrui et je ne peux parfois faire que une ou deux conventions avec les nouveautés. De ce fait, je tourne depuis 2013 avec quelques consoles qui me sont généreusement re-prêtées pour divers événements. L'idée est de dégager les fonds nécessaires par mois pour financer au moins un projet en matière première et d'investir dans du matériel pour des expositions "ayant un peu plus de gueule". Tout ceci me permettrait aussi d'évoluer et de mieux pouvoir m'encadrer, car en effet pour les longues distances à couvrir (+1000km) il est plus simple de prendre la voiture et tout le matériel que le train ou l'avion (risque de casse, perte et ulcère en moins ).

Si vous soutenez financièrement le projet, vous aurez accès au process de certains projets avant leur publication et vous serez évidemment remercié, je m'engage aussi à fournir un contenu vidéo exclusif pour mes tipeurs. Néanmoins, je ne ferais pas de tutoriel. La contrepartie ultime et quelque part unique serait celle-ci : certaines consoles déjà exposées et qui peuvent prendre leur retraite seront proposées en tirage au sort interne aux tipeurs me soutenant.

Je remercie chacun d'entre vous de participer à cette aventure, importe la somme, vous êtes sûrement des passionnés d'art ou de jeux vidéo tout comme moi et même si ce n'est qu'un euro, il servira à créer bien des choses. Ce que je désire vraiment, c'est avant tout de pouvoir continuer à vous faire rêver.

Soutenir le projet ici !
[ENG]
My goals are, first of all, to gather enough regular funds to secure enough raw material, and therefore to be able to plan one full project every month. Then I'd focus on getting every equipment I may need to get the opportunity to travel to conventions safely, quickly and under the best possible conditions regarding the consoles I've got to take with me. For example: it is way easier and cheaper to hit the road with my car and all my stuff in the trunk when traveling huge distances (like more than a thousand kilometres) than to take a flight or a train… to avoid loss, theft, breakage and heart attacks as well…

If you financially support the project, you will have access to the process of some projects before their publication and you will be, of course, thanked for that. I also pledge to provide exclusive video content for my tippers. Nevertheless, I would not do tutorials. The ultimate and unique consideration would be this: some consoles already exposed and which can retire will be offered via a system of draw to the internal tippers supporting me.

I would like to thank every one of you guys who will back me up on this adventure. No matter how much you will donate, I'm sure you are as passionate about art and/or video games as I am myself. Even one single euro will be incredibly useful to create stunning new items. In the end, the only thing that matters to me is to keep on making you guys dream as best I can.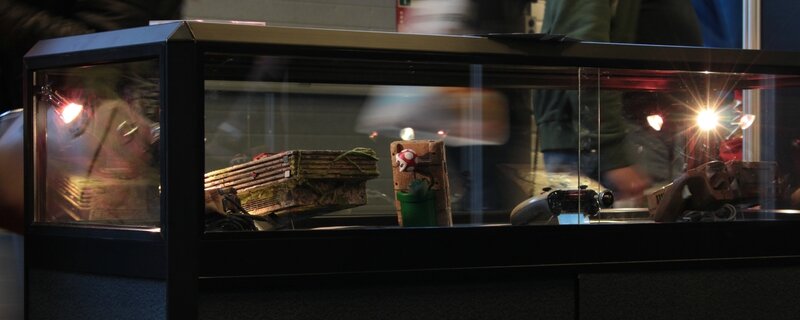 Les expositions actuelles :