Réalisation unique.
Bois, résine et acrylique.
Console : Nintendo Classic Mini: Nintendo Entertainment System
30 jeux officiels préinstallés*

Pour ceux qui ne suivent pas l'actualité : La console Nintendo Classic Mini: Nintendo Entertainment System est une version miniaturisée de la novatrice NES, sortie à l'origine en 1986 en Europe (PAL).
Si vous n'avez rien prévu ce jeudi 2 mars à partir de 21h, sachez que Media Markt organise une soirée de lancement hypé Nintendo pour fêter la sortie de la Switch. Elle sera officiellement disponible partout en Belgique le lendemain. Mais ce n'est pas tout, j'y suis conviée pour une petite exposition car The Legend of Zelda : Breath of the Wild est aussi dans la place et, pour cela, on sort l'artilerie lourde avec un custom unique de Mini Nes en bois qui sera offerte à l'une des personnes ayant précommandés la Switch !

* © Nintendo © ARC SYSTEM WORKS © BANDAI NAMCO Entertainment Inc. © CAPCOM CO., LTD. TOUS DROITS RÉSERVÉS © KOEI TECMO GAMES CO., LTD. Tous droits réservés. © Konami Digital Entertainment © SQUARE ENIX CO., LTD. Tous droits réservés. © TAITO CORPORATION 1986, 2008 TOUS DROITS RÉSERVÉS.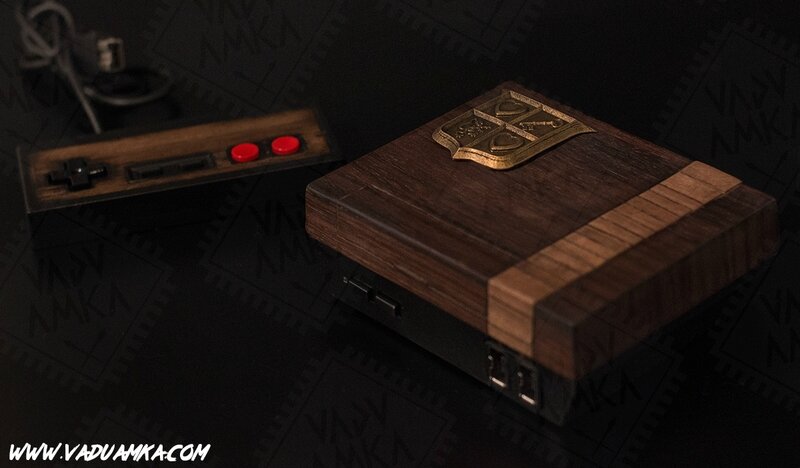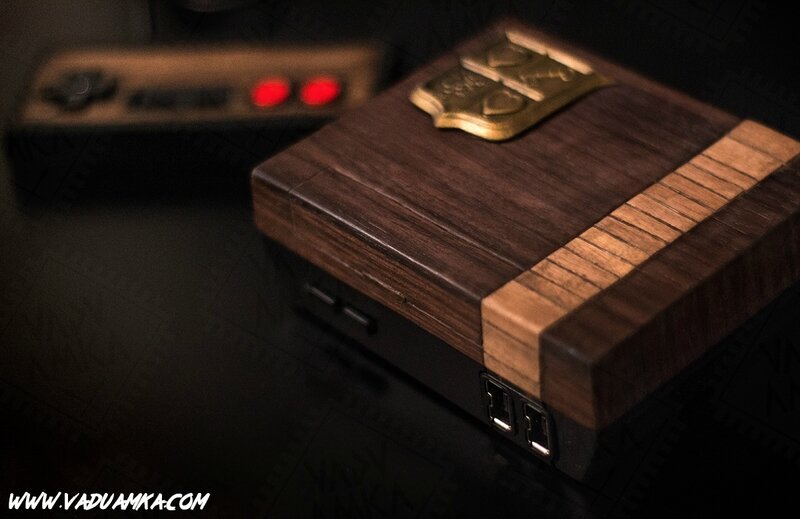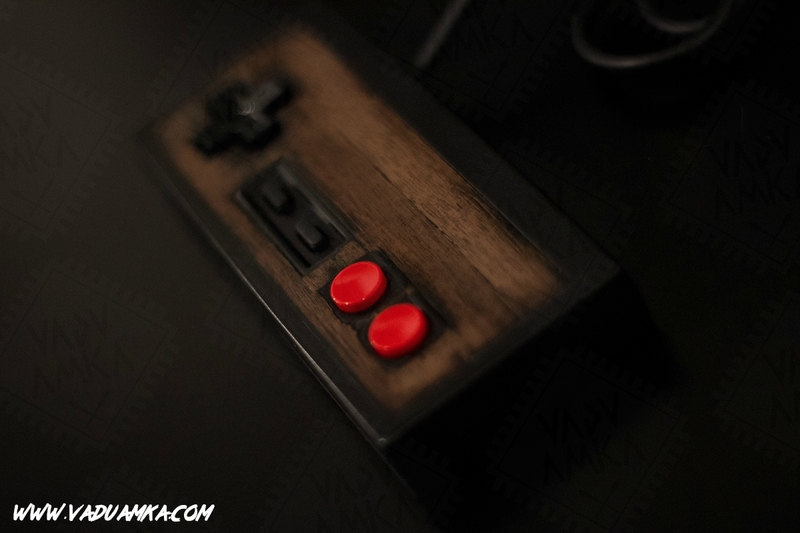 USB RIPPED ZOMBIE FINGER
Réalisation artisanale sur précommande uniquement. Possibilité de demander plus de sang ou un autre teinte : mauve , verdâtre, gris, noir,... Et même de modifier l'ongle ! :)
Délais de création 1 à 3 semaines.
Matériaux : Silicone, latex , acrylique
Choix USB : Sans / 16GB / 32GB
Expédition mondiale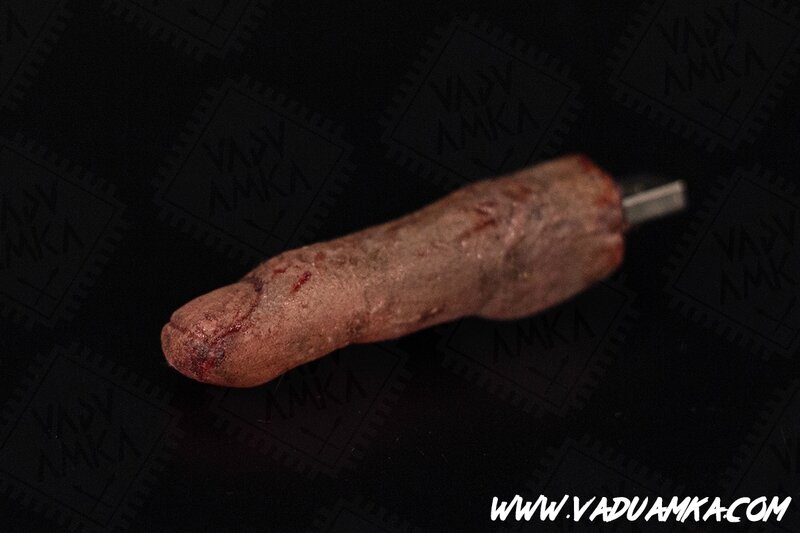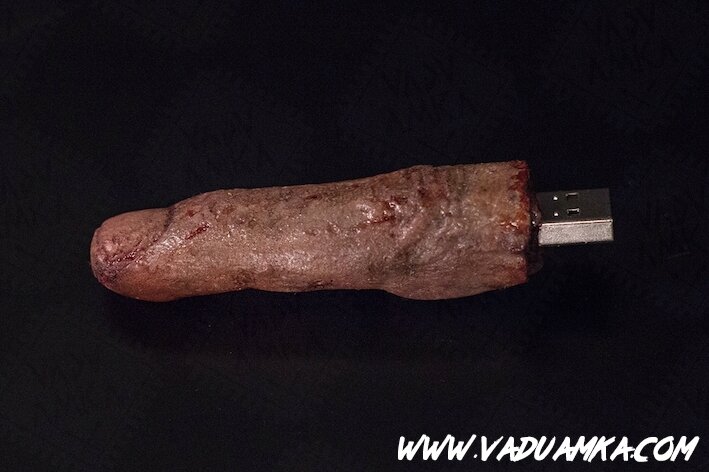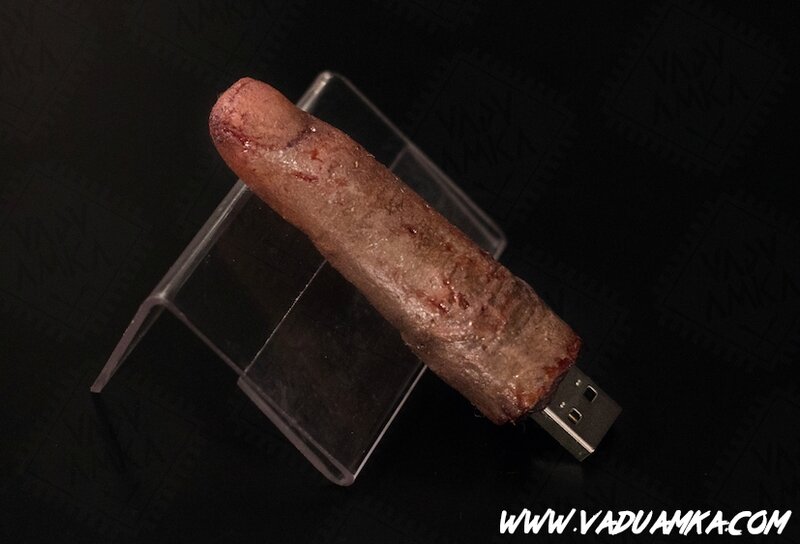 Halo Wars 2 sort ce 21 février 2017 et c'est une excellente raison pour encore une fois travailler sur la franchise Halo ! Pour réaliser cette pièce, je me suis entièrement fondée sur la couleur rougeoyante du logo. C'est ce petit "halo" de lumière qui m'a donné envie de me surpasser ! Pour rappel, j'ai aussi collaboré sur une console Halo 5 fin 2015 ! Et c'était assez sympa d'inaugurer ainsi la génération actuelle de console. (C'était mon premier custom sur XBOX ONE). D'un point de vue détails : les plaques de couleurs sont en léger relief et la coque de la manette est un mélange de métal et d'acrylique.

Et Pssssh.... Elle est à gagner ici

Halo Wars 2 © 2017 Microsoft & Microsoft Studios All Rights Reserved.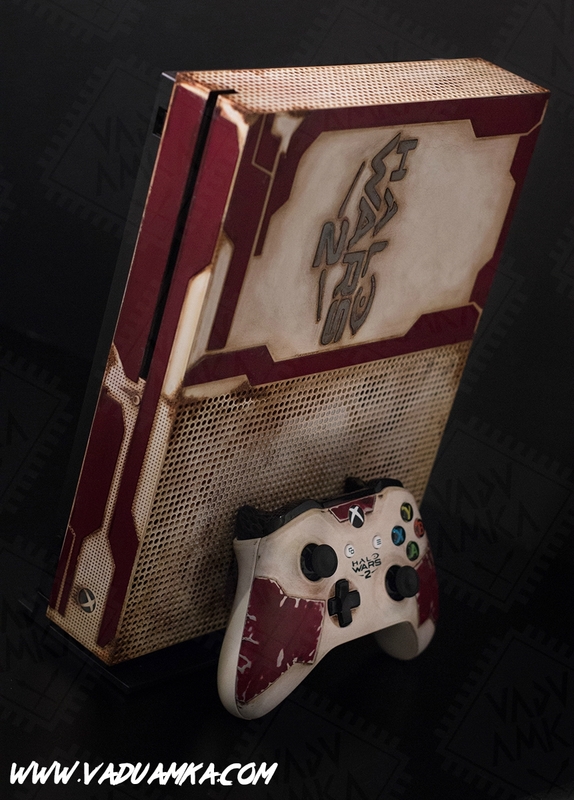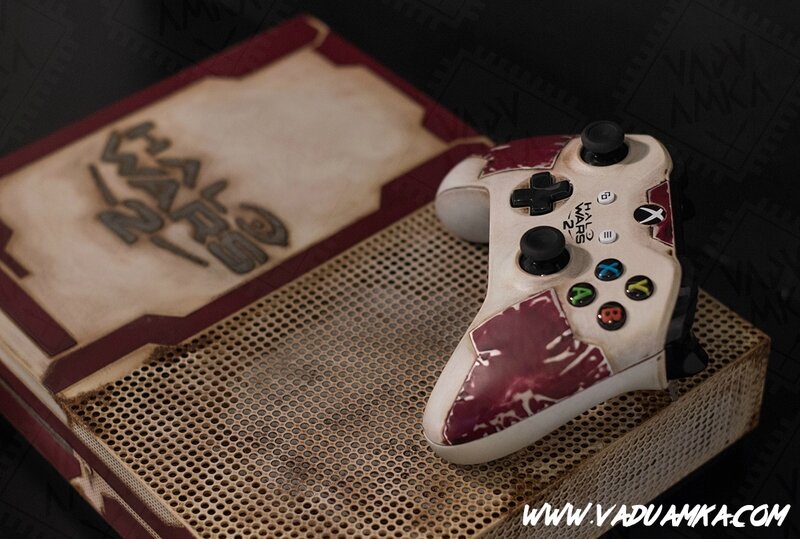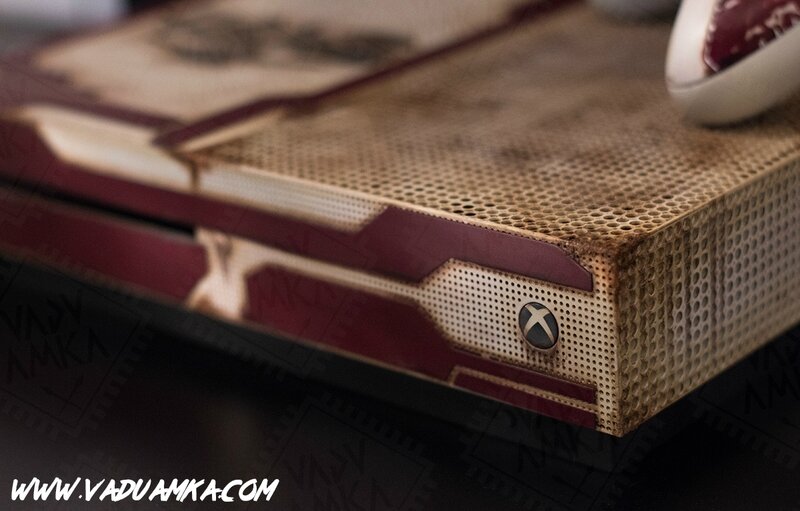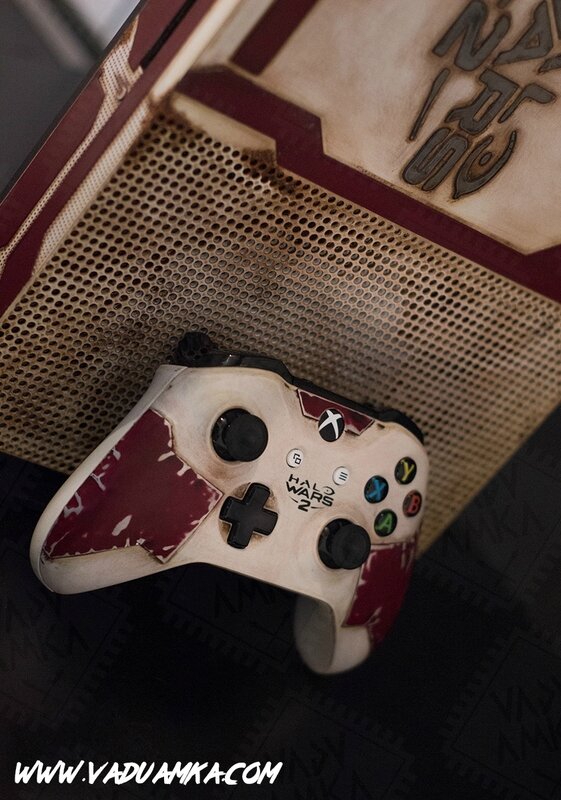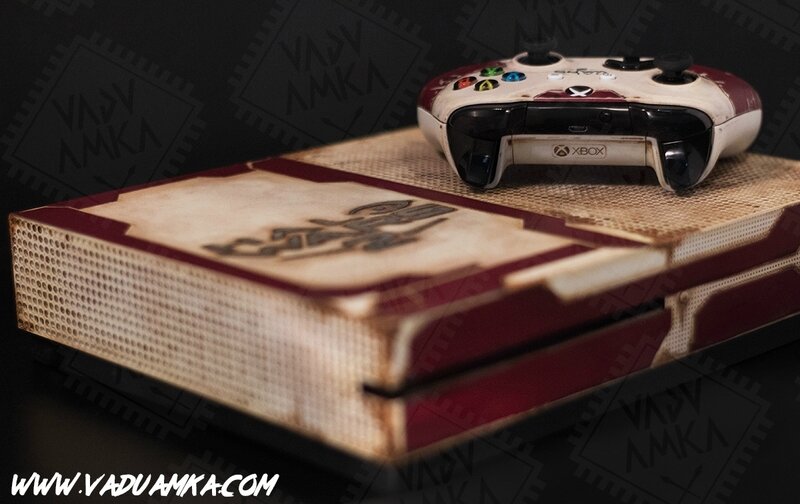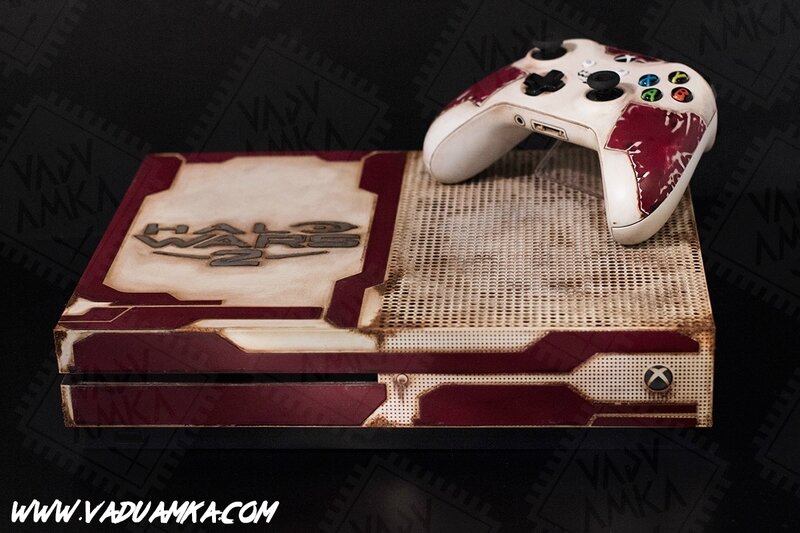 Entre le steampunk et le post-apocalyptique, cette console emprunte un style revisité à la Mad Max. Réalisée avec du cuivre, du laiton, de l'argent, du métal et du bois. Elle ravira peut-être le propriétaire d'un cabinet de curiosités ? Parfaitement fonctionnelle et presque ergonomique si vous possédez des doigts suffisamment fins. Elle est bien évidemment unique et fera partie des prochaines expositions !
Un ornement mystérieux d'une ancienne civilisation geek se cache au coeur de cette console, saurez-vous l'identifier ?

---

Between steampunk and post apocalyptic, this console burrows a revisited Mad Max style. This console is made of copper, brass, silver, metal and wood. Perhaps it will delight the owner of a curiosity cabinet? Fully functional and almost ergonomic if your fingers are thin. It is a unique artwork and will be part of future exhibitions! A mysterious ornement from an ancient geek civilisation is hidden inside the console, will you be able to identify it?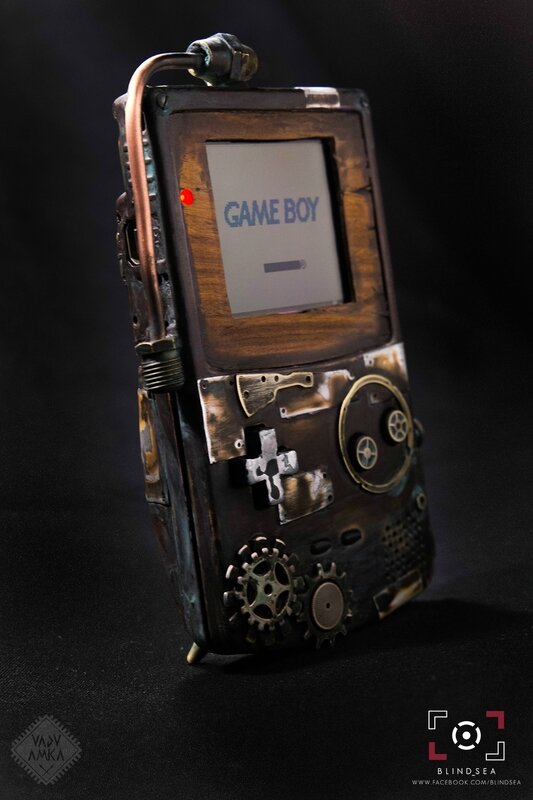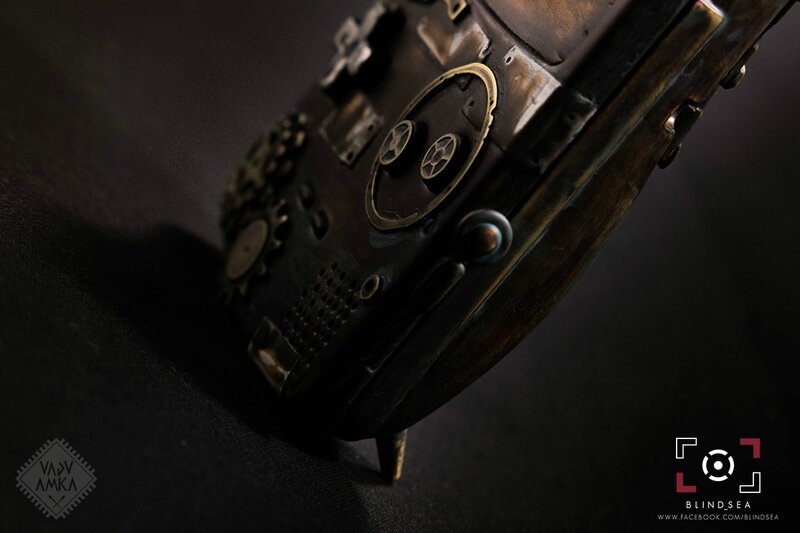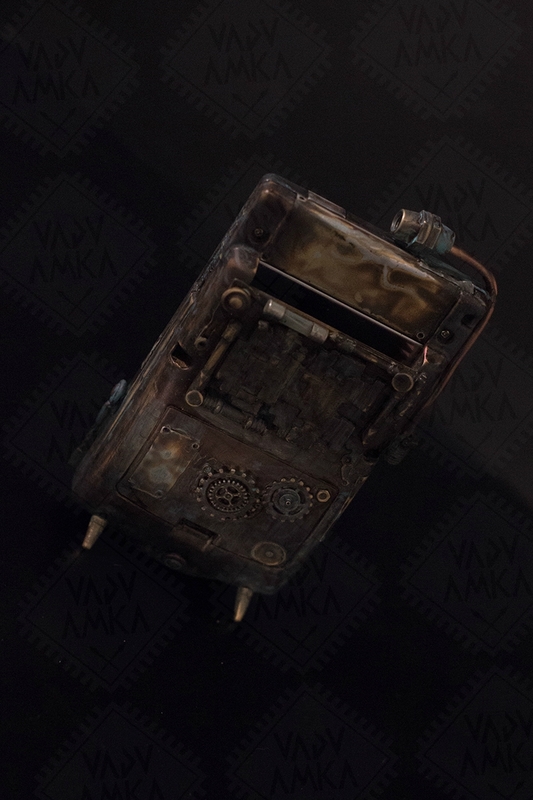 THE REALM OF SHADOWS - INSPIRATION K.H
Collection (2017) Limited quantity of 25
2 sizes available :
30x42cm
42x60cm
Plastic support. Forex 3 mm

Available on my store.
Signed and dated.
Shipping worldwide.